In this post, we're going to show you ten of the most heartwarming sympathy pet gifts of all time. Please note that this post contains affiliate links.
Your friend is devastated because they have lost their adorable furry friend. Because you know that their pet was truly part of the family, you want to show your support by giving a pet sympathy gift. So… what do you choose?
There are plenty of cheesy junk items out there. But your friend deserves something better than that.
You're looking for a pet memorial gift that is truly meaningful and heartfelt. Something personal; something unique; something that shows you care.
Here are our 10 favorite heartwarming pet sympathy gifts. Many of these gift ideas can be personalized to celebrate the life of a special animal friend.
10 Best Pet Sympathy Gifts
1. Bird Feeder Pet Sympathy Gift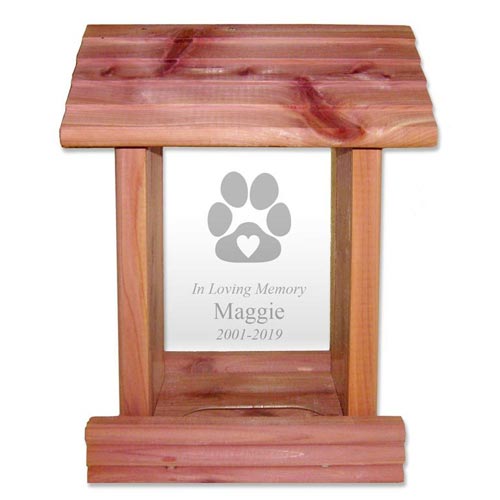 A bird feeder for a pet sympathy gift might seem a little quirky at first, but when you think about it, it just makes sense.
For one thing, pets bring life, beauty, and a connection with nature. So, too, does a bird feeder when it draws winged wildlife near.
On the other hand, when your friend's dog dies, you don't want to presume that you can somehow "replace" their beloved pet. So getting them a puppy is probably out of the question – it's probably too soon, and that's something they might choose to do (or not) in their own time. A bird feeder provides some of that animal love without the investment of adopting a new pet.
It's easy to use (just hang it up and fill it). And it's not sentimental piece of junk that will take up space in your friend's home. In fact, it's meant to go out of the home.
There are plenty of other reasons why a bird feeder makes a great pet sympathy gift, but I'll just mention one more. This feeder includes custom engraving of the pet's name and dates (or anything else you would like), making it a gorgeous memorial tribute. Get it here.
2. Pet Garden Stone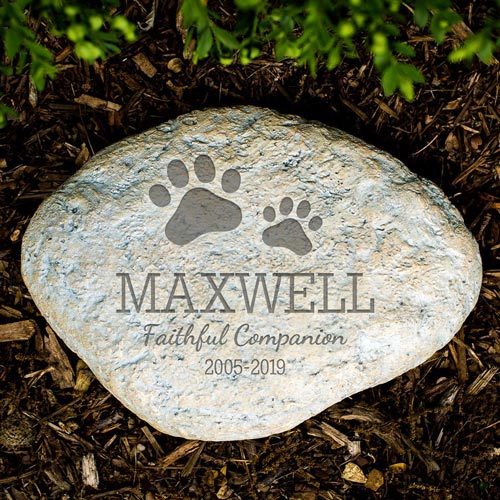 A personalized garden stone makes a great pet sympathy gift because your friend can use it in several different ways, all without taking up space in the house.
Garden stones can mark the actual burial site, if the pet was buried in the yard. They can be placed in a garden where your friend will be reminded of all the memories they shared with their pet as they till, plant, weed, and water their garden each day. Garden stones can go in the front walkway right by the door where it will be seen every day or tucked away in a corner of the yard out of sight, but still there for when a reminder is needed.
For all these reasons and more, personalized garden stones are ideal for a heartwarming pet bereavement gift.
3. Pacific Crest Plaque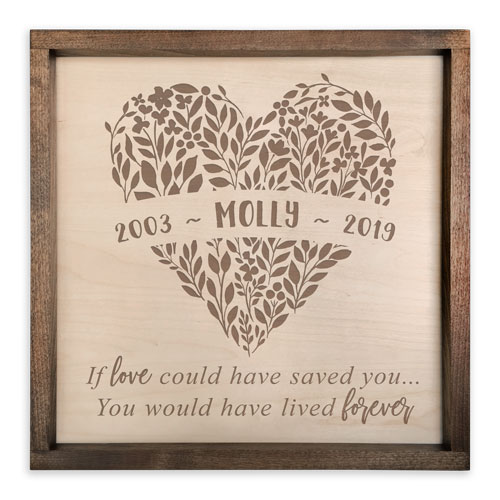 We make this plaque right here in the USA from solid wood, and personalize it to order for you. It's a great pet sympathy gift because it includes a gorgeous leafy heart design, custom inscription of the pet's name and dates, and features a popular heartwarming sympathy quote:
If love could have saved you…
You would have lived forever
The plaque comes in your choice of 12×12 or 18×18 inch sizes. The stained alder wood frame contrasts beautifully with the birch ply, which perfectly highlights the engraving. Get yours personalized here.
4. Plant a Memorial Tree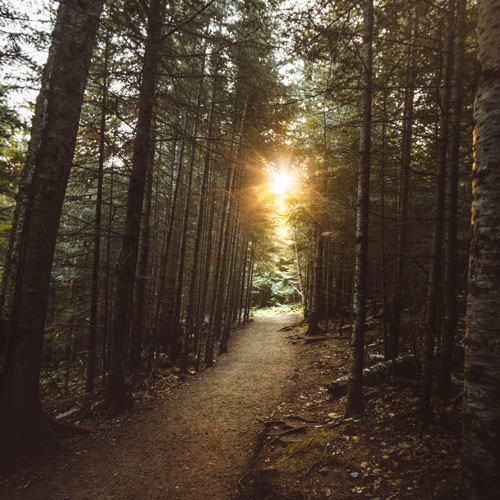 If you're looking for a pet sympathy gift that is more meaningful than materialistic, consider the gift of a tree.
There are plenty of reasons to plant a tree in memory of a pet. Here are a few:
New trees are good for the environment in general
Trees planted in devastated forest areas help restore our national forests
Trees greatly benefit the local wildlife
The tree is a symbol of life and hope
A tree planted in memory of someone is more than just a symbol; it's real
This is not a trinket that someone will feel obligated to keep
Memorial trees are not like funeral flowers, which will quickly fade and die
Planting a tree in memory is generally more affordable than flowers
You can send a card or plaque directly to the recipient's home
The memorial tree can be located and viewed online
(Source: US Urns Online)
We recommend using Trees for a Change to order your memorial gift. They do a great job planting trees where they are needed most.
5. Willow Tree Angel & Puppy Sympathy Gift
A Willow Tree carved figurine like the one above is a beautifully poignant gift for a friend who has recently lost a pet. Somehow these wood carvings manage to distill a relationship down to its emotional essence, then convey that essence perfectly.
I'm not sure how she does it but Susan Lordi (the artist who carves the originals for each of these figurines) is a genius.
This angel figure holding a puppy will genuinely warm your friend's heart. It can represent an angel taking care of the departed pup, or it can be a picture of pet and owner reunited in heaven. Either way, it's a beautiful and iconic image that your friend will cherish.
6. Personalized Wooden Heart Memorial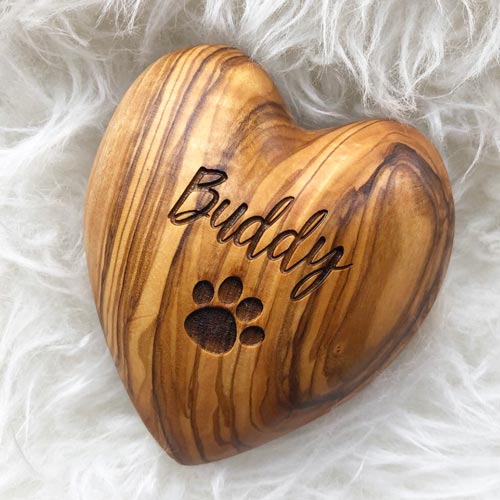 Simply adorable! Give this little wooden memorial to your friend as a sympathy gift and it will warm their heart.
The artist handcrafts each heart from olive wood. This showcases the unique wood grain of each individual piece, which the artist polishes smooth to the touch. Each gift includes custom laser engraving of a paw print and the pet's name. Available here.
7. Custom Pet Memorial Jewelry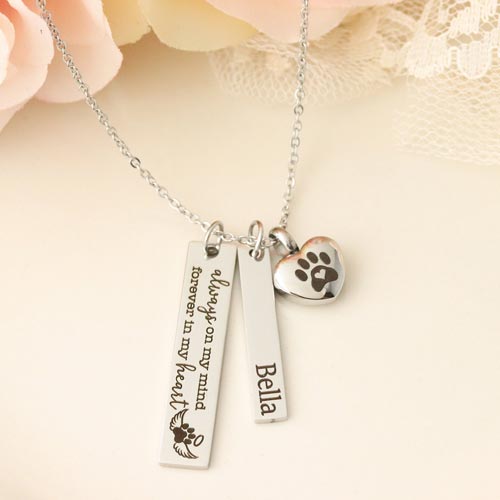 Jewelry is always a good choice as a pet sympathy gift. Personalize a cute dangly necklace like the one shown above, and she'll treasure it always.
Find more pet sympathy jewelry here. You'll discover everything from necklaces to bracelets to rings, most of which includes custom etching or stamping of the pet's name.
You can even give pet memorial jewelry that holds a small amount of cremated ashes or a lock of hair (or fur) in an inner chamber. Check out some beautiful options for pet cremation jewelry here.
8. Personalized Pet Sympathy Gift Tumbler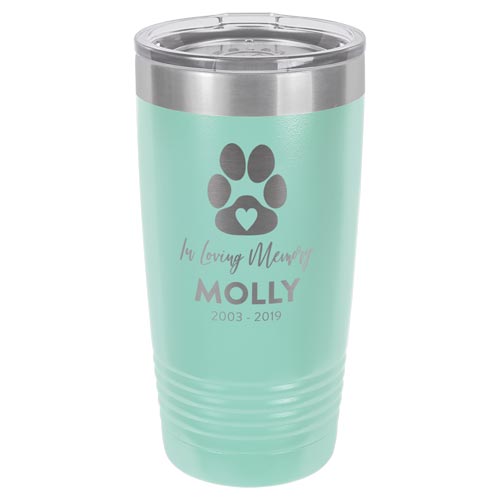 This stainless steel tumbler includes custom etching of your pet's name and dates beneath a paw print heart. Choose from several colors and styles, with plenty of space to personalize.
For the pet sympathy gift that conveys they are always in your heart (because they always carry a coffee mug around), a custom tumbler is the way to go.
9. Heart-Shaped Bowl Pet Sympathy Gift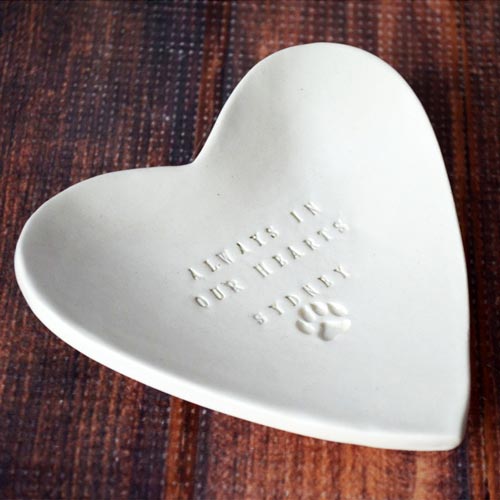 Always in our hearts… thus reads this attractive and minimalist heart-shaped bowl. The artist hand crafts each one and stamps in the memorial phrase and a paw print along with the pet's name.
This pet sympathy gift will go perfectly on the bereaved pet owner's nightstand or end table, or as a place to set their keys and remember the love they shared with their pet.
10. Custom Pet Portrait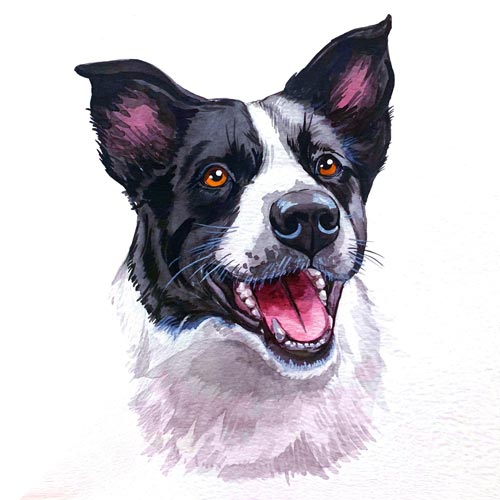 One of the most heartwarming pet sympathy gifts imaginable, the artist paints each portrait individually in watercolor as a one-of-a-kind custom original work of art.
This artist does beautiful work at an affordable price. There are also many other artists on Etsy who will paint your pet. See here for some of the most popular options.
Lastly, if you are looking for a higher-end professional artist to paint your pet's portrait, I recommend the talented artist Mary Ann. For more information on choosing an artist to draw a memorial portrait, read this helpful article.
---
We hope you are inspired by this pet sympathy gift guide! If you still would like to see some more unique and personalized sympathy and bereavement gifts, check out our many custom memorial gift ideas at Northwest Gifts.