Last updated on
A bottle – wine, whiskey, rum, champagne, etc. – is a universal symbol of fullness, generosity, and festivity. Celebrations are initiated, sailing ships christened, engagements cheered, new homes blessed, guests welcomed, and friendships are enjoyed, all with the opening of a bottle.
If you have or are designing a home bar, a wine or whiskey bottle is the ideal shape to adorn the walls. At Northwest Gifts, we offer an abundance of home bar signs in a variety of shapes and styles to suit the theme of just about any home bar, man cave, or vineyards/wine cellar-themed kitchen. Our newest additions are unique in that they are shaped like bottles.
These personalized bottle shaped plaques for your home bar are made in the USA from premium furniture grade wood, come ready to hang, distressed by hand, and include customization of your name (or surname, and sometimes more) in classy vintage and antique styles. Here is our initial offering of nine gorgeous designs.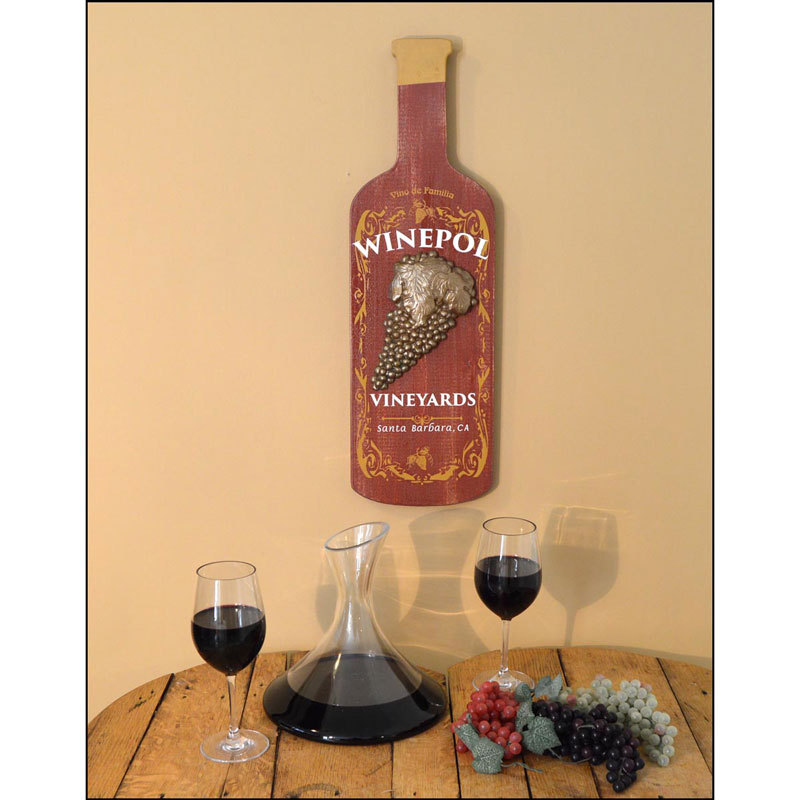 At 24″ high by 7.5″ in width, each of our bottle-shaped plaques is tall enough to take up ample space on the walls of your home bar while thin enough to fit just about anywhere. This, our Bottle Shaped Personalized Vineyards Sign, includes your name and city/state customized around the centerpiece of a 3D woodcarved relief of a full cluster of vineyard grapes.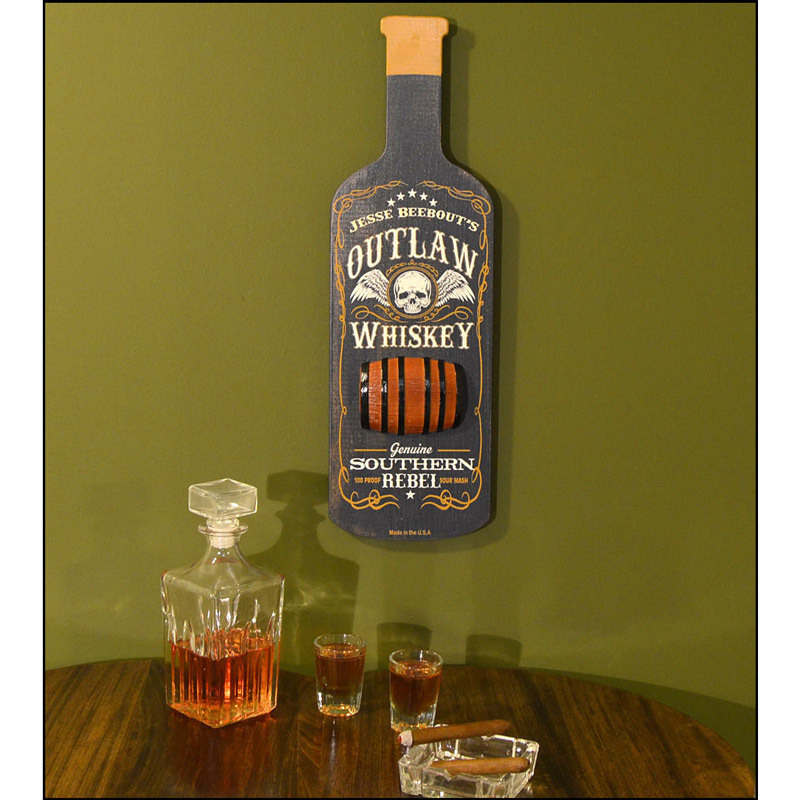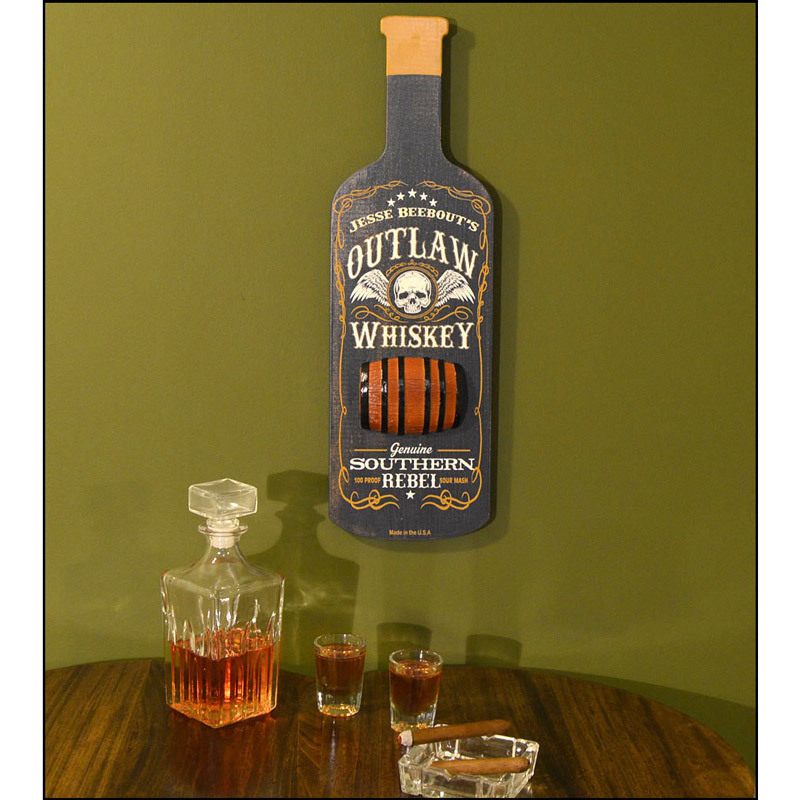 A design for the bootlegger's man cave. The "Outlaw Whiskey" theme includes vintage-style lettering, a skull with wings, and proclaims that this is the domain of a Genuine Southern Rebel. The colorful accents are finished with a hand carved barrel applique which stands out from the plaque, adding depth and authenticity. Our Bottle Shaped "Outlaw Whiskey" Home Bar Plaque is the perfect gift idea for the old-school bootlegger.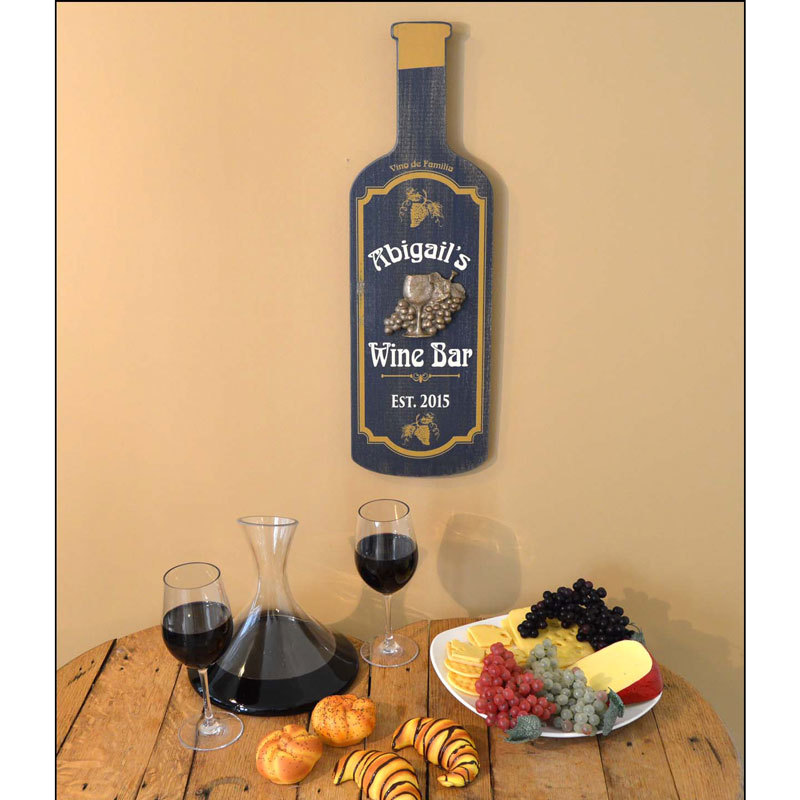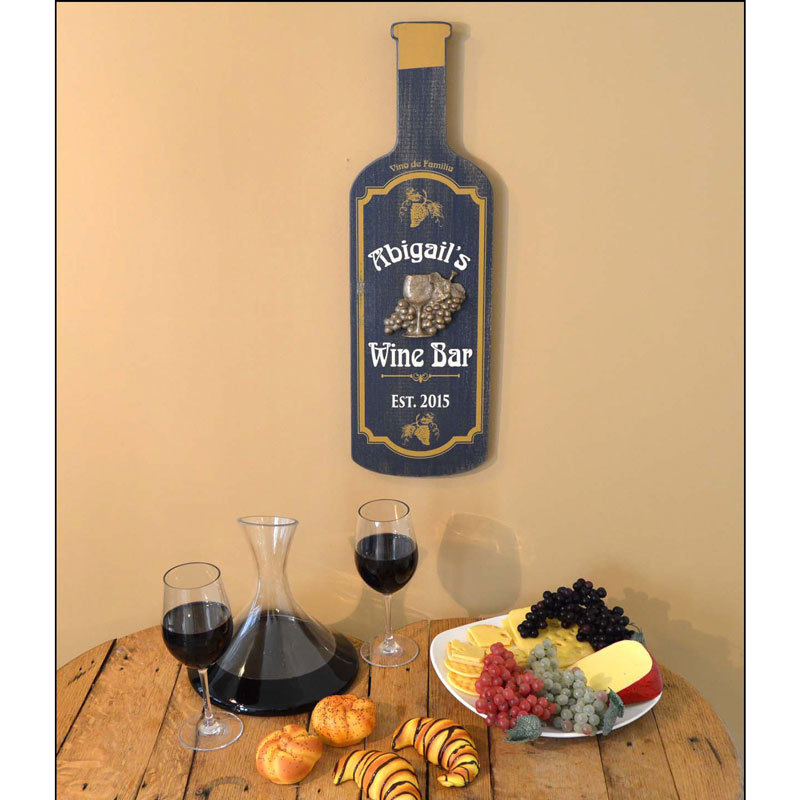 The background color, decorative accents, and text on each of our old-fashioned home bar signs is done using a proprietary Poly-Arch Lithography printing process, which is essentially screen-printed with finishing touches added by hand. Above, our Bottle Shaped Personalized Sign with Wine Bar Relief features a simple composition reminiscent of a wine label. Deftly incorporating vine leaves and clean ornamentation surrounding the grapes and wine glass relief, the yellow-hued accents perfectly draw out the central text. The verbiage includes your name over "Wine Bar" along with the "Established" year of your choice.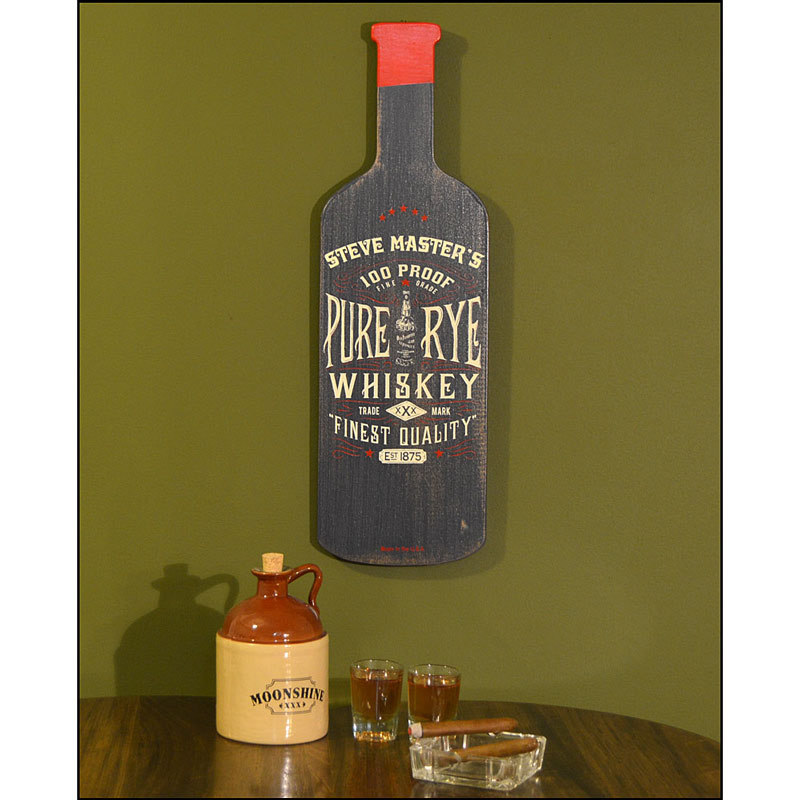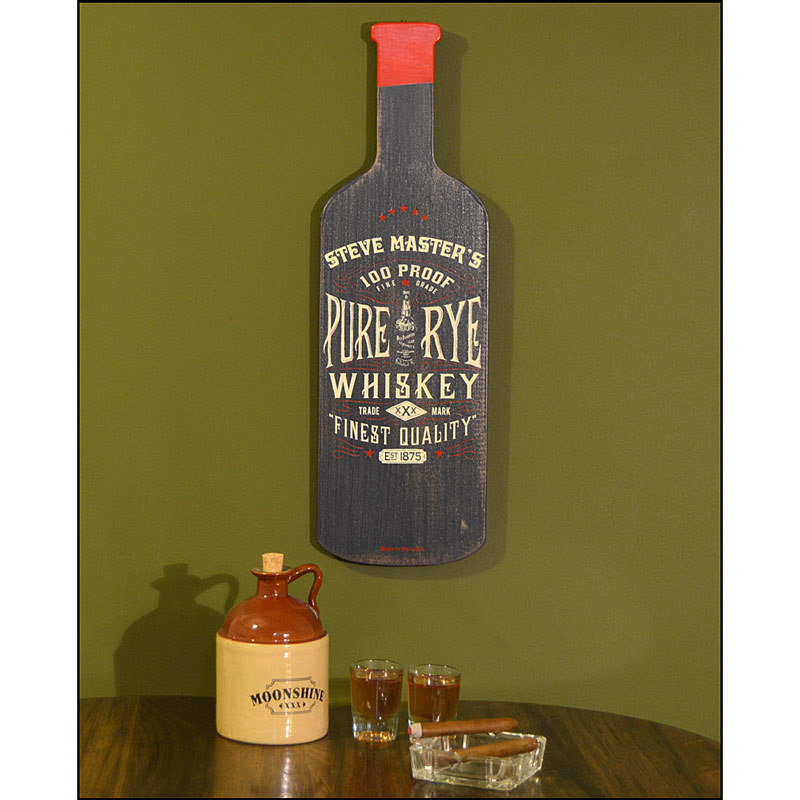 The ideal gift for a Rye Whiskey enthusiast. Our Bottle Shaped Pure Rye Whiskey Sign reads:
*YOUR NAME*
100 Proof – Fine Grade
PURE RYE WHISKEY
Trademark
Finest Quality
Est. 1875
Made in the USA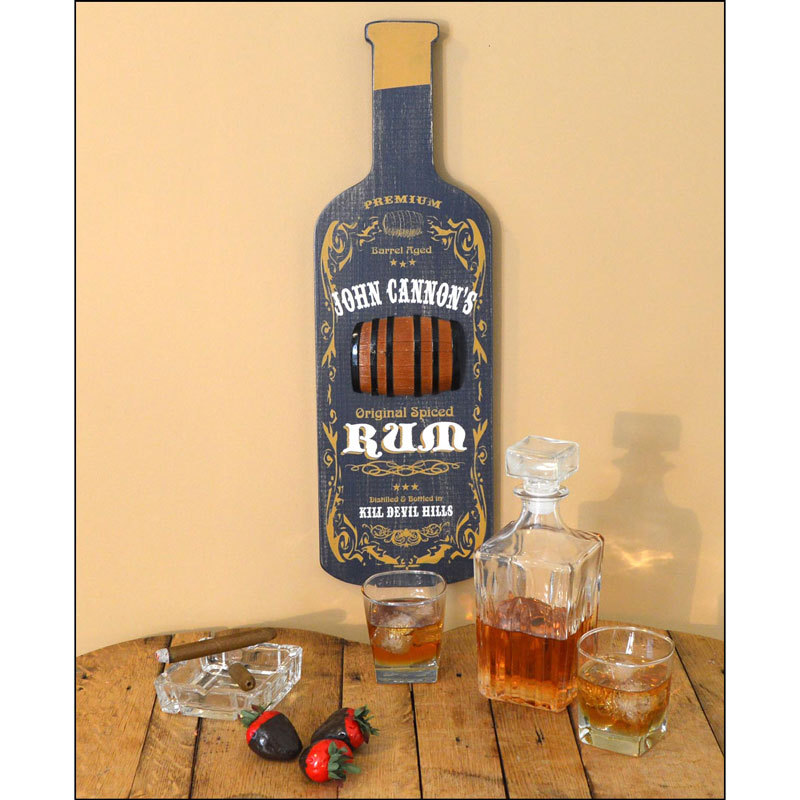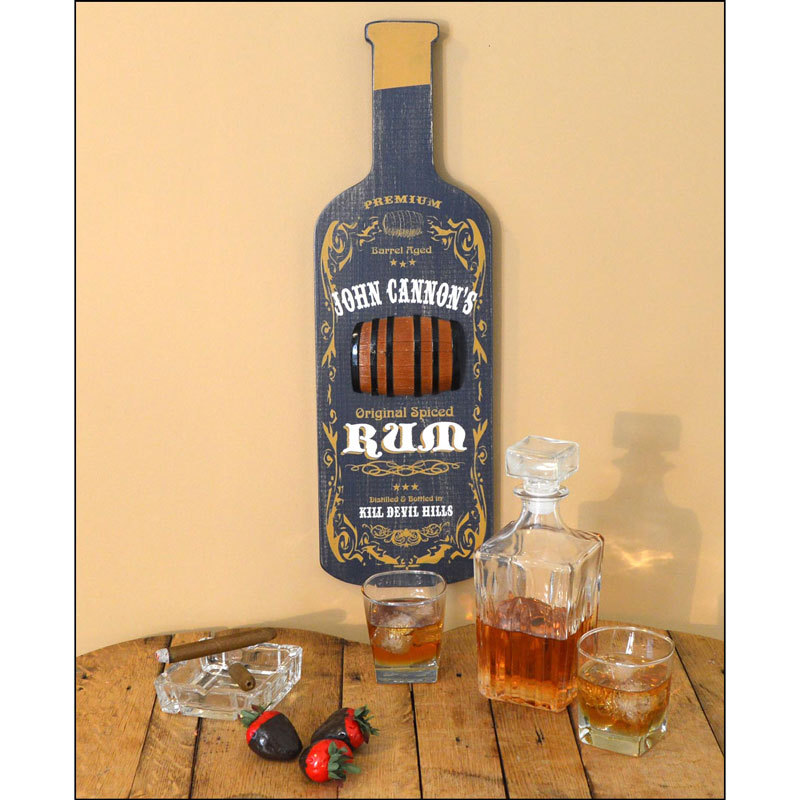 The Bottle Shaped Personalized Rum Sign with Barrel Relief showcases a decorative carving of a rum barrel as the plaque's centerpiece. Each of our reliefs are hand sculpted from real wood and finished with decorative painting by hand. This "Spiced Rum" home bar sign includes personalization of your name and city/state.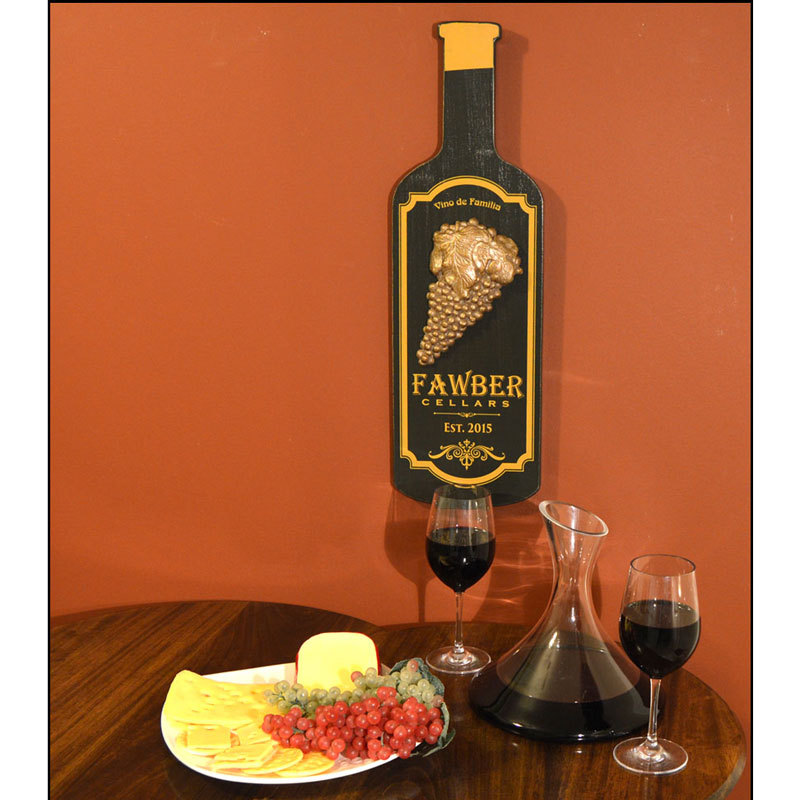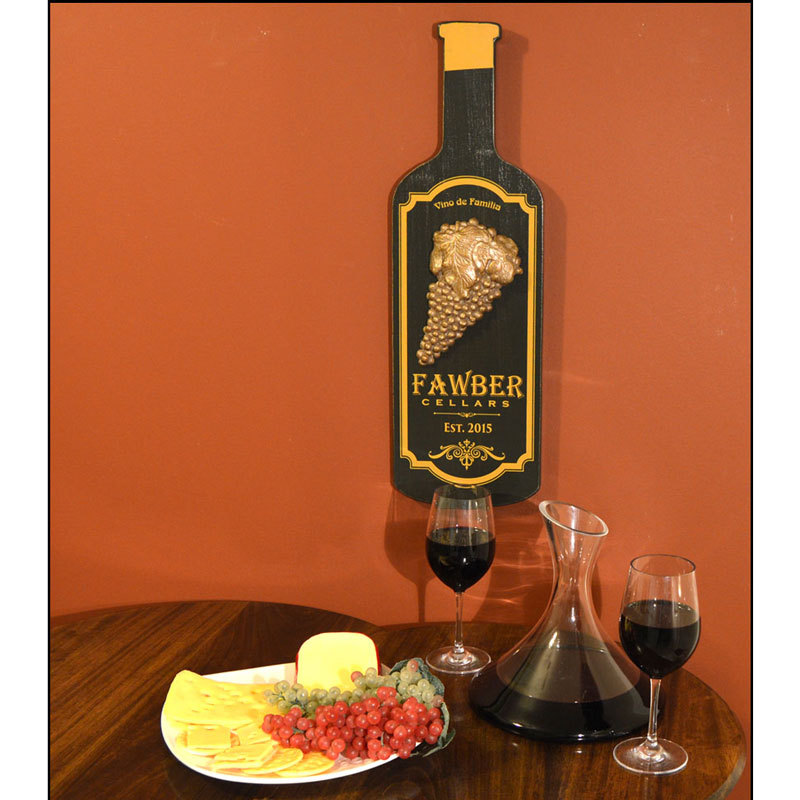 This is one of our classiest designs. The grape cluster, complete with leaves, is resplendent in gold painted finish. Fine dining and even finer wines will be the priviledge of all guests who enter the home bar adorned with the elegant Bottle Shaped Personalized Wine Cellars Sign.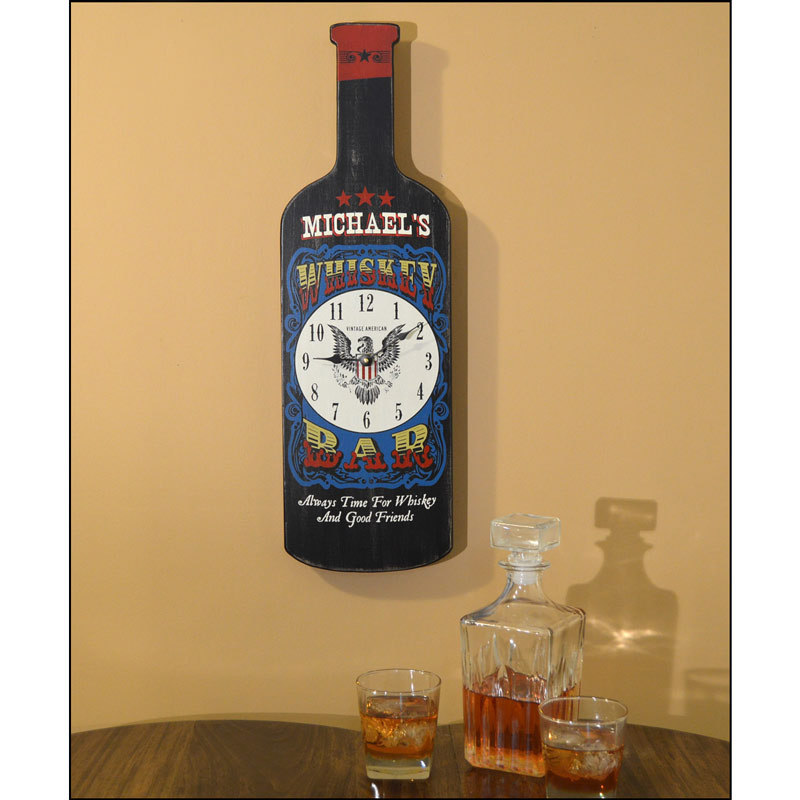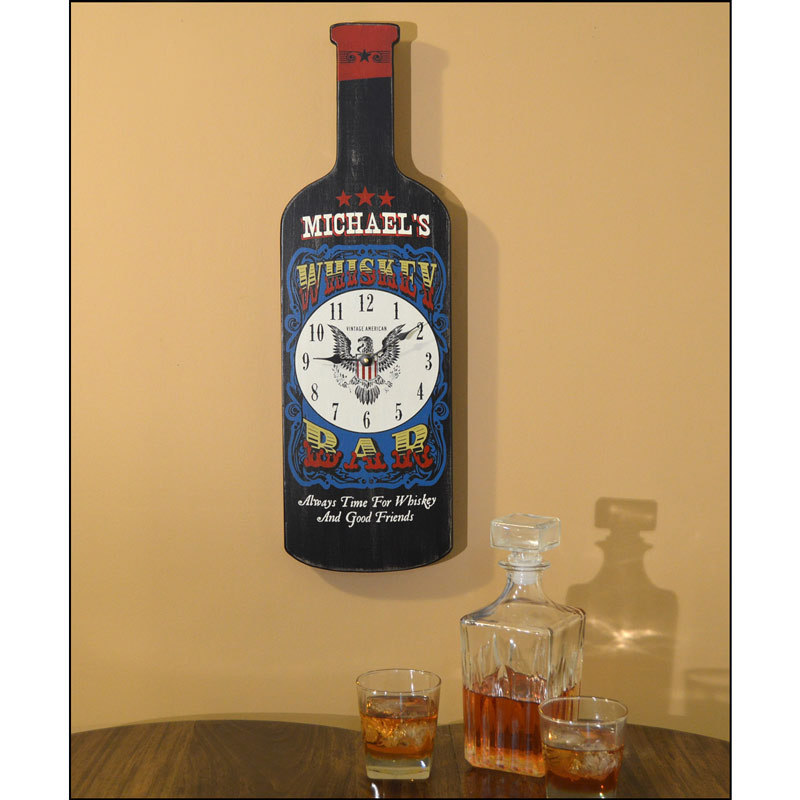 This colorful Bottle Shaped Whiskey Bar Clock Sign includes a premium working clock and reads, "Always time for whiskey and good friends." The celebratory design evokes the imagery of a carnival or circus, and will be rather fitting with the mood in your home bar or man cave after a few rounds of great whiskey.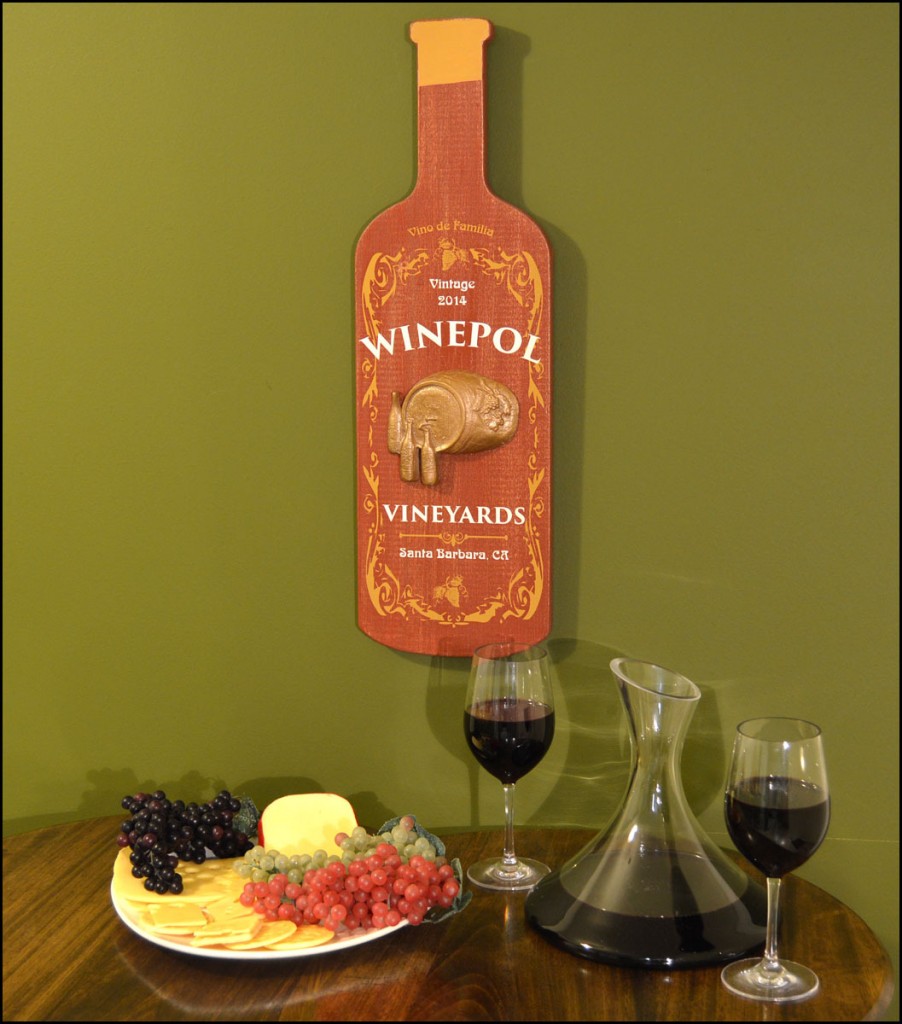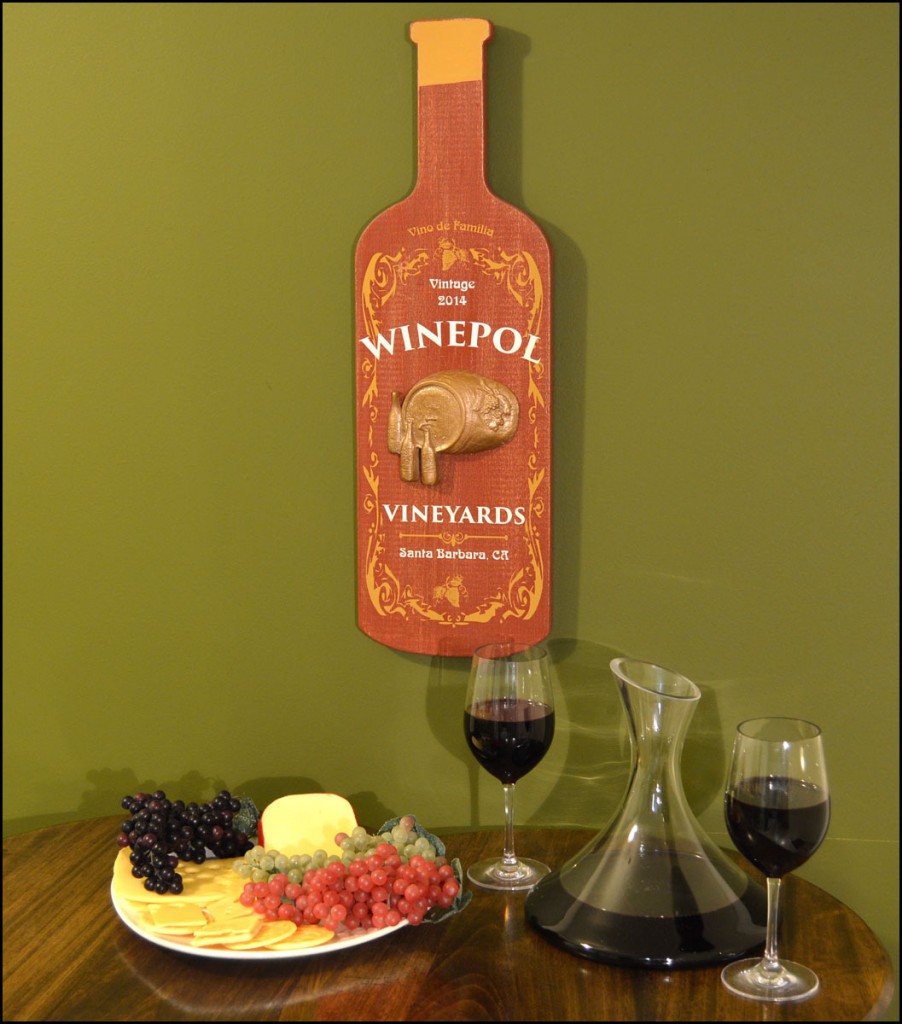 This bright red and orange vineyards plaque is the perfect accent for the home bar or wine cellar of a wine enthusiast. The aging barrel and wine bottle applique bespeaks of an abundance of cheery glasses just waiting to be poured. All your guests will admire your Bottle Shaped Personalized Vineyards Sign as they are welcomed into your chateau.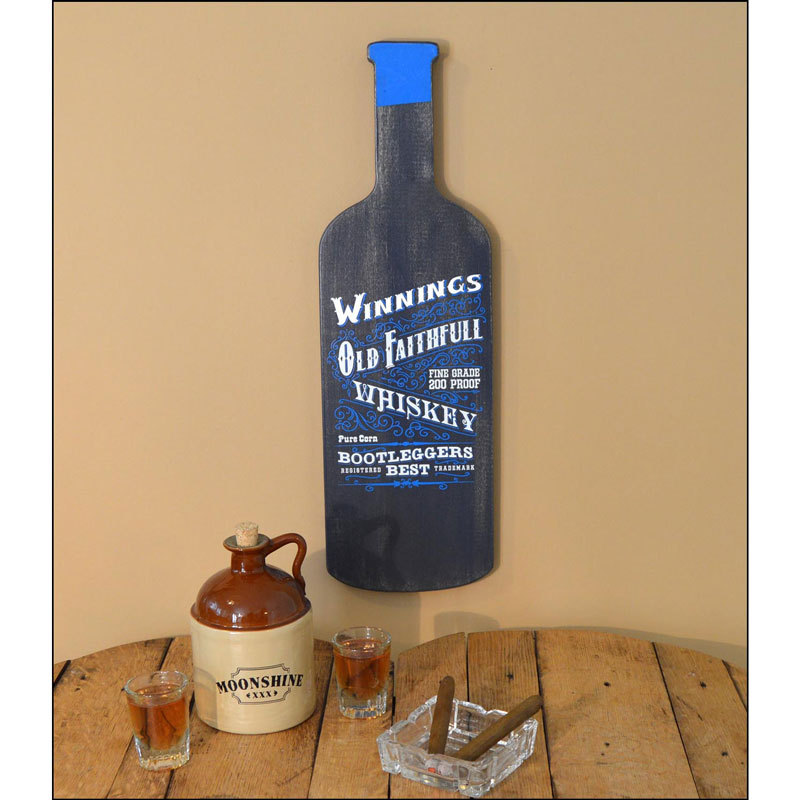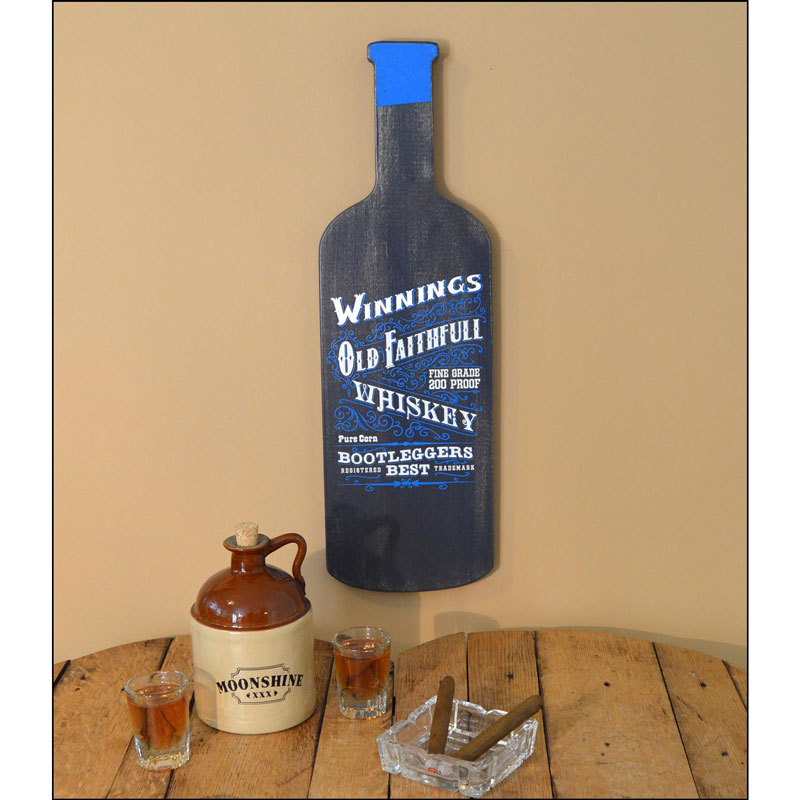 If you think of your whiskey as "Old Faithful", this is the home bar plaque for you. Shaped like a whiskey bottle and made in the USA from solid wood, custom painted with your name and distressed for an old-fashioned vintage effect, the Bottle Shaped "Old Faithful" Whiskey Sign is crafted just for you and comes ready to hang.
Didn't see the home bar sign for you? Check out our Quarter Barrel Signs, our collection of Man Cave Decor, many more Wine Signs, our our complete collection of Home Bar Signs. You'll find the right one!
(Visited 54 times, 1 visits today)