I hope you consider giving real tools for kids as a creative non-toy gift. Kids love grown-up stuff, from dressing up to helping in the garage or kitchen to just plain ol' sawing and hammering the tar out of your scrap wood.
Don't mess around with fake plastic-y things (unless, of course, the child is a toddler or infant. In that case please do only get the fake plastic-y things. I am NOT recommending that you give a real saw to a toddler…. use your judgment!!), as those will never scratch the itch that a kid has to do REAL work.
Nope. If you are going to give them tools, do it for real. And give them a project to do as well. Have them patch up a wooden fence, or dig a hole in the garden. It won't be perfect, and you'll have to come along afterwards and "fix" it, but who cares? What's 20 more minutes of your time compared to the memories your children will create?
Ok, enough lecturing. Here are some great "real tool" gift ideas for kids. And these aren't just workshop tools, either – there are plenty of other grown-up tools used in a wide variety of professions apart from just carpentry.
Our website is supported by our users. We sometimes earn a commission when you click through the affiliate links on our website. See our privacy policy & disclosures for more information.
Real Tools for Kids
An Authentic Gift Guide
Junior Tool Kit
This kid-friendly tool set is legit. Everything comes in an orange tool belt that will help keep things organized. The set includes a real metal hammer, screwdrivers, pliers, level, and a tape measure. Basically it's a box of fun.
And again, these are real tools. If you're wedged under the sink and in need pliers or a wrench, just ask your kid if you can borrow their tool and it will be in your hand in a flash.
Household Tool Kit
This is like the junior tool kit, above, but with more tools. Real tools. It's actually a great tool set for any homeowner, and includes sharp objects like a box knife. If you're worried about that, go with #1, above.
This set includes a ton screwdriver bits for all manner of applications, a set of hex keys, small screwdrivers (great for getting into small toys/electronics) and of course standard hammer, pliers, and tape measure. The box knife will be handy for making cardboard box forts, FYI. And it all comes in a durable carrying case.
Kids Toolbox
If your kid already has some tools, get a toolbox. This one is affordable and has space for all your basic tools. There are little cubbies in the top for small accessories, screws, nails, and more. Plus, like most toolboxes, the inside has a removable tray to maximize storage space.
The toolbox is designed for adults, so it will make your child feel all grown-up and responsible. At the same time it's small enough for him or her to carry it around, and it certainly won't break the bank.
Stubby Tools
Stubby tools are real tools for kids and they don't require a whole lot finesse. This set comes with four carbon-steel tools (hammer, wrench, slot and Phillips screwdrivers) with soft-grip "stubby" handles. Simple and perfect.
Related: Construction Worker Gift Guide
Gardening Tools for Kids
Kids can help in the garden at any age. Sure, some ages might require them to have their own "special" area in which mostly weeds grow, but who cares?! The point is to get them outside, working with their hands, digging in the dirt, and helping mommy or daddy.
This gardening tool set is perfect for kids and adults alike. While the gloves will probably be too big, it will just serve to prove to the kid that they are getting "real" tools and not some kiddie knock-off version made of plastic.
The set includes five gardening tools with stainless steel ends and ergonomic wooden handles. Plus you get garden gloves, a flower mister, and a double-gauge cotton tote. Weeding has never been so fun!
Wooden Tools for Toddlers
Here's a real tool set that is appropriate for toddlers. Made entirely from wood, your little one won't have any of the potential accidents (including harm to self, others, and the house!) that comes with metal tools in such small hands.
At the same time, these aren't like the fake plastic toy tools, either. Nope, your toddler can actually use these to hammer and screw the nuts, bolts, and nails that come with this play set. It's a great stepping-stone for your kids before they are ready for "real" real tools. Get it here.
Wooden Workbench for Kids
If the wooden tools are a hit, this wooden workbench will be an even bigger hit. More stuff, more tools, and a dedicated area to work.
More Ideas for Real Tools for Kids
Don't neglect getting materials for your kids to work with. What's the point of hammer and nails if you don't have wood?
Also, you don't need to purchase some fancy set. It's easy enough to hit up a garage sale, thrift store, or flea market and find some great old rusty tools that your kids will simply adore.
Other real tool-adjacent ideas:
A box of scrap wood
PVC pipes, fittings, and pipe cutters
Ropes, bungees, pulleys, and carabiners
Nuts, bolts, and stuff that attaches to them
Old electronics and kitchen gadgets to take apart
Pre-drill holes or add screws to scrap wood so they can connect things
Grown-Up Things That Kids Love
A child's desire to fit in with a grown-up world isn't limited to just tools. Your kids will want to do what you do. Especially if you work in a professional occupation!
If, for instance, you are in the medical field, get your kids a stethoscope. Or if you are an electrician, give them a multi-meter. You get the idea!
Kitchen Accessories
This grown-up kitchen utensils set is both functional and cute. Encourage your kids to cook, bake, and help with meal prep by giving them their own kitchen accessories.
Pocket Knives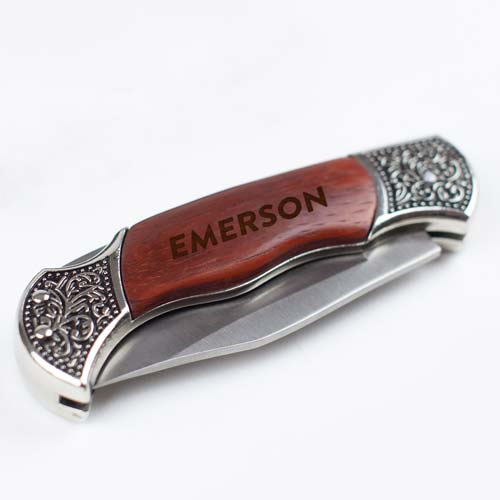 Opinions vary on this, but I think that every moderately responsible child over 5 (or so) needs their own pocket knife.
This one is an old-fashioned knife that will perfectly serve as a personalized heirloom gift. It's a real knife, so make sure to teach them about knife safety and responsibility. Your child will have a blast carving sticks and cutting things when things need cutting!
Binoculars
Binoculars are just plain fun. Use them to encourage your kids to explore nature and perhaps get into bird watching. They'll feel rather grown-up with a sturdy and powerful set of binoculars!
Stethoscope
Only give this if you want your heartbeat listened to a few million times. Literally. A. Million.
But it's so fun for kids!
My dad went to medical school for a bit and kept his stethoscope. Every now and then he would let us kids play with it. As you can tell, decades later I can still remember the fun we had listening to our own or each others' heartbeats.
Give a kid a stethoscope and you just might have created a future doctor.
Or maybe not… but at least they will have fun learning about the human body, and that's worth something too!
Metal Detector
Give your kid a metal detector and a shovel and watch as they discover treasure. It's fun for the backyard, beach, park, or anywhere else.
Plus a metal detector gives you a good opportunity to teach your kids about caring for the environment, as they will no doubt find loads of trash. Train them to carry around some garbage bags and gloves, and model for them the joy of caring for God's good earth.
Glue Gun
Glue guns are fun – heck, it's a gun, it's hot, and it glues stuff together. Tons of crafts can be made (or repaired) with a glue gun.
Get your kids a glue gun and, while supervising them with it, let them go crazy with all sorts of fun crafts and other projects.
Sewing Machine
The ability to make, repair, resize, or decorate clothing is huge. Sure, your little one isn't going to grow up saving millions by machine-darning their socks to make them last longer.
Instead, a sewing machine could kick off a passion for creativity that results in launching their own business or bringing in side income. They'll be able to order inexpensive jackets or dresses from overseas and resize them at will. And they will be able to repair a beloved shirt, make and personalize interesting things for themselves or to give to others, and much more.
And everything doesn't have to be about making or saving money, either. Some people just enjoy sewing. That's pretty cool! And it's worth encouraging.
Telescope
Let me tell you from experience: Don't give a kid who is interested in the stars a cheapo telescope (or let them buy one for themselves, as we did). Those things don't do squat.
In our defense, Grandma took him shopping so I didn't get a chance to veto the purchase. Our little astronomer was all excited for nighttime until he actually looked through the telescope. When he realized everything in the sky looked pretty much the same… well, it was like a mashup of the five stages of grief and a sugar meltdown rolled into the space of about six minutes.
Anyways, if you decide to get a telescope, get a good one. A real one. Yes, it will cost more, but anything under $100 is going to be worthless for looking at the stars and planets. Go big or go home.
You'll also want to get a book or app that will help your young one find and identify each star, planet, and constellation they see in the night sky. This will be lots of fun for young and old alike.
Microscope
A microscope is the perfect real-world-tool gift idea for a kid who loves to study and observe things. The tiny details, whether in biological substances, minerals, or just plain old dirt, can be quite fascinating to any child (or adult, for that matter!).
Here are eight easy and fun microscope experiments for kids that you can use with any microscope. This will give you a nice perspective on what you can do with a microscope and whether or not it is a good fit for your kids.
Grown-Up Clothes (Dress-Up)
Give your kids a chest or bin of dress-up clothes. You can stockpile a great collection of grown-up clothes easily and affordably. Start with your own used clothes, then find free clothes on craigslist or Facebook Marketplace or wherever your community sells (or gives) free stuff. Then hit up thrift stores for the rest. Many thrift stores have "shop by the pound" sales, that's a great way to get a ton of cheap clothing.
Look for professional, hobby, or old-fashioned clothes. By "professional" I mean medical scrubs, a reflective construction worker's vest, a polo shirt with a cable company logo, etc. For hobby clothes think silly golf outfits, a fisherman's vest and boots, leotards, aprons, hockey goalie gear, and so on. And of course anything old-fashioned, such as dresses, argyle sweaters, old man hats, bonnets, vintage clothing, and anything unique and different will be a hit.
Oh, and don't forget to include some accessories – hats, purses, fanny packs, old and dead cell phones with a hip clip, veils, blankets, robes, slippers, ties…. you get the idea. Stick it all in a bin or old chest and you have a great non-toy gift that will encourage imaginative play.
---
That's it! These are our favorite real tools for kids, and any of these will make great non-toy gifts for your littles this holiday season or at their next birthday.
What other non-toy, grown-up, authentic, working, real tool gift ideas do you suggest? Comment below!
Read next: 100 Non-Toy Gifts That Kids Love
Pin It