Today we're looking at some choice picks of thoughtful, creative gift ideas for a sports coach.
Coaches put in much more time, effort, emotion, and mental energy into their craft than most people realize. It isn't all just blowing whistles and yelling at kids while they run sprints.
For some, it's the late nights scratching out names on a clipboard to ensure that each young teamster gets a fair share of playing time, or adversely the burden of cutting them from the only constructive activity in their rough life.
For others, it is the hassle of politics and money concerns while trying to keep a winning streak and hold on to their job at the same time.
And for still more coaches, it's the simple joy of watching young athletes overcome obstacles to triumph on and off the field, then staying behind to pack the equipment away and dump out the watered-down Gatorade cooler.
Yes, a coach puts a lot of work into their athletic teams. Because of this, despite their often gruff exterior, many coaches have a streak of the softie inside…somewhere.
That's why you want to get them the perfect coach gifts!
We hope this helps you find a great thank-you gift for a coach, a meaningful retirement gift, or just the right touch for a personal birthday gift.
21 Sports Coach Gift Ideas
Our website is supported by our users. We sometimes earn a commission when you click through the affiliate links on our website. See our privacy policy & disclosures for more information.
You want to show them that you see their hard work, their long hours, and their ability to put in all on hold for a kid who can't figure out algebra.
Well, here we have gathered for you the very best gift ideas for coaches. These items include unique, creative, and personalized items, as well as classic sporting accessories and traditional coaching tools.
Do you need an end-of-season gift? Maybe you're trying to figure out what to get your coach for Christmas? Whatever the scenario, here are 21 gifts for coaches that will really up their game.
1. Personalized Coach Gift Tumbler Mug
Every coach knows the importance of proper hydration… or at least a good strong cup of coffee for those early-morning practices.
You can get the personalized stainless steel coach tumbler pictured above (and below) here.
Our Polar Camel tumblers are double-walled, vacuum sealed, and will keep drinks hot (or cold) for hours. Plus they include custom laser etching of anything you like, no additional charge!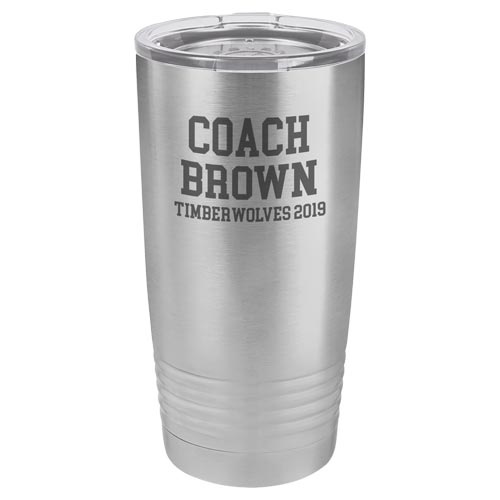 Choose a tumbler as your perfect gift idea for a coach and watch them use it year-round. Plenty of styles, sizes, and colors, too!
2. Coaches Defined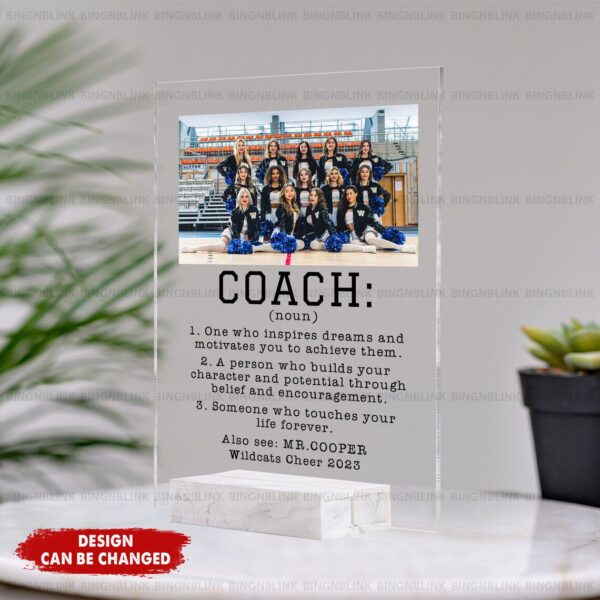 Second up on our list of best coach gifts is this Coach Defined acrylic stand.
A perfect way to say "Thanks, Coach!" at the end of the season from the whole team, this custom photo frame would make a thoughtful gift. 
3. Bottle Opener Retirement Gift
Here is a memorable, personalized, and sure-to-be-used retirement gift idea for a sports coach.
Made in the USA from solid wood with a gorgeous cast iron bottle opener, this beast is engraved to order to celebrate the legacy of a retiring coach.
4. Team Signature Frame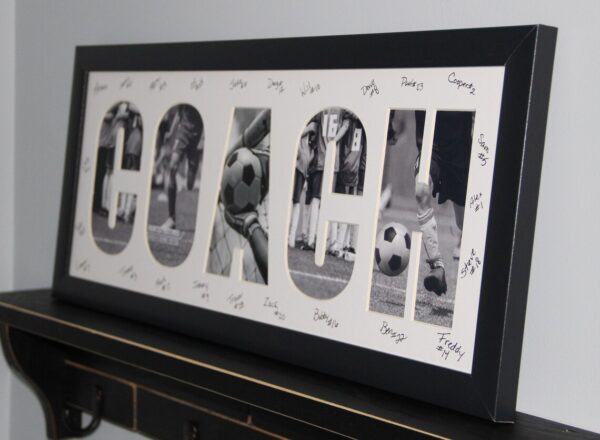 This is a wonderfully unique gift for a special coach from the whole team.
Fill the five photo frames with shots from the season's games, then have each of the team members sign it! A heartfelt gift that might even bring tears to their eyes.
5. Sport Bracelet
A special gift for coaches or assistant coaches that's also wonderfully affordable!
These sports bracelets can be customized with your team sport and are made of onyx beads that are both stylish and durable.
6. Yes, Coach T-Shirt
This is what you want to hear from every player, every time.
Show up for practice 10 minutes early? Yes, Coach. Run 50 wind sprints? Yes, Coach. Drop and give me 100? Yes, Coach.
7. Personalized Coach's Whistle
Here is a classy, simple, affordable, and custom coach appreciation gift.
The golden personalized coach whistle can include custom laser engraving and arrives with a lanyard in a lovely gift-ready box.
8. Coach Organizer Bucket Liner
A great organizational accessory, a bucket sleeve is the perfect gift for a new coach.
They can tote all the balls, pumps, tools, whistles, and more in a handy five-gallon bucket. Great for Little League and tennis coaches.
9. Megaphone/Bullhorn
As if coach's voice isn't already loud enough… This bullhorn works equally well as a practical purchase or a joke gift.
Maybe coach can be heard up and down the field at all times, or maybe coach is the soft-spoken type that instantly commands silence and respect.
In any case, all coaches need a bullhorn for some reason or another. This one is a great choice.
10. Custom Engraved Mini Bat
These personalized mini bats are a fun way to show appreciation to your baseball coach. Engrave them with the team logo, player names, or the details of a championship season.
3. Old Fashioned Sports Bar Mirror
This gorgeous antique-style sports bar mirror is made in the USA with a genuine wood frame and real glass. Includes fun old-fashioned design in full color with the coach's name splashed across the top. A beautiful heirloom gift for a coach.
You may also enjoy: 21 Personalized Gifts for Him
12. Coach Beer Mugs
How about a set of pilsner or pint glasses? Etch the different glasses with each coach's name or perhaps their favorite phrase.
13. Sports Movies
Who doesn't love a great sports movie? The drama of sports on the silver screen is the next-best thing to watching your favorite teams play live on the field.
Here are some fun and well-reviewed sports movies that feature great coaches and managers.
Want some more great sports movie ideas? You came to the right place, my friend! Because we made this list of the 75+ Best Family Sports Movies for you to peruse.
14. Digital Sports Stopwatch
Coaches of all sports need a great stopwatch like this one!
Perfect for keeping track of individual times, drills, and more, this a great example of a practical gift for your hardworking coach.
15. Customized Photo/Logo Basketball
This personalized ball is the ultimate basketball coach appreciation gift.
Custom printed with the photo or logo of your choice, this is the "game ball" of the year to celebrate a memorable championship season.
Related: Best Basketball Gifts for Players
16. Sports Bar Quarter Barrel Sign
An authentic barrel top sign for the coach in your life. This premium gift idea is made to look just like the top "quarter" of an oak barrel, with real wood staves and a steel hoop surrounding the edges.
The sports bar design includes vintage-style lettering, a rustic stain finish, free personalization, and a hand-carved relief of a quarterback deep in the pocket. The perfect coach gift idea for a classy sports-themed home bar.
17. Leather 3-Ring Binder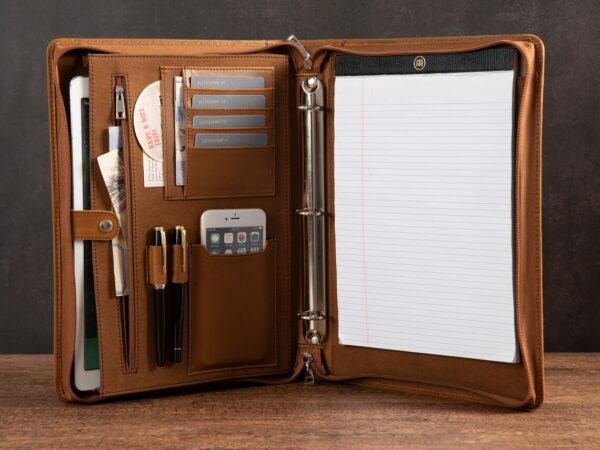 Definitely one of our best gifts for coaches as well as one of our most useful gifts, this leather 3-ring binder will keep any great coach organized and ready for action.
Now they can keep all of those rosters, registers, and other important forms safe while also having everything else they need at their fingertips.
18. Personalized Basketball Desk Clock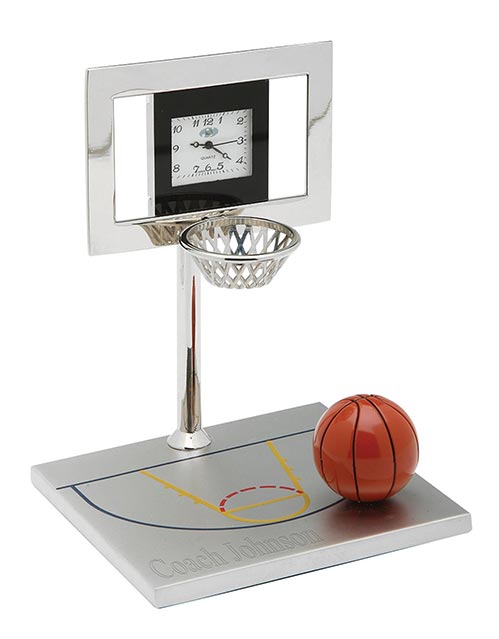 This quirky and fun trophy is a great gift for a basketball coach.
It's designed like a basketball court, complete with hoop and ball, and includes a clock in the backboard along with personalized etching of the coach's name.
19. Team Signature Coach Gift
For a fun alternative to the signature photo frame, give your coach this signature décor piece that simply says "Coach." Attractive, modern, minimalist, and affordable. This is a great gift for your team's coach.
You may also enjoy: 21 Personalized Gifts for Her
20. Personalized Sports Clipboard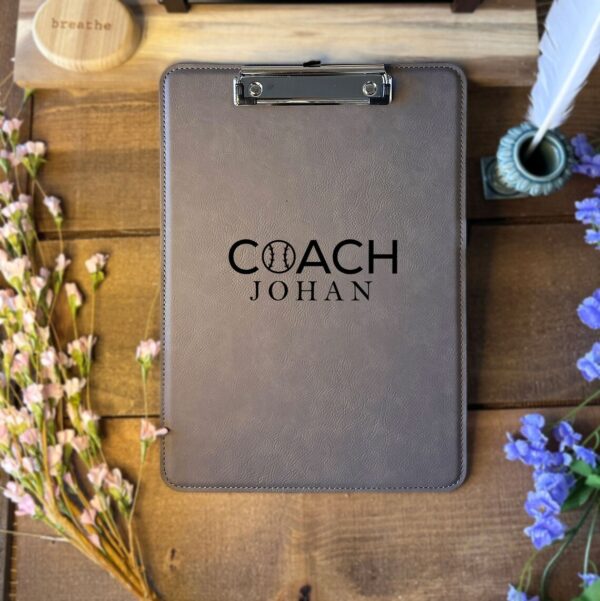 What's a coach without their coach clipboard?! 
This one takes it up a level because it's personalized with your coach's name and your team sports ball. 
21. SHHHH! The Game is On Socks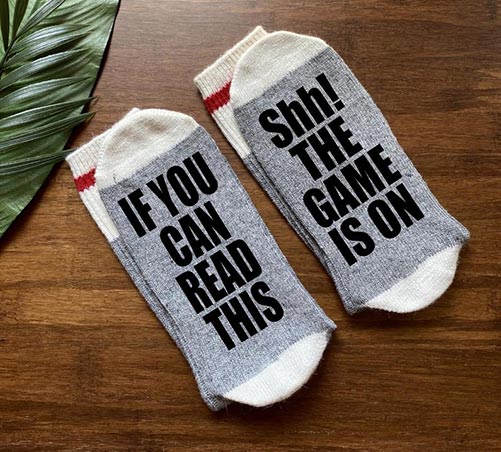 Coaches can't always be on the field, on the court, on their feet. Sometimes a good coach needs to just relax, put their feet up, pop open a cold one, and enjoy the game.
On the bottom of the feet these socks say, "If you can read this… SHHH!! The game is on"
---
Well, those were our 21 most-favorite gifts for coaches. If you still want to browse more ideas, especially some ones you can personalize, see here.
Read Next: 10 Best Gifts for Soccer Coach
PIN IT