One really can never have too many coasters.
Unless they're boring, of course. You can have too many super-duper boring coasters.
If you are suffering from a plague of yawn-inducing coasters, below you will find the prescription which will cure your ailment. If you have not fallen to this vile plague, just remember: One really can never have too many gorgeous coasters.
Top 10 Designer Coasters
Our website is supported by our users. We sometimes earn a commission when you click through the affiliate links on our website. See our privacy policy & disclosures for more information.
1. Cotton Rope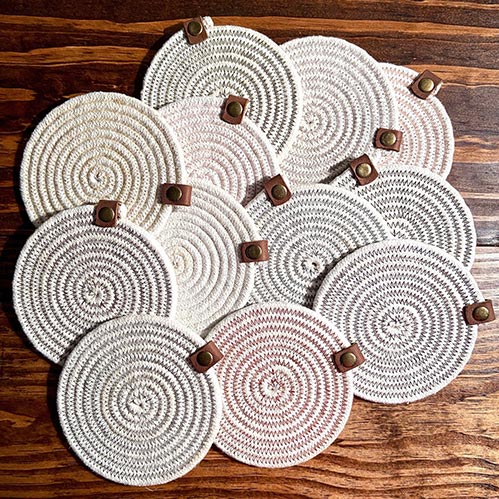 Handmade with leather and cotton rope, these understated cotton rope coasters will never scratch up your furniture, and will quite easily soak up any excessive beverage condensation.
That's the point of coasters anyway, right?
Oh, and they look great.
2. Wooden Epoxy Coasters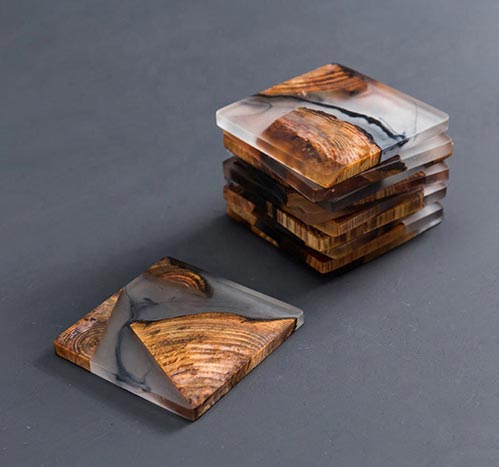 Rustic wood with rivers of glass-like epoxy. These coasters add flair to any living room, and will certainly be a conversation starter.
Each one is unique, and you can get an optional (and very cool) coaster holder along with the set.
3. Speckled Marble
With this being both modern in design and absorbent by nature, what else do you need in a coaster? Any stylish, minimalistic person is going to love this speckled marble coaster!
4. Pressed Flowers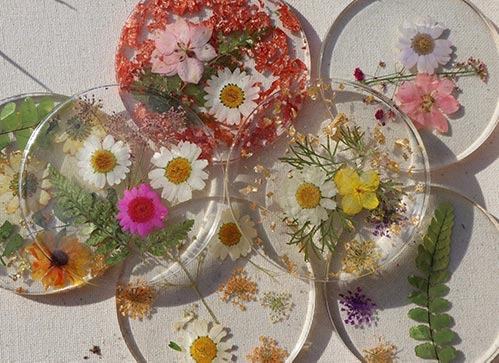 If you're just looking for a place to set your drinks, then anything will do.
But if you're on the hunt for something functional that will truly beautify your home… well, this is what you want.
This one-of-a-kind coaster set boasts dried and pressed flowers permanently preserved in a clear glass-like resin coaster. Since the artist handcrafts each one from real flowers, every single piece will be unique – just like in nature!
What a gorgeous way to decorate your home and keep your furniture looking peachy.
Related: 25 Beautiful Flower Gifts
5. Honey Bee Coasters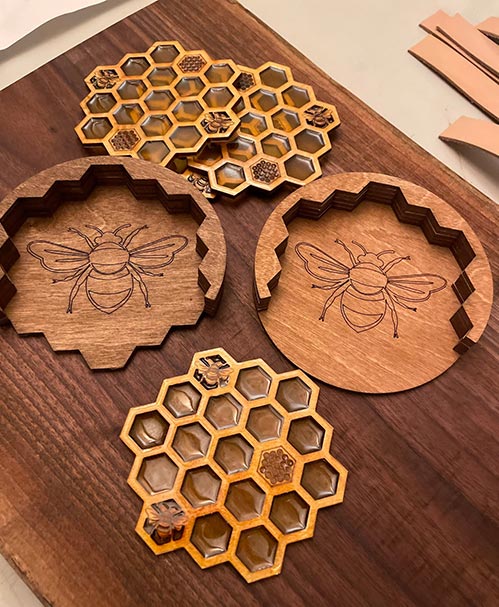 Handmade honeycomb shaped coasters with bee accents and a gorgeous laser-etched wooden coaster holder.
Yes, please.
Comes in a set of four, with your choice of wood finish for the holder.
6. Euro Coaster Set
These elegant chrome-plated coasters are the best design for anyone who doesn't want their coaster to be a statement piece but still want to save their tables!
7. Persian Coasters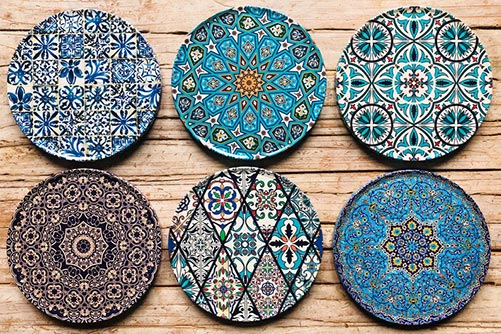 This set of six metal coasters features a selection Mediterranean-inspired patterns printed onto the sheet metal and cut in classic circles with a soft, protective cork base.
Boho style meets modern chic, and it's a very good thing it does.
8. Engraved Turtles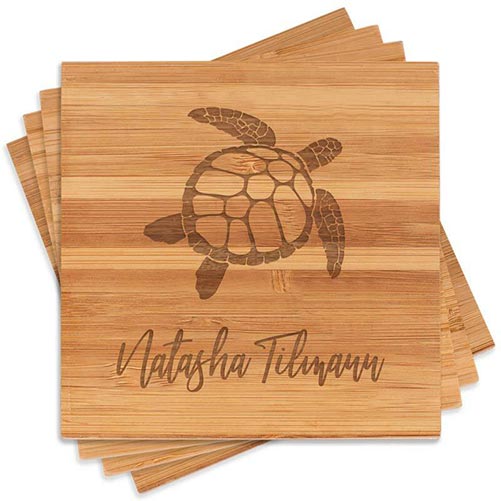 From Northwest Gifts, this elegant coaster set features a sea turtle and includes personalization of the recipient's name (or anything else you like).
Comes in a set of four and includes a matching bamboo wood holder. Perfect for the beach lover in your life!
9. Inspirational Coasters
Sweet sentiments abound in this lovely set of decorative accents!
With durable cork backing, contemporary colors, and inspirational quotes, this coaster set is all about spreading joy, love, and blessings.
10. Coffee Art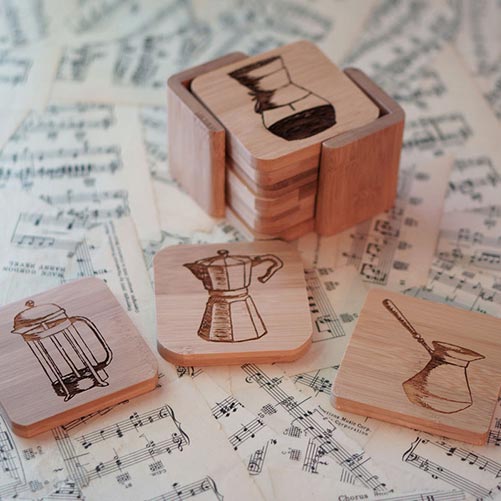 A Northwest Gifts original, this set of six bamboo wood coasters features hand-drawn coffee themed art. The perfect gift to finish off your coffee bar!
Best DIY Coasters
11. Scrabble Yourself: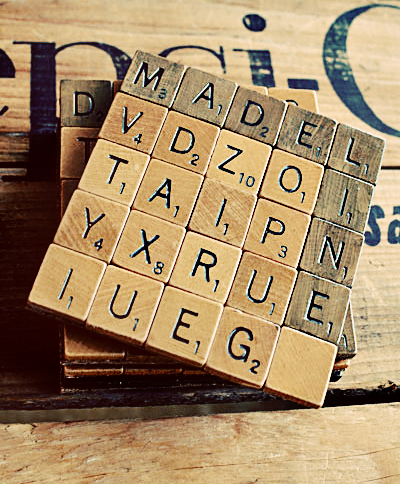 If the Scrabble coaster tile set is to out-of-the-box for you, try this DIY Scrabble Tile Coaster tutorial from Intimate Weddings.
The best part about this is you can accent names (or hide clever words and phrases… *wink*) in the coasters! Designate each coaster's owner ("Madeline") or preferred drink ("Lemonade"). The possibilities are endless….
12. Dominator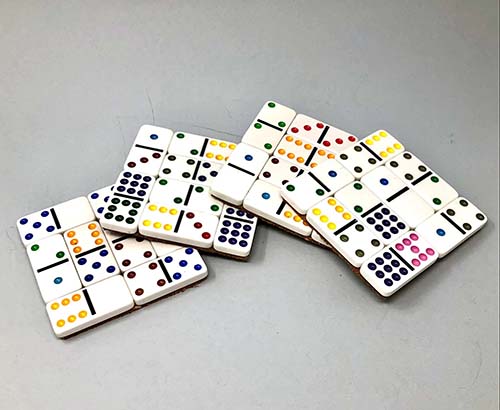 Playing with the same game-ish-ness style as the Scrabble coasters, this set of Domino Coasters is an affordable gift or simple DIY project for you to create from an old set.
13. Tile & Style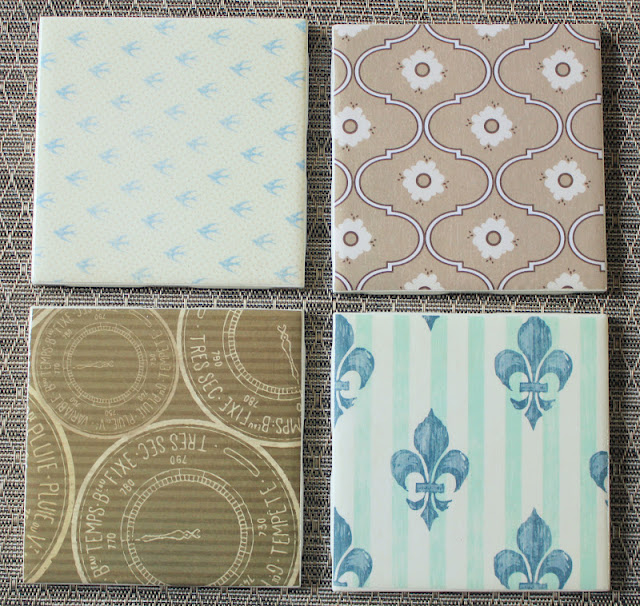 This easy DIY coaster tutorial from Mal & Kev uses 16-cent tiles, scrapbook paper (or newspaper, or book pages, or whatever), Mod Podge, and a bit of paint and clear acrylic sealant. As you can tell, these can be as simple or as ornate as you like – let your style shine!
Related: Homemade gifts: Ideas & Etiquette for Used Gifts, DIY & More
14. In Color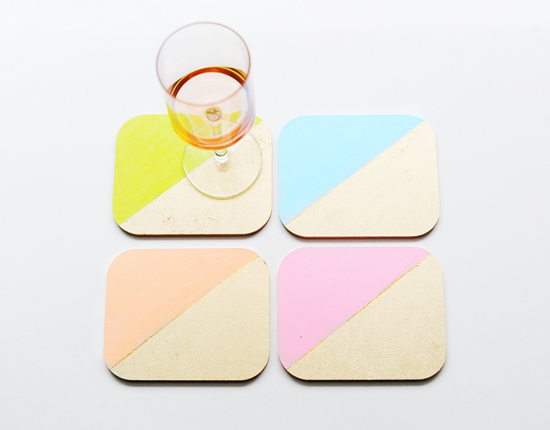 Check out this DIY Coaster Tutorial from FreutCake for color-blocked coasters in sprightly colors. Of course, you can go with any color scheme you desire, to match your home decor, seasonal or holiday colors, and oh so much more.
All you need for these is:
1. Wooden coasters (you can get these from your local craft store)
2. Acrylic paint
3. Paint brush
4. Paint tray
5. Masking tape
7. Clear Acrylic Craft Sealer
Best Personalized Coasters
15. Custom Bamboo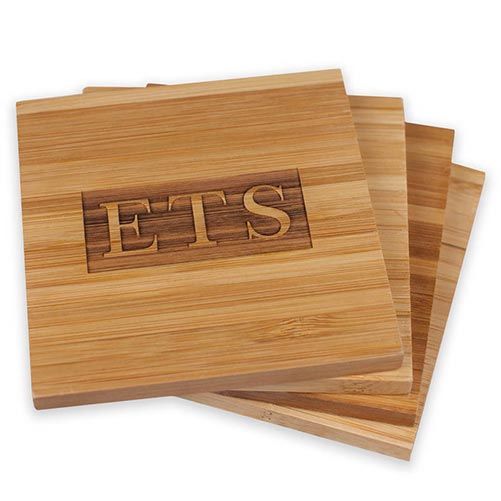 Laser engraving is an easy and affordable way to customize your coaster gift. This set of four Bamboo wood coasters, available at Northwest Gifts, can be engraved with quotes, special dates, names, logos, images, and more.
16. Custom Marble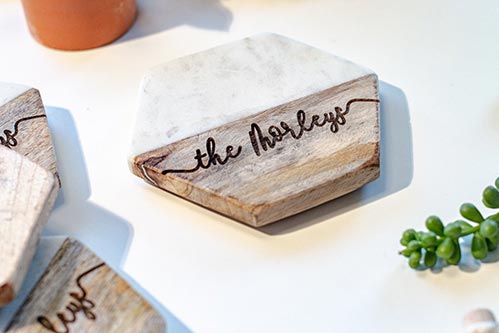 Mango wood and white marble in an elegant hexagon. Completed with the name of your choice laser etched across the wood portion, this set of four coasters is a great gift for weddings, housewarmings, holidays, or a special treat for yourself.
17. Engraved Slate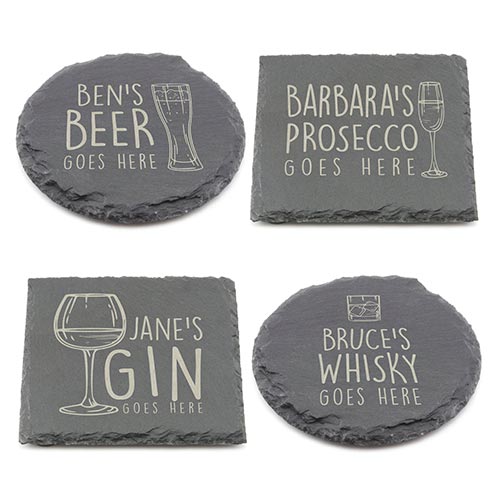 Choose square or circle, and choose your drink. Tea, vodka, wine, beer – they've got it all.
What will you be drinking tonight? Say it with slate.
This personalized coaster set is available here.
18. Photo Coasters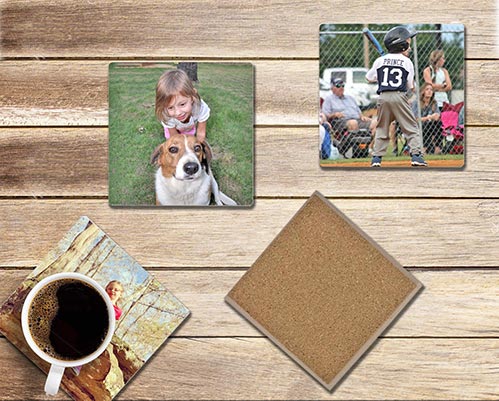 This is a classic set, modified and modernized by the photos you choose to put on it. Personalize yours here.
19. Map Coasters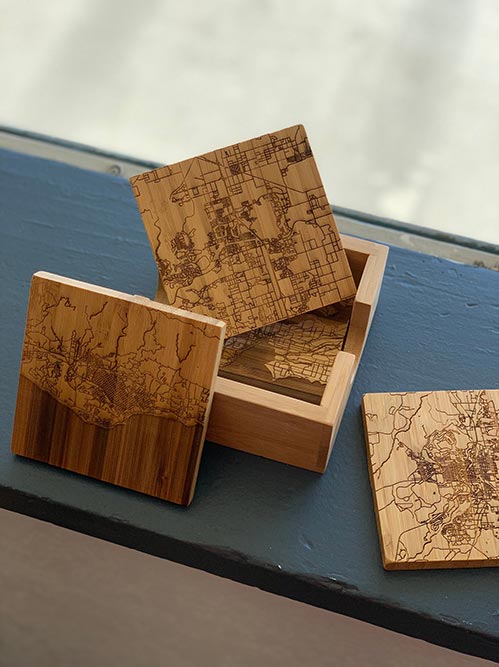 Here's a fun idea for personalizing your coaster set: Etch it with a map of your city, region, state, or whatever area is most important to you!
This set of four custom map coasters can be engraved with the same design, or four different maps. Make it as unique and original as you like, and it will be a memorable keepsake for years to come.
20. Geometric Coasters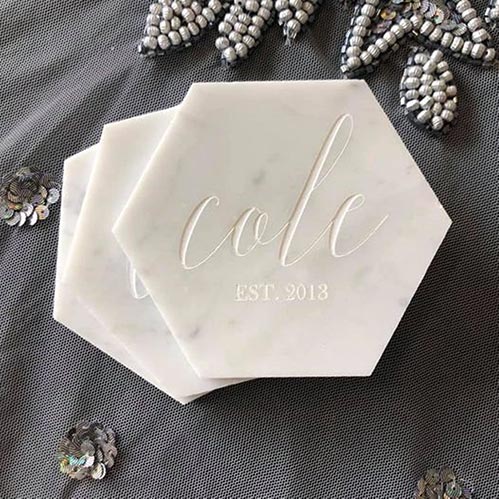 Gorgeous. Classy. Timeless. Personalized.
This set of geometric marble coasters has a look that is both old-fashioned and completely modern. Comes in a pack of four with optional engraving of name and "Est" date.
21. Leather Coasters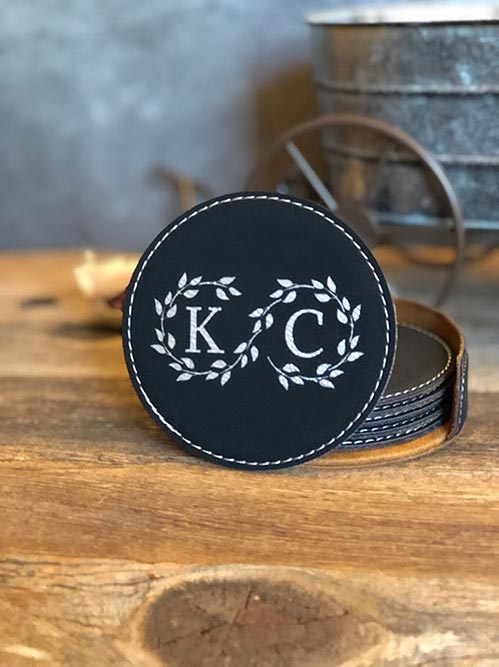 These leather coasters are too cute! The set includes six leather coasters with gorgeous stitching and a matching holder.
You can choose the leather color (8 options) and the monogram style (18 options). Personalization can include anything from a single initial up to name, family name, and wedding date.
Why do people use coasters?
Coasters protect the surface of household tabletops, particularly wood, including dining tables, coffee tables, end tables, and more.
Cold drinks often collect condensation, hot drinks can trap steam, and any drink can spill. So, to keep the moisture from staining or otherwise ruining the look of the furniture, people like to use a special moveable protective barrier.
These are called coasters.
You can use anything as a coaster – when I was first living on my own, junk mail was a popular choice to serve as a coaster for my beverages. But that doesn't always fly.
One day you decide that enough is enough. Drinking beverages is a daily occurrence, often done while sitting on a couch or in an easy chair. You set your drink on the table and don't want to leave a mark, so you use a coaster.
And why not have this coaster look great?
I think you'll agree, the ones we've picked above are just the thing. We hope you've found the perfect coaster to give as a gift or to use for your very own!
Are coasters a good gift?
Yes! Coasters are an excellent gift. As noted, we use glasses, cups, and mugs to drink stuff every single day. These can leave nasty marks on furniture from condensation or spills, so you definitely want to have some form of protection. What household doesn't need coasters for their drinks?
Plus, coasters can be as unique, creatively attractive, and personalized as you want. They're easy to swap out to fit any decor, and no home can have too many coasters.
So please, gift away! Coasters are great for housewarming, graduation, birthday, and Christmas gift-giving. They're generic enough for new neighbors yet customizable enough for your very best friend.
It's the perfect gift!
Read Next: 10 Practical Gifts (That People Actually Love)
Pin It