Decorating a home coffee bar requires a deft touch. You'll want to have unique and creative coffee bar décor ideas, but they'll also need to go with your existing décor and your personal sense of style.
But don't worry, we have you covered! Whether it's personalized, modern, vintage, classy, clever, or humorous, we've searched far and wide for the most creative accents to your coffee station or shop.
Let's take a look at twenty* of the most creative coffee bar décor ideas on the web.
*We started with twenty** and just kept finding more great ideas.
**Ok, well actually we started a really, really long time ago with just sixteen ideas. But we love coffee. So, there you have it.
20+ Creative Coffee Bar Décor Ideas
Our website is supported by our users. We sometimes earn a commission when you click through the affiliate links on our website. See our privacy policy & disclosures for more information.
1. Vintage Personalized Coffee House Barrel Head Sign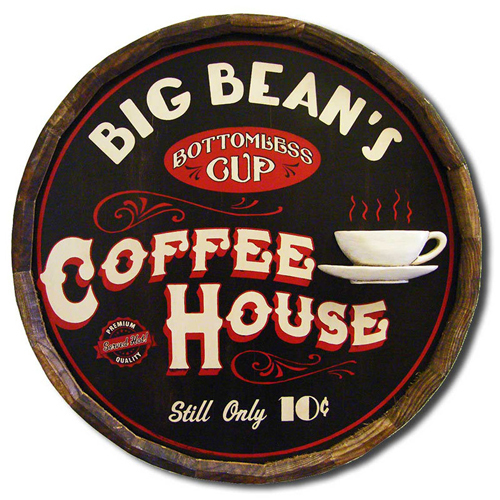 This Coffee House Barrel Head sign combines an old-fashioned coffee barrel head with the ever-so-popular retro style. Includes a personalization of your choice and a 3-dimensional coffee mug applique carved by hand.
2. Personalized Farmhouse-Style Coffee Storage Tin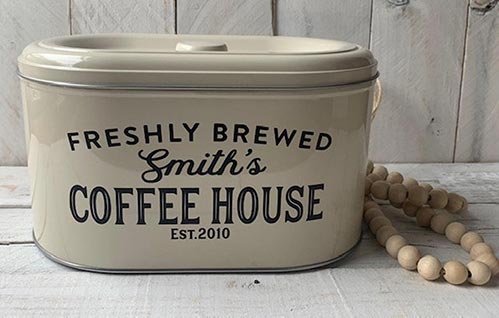 Here's a delightful way to display your love for coffee while storing it within easy reach on the countertop.
This vintage-style coffee tin has a timeless farmhouse feel and includes personalization of your family name and date.
3. Personalized Glass Coffee Mugs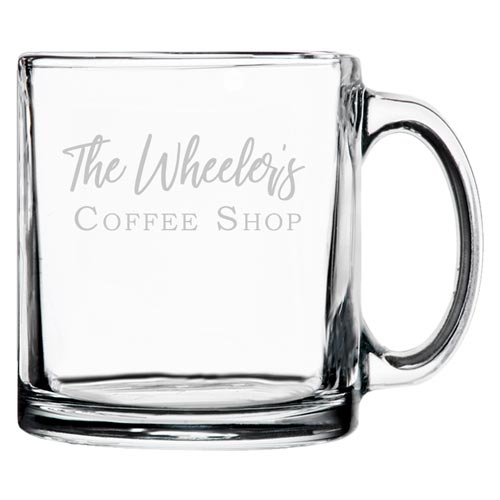 Every coffee bar needs coffee mugs. Glass helps maximize the flavor profile of your coffee, looks great, and our Personalized Glass Coffee Mugs include (you guessed it) – personalization!
We can custom laser etch any text or clean, crisp line-art logo for you onto our premium glassware mugs. Order a set of four, with bulk discount rates for higher quantities.
4. Old Fashioned Coffee House Wall Décor Plaque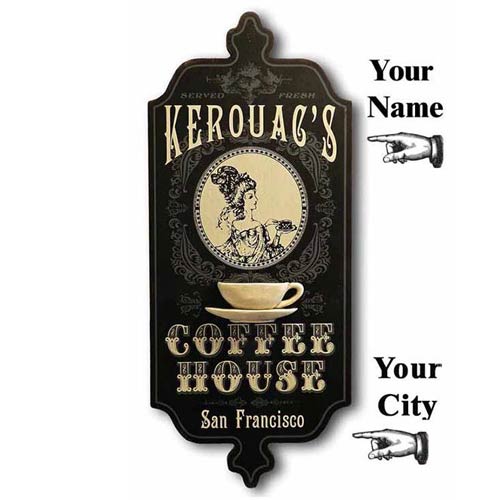 This is a classy wooden sign which checks off all the boxes.
Old fashioned style and sensibilities? Check. Unique design with personalization of name and location? Check. Coffee bar theme? Check. Made in the USA, ready to hang? Check.
5. Coffee Pour Over Stand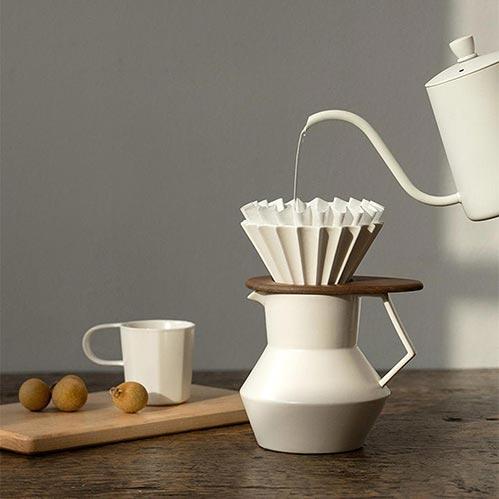 This lovely rustic ceramic coffee pour over gets it just right, every time. A beautiful coffee maker gift for the true connoisseur.
Choose exactly what you want. You can get just the pour over top set only (cone + wood stabilizer), you can add the carafe, or you can get the whole gift set and add the matching pitcher.
6. Barrel Coffee Tables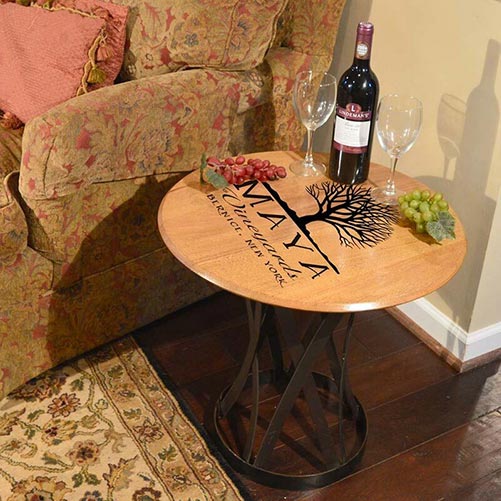 Sometimes, you need to break out from the idea that everything in your coffee bar has to literally say "Coffee" on it somewhere.
Since you have to set down your coffee mugs at some point, why not have it be on a gorgeous personalized coffee table made from an oak barrel head and engraved with your name and more?
Why not, indeed. It's a great idea!
Related: 11 Best Oak Barrel Coffee Tables in the Universe
7. Hand-Drawn Coffee Art Bamboo Wood Coasters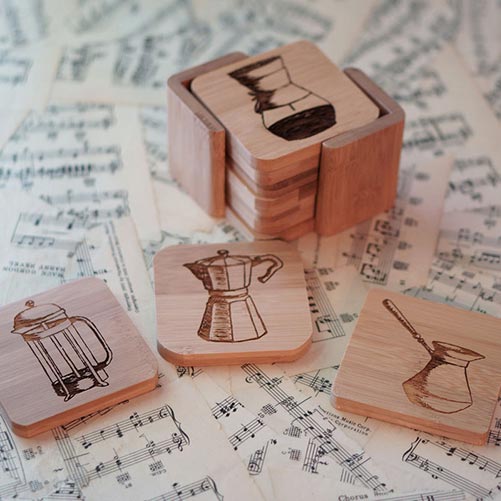 A Northwest Gifts Original, this set of six bamboo wood coasters features hand-drawn artwork designed specifically for use in your coffee bar.
The set includes unique drawings etched onto each coaster, with themes like pour over, French press, and old-fashioned grinder, and more. Includes a matching coaster holder.
8. Floating Spilling Coffee Art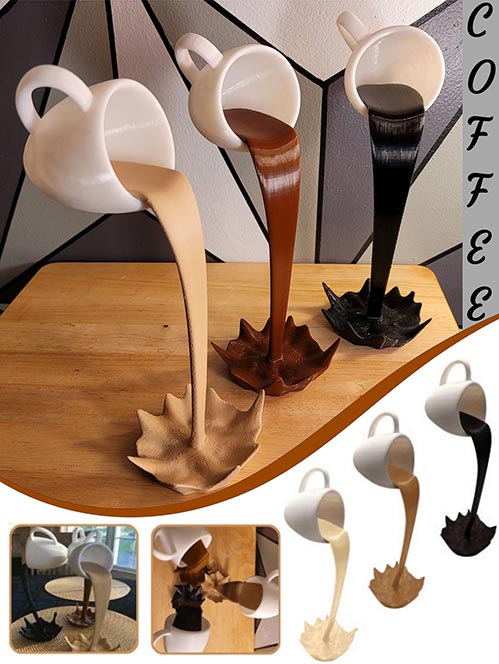 Such a cute and creative coffee bar décor accent! This is what it's all about – different and unusual, yet recognizable. Spilling coffee is something we can all identify with, amirite?
Choose your cup color (20+ options) and your choice for the coffee/liquid color (20+ options). The possibilities are endless.
Get multiples so you can change out the mugs as needed: Green for St Patrick's Day, Red for Valentine's Day, Orange for Autumn, White or Black for all-year-round, or a Rainbow scheme to add some lovely pop to your coffee bar!
9. Coffee Wall Clock
Let's take life one cup at a time. That's the way you want to live, and your coffee station will reflect that.
This lovely coffee mug & saucer clock is the perfect way to add a timepiece to your décor. You know you'll always be tempted to make just one more cup, but you can't be late to work either!
10. Wall Mounted Coffee Mug Rack & Caddy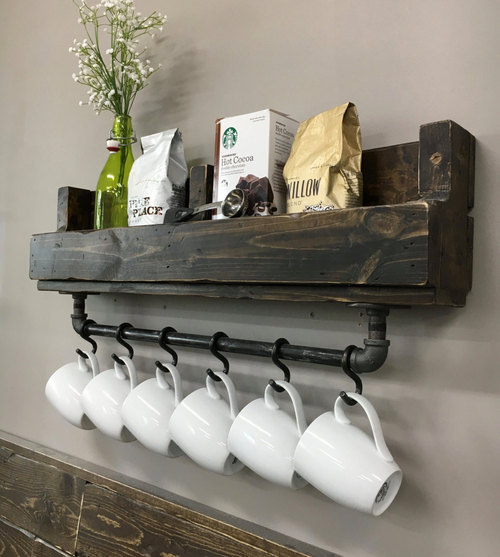 Combining lovely woodworking with an industrial flair, this wall mounted coffee mug rack is a wonderful decorative accent for your home coffee bar.
11. Large Vintage Coffee Shop Sign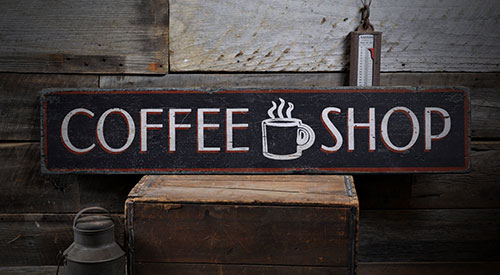 This handcrafted vintage style coffee shop sign comes in a variety of sizes to suit your coffee bar's needs. Sizes range from 24 inches wide all the way up to 8 feet or more.
12. Rustic Barn Door Coffee Bar Serving Station
Every coffee bar needs a serving station. There are many from which to choose; you can shop online or at your local furniture store.
The one pictured above has a lovely craftsman feel to it and is affordably priced.
13. Barn Wood Vertical Coffee Mug Holder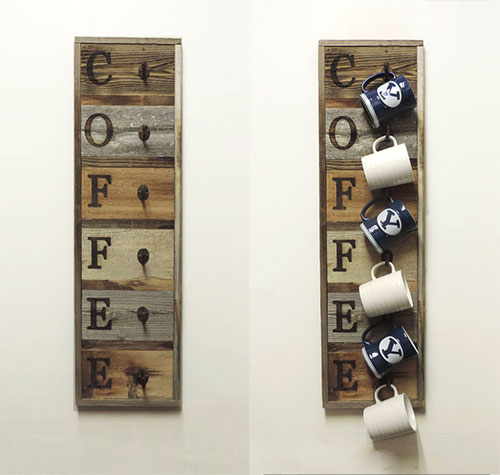 Here is a fun coffee bar plaque that stands out from the crowd. The vertical orientation, rustic farmhouse look, coffee mug hooks, and of course the most important word of all: COFFEE.
14. Coffee Bar Décor Metal Sign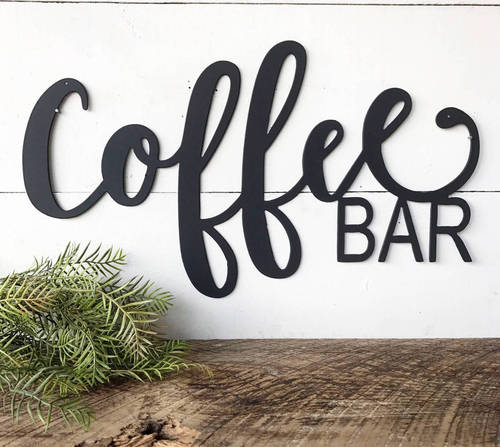 This sleek and handcrafted metalwork coffee bar décor sign is super stylish and perfect for any kitchen or coffee bar!
Comes in your choice of two sizes (14″ or 18″ wide) and a variety of metallic finishes to match your coffee bar décor scheme.
15. Wooden Coffee Bar Sign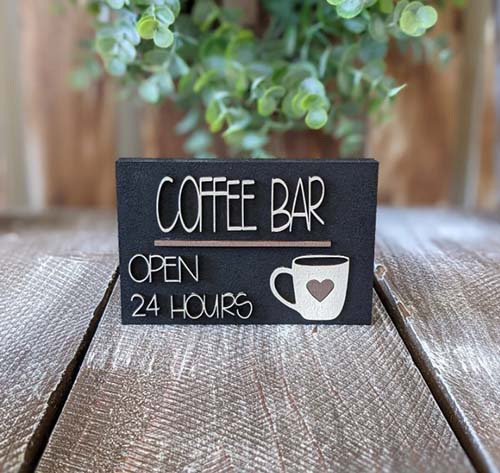 Here we have a lovely wooden coffee bar accent sign that says, simply, "Coffee Bar" followed by the classic "Open 24 Hours". The lettering is not hand-painted but rather a 3-dimensional woodcarving that creates a very vivid and attractive effect.
16. If You're Not Shaking- Tin Sign
"If you're not shaking, you need another cup."
This is some vintage coffee humor! If antique, old-fashioned, old-school is your style, your coffee bar could use a few signs like the one pictured above.
Look for more great (if relatively groan-inducing) coffee quotes like:
17. Know Your Coffee Metal Coffee Bar Menu Sign
How well do you know your coffee? This fun and affordable metal coffee bar décor sign will test your coffee knowledge in style.
18. Love Coffee Bag with Scoop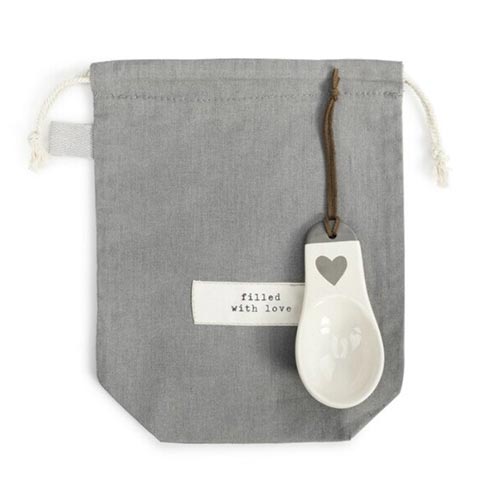 Now this is a cute way to store coffee! "Filled with love," which apparently means that coffee = love (I can get on board with that), this contemporary gray coffee bag includes an equally adorable scoop.
19. Coffee Menu Poster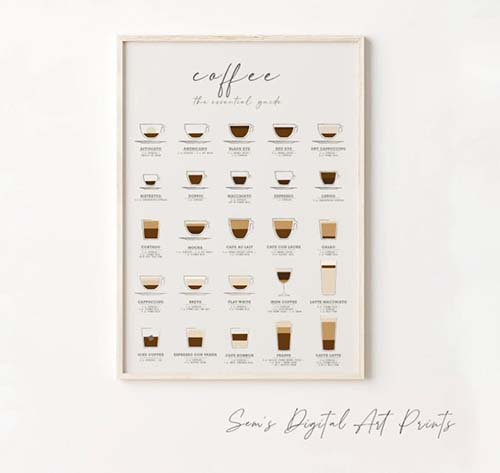 Learn and display all the different types of coffee with this elegant coffee art print.
Your next challenge will be to learn how to make each of these brews, and equip your coffee bar with everything needed to do so.
Now that's legit!
Related: 17 Creative Gift Ideas to Surprise & Delight Someone Special
20. Made with Love French Press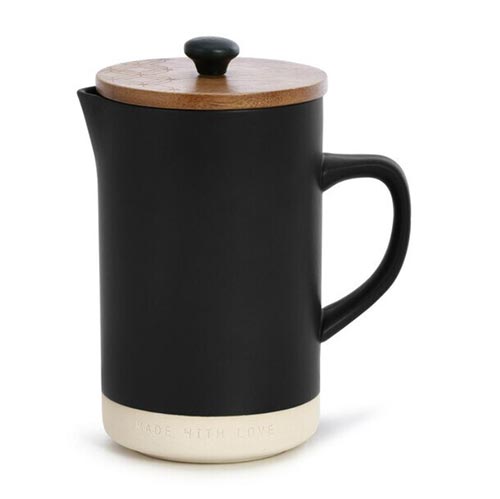 If you're going to do French Press, do it right and do it with stunning style.
This stoneware French Press boasts a matte black finish and reads "made with love" across the bottom. The lid is oak wood, and the colors contrast perfectly to complement the smooth lines and contours of the piece.
A must-have for every coffee making station!
21. Peel & Stick Wall Decal
Decorate with decals! This set of 31 coffee-themed decals will help you display your love for the ultimate caffeinated brew with flair, fun, and creativity.
Peel-and-stick decals are so very easy to add to any surface, so you'll have a fresh look in no time!
22. Wire Heart Cup Sign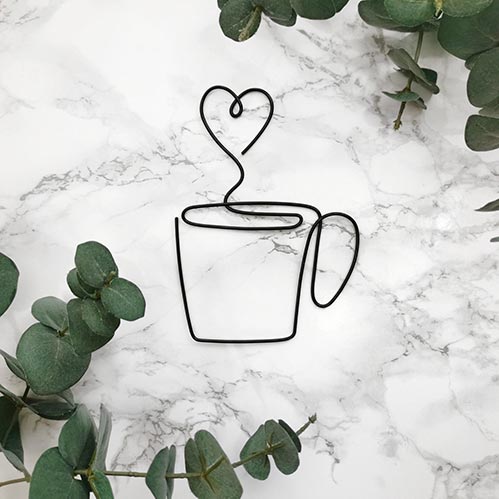 Using a single piece of thick black wire, the artist handcrafts a coffee mug with a steaming heart just for you.
Available in several different sizes, you can also have the artist personalize your name or something like, "But first, coffee." The options are endless!
Giving Coffee Bar Décor Gifts
Any of these 20 creative coffee bar décor ideas will make a great gift. When you're considering a gift idea, make sure you follow these 15 simple guidelines to make sure your gift stands out meaningfully to the recipient.
Read Next: Gifts for Coffee Lovers and Baristas