What is a good gift to give your neighbor? Finding good gifts for neighbors doesn't have to be daunting when it can be fun!
Do you have a wonderful neighbor whom you'd love to show your appreciation for? Is a neighbor you've become great friends with over the years moving away?
Or maybe you've just moved to a new neighborhood, and want to introduce yourself to your community.
Well, what better way than to offer your new neighbors a memorable, heartfelt gift?
Our website is supported by our users. We sometimes earn a commission when you click through the affiliate links on our website. See our privacy policy & disclosures for more information.
In today's article, we'll be taking a look at 40+ creative gift ideas for neighbors, for all occasions:
Take a look through all the fun and unique gifts for neighbors we've picked out below. We've scoured the internet to find only the very best gift ideas we could find.
We've got practical gifts, fun gifts, holiday gifts, sentimental gifts, and all the best options in between.
If you're on a budget and need more inexpensive gifts, or are more the type to take on DIY projects, we've got some interesting ideas just for you, too.
So without further ado, let's get started!
Best Gifts for Neighbors
The world's greatest neighbor ever deserves the best gift ever, right?
Whether you've known them for twenty years or two weeks, your neighbor is simply the best. And you really want to let them know!
So, kicking off our list, here are our top ten gift ideas for neighbors.
1. Best Neighbor Ever Personalized Bird Feeder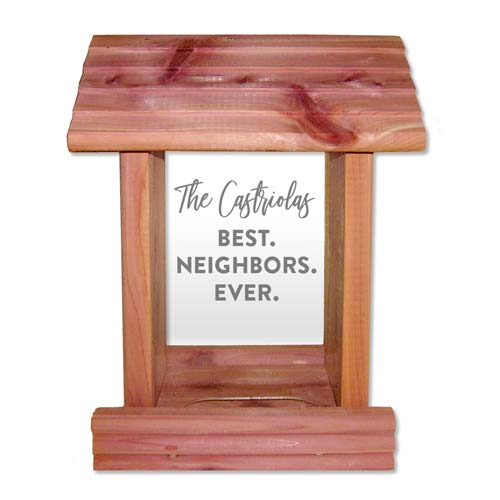 Bird feeders are an all-around perfect gift for almost any occasion (especially when you can personalize them)!
And when you give your neighbor a quality bird feeder, such as this "Best Neighbor Ever" cedar wood feeder from Northwest Gifts, they will be able to enjoy it for years to come.
This custom bird feeder can be laser-engraved with any text or logo on both the front and back acrylic panels.
2. Custom Welcome Mat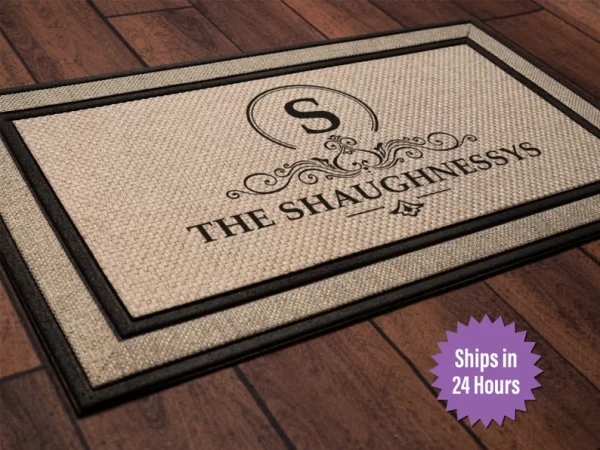 If they don't already have a great welcome mat (or even if they do), then this one would make a fantastic, useful gift for your favorite neighbors.
Classy, well-made, customized just for them, it will look so perfect on their front porch.
3. Outdoor Solar Lanterns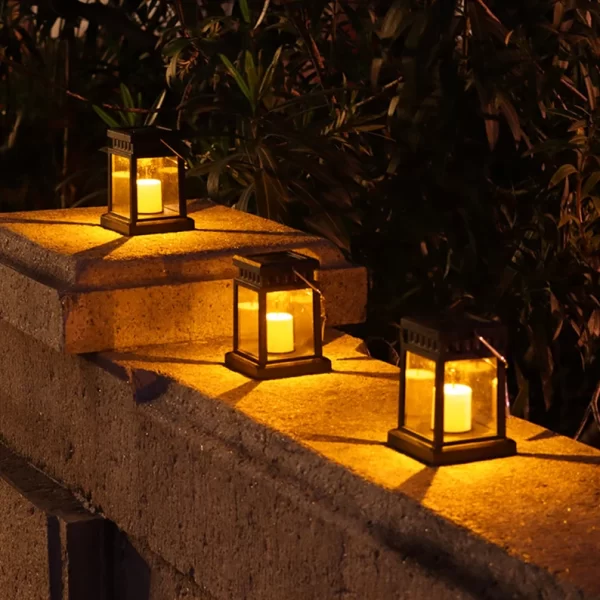 These beautiful lanterns will be such a wonderful gift wether they just moved in recently, or have been your neighbors for over a decade.
Classic, warm light will bathe their porch, back patio, or walkway each evening with their solar powered candles. Even great to hang from the trees if they so wish!
4. My Favorite Neighbor Mug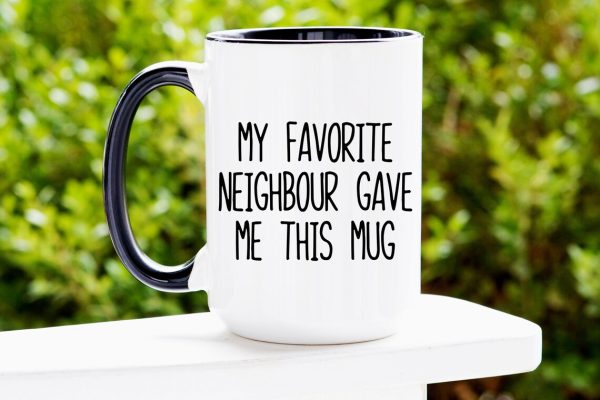 Mugs are another one of those neighbor gift ideas that work for almost any occasion and are appreciated by everyone.
This super funny mug will have them both laughing and rolling their eyes (even if they know it's true) while sipping their coffee or hot cocoa.
It's minimalist, yet makes clear the message that they couldn't have asked for a better neighbor. Making it even better, it's both microwave and dishwasher safe.
5. The Mesa Tabletop Fire Pit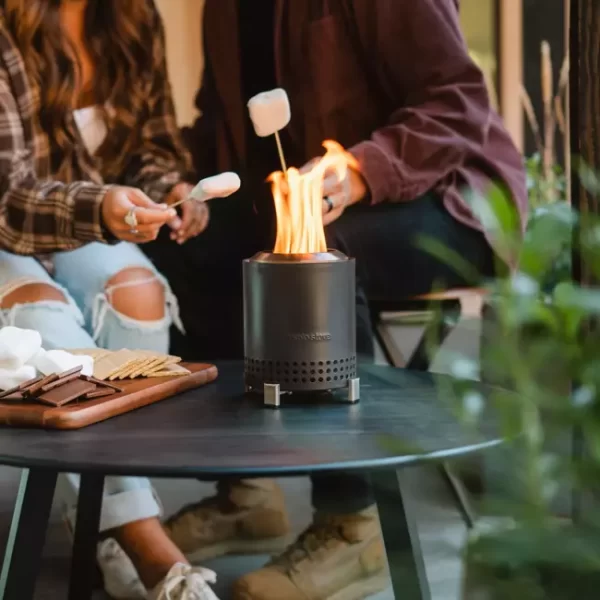 C'mon. Everyone loves a fire pit, am I right? But not everyone necessarily has the room for a full blown, hand-dug, bona fide bonfire spot in their backyard.
Enter this fantastic tabletop version from Solostove! The Mesa (appropriately named since "Mesa" means table in Spanish), is compact, portable, but not to be underestimated as far as firepower is concerned.
It can easily handle their bratwurst, marshmallows, kabobs, and keep them warm for hours as they enjoy the chilly evenings on the back deck. A thoughtful present they will get years of enjoyment from.
6. Best Neighbor Ever Cutting Board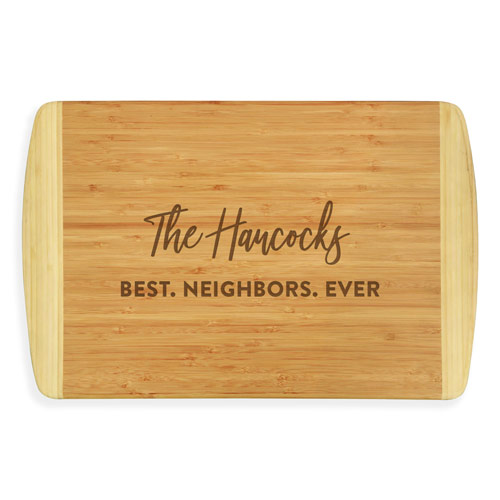 What best neighbor ever wouldn't appreciate a brand new cutting board? Make their day by gifting them this one, made of sturdy bamboo wood and measuring a good 18″ x 12″.
Besides the "Best Neighbor Ever" engraving you see above, you can also personalize their cutting board further by adding their name or any other text you'd like.
More personalized cutting board designs are also available here.
7. Handcrafted Stone Birdbath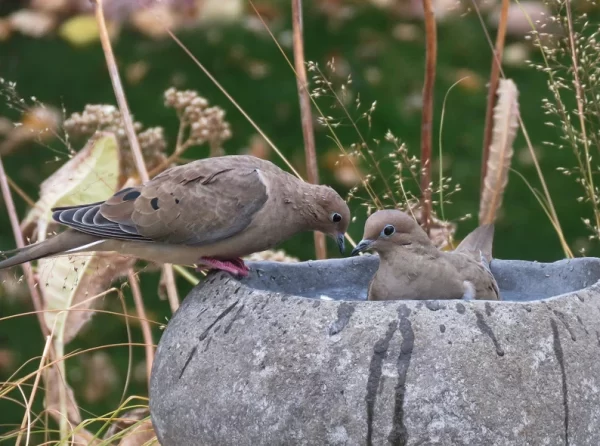 If they are nature lovers (or perhaps even hobby birdwatchers), then you can't go wrong with one of these gorgeous river stone birdbaths!
Handcrafted and carved by artisans of natural river stone using only water and sandpaper, the outside retains its rugged surface while the inside is brought to a beautiful, smooth polish. Both they and their feathered friends will adore it.
7. Custom Mailbox Decal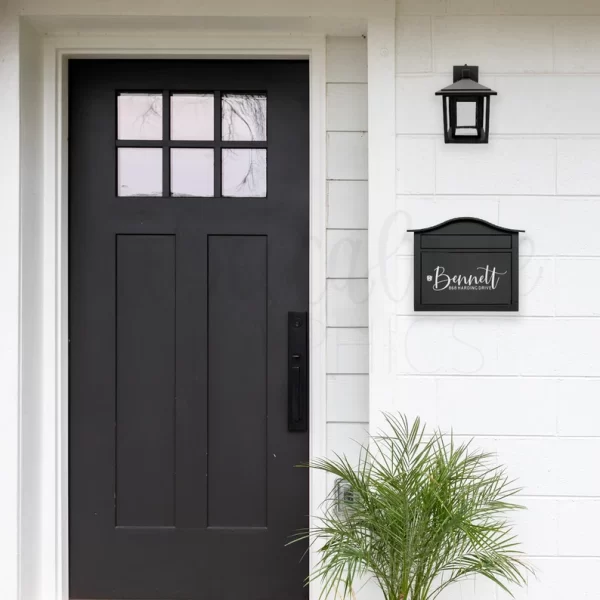 Help them jazz up their mailbox with one of these custom decal sets! They stand out to you as fantastic neighbors, so they should stand out in the hood, too!
These custom vinyl stickers feature their name and address in a pretty font, with plenty of room for personalization. They'll love how fancy it makes their box look.
8. Best Neighbor Ever Personalized Tumbler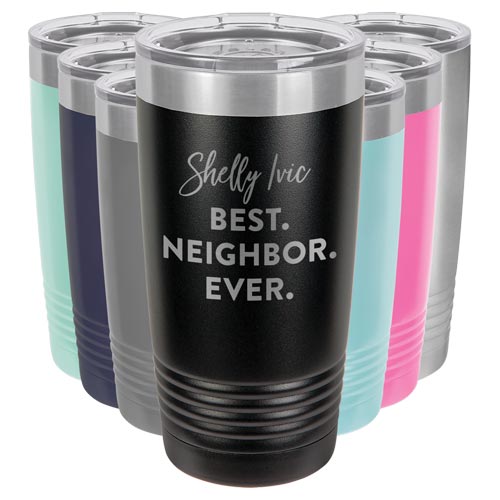 Finding a creative, personalized gift for your neighbors, especially if they're the best neighbors ever, isn't hard to do when you've got Northwest Gifts on your side.
Our "Best Neighbor Ever" tumbler is only one example of some of the amazing products we have to offer.
This double-walled, vacuum-sealed Polar Camel tumbler comes personalized with your neighbor's name and anything else you want it to say. Choose from seven different colors and two different sizes.
9. Monogrammed Tea Towels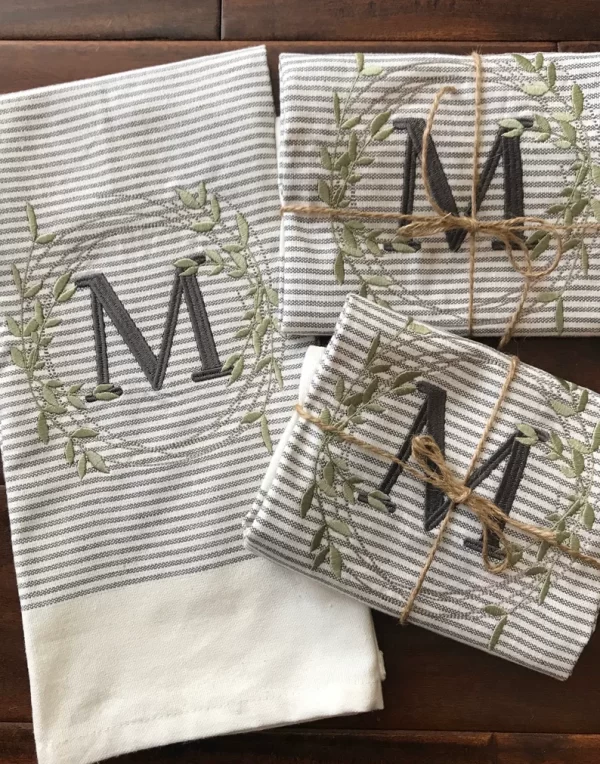 These beautifully embroidered, custom tea towels will breathe some fresh air into their kitchen!
The design shown is delightfully farmhouse, but there are lots of patterns and embroidery options to choose from, so you can pick whichever you feel fits their vibes best.
This is the kind of gift you could give on its own, or pair with a candle, baked goods, or even kitchen necessities like scrubbies, dish soap, and the like.
10. Money Tree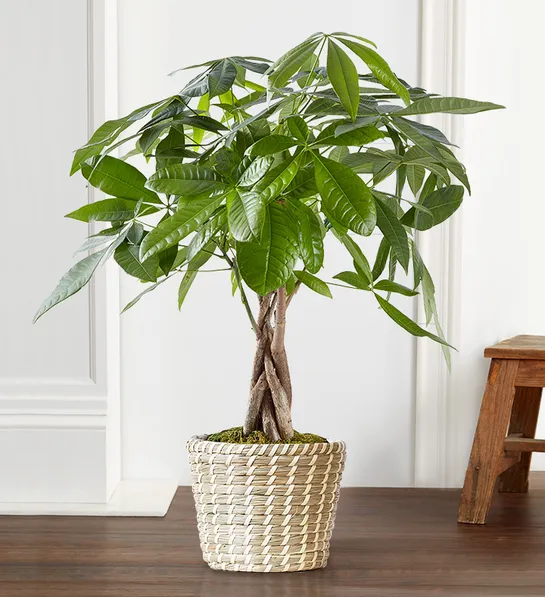 This is the perfect time to christen their porch or living room with a beautiful, lush "money tree."
Named such because it is believed in some cultures to bring good fortune and wealth, we know it will at least bring a wealth of joy with its natural beauty.
It would look lovely wherever they choose to put it, inside or out.
Christmas Gifts for Neighbors
This holiday season, do you want to start a new gift-giving tradition with your neighbors? Or perhaps you've already enjoyed a gift exchange for years, but are wanting some fresh ideas this go-around.
Either way, below you'll find our top five ideas for Christmas gifts for neighbors to help spread that holiday spirit.
11. Family Size Throw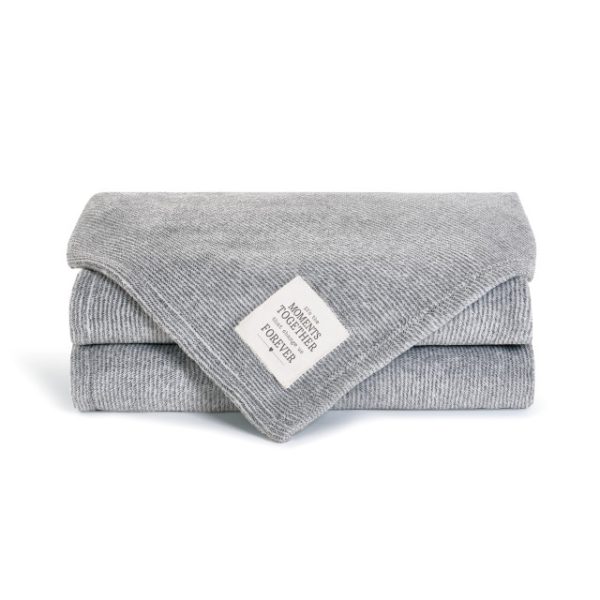 Now this is one blanket we can really get behind. Yeah, decorative throws are great and all, but c'mon. They're usually only big enough to cover even one person, and even then your toes stick out the end.
This purposely oversized throw blanket is designed to be big enough for the entire family. Measuring in at a whopping 60″x120″, its snuggly soft fleece is ready to keep them all warm and toasty on the next movie night.
And yes, you read that correctly. It is, indeed, ten feet long.
12. An Adorable Pie Plate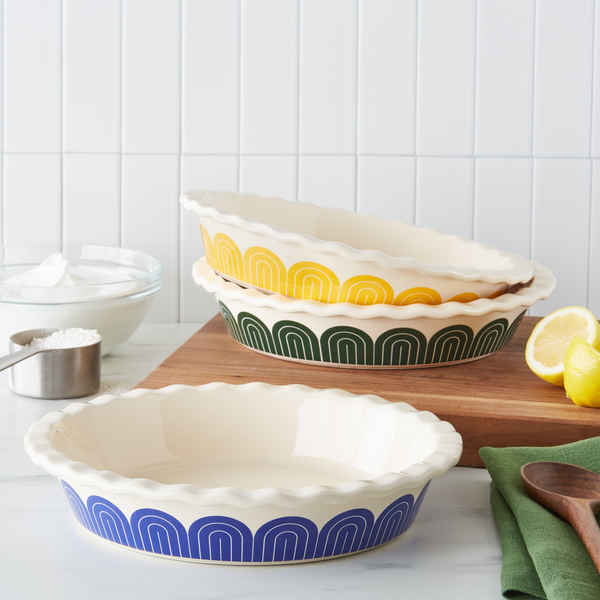 Nothing says "happy home" and holiday cheer like a fresh baked pie. And how better to serve it up than in one of these beautifully classic pie plates?!
These cheery plates are a sweet twist on a retro style that will fit in with most kitchen decor. Who knows, maybe this will solicit an invite for pie and coffee in the future? We certainly hope so.
13. Coffee Subscription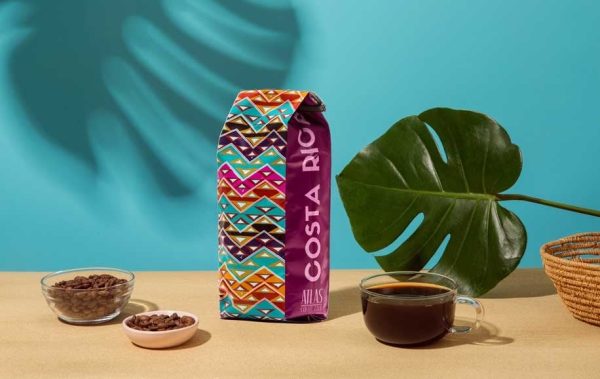 Keep their coffee mugs full and warm, and their tastebuds happy with a monthly subscription from Atlas Coffee!
All of the roasts are shipped right to their door, and are certified single source, fair trade deliciousness. With their unique flavor notes from around the world, you may just be able to smell it brewing all the way from your kitchen window.
14. Pour Over Coffee Maker
Now that they've got the great coffee, why not pair it with a classic Chemex? For a Christmas gift for your neighbor that is both modern and useful, consider this gorgeous pour over coffee maker.
What makes pour overs different from standard filtered coffee machines, or even French presses, is the fact that you (er, your neighbor) will be able to better control the water flow through the filter, thus perfecting that cup o' joe.
14. Outdoor Beverage Pitcher
They may be the backyard hosts with the most, but do they have a fantastic outdoor use pitcher like this wonderful one from Sur La Table?
Depending on where you live, sure, it may be snowy outside. But that's the thing about summer. It always comes back around.
Classically styled and beautifully faceted, it's made of sturdy Titan acrylic so it's both chip and shatter resistant. Plus it's dishwasher safe, so we're totally sold. Maybe snag one for yourself while you're at it.
15. Splatter Shield
Why I lived most of my life without one of these handy dandy splatter shields is beyond me…
Sometimes practical gifts just can't be beat. Save them time and money (paper towels, we're looking at you), with this super convenient tool that everyone should have on hand.
Whether they're cooking potatoes and veggies, reheating leftovers, or boiling milk for cocoa, this great splat shield will get plenty of good use and keep their microwave nice 'n clean.
16. Rustic Salt and Pepper Shakers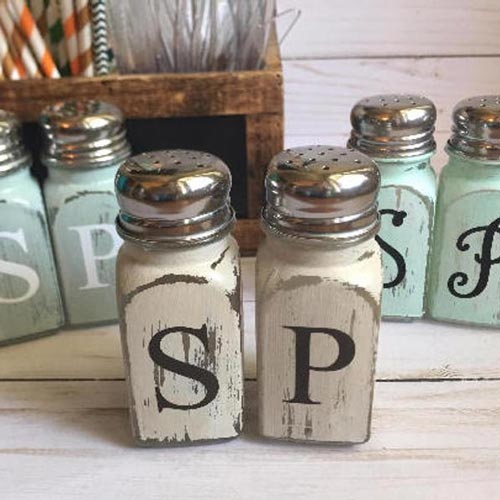 Sometimes the best things in life are the simple things. So if you're not up for it, there's really no need to wrack your brain trying to find the most unique Christmas gifts for neighbors.
With the help of specialty shops like those found on Etsy, even a simple gift like the above salt and pepper shaker set is a great option that can be changed up just a bit to add that special touch to your neighbor's table.
The Rusted Daizee has crafted this set of salt and pepper shakers to farmhouse perfection, making them the perfect addition to any rustic-style kitchen or dining room.
17. Stemless Wine Glasses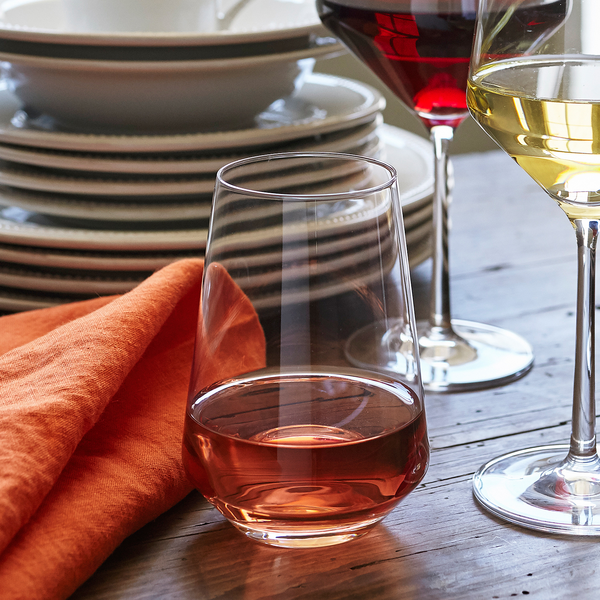 How pretty and elegant are these Schott Zwiesel Stemless Wine Glasses? If you're feeling fancy, these are a great choice.
Their next romantic night at home or holiday dinner party will just be that much more glamorous with the addition of these classy, crystal stunners.
18. Personalized Wood Pepper Mill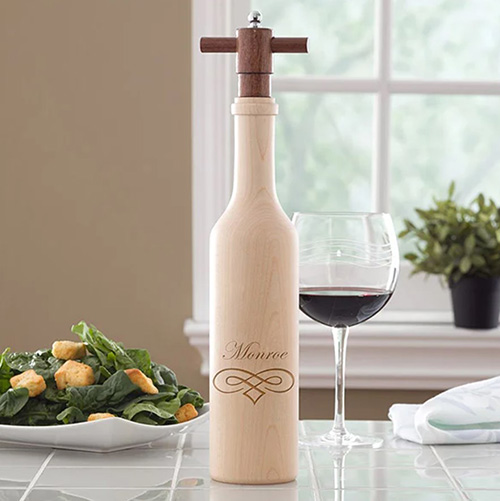 Nothing says Christmas like time in the kitchen! Help them with their holiday cooking adventures with a personalized wood pepper mill.
Crafted from quality hardwood and containing a stainless steel grinding mechanism, this pepper mill will make a nice addition to their new kitchen, and will last them a long, long time.
19. Bamboo Coffee Coasters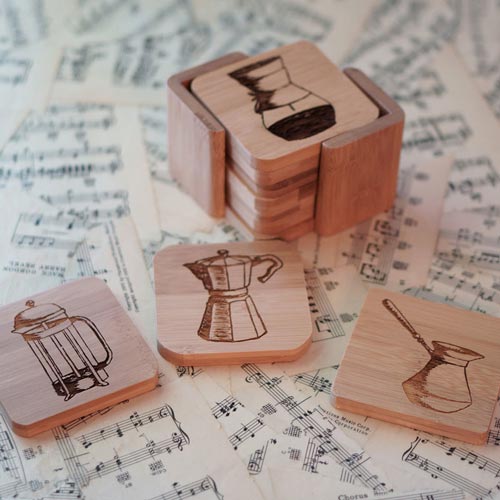 Sometimes simple and sweet accessories, like these bamboo wood coffee coasters from Northwest Gifts, make the best neighbor gifts. A creative idea with a thoughtful touch is all you need to wish your new neighbor a warm and happy holidays.
These coasters are laser-engraved with hand-drawn coffee art, come six to a set, and include a matching holder. Another great housewarming gift idea!
20. Antipasto Snack Basket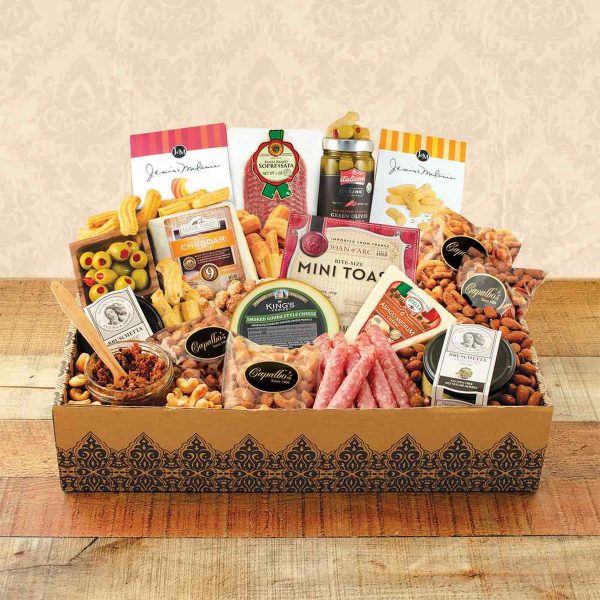 With all of the visiting and hosting and partying that goes on during the holidays, it's nice to have some delicious snacks on hand that you don't have to work to prepare.
Surprise your neighbor this Christmas with a special delivery of this wonderful antipasto gift box! They'll have so many delicious options to choose from when they're craving a little snack, and it will be such a welcome break from the kitchen.
A super thoughtful gift that will definitely be appreciated.
Gifts for Neighbors When You Move In
Thinking about giving your neighbors gifts when you move in? Why not! Show your thoughtful side and introduce yourself at the same time with one of the creative gift ideas below.
21. A Plate of Homemade Cookies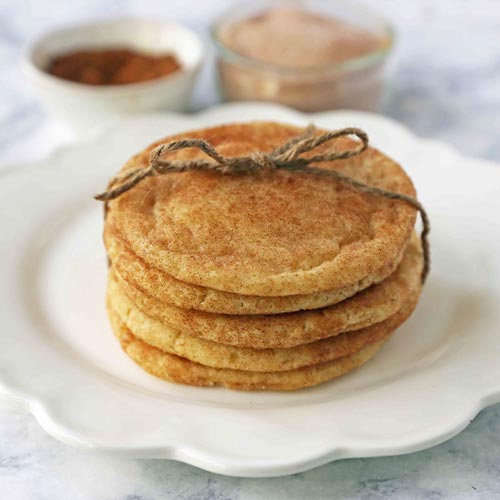 If baking is your thing, you can DIY your neighbor's gift and bake them up a sweet plate of homemade cookies. Here we've included three incredible recipes for some all-around favorites:
When delivering the cookies, keep your gift simple by using a paper plate and some bows from the dollar store. If you're feeling extra fancy, you can buy a special serving plate that your neighbor can keep to use again and again.
One of our favorite ideas is the The Giving Plate, which reads:
This plate shall have no owner, for its journey never ends.

It travels in a circle of family & friends.

It carries love from home to home for everyone to share.

Savor all it contains, for it was made with love & care.

Then fill it up again and pass it on to those you love.

Get it here
22. "Hey. Hi. Hello" Door Decor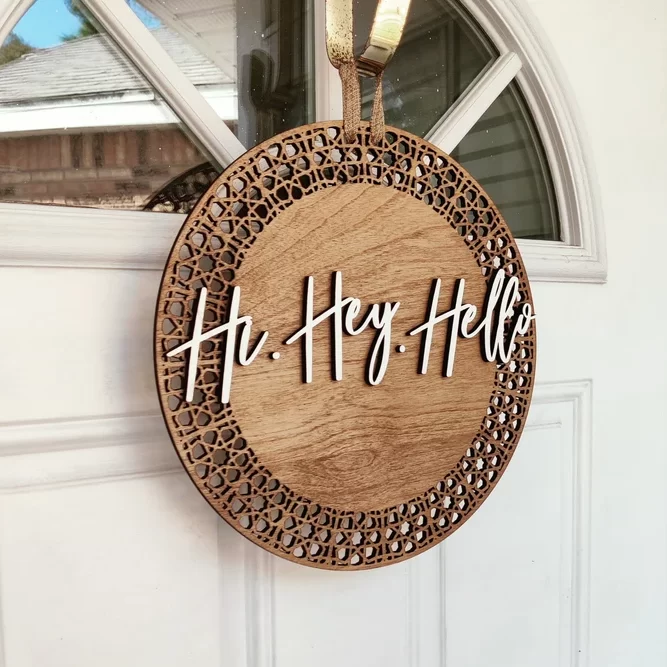 Just moved to a new neighborhood? With this pretty peony wreath, don't just say "hi," but show it to!
Whether your new neighbor's style is farmhouse, modern luxe, or something in between, with this handmade "Hello" sign, their front door will have never looked better. And they'll think of you every time they see it!
23. Willow Tree Friendship Figure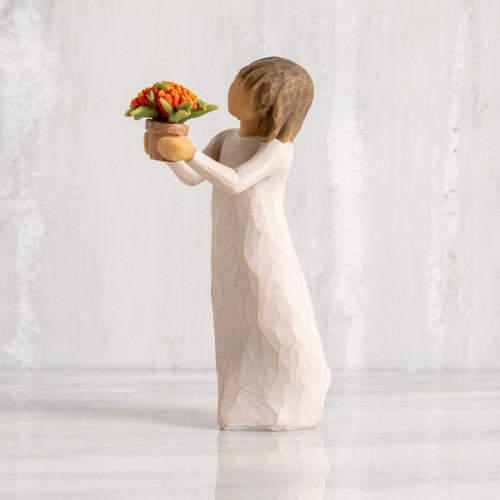 Willow Tree figures have been popular for years now, and continue to be a thoughtful way to show others that you're thinking about them.
So why not show your new neighbor that you're here for them with a sweet Friendship Willow Tree figurine? This hand-painted art piece is a cast of the original carving by artist Susan Lordi, and measures a dainty 5.5″ tall.
24. We're New Here Announcements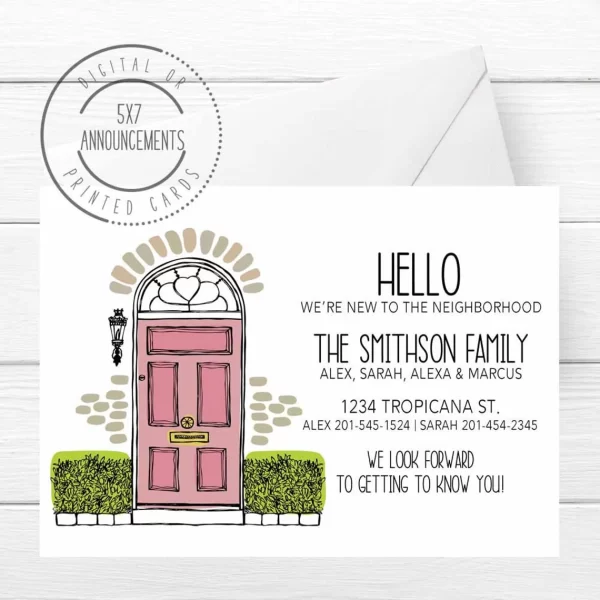 Whether you've just moved to a new house or an apartment, these cute "We're new to the neighborhood" announcements are just what you've been looking for!
The little illustration is so sweet and they come with envelopes, too, so they're ready to give out when they arrive!
Plus you can customize the text to say whatever you like.
25. DIY Flower Bouquet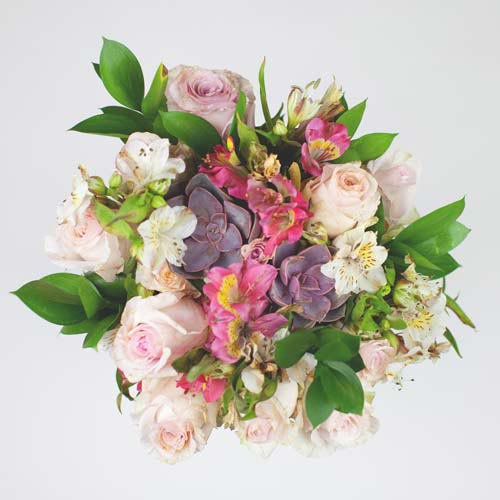 If you're having trouble deciding on the best gifts for neighbors when you move in, it may help to think outside of the box.
Maybe you've got some beautiful blooms growing in the yard at your new place. Wouldn't those make a lovely little "hello there, my name's…" neighbor gift?
You could head to your local florist or even grocery store, of course, but a hand-picked bouquet of colorful flowers would definitely go a long way in introducing yourself.
Don't worry, you don't have to be a professional florist to arrange a beautiful bouquet! Here is a helpful guide to get you started in learning how to properly arrange the blooms yourself.
New Neighbor Gifts
A new neighbor has just moved in down the street (or down the hall) and you want to ensure they receive a warm welcome.
New neighbor gifts are the best way to welcome someone into the neighborhood! Below we have some great ideas below to help you do just that.
26. State Park Adventure Checklist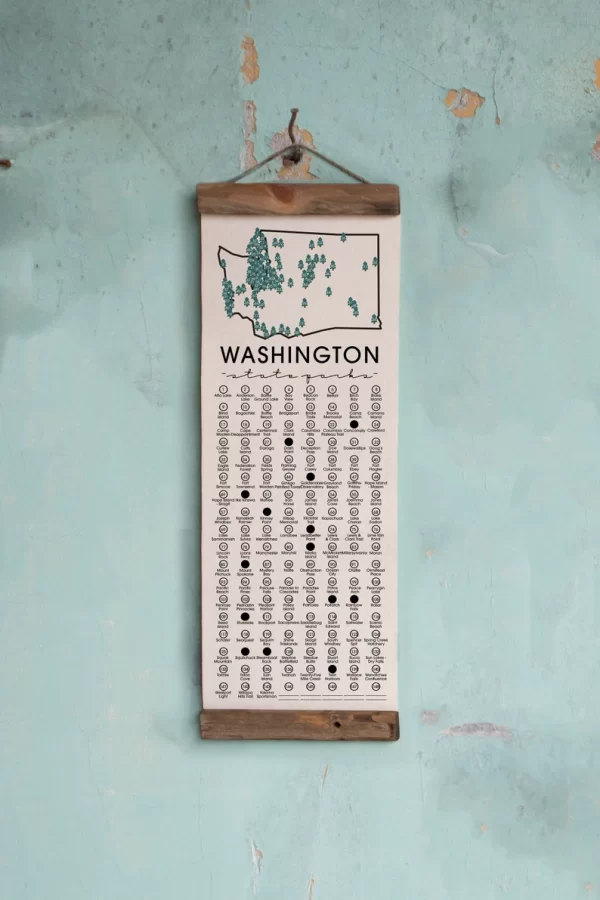 Now here's an idea! If they love outdoors or are the adventuring and exploring sorts, then this State Park activities checklist will simply delight them!
Pick your state (or perhaps the state they're headed to if they're moving), and they'll have enough adventures to keep them busy for a good long time.
27. Nextdoor App Invitation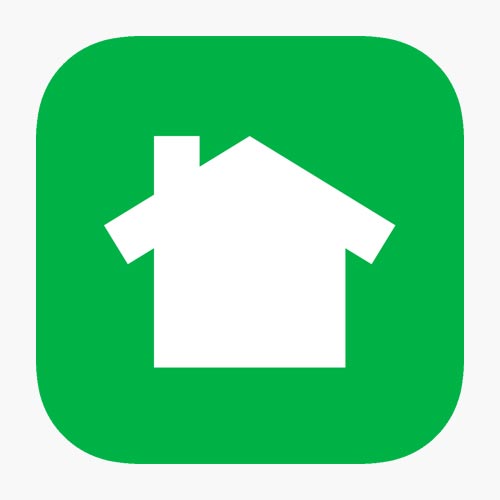 When we moved into our home, we got a letter in the mail from a neighbor inviting us to join the Nextdoor app. I had heard of the app before, but until I received the letter, I didn't know just how valuable it could be. In fact, it's proven invaluable!
The Nextdoor app is a social media platform on which you (and your neighbors) create a profile to interact with others nearby.
On the app you can buy and sell, get crime watch updates, recommend great local businesses, and ask for advice or have discussions with your neighbors about almost anything.
So if you have a new neighbor, let them know you'd like to get to know them better by inviting them to join the Nextdoor app… it's totally free!
28. 10 Piece Bowl Set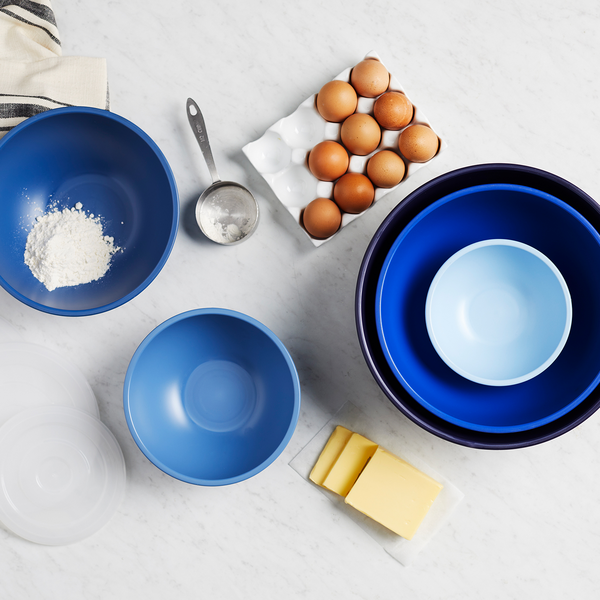 When you've just moved into a new home, you're not near as organized as you'd like to be. In fact, you may not really know for sure where important items (like bowls!) are at the moment.
As you can imagine, that new neighbor down the street may really appreciate something like this 10-piece bowl set from Sur La Table.
This colorful nesting bowl set is ideal not only for mixing, but for salads, popcorn, as snack bowls, and maybe even for a quick bowl of cereal. And they come with lids, too! Even better.
29. DIY Neighbor Coupon Book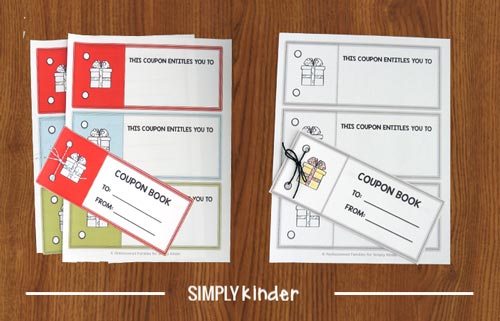 For a couple of weeks and maybe even months, your new neighbor is going to be a little all over the place trying to get their new home (and new life, really) organized.
Between trying to find a place for all their things, getting used to all the odds and ends of a new home, and getting new bills organized, things like – oh, mowing the lawn, for instance – can fall by the wayside. So why not welcome them to the neighborhood with this cute little DIY coupon book?
Simply make or print out some coupon pages (see the attached link for ideas) and fill them in with redeemable services that you could help with.
It doesn't have to be anything big! Little good deeds (like mowing the lawn, shoveling snow, sweeping the patio, etc.) can go a long way in showing your new neighbor that you care.
30. Bamboo Wood Coffee Coasters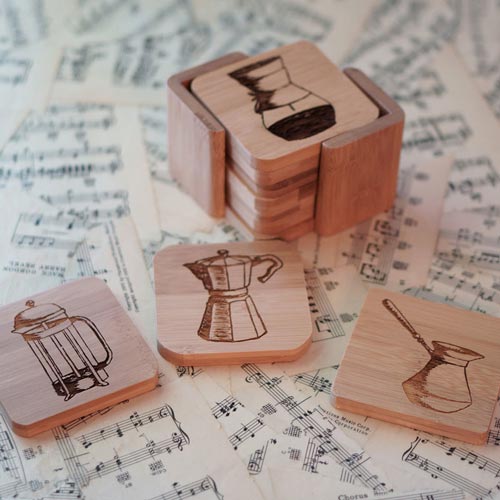 Sometimes simple and sweet new neighbor gifts, like these bamboo wood coffee coasters from Northwest Gifts, are all you need to show your new neighbor a warm welcome.
These coasters are laser-engraved with hand-drawn coffee art, come six to a set and include a matching holder. Another great housewarming gift idea!
Gifts for Neighbors Moving Away
Is your favorite neighbor moving away? No matter if you have lived close to one another for years, or have become friends in a short time, you're going to miss them quite a lot.
Show them that you'll always remember them (and remind them to stay in touch!) with one of the below gifts for neighbors moving away.
31. Personalized Home Art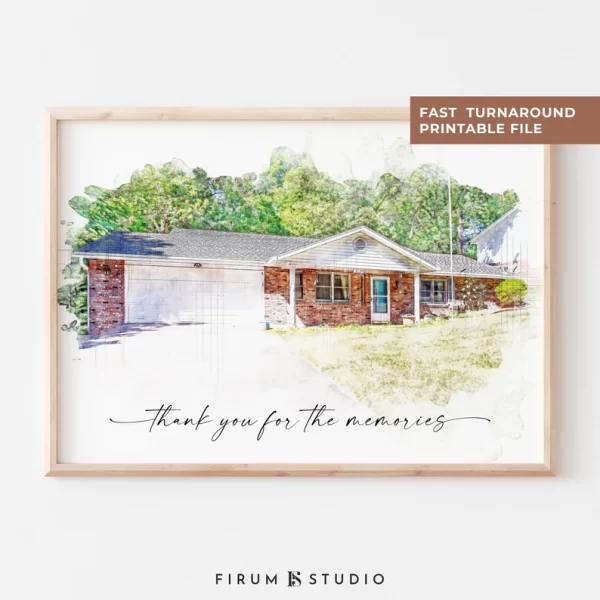 This pretty custom picture may jus bring a few tears to their eyes!
Every home that we occupy holds a lot of memories, and often those memories extend to the neighbors around you. They'll love having this sweet reminder to hang in the hall of their new abode and remind them of their old home (and old neighborhood).
32. "Not That Far" Linen Towel
Gifts for neighbors moving away can be sentimental too, of course. Maybe you are super close to your best neighbor friend who's moving away, and you're both going to miss seeing each other every day.
Remind them (and yourself) that no place is really too far when hearts are connected. This sweet dish towel will get that message across loud and clear, while also providing your friend with a practical item for their new kitchen.
33. Storage and Moving Bags
Anyone who's ever moved before knows, well, a lot of things. But mostly that packing (and staying organized) is a beast. Enter these fantastic storage bags from TICONN.
Extra large, heavy duty, and they fold flat for storage. That makes them a way better alternative to bins and boxes that you have to find something to do with afterward.
It's true, you really don't want to see them go. But if it's inevitable, you may as well make their transition go as smoothly as possible, and these will definitely help!
34. Broom & Dust Pan Set
The best gifts for neighbors should definitely include household necessities like storage bins, organization tools and, what we have here, cleaning tools!
Especially when they're moving away, your neighbor will appreciate something that will help them clean up their old place and tidy up their new one.
This dust pan set from Kelamayi is sleek, efficient, and has a fun retro vibe, too! And it's available in six great color combos
35. Cordless Electric Screwdriver Kit
When they lived nearby, your neighbor was always borrowing that one tool from you. Maybe it was an electric screwdriver like the one featured here.
You were always slightly annoyed when they'd ask you to borrow it (why couldn't they just get their own?), but now that they're moving away, you're finding it a little bittersweet that they won't be asking to borrow it anymore.
So go ahead and make their day by giving them this cordless electric screwdriver kit from Bosch.
The five-in-one tool (which includes a convenient carrying case) will help them to correct any minor problems they may face when they get to where they're going.
Related: Best Gifts for Neighbors Moving Away
Thank You Gifts for Neighbors
Searching for thank you gifts for neighbors? We've got some great ideas for you, too.
Maybe your neighbor recently carried out a good deed for you. Or perhaps you simply want to show your gratitude for their good neighborliness.
No matter the reason you're saying "thank you," we've got what you're looking for with these gift ideas for a helpful neighbor.
36. "Awesome People Make Awesome Neighbors" Candle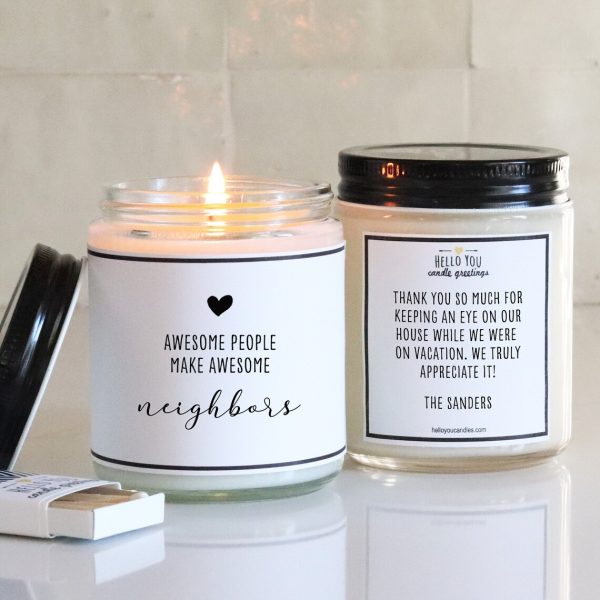 Candles make great thank-you gifts. Everyone can enjoy a nice and aromatic scent emanating from a soft flame.
Bonus points if it's cute, too!
With a sweet message right on the label, this soy-based "Awesome People Make Awesome Neighbors" candle is both cute and pleasing to the senses.
Because you get to pick out the fragrance (maybe choose your neighbor's favorite), your choice will make this gift that much more thoughtful.
37. Friends Leave Footprints in Your Heart Garden Stone
Has a neighbor recently done something nice for you, and you want to show your appreciation in return? If they like to garden, a decorative stone like the one above would be gladly welcomed by them.
This attractive resin garden stone features a lovely quote that commemorates — and perhaps "cements" — your friendship.
38. Personalized Wine Bottle Holder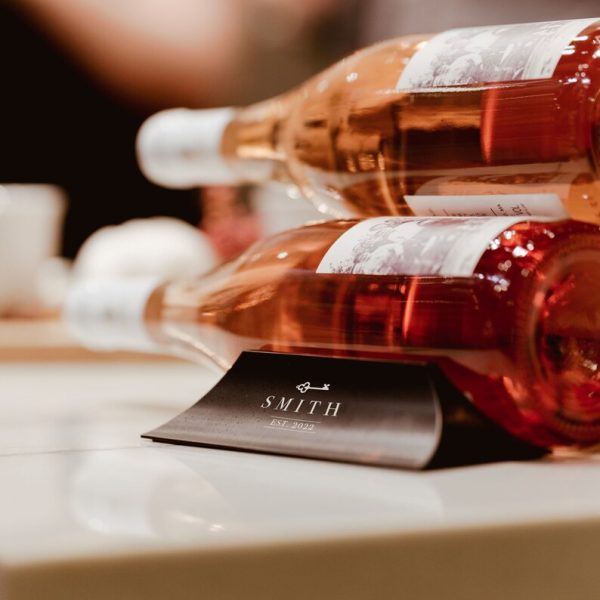 Looking for a gift that is functional but also packs that 'wow' factor? Then look no further! These fantastic, custom wine racks are perfect for anyone who likes to tip back a nice glass of vino now and then (and that's most of us, right?).
As pretty as they are functional, each piece is custom crafted by hand, and can be personalized with their name. A beautiful, minimalistic twist on your traditional wine rack.
39. Hygge Thank You Gift Box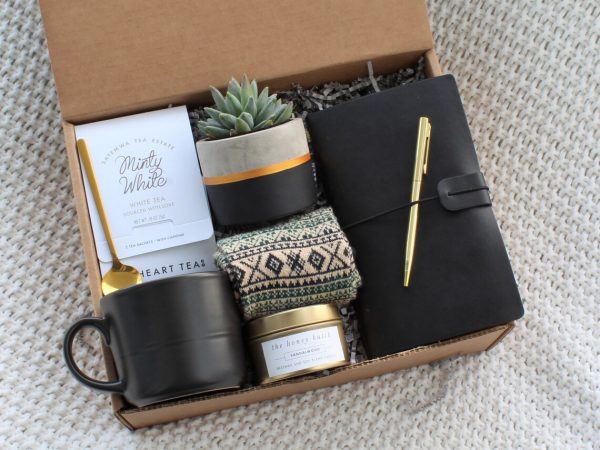 It doesn't get much more comforting than cozy socks, a warm cup of tea, and candles. So why not say, "Thanks, neighbor!" with this Hygge Comfort Thank You box? It contains all of that and so much more!
This sweet box also comes in several variations, so you can choose whichever one you think suits them best.
40. Thank You Ice Cream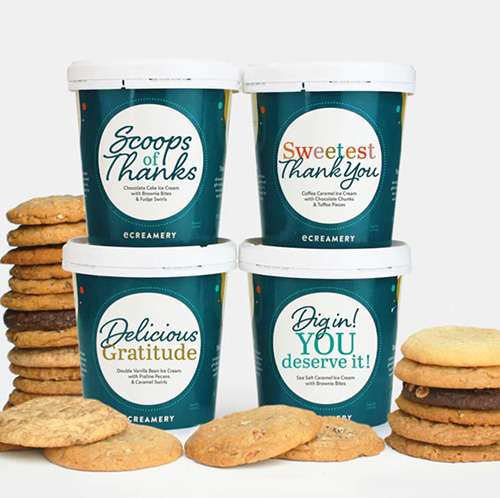 How better to show your deepest thanks and appreciation than with…ice cream!
No really, we're dead serious. These adorable, personal ice cream containers bear tidings of great thanks to the lucky receiver.
Thank You cards? That's so last century. We want ice cream. What is a good thank you gift for a neighbor? You now know the answer.
More: 100 Best Thank-You Gifts for Everyone
More Gifts for Neighbors
If you didn't find the perfect gift yet, well, check out all the other amazing ideas over at Northwest Gifts. We craft and personalize our products with the utmost care to ensure that they are of a superior quality.
Well, we hope you enjoyed our top picks in creative gifts for neighbors. It's always our goal to help you find just the right gift for the special neighbor in your life.
Lastly, do you have a great gift idea for a neighbor, or have you ever received a thoughtful gift from one of your own? Be sure to let us know in a comment below.
MicroGreens Growing Kit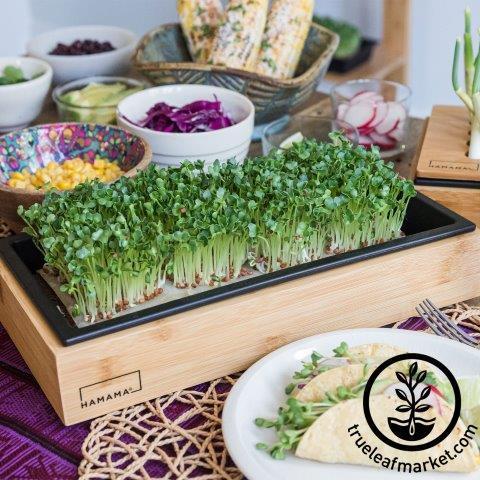 For those green thumbed neighbors (and the green thumb wannabes), this hydroponics kit from MicroGreens is just the thing!
Everything that they need to get started growing lush, delicious greens is included right in the kit. It's so neatly contained, too, that it's perfect for table, countertop or even windowsill.
Dinner Glass Set
This gorgeous glass set will be such a welcome addition to their dinner and barware collection. Sleek, sophisticated, and modern — while not stuffy — these glasses are so beautifully designed.