There's something about bridal shower games with a prize at the end that makes everyone — even the most shy and introverted — competitive.
And when they're super fabulous prizes (not just gift cards or something purchased at the dollar store), that's when the gloves come off.
We've found 38 bridal shower game prizes that all the winners will be happy to take home. Be sure to get plenty of them, big and small, because you can always give out prizes for things like "Most Wrong Answers" and "Best Dressed Party Goer."
After all, everyone's a winner!
Best Bridal Shower Game Prizes
Our website is supported by our users. We sometimes earn a commission when you click through the affiliate links on our website. See our privacy policy & disclosures for more information.
1. Engraved Stemless Wine Glass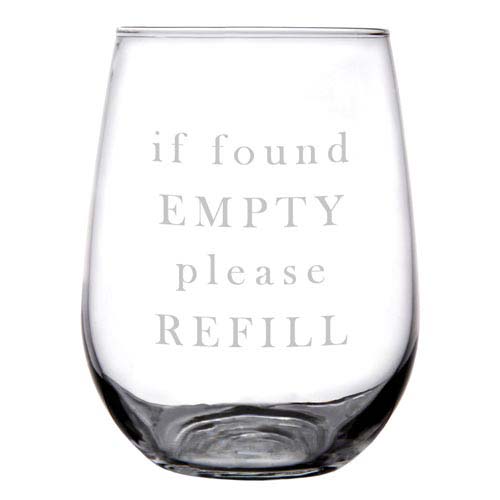 These great wine glasses are sure to be a hit with all of your girls. They hold just the right amount of the beverage of their choice, are high-quality, long-lasting, and you can have them engraved with anything you like! Best Bridal Party Ever, I Survived Planning a Wedding, or Thanks For Being My Bridesmaid.
2. Wine & Wine Bags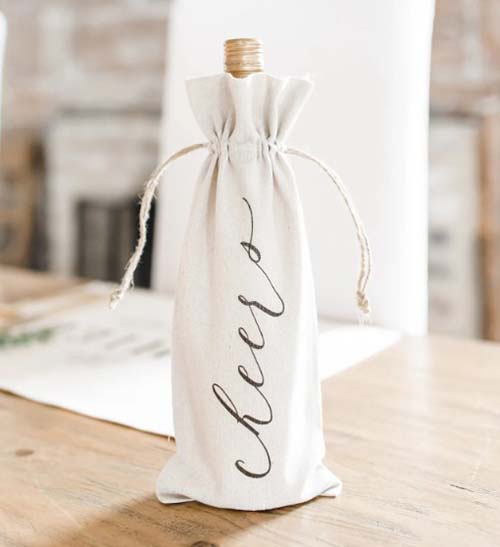 These pretty, linen wine bags feature modern calligraphy. Once you pair them with a specially chosen bottle of vino, they make a prize that everyone will scramble for. They have a bit of a vintage vibe that is totally fun, but they will still fit in with modern decor.
Definitely an easy choice for a great prize!
3. Ultra Plush Robe
This chic and ultra plush robe comes in three colors and is so buttery soft. Whomever wins this will likely want to put it on immediately. They can wrap themselves up in ultra-luxury and picture themselves in a sophisticated, foreign locale. This is definitely a grand prize!
Less expensive but still so high-quality, this soft fleece robe even has a hood. And those pockets! All women know pockets are where it's at. This version comes in a wide variety of colors so maybe purchase more than one for some wonderful prizes. 
4. Pura Vida Bracelets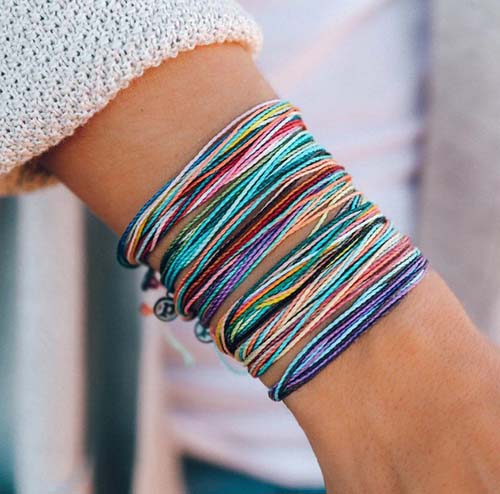 Completely one-of-a-kind, these Pura Vida bracelets have a real boho feel to them. The bright colors are so fun to mix and match, and they'll go with just about any outfit! These are perfect for when the wedding is beach themed or coastal, but really they're just a nice alternative to chunky, metal jewelry.
5. Reusable Face Pads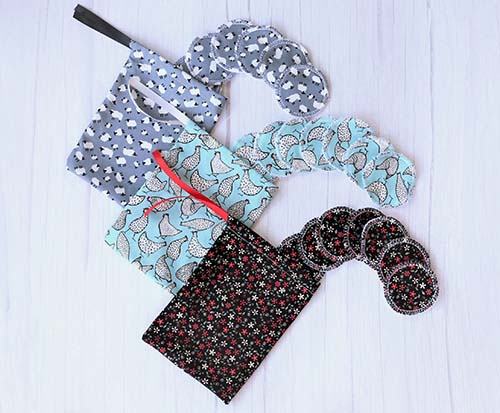 We're in love with the bees, but you can pick from a bunch of different fabrics when ordering these ultra cute, reusable face pads. We also love the chickens and flamingos! With so many styles to choose from, you'll have a blast ordering more than one set.
And think of the environment — no more disposable, gunky wipes clogging up the landfill and hurting your wallet.
6. Lavender Hot & Cold Pack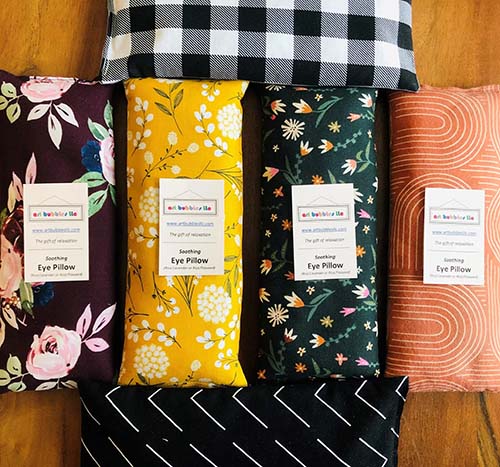 Everyone loves a good hot and cold pack — especially after the stress of helping plan or being in a wedding. Totally luxurious and practical too, this lavender pack will help melt away the stress and drama, along with the aches and pains.
You might find yourself napping when you lay one of these across your eyes! Tons of fun fabrics to choose from, so it will be so easy to pick one or two that really bring the bridal party to mind.
7. Nail Polish Sets
Yes, yes, and…yes! Nail polish is great. We love it as much as we love looking pretty. But, all of those heavy and dangerous toxins? Those we don't love so much.
Enter Eternal Polish! Made right here in the good ol'e USA, these polishes are formulated of lasting pigments without harsh chemicals. There's a huge variety of color palettes to choose from, too! It's an instant win-win.
8. Cute Beverage Koozies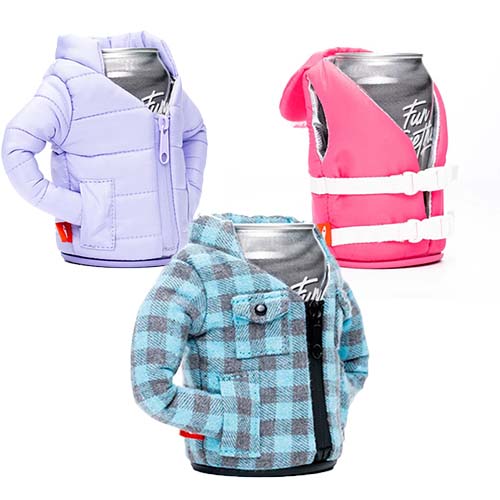 These adorable beverage koozies are so freakin' cute you won't be able to order just one! There are so many fun styles to choose from: parkas, camouflage, sleeping bags, flannels… Everyone will get a kick out of seeing someone sip their favorite beverage of choice when it's all zipped up in these clever koozies.
9. Paint by Number Kits
Bring your inner child back out to play with these super fun paint-by-numbers kits! We all know how good coloring is for our souls, so take it a little deeper with a delightful paint-by-number. At the end of a stressful day, doing a little painting is a remedy for your scattered thoughts and you can wave that stress bye-bye.
Fact: Did you know it's actually almost impossible to think about something else when you're painting? #science.
10. Mulberry Silk Sleeping Masks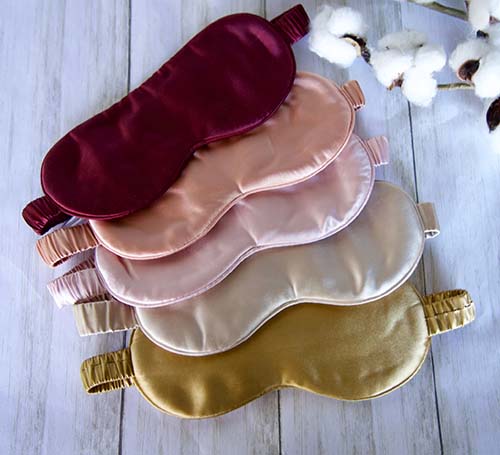 Treat your winners to these mulberry silk sleeping masks and watch them fall asleep right in their mashed potatoes! Okay, that's going too far… But these crazy soft and silky masks will summon Mr. Sandman posthaste. Great for after the wedding when everyone can finally relax a little!
Do you need some game ideas? Click Here for fun printable bridal shower games!
Inexpensive Bridal Shower Game Prizes
11. Long Winter Scarf
Perfect for a winter wedding! This inexpensive, long scarf will be loved by whomever is lucky enough to win it. There are a ton of color options with the cute plaid, so they're easy to match with all of your favorite outfits. Scarves bring some sophistication and style to anyone, not to mention they cover over a multitude of sins (like a stained blouse).
12. Frozen Wine Slushie Mix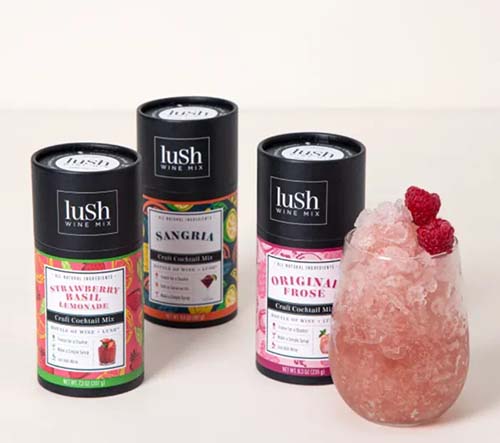 It's the gift that keeps on giving until the last sip is sipped! These yummy, frozen wine slushie mixes are great for a hot summer's wedding shower. They're easy to store in the freezer until you want them, so they're always fresh and delicious. Plus, they're organic and come in the tastiest varieties like Sangria and Strawberry Basil Lemonade. So posh and tasty.
13. Himalayan Salt Tea Light Candles
Salt lamps are known for their soothing and romantic properties, and there's something about flickering candle light that just brings the stress and drama levels down a notch! These Himalayan salt tea light candles are going to cause all the other party goers to want to know where you found them.
They're an easy way to transform a room, and your sour attitude. I mean, if you had one after planning this bridal shower. Ahem.
14. Braided Bracelets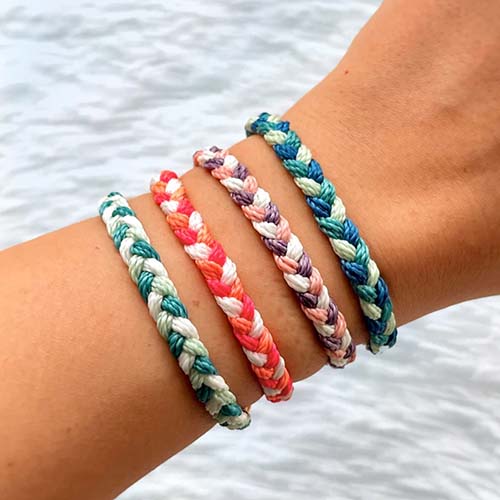 These pretty bracelets are handcrafted and they come in so many fun colors! Plus, they bring to mind those handmade friendship bracelets we all made back in 1985. What's not to love?
Getting married by the sea? You'll love these!
Getting married by the mountains? You'll love these!
15. Big Bite Marshmallow Treats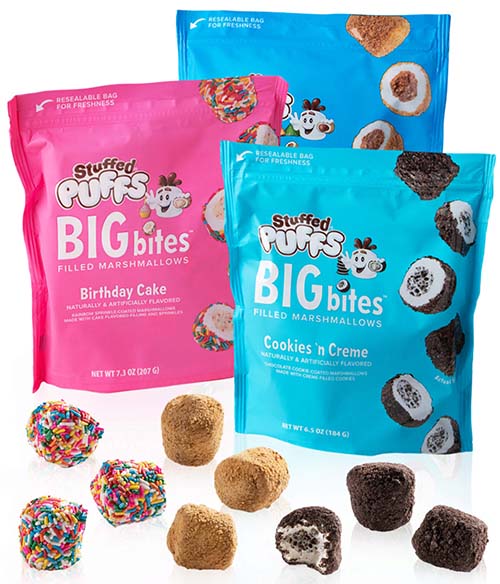 Marshmallows that aren't just for the kids or for bobbing around in a cup of cocoa! These Big Bite Marshmallow Treats are so deliriously delicious you'll want to snag a few yourself before you wrap up the box.
With crazy, yummy concoctions like Cookies and Cream and Birthday Cake, you really can't go wrong?
Funny Bridal Shower Game Prizes
16. Lester's Fixins Food Sodas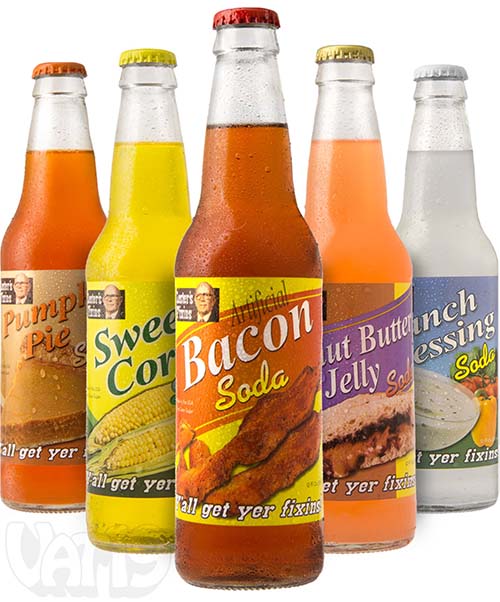 Who wants a boring old drink like Coke Zero or Dr. Pepper when they can have Lester's Fixins Food Sodas?! No one, that's who! These wild sodas come in whackadoo flavors like Buffalo Wing, Bacon, and Sweet Corn.
Order a few (or the six pack) for your prizes, because we feel a taste testing game coming on. It's like Willy Wonka lost his sweet tooth and started making savory sodas instead. WE ARE HERE FOR IT.
17. Not Juice Drink Pouch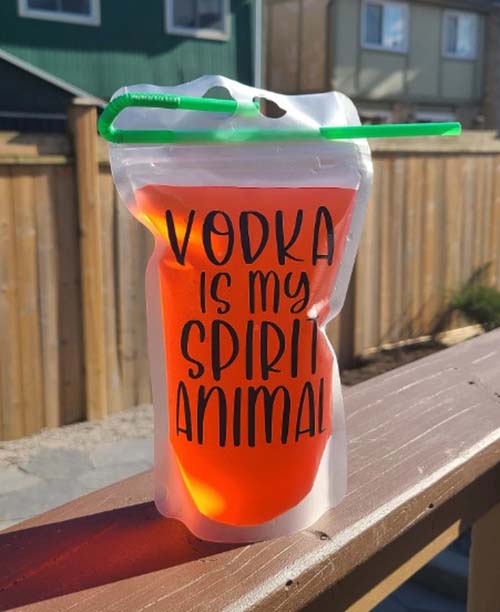 We all miss stabby-stabbin' the straw in the Capri Sun, and now we can get that feeling again, thanks to these reusable drink pouches. They can be filled with whatever beverage you like (but not juice — haha). You can order the ones they suggest (we love Shut Up Liver), or they'll custom make them for you with the wordings of your choice.
Need a bigger bag? You'll want to take a look at these.
18. Giant Hershey Kisses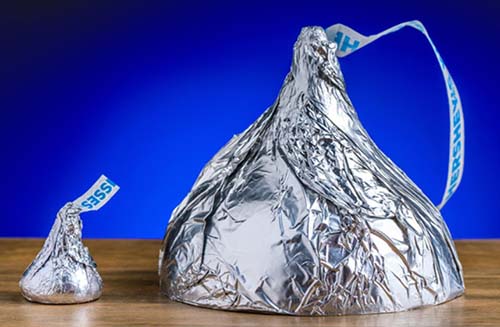 No tiny pecks on the cheek here! We're going giant with our kisses. These enormous Hershey Kisses will have every chocoholic's heart beating wildly. How much bigger is it than the average Hershey's kiss, you may ask? 45 times bigger, that's how much.
19. Heart Toilet Bombs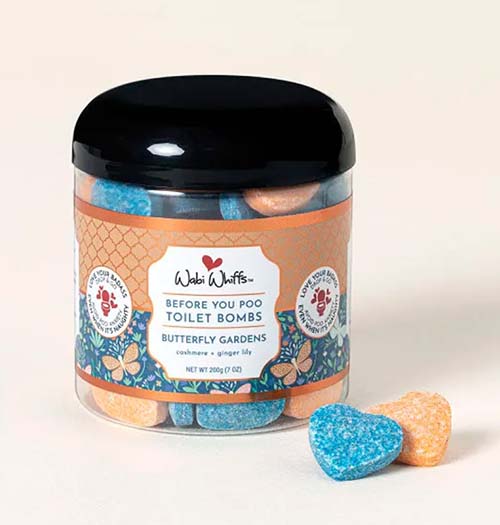 I mean, it's a cold, hard fact: poo smells. Be prepared with these lovely scented heart toilet bombs! We've all been there. Might as well be ready to "go" the next time, right? Your prize winner will love having these tucked away in her purse for those awkward #2 situations.
20. Cute Cat Socks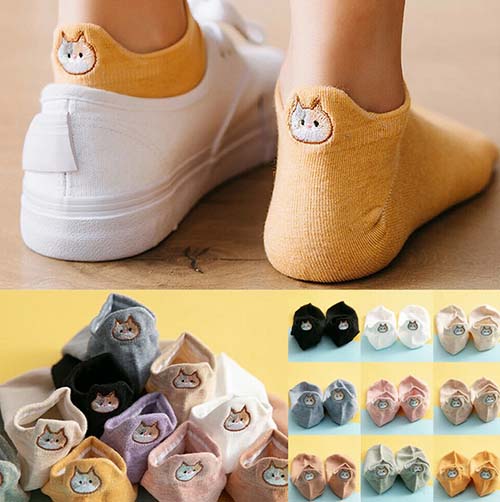 These cute little cat ankle socks are purrfect for the kitty lover! They come in a bunch of fun colors and the adorable cat poking up near your ankles is a little burst of whimsy. An easy, go-to gift that everyone will love.
Unique Bridal Shower Game Prizes
21. Baked with Love Potholders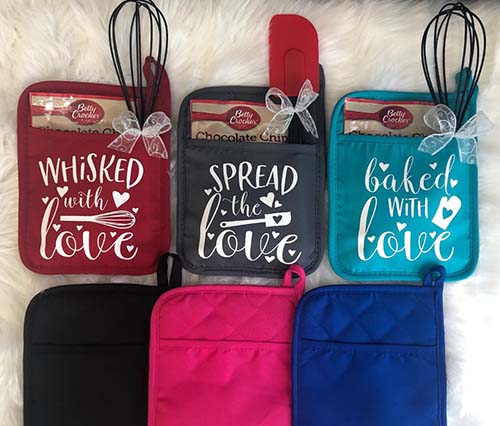 The sweet tooths and baking lovers are going to unite with joy over this one! These cute Baked with Love Potholders are packed to the brim with yummy goodness. This is a no-brainer for a party prize. Who doesn't want a little bit of midnight snack all packed together with a brand new oven mitt?
22. Microwave Popcorn on a Cob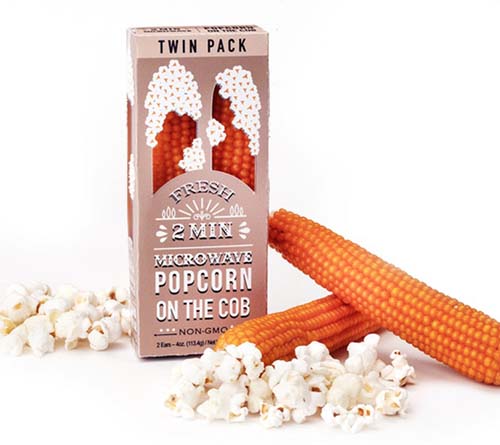 They put what in the "what now?" How am I just now hearing of this delightful invention? This microwave popcorn corn on the cob is straight out of Indiana, and is so creative and healthy. Not healthy in a boring, kale kind of way. Healthy in a "heck yeah, pass the salt, start the movie, and give me that bag" kind of way!
23. Seed Growing Kits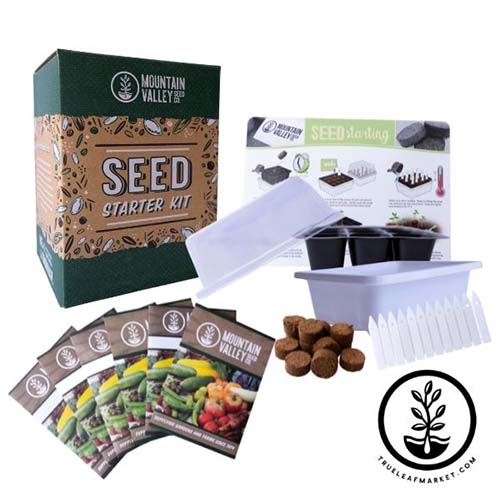 If the bridal party has more salads together than they can possibly count, then this prize is one just for them. This seed salad growing kit is so fun and clever. Every gardener or salad lover will want one!
*Patiently waiting for the mimosa seed growing kit to arrive.
24. Mimosa Sugar Cubes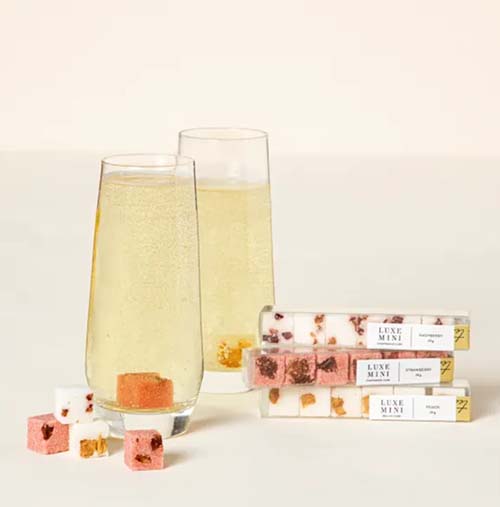 Turn a normal glass of bubbly (so passé) into an instant cocktail of the dreamy variety with these mimosa sugar cubes! Just drop one in and suddenly you have the bellini of your dreams. With six different sugar cubes, you'll be an overnight mixologist.
Such a lovely little way to transform your evening into something special.
25. Instant Boba Bubble Milk Tea Kit
Your prize winner will have instant Boba tea with this neat kit! At her fingertips is everything she needs to make that trendy and refreshing glass of bubble tea she's been craving. They're so overpriced at the cafes and shops, so let her make her own and sip it from the comfort of home.
Bridal Shower Prize Basket Ideas
26. Movie Night Gift Bucket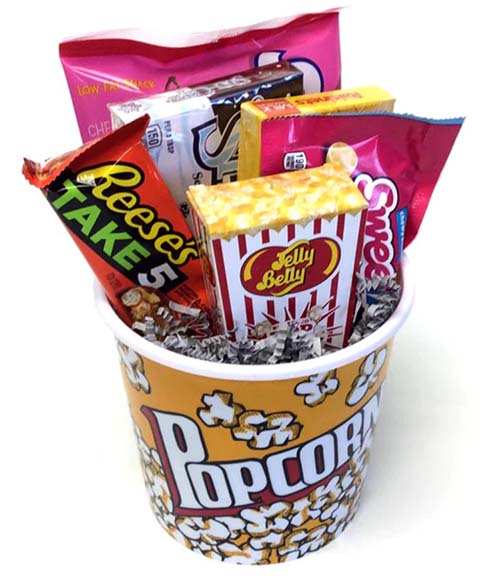 Who wouldn't be absolutely delighted to receive this great movie night in-a-bucket gift box? If her significant other is lucky enough to be shared with, the next night of binge watching is going to be epic. They can reach for their favorite guilty pleasure while queuing up that next film.
Related: Best Gifts for Movie Lovers
27. Wine Prize Basket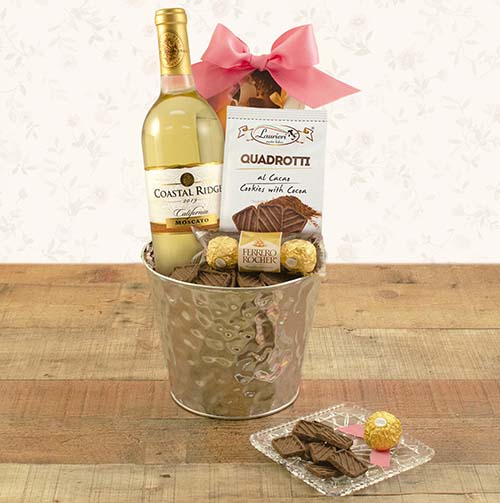 Put together everything your prize winner needs to enjoy a great glass of wine — chocolate, wine, a couple of wine glasses, romantic movies, nail polish, face masks, wine stoppers, and more!
Or if that feels overwhelming with all your epic party planning you've been doing, you can buy it here!
28. Comfort Gift Basket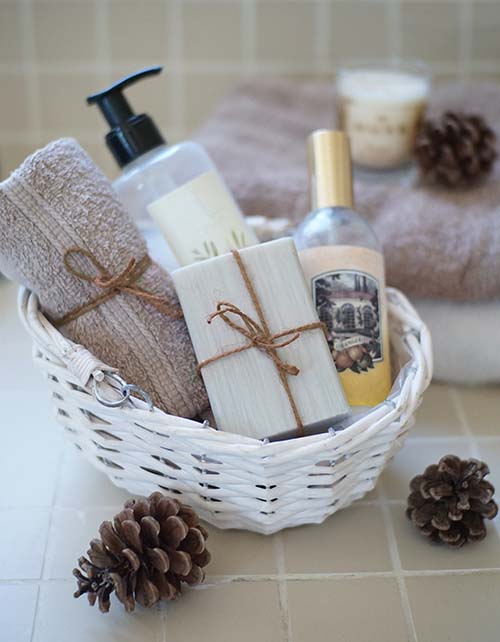 It's everything you need to be living the coziest lifestyle! We're talking candles, slippers, fuzzy socks, robes, chocolate, coffee, skin care, tea bags, coffee mugs… Being in a wedding party is a stressful biz. Your bridal party needs a night of comfort and pampering. In fact, you need one too, so purchase everything in duplicate.
Related: 60+ Fun Bridal Shower Ideas
Bridal Shower Prizes Under $10
29. Cute Tea Infusers
You can find tea infusers at novelty stores in the mall, specialty tea shops, and online. We've seen infusers in every shape under the sun: flowers, dinosaurs, adorable animals and aliens, poop emojis, and much more.
30. Candles
Everyone loves candles! So this is one bridal shower prize that will always be a winner. For the widest variety of interesting, creative, and unique candles, you'll find something to fit the bill on Etsy.
31. Bath Bombs
Toss in some top-notch relaxation with an assortment of great bath bombs. They come in so many varieties and aromas that to say there's something for everyone isn't an overstatement. Like, there's even waffle bath bombs. Please don't eat them, though.
32. Earrings
Classic yet always appreciated. A girl can never really have too many earrings, can she? Maybe pick out several pairs that match your wedding theme or colors? Or, if you're crafty, you could consider some handmade earrings. Totally up to you.
33. Adult Coloring Books
Adult coloring books are all the rage right now, and for good reason. They are excellent methods of stress management and anxiety relief. We're hoping this shower won't be cause for too much stress, but just incase. Fun fact: did you know it's almost impossible to think about something else while creating art?
Bridal Shower Prizes Under $5
34. Nail Polish
Save your girls a trip to the salon with some well-picked polishes. A variety of tasteful colors (maybe your bridal colors?) and finishes will give them plenty of options to choose from. Simple, but still thoughtful.
35. Hair Products
Matching jewelry or hair pieces are often a given among the bridal party, but what about actual hair products? True story: I was once in a bridal party of 10 and we had to share one can of hairspray while getting ready for the big day. It wasn't fun.
Making little product bundles is a great preparation. And for those not in the bridal party, you still can't go wrong with free hair products.
36. Coffee Mugs
Whether they are coffee addicts or 'tea'totalers, mugs are always a good idea. I have not had one instance in my life where I was dissatisfied with receiving a mug. Not one. We're sure they'll feel the same.
37. Lip Gloss
You're not the only one who needs to look fabulous on the big day! Keep all your lovely ladies' lips looking luscious with some choice glosses. Now say that five times fast.
38. Homemade Cookies
They say the way to a man's heart is through his stomach, but c'mon. We know better. That definitely applies to most people, regardless of gender. Bake them up a few fresh batches and watch them fight for these particularly tasty bridal shower game prizes.
How much should you spend on prizes for bridal shower games?
Well, that depends! How large is the party? How much time do you have for planning and purchasing? These are questions to ask yourself before you start! If it's a year out and the guest list isn't huge, it's easy enough to start a "Gift Closet" or "Gift Drawer," to add to whenever you see a great prize.
If the number of guests is quite large, a bit last minute, or you simply don't have the budget, there's no shame in your DIY game!
How many games should you play at a bridal shower?
Always plan for at least 2-3 and have backups in case they A: aren't going over well (example: the majority HATE memory games, etc.), or B. they go by too quickly and you're left scrambling for more things to fill the time.
How many prizes for each bridal shower game?
A prize for each game, of course! Adding a few extras for those who tried hard but came up short, or prizes for second and third place is always a nice gesture, too.
Read Next: Bridal Party Gifts for Everyone