As Americans, we love our patriotic holidays. Especially when there is a picnic or BBQ to attend! We look forward to Labor Day as one of the top holidays on our list.
But it's not just because of the burgers and dogs: it's all about honoring our loved ones who have worked so hard in this beloved USA.
Our website is supported by our users. We sometimes earn a commission when you click through the affiliate links on our website. See our privacy policy & disclosures for more information.
What Is Labor Day All About?
Originating in 1894 by President Grover Cleveland, Labor Day is meant to honor and respect workers during that rather dismal period of time when typical labor in this country meant working seven days a week, 12 hours per day, just to make a living.
And yes, among the laborers were many small children, entering the workforce as young as five years old! Conditions included unsafe workplaces and harsh working hours, combined with low wages and overly cruel managers and overseers. This meant that working tragedies became the norm, not the exception.
Things had to change, and they finally did when employees of the Pullman Palace Car Company in Chicago went on strike. The story is long and convoluted, but in a nutshell the strike, which caused railroad traffic to halt in 27 states (out of 44 at the time). Partially in response to this historic strike – and even as it was still going on – Congress passed legislation declaring that the first Monday in September would be a national holiday to recognize and celebrate the laborers in the workforce.
All of that seriousness aside, Labor Day also recognizes the end of summer and the ushering in of autumn. Take it all together and there are plenty of reasons to take a day off work and celebrate!
How to Celebrate Labor Day at Work
Labor Day is a recognized federal holiday, meaning it's the perfect time to plan a get-together with your friends and family. Why not include your coworkers? After all, Labor Day is celebrating all you do with your work family!
Labor Day always falls on a Monday, meaning you get that ever so lovely three-day-weekend that people in the workforce look forward to all year. So, get to planning!
Other ways to incorporate Labor Day at work would include celebrating the Friday before (let employees go home early for a long weekend, perhaps?) or the Tuesday after. For many stores that remain open on Labor Day, consider incorporating some of the ideas and festivities listed below in your workplace or breakroom.
How to Celebrate Labor Day with Family & Friends
Traditionally speaking, you just can't go wrong with a cookout. This could be anything from a backyard grill fest, to a friendly chili cookoff, a tailgating party, or snagging a spot in a campground to take advantage of the three-day weekend.
The cooler, end-of-summer weather means lounging outside is going to be the best part of the holiday. Well, besides seeing your extended family and friends, naturally!
8 Best Labor Day Traditions
Parades
Check to see if your town puts one on! Get there early (sometimes the night before) to snag your spot with your folding chair.
Picnics
Whether you choose the park, the campground (just pay the Day Fee), or your own backyard, picnics just feel quintessentially American, don't they? Pass the 'tater salad and the fried chicken!
Fireworks
If your city is large enough, they may just have a fireworks show! If not, purchasing sparklers for the little ones means an instant party in your 'hood.
BBQ
Make sure you're loaded up with plenty of propane and/or charcoal, because this party is just getting started!
Camping
Reserve your spot early: Labor Day is a HUGE camping holiday!
Festivals
Check around for festivals in your area! Labor Day is a popular time for art, seafood, beer, back-to-school, and many other types of festivals.
Go to the Movies
Most holidays LOVE releasing the big blockbusters during this time, so finding a great flick should be easy-peasy.
Treat Your Employees to Lunch
Make sure they know how much you appreciate their hard work by taking them to lunch! It's sure to be a new office tradition.
Related: Employee Gifts for Small Businesses
13 Best Labor Day Party Ideas
Pool Parties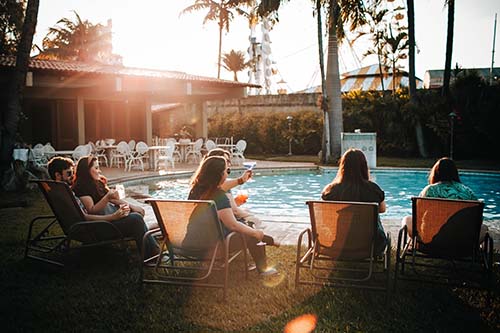 If you've got a pool, then you have a party just begging to happen. Invite your friends and a few of your favorite coworkers for a good old fashioned pool party.
Baseball Game
What's more American than baseball, we ask you? Nothing, that's what! Unless it's apple pie. Get the family or all the coworkers together to form a team, then… play ball!
Shoot Fireworks
Got some leftover bottle rockets from the 4th? Now's the time to set them off!
Delicious BBQ
Try this delicious recipe for Texas-style smoked brisket. Always a hit at every party.
Host a Movie Night
There are plenty of fun ways to host a movie night, whether indoors or out. Check out these fun ideas!
Cookie/Cupcake Decorating Contest
Setting out all the frostings and edible decorations will make this an instant success! Great for all ages.
Outdoor Games
Take the party into the backyard with fun outdoor games like Giant Connect 4 or Cornhole
Crawfish Boil
There's nothing more southern – or more delicious, really – than a crawfish boil on Labor Day. Try this delicious recipe!
Fire Pit with S'mores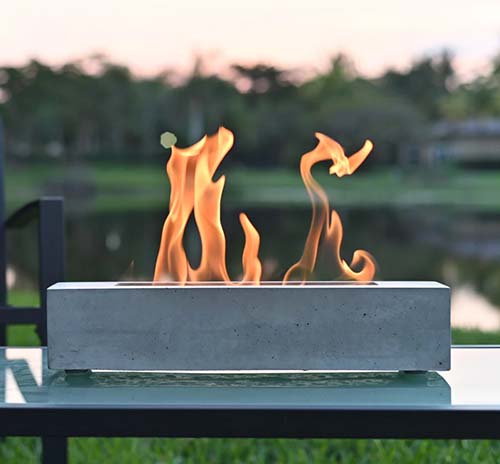 Create a luxurious evening using these elegant concrete tabletop fire pits. Or go with the classic Solo Stove. However you create and contain your fire, get some roasting sticks and 'mallows, along with all the other s'mores fixings. Adults and children alike can't resist!
Scavenger Hunt
Put one together by yourself, or make it easy on yourself (after all, it IS Labor Day) by finding an easy printable online.
Drinking Games
This looks fun! It's a printable version of "Drink if…." designed especially for Labor Day.
Labor Day Crafts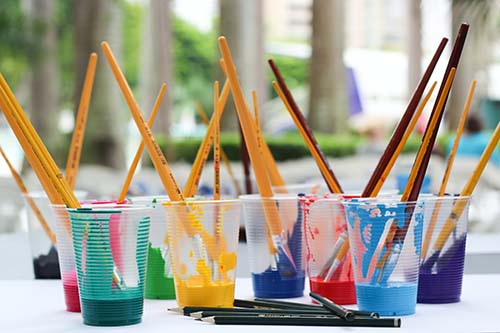 What will the kids do while the adults grill and drink beverages from tiny-umbrella-laden glasses? How about some crafts! Here as some perfect Labor Day crafts.
Hotdog Eating Contest
It just sounds so utterly American, doesn't it?! Kids will get into the spirit as well when you supply all you can eat dogs and condiments.
11 Best Labor Day Gifts for Everyone
Labor day isn't traditionally a big gifting holiday. But if you run a business with employees, well, no employee will say no to a thoughtful, useful, beautiful gift. It's a great way to showcase the spirit of the Labor Day in the workplace!
Here are our favorite gift ideas for your inspiration.
1. Personalized Best Ever Tumblers for Employees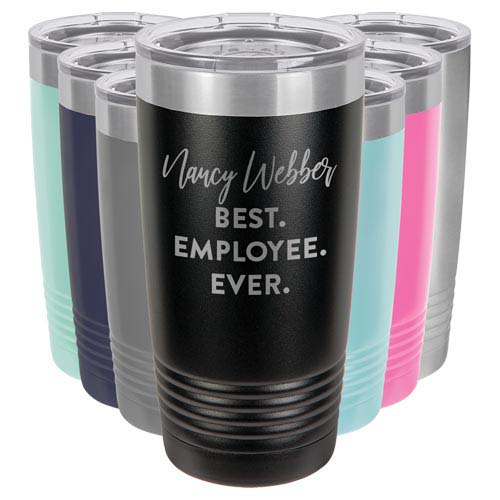 "Best. Employee. Ever." Hey, that's them! Your employees will cherish this clever and totally useful tumbler – especially during the three-day weekend of fun and celebrating!
Stay hydrated all day long with the vacuum sealed technology, which means it will keep their frosty beverages nice and cold, or their hot drinks piping. They'll love showing this off at work, too! (Uh oh… well, maybe make sure the whole office gets one?!)
2. Happy Labor Day Card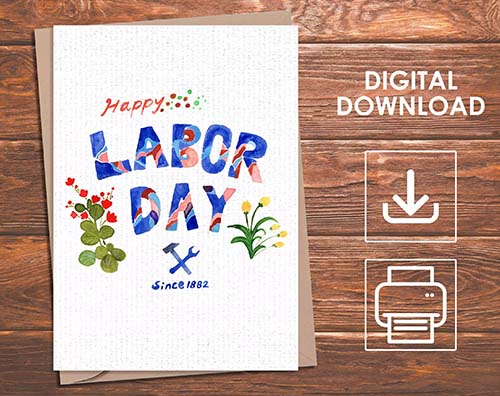 This instant download is so much better than scouring the aisles of your local Hallmark, or grocery store selections! It hits all the right patriotic notes, with its colors of red, white, and blue, and there's plenty of room to add a handwritten sentiment inside.
Download, print, sign it, and you're done.
3. Labor Day Family BBQ Can Cooler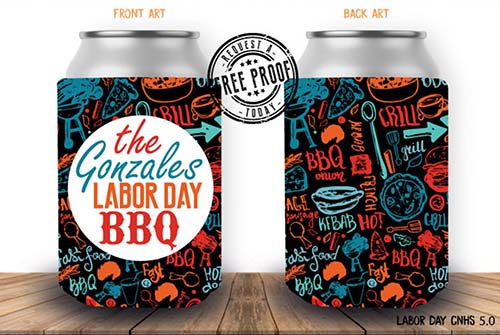 What a great way to enhance your Labor Day celebration! Everyone, from the beer drinkers to the soda sippers, will love these personalized can coolers. And every time they use them after Labor Day, they'll remember how much fun was had at your holiday bash. That's a win-win!
4. Labor Day Engraved Bird Feeder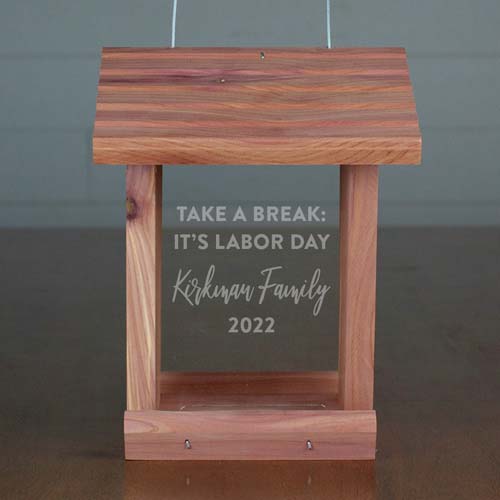 "Take a Break. It's Labor Day." Hey, even the birds know how to take it easy – after all, how easy do they have it when all their yummy seeds are displayed in such a cool bird feeder?
This Labor Day gift will last for years to come, with its sturdy construction of cedar wood (it's made in Oregon). And the recipient will love their new hobby – bird watching – almost as much as our flying friends love snacking on birdseed.
5. Personalized Folding Chair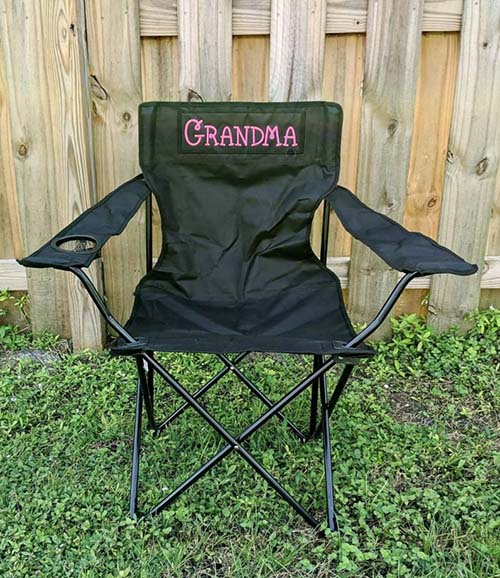 Banish the shouts of "HEY! You took my seat!" forever with these oh-so great personalized folding chairs!
They're built to last for many, many Labor Day celebrations, and the squabbling over seating will be long gone. Not to mention the use they'll see at every other family gathering, holiday, or camping trip. These chairs are comfy and practical, and they look good too!
6. My First Labor Day Onesie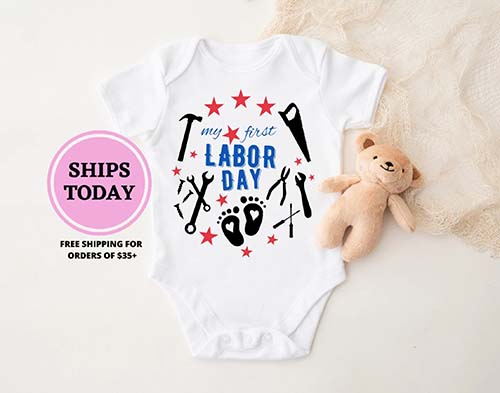 How cute is this onesie? The littlest American will shine and be the center of attention when they wear this adorable outfit. Everyone will want a selfie with the baby now! The sizes are available in 0-24 months (that's up to two years old, for those of you who are bad at math), and you can even add in personalization.
Let's take the cuteness factor over the top!
7. Homemade Labor Day Cookies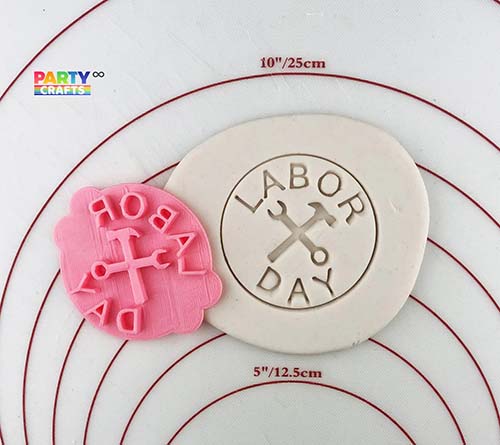 These cute embossers really steal the show when you use them to make homemade Labor Day cookies!
Sugar, snickerdoodles, molasses, the sky's the limit when you take your favorite (and super-secret) cookie recipe and make them even more special with this professional embosser. Plan on these being requested every single Labor Day from here on out!
8. Custom Labor Day Wine Glasses
Personalized with your family's creed, name, quote, or mantra, these great Labor Day glasses will get plenty of use the day of, but also for years and years to come!
The perfect size and shape for sipping chilled Chardonnay at the backyard BBQ, every guest will want their own, so purchase accordingly. Such a fun gift to let them take home as well!
9. Thank You Cards for Employees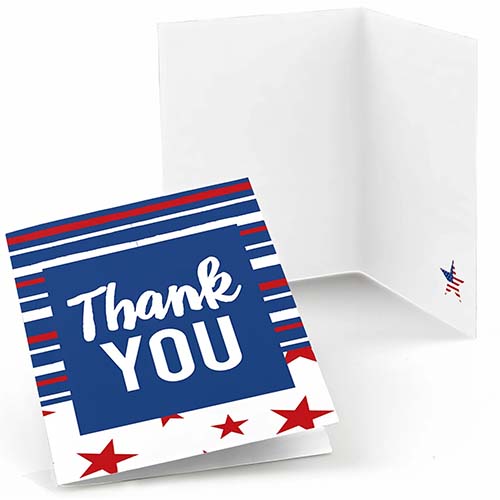 These patriotic cards are really eye-catching, and they come in a pack of eight. That means it's easy to pass them out to the whole office! Just make sure you sign them all with a little note about how special each and every employee is to you and the company.
Related: Best Thank You Gifts for Everyone
10. Strong Woman Happy Labor Day Shirt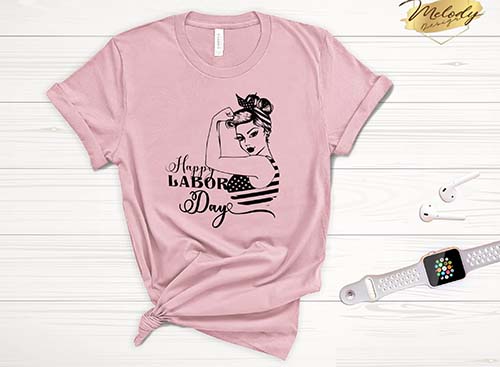 This Rosie the Riveter-esque shirt is so perfect for Labor Day! All the girls in the family will want one, and why not? They're available in a huge selection of colors and sizes.
All the ladies will look on point when they have their matching tees, and they're so soft and cozy we are positive these won't be banished to the back of their dresser drawers, but instead show their patriotism all year around!
11. Sleep All Day, It's Labor Day Mug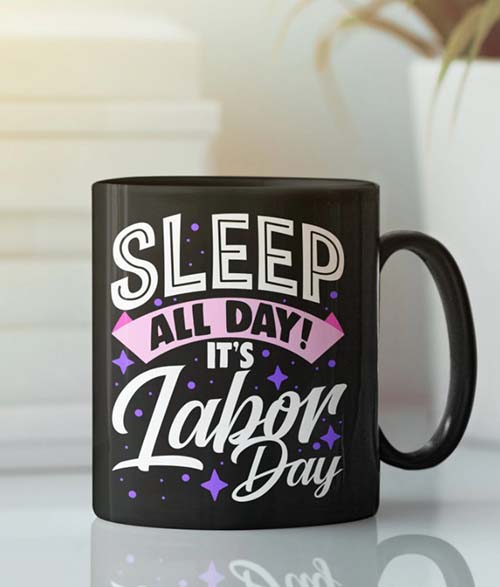 Relaxing is ABSOLUTELY the point of Labor Day (right after honoring all our hard-working Americans, of course). So get this mug to gently remind yourself to take a swing in the hammock, order pizza, sleep in, don't set the alarm, and gather with your family and friends. It's bound to become your favorite coffee or tea sipping accessory, with its generous size and cute font.
Read Next: 60+ Amazingly Patriotic Gifts
Pin It