Someone you know is celebrating trip number 30 around the sun, and it's time to wish them a very happy 30th birthday.
Sure, it's not the party-fest that the 21st was, because your friend has things like jobs and bills and responsibilities now. Nor is it the shebang that the 40th will be, which people tend to consider a major milestone.
But turning 30 is a big deal, too! And not just because it's the first anniversary of their 29th. Ahem. When you or your loved one is turning the big three-zero, you need something fun, witty, and maybe a touch sentimental to put in their card.
After all, they're not getting a present on your salary. So you'd better make the card great!
(I kid, I kid – here are some great 30th birthday gifts.)
What to Write in a 30th Birthday Card
Cards are magical little unicorns of happiness. You can go any way you like with a well-written card: funny, whimsical, memorable, sweet… the sky's the limit!
Still, depending on the nature and length of your relationship, you'll want to cover a few basics. These might include:
Congratulations and an acknowledgement of their special day
Remembrances of good times you've shared in the past
Appreciation for their character and friendship
Wisdom or advice for their stage in life
Humor, witticisms, and inside jokes
Wishes for future happiness
An affectionate sign-off
Your name
Depending on what you know and love about your special birthday person, and what you want THEM to know, grab a pen and start writing. These suggestions will get you started!
10 Best Ways to Say Happy Birthday (that aren't "Happy Birthday")
1. Happy first anniversary of your 29th birthday! (May there be many more to follow.)
2. It's your day!
3. I'm so glad your mama went through upteen hours of labor 30 years ago.
4. You're HOW old?!
5. Yesterday was stressful, and tomorrow is bound to be boring: today is going to be epic!
6. Sun up to sun down – we're doing whatever you want to do today!
7. It's your thang! Do what you wanna do!
8. I've been waiting for this day all year!
9. Are you ready for some shenanigans?
10. Happy Let's Eat Cake Day!
30th Birthday Wishes for Everyone
Inspiration for your happy birthday messages to that special 30-year-old in your life.
30th Birthday Wishes for Son
11. You're officially my hero – happy birthday, son!
12. Your mom says I have to give you a present, so you don't have to take out the trash today. You're welcome. Also, please move out.
13. Thirty years of having the world's best dad/mom?! Wow! Go, you!
14. You're on a roll, son! Thirty birthdays in a row, every dang year. Let's see if you can do forty!
15. Happy birthday to my favorite son! Don't tell your siblings.
16. Happy birthday – I brought cake! I'll even share it with you.
17. Remember that time you were born? No? Well, I do! P.S. Thanks for the stretch marks. You're worth it. 🙂
18. You've been the best part of the last 30 years. I'm so proud of the man that you are and the way you handle every responsibility, challenge, or adversity. You're a joy to be around, and you truly deserve to be celebrated. Happy birthday, son!
19. Happy birthday, to the one who calls me Mom/Dad. That's the best title ever, and it's all thanks to you!
20. My son, as we celebrate your 30th birthday today, I want you to know how much I love and appreciate you. I love your sense of adventure, the sheer joy you bring to the room, and your care and compassion for others. What an adventure these past thirty years have been. Cheers to thirty more!
30th Birthday Wishes for Daughter
21. Happy birthday to my mini-me!
22. Drinks, manis/pedis, movies, are on me!
23. Happy birthday to my favorite person on Planet Earth – my daughter.
24. You're the best thing in life! Happy birthday!
25. How are you 30?! I'm only 39!
26. This is the year you start aging backwards. (Take it from me, I'm an expert at that.)
27. Happy birthday to the best member of our family!
28. Congratulations on being out of those pesky 20-something years!
29. Holy guacamole, you're 30?!?! Way to "grow," daughter! (Yep, you'll never grow out of being on the receiving end of all my Dad jokes.)
30. I love you, a bushel and a peck!
Related: 200 Birthday Wishes for Every Age
30th Birthday Wishes for a Friend
31. Thirty years and you still got it! Happy birthday to a true friend!
32. I can't believe there were years there that I missed out on! From here on, no more of that silliness. Friends forever!
33. Happy birthday, buddy, and the drinks are all on me!
34. Here's to a night we might not remember!
35. Happy birthday to a friend who basically gives me life!
36. If you're 30… I'm getting really old here!
37. Happy birthday, my one and only BFF.
38. If we were still ten, I'd get you one of those half-heart necklaces: one for you and one for me!
39. It's a privilege to celebrate with you on your 30th birthday! I so appreciate you and all the time we get to spend together, whether we're working, or getting out in nature, or just sitting around sharing drinks and good conversation. Here's to many more years of friendship!
40. Ten more years before we REALLY start lying about our ages!
30th Birthday Wishes for Boyfriend
41. 30 years and still smokin' hot!
42. Happy birthday to the one who still gives me butterflies.
43. You're making the 30s look awfully good!
44. Happy birthday to my arm candy!
45. Happy birthday, honey. You're my one and only!
46. Can't believe you just finished up your 20s! Way to go, baby!
47. Can't wait to spend our 30s together!
48. Happy birthday, Hotty-McHottest-Stuff.
49. I hope your day is as gorgeous as you are!
50. Happy birthday to my other half. Now let's get this party started!
30th Birthday Wishes for Girlfriend
51. Happy birthday to the woman who makes 30 look amazing!
52. You know I love everything about you, but this birthday card is another opportunity to tell you so and I am not going to pass that up. Sweetheart, I adore you! I love the way you hold my hand, how your eyes light up when we talk about deep and important or silly and completely normal things. Happy birthday to the best girlfriend ever!
53. Happy birthday to one gorgeous lady! Love, one gorgeous stud.
54. Happy birthday to my lady of love!
55. Dearest and most beautiful of women, together let's make this year the best ever. Thanks for letting me be a part of it. Happy birthday!
56. Happy birthday to the one who makes me smile every day. To the one who sees me and instantly knows what I need. To the one who gives the best hugs, tells the best jokes, makes the best breakfast, and succeeds at everything while looking fantastic. I'm overjoyed to celebrate your 30th year on this planet with another year of us, together!
57. Life is better because you're in it! Cheers to my favorite person in the whole world!
58. You're what? 22?
59. Happy birthday… let's celebrate (wink wink nudge nudge).
60. I was gonna jump out of a cake for you, but… I thought we'd just eat it like civilized people instead.
30th Birthday Wishes for Husband
61. Happy birthday to my stud muffin supreme!
62. You wild thing, you! Come here and kiss me!
63. I still can't believe that here and now, on your 30th birthday, I get to call you mine. Happy birthday to my favorite man.
64. Happy birthday! Now hurry up and get these guests to leave so we can properly celebrate you.
65. Happy birthday, my one and only love!
66. Is it just me, or did it get hotter in here when you were born?
67. You make 30 look good! Just like you made 29 and 364 days look good, and just like you'll make 30 and 1 day look good, and…. Well, you get the idea. Happy birthday to the best-looking and most wonderful husband in the world!
68. Happiest of days to the most charming of husbands.
69. Happy birthday, Tarzan – love, Jane.
70. You'll always be the peanut butter to my jelly. Happy birthday!
Related: Best Personalized Gifts for Him
30th Birthday Wishes for Wife
71. Happy birthday, beautiful! How do you get better looking every year?
72. Happy birthday to the woman who puts up with me! How do you do it?!
73. You look even more beautiful now that you did the day I met you!
74. Happy birthday, honey. I've loved every minute of our marriage, and you've been a gift to the world for the past 30 years. Here's to 30 more!
75. When I think of happiness and love, I think of you.
76. I'm so glad you were born. I would suck at being a bachelor.
77. Happy birthday, wifey! You don't get to lift a finger today – unless it's to boss me around! Whatever you want, it's yours, because you deserve the very best. I wish you the happiest 30th birthday of all time… and your wish is my command!
78. Today's your day! You pick the date. Rom-coms, pedis, make-overs, cake. I vote for cake.
79. Happy birthday to my arm candy! You make me look good! You always have, and always will. I love you!
80. So happy to be the one to celebrate with you. Happy birthday!
Funny 30th Birthday Quotes
81. Relax. Your 30s are just like your 20s. Except you look ten years older and everything is less fun.
82. Thirty is an attitude!
83. When you turn 30, a whole new thing happens to you: you see yourself looking like your parents. ~ Blair Sabol.
84. My mom said to me, "Sweetheart, you should settle down and marry a rich man." I said, "Mom, I am a rich man." ~ Cher.
85. You know the saying: a woman over 30 is more likely to be hit by an A bomb than find a man. ~ Fanny Fink.
86. R.I.P. twenties.
87. Welcome to the age your childhood couldn't even fathom.
88. It took 30 years to look this good!
89. Talk 30 to me …
90. Welcome to your 30s! I hope you like Ibuprofen.
Related: 100 Funny Gag Gifts
Best 30th Birthday Cards
30th Birthday Captions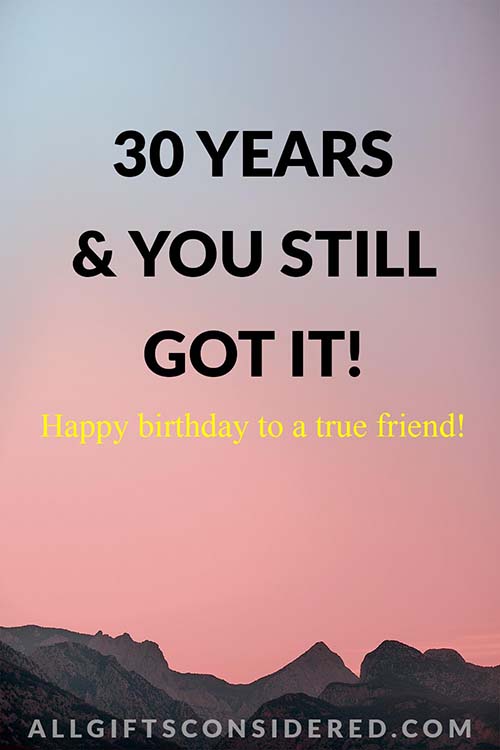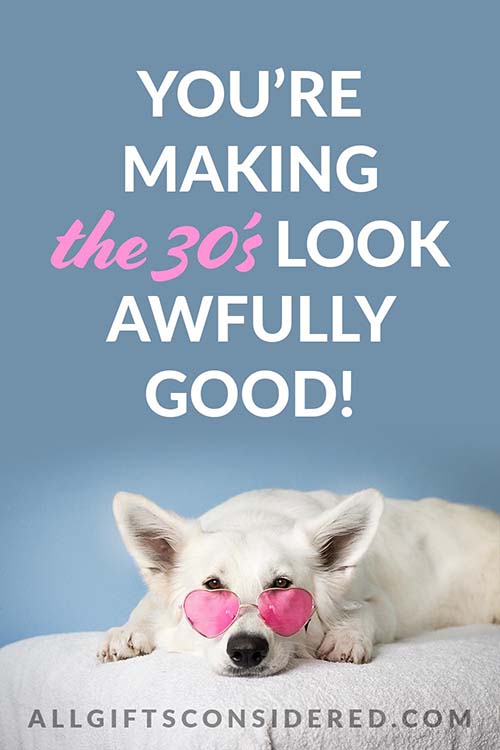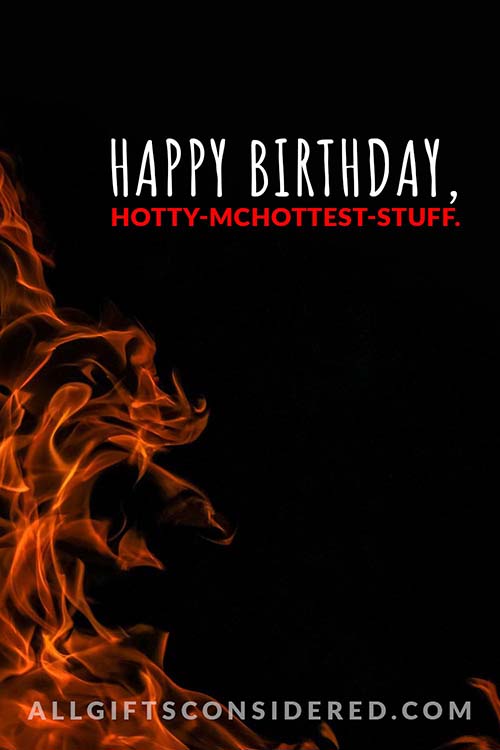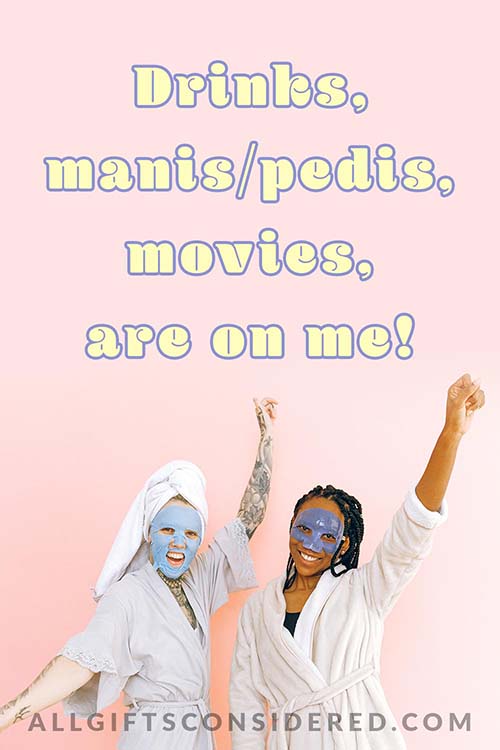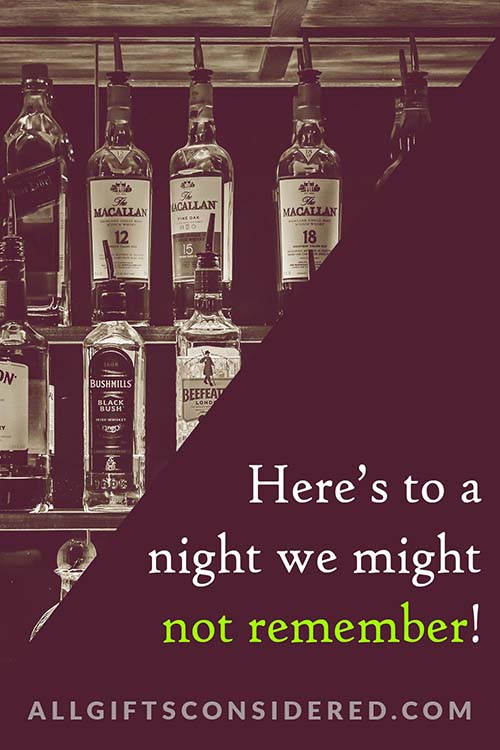 Some Facts About Turning 30
Did you know…
At age 30, you're older than 42 percent of U.S. citizens.
The oldest dog ever recorded is an Australian cattle dog named Bluey. She passed away in 1939 at the age of 29 years and 5 months. This means that if it's your 30th birthday, you've lived longer than any and all dogs!
Accidents are the leading cause of death in all age groups up through your 30s. Once you hit your 40s, it switches to "malignant neoplasm," aka cancer.
Most evaluators consider our bodies' athletic prime to be in the years between age 25 and 35. For a pro basketball or baseball player, their peak is thought to be around age 27, and the average NFL player retires at age 27. So if you're turning thirty: Welcome to being past your prime!
However, your mental prime is very different. Research suggests that your mental peak will begin at around age 35 and last until age 45. So on that score, the best is yet to come!
When you turn 30, you're still 10 years away from turning 40. Science, y'all.
For real though, research indicates that in your 30s your quality of friendship increases, in both depth and length of friendship. So your "friend for life" just might be out there!
Here's the best "fact" of all. According to our internal research, which we conducted by sitting around looking at memes for a while, age 30 is when you really start to appreciate old-age jokes. So be sure to include some in your happy 30th birthday wishes!
Read Next: Best Birthday Captions for Social Media