Freedom is calling! When it comes time to shop for the most patriotic gifts for someone you care about who loves our country, you want the very best of the best.
Today we have over 60 amazing gift ideas for the All-American veteran, military service member, or USA-loving patriot in your life. Stars and stripes forever!
Our website is supported by our users. We sometimes earn a commission when you click through the affiliate links on our website. See our privacy policy & disclosures for more information.
10 Best Patriotic Gifts for All-Americans
"Duty, honor, country. Those three hallowed words reverently dictate what you ought to be, what you can be, what you will be." – General Douglas MacArthur
1. American Flag (Made in USA)
Wave Old Glory proudly with a brand new American flag! Made in the USA (because we aren't about being ironic here), this nylon Rushmore Rose is as authentic as they come. With a generous sizing of 5×8 you can fly this beauty proudly, showing off your patriotism in red, white, and blue waving from your own front porch.
2. The Pledge of Allegiance Pillow Cover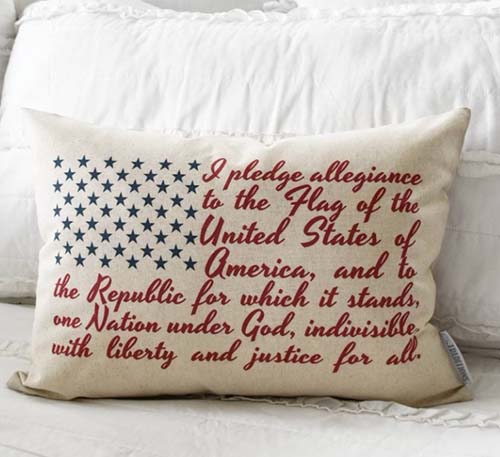 This handmade linen pillow is so pretty there's no way you'll want to pack it away the rest of the year: it's not just for Independence Day! You can choose off-white or white, so rest assured it will go perfectly with all of your other decorations and homegoods.
3. Lemon Cream Berry Pie (Made in USA)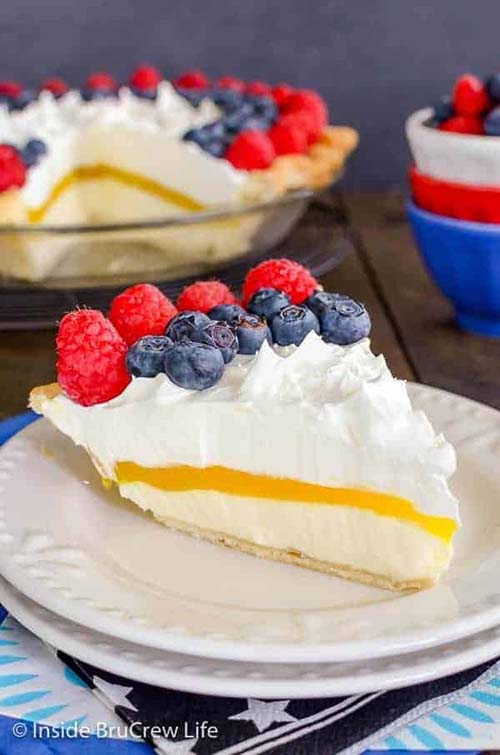 Patriotic colors, pie, and family to share this with. If there's anything more American than that we sure can't think of it! The no-bake cheesecake won't heat up your kitchen, and the citrus pudding makes it easy peasy lemon squeezy! Topped off with season-fresh berries, this is bound to be a huge hit, so maybe make two.
4. Where Liberty Dwells Sign (Made in USA)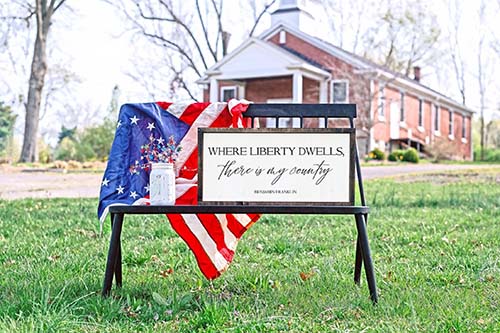 This Benjamin Franklin quote is perfect for displaying during your 4th of July bash – but honestly, you'll want to keep it hung all year 'round. It's handmade in Ohio, so each print is just the littlest bit different from the one before, making your sign truly one-of-a-kind.
5. Brave & Free Door Hanger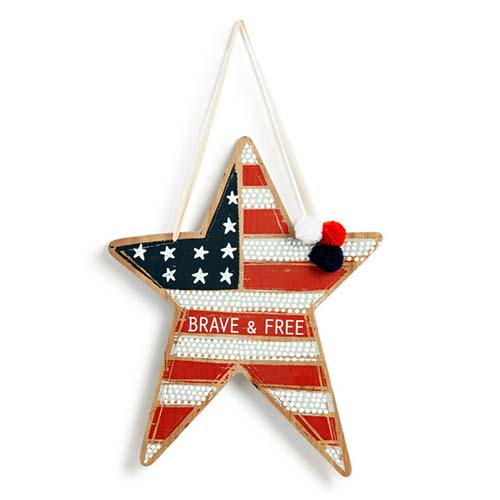 Made of fir wood, and with a jaunty ribbon for hanging, this Brave and Free door hanger is just the thing to display on your guest bedroom door when entertaining during July. Or put it right out front over your entrance to your home. Either way you go, it's a real eye-catcher!
6. Monogrammed Patriotic Towels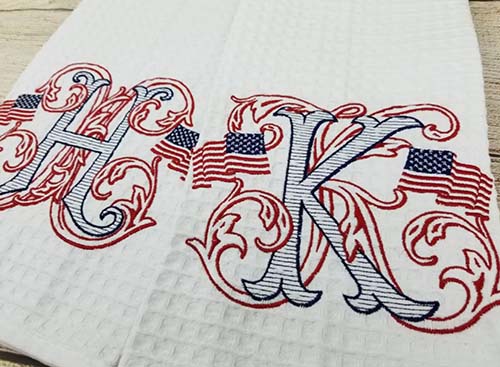 When it comes to 4th of July decorating, leave no room behind. Not even the bathroom! These cheery monogrammed towels will spruce up your lavatory instantly. Just the thing for keeping every bit of the house patriotic and full of the good old US of A!
7. Red White & Blue Soaps (Made in USA)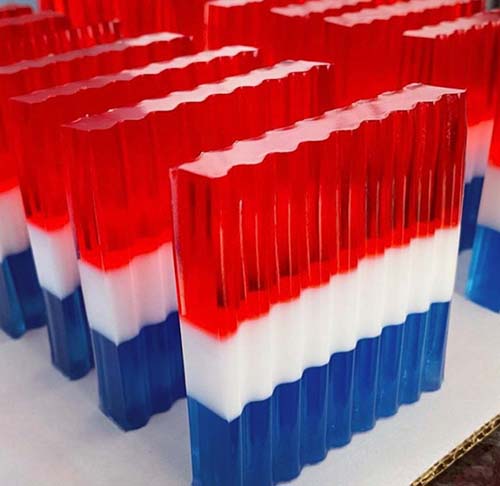 These red, white, and blue soaps will go perfectly with the monogrammed towels above! Or keep them by your kitchen sink. Maybe both? They're proudly made in the USA and smell deliciously divine too.
8. America the Beautiful Sheet Music Wall Art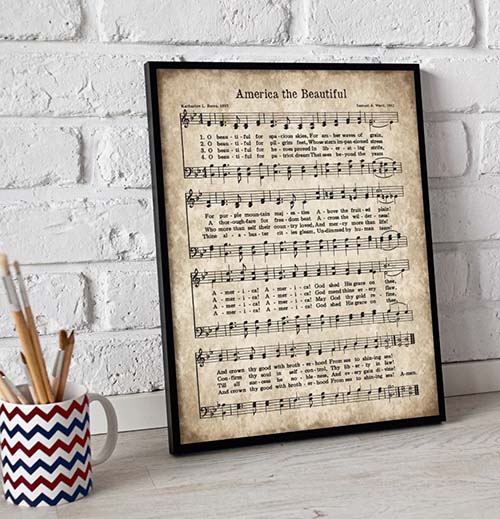 This vintage sheet music for America the Beautiful is instantly downloadable, making it so easy to show some Independence Day spirit! This instant wall art is truly gorgeous, making the perfect addition to your home that isn't too loud, kitschy, or "I-got-this-at-the-Dollar-Tree" kind of look.
9. Personalized Patriotic Stationary Set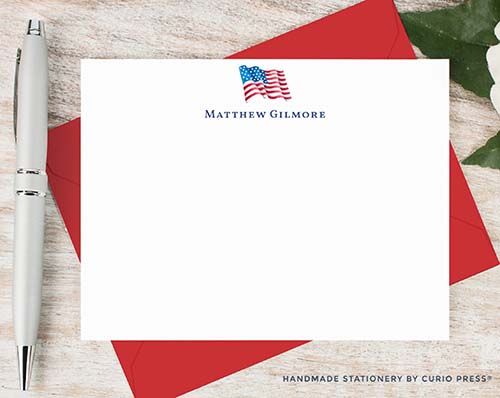 This personalized patriotic stationary set would be great for sending handwritten invitations to your 4th of July BBQ, or for sending thank you notes afterwards. The creamy paper just begs to be written on in your best pen, and the bold font of your own name will make you feel like a Senator or President.
10. USA Waffle Maker
Even breakfast can be patriotic with this fabulous USA waffle maker. The kids will love making waffles with this beauty, and the adults will too. Top those all-American waffles with blue and red berries and you've got yourself a breakfast that George Washington himself would be proud to devour!
Patriotic Gifts for Him
"I like to see a man proud of the country in which he lives. I like to see a man live so that his country will be proud of him." – Attributed to Abraham Lincoln
11. Patriotic Rocks Whiskey Glasses (Made in USA)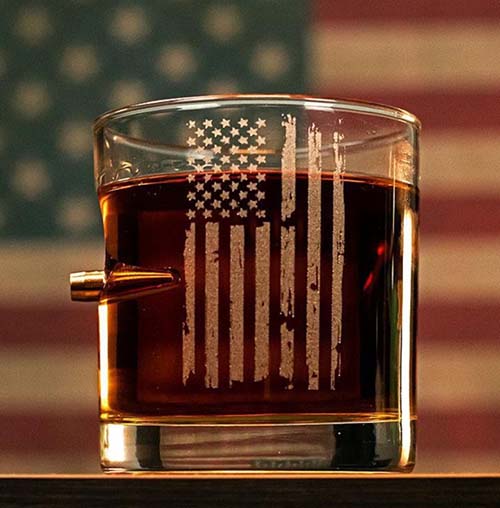 These whiskey glasses are a bulletproof gift for him! (See what we did there? Bulletproof?) He'll love sipping his American moonshine out of these hand-etched rock tumblers. They come in a set of two (so he can share with you), and each one has a genuine lead-free bullet! You can even personalize his name on the back.
12. Fourth of July Engraved Bottle Opener (Made in USA)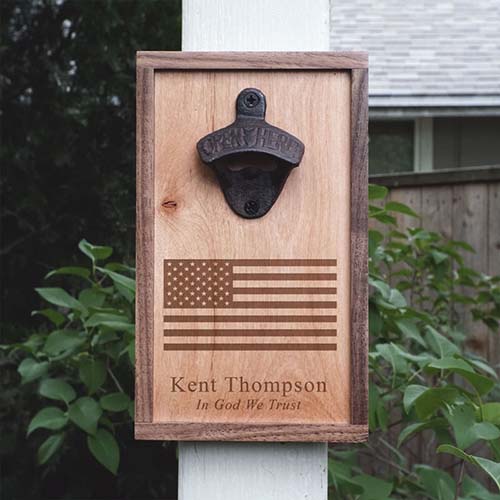 Leave no doubt where your loyalties lie with this amazing bottle opener! Engraved with Old Glory and boasting a cast iron bottle opener that will last a lifetime, this gift can be personalized with his name, making it extra special. It's going to come in soooo handy during his 4th of July BBQ!
13. America Beer Belt
This gift is sure to elicit some chuckles at first, but we both know he's gonna wear it! And knowing him, he'll wear it with pride, fully stocked with his favorite American brewski (not included, of course).
14. American Flag Sweatpants
Don't we all want to be Rex from Napoleon Dynamite?!?! When he's wearing these bad boys, he can go home to Darla in style! Oh-so comfy, these are bound to be his new favorite joggers all year around, not just in July.
15. American Flag Military Style Pocket Knife
A good pocket knife is always a great gift for him, no matter how large his collection grows. This American flag military style pocket knife aims to please with its good looking red, white, and blue handle, thumb studs for left or right opening, and foldable abilities. He'll love having this one in his pocket for fishing, hunting, camping, hiking, and day to day living.
16. 'Merica Hat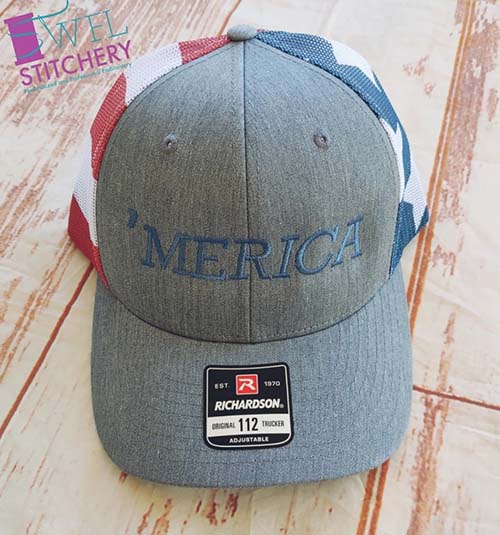 This 'Merica hat from Richardson is so well-made he'll want to wear it all year around, not just during the 4th of July celebration. The denim tones make it match just about any outfit. Keep the sun out of his eyes in style!
17. Personalized American Flag Wallet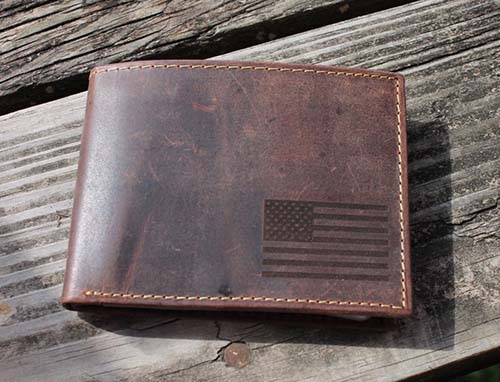 With three different styles to choose from you can't go wrong with this personalized American flag leather wallet. With its distressed look, it's rugged and handsome (just like he is). It's high quality so it will last for years and years to come. The personalization makes it extra special.
18. Bald Eagle Romper
Okay, we can't get enough of this bald eagle romper, and neither will he! He'll be the belle of the ball with this getup. Or at least the beast of the feast. And did we mention the pockets?! This outfit wearer will be remembered by all who see him as the best-dressed patriot at the fireworks display.
19. American Flag Grilling Apron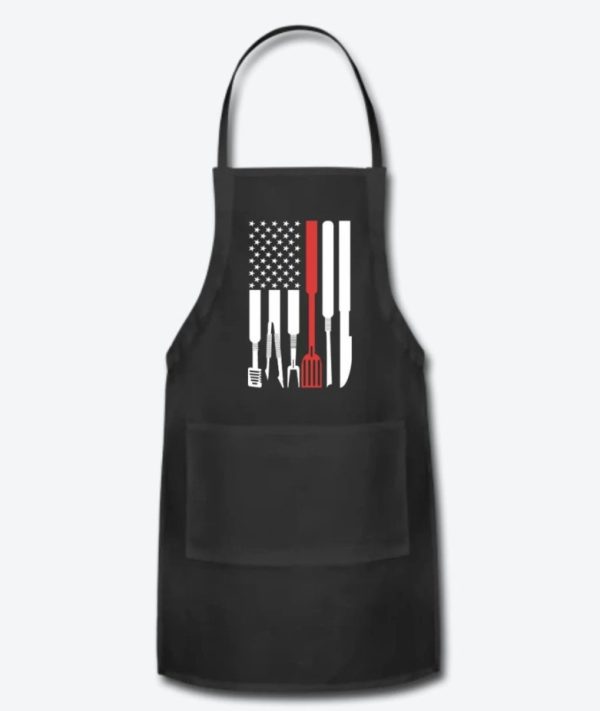 You know he's been looking forward to being Grill Master all year long! Help him flip those burgers and slow smoke those ribs in style with this American flag grilling apron. He'll love keeping his red, white, and blue outfit all clear of mustard and ketchup drips, and the front pocket will come in handy for storing utensils and his phone.
20. #1 American Tumbler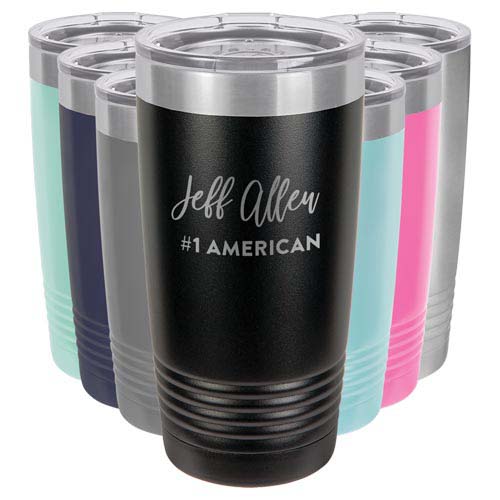 Of course he is! 100% American man, that is. He'll love getting this custom patriotic gift tumbler, as it will keep him hydrated all throughout his 4th of July BBQ and fireworks display. Personalize it with any text you like, so you can have it engraved with our suggestion or make it your own.
Here are some more ideas for phrases to add to this gorgeous tumbler mug:
United We Stand
Land of the Free
Home of the Brave
Land That I Love
Sweet Land of Liberty
Don't Tread on Me
In God We Trust
Liberty and Justice for All
Engraved to order for your patriot in Northwest Gifts' Oregon shop. Available in a wide range of colors (we think red, white, or blue).
Patriotic Gifts for Her
"Freedom is one of the deepest and noblest aspirations of the human spirit." – Ronald Reagan
21. Patriotic Nails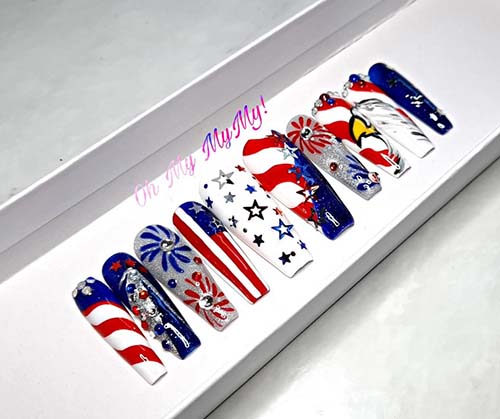 These press-on nails will wow her and everyone she meets! All the details on these patriotic nails – they're just amazing! A fun way to "dress up" while still being comfy in her tee and jeans, this instant manicure will make her look like she spent hours at the salon.
22. Personalized Red, White, & Blue Stars Set (Made in USA)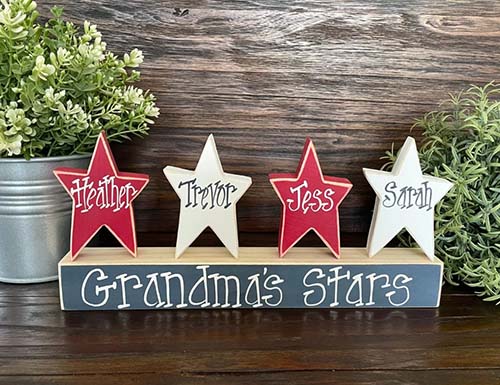 This wooden block set is so cute, and patriotic too! She'll love seeing the names of her kids or grandkids spelled out in cheery red, white, and blue paint. It's going to look adorable in the front entryway, or on the patio table as a centerpiece for the BBQ.
23. Hand Painted American Flag Glasses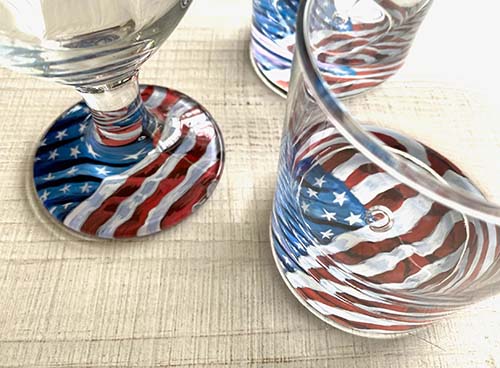 Let's raise a toast to America with these beautiful American flag glasses! These are handmade and 100% patriotic, making them a perfect gift for her. She'll love sipping her white wine, soda, or sweet iced tea from her pretty new barware set. You can even upgrade your order to include an American eagle etching along with the flag. And the personalization is free!
24. Patriotic Lips Shirt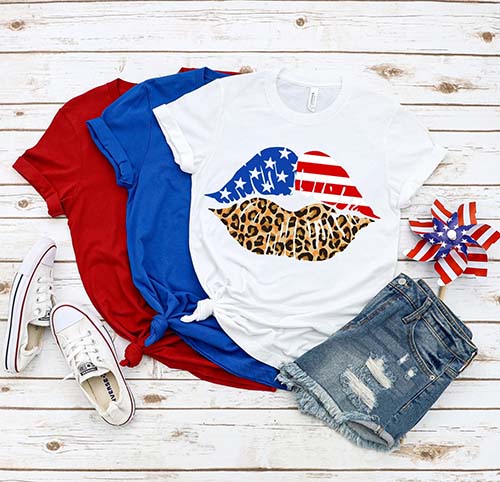 This patriotic lips tee shirt is just the thing for a sassy American girl! She'll love wearing this with jean shorts or joggers, keeping her comfy and cozy even throughout the night-time fireworks display. Great for teen girls too!
25. American Pride Tote Bag
This sturdy canvas tote boasts a zipper closure, and an outside pocket. The stars and stripes flag detail takes it over the top. She'll love trading in her boring purse, diaper bag, or backpack for this stylish tote that will hold all her belongings securely.
26. Red White & Blue Bath Bombs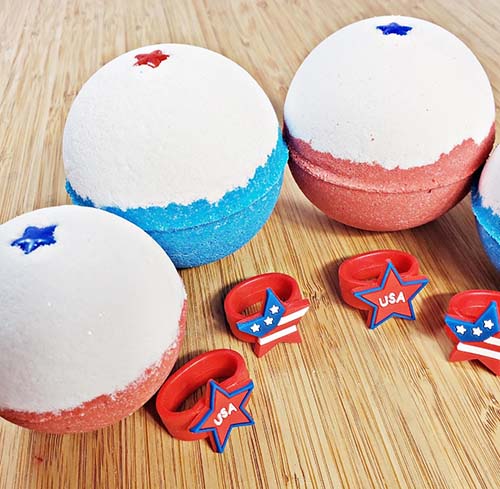 At the end of a long day of entertaining her 4th of July guests, your lady would love a relaxing bubble bath! Enter in these yummy red, white, and blue bath bombs. And before she tosses them in her bath at night, they'll be a totally adorable bit of decorating for the bathroom!
27. DIY Wavy American Flag Beaded Bracelet
This DIY wavy American flag beaded bracelet is just the thing for a group of girls to put together during the Independence Day celebration, while they wait for it to be dark enough for fireworks. Or make one yourself to give as a gift to your lady.
28. USA Flag Dress
Ladies know: maxi dresses are where it's at for comfort and style. This one is no exception to the rule, with its soft material, side slit, and keyhole cutout in the back. She'll love wearing this for the neighborhood block party – everyone will want to know where she got it.
29. Patriotic Studded Purse
It's always a good idea for a new handbag, so why not make your patriotic gift an especially blinged-out purse? We know she'd agree (and deep down inside, you know it too), so of course she'll love that this one stands out amongst the rest with its flag inspiration, silver stars, and crystal studs. What makes it even better is it doubles as a concealed carry purse! She'll feel stylish and safe with this on her arm.
30. All American Girl Custom Wine Glass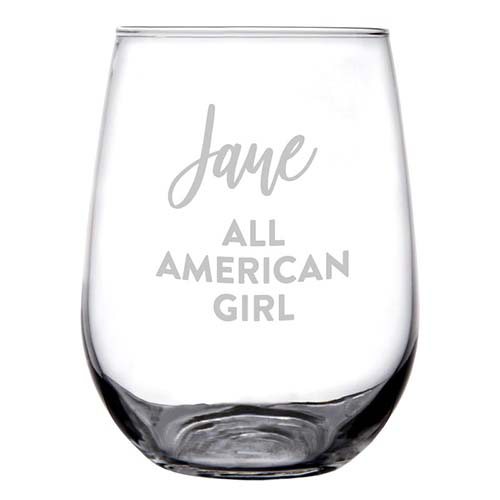 These pretty wine glasses deserve a toast! Let's drink to the Sweet Land of Liberty and all she offers with a set of these custom glasses. Filling them up with a red wine will only enhance how patriotic they are. A great gift for the hostess with the mostess.
American Flag Gifts
"I believe our flag is more than just cloth and ink. It is a universally recognized symbol that stands for liberty, and freedom. It is the history of our nation, and it's marked by the blood of those who died defending it." – John Thune
31. Patriotic Front Porch Sign (Made in USA)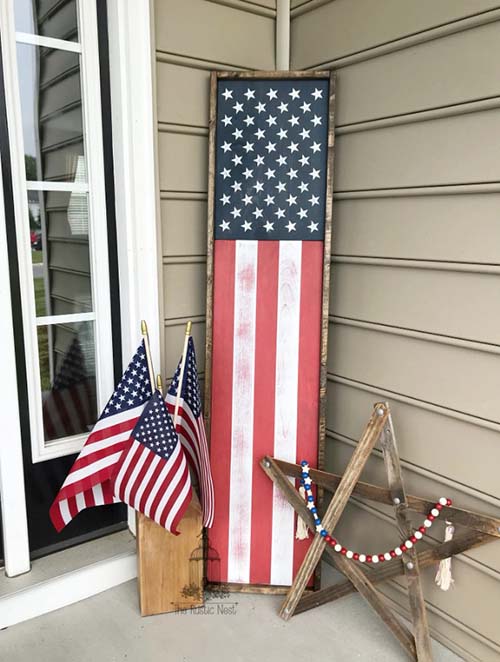 There's just something about a front porch that seems so quintessentially American, don't you think? And this great patriotic sign really takes the cake with its eye-catching detail and large size. Decorating around this will be so much fun!
32. Large Boho American Flag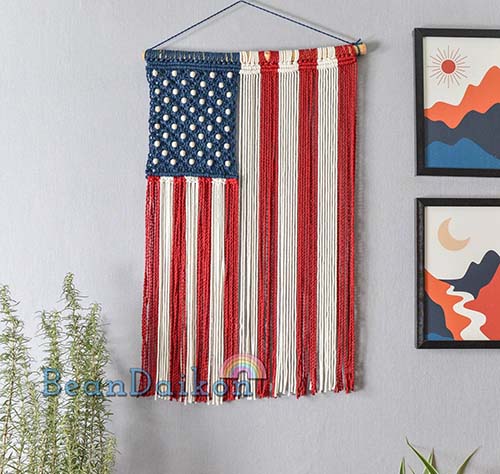 Anyone can fly an American flag, but this one is so delightfully different. The macrame cotton cords in bright, sunny shades of red, white, and blue bring a touch of bohemian and vintage vibes to her home. She'll love this so much we doubt she'll pack it away with the rest of her 4th of July decor and instead leave it hanging all year.
33. Wooden American Flag Painted Cross (Made in USA)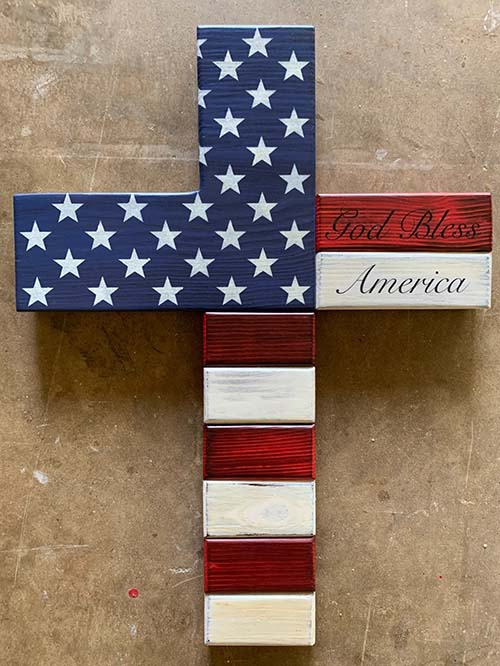 This rustic cross is great for someone who loves America only less than one thing: Jesus! They'll hang or prop up this great sign where all who see it can stop and ponder the bigger picture in life. It's made in the USA, and you can even add some personalization if you like.
34. God Bless America Yard Sign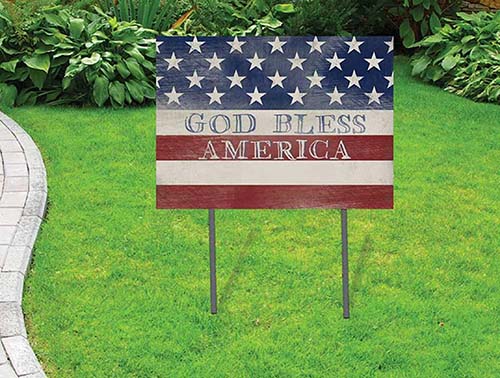 This yard sign will bring a smile to all who walk by it, and guests will love knowing they've reached the right address for your Independence Day BBQ. We picture this right out front with some patio furniture for lounging and having great conversations with your friends and family this 4th of July.
35. American Flag Platter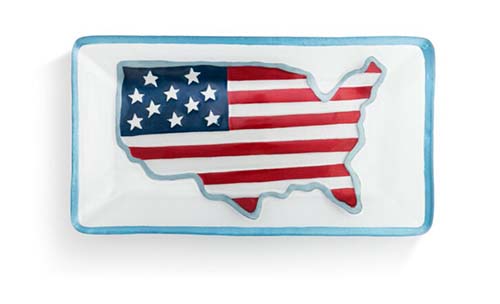 Imagine getting down to the last couple of cupcakes or brownies only to find this beauty underneath! This American Flag Glass Fusion Platter is just so pretty. It will really add some panache to your Independence Day celebration.
Independence Day Gifts
"I am well aware of the toil and blood and treasure that it will cost to maintain this Declaration, and support and defend these States. Yet through all the gloom I can see the rays of ravishing light and glory. I can see that the end is worth more than the means." – John Adams
36. Vintage Sparkler Wood Block Decorations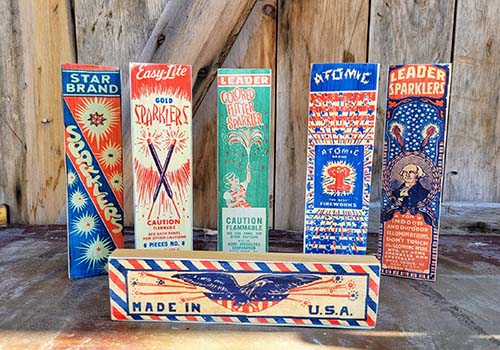 It doesn't matter how many overpriced fireworks you purchase for the kids – you know they'll always be most enchanted with waving around good old-fashioned sparklers! These cute vintage-inspired wood blocks are a fun way to bring some nostalgia to your decorating.
37. Personalized Firework Show Sign (Made in USA)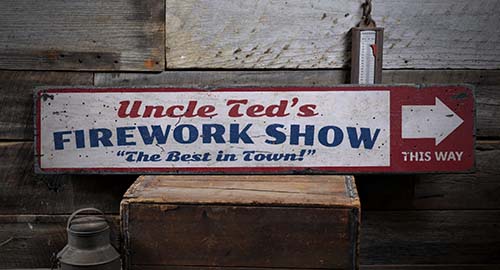 A great gift for the man who goes all out when it comes to his fireworks display, this personalized wooden sign will be his pride and joy! Made in the USA and painted in Old Glory's colors, this sign is just too perfect.
38. DIY 4th of July Centerpiece
Make your own centerpiece with this easy and creative 4th of July tutorial. Half the fun is making it your own one-of-a-kind piece, the other half is proudly displaying it! Your guests will really be wowed with the finished product. And it would be a perfect hostess gift too.
Related: The Best Hostess Gifts (& When to Bring One)
39. 4th of July Table Runner (Made in USA)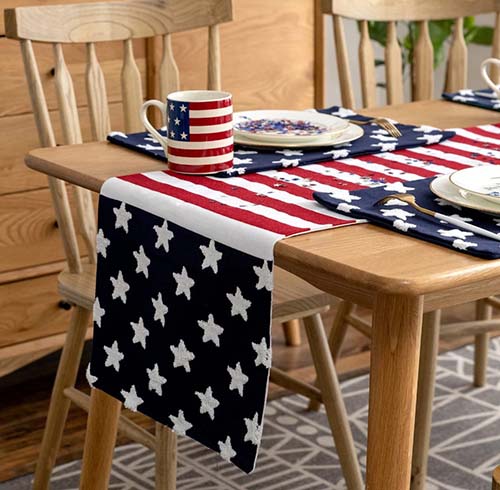 If you're hosting the annual BBQ and get-together, this 4th of July table runner is a must-have item! It will bring a joyful look to your dining room, and instantly transform a ho-hum table. All of the traditional summer dishes are going to look extra delicious with this as their backdrop.
40. Stars and Stripes 4th of July Wreath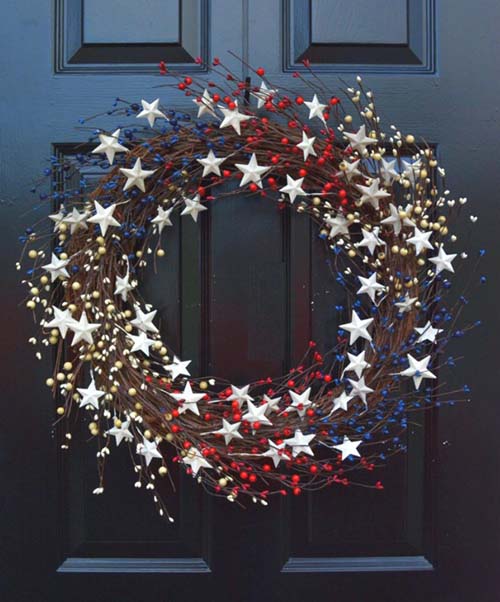 This stunning wreath is made of grapevine, berries, and stars! It will instantly transform your front door and let your guests know that in this house we are proud patriots. The slightly rustic design will blend beautifully with any farmhouse style.
More: 21 Best 4th of July Gifts for Independence Day
Patriotic Gifts for New American Citizens
"America is another name for opportunity." – Ralph Waldo Emerson
41. Personalized Stars & Stripes Yard Flag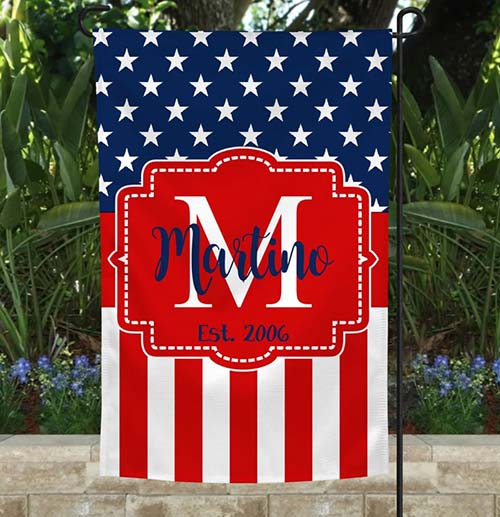 Place the year they became American citizens as the "Est." and make this amazing yard flag truly one-of-a-kind for the freshly christened national. It will brighten up any yard and bring a smile to every face. It's handmade and made of durable crisp polyester which means it will stand up to the weather. Each one is made to order, available in different sizes.
42. U.S.EH.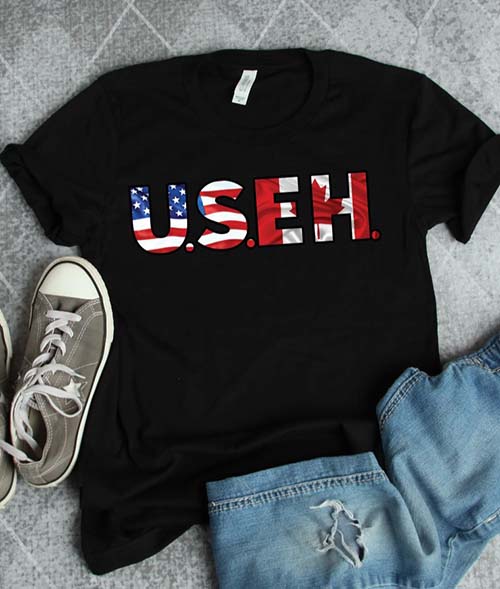 Soft and lightweight, and made of 100% cotton, this tee is sure to delight your Canadian/American friends! With its tongue-in-cheek humor and bright red, white, and blue on a black background, you'll want to wear it every day.
43. Proud New American Citizen
Sip your coffee or tea in style with this cute mug. Becoming an American citizen is certainly something to celebrate, so let's have a toast! This is bound to be their new favorite mug and will likely go to the office or school with them, because it's way too adorable to stay home.
44. Patriotic Wind Chime
This wind chime is just the ticket for all occasions, from serious holiday parties to everyday rocking on your front porch. It will chime with a cheery tune each time the breeze blows, and will brighten up your porch or patio with star-spangled beauty. Or hang it above your front door, alerting you each time a friend or family member arrives for the BBQ!
45. Proud to Be American Keychain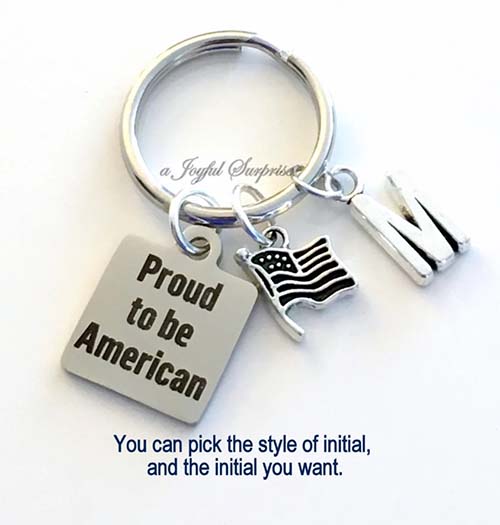 Pick not just the letter but also the style of the letter with this cute, personalized keychain! Remind yourself every time you head out to the car how patriotic and proud you are to live in this great country. Made of antique silver and gift wrapping is available.
46. Metal Proud to Be American Bookmark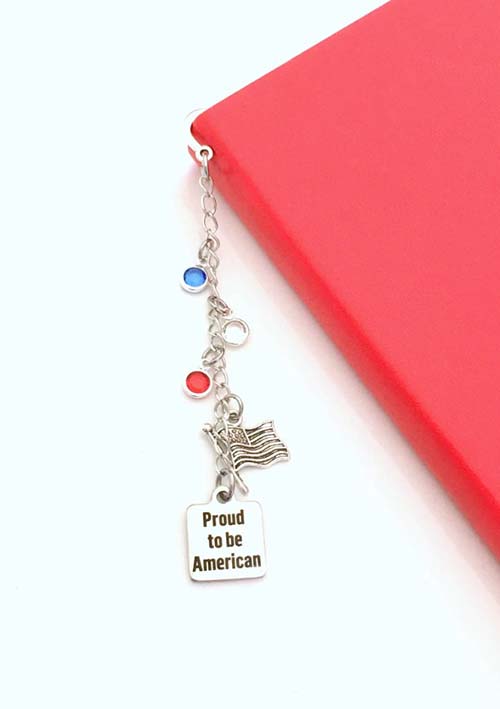 This cute bookmark is full of charm – charms, that is. A sweet little reminder anytime you close that textbook or novel that you'll always be proud to be an American. Pick the initial charm and the birthstone and make it truly unique.
Patriotic Gifts for Veterans
"Ask not what your country can do for you, but what you can do for your country." – John F. Kennedy
47. Soldiers Creed (Made in USA)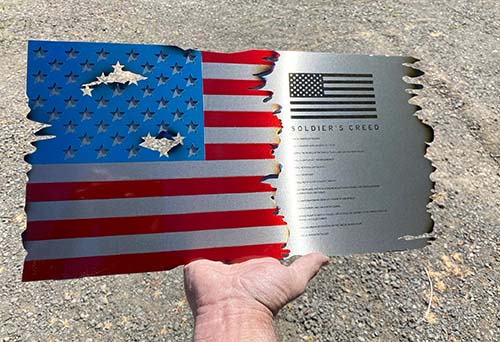 Hand cut and hand polished, this metal wall art features the Soldier's Creed. A stunning and unique piece of art, this is a great gift for any soldier, whether they are serving now or in the past. Made in the USA with American steel.
48. Personalized Veteran Sign (Made in USA)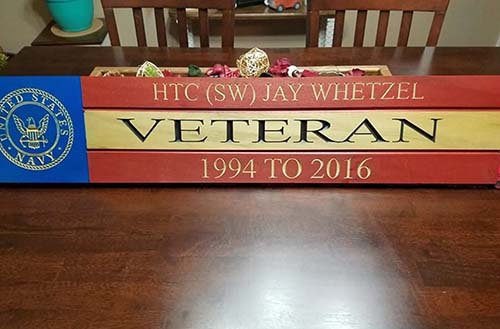 This personalized wooden sign is bound to bring a proud tear to your beloved veteran's eyes! They'll love hanging this special sign where all can see it. Handmade from locally sourced wood in the Shenandoah Valley of Virginia, no two are exactly alike.
49. Proud to Be a Veteran Bird Feeder (Made in USA)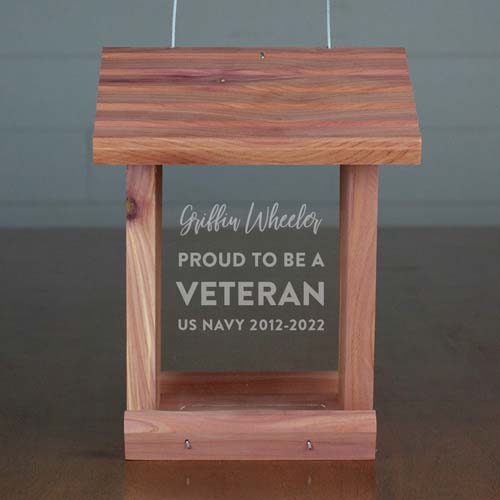 For the bird enthusiast a good feeder is a must-have. This one gets our vote for the best out there due to its generous size (making fill up a less often chore), custom engraving, and the fact that from start to finish it's made in the USA! You can customize the words however you like, but we love Proud to Be A Veteran.
50. Remember Our Veterans Metal Lawn Sign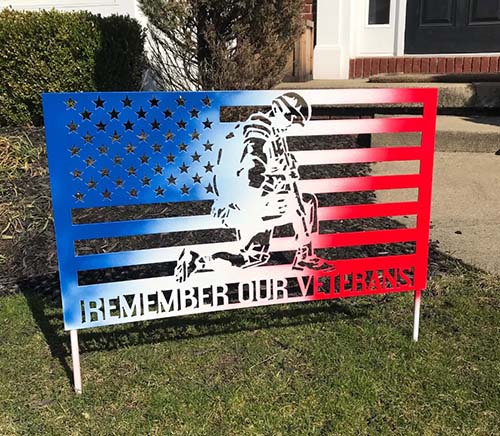 Sometimes we just need a gentle reminder and nudge to remember our veterans, and not just on the 4th of July or Memorial Day. This great wall sign is sure to stop traffic (figuratively of course). It really catches the eye with its bright, vibrant colors and touching picture of a kneeling soldier.
51. Home of the Free Because of the Brave (Made in USA)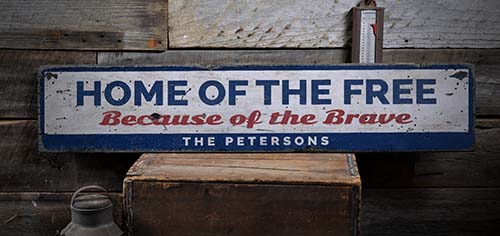 This rustic sign has a lot of vintage and patriot appeal. We love the rugged look of this sign and think your friends will too. Adding in your family name makes it extra special and unique. Definitely a sign that will stay up all year round in the family room. 
Related: Best Gifts for Every Veteran
Election Day Gifts for Patriotic Citizens
"Patriotism is not short, frenzied outbursts of emotion, but the tranquil and steady dedication of a lifetime." – Adlai Stevenson
52. Election Day Stickers (Made in USA)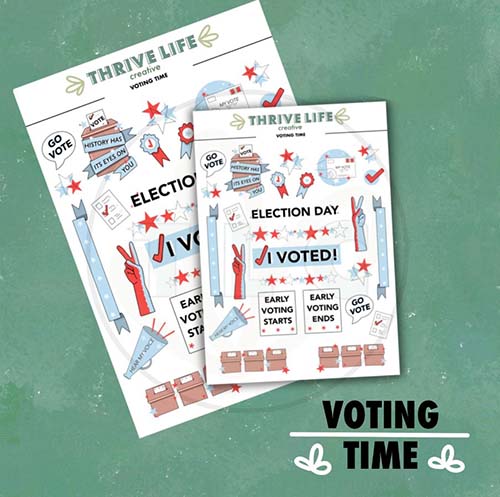 We all love the "I VOTED" stickers! In fact, when I mail in my ballot, that's the thing I miss the most from the good ol' days. Well, no matter how or where you voted, leave no doubt you did your duty and your privilege with these fun stickers.
53. Vote. Hoodie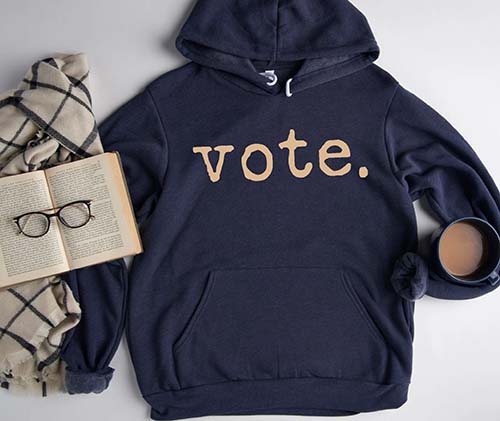 Always keep it simple. This fun and to the point hoodie gets a strong message across: we don't care who you vote for, just be sure to do it. Warm and cozy, this is perfect for rainy days, chilly Autumn bonfires, or breezy Spring days. Not to mention late night summer BBQs like the 4th of July!
54. Vote Earrings (Made in USA)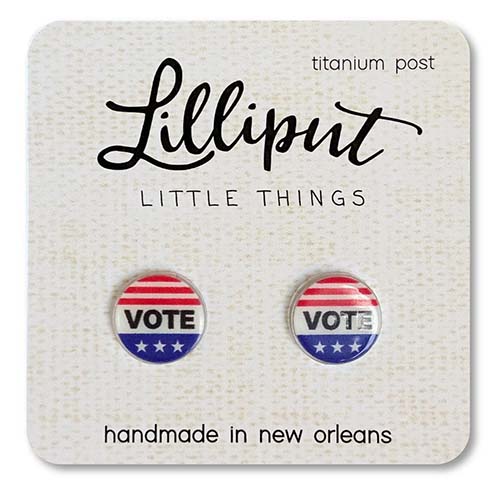 These totally cute earrings remind everyone who sees them to get out and vote already! They will add a pop of patriotic color to any outfit and are perfect for the 4th of July, or any time you're feeling especially proud to be an American.
55. Election Day Party Napkins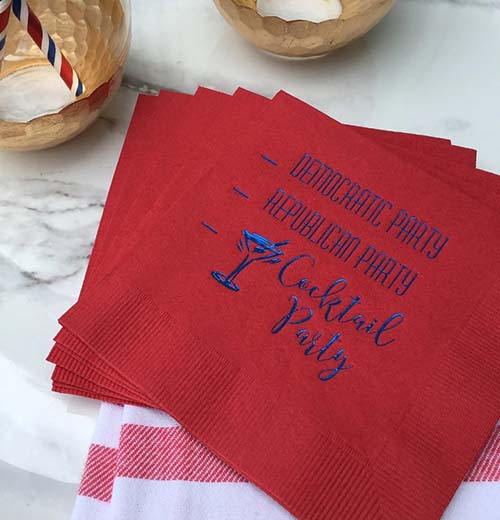 Keep a sense of humor at your all-American festivities with these funny napkins. Can't we all just get along? Well, we can when there are cocktails! Guests will love these cute, tongue-in-cheek accessories to their snacks and beverages.
56. This is My Voting Shirt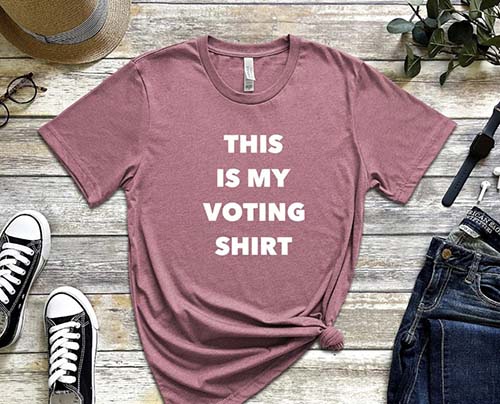 And how cute it is! This soft shirt is just the thing for casting your ballot, but we think you'll want to wear it a lot more often than that. Handmade of soft cotton, these are unisex and available in "heather" colors.
Fun 'Merica Gift Ideas
"Merica. Back-to-back World War champs." – Literally Everyone
57. Spilling the Tea Since 1773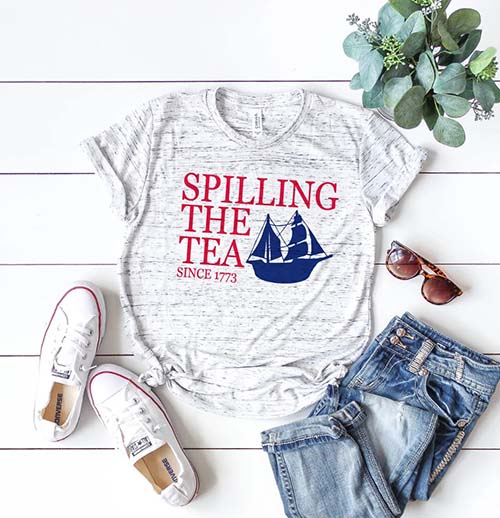 How fun is this shirt? Americans and the English alike will crack up over this clever shirt. Warm and soft and comfy, you won't want to take this shirt off! Available in different cuts and styles (like racerback or muscle tank), the red, white, and blue colors pair perfectly with your favorite jeans.
58. Merica Eagle Socks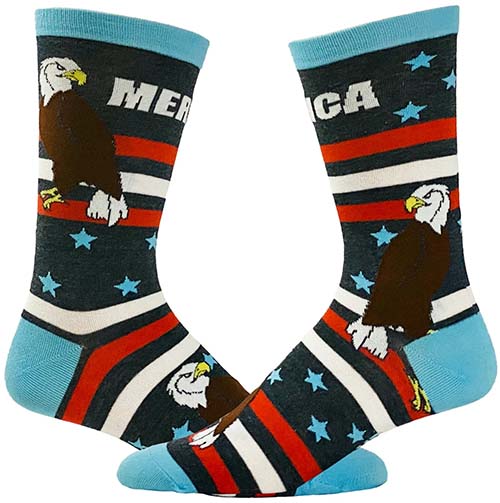 Dressed up head to toe, literally! These fun socks are too cute to hide away under jeans and sneakers, so we recommend totally embracing your American dad look by pairing them with Crocs and Bermuda shorts.
59. American Flag Fanny Pack
Is there anything more American than apple pie, sweet tea, hamburgers, and fanny packs? We love them and can't get enough. How else can you keep your personal belongings on you and still keep your hands free? This one even has a Bluetooth speaker built right in so you can blast some good old American rock and roll!
60. Sorry I Can't Hear You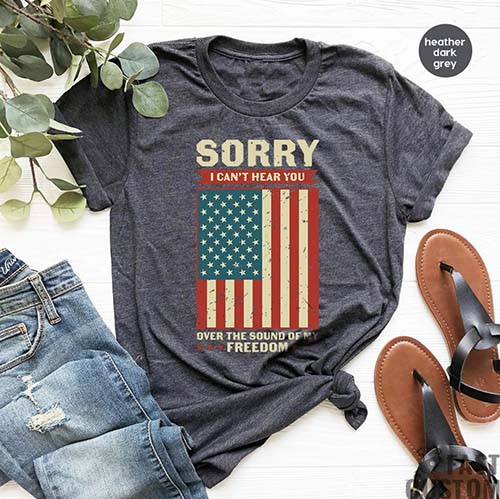 This funny tee is oh-so true! We love the colors, but the wording is even better. Nothing is more American and laid back than a great tee, and this one really takes the (red, white, and blue) cake. You can even get it in a ton of different colors! Maybe one for each member of the family. How great would your family photo look in these?
61. Merica Door Mat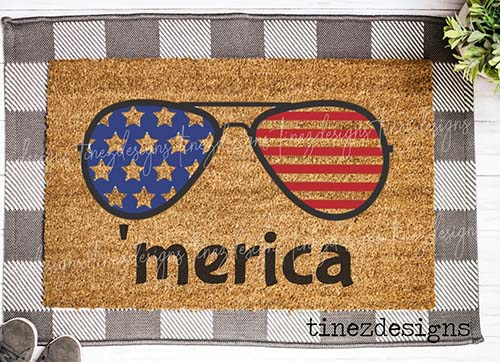 Wipe the mud off your boots in style with this great welcome mat! Super sturdy, this is a serious mat. And it's easy to clean: simply shake or vacuum. And did we mention they're waterproof?! Maybe order two… one for the back door, one for the front!
62. American Flag Car Coasters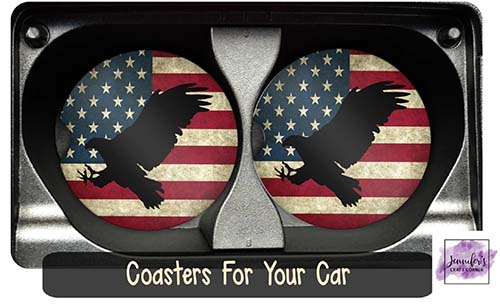 These sandstone American flag car coasters keep your car beverage holders from getting all gunky and gross. Plus, they add some flair to your automobile. Or your RV, for you patriotic retirees.
63. Do You Even 'Merica Bro?
This cute tee is 100% cotton, available in different colors, and is even available in child's sizes. That means it's perfect for matching the whole family on the 4th of July. How cute are you going to be at the neighborhood block party or downtown parade wearing these?!
64. Red, White & Boozed Cup Cozies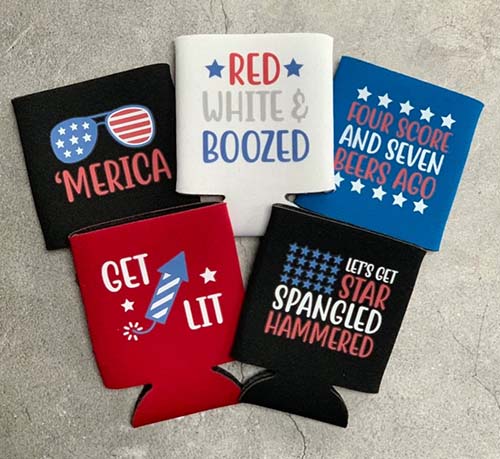 Keep your drinks frosty cold with these red, white, and "boozed" cozies! Everyone will want one for their cold beers as you spend a fun afternoon together, enjoying your freedom. Pass the hot dogs, bro.
65. Mullets, Eagles & 'Merica Shirt
Might as well embrace the stereotype, right?! This clever shirt doesn't even pretend to be sophisticated or posh, because that's aristocratic and colonial, you loyalist Tory.
66. Personalized 'Merica Tumbler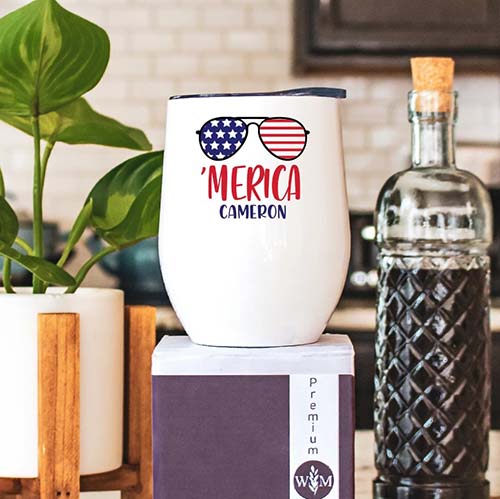 This cute wine glass tumbler is just the thing for that 4th of July picnic or camping trip. It won't break if you drop it after that third glass – wink wink. It comes with its own reusable straw too. Keep that chardonnay cold for longer – cheers!
Read next: 21 Most Patriotic 4th of July Gifts
Pin It