So you know a guy who is…. unusual different weird special.
Maybe it's this unusually "special" man's birthday. Or the holidays are coming up. Or you're hitched to him, and it's anniversary or Father's Day or something like that.
Because he's so, you know, unique (and really quite lovable… we hope!), you want to find a one-of-a-kind gift for him this year.
So you searched for "unusual gifts for men," and we're here to oblige. We've scoured the Internet and compiled a list of 21 unusual gifts for men that we think you're gonna love.
With interesting gifts for geeks, nerds, and all types of guys in between, there's a little something for everyone in this list.
Come and see what we got!
Top 21 Unusual Gifts for Men
Our website is supported by our users. We sometimes earn a commission when you click through the affiliate links on our website. See our privacy policy & disclosures for more information.
1. Rocketbook Fusion (Physical-to-Digital Notebook)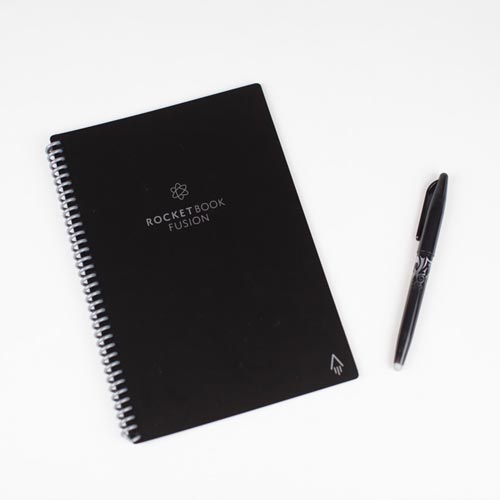 First up on our list is this unusual gift for the techie in your life. While you may not understand tech as much as he does, we can pretty much guarantee that he'll find this handy gadget interesting in the least.
The Rocket Book Fusion is a reusable notebook that allows for paper-free planning and note-keeping without killing a single tree.
With the assistance of the Rocketbook app, Pilot FriXion pen, and a little Core technology, this notebook will allow your loved one to upload the info he wants to his cloud of choice before wiping clean the pages.
2. Safe-T Fire Extinguisher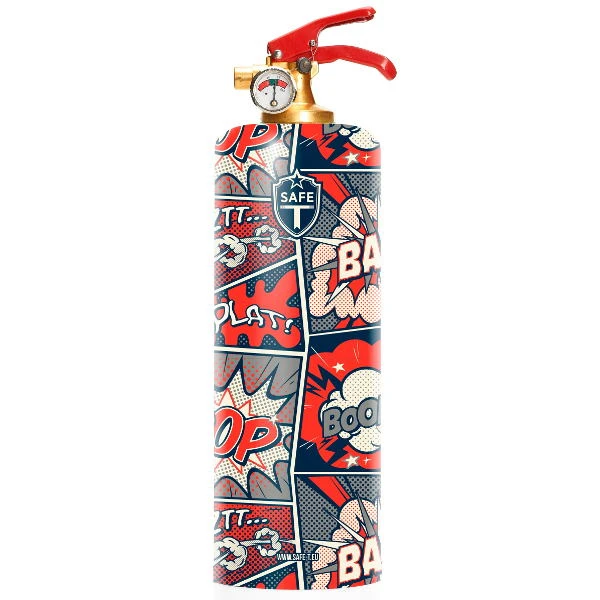 Staying safe at home or the office may be boring to think about, but we can all agree that it's super important. And when you love someone, you want them to be safe, right?
Well, now you can show that love to your guy friend while also taking "boring" right out of the equation.
By gifting him a Safe-T Fire Extinguisher, you'll be helping him stay safe in style. This specially-designed fire extinguisher is equipped with a CE 0029 approved tank, meets EN-38 technical standards, and also comes with a 5-year warranty.
See all the super-cool Safe-T designs here.
3. Vintage Whiskey Connoisseur Plaque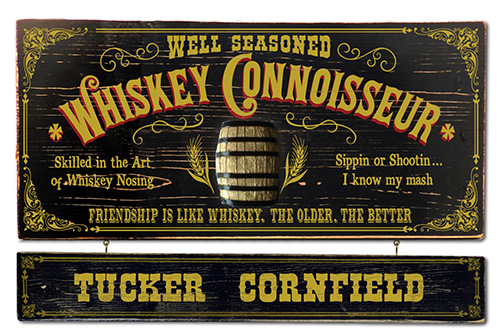 Does your man have a game room, man cave or home bar setup? Is it his favorite room in the house (that's probably a dumb question)?
Then when it comes to finding the best unusual gifts for men, it may be best to consider his game room/man cave/bar and how he has it set up.
Because his man cave (or game room or home bar) is already personalized to his tastes, it only makes sense that his gift comes personalized, as well. To make it easy for you, we present this custom sign from Northwest Gifts.
With the look and feel of a vintage sign, this custom man cave sign will not only make an attractive piece of décor, but also provide a great talking point whenever friends are over.
4. Emergency Survival Kit
This one's for the survivalist enthusiast. If his favorite show is Survivorman but he's never actually got to go out and experience the wilderness on his own, surprise him with this emergency preparedness kit to get him started on the right track.
This kit has been designed by US military veterans, and comes with medical supplies, fishing and hunting tools, and gadgets to help him get out of almost any tricky situation.
Also makes a great gift for first responders, cross-countryers, and you everyday outdoorsy types.
5. Personalized Whiskey Distillery Barrel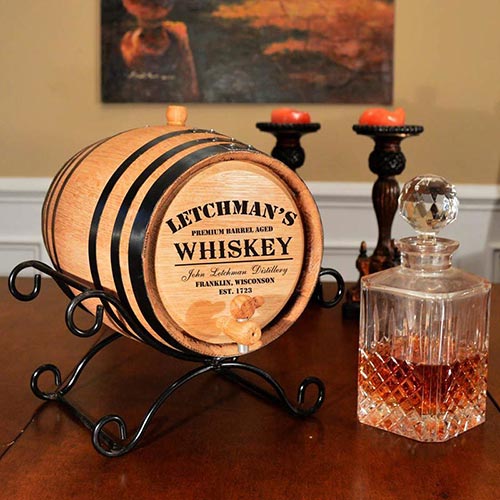 Here's one that is perfect for the whiskey connoisseur in your life. The American white oak wood distillery barrel, which has been finished with a medium toast, is just what your guy needs to age his own whiskey right from the comfort of home.
His new barrel is available in six different sizes and comes custom-engraved with his name right on the barrel head. Includes metal hoops, bung, spigot, storing tablets and stand.
Also check out this excellent whiskey connoisseur kit (which comes with everything he needs, sans alcohol, to make his own batches).
6. .45 Caliber Triangle Peg Game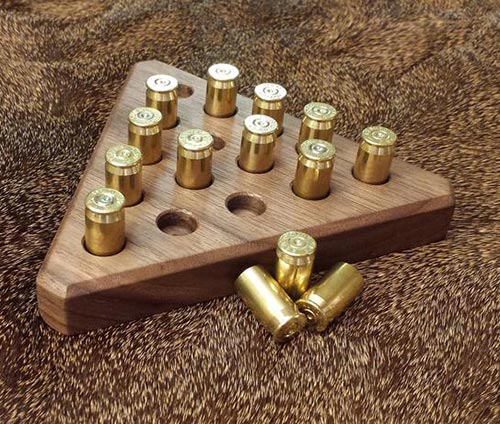 The nostalgia of the classic triangle peg game, played around the fireplaces of a certain American diner for decades, has been given new life.
If your man still loves that old game, maybe it's time to level him up into something more of his… caliber.
This set kicks things up a notch by trading in the classic wood tees for something a bit more hardy – .45 caliber bullet casings. (And don't worry, the real walnut base will keep all that glorious Cracker Barrel nostalgia intact.)
Also ideal for hunters or gun collectors.
7. Relaxing Candle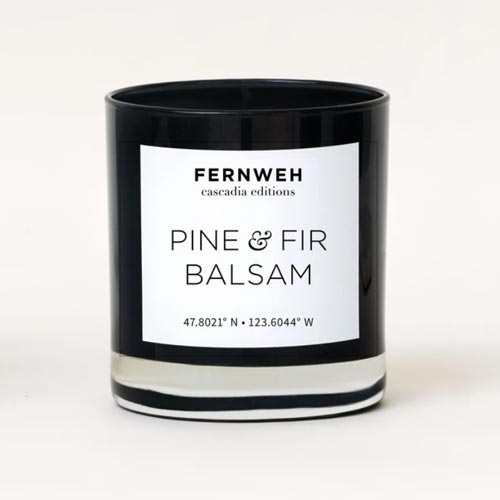 Maybe your gentleman is more of the suave traveler type. If so, you know that he could use a little escape every now and then from the stresses of everyday life.
With this Pine and Fir Balsam candle from Fernweh, he can take a mini break whenever he wants from the comfort of home.
From Fernweh's Cascadia Edition, this soy-blended wax candle will induce the calming ambience of the Pacific Northwest. Hand-poured with care in the USA.
8. Death Star Waffle Maker
This is the gift you're looking for if your man is a huge Star Wars fan. (And of course everyone is a waffle fan, amirite?)
This Think Geek Death Star Waffle Iron depicts the infamous Death Star in all its glory.
Non-stick plates make for a great cooking experience, and indicators will let him know when they're hot enough for evil waffle-makin'.
9. Experience Gift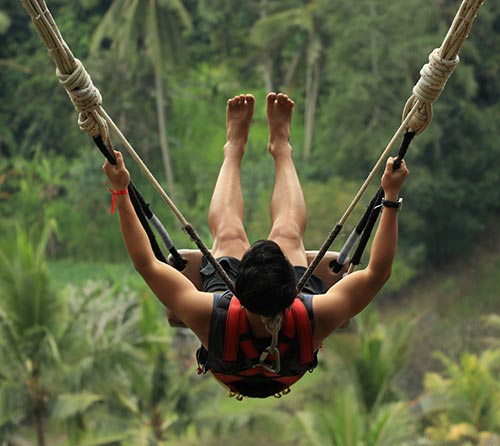 When all else fails, you can always turn to the gift that is always a winner – the experience gift.
Experience gifts come in all shapes and sizes, and Tinggly is here to help you create the perfect escape for your special dude.
When you gift a Tinggly experience to the man in your life, he gets the unusual ability to choose from hundreds of options… from where he wants to go to what he wants to do when he gets there.
Think: touring castles in Copenhagen, biking in Bolivia, sailing in Puerto Rico.
Here are some great Tinggly experience gift options just for guys. It's the perfect, unique, one-of-a-kind, memorable, and truly unusual gift for him.
10. Custom Cartoon Portrait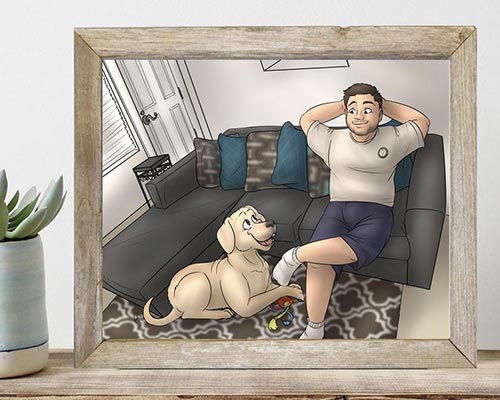 There's just something about cartoon caricatures that has always captivated humans and our imaginations.
Imagine your man, for instance, in his natural habitat (camping, the gym, playing with his kids, even relaxing on the couch with his doggo), but in cartoon form, and you're instantly enthralled.
Now it's easier than ever to turn a fave photo of your man into a comic that he can show off to his friends (as well as treasure forever, of course).
The artists at Make Me a Comic can create a hand-drawn masterpiece, featuring your man and befitting of his office, man cave, or mantle centerpiece, just by looking at a pic you send them.
Choose from several different print sizes as well as digital download.
11. Raising Chickens Starter Kit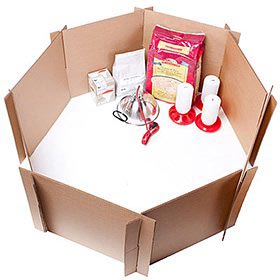 You did say you wanted unusual gifts for men! Well, it may not get any more unusual than this. These days, the world has kinda gone crazy, and people are starting to revert back to good ol' homesteading – including chicken raising.
For the man interested in homesteading or farming, you can't go wrong with gifting him this complete baby chick starter kit (sans baby chicks).
The kit comes with everything he'll need to raise his own hatchlings into big, strong (delicious, cough) chickens: cardboard pen, pine bedding, waterers, chick feed, heat lamp and bulb, and more.
12. Fun Dress Ties and Other Apparel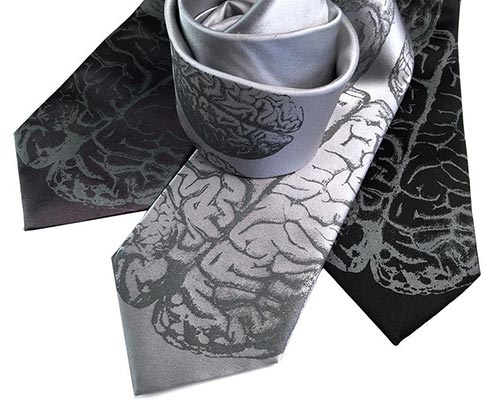 Some guys are both quirky on the outside yet snazzy at heart – and don't mind if others know it.
For the stylish guy who likes to jazz up his outfits with fun dress ties or other accessories, both for his own amusement and for others to enjoy, consider getting him something fun like this brainy dress tie.
Besides Halloween, this creepy tie can be worn year-round, either by doctors, cosplayers, "Walking Dead" fans, or lovers of all things spooky.
13. Unpaper Towels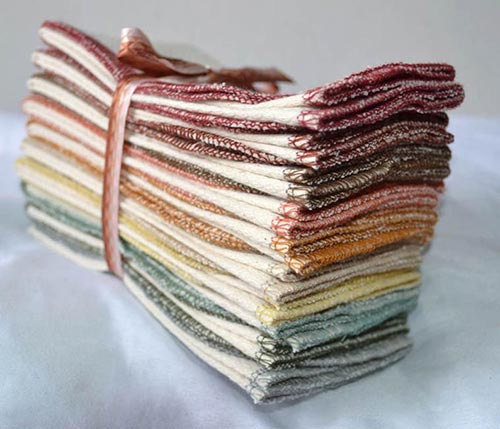 As more and more people become environmentally-aware, they are feeling the need to switch from paper products to more sustainable ones.
If your man has talked about this and has mentioned wanting to make the switch, you've got plenty of unusual gift ideas to consider giving him: reusable straws, shopping bags, sandwich bags, and much more.
We want to highlight a modern, eco-friendly approach to paper towels – unpaper towels.
Unpaper towels are just what they sound like. They're cloth, of course, which means they're washable, reusable, and don't contribute to deforestation.
These certified organic cotton towels are 2-ply and measure 11″ x 12″. They also come in a variety of color options and pack sizes… which would he prefer?
14. Personalized Wax Seal Kit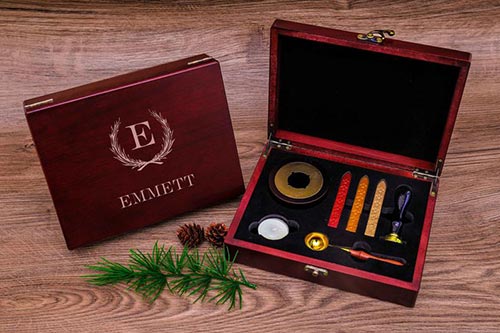 Wax seals are a thing of old that have made their way back round to modern times. While they may be more for display than practical use (but I'm sure YOUR guy would definitely use them), this is the perfect unusual gift because it's simply cool as heck.
This wax seal kit, which will come in a beautiful, personalized wood box, features a brass stamp with your choice of designs, colored wax, and more.
It's the ideal gift for the old-school guy who likes to keep it classy.
Related: 15 Classy Gifts for Men That Will Always Be In Style
15. Wood Crossbow DIY Kit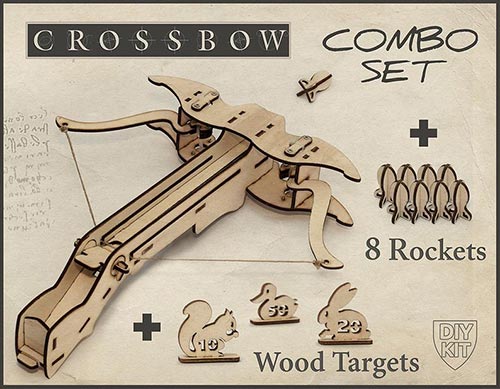 This unusual gift will highlight his inner enthusiasm for adventure! If weaponry piques his interest, this gift will speak to his heart.
The Wood Crossbow Kit comes with all parts necessary for him to create his own wood crossbow.
The set also includes eight wood "rockets" plus three targets for all that practice he's going to be getting in.
16. Gin Botanicals and Infusion Set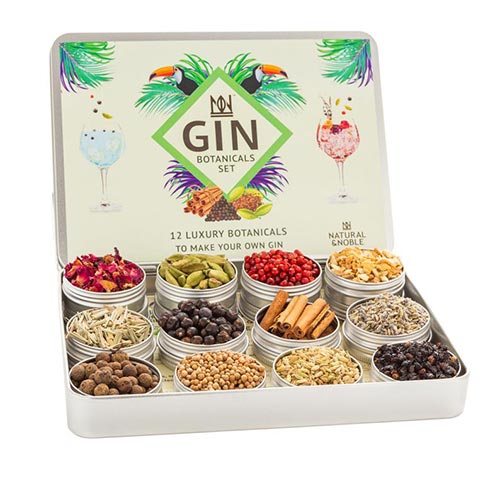 We've already showcased a gift idea for the whiskey lover, now here's one just for the gin lover.
This gin infusion set contains specialty spices and botanicals perfect for infusing his favorite drink with his favorite flavors.
Botanicals featured in this kit include black cardamom, sweet cinnamon, star anise and tonka beans. So whether he's into citrus, spicy or floral notes, he'll have a high-quality selection to pick from.
Pair this kit with a bottle of nice gin and some personalized glassware for the perfect gin lover gift!
17. Fishing Pole Campfire Roasting Stick
A fishing pole campfire roasting stick makes the perfect unusual gift for the camping enthusiast, fisherman, or the guy who's both.
This fun man toy will roast up to four marshmallows at a time, OR two hot dogs.
When he needs to turn or flip his snack over the flame, all he has to do is jig the pole and viola! No crouching with a stick close to the fire necessary.
Related: The 21 Best Fishing Gifts
18. Geometric Plant Hanger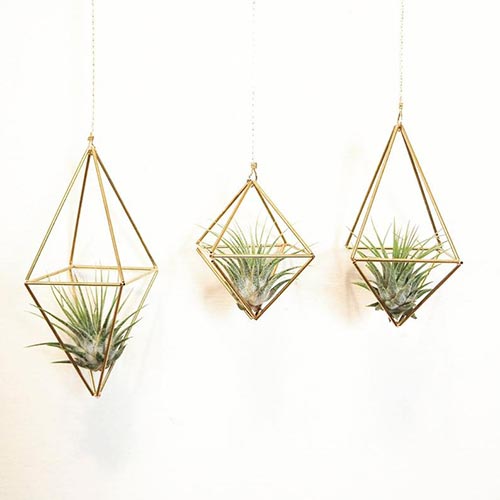 It's no secret that guys like plants. And plants really seem to like guys. Whether he's an avid gardener with a green thumb, or has a house full of plant "babies" that he's all named, he will find this geometric plant hanger the perfect accent for his décor.
This darling plant hanger is on the petite side. So depending on which design you choose, it'll range from 2.5 to 4.5 inches tall. It's ideal for small spaces like offices, balconies or apartment kitchens.
19. Cosmic Cat Slip On Shoes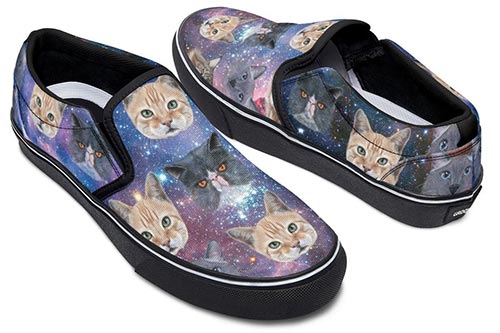 Ah, the cosmic cat. The emblem of quirky guys since the dawn of quirky guys. Or at least since, like, 2007.
Now you can get this cool cat right on a pair of casual slip-ons for your man to (literally) take everywhere.
These casual shoes from Groove Bags include a stretchy in-step for comfortable fit and easy put-on and take-off. Choose between black or white bumpers.
20. Leather Star Map Wallet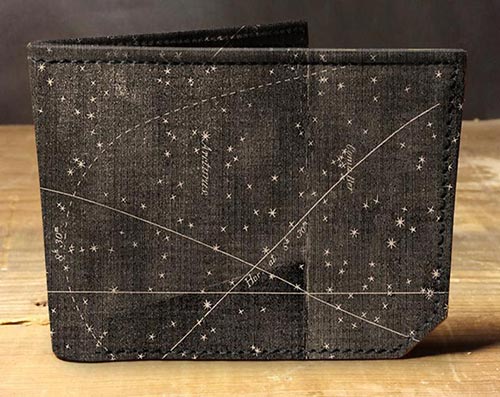 I'm not gonna lie, this leather star map wallet would make a great accompaniment gift to the cosmic cat slip-ons we were just discussing.
Handcrafted from real leather in the USA, this wallet is an unusual gift for men that includes eight card slots as well as a cash pocket.
Wallet when closed measures 4.5″ x 3.5″.
21. Steam Punk Wall Sconce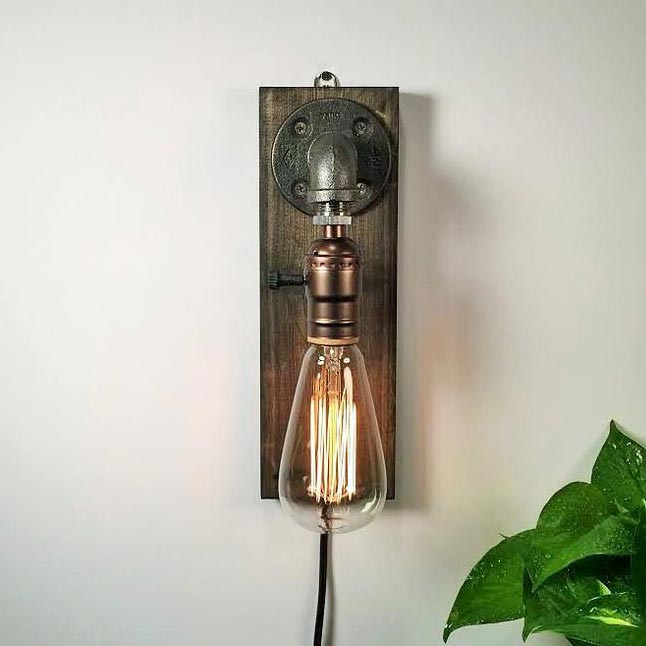 Finally, to complete our list of unusual gifts for men, we give you the steam punk wall sconce.
While it looks like something Edison may have had a hand in creating, it also incorporates a modern, industrial, steampunk (or whatever else you want to call it!) style that pretty much every guy can appreciate.
Handcrafted by artisans in the USA, this sconce has dimming features and includes a light bulb. You choose between silver and brass bulb sockets, as well as the color of base wood.
When In Doubt, It's the Thought That Counts
No matter what unusual gift you end up going with, keep in mind that the best gifts are the ones given straight from the heart.
If one of the gifts mentioned in this calls out to you, go with your gut and know that your guy is going to love it.
If nothing here "sings" to you, that's okay… keep searching and you will find it.
Bear in mind that unusual, unexpected gifts come in all shapes and sizes, and they're not always things you can buy.
Think:
DIY coupon book redeemable for things like movie dates at home, candlelit dinner, a back or foot massage, etc.
Speaking of candlelit dinners, his favorite home-cooked meal and maybe his favorite drink to go with it.
Music playlist filled with his favorite songs.
DIY photo book filled with all your favorite memories together.
Drawings, paintings, or abstract paper collages of something beautiful you know he will treasure.
A fun phone case makeover.
A goodie bag or gift basket filled with his fave snacks.
A bouquet of beautiful flowers – because guys deserve flowers every now and then, too.
It really is always the thought that counts!
---
Great gift ideas for the special guy in your life don't end here! Next, take a look at 65+ Best Gifts for Men.
Pin It