Today's the day to celebrate an amazing speech therapist with the perfect SLP gift.
You know why they are so special to you. So without further ado, here are our picks for the 10 best speech therapist gifts for SLPs.
Oh, plus we have 5 bonus SLP thank you gifts at the end. You're welcome.
10 Best Speech Therapist Gifts
Our website is supported by our users. We sometimes earn a commission when you click through the affiliate links on our website. See our privacy policy & disclosures for more information.
1. Speechie + Heart Cute SLP Shirt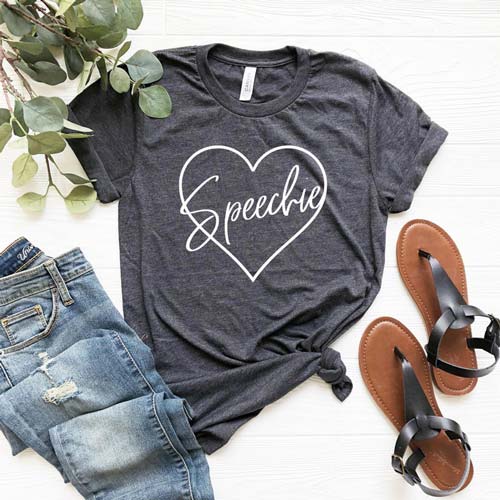 Love your speechie. Love her well. You'll show her some great lovin' best of all with this adorable Heart "Speechie" Tee.
Super soft, super cute, and available in an array of sizes and colors.
2. Best SLP Ever Personalized Speech Therapist Tumbler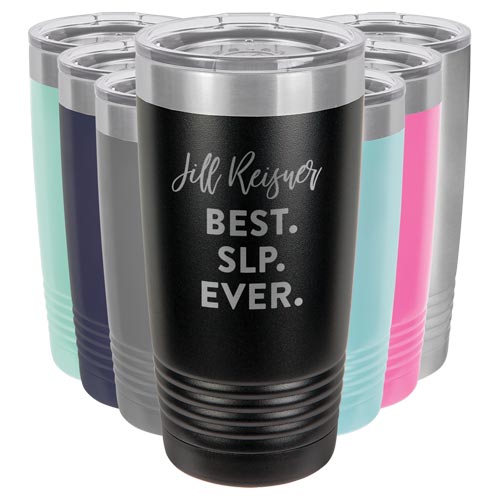 The perfect speech therapist gift for the BEST. SLP. EVER.
This personalized tumbler includes custom laser engraving of your name and choice of 'best ever' quote (you can change it to say literally anything you want; the engraver will make the text smaller or large to fit).
With a choice of multiple attractive colors and top-notch thermal insulation to ensure blazing hot (or freezing cold) beverages for hours on end, this is a fantastic SLP gift!
3. Fabulous Unicorn Speech Therapist Mug
Most speech therapists are perfectly normal.
And then there's you.
(Or your SLP bestie. Because, remember, these are speech therapist gifts for other people, right?)
4. Cutting Board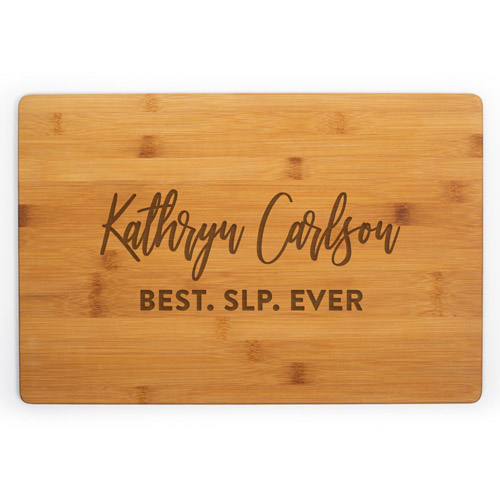 Does your SLP friend love to cook? Heck, even if you don't know, every kitchen needs a cutting board.
And this cutting board is the best because it's personalized! Etched with the speech therapist's name and "best ever" quote (you can change it to anything you like, too), this is a must-have kitchen accessory made from sustainable bamboo and designed to last for years.
5. Thank You Flower Bouquet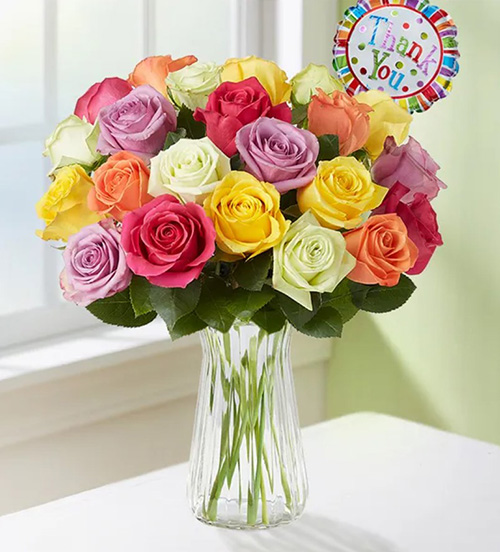 There are so many wonderful thank you gift options out there, but sometimes classic is just the way to go. Especially if you know they love flowers!
Choose from one or two dozen beautiful blooms, the vase type, and you can even add on something a little extra by sending some chocolates along with. They'll be just as grateful to you as you are to them!
6. Rocketbook Digital Notebook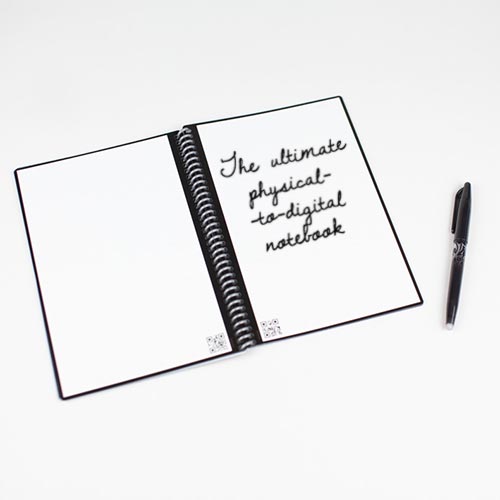 Now, what speechie wouldn't love this! If you're not already familiar with Rocketbook, you should be. They're super cool.
It's a physical notebook with special pages. You write down your notes, then snap a photo using the phone app. It will automatically scan and digitize what you write, and upload it to the cloud.
But here's where it gets totally rad. You can set certain pages to automatically do completely different things. For instance, you can link the schedule page to your calendar app, another page to upload directly to your "Art & Drawings" folder, and another page to go to a team folder in Dropbox for your work projects.
So it effectively combines the tangible, hands-on physicality of actually having a notebook (which, let's face it, is just better) with the ease and convenience of smart technology.
Once it's uploaded, you can erase with a damp cloth and reuse over and over again.
And it's pretty cheap, with a free app and no subscription required. So get one for your favorite SLP, and while you're at it get one for yourself too!!
7. Wine Glasses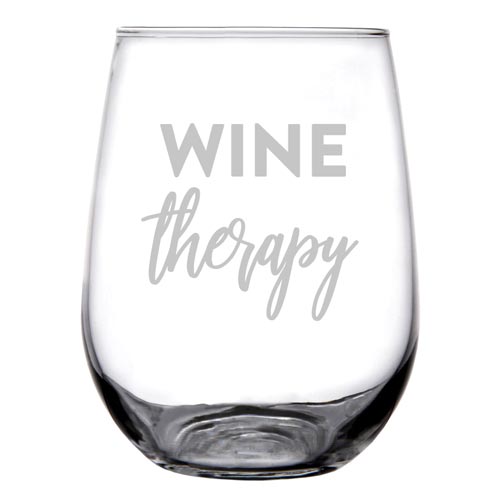 Speech therapy by day. Wine therapy by night.
Personalized wine glasses for a speech therapist gift? That's successful gifting right there.
Consider including a favorite bottle of wine, or a subscription to a "wine of the month" club.
8. Casual Speech Pathologist Shoes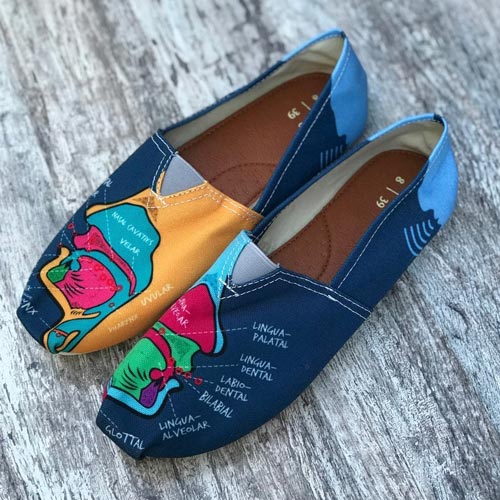 Did you know they make shoes specifically for SLPs?
Well, now you do. If the SLP in your life has a vibrant sense of style (and a great sense of humor), give her these casual kicks from Groove Bags.
9. I Teach Kids to Talk Back Mug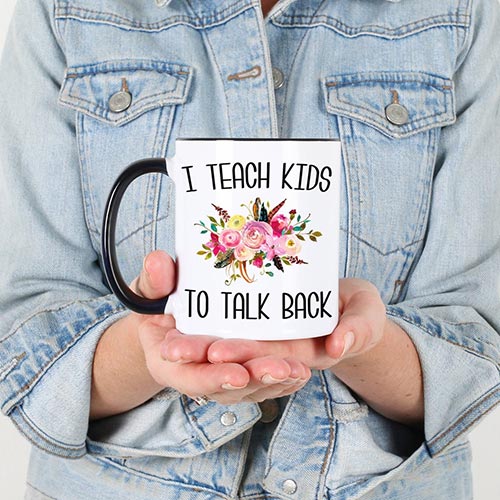 It's perfect, right?! "I teach kids to talk back."
If your SLP does this – with a smile – and enjoys a good cup of tea or coffee, you won't go wrong with this fun coffee mug.
SLPs Help You Taco 'Bout It Socks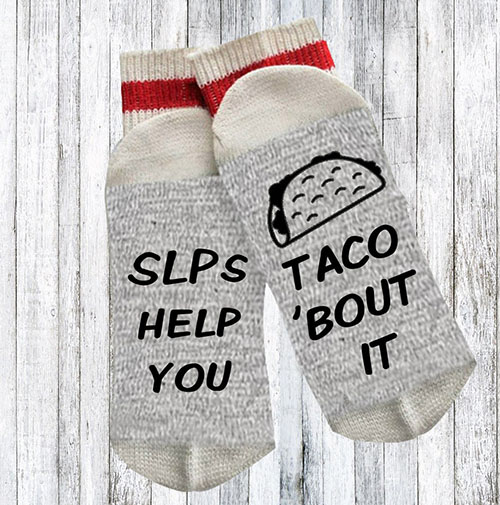 Here's a cozy speech therapist gift for the SLP with a sense of humor.
And a love for tacos.
Get these funny SLP socks (they're totally affordable) as a way to show your appreciation for all the work they do.
Whether it's for Christmas, birthdays, graduation, or as a thank-you gift with a cute twist, these socks will get daily use for sure.
Related: When Is National Taco Day, and How Do You Celebrate It? (Hint: Tacos Play a Rather Large Role)
10. Speech Language Pathologist Art Print (Download)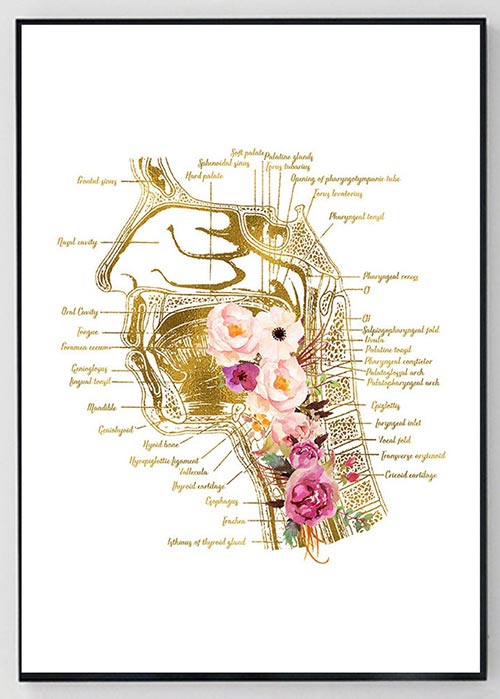 This is a download, so you'll need to print and frame it, but golly – what a beautiful addition to any SLP's office!
I'd like one in my office, and I'm not even a speech therapist. So think about how your special someone will react when they receive this Speech Language Pathologist Art Print in a gorgeous frame.
There's more, too. The same artist has made this available as one in a set of 8 matching prints. So if you really want to blow someone away, get the entire bundle framed and upgrade the decor for the whole office!
The downloads come in multiple sizes, so here are some great frames for the two most common sized prints:
SLP Thank You Gifts
Looking for a way to say "thanks" to a great speech therapist? Look no further. Here are the best SLP thank-you gift ideas.
11. Everyone Deserves a Voice Keychain
This keychain is cute, affordable, and will be certainly put to good use.
It features a heart that says "Thank you" plus a tag which reads, "Everyone deserves a voice. Thank you for helping me find mine."
What more could you say?
12. Speech Therapist Journal
This cute little notebook is designed for SLPs to honor the way they have helped others find a voice. Includes 100 lined pages, perfect for note taking or use as a journal.
13. Exotic Destination Candles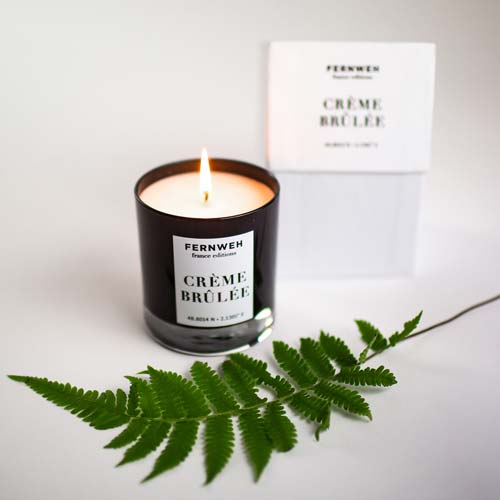 Does the SLP in your life enjoy travel, or dream of exotic destination getaways? Then she'll certainly appreciate this gift.
While you may not be able to afford giving an all-expenses-paid vacation (though you certainly would if you could!), these travel-inspired candles bring the "scent of a place" home so your speechie can enjoy it anytime.
I got a set of these for my wife, and I have to say (as someone who doesn't really go in for candles much) that these have a pretty amazing fragrance. Scents include:
Creme Brulee (takes you to a French patisserie)
Blackberry & Bay (the Pacific Crest trail)
Champagne (the Champagne region of France)
Waikiki Waves (islands in the Pacific)
Fernweh Editions infuses each and every candle with fragrances designed to evoke a specific place and feeling. From the German, "Fernweh" means something akin to "wanderlust."
If that describes someone you know, then these hand-poured, small-batch, soy-based, essential-oil-infused candles are the perfect gift.
For a special discount, use coupon code ALLGIFTS
14. Personalized Bottle Opener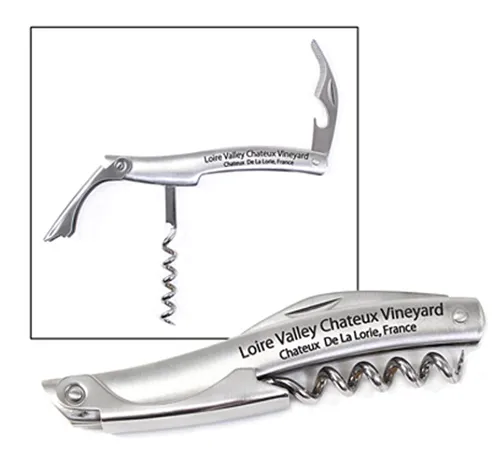 Here's a creatively memorable gift for someone who enjoys a glass of wine. Present this personalized corkscrew opener along with a bottle of wine, and you'll have given a gift that the SLP can both experience (as they enjoy the wine) and remember for years (as they reuse the opener over and over).
Customize it with their name and a fun or meaningful quote, such as:
Thanks for listening to us wine
Best SLP Ever
SLP Off Duty
Everyone Deserves a Voice
Thanks for giving me a voice!
Thanks for helping me find my voice!
Speech. Wine. Repeat.
Speechie
15. Succulent Thank-You Gift Box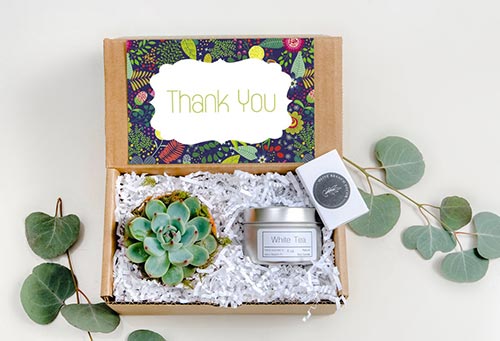 We'll close out with this cute succulent thank-you gift box.
This is a good one to send in the mail. It will arrive with a lovely 2-inch succulent, complete with soil and planter pot, plus a soy candle in your choice of scent.
Additionally, you can add little upgrades like bath bombs, hazelnut chocolates, and more. Order now and your SLP gift hunt will be over in minutes, as you leave it to them to pack and ship your gift to your favorite speech therapist.
---
For more ideas, any of which can be personalized, see the personalized gift guide over at Northwest Gifts. We also have a massive list of 100+ thank you gifts.
Read Next: How to Give Thoughtful Gifts
Pin It