If you're a couple committed to saving for bigger and better things than cheap gifts, you'll love these 21 ideas for free dates. There are many fun, creative, memorable – and free – experiences you can give to one another as a gift for those times when you're saving, in between jobs, or in a financial squeeze.
Saving money is a great idea in any case; here are a few ways you can use these ideas:
Substitute one of these per week or month instead of dinner & a movie; this will save you $50 per week/month, easy.
Take advantage of these free date ideas for the month prior to birthdays, anniversaries, or Christmas and use the savings to get a premium gift such as a vacation or big-ticket gift items.
Instead of a weekly date at a chain restaurant, go on free dates for 2-3 weeks then go to an upscale restaurant, good seats at the theater, or concert tickets.
Skip one $40 night out per month using one of these freebie ideas and use the savings to sponsor a child living in poverty.
Use these free dates instead of gifts for one year to save up for a down payment on a house, a remodel, a vacation, new furniture, or investments.
You get the idea! Gifts are great, but free dates for the money-saving couple to give instead of gifts means you have more funding for other goals. Goals such as bigger and better gifts, more exciting experiences, travel and vacations, fun classes like art or ballroom dancing, a new car or house, giving to those in need, and more.
So, here are some of the best free date ideas we've found. Enjoy!
21 Free Dates for the Money-Saving Couple to Give Instead of Gifts
Go on a picnic
Go on a hike, a stroll in the park, or wander around downtown
Go to your local free movies/concerts in the park
Go to a free museum, community concert, or visit local landmarks
Go geocaching
Go on a scenic drive somewhere you've never been before
Stay in and play board games or cards
Listen to an audiobook together – find free ones at the library
Cuddle up around the fire pit in summer or the fireplace in winter
Do a DIY project together – refinish a dresser or cabinet, build a table, or – to add a touch of romance – make your own special headboard for your bed
Take free classes at Home Depot or Lowes
Go swimming at the beach, lake, or river; check community centers for free swim days
People-watch at WalMart, the mall, or Costco (and fill up on free samples!)
Build a blanket fort and spend the night in it
Camp out in your backyard
Have a "Chopped" competition at home to see who can make the best dish or meal out of stuff from the fridge or cabinets
Take on a selfie challenge – with street or business names A-Z, in front of your 10 favorite date places, etc.
Take up birdwatching. It's actually pretty fun and there are tons of groups and clubs that love to help out newbies
Watch the sunrise or sunset together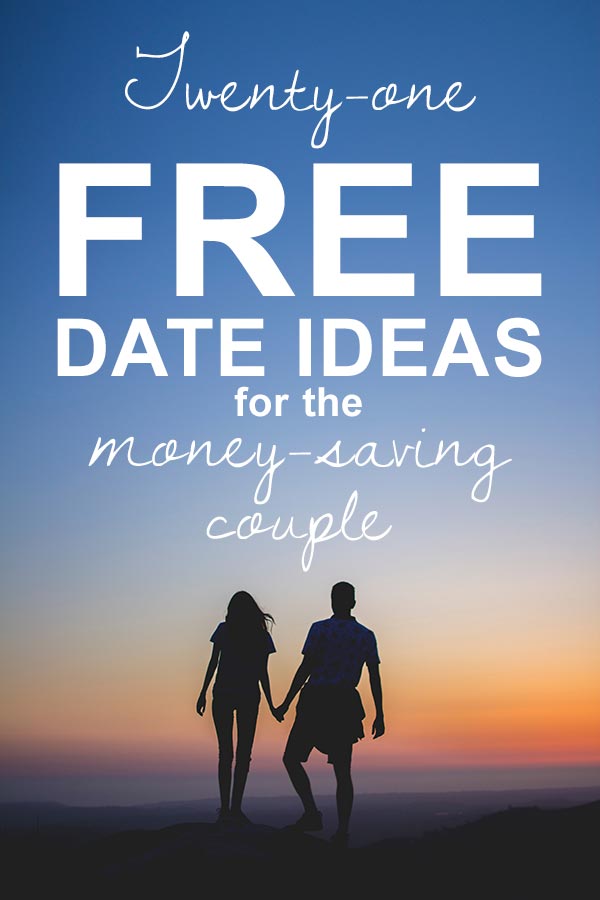 We could go on with more, but these are some of the best and easiest to accomplish. What are some of your favorite ideas for free dates?