For many people, the 4th of July is one of the most exciting days of the year.
It's a time to get together with family and friends, enjoy the summer weather, and eat delicious food. It's a day for picnics and parades, for hot dogs and apple pie.
There's something about the summer vibes and the patriotic spirit that makes the 4th of July so exciting to celebrate.
And of course, who can forget the fireworks? They light up the sky and add an extra element of excitement to the holiday.
Do people give gifts on the 4th of July?
Americans love to celebrate the 4th of July, and one of the best ways to show patriotism on this holiday is by giving gifts.
Whether it's a hostess gift for an Independence Day barbecue or a small token to honor veterans, gifts are a great way to show your pride in the United States and your affection for your friends, neighbors, and loved ones.
Of course, not everyone gives gifts on the 4th of July, but it's become a more common tradition in recent years. So, if you're looking for a unique way to celebrate the holiday, consider giving a patriotic gift to your friends and family!
21 Best 4th of July Gift Ideas
Our website is supported by our users. We sometimes earn a commission when you click through the affiliate links on our website. See our privacy policy & disclosures for more information.
1. 4th of July Family Crew Shirts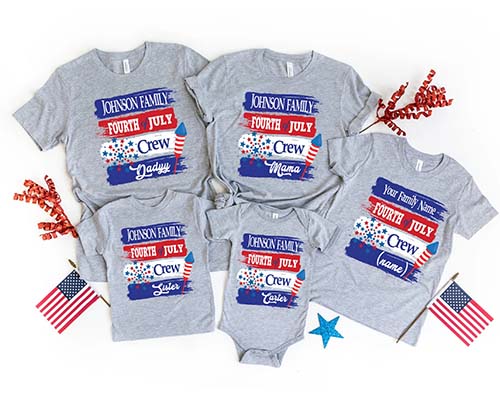 These cute family crew shirts come in a variety of colors and sizes, so you can find one that perfectly suits your family. Whether you want a matching set of tees or something more unique, the 4th of July family crew shirts have you covered.
And best of all, they're a great way to show your support for the USA on one of the most patriotic days of the year.
2. "Here is to Freedom" Personalized Tumblers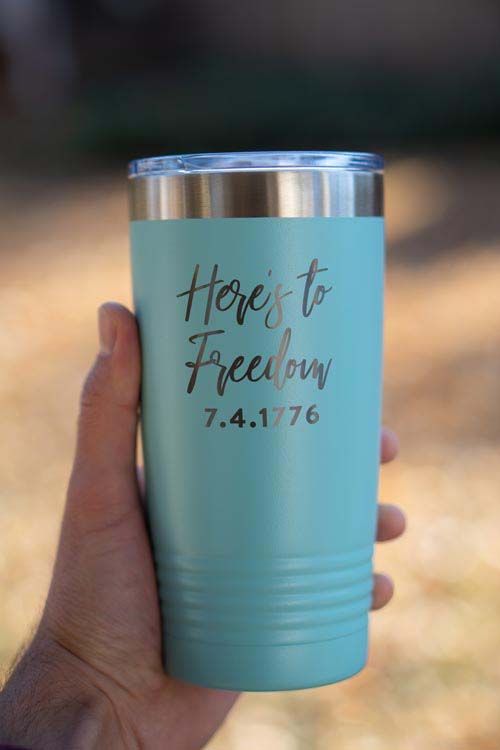 The 4th of July is just around the corner and what better way to celebrate than with a personalized "Here is to Freedom" tumbler?
They're double-walled with vacuum-sealed insulation to keep your drinks cold (or hot!) all day long. Plus, they come in a variety of colors so you can find the perfect one to match your patriotic spirit.
3. Red, White, and Blue Roses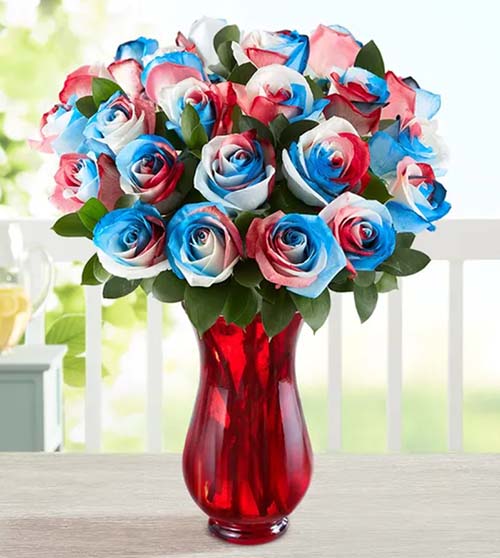 There's nothing quite like receiving a bouquet of fresh roses, and on this 4th of July roses are extra special. Each rose is color-enhanced in patriotic red, white, and blue hues, making them a truly eye-catching gift. Whether you're celebrating Independence Day, honoring a hero in your life, or simply showing your pride for the USA, these beautiful blooms are sure to brighten anyone's day.
4. Fourth of July Engraved Bottle Opener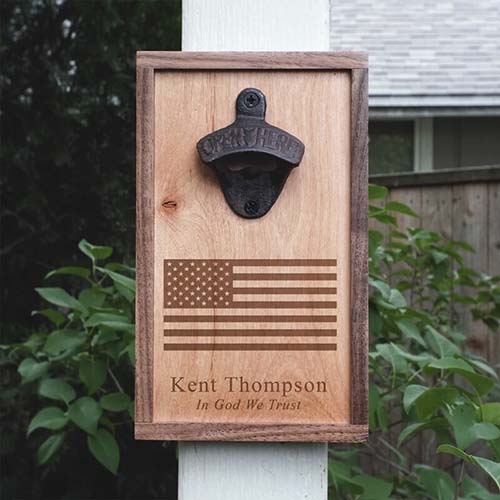 This rustic and useful bottle opener is made from real wood with a cast iron opener and custom laser engraving with your choice of American Flag or military service emblem. It's a practical and stylish addition to any kitchen, porch, or home bar. Plus, it makes a great gift for the military service member or all-American patriot in your life.
5. DIY Independence Day Wreath
Wreaths are a fun, easy, and colorful way to add some patriotic flair to your home decor. 4th of July wreaths can be made from a variety of materials, including paper, fabric, or even real flowers. So, gather up some red, white, and blue materials and get started on your very own DIY Independence Day wreath.
6. "American Home Made" Patriotic Boa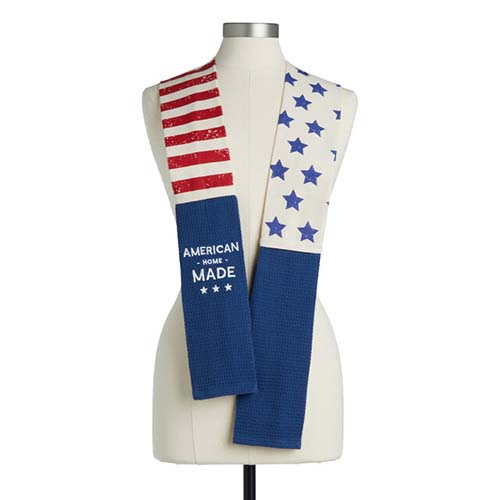 The "American Home Made" kitchen boa is the perfect accessory for any 4th of July feast. With its stars and stripes pattern and "American Homemade" sentiment, it's sure to get everyone in the spirit of the holiday.
And best of all, it's a wearable towel, so you can keep your hands free while you're cooking up a storm.
7. Patriotic Earrings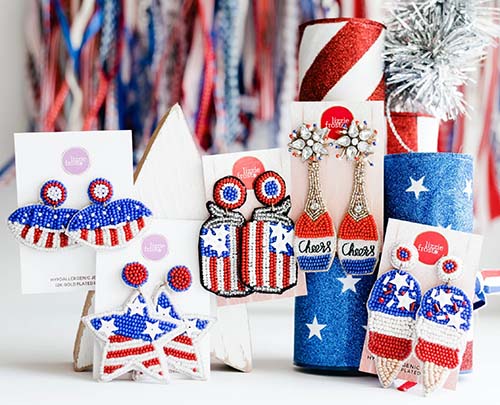 Whether you're celebrating Independence Day or simply showing your love for the USA, these earrings are the perfect way to do it. Choose from these handmade classic American flag designs, vibrant red, white, and blue beads, or dangle earrings with a fun flair.
No matter what your style, we have the perfect pair of earrings to help you show your patriotism.
8. 4th of July Sunglasses
These stylish shades are perfect for both men and women and come in a handy pack of three so you can share with friends. Whether you choose the Mirrored Blue Lens, the Blue Stars, and Stripe, or the Good Ol' Red, White and Blue, you'll be sure to make a patriotic statement.
It also has 100% UV 400 protection, so you can enjoy all your favorite 4th of July activities.
9. Personalized BBQ Grill Set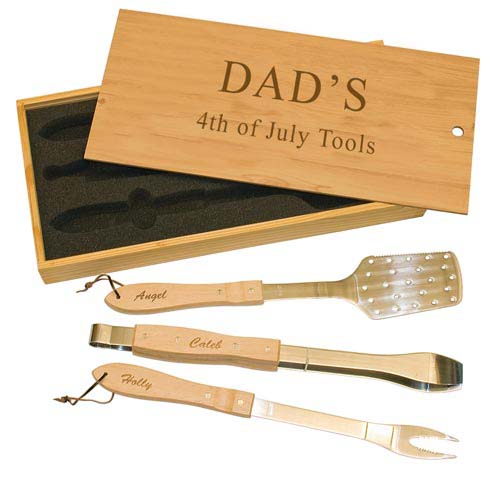 Make your cookout even more special with this personalized BBQ grill set. The set includes a spatula, tongs, and fork, all made of stainless steel with beautiful solid oak wood handles. Whether you're grilling up some burgers for a 4th of July cookout or just looking for a unique gift, this personalized BBQ accessories kit is sure to please.
10. Patriotic Popsicle Dog Bandana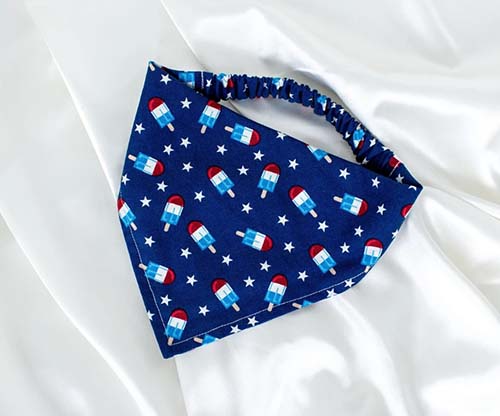 This pet bandana is the perfect way to show your patriotism, and it's sure to get your pet into the spirit of the holiday. Made from quality dark-blue fabric with a pattern of red, white, and blue popsicles, this bandana is both stylish and festive. It also features an elastic strap to make it easier to get on and off your pet.
11. Home of the Brave Candles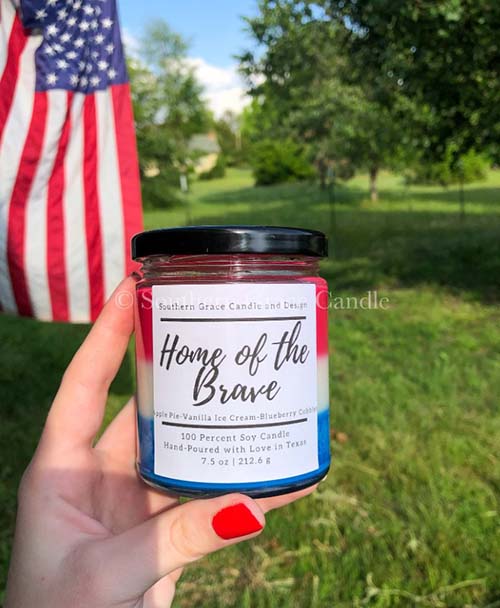 This unique candle features three layers of deliciousness, inspired by some of America's favorite summertime dishes. The top layer is Hot Apple Pie, the middle layer is Vanilla Ice Cream, and the bottom layer is Blueberry Cobbler. Each layer is made with 100 percent soy wax, for a clean and beautiful burn.
This makes a great gift for friends and family who love candles – and their country!
12. 4th of July Water Sprinkler Pad
One of the best ways to celebrate the 4th of July is by spending time with family and friends, and what better way to do that than by cooling off with a little water fun!
Simply connect it to a water hose and let the fun begin. Your guests will love cooling off in the summer heat. Made from high-quality, super durable materials, this splash mat is built to last. It's a great 4th of July gift for the kids!
13. Personalized Family Cutting Board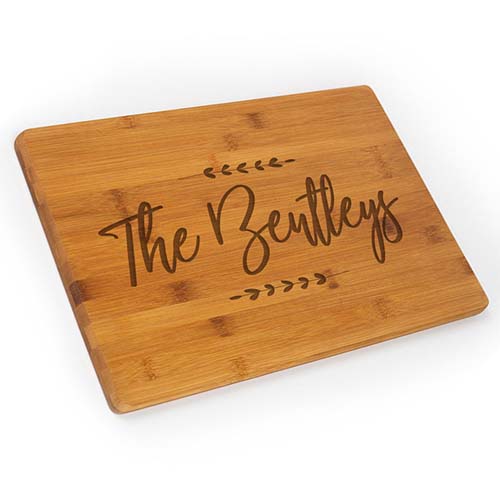 A gathering with the family couldn't be complete without the family name on display! Serve your favorite Fourth of July sweets on top or make use of it as a conventional cutting board. Perfect for 4th of July barbecues or any other outdoor cooking event.
This will surely make a statement and be a cherished family keepsake for years to come.
14. Every Family Needs a Hero Frame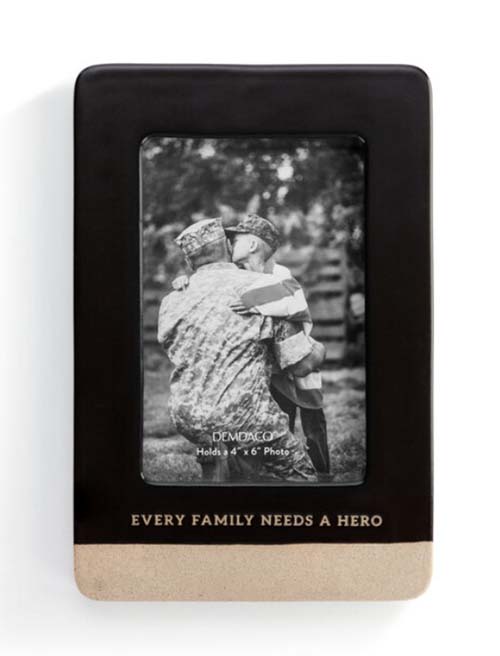 This sleek black stoneware frame has a beige stripe at the bottom with the sentiment "Every family needs a hero." The 4th of July is a time to reflect on all of our heroes, past and present. Our Hero Frame is the perfect way to display your patriotism and show your appreciation for all of our heroes.
Related: Best Gifts for Veterans
15. Stars & Stripes Outdoor Throw Pillows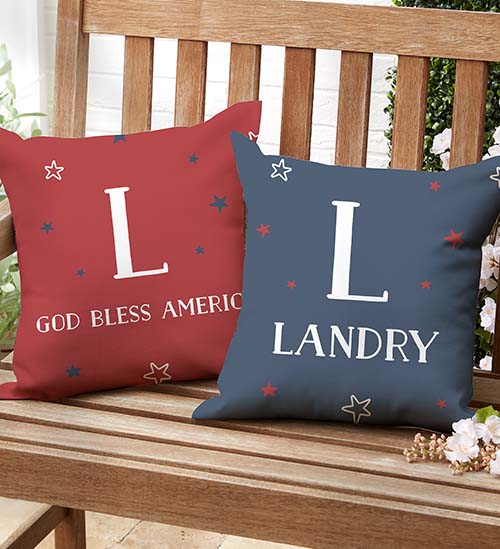 These fun and festive pillows are perfect for the 4th of July or any summer party. Each pillow is made of durable polyester, so it can withstand the elements and is machine-washable for easy care. The bold red, white, and blue colors are sure to make a statement, and you can personalize the pillow with a special message or your family name.
16. Red, White, and Blue Tie Dye Box Set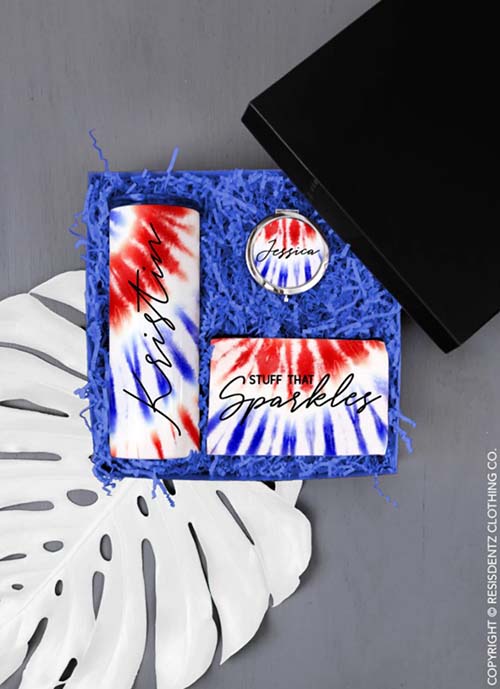 America's birthday is coming up and what better way to show your patriotism than with some red, white, and blue tie-dye? This July 4th, celebrate in style with a unique gift set that includes a custom pouch, compact mirror, and 20oz skinny tumbler. The perfect addition to any Independence Day celebration, to please anyone who loves tie-dye and all things 4th of July.
17. Fourth of July Temporary Tattoos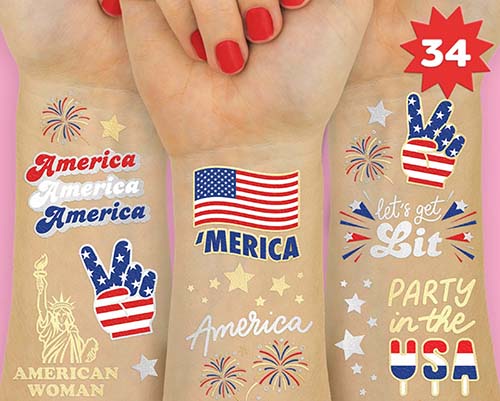 Temporary tattoos are loads of fun for both kids and adults, and they're 100% guaranteed to last all day long. With two sheets of 34 tattoos, there's plenty to go around for the whole party. And with a variety of designs including the American flag, stars, and stripes, you're sure to find the perfect tattoo for you.
18. Red, White, and Blue Hair Bows
What better way to show your patriotism than with some 4th of July-themed hair accessories? American flag bow tie-style hair clips are the perfect way to add some fun and festive flair to your look.
These clips are easy to use and can instantly add some patriotic elements to your hairstyle. They're fun, festive, and best of all, they show your old-fashioned American patriotism!
19. Patriotic Chocolate Chip Cookie Pie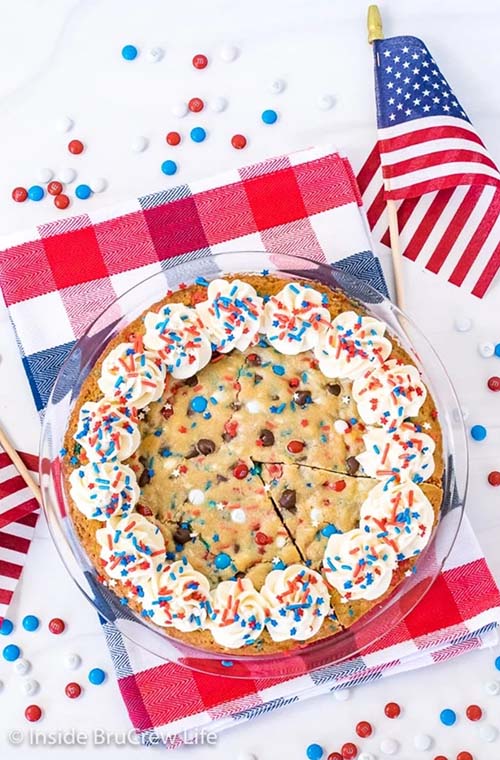 The best part is that it's easy to make and only requires a few ingredients. Simply bake a chocolate chip cookie pie and decorate it with swirls of frosting and red, white, and blue sprinkles. Your friends and family will be impressed by your culinary skills and will be sure to ask for seconds. So when you're planning your holiday festivities, don't forget to include a Patriotic Chocolate Chip Cookie Pie!
20. Fourth of July Slippers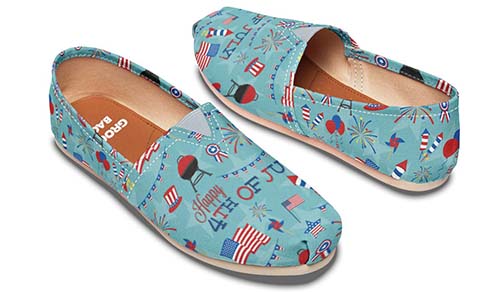 Looking for the perfect 4th of July gift? Look no further than these festive slippers! Featuring a full wrap canvas print, these slippers are sure to get you in the patriotic spirit. The elastic stretch V makes them easy to slip on and off, and the high-quality construction ensures that they'll last long after Independence Day is over.
Plus, the soft textile lining and lightweight construction make them ultra-comfortable – you may never want to take them off!
Related: Proudly Patriotic Gifts for Every American
21. You Look Like the Fourth of July…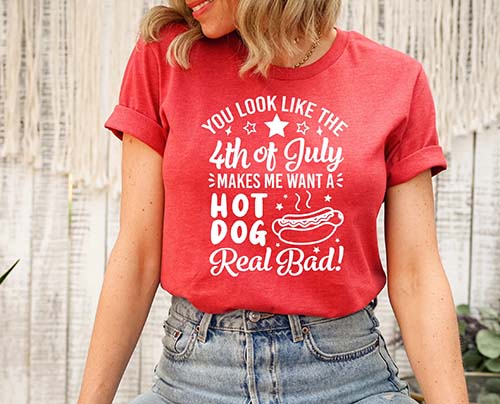 This shirt is perfect for celebrating America's independence in style. The heather royal blue or heather red are perfect colors for the 4th of July, and the print is white so it really stands out.
Plus, the shirt is fun and engaging with the witty phrase from the incomparable classic Legally Blonde 2: "You look like the 4th of July makes me want a hot dog real bad." So not only will you look great in this shirt, but you'll also be sure to get a few laughs.
Don't know what we are talking about? Watch the scene for yourself:
Read Next: 15 Must-Haves for Your 4th of July Party
Pin It