Love is in the air! Valentine's Day is just around the corner and that means it's time to start planning some fun activities for the kids.
But what to do?!?!
Not to worry, we're here to help. These super fun Valentine's games and activities will keep the kids entertained and engaged all day long.
From classic party games to new and unique ideas, we have something for every young one. So, get your kids ready for a day of Valentine's fun!
5 Best Valentine's Day Games for Kids
Our website is supported by our users. We sometimes earn a commission when you click through the affiliate links on our website. See our privacy policy & disclosures for more information.
1. Printable Valentine's Day Word Scramble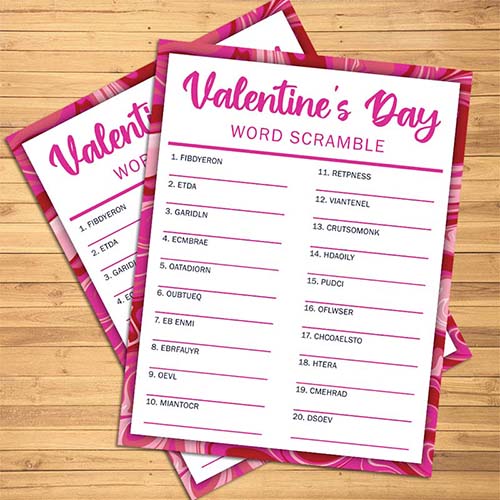 Have the kids race to unscramble Valentine's words using only their brains, a pencil, and a pile of letters.
This Valentine's Day Word Scramble Game is great for all ages! Print it out for Valentine's Day when you want some fun activity at home with family members, friends and loved ones.
Word scrambles are great as not only do they improve spelling skills but they also help children learn new vocabulary words and improve their overall knowledge of Valentine's Day-related topics.
Encourage your kids to find hidden hearts around the home or yard by placing some out for them. You can add clues, and little bonus prizes too, like candy! The first kid to find all the hearts wins the big prize!
You can also make Valentine's Day candy hunt more interesting by setting up rules such as no touching any heart until everyone has found one or only taking one piece of candy from each bowl. This way kids won't eat too much sugar at once and get sick later – yet they'll still be active and have great fun!
Trying to plan a Valentine's Day party for kids and families? Check out these 50 party ideas!
3. Valentine's Day I Spy Activity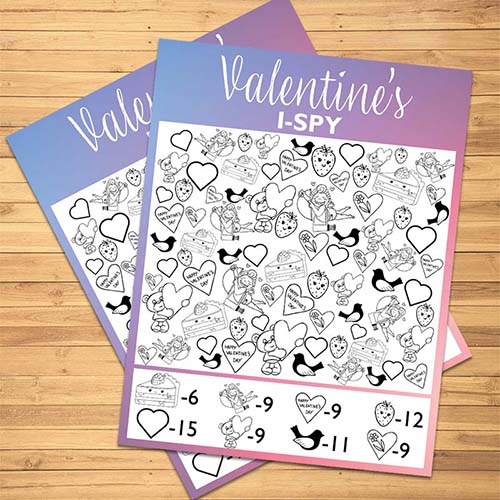 This I Spy Valentine's Day Game is the perfect opportunity for your kids to practice those budding super-sleuth skills.
Print out this Valentine's Day activity and set them up around your house or yard for a fun time. I Spy is very entertaining for both kids and adults. Get the competitive juices flowing by seeing who can find all of special items first!
This game is also perfect to take on a road trip or plane ride – just print out enough for everyone and you're good to go.
4. Bean Bag Toss Valentine's Day Game
Who doesn't love a good bean bag toss? It's easy to play and all you need are Valentine's day themed cut out and bean bags. Have one team stand behind the line while they throw their Valentine's bean bags at the cutout. This will get the competitive juices flowing in the family and provide hours of entertainment.
5. Valentine's Day Trivia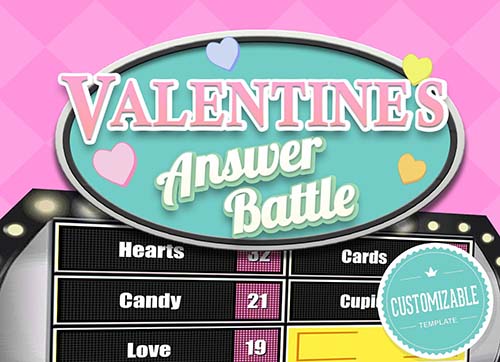 Test your Valentine's Day knowledge with this printable quiz. Who knows, you may even learn a thing or two! This is perfect for all ages and can be played individually or in big teams.
Quiz yourself on everything from the history of Valentine's Day to the meaning behind different Valentine symbols. There are plenty of interesting facts out there that will surprise even the most seasoned experts!
10 More Valentine's Day Activities that Your Kids Will Love
Check out these fun things for your kids to do!
6. Printable Valentine's Word Search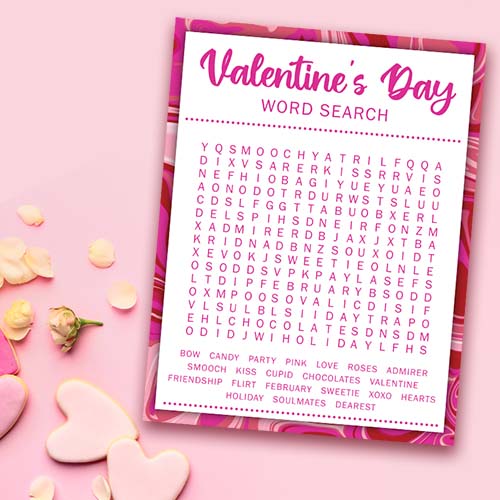 This Valentine's word search is perfect for all ages. It contains a variety of words related to Valentine's Day so it will keep everyone busy and happy.
Just print it out and you're good to go! Word searches are fantastic for improving vocabulary and spelling skills, all disguised as good clean fun.
Related: Valentine's Day School Party Ideas for Kids
7. Cupid's Arrow Contest
This year, challenge your kid's aim and see who the better Cupid is! And this cupid arrow set is perfect for it. It comes with everything you need, including six arrows for each player as well as a bow to shoot Cupid's arrow!
This Valentine's Day game will provide a different type of activity for all ages. Don't forget to keep score by recording who finds the most points!
If your kids love the outdoors, then click here to see toys they'll love!
8. How Many Kisses are There?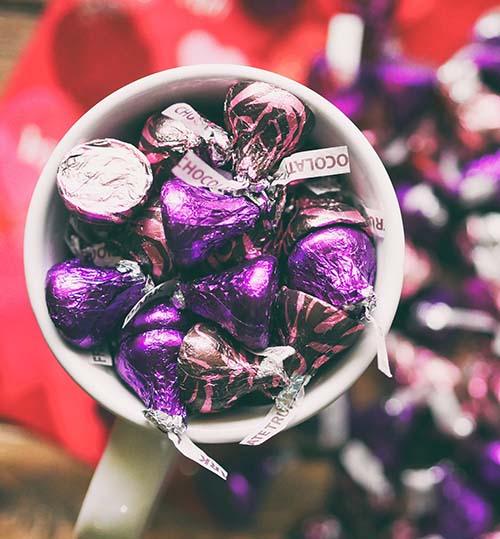 Have you ever heard of the game "How Many More Years"? It's like Bingo but with chocolate kisses. Here's how you do it.
Put a few Hershey's Kisses in an empty jar and have kids take turns guessing how many there are. The person who guesses closest without going over wins! This is a very simple activity to set up. Both boys and girls will love this game!
You can also create different versions of the game with any other Valentine's Day candy. Just make sure the container is big enough so that kids have to guess a fair amount of kisses (or whatever Valentine's Day candy you choose).
9. Cupid's Escape Room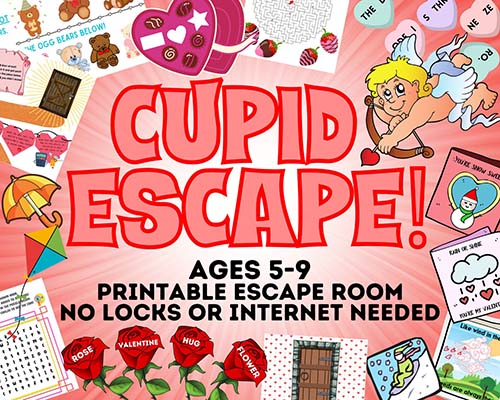 The players will be immersed in an escape room with clues on the wall, floor and envelopes they open as time progresses. The goal is to use logic and wits by solving challenges created from these puzzles so that you can escape before Cupid seals your fate!
Who doesn't love an escape room game? They're the perfect way to break up any monotony, increase excitement and give you something new. Recommended ages for games are 5-9 with up to five players!
10. Minute to Win It – Marshmallow Stack
Here's a little sugar-themed Valentine's activity your kids will love. See how many heart-shaped marshmallows they can stack in one minute! It tastes so good too.
All the family can join in this silly and fun Valentine's Day game, from grandparents down to young children. The more marshmallows stacked, the better chance at winning!
11. Pass the Heart
While the music plays, pass this heart stuffed animal around. If you are left holding the heart when the music stops, you're out! Whoever holds onto it when all is said and done will be left with a winner. The last person left standing wins–and gets to keep their prize forevermore!!
The best thing about Sweetheart is her amazing Strawberry scent. She's ultra soft, fuzzy and cuddly. Kids go crazy for her Valentine's Day look.
12. Sweetheart Valentine's Day Coloring Pages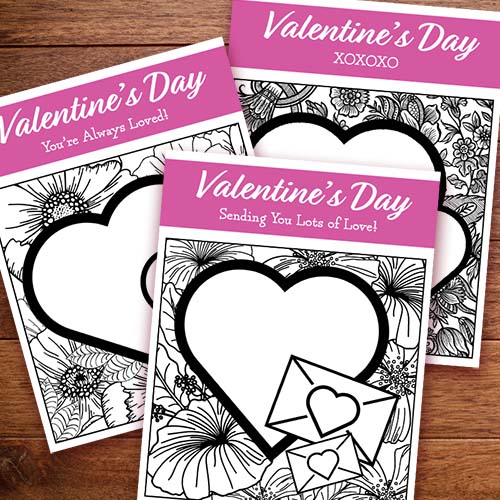 Valentine's Day Coloring Pages are great for unleashing your kid's creativity. Just keep the coloring away from the carpet!
These easy-to-print colouring pages will make your family's Valentine event a hit! With them, you can provide children and adults alike with an opportunity for some creative mindfulness. The digital file is instantly accessible and ready to print as many copies as you like.
13. Valentine Bingo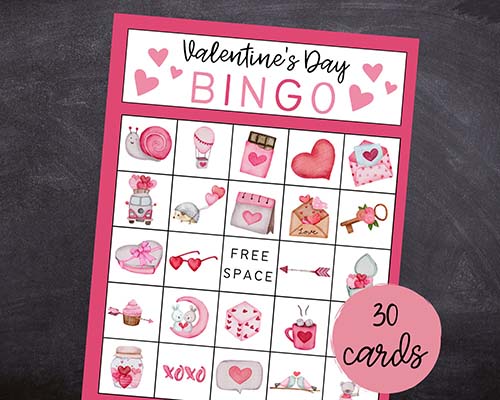 The perfect way to spend Valentine's Day is with this bingo kit! The cards are made of sturdy cardboard and feature adorable watercolor images – full of hearts.
This fun game will be a hit at family gatherings, school parties or girl scout groups.
14. Hearts, Candy, Music!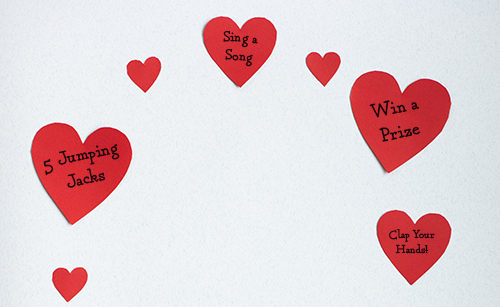 Make a heart-shaped or square pattern on the floor, and place hearts in it. Each heart has an activity written on it. When the music stops, the kid standing on it is compelled to follow whatever heart tells him. "Win a Cupcake" or "Sing a song," and so on.
This game provides unlimited fun. You can add Valentine's Day music to the mix and choose songs that will get your Valentine's Day party started right away!
15. Ultimate Box of Valentine Activities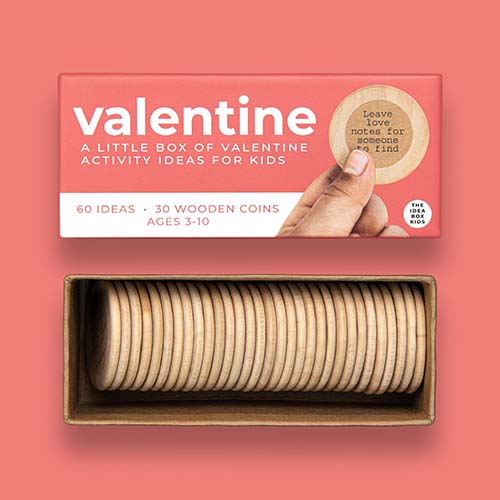 Make Valentine's Day extra special this year by filling your child's heart with love, fun and a little bit of education. With the new Valentine box, they'll be able to leave notes for their friends that say "I Love You" as they decorate using wooden hearts.
These love-filled activities are not just for the day of Valentine's but can be done in weeks leading up to it. This will make your kids pretty sweet!
More Valentine's Day Games & Activities for Kids
What else can kids do on Valentine's Day? How about:
Write love notes to their family and friends
Make and color Valentine's Day cards for everyone they love
Pull out your favorite board game and play a round together
Read aloud some books with themes of love, generosity, and family – for instance, The Boxcar Children is a classic that kids love, and it touches on all those themes
Go to an archery range and practice shooting arrows – just like Cupid!
Challenge them with writing prompts to express appreciation for others. For each member of the family, they can write 10 things for "I love it when you…"
Do some crafts together – here are some wonderful DIY Valentine's Day crafts
Bake and decorate sugar cookie hearts
Create a Valentine's Day sensory bin for the littles
So, there you have it! Well over fifteen fun Valentine's Day activities that will keep the kids entertained for hours on end. Whether you're looking for a classic game to play or something new and unique, we've got you covered. So, get your kids ready for some Valentine's Day fun!
Read Next: Valentine's Day Quotes for Kids
Pin It