One of my favorite holiday traditions is the good old fashioned Christmas stocking.
Hung by the chimney with care, they bring such a holly and jolly look to your living room. Fa-la-la and all that jazz!
If it's time to redo your stocking collection, or you're just getting started with your own family traditions, we recommend getting the very best for each and every family member.
And that means beautiful, high-quality, personalized Christmas stockings. So scroll onwards!
Our website is supported by our users. We sometimes earn a commission when you click through the affiliate links on our website. See our privacy policy & disclosures for more information.
Personalized Christmas Stocking Ideas
Here we've put together the very best collection of personalized stockings for your consideration. We'll examine materials, ways to personalize, and provide plenty of examples to boot.
If you're the crafty type you'll find lots of inspiration, plus instructions, on how to DIY your own family Christmas stockings in several styles, too!
What are Christmas stockings made of?
Most stockings are made from an outer layer of cotton, acrylic, or velvet, and lined on the inside with cotton or a nice, stretchy polyester. Faux fur is occasionally used to line the top.
However, depending on the manufacturer or seamstress, you can find a wide variety of other stocking materials including wool, linen, knitting materials (bamboo, silk, cotton, polyester, linen, and blends), needlepoint canvas, and more.
How do you get names on Christmas stockings and what do you write them with?
There are many ways to personalize names on your family's holiday stockings! Here are the most common methods:
Embroidery
Printing
Vinyl
If you purchase professionally made stockings, the personalization will most likely involve one of the first three processes. The last three are much easier to do yourself at home, although as you know many people can embroider, print, and cut vinyl at home with modern machines or old-fashioned skill.
Best Personalized Christmas Stockings
Let's take a look at our very favorite stockings! After this initial section, we'll take a look at a variety of different personalization methods, themes (including pet stockings!) and DIY options.
1. 3D Character Stockings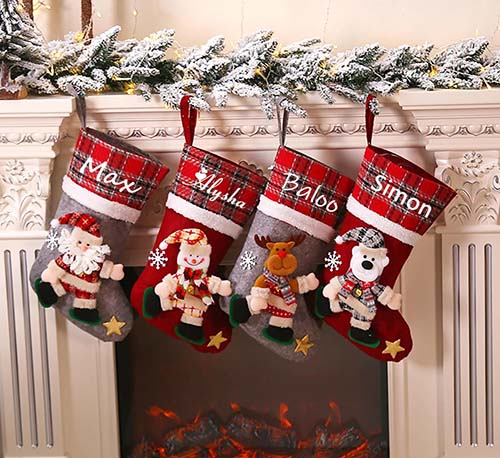 The classic red and white plaid is always timeless for Christmas! Here, it's featured on the tops of these cheerful stockings. You can choose from Santa, a bear, a reindeer, or a snowman so everyone in the family can have their own cute design!
2. Plaid Christmas Tree Stockings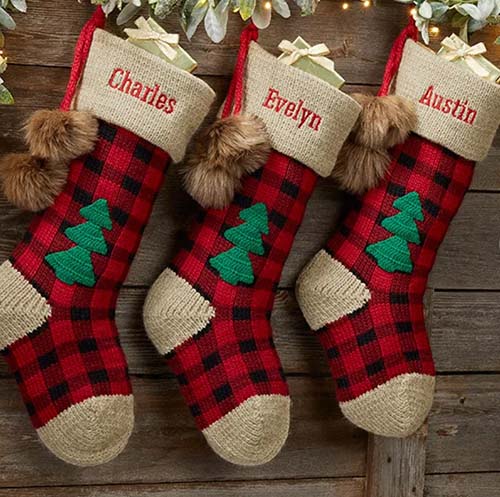 These adorable, buffalo plaid knitted stockings would look amazing over a roaring fire in a cozy cabin! They're rustic looking and so charming, and the personalization of your family member's names brings them up a notch to just about perfect.
3. Winter Harvest Leather Label Stocking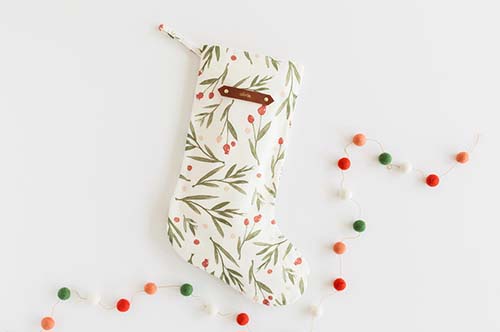 This winter harvest stocking is more unique and a little more formal, making it perfect for someone who loves an elegant, old fashioned and grand holiday look! The leather label adds their name to this 100% cotton stocking.
4. Red & White Christmas Knitted Stockings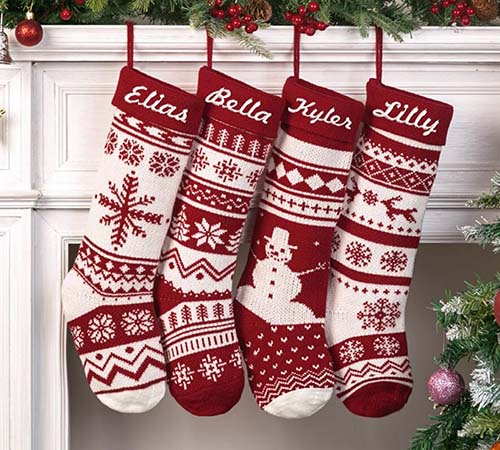 These fun "socks" match each other but not in a too matchy-matchy kind of way, if that makes any sense! The cheery red and white will pop against the fireplace or wall, and each family member can have their own name knitted on as well as a slightly different design.
5. LED Velvet Stockings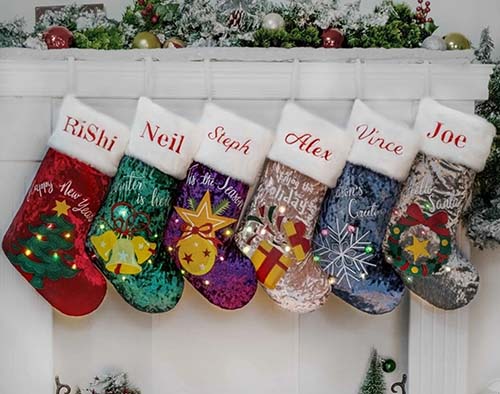 For the family who believes more is more, especially at Christmas time, these LED velvet stockings are sure to please! They're bright, vibrant, fun and totally over the top with their plushy soft fabric and their LED lights.
6. Woodland Christmas Stockings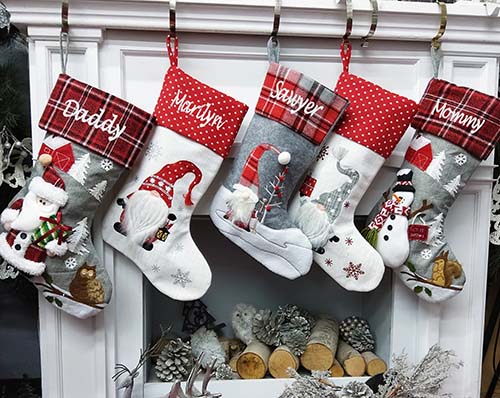 These woodland gnomes are soooo cute! It's hard to pick a favorite so hopefully you have a large enough family that you can get one of each! You can even pick the font for your name(s).
7. Gnome Stockings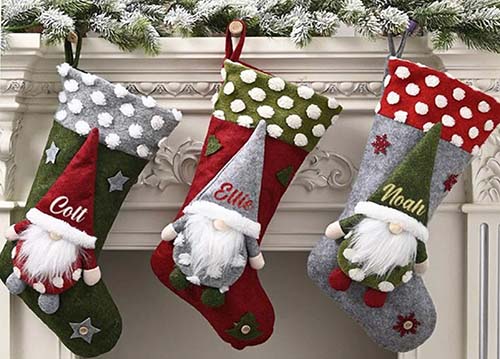 These gnome stockings are so adorable you'll want to keep them hanging up all year around! Would that be weird? Well, we wouldn't judge you. They're soft and generously sized so you can fit tons of goodies inside.
8. Cowboy Boots Stocking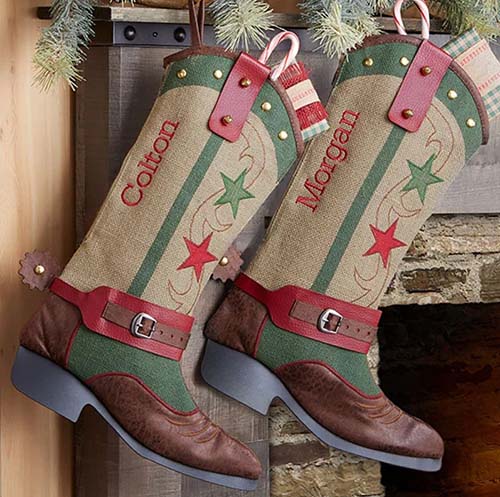 Yee-haw and giddyup! These cowboy and cowgirl stockings are just the thing for the wild ones in your life. Ranchers and cowboys and rodeo queens alike will love this absolutely unique and western-inspired design!
9. Gold & Silver Fur Stockings
These gold and silver stockings are snowy white — just like Santa's beard! When you're going for a more upscale and polished look for your Christmas decorations, these will do quite nicely.
10. Minimalistic Grayscale Stockings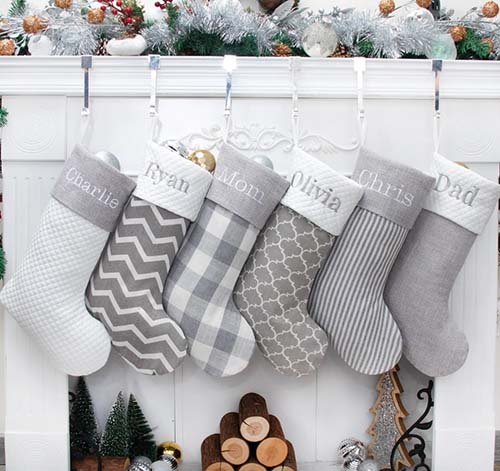 The soft gray in these minimalistic stockings will blend in beautifully with a snowy Christmas morning. Each family member's name is embroidered on the top and the designs all compliment one another with their geometric patterns.
Related: Stocking Stuffers for Girls
Embroidered Christmas Stockings
11. Red, Green, and White Knitted Stockings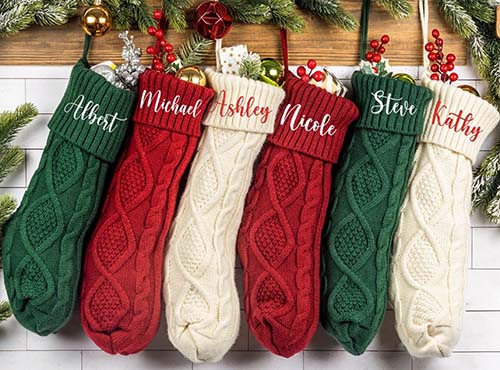 These bright and cheery stockings look like they're made from your favorite, chunky-knit sweaters! Available in red, green, and white they'll brighten up your mantle instantly with that Christmas spirit.
12. Winter Wonderland Christmas Stockings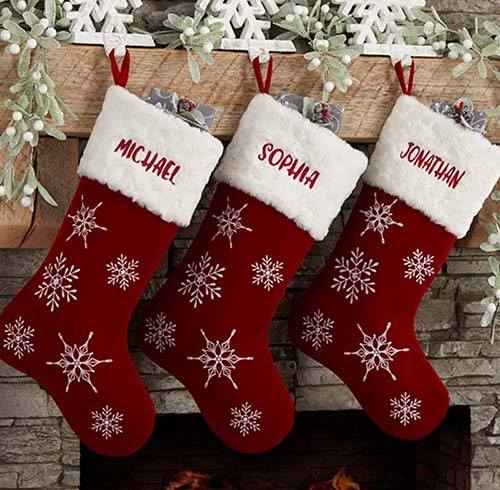 Perfectly matching with the jolly old elf himself, these deep red and white wonderland stockings with their sparkling snowflakes and personalized names will be a tried and true addition to your Christmas decorations.
13. Quilted Bell Stocking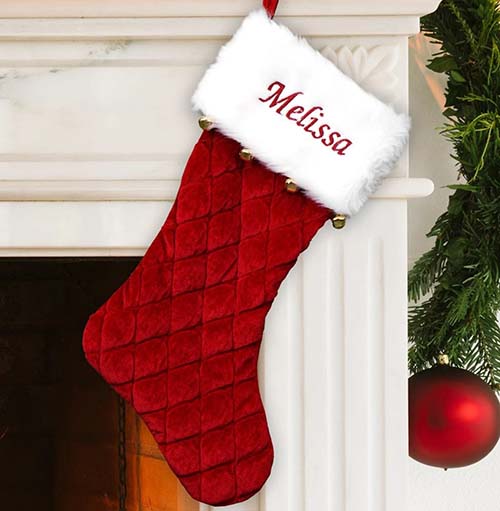 Simple and minimalistic but oh-so jolly, this quilted style stocking is a winner! Very traditional and timeless with its deep burgundy hue, it's everything you need in a stocking.
14. Plaid Snowflake Stockings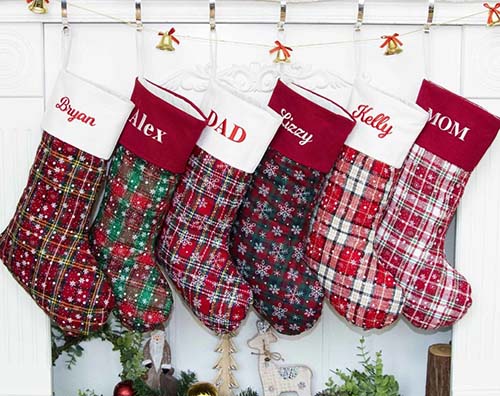 These plaid snowflake stockings make us think of Little House on the Prairie! Old fashioned and quaint, they have plenty of room for Santa to stuff them full on Christmas morning.
Related: Stocking Stuffers for Boys
15. Green Buffalo Check Stocking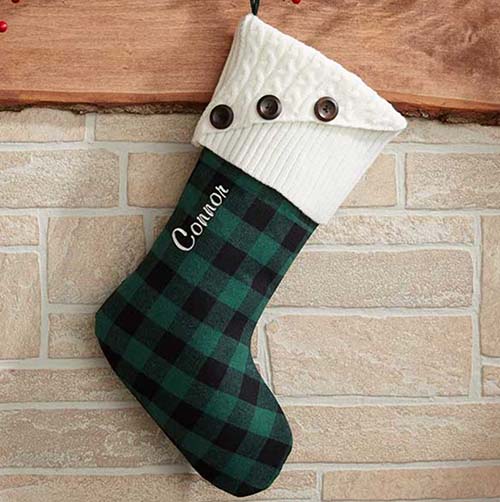 With its green buffalo checks and ivory cuff with the cutest of buttons, this stocking option is a real winner! It brings to mind a cozy log cabin or family lake house. 
16. Traditional Sweater Stockings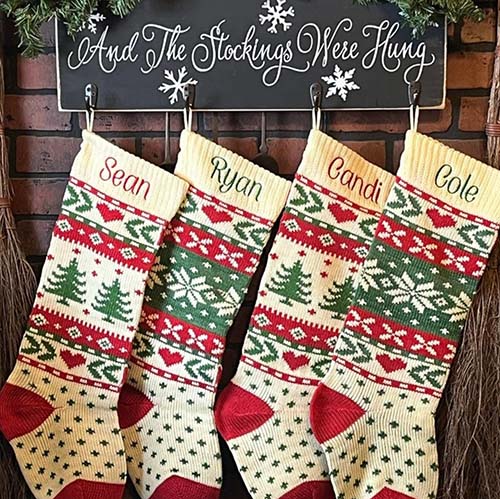 These embroidered and knitted sweater stockings look like they're made from your favorite sweater or pajamas! They'll bring cheer and an extra dose of fa-la-la-ing to your living room.
17. Cute Face Jingle Bell Stocking
With their oversized "big faces" these darling stockings will have all the limelight! And you can pick a different animal for each member of the family. These ones are not your mama's traditional stockings!
18. Whimsical Velvet Stockings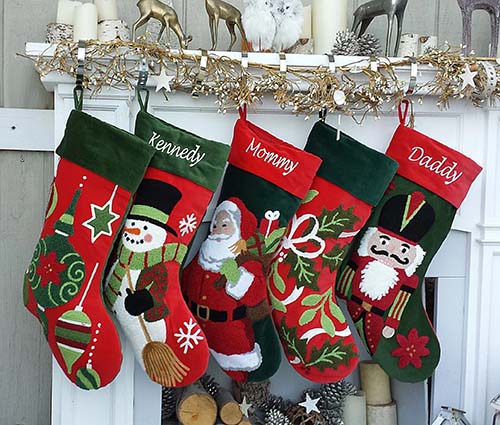 There's something about velvet that is just so Christmasy, right? These whimsical velvet stockings are totally traditional looking, yet modern too. They hang nice and straight and will look great grouped together.
19. Elegant Charm Christmas Stockings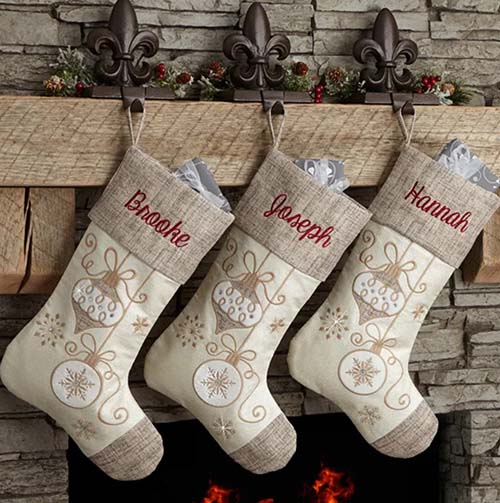 A little different, and in the best possible way! These stockings really are elegant and charming, with their tan and cream colors and, of course, the personalization of your names.
20. Navy Cozy Cable Knit Stocking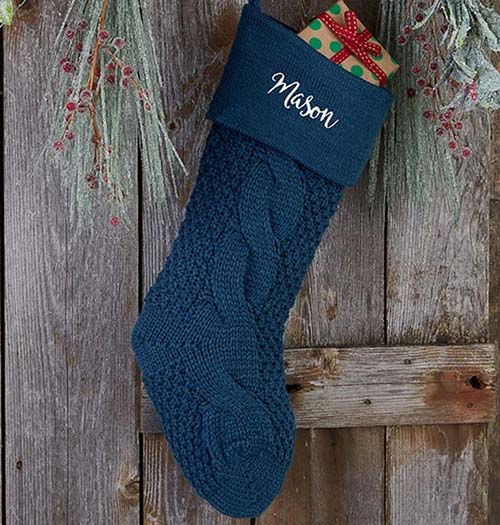 We love this navy blue option! Anyone can do red and green, but navy and silver is another instant smash in our book. This sweater style knit stocking is just adorable.
Needlepoint Christmas Stockings
21. Navy Blue Toy Scene Stocking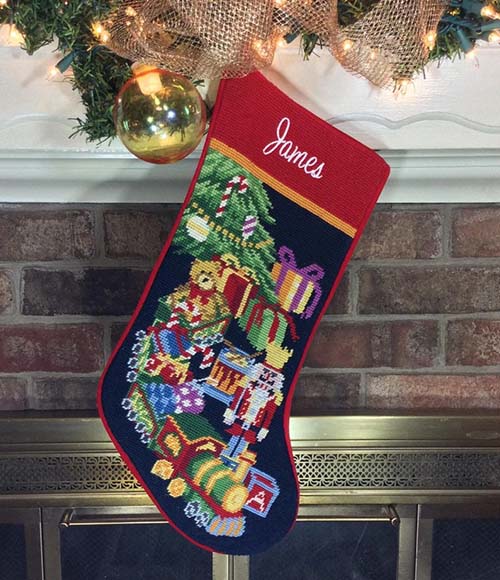 The needlepoint in this distinctive stocking is the real winner! So detailed in its design and so very merry! You can pick the font you want from a wide variety and you can choose the thread color for the monogram as well.
22. Old Fashioned Christmas Stockings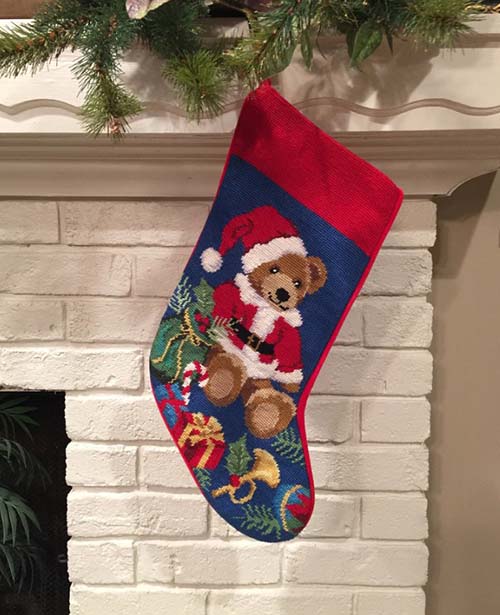 These old fashioned stockings have patterns that take me back to my childhood! Nostalgic and oh-so merry. They will fit in with all your favorite Christmas decor with their fun, festive colors and different scenes. These ones are simply timeless!
23. Flying Angel Needlepoint Stocking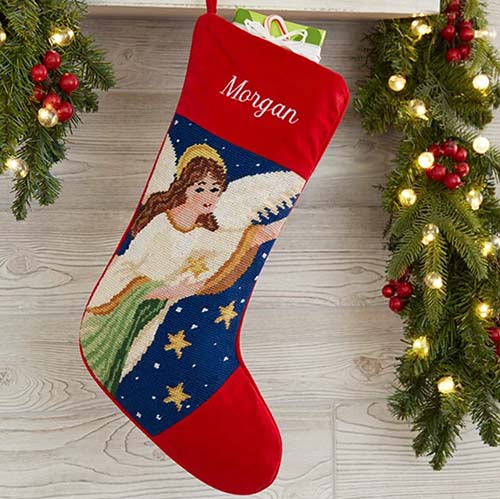 Santa Claus will love being greeted by this pretty angel as he fills these gorgeous stockings! Old fashioned in design, but nice and sturdy with its velvet cuff and toe, this stocking will be around for many more Christmases to come.
24. Hand-needlepoint Christmas Stockings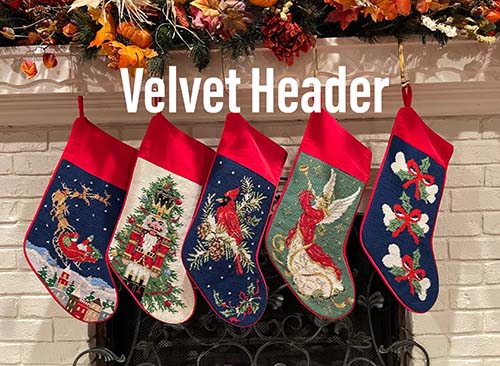 I'm partial to the Nutcracker, but all the jolly scenes are magical! These hand-needlepoint stockings are the bee's knees and will make your living room pop with color and a magical feel. You can just see the kids tearing into these stockings with delight!
25. Christmas Tree Stocking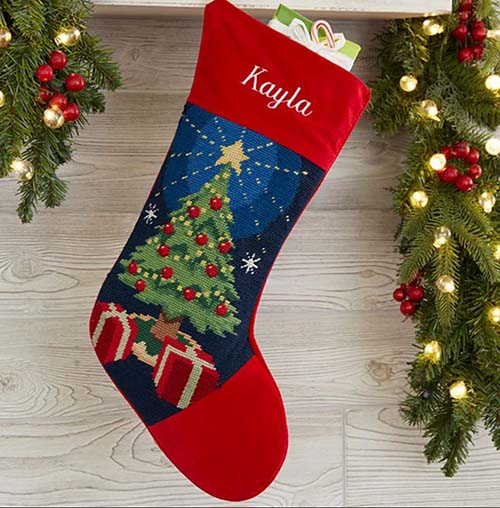 Made of wool needlepoint, this Christmas tree stocking is made to hold lots of toys and trinkets and treasures, and will last for many, many years. The colors are vibrant and jewel-toned, and the velvet cuff brings some elegance.
Monogram Christmas Stockings
26. Festive Foliage Stocking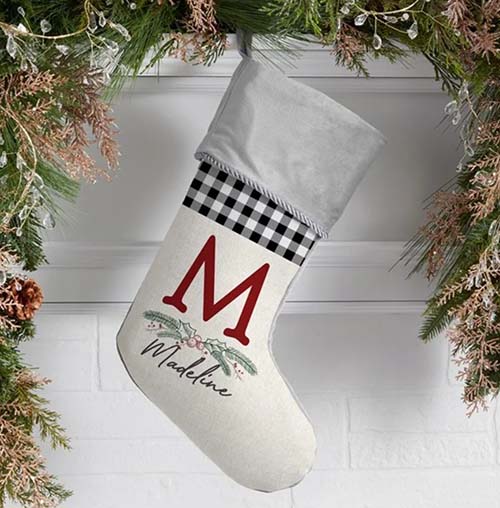 A bit modern, a bit minimalistic, this festive foliage stocking really takes the cake, so to speak! We love the simple design and the gentle font of the monogram, and think this stocking would look great in a farmhouse style home.
27. Single Button Burlap Stockings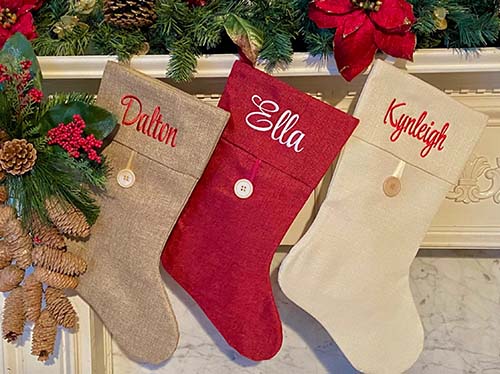 Burlap is always a great choice when decorating! It gives a rustic, farmhouse or cabin-like feel and is just so homey. You can choose from red, cream, or beige with these cute stockings.
28. Farmhouse Tassel Stockings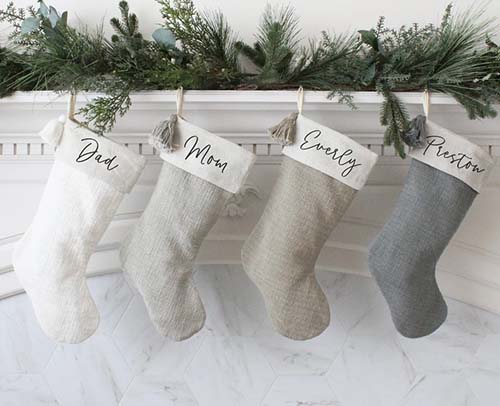 These tasseled stockings will look great hanging over the fireplace! They are understated and simple, yet really pull the whole room together. If you're looking for stockings that are a little more monochrome, these are the ones!
29. Cable Knit Monogrammed Stockings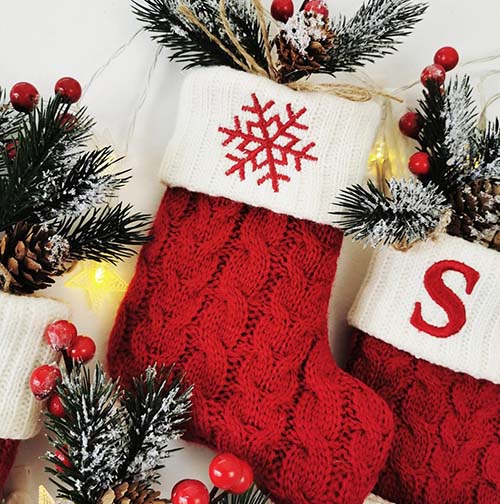 These chunky, cable knit monogrammed stockings are so cheery and jolly, much like Santa himself! They are nice and stretchy and generously sized so you can fit tons of treasures inside for Christmas morning.
30. Red Burlap Stockings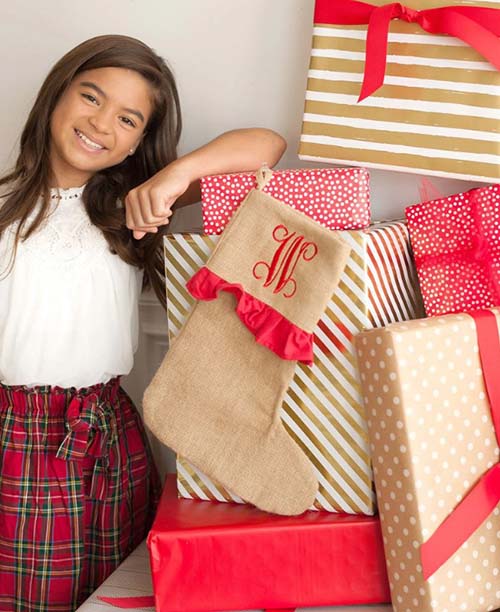 This burlap stocking has a darling red ruffle, giving it a holiday flair! These cuties are simple but really eye-catching, and they'll go with just about any holiday decor with their simple color palette and classic design.
Personalized Dog Christmas Stockings
31. Large Paw & Bones Stockings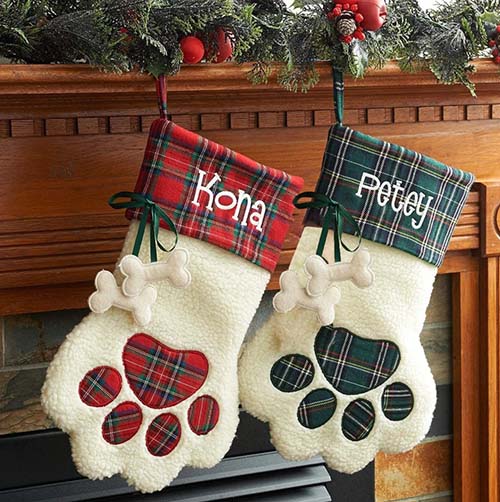 Don't forget man's best friend this Christmas! Not that you would. These adorable dog stockings are shaped like his precious little paws and have bone decorations. Great for stuffing full of Fido's favorite treats.
Related: Doggy Christmas Gift Guide
32. Full Photo Christmas Stocking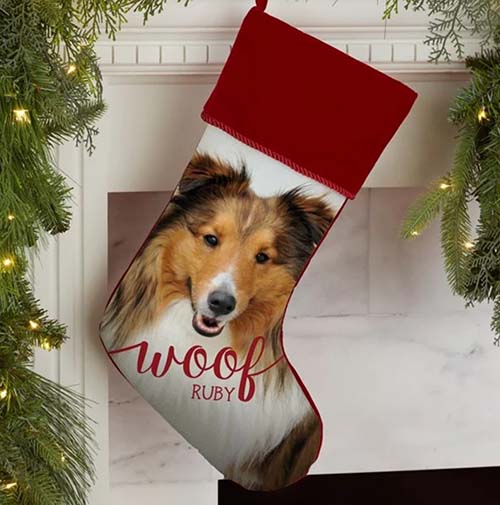 Leave no doubt whose stocking is his with this great and ever-so personalized full photo stocking! A photo of your majestic canine (or perhaps the goofiest one you can find) decks out this fun stocking.
33. Tan & Cream Wish Bone Stockings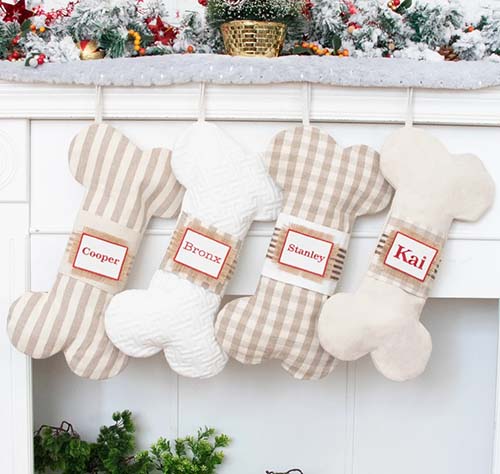 These adorable wishbone stockings in shades of cream and tan are super cute and unique! All your dog mom and dad friends will be jealous of your find. So adorable with their little treat shape!
34. Paw Print Stockings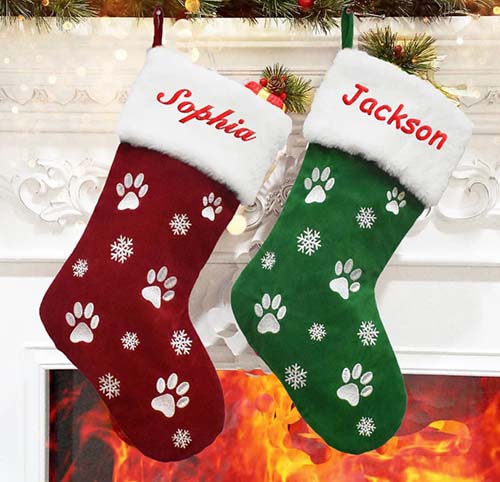 At first glance, the pattern looks just like snowflakes, but it's actually so much better: dog paw prints adorn this super precious stocking! They'll blend right in with the human ones, making one doggone happy family mantle.
35. Knitted Bone Bow Stockings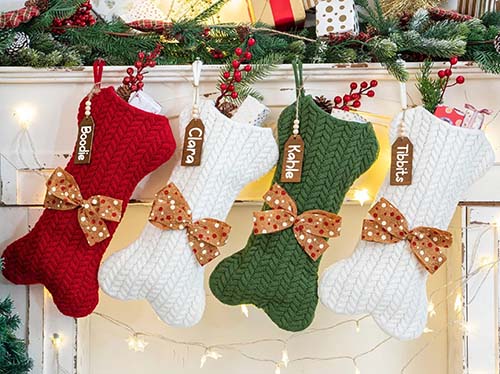 These cable knit bone and bow stockings are just adorable in every way possible! They will be the cutest thing on Christmas morning once they're stuffed full of toys and treats for your pup!
Personalized Cat Christmas Stockings
36. Believes in Santa Claws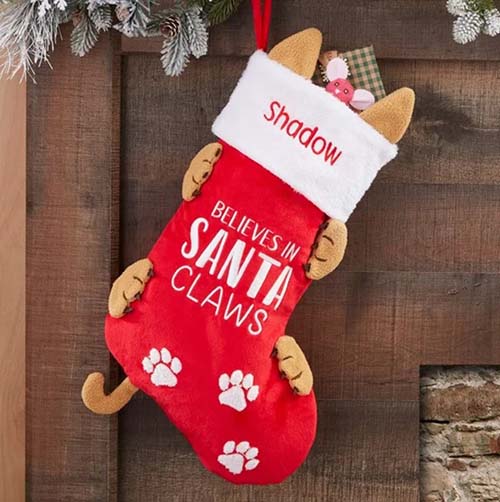 This hiding cat believes in Santa Claws with this oh-so darling stocking! You can practically see the tail and whiskers twitching, can't you? Little Midnight will love her personalized stocking this year.
37. Velvet Illustration Stockings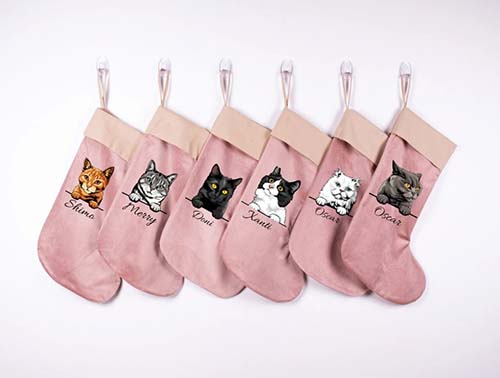 This velvet illustration stocking comes in a variety of colors so you can really personalize the whole thing for your kitty! The purrfect size to stash some new toys and catnip.
38. Snowflake Photo Christmas Stocking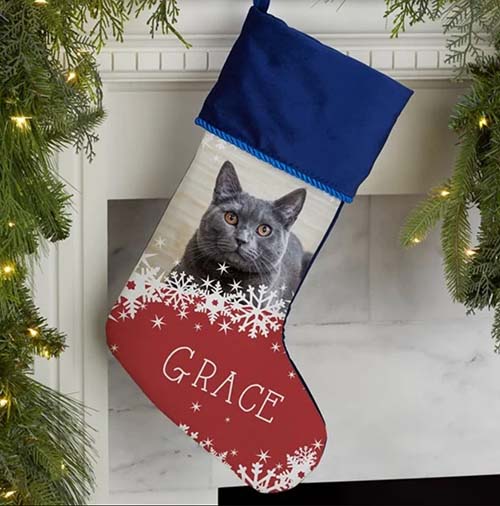 Personalized with a photo of your very own Fluffy Pants, this snowflake stocking will make everyone who sees it grin. It's a cute way to include the cats in your holiday celebrations!
39. Fish Shaped Stockings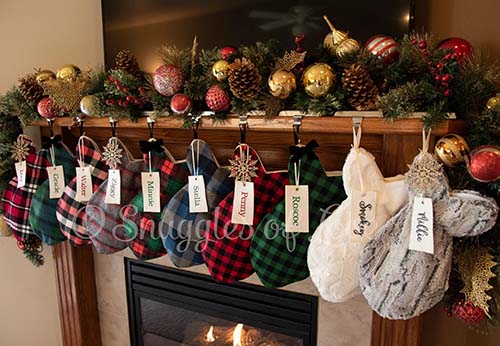 If opening a can of tuna brings all the cats to the kitchen, then your brood will love these ultra adorable, fish-shaped stockings! They're made of colorful plaid so they'll blend in beautifully with all of your other Christmas decor.
40. Meowy Christmas Cartoon Stocking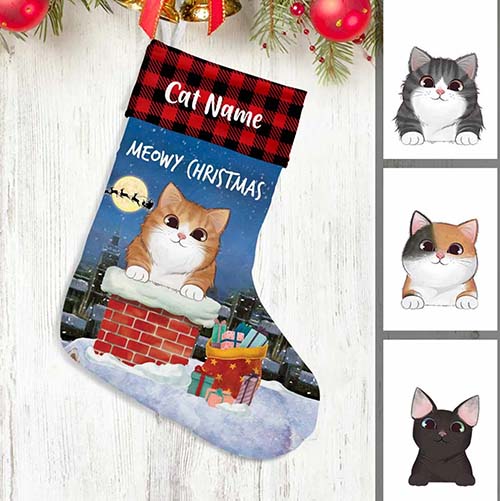 You can select your cat's breed when you order this fun stocking so you really get the purrfect one! Add your kitty-cat's name to be embroidered on, and voila! Instant Christmas feline feels!
DIY Personalized Stockings
41. DIY Needlepoint Penguin Stocking Kit
These peppy penguins come alive (well, not really) when you begin to needlepoint this sweet DIY stocking kit! Whomever you give it to will love the work that went into it — or just keep it for yourself!
42. DIY Gnome Stockings
These felt gnome stockings look so easy and fun to make! They're vintage-y and way too cute for words. Whip up a whole family of them for your family one snowy winter's weekend, and see your house transformed into Christmas.
43. DIY Faux Suede Fringe Stocking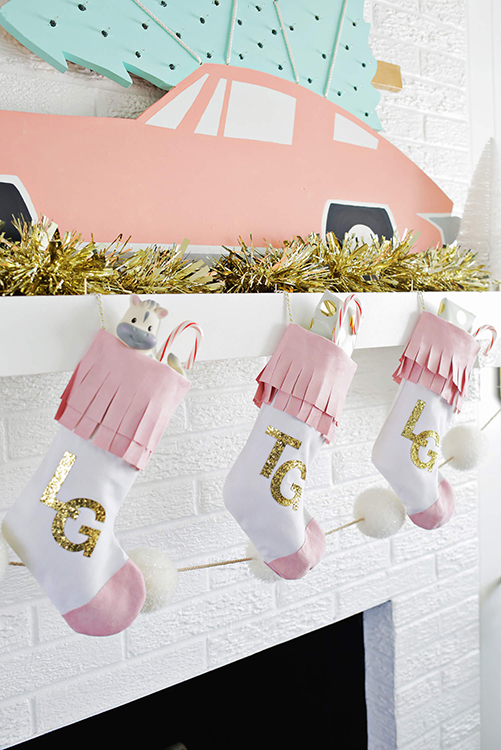 Easy enough to do with your kiddos helping you, these pretty, faux suede fringe stockings bring a whole lot of cheer to your holiday season! Personalize them all you want with different colors and of course, your family member's names.
44. DIY Embroidered Stockings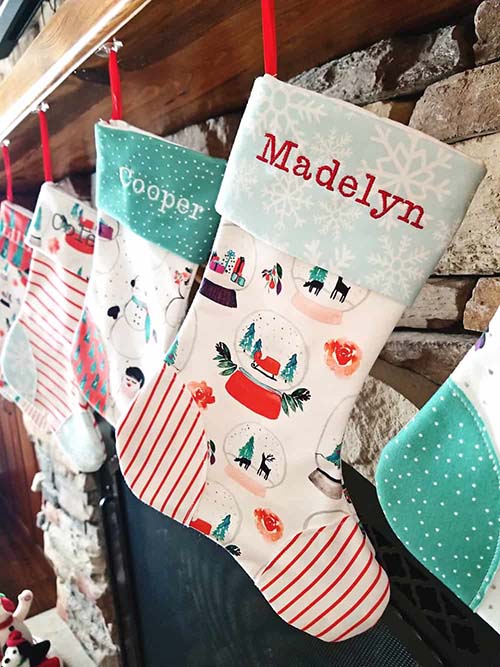 Picking out the fabric might be the most fun part of these adorable, DIY embroidered stockings! Great for large families, or even used as Christmas wrapping instead of a gift box!
45. DIY Letter & Bow Stockings
These letter and bow stockings use a Cricut machine for a great, foolproof method of personalizing! So cute and roomy, you might become addicted to putting these stockings together and gifting them to all of your friends and family.
Read Next: The Legend of the Christmas Stocking