Today we're taking a look at occupational therapist gifts.
Occupational therapists make a difference in the lives of so many every single day. So if you want to show your appreciation for your OT, you're in the right place.
OT gifts come in all shapes and sizes… as you'll soon find out! Whether you think they'd most enjoy something for their office, a personalized gift, or a gift for they can use outside of work, we've got what you're looking for.
Let's begin.
Best Occupational Therapist Gifts
Our website is supported by our users. We sometimes earn a commission when you click through the affiliate links on our website. See our privacy policy & disclosures for more information.
1. Pacific Crest Wooden Therapist Sign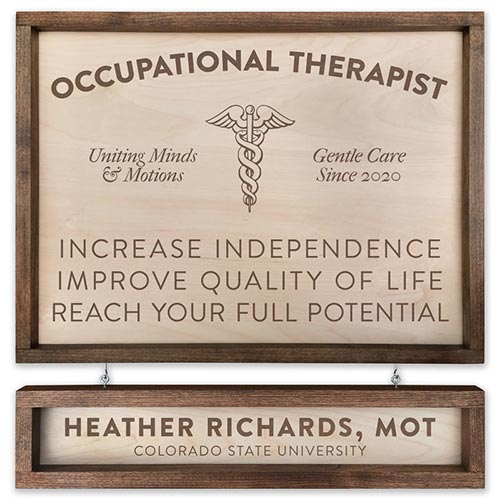 First up on our list of ideas for occupational therapist gifts is this gorgeous plaque from Northwest Gifts.
The Pacific Crest series is unique in that each plaque is handmade right here in the USA, at our shop in the Pacific Northwest.
This particular gift (constructed from stained alder wood and birch ply) can be customized to feature any profession, whether OT, physical therapist, psychiatrist, and so on.
The Staff of Hermes is etched into the center of the plaque, along with personalization of your therapist's name and any other text you'd like included.
Available in two different sizes.
2. Casual Shoes from Groove Bags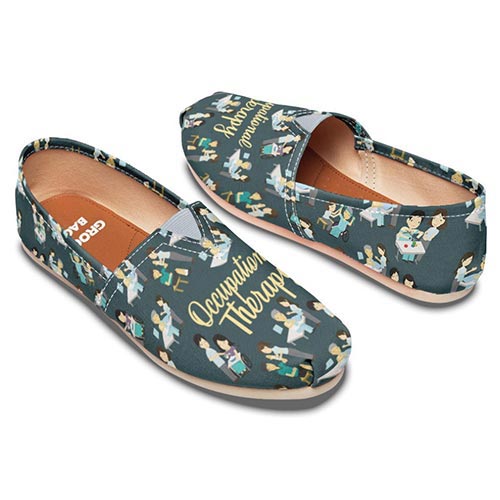 A nice pair of comfy shoes would be welcome by almost anyone in any profession, but perhaps especially by those in the medical field.
Occupational therapists on are their feet a lot, so what could be better than some casual work shoes that also come with a super cool design?
This pair of casual shoes from Groove Bags has been created with the OT in mind. With a cute full-wrap canvas print, high-traction outsoles and a stretchy elastic cuff, this pair of shoes makes for easy everyday statement wear.
Be sure to also check out the sneaker version, this matching tote, and the phone case, too!
3. Custom Engraved Tumbler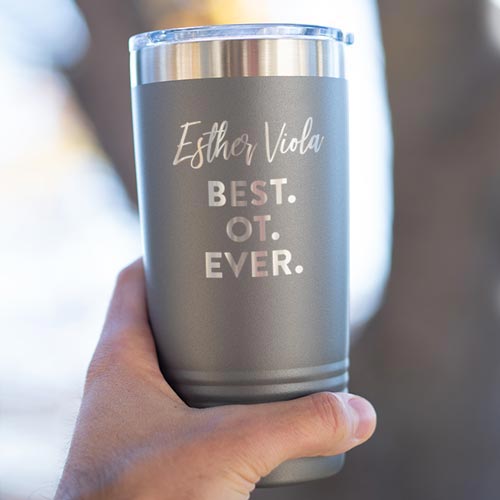 Occupational therapists need to stay hydrated* throughout their day just like everyone else.
*or caffeinated
But sometimes it can be hard to remember to hydrate* when you're so focused on caring for others.
*you know what we mean
Show your favorite OT how much you care with the gift of a high-quality, custom-engraved tumbler. This vacuum-sealed tumbler is also double-walled, so your OT will be able to enjoy either hot or cold drinks as they see fit.
Engraved with their name along with "Best OT Ever" (or any other phrase you want), this personalized OT gift is sure to be a hit!
Available in several different colors, sizes and styles.
4. Rocketbook Fusion Digital Notebook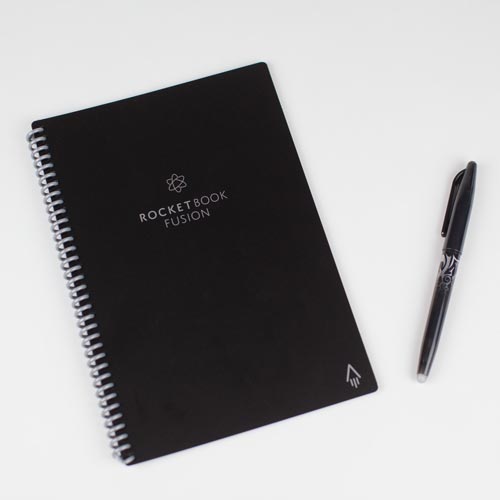 If you're at a loss when searching for the best OT gifts (or gifts for anyone, really), it can sometimes help to turn to tech. Simple tech is best, and the Rocketbook Fusion is simplicity at its finest.
This reusable digital notebook set includes a Pilot FriZion pen to write with – any writing can then easily be sent to a cloud of choice and then the paper wiped clean for another use! Eco-friendly tech at its finest.
Available in several different colors and two different sizes.
5. Personalized Occupational Therapist Gift Necklace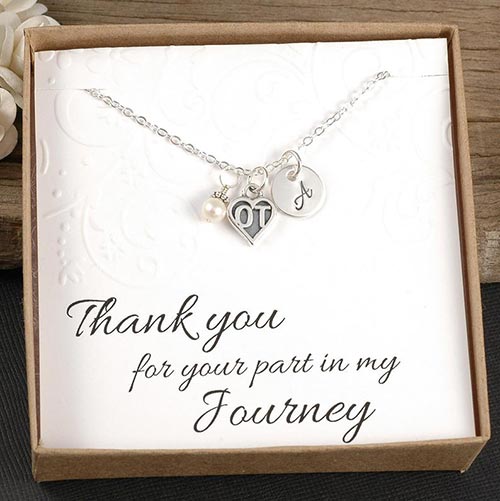 A nice piece of jewelry, such as a necklace, is just right when you're looking for thoughtful occupational therapist gifts. This beautiful sterling silver necklace comes with an initial charm, a birthstone charm, and a heart-shaped "OT" charm.
"Thank you for your part in my journey" is the message included in the gift box. It's an appropriate show of gratitude for someone who has made such a difference in your life or the life of someone you love.
6. Vintage-Style Occupational Therapist Sign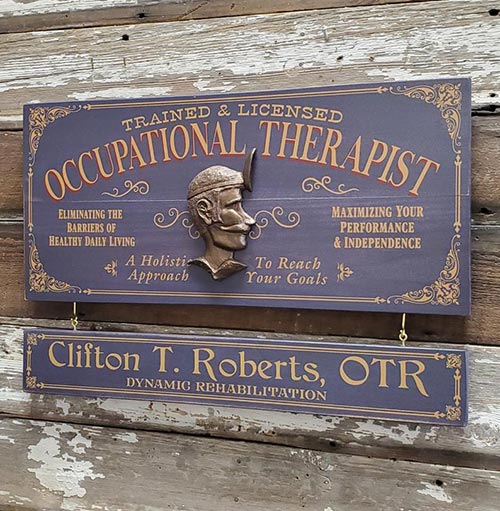 There's just something about this vintage-style professional sign that makes it perfect! The Occupational Therapist Wood Sign would be perfect for the OT who loves the feel of traditional or even old-fashioned office decor.
A handmade resin cast decorates the middle of the sign, and it includes the personalized hanging name plate with the name and details of the OT recipient. Measures an impressive 24″ x 11″ high.
7. Cool Human Anatomy Office Art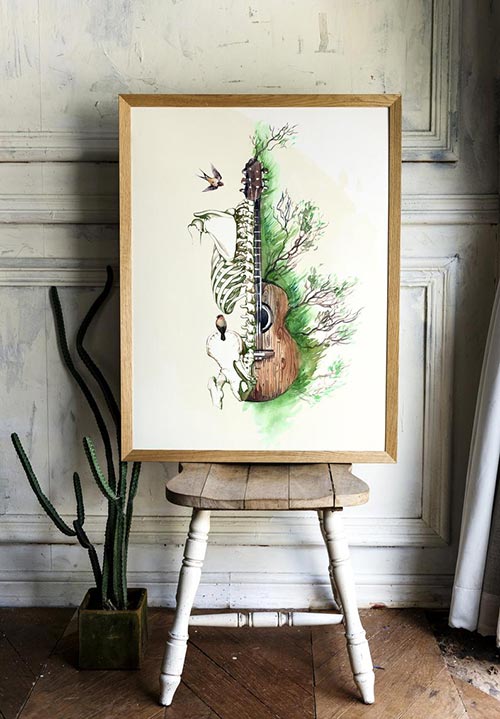 This one's for the cool occupational therapist. If your OT isn't one for vintage-style decor, maybe there's more of a chance they'd enjoy this music-inspired office wall art.
A blend of human anatomy, nature and a guitar, this watercolor is almost minimalist in nature.
Each work of art is printed on museum-quality archival paper and available in several different sizes.
8. M
ot

ivate Mug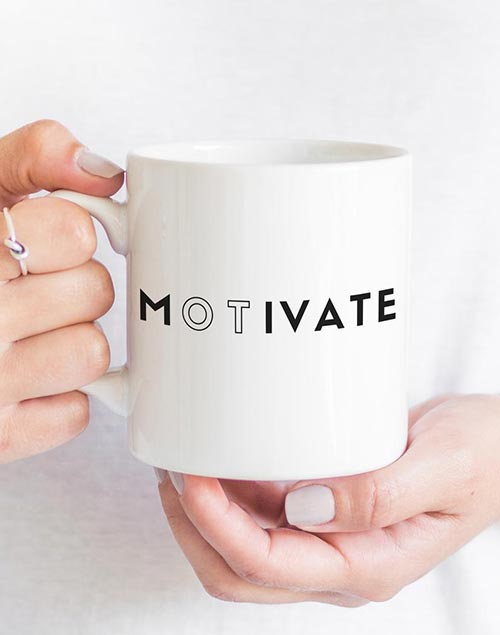 This isn't your everyday "World's Best OT" mug. Nope. It's a mug that subtly gets at the heart of the matter – the heart of what an occupational therapist's job description really is.
Surprise your therapist with the mOTivate mug, and they'll be sure to appreciate the fact that you truly appreciate them.
The mug is both dishwasher and microwave safe, made from ceramic, available in two different sizes, and can include optional personalization on the reverse side.
Related: 10 Gifts That Everyone Wants (even if they don't know it yet)
9. Waikiki Waves Fernweh Candle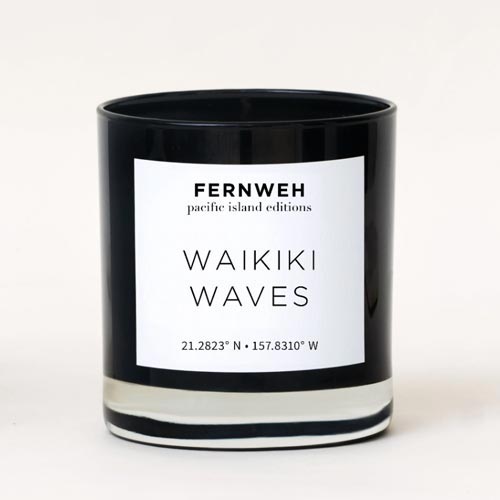 Therapists are people, too. They get stressed at work and just want to go home and relax at the end of a long day just like the rest of us.
When you give them a travel-inspired Fernweh candle, you give them a chance to have a mini "getaway," from the comfort of home or even the office.
The Waikiki Waves candle, from the Pacific Island Collection, will serve to carry the weary OT off somewhere calm, where the ocean waves and salty sea air are endless.
This high-quality, soy-blended candle is made and hand-poured in the USA. Check out all their other amazing scents here.
10. Custom Engraved Bird Feeder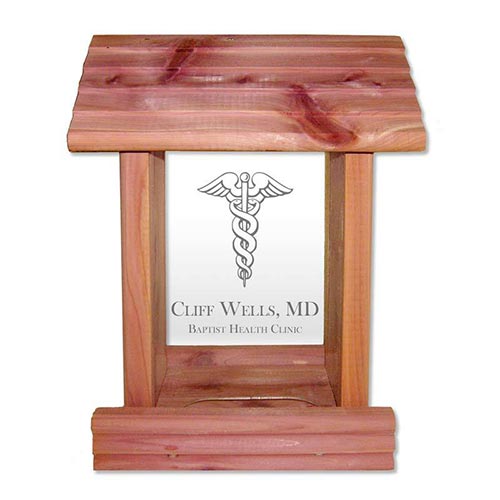 Everyone loves a good bird feeder! If your occupational therapist is one for the great outdoors, or just likes to sit on their porch with a nice cool drink, they're going to love keeping an eye on this personalized bird feeder and the little friends it brings close.
The cedar wood bird feeder is handmade in the USA. It comes personalized with your OT's name and any other text you'd like engraved on the front panel. The design includes the traditional caduceus medical symbol you see above.
11. "Because Patients" Wine Bag (+ a Bottle of Wine!)
Maybe your favorite OT is coming up on a holiday or some time off. Before they go, you want to thank them for everything they've done for you or your loved one. If you choose to give them these gourmet barbecue rubs, they'll be the one who is thankful.
This set of gourmet rubs are perfect for seasoning meats and burgers. There are six flavor combos to a set: Southwest Chipotle, Java Love, Memphis BBQ, Ancho Chili, African Berbere, and Mexican Rub.
The blends are packed into 2-inch jars, which are themselves carefully nestled into a gift box. All ready to go!
13. Personalized Cutting Board Retirement Gift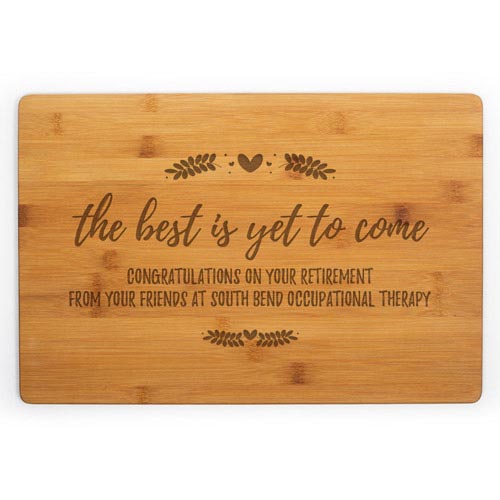 Is your therapist getting ready to retire? Have they been with you for a long time, making a difference in your life for the better every single day? Then while you're probably (and understandably) and bit sad about their departure, you still want to do your part in celebrating this next chapter of their life.
This bamboo wood cutting board would make an appropriate retirement gift for your OT. It's large enough (18″ x 12″) to be displayed in their kitchen if they'd like, or used practically to make their favorite meals. Best of all, it comes personalized with the text you see above, or any other custom text you'd like.
14. DIY Sunflower String Art Kit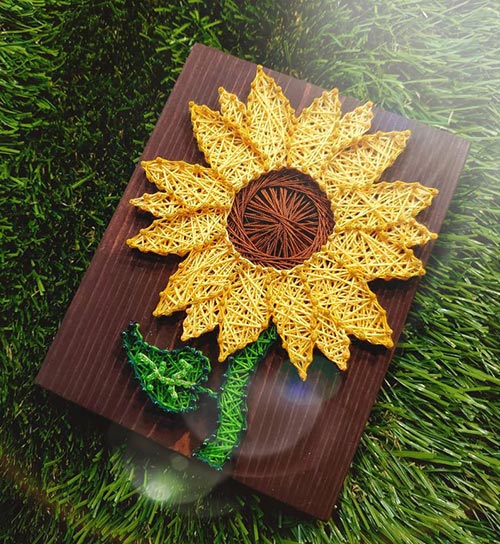 Sometimes relaxation comes in the form of creating something beautiful with your hands – and the satisfaction of seeing it completed. Of all people, the OT understands this!
With this cute string art kit, your occupational therapist will be able to piece together, string by string, a beautiful and unique work of art that they'll be happy to display at home or even the office.
The pre-nailed sunflower art kit comes with a base of stained pine (your choice of two different sizes) as well as everything needed to create the sunflower. Includes hanging hardware.
15. Relaxation Gift Box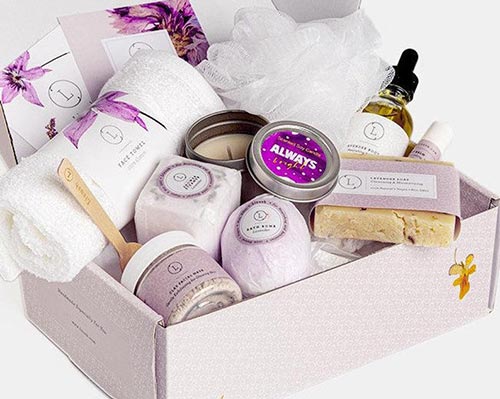 We couldn't end this list without one final gift that's also perfect for relaxing after a long day at work. A relaxation gift box filled to the brim with all kinds of goodies – and not the sort of "goodies" that are bad for skin, either.
This gift set features only non-GMO products. That means they make each item using ingredients you'd find in nature. Products include a clay face mask, bath bomb and body oil, soap bar, shower steamer, candle and more.
Personalization of the gift box lid is optional.
Related: Say Thanks With One of These 100 Amazing Thank-You Gifts
Bonus! Wine Therapy Glass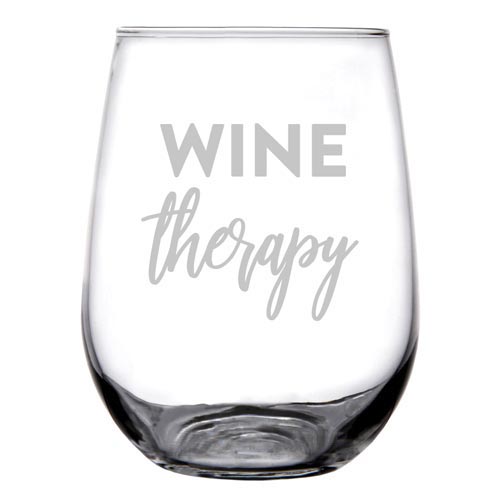 Wait! We have one more gift idea for you to consider. And it makes a great companion gift to the wine bag (gift #11) mentioned above.
This pretty wine glass, which you can have laser-engraved to read "Wine Therapy," will put a smile on your OT's face almost as fast as that bottle of wine will.
See more beautiful personalized glassware right here, including pint glasses, stemware, whiskey, and more.
More Gift Ideas for Occupational Therapists
Before you go, we have more thoughtful ideas for you to consider when it comes to finding the perfect gift for your occupational therapist or other medical professional:
Pin It