Sand-free beach towels are the new thing for lovers of white sand and salt water.
The Tesalate towel is by far the most popular. It's a little pricey; but is it worth it? And is the rage for these sand-free beach towels justified?
Here's what we found out. Read our review of the sand-free beach towel from Tesalate.
Our website is supported by our users. We sometimes earn a commission when you click through the affiliate links on our website. See our privacy policy & disclosures for more information.
Tesalate Towel Review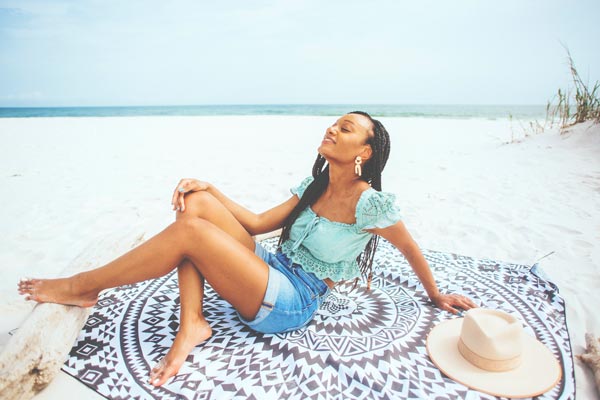 Disclosure: Tesalate sent us a free towel for our review. We'll let you know our honest opinion. We don't get commissions from Tesalate for this.
TL;DR: This is an awesome, beautiful, useful towel. It's spendy, though. You can get similar ones elsewhere for less, but… Tesalate has way prettier designs. Ultimately, you get what you pay for.
Still curious to learn more? Read on!
What is a Tesalate towel?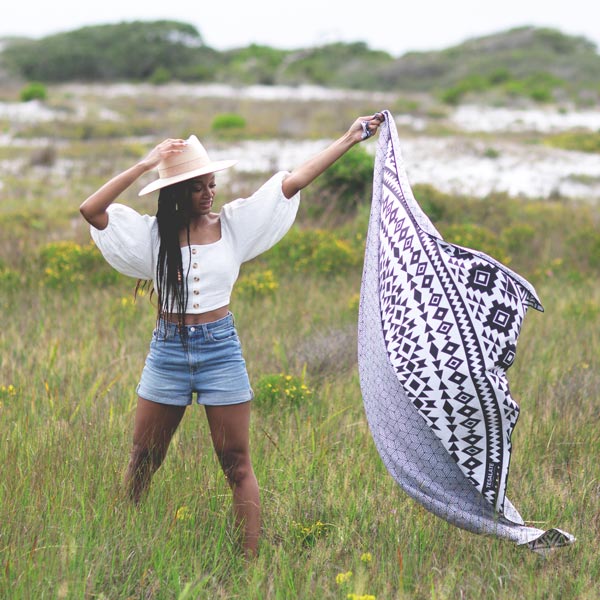 Tesalate towels are really pretty beach towels. They are way more than their looks, though. They are designed so that sand shakes right off, and doesn't stick all over it like a regular beach towel. You can use them as a small but functional beach blanket, too.
They also absorb a lot of water, which, combined with the "sand-free" feature, make them very practical for use as a beach towel.
These beach towels are not fluffy. They are soft, thin, and actually rather smooth, which is why the sand comes off so easily. Because of these features they fold up pretty small, which is nice for storage, travel, and transportation.
What is the packaging like?
Opening the package, my first impression what that is was well-packaged and in a classy way.
The towel comes in a cute little bag* with their name on it. I got a little luxurious vibe while opening the bag and spreading out the pretty towel for the first time.
*Sorry there's no photo, I was so excited to get this out and use it that I forgot to take a pic, and now I can't find the bag! I'll update if I do find it.
I know it's what's inside the package that counts, but there really is something to be said for the effort that they put into their branding. Two very enthusiastic thumbs up.
What are Tesalate towels made of?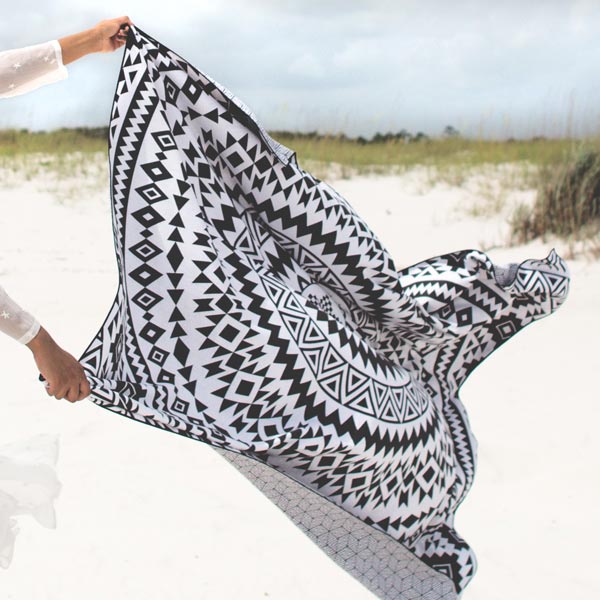 They created their own type of fabric. And it is super soft. It doesn't have that traditional rough towel texture, but a smoother feel. Like microfiber.
They say one of these towels can absorb about a liter of water while still repelling even fine sand. Which leads us to the next question…
Do Tesalate towels work?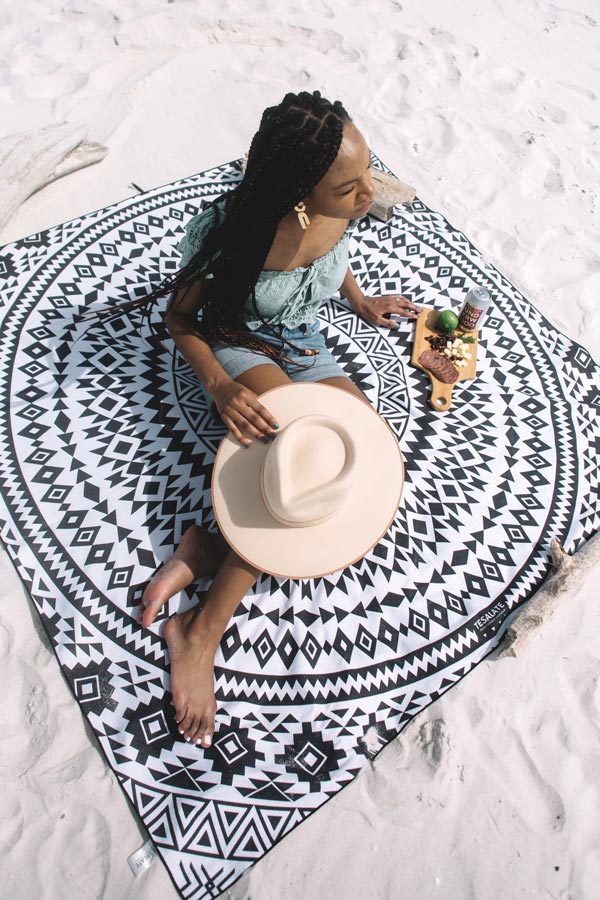 They really do! I have used mine more as a beach blanket, because I have loved being able to lay on it at the beach, and shake it off when it gets sandy, and lay right back down. I get annoyed going to the beach and not being able to get the sand off of things.
I haven't tried to soak up a liter of water, but it does dry me off when needed.
How do you wash a Tesalate towel?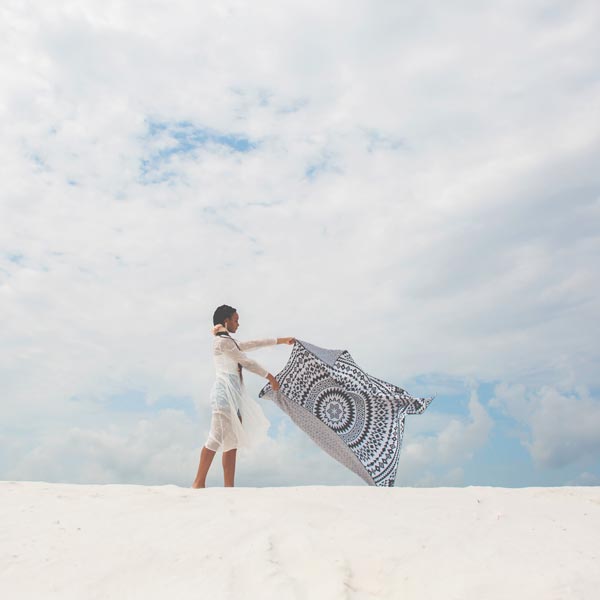 You are supposed to hang the towels to dry after washing, but to be honest, I have two kids. I live in a pile of laundry, so it has mostly ended up going through the dry cycle as well.
The towel still looks amazing. It hasn't changed the feel or look of the fabric, or made it rougher. Pretty impressive actually!
Pros & Cons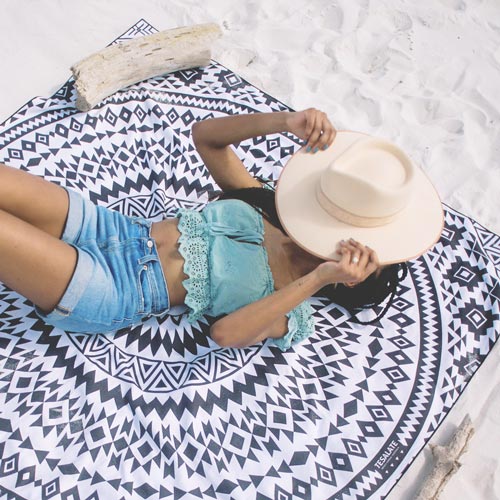 Things I like:
Look and style. I love the look of their towels. They are super cute and all the designs are on point and fun.
Feel. I love how they feel, being soft enough to want to use as a beach blanket.
Size. They have the larger sizes (mine is the "XL" size) and it's perfect for being used as a beach blanket. I love being able sit on it, then shake the sand off.
Sand-free. Like anything, it's not "100%" sand free. But when you shake it, pretty much all the sand comes off. And that's what matters.
Washes easily. I wash with a regular load and dry in the dryer (it's supposed to be hung-dry) and it still looks great.
Things I don't like, or things to consider:
Price. The price is a little high. There are similar towels elsewhere for a little less, but I don't know how well they work and also the designs aren't as cute.
I don't really have anything negative to say about them. When Tesalate offered to send me one, I said I would give it a while of use and see if I really liked it, and I do. It's a good product, so I think you should expect to pay a little more for it.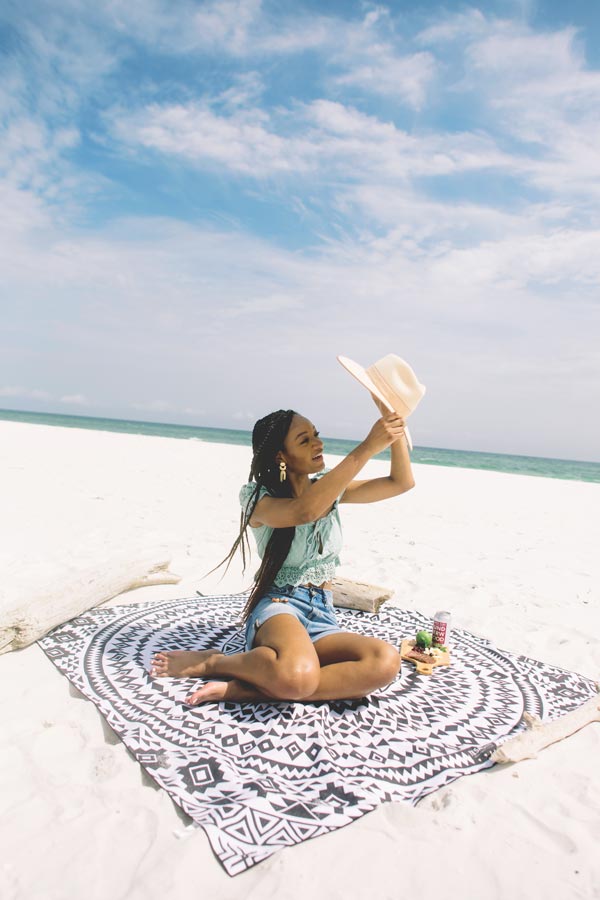 Are Tesalate towels worth it?
To be honest, the price is steep, which is why I didn't previously buy one. (Though I wanted to!)
Now that I have one I would say:
Yes, it is worth it.
The fabric does not seem to be wearing out, even with constant use. And I want to use it all the time because I like it so much. Also because I just love the beach.
You can order on the Tesalate website here. I would recommend getting the XL, so you can use it as a beach blanket when needed.
Read Next: 21 Gifts for Beach Lovers
Pin It