Last Updated on April 27, 2022
Let's talk about the best first Father's Day gifts!
If you and your husband have just welcomed a new baby (congratulations!), or you will soon (yay!). You've probably already started looking for some great gift ideas for his first-ever Father's Day.
Or maybe your son, grandson, or another special guy in your life is a brand new dad, and it's his turn to celebrate his first Father's Day.
Naturally, you want to help this special new dad mark the occasion by gifting him a little something special. So we've come up with 12 of the best and most heartwarming gift ideas for the first-time dad.
Let's take a look!
12 Heartwarming First Father's Day Gifts
Our website is supported by our users. We sometimes earn a commission when you click through the affiliate links on our website. Learn more here.
1. "Walk Alongside Me" Art Print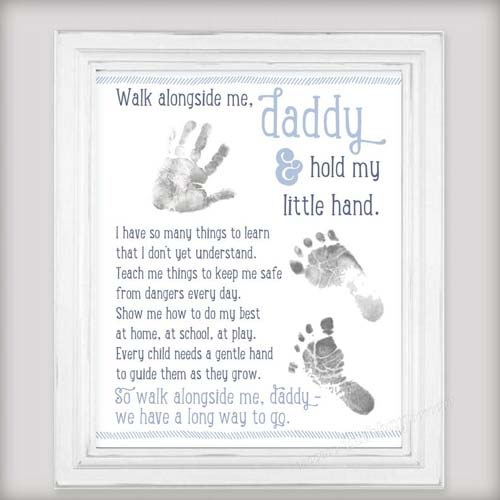 Starting off our list is this endearing art print from Buhbay… a perfect first Father's Day gift for Dad from both Mom and baby.
Featuring a sweet poem just for him from his child, and including enough space for your baby's footprints and handprint, this gift will immediately warm his heart and become an instant keepsake.
The print is available in two different sizes, and comes with primary color options of blue, pink, or mint green.
2. Papa Bear Custom Engraved Tumbler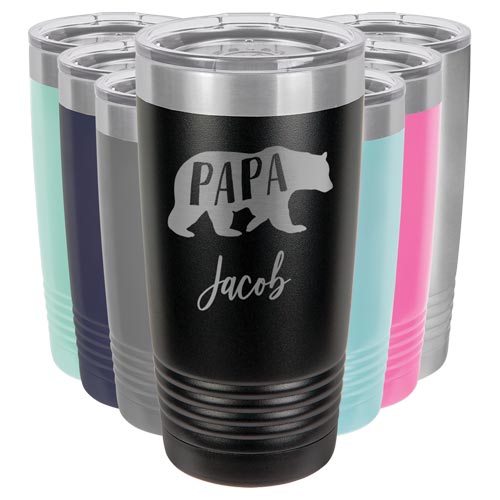 A new dad is entirely focused on his baby and spouse, ensuring that they have what they need at all times of the day and night. They'll do anything to take care of their loved ones!
During this "new baby" stage, it can be way too easy for him to forget to take adequate care of himself. So this Father's Day – his first! – help him remember to keep himself hydrated, caffeinated, and cared-for with this custom engraved tumbler.
Our personalized Papa Bear tumbler will get the job done. It's double-walled and vacuum-sealed, so he can use it for his favorite refreshments: water, tea, lemonade, coffee, hot cocoa, etc. Choose from four different sizes and seven colors.
3. "Pint and Half Pint" Matching Shirts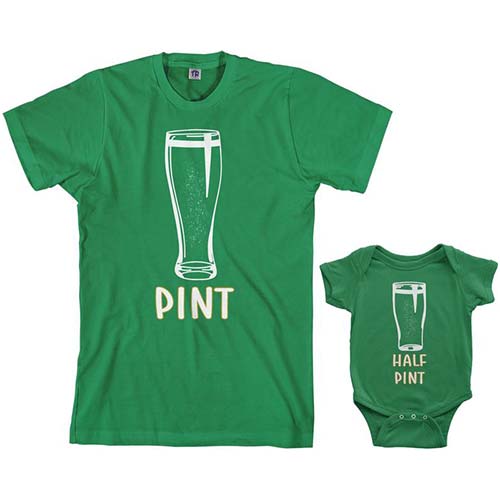 When it comes to great Father's Day gifts for new dads, it just doesn't get any cuter than this. He's going to love showing off his little half pint (and their new matching outfits!) to everyone he sees.
Available here from Threadrock on Etsy, both Dad's shirt and baby's onesie are available in several different colors and sizes.
Dad's 100% cotton tee will come pre-shrunk. Baby's 100% ringspun cotton outfit features a convenient lap shoulder design as well as snaps for easy diaper changes.
4. Custom Photo on Wood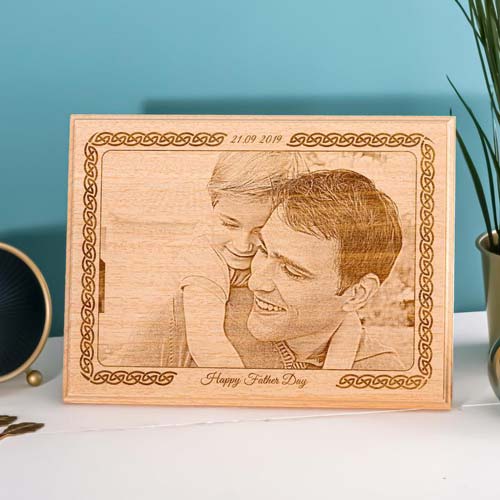 Framed photos make great Father's Day gifts, but why not kick it up a notch with something a little more unexpected?
For his first Father's Day, surprise a new dad with this stunning heirloom, a custom photo engraved on wood.
All the shop needs is a photo of Dad with his little one, a birthday or other special date, and a message (like, "Happy Father's Day") to create a keepsake "photo" that will last a lifetime.
Choose between framed and unframed designs, along with several sizing options.
5. Personalized New Dad Keychain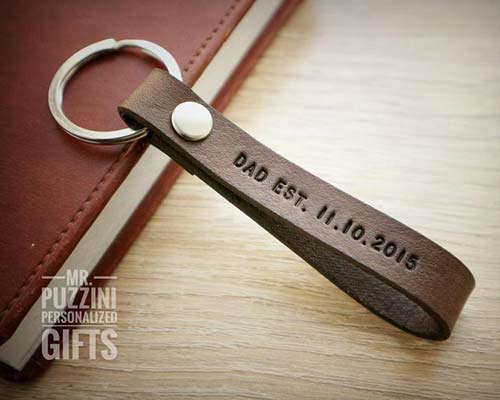 Here is a great keepsake for a minimalist father who likes to keep things practical. It's one he can keep close to him no matter where he goes.
This leather keychain comes personalized with his "Dad Est." date (or any other message you'd like it to say, up to 18 characters). It is handmade and hand-stamped, making it unlike any other keepsake keychain out there.
6. "Letters to My Daughter"
There's nothing quite like the bond between a father and his daughter.
As the years go by, and she grows from baby to kid to teen, so much happens – lessons learned, challenges overcome, celebrations and heartaches gone through together.
This Father's Day, surprise Dad with the gift that keeps on giving: this "Letters to My Daughter" book. As the years go by, he can use it like a "paper time capsule" to record all the important things just for her.
For dads of baby boys, check out "Letters to My Son."
7. "The Only Thing Better" Sign
As wife to the most amazing husband ever (and now to the greatest dad ever), this Father's Day you'll really want to show him just how much he means to your family.
Don't just show him, but tell him, too, with this charming wood block sign. It comes in a convenient size (5″ x 5″), meaning he can display it wherever he wants, whether on a shelf or table or on the wall.
8. Omaha Steaks Father's Day Griller Pack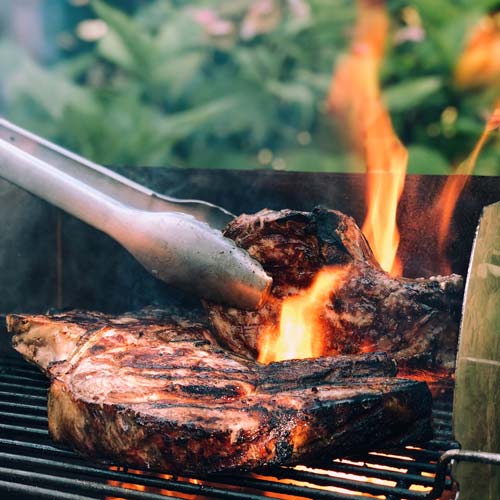 If he's a steak lover, make sure that his first Father's Day is one that he truly relishes.
Omaha Steaks makes that easy to do with their savory Father's Day Griller Pack. Your order will come complete with two filet mignons, four filet mignon burgers, ground beef sliders, gourmet franks, dessert, and more.
Bon appétit, Dad!
This could make a great accompaniment gift to any of the other ideas mentioned in this list.
9. Personalized "Best Dad Ever" Wooden Bottle Opener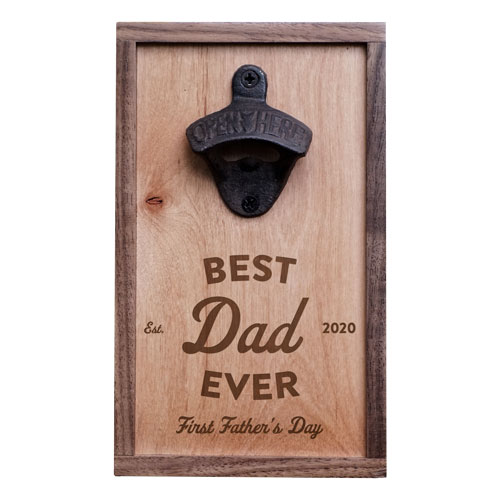 Brand new dads have a lot on their plates, and understandably so! So whenever he does finally get a little down time between work and family life (say, on Father's Day), this wooden bottle opener is going to come in handy.
This custom-engraved bottle opener says "Best Dad Ever" along with his "Est." date and any other text you like along the bottom. You can put "First Father's Day," as shown, or his name, the new baby's name, or anything else that would be special for him.
Measuring over 8″ long and over 5″ wide, this opener is made in the USA from solid wood. It can be mounted to a wall indoors or outdoors (it comes with an additional screw for wall-mounting), or can be used as a portable opener.
10. Personalized "Dear Daddy" Book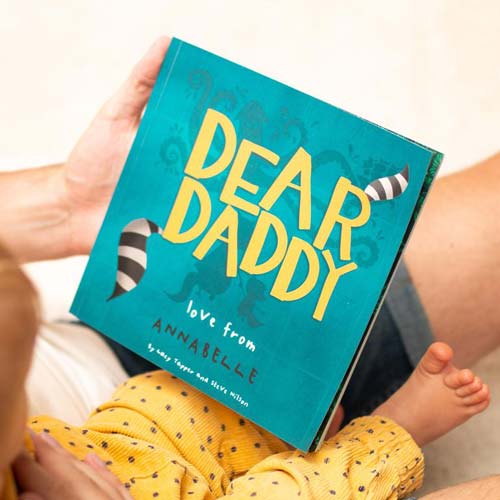 Personalized kids books are super popular right now. If you've been thinking about getting your hubby one of these custom-made treasures for his first Father's Day, consider picking this one.
"Dear Daddy" showcases, through whimsical illustrations, the many lessons a father will teach his children as they grow up- and conversely, what they will teach him as well.
The story is filled with customized details including children's and dad's names, his job, and where your family lives.
Warm his heart & warm him up: 50 Warm & Cozy Gifts for the Best Snuggles
11. Personalized Heirloom First Father's Day Keepsake Box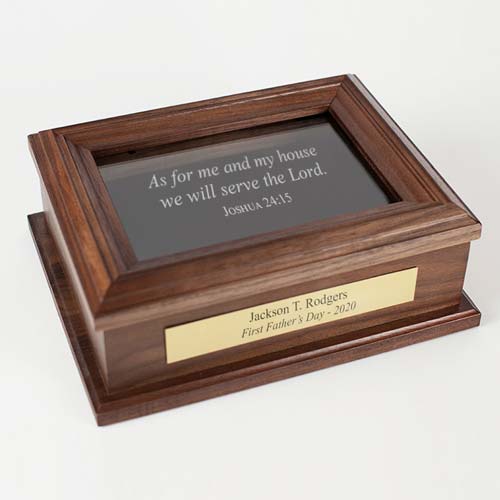 Becoming a father has most likely provided him with a whole new perspective on his role as the head of his family.
No other Bible verse perhaps better sums up this new perspective than Joshua 24:15b:
As for me and my house, we will serve the Lord.
This walnut wood keepsake box from Northwest Gifts highlights this beautiful verse (or any other custom text of your choice) in timeless fashion… making it an unforgettable first Father's Day gift.
Your custom text is laser-etched onto the top glass panel, and the interior (where he can keep mementos like photos, cards, etc.) is lined with soft black felt.
A front metal name plate is also an option, which you can personalize with the text and/or art of your choice.
12. Customized First Father's Day Mug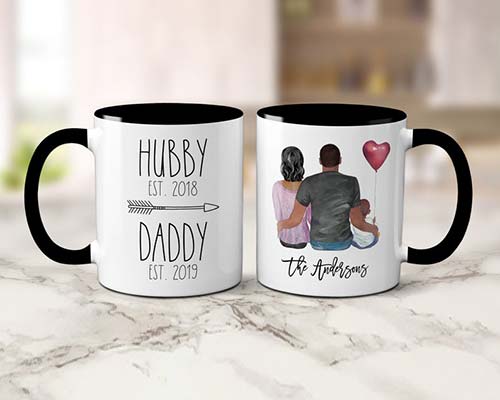 Last but not least on our list of first Father's Day gifts is this ultra cute customized Hubby/Daddy mug.
Using a description that you provide, an artist (each being a woman who has been given a second chance at life) will carefully create a one-of-a-kind keepsake mug to represent Dad's most prized possession: his family.
Father's Day Gifts for the Dad-to-Be
Maybe this Father's Day is going to come and go with his little bundle of joy not quite yet in his arms.
But that definitely doesn't mean he can't still celebrate! If you're looking for very first Father's Day gifts, specifically for the dad-to-be, here are some additional ideas just for you.
Want to browse even more awesome Father's Day gift ideas? Click here.
Pin It