Finding the best bridal shower gift is so much fun! But it can also be a little intimidating. What is the bride-to-be going to want or like? What kind of bridal gift is everyone else bringing?
I mean, you don't want to bring a copy of the same gift, but at the same time you don't want it to be wildly different.
True story: I once attended a bridal shower and, no joke, every other guest brought kitchen items while I brought lingerie… Read the invite! That there is a helpful hint from me to you.
Here are a few basic tips:
Know what kind of shower it is (again: read the invitation!)
Make sure of her sizing
Use a little creativity to set your gift apart and show some thoughtfulness
Include a gift receipt just in case!
With these things in mind, we're excited to show you some of the most fun, most creative, and most thoughtful ideas to help you make a splash at the shower. Here's our top 50 best bridal shower gifts for that glowing bride-to-be.
10 Best Bridal Shower Gift Ideas
Our website is supported by our users. We sometimes earn a commission when you click through the affiliate links on our website. See our privacy policy & disclosures for more information.
1. Future Mrs. Glass Mug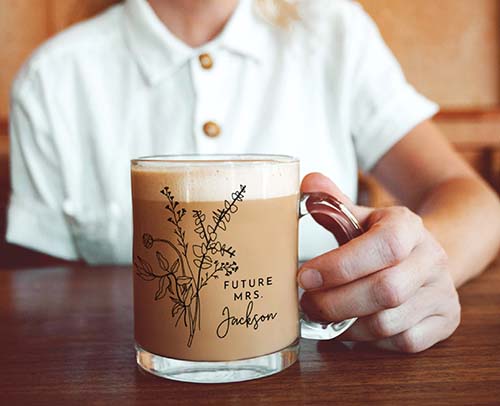 This simple mug is elegant, quaint, and is just right for the bride-to-be. With its delicate etching of flowers and her new last name front and center, she'll be reaching for this mug again and again. A great choice for any personality!
2. Bride to Bee Gift Set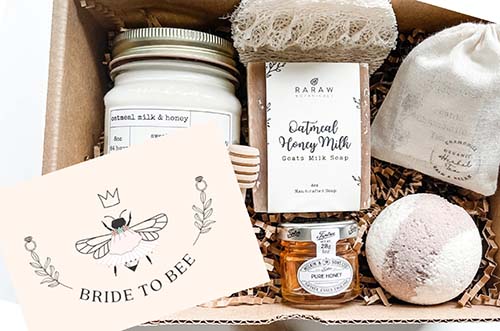 A little bit of pampering is in order after all that stressful wedding planning! This adorable set has a rustic vibe that's almost a bit boho. It comes with the yummiest of delights: a candle, soap, a loofah, honey, tea, bath bomb, and lotion bar.
3. Engraved Crystal Bowl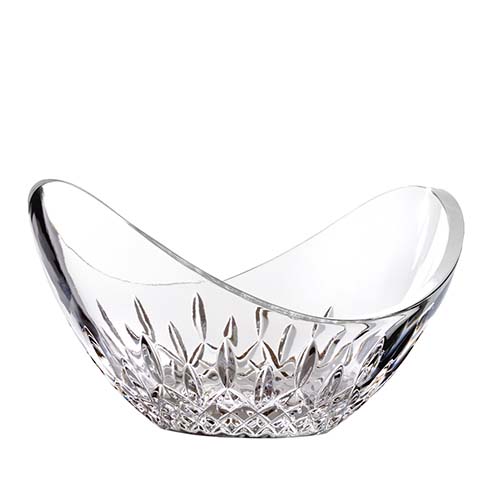 This engraved crystal bowl from Waterford will make an elegant and "grown up" gift. She'll love how sophisticated she feels owning this pretty piece. She can use it for potpourri, floating candles, a catch-all for her keys and sunglasses, holding the mail, or a hundred other uses!
4. Engraved Wooden Bottle Opener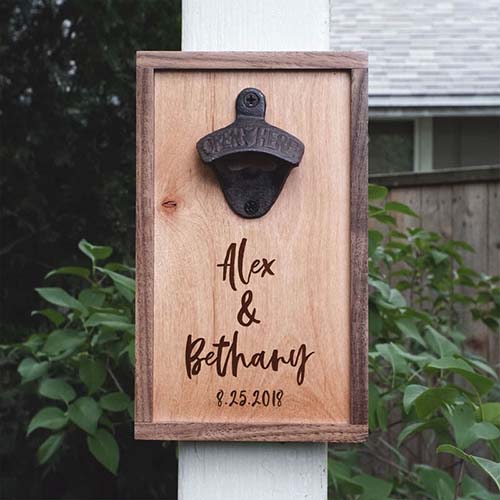 This chunky and delightful bottle opener can be personalized however you like, but of course we recommend adding her new last name. The bride-to-be (not to mention the groom!) will love having this handy bottle opener where they'll use it most: next to the grill outside, near the liquor cabinet, or right in the kitchen.
5. Japanese Stainless-Steel Knives & Stand
If your bride-to-be is a foodie or an aspiring chef (or just wants to be a wife extraordinaire in the kitchen), she'll be crazy for this set of Japanese knives and their clever stand. 
Oprah named this set one of her Favorite Things, so you know it's bound to be wonderful. She'll be antsy to try out all her favorite recipes with this great set of knives around to make chopping, slicing, dicing and mincing a breeze.
6. Scratch Off Date Night Ideas
Keep the romance and the dating alive even after they say 'I Do' with these cute scratch-off date night ideas! No more blank stares when he asks her what she wants to do or where she wants to go. Simply scratch off a new idea and they're off for an unforgettable evening of fun.
7. Luxury Travel Bags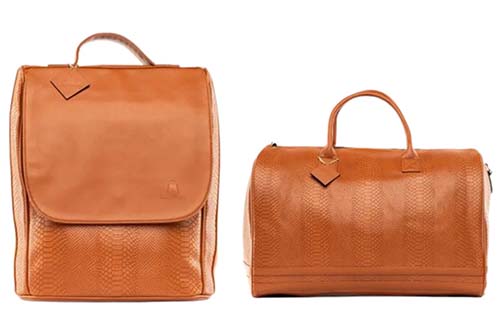 The couple who travels together, stays together! We're pretty sure that's a scientific fact… But don't quote us. These luxury travel bags will keep them in style from here to Timbuktu. Great for the honeymoon and well into the next several years of adventuring and exploring fun!
8. Wifey Sweatshirt
Bound to be her new favorite sweater, this adorable and soft pullover hits all the right notes. She's been waiting for a while to have this title, after all! It's customized with the year of their nuptials, and there are so many colors to choose from.
9. Sweethearts Bird Feeder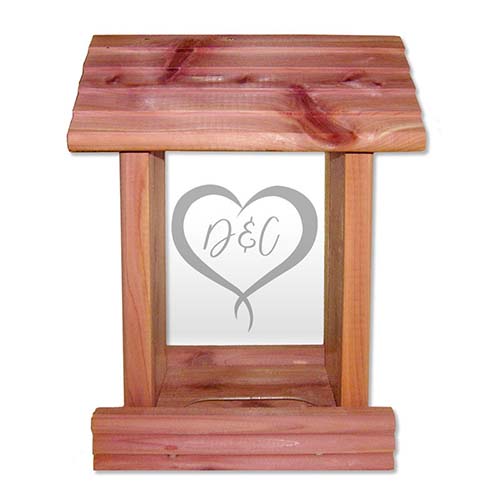 This cute cedar wood bird feeder can be engraved with their new names as a married couple! What's sweeter than a couple of lovebirds, after all? They'll love hanging this in their first backyard together and watching who comes to dinner. High quality, it will last for many anniversaries to come.
10. Luxury Sheet Set
Spoil them both with a set of luxury sheets. They may never want to get out of bed when they experience a night on these ultra-luxurious, mulberry silk sheets. They're buttery soft and thermal regulating, too.
There are lots of deep, jewel-tone colors to choose from, so maybe do a little digging on how she is planning to set up her bedroom decor.
Personalized Bridal Shower Gifts
11. Family Name Sign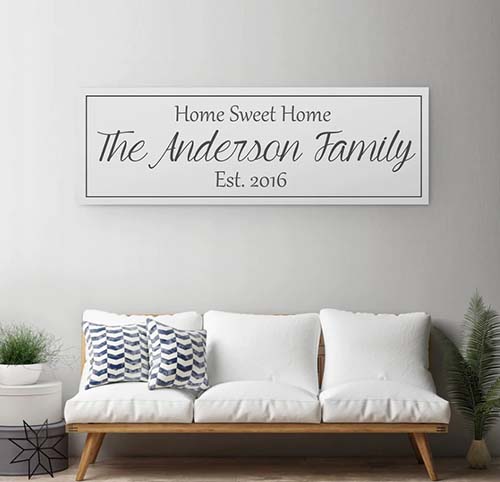 This canvas sign can be purchased in a variety of sizes and customized with their newly joined names. The style and colors work perfectly no matter their personal home decor, making this a great gift for the new couple setting up house together. Thoughtful and unique!
12. Personalized Photo Puzzles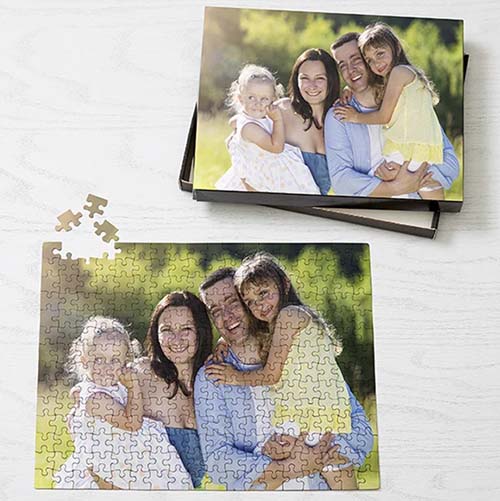 Pick a photo of the two of them together (you could go sweet or silly) and have it transformed into a puzzle! Date nights at home will be so fun when they can work on this puzzle together.
The 252 pieces come in a sturdy box so they can put it together again and again. OR they can add a tube of puzzle glue so they can display it on the wall when finished.
13. Personalized Sweatshirt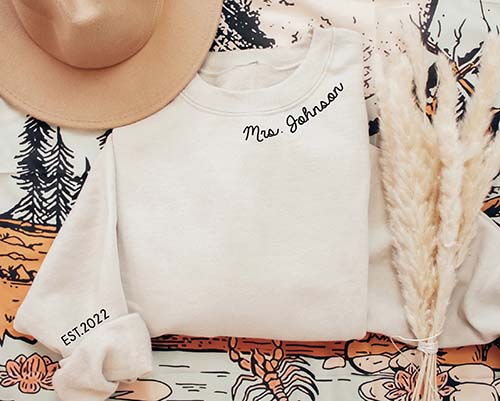 This oversized and oh-so comfy sweatshirt is personalized, making it extra special! She'll be reaching for this again and again, whether to pair with jeans, a skirt, or joggers. It can be dressed up or dressed down, and comes in four colors to choose from (and several sized fonts).
Bridal Shower Gifts from Maid of Honor
14. Missus Est. Glasses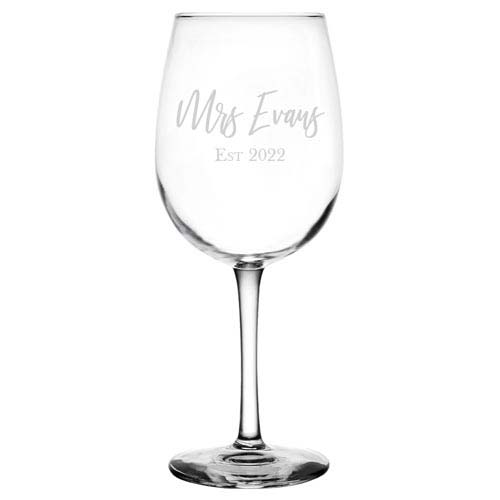 Add her new last name to this beautiful stemware for an instantly classy gift that will really wow her. She'll love toasting to her new nuptials in this stylish and pretty glass — maybe even at the actual wedding reception! These are quality made, delicate but sturdy, and will be treasured for years to come.
15. Wedding Date Ornament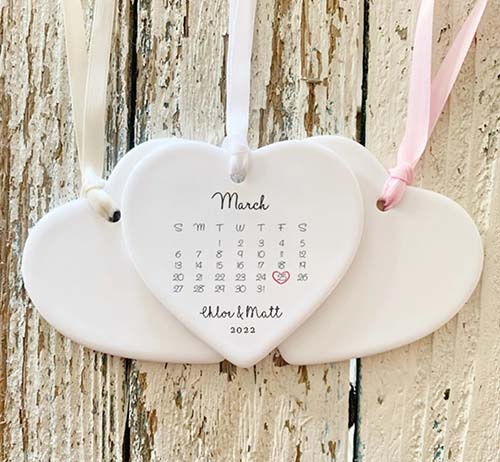 This handmade ceramic heart ornament is so unique and cute! The sweetheart shape and the ribbon (you choose the color) are just adorable. Highlight their big day with this delightful little wedding date ornament.
16. Anniversary Journal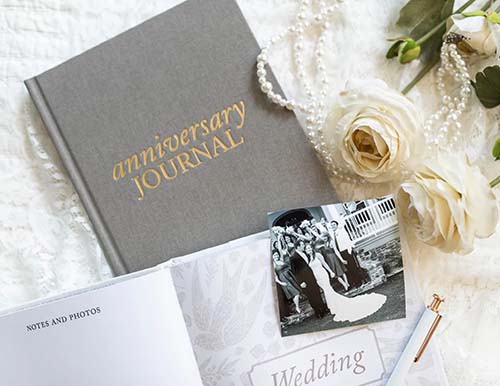 This clever anniversary journal will be a gift that keeps on giving for years — 70 to be exact! The couple will love journaling everything together, from how they met, to their wedding day, to their children and pets, to how they spent each anniversary.
With a special entry every ten years to write about what they've learned, this is an ultra-sweet and special gift that someday their children and grandchildren will treasure.
Bridal Shower Gifts from Bridesmaids
17. Elegant Wine Set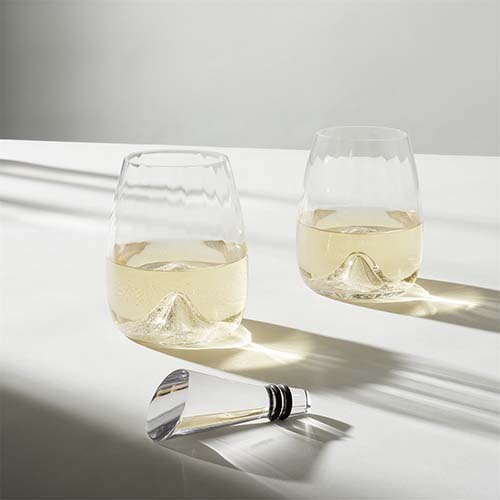 This luxury bundled set of two, stemless wine goblets and lovely stopper is sure to delight her. The new couple can toast to their wedding in the most gorgeous of crystal filled with their favorite vino! Why not include a bottle to make this gift even more special?
18. Lace Pajama Sets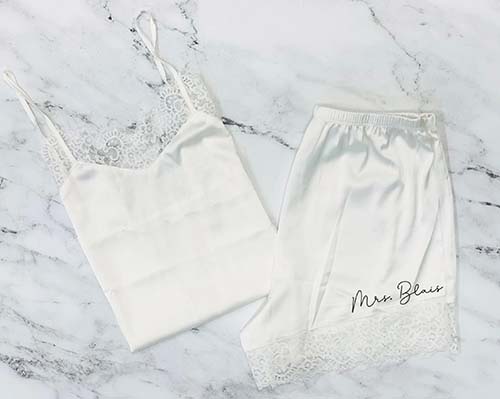 This pretty set of lacey PJs is just perfect for the honeymoon (and years afterwards). It's adorable, but also sexy, with lace detailing and comfy little shorts. He'll love seeing her in them as much as she loves wearing them!
AND you can customize them by having her new, Mrs. So-and-so title embroidered on.
19. Polaroid Camera for the Honeymoon
This Polaroid camera is a throwback to before we all had smartphones with cameras. And it's way more fun! They'll love popping this compact gift in their luggage for the honeymoon and snapping away to document all those sweet memories.
Bridal Shower Gifts from Sister
20. Elegant Earrings for Her Wedding Day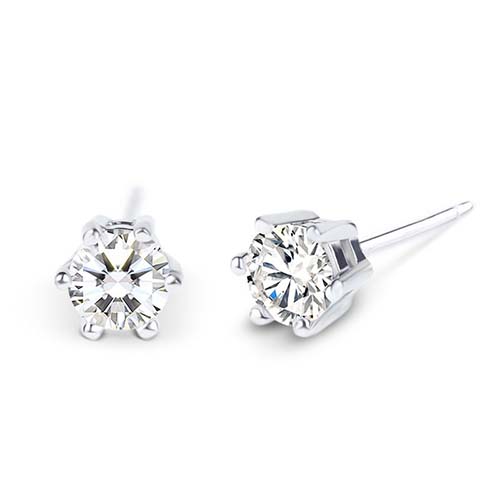 These classy earrings are perfect for her wedding day. She'll absolutely sparkle in this set of elegant studs that will match any style of dress. A just-right gift from a sister to a sister, they're sure to become family heirlooms (that maybe you'll get to borrow when your day arrives!).
21. Classic Royal Painting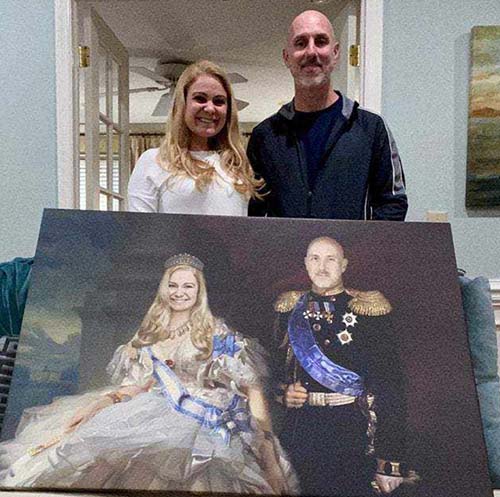 Oh sure, you could get your sister something sentimental, sweet, or sophisticated. Or… you could get her what she never knew she wanted: a classic, royal painting! She'll be doubling over in laughter when she unwraps this perfectly over-the-top portrait.
A fun and quirky spin on the classic engagement photo.
22. Wedding Keepsake Library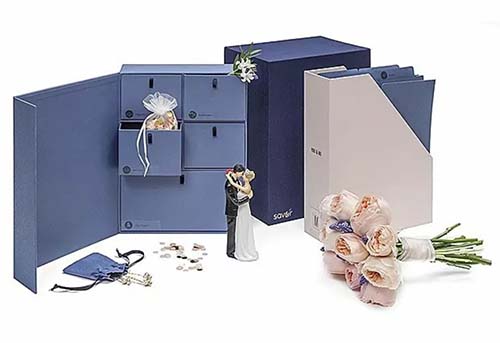 Help her organize all her cherished wedding keepsakes with this sleek and useful library! The last thing she wants after her big day is to misplace all those precious mementos, or banish them to the basement never to be found again.
She can tuck her invites, guest book, cards, photos, garter, pressed flowers — whatever makes her remember the wedding day, into the specially designed compartments and envelopes.
Bridal Shower Gifts from Mom to Daughter
23. Something Old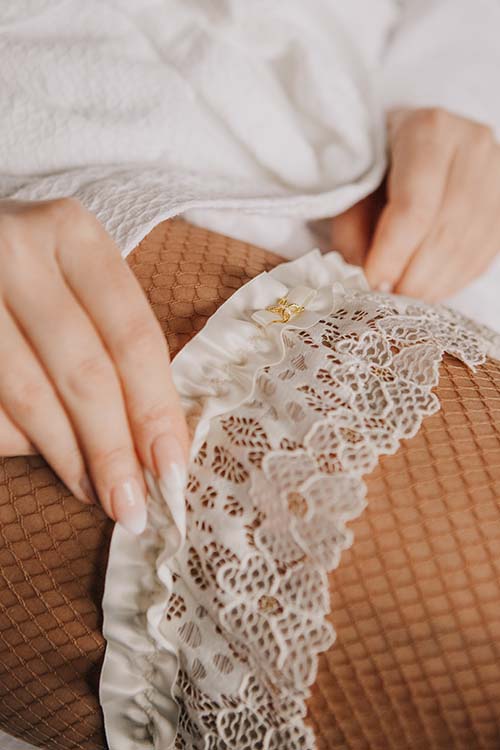 Repurpose your mother or grandmother's wedding dress with this fun and sentimental idea! She doesn't have to actually wear the whole dress when she has a piece of it (or the veil) transformed into a garter, patch, ring pillow, or even the flower girl's dress.
A clever and unique way to pay homage to her mom or grandma without actually feeling obligated to wear their outdated or ill-fitting gown.
24. Something Blue
It's definitely Mama's job to give her daughter something blue on her wedding day! Whether you choose earrings, a hair ribbon, a little bow, an anklet… The sky's the limit on what you could choose, but the sentiment and tradition are what are important.
25. Handwritten Note Handkerchief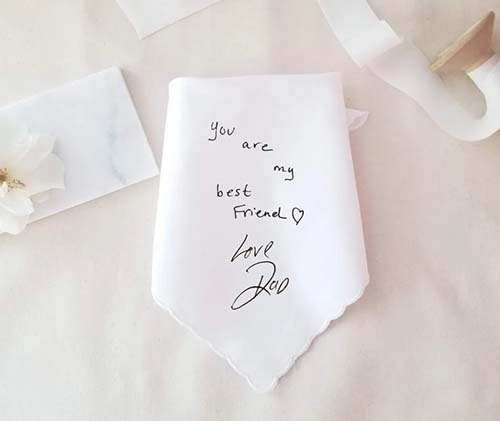 This elegant handkerchief is made even more special and sweet by transferring your handwriting onto the cloth. She will be over-the-moon for this adorable gift, and will love tucking it in her flower bouquet to use for wiping away those happy tears.
Bridal Shower Gifts from Mother of the Groom
26. Wax Sealed Letter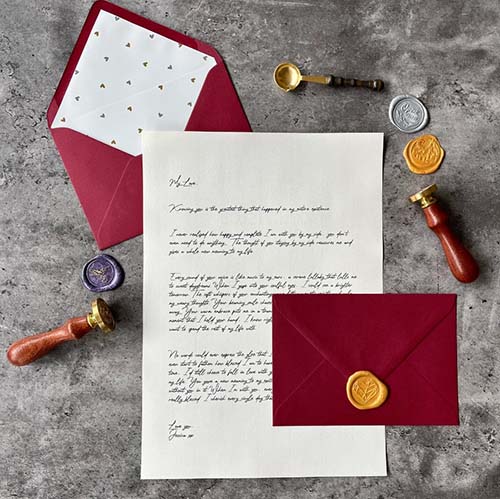 A handwritten note or letter on the special day is just the thing, and this one is even more unique and special because of the elegant wax seal. A bit of sophistication and class on her special wedding day.
For a DIY version, you can find a beautiful stamp here.
27. Wifey & Hubby Beach Towels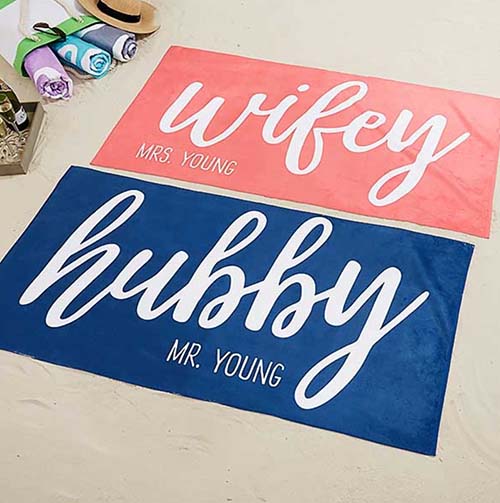 Perfect for couples heading to the beach or on a cruise for their honeymoon, these Wifey and Hubby beach towels will have everyone smiling with affection for the happy couple. Totally useful, but way cute too! These come in five different colors and are machine washable.
28. Handwritten Recipe Board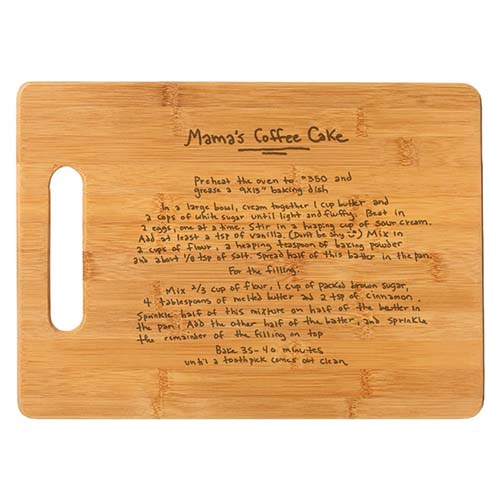 Welcome her as a true member of the family by sharing the ultimate family recipe with her! Now she is really a part of your clan, through and through! She'll treasure the recipe almost as much as this useful board. It's the perfect size for a bit of charcuterie or simply chopping up a midday snack.
Bridal Shower Gifts from Grandmother
29. Engraved Glass Wedding Picture Frame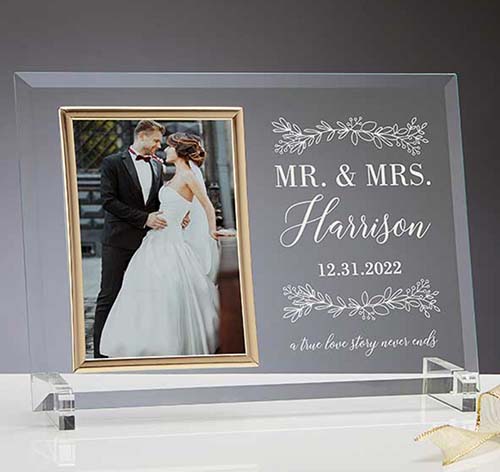 This engraved glass wedding picture frame will be made perfectly perfect when you slip in a photo of their engagement or wedding. It's customizable with their new names, wedding date, and even a line of a special message to make it one-of-a-kind.
30. Personalized Wedding Dress Label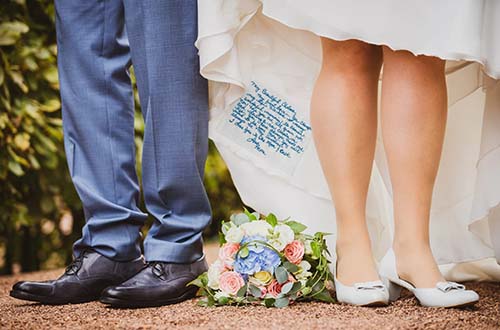 This sweet patch is so clever! It doubles as her "something blue" as well, making it extra unique. Simply write a short, handwritten message and the seamstresses at MemoryThreadCo will transform it into a patch to be tacked/sewed on the inside of her wedding gown.
It's like she's carrying your thoughts and dreams and well wishes right down the aisle with her.
31. Mr. & Mrs. Picnic Backpack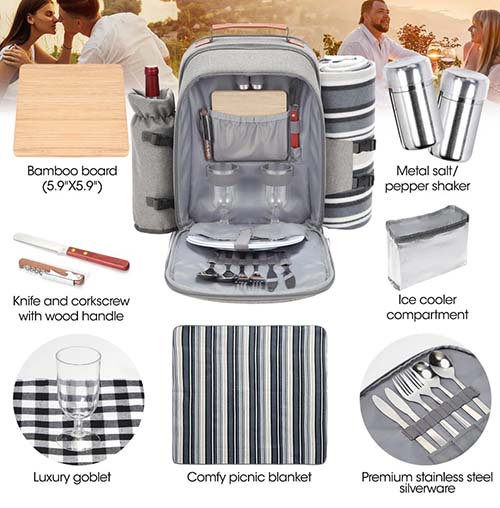 This picnic basket has us dreaming of champagne, little sandwiches and salads, chocolate covered strawberries, and cheese!
They'll love having everything they need (except the food, of course) right at their fingertips, making a romantic picnic a more common occurrence. Can we get an 'Amen' to that?
Bridal Shower Gifts for Older Brides
32. Personalized Love Birds Wooden Cutting Board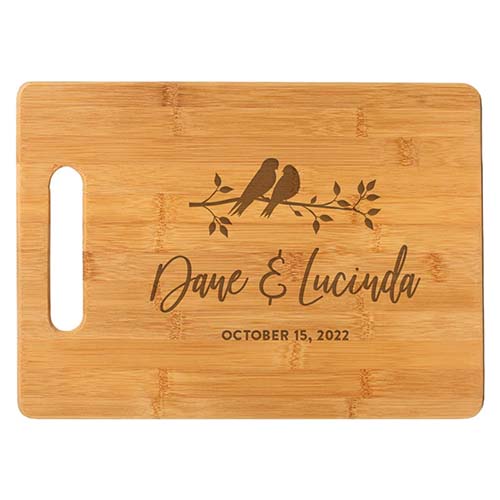 This cutting board is totally cute and useful, too. She'll love this thoughtful and personalized gift, and will probably want to display it proudly in the kitchen when it's not being used. Made in the USA from sustainable bamboo wood.
33. Rose Inlay Music Box with Custom Music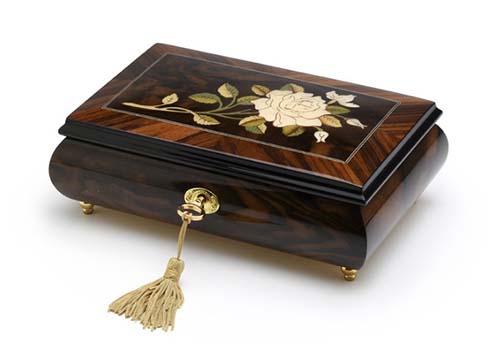 This Italian, white rose inlay music box is exquisite and unusual. You can pick your own tune (their wedding song would be a great idea), and you can have it customized and engraved. A truly elegant and grown-up gift for a bride-to-be that will be treasured for many, many years.
34. Cute Photo Pillows
Have your favorite photo of the two of them, or just the bride, transformed into a comfy and snuggly pillow. She'll get a kick out of this clever gift, and not just because it will make her laugh. It's a great addition to movie nights at home, napping on the couch, or tossing on the hammock. So cute!
Bridal Shower Gifts for the Bride Who Has Everything
35. Premium Foot Massager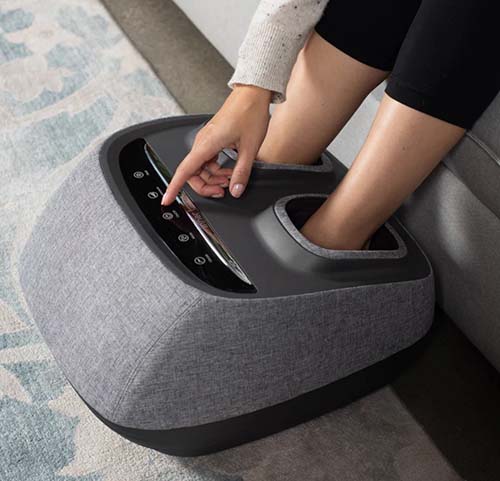 This kneading and vibrating heated foot massager is everything she never knew she needed or wanted! Pamper those tired tootsies with this great gift and watch her 'ooh' and 'ahh' in comfort.
Planning a wedding is hard, and dancing all night in those gorgeous but uncomfortable heels? She needs a break.
36. Tree in Their Name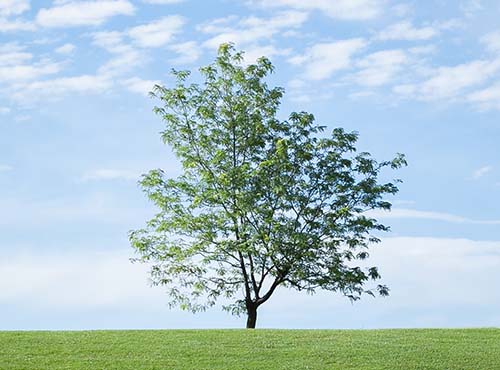 Some couples are just so hard to shop for! So how about this: have a tree planted in the new couple's name. They'll be able to visit the tree and watch it grow every year. How romantic is that?
For the minimalist couple who doesn't like the fuss and bother of traditional gifts, this one is just perfect.
37. Champagne & Truffles Gift Box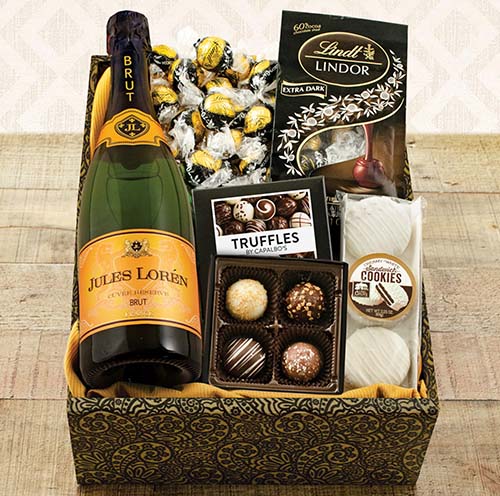 You can't go wrong with this champagne and truffles gift box. She (and her betrothed, if she saves him any) will love this delectable and delightful box. So romantic and tasty! A great gift to have sent up to their honeymoon suite as well.
Bridal Shower Gifts from Groom
38. The Reasons Why I Love You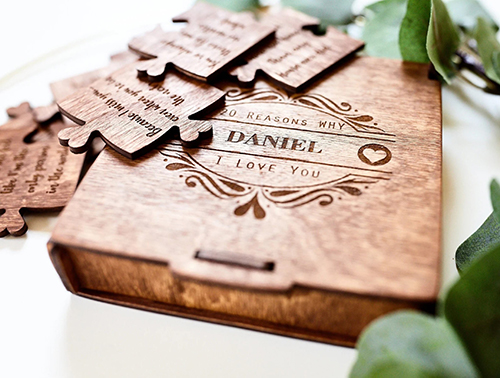 We're ooo-ing and awe-ing over the cuteness of this gift! All of your chosen sweet nothings and sappy love notes are formulated into an adorable wooden puzzle and packaged in an oh-so pretty, personalized box.
39. Bouquet of Roses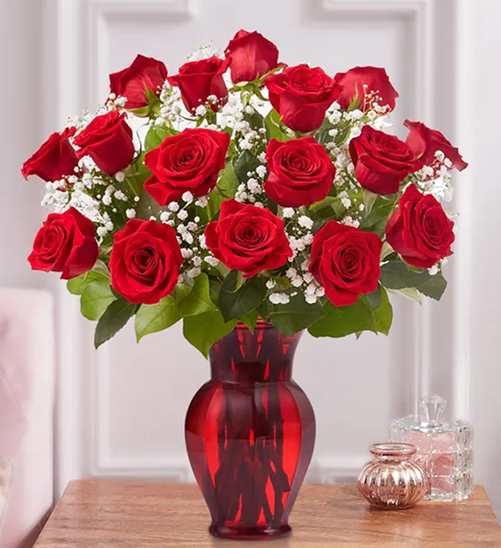 When in doubt, you can't go wrong with a bouquet of gorgeous and sweet-smelling roses. Nothing says you adore her and can't wait to marry her like an extravagant grouping of her favorite-colored blooms.
40. Personalized Message Pillow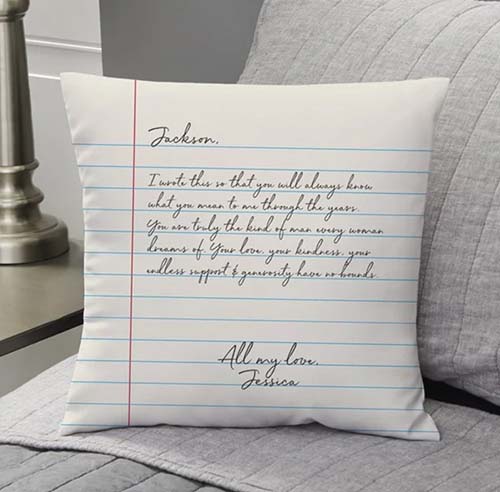 Turn a love note (whether from your dating past, or one you just penned) into a sweet pillow. The sentimental and handwritten little letter will make her day just a little bit brighter. What a romantic you are! And they say chivalry is dead — pfft.
Wedding Shower Gifts for the Groom
41. Engraved Metal Cufflinks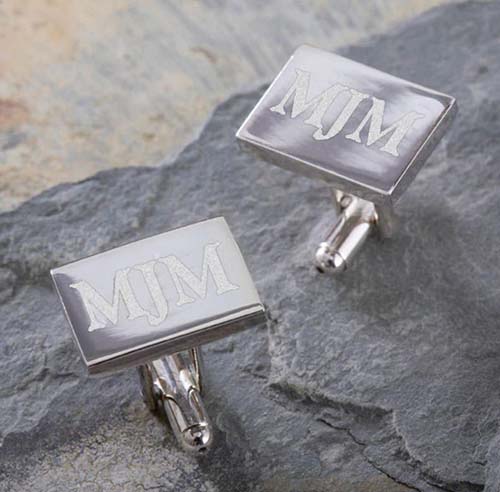 Make him feel as special and handsome as he is with this set of engraved metal cufflinks. How often do you get to dress to the nines, after all? Today is HIS day too, and we think he needs something elegant and refined to top off his outfit and make him feel like a million bucks.
42. Personalized Wedding Handkerchief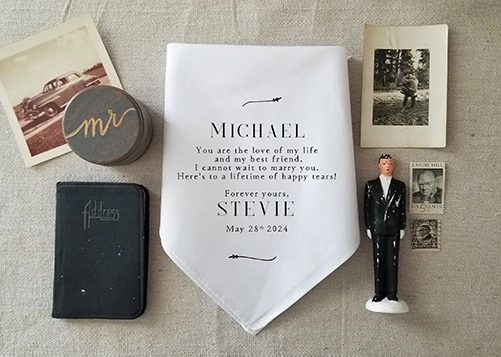 These personalized kerchiefs are so, so special. He'll love having this sweet message from his sweetheart on hand for when the tears flow during the ceremony. And once the wedding day is over and gone, he has a beautiful keepsake to cherish throughout your years together.
43. Cigar of the Month Club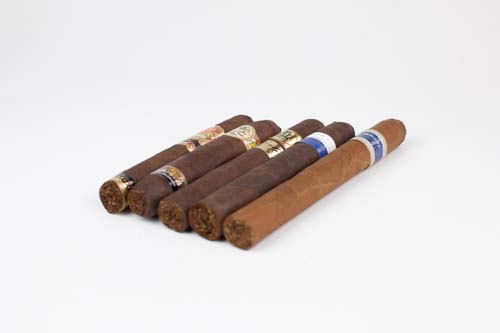 Make him feel ultra-classy and a little James Bond-esque with a cigar of the month club! He'll be able to find new favorites he may never have discovered by simply strolling into a shop. A little bit of old-world sophistication in a busy, hectic world.
Wedding Shower Gifts for Couples
44. Ultra Plush Luxury Robes
Help them match in style with these ultra plush robes. They'll feel like the toast of Beverly Hills when they wear these for a dinner in, Sunday morning brunch, or lazing around all weekend together.
45. Copper Barware Set
For the elegant couple who loves to entertain, this antique copper barware set will fit the bill! Definitely modern but still a classic, it's perfect for the couple blending their homes together. This will help make them the Hosts with the Mosts.
46. Romantic Vacation Packages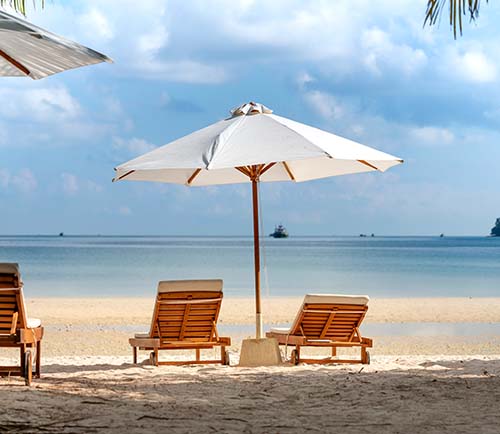 Who DOESN'T want two honeymoons? Or simply add some fun experiences to their honeymoon week with a few experience packages. Enjoying all life has to offer is way more fun than yet another crockpot or blender.
DIY Bridal Shower Gifts
47. Everything Essentials Box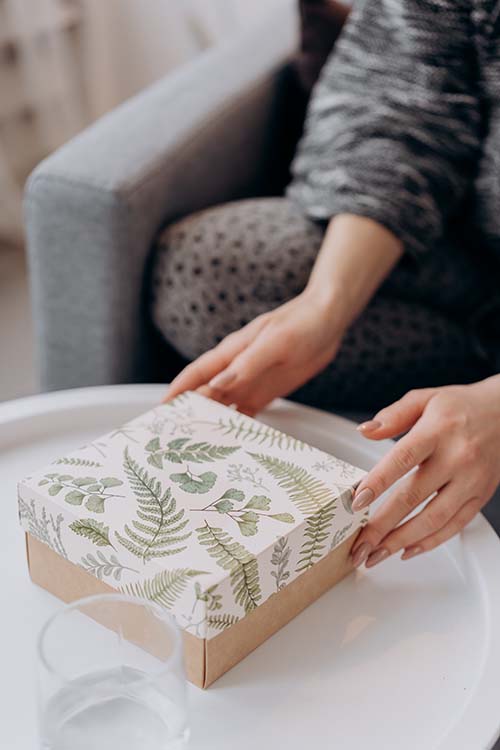 Fill up a box/laundry basket with everything they need but aren't thinking about! You know, things that will help them start their lives together: from measuring cups to tupperware, coffee filters to coffee beans, towels, brooms, dustpan, kitchen utensils and pans, etc.
Perfect for young couples who are just starting out or just moving out on their own. Take it from me. My husband and I ate off one wooden spoon for weeks because we didn't own silverware…
48. Wedding Dress Hanger
Make a personalized wedding dress hanger! This is so special and unique, and because it's made by you — you clever thing — it will be even more cherished. This is so much better than zipping that gown up in a bag, or tossing it over a chair. And the photo ops will be adorable, too.
49. Gift Cards & Tip Money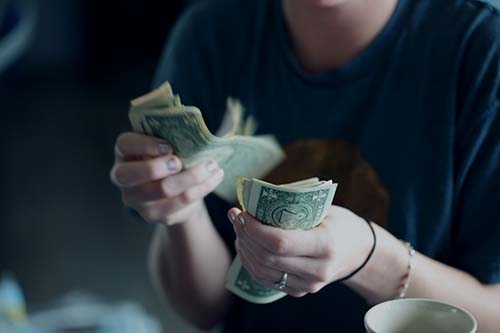 Simply put together an envelope of gift cards and tip money to use on vacation, their honeymoon, or whenever date nights roll around. So helpful when they are settling in after their hectic wedding!
50. Bridal Survival Kit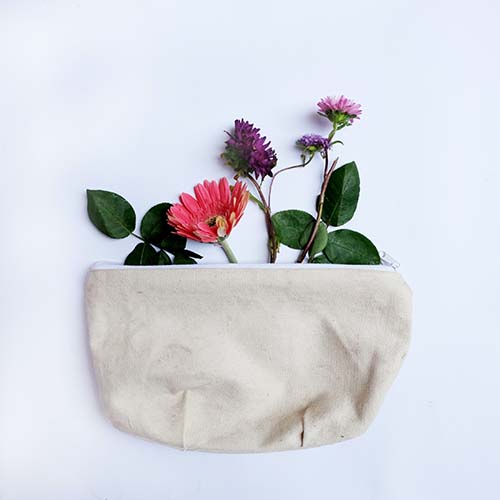 Fill up a pouch or a basket with everything the bride will need, from her wedding day to the every-days of marriage.
Include funny items, such as:
Ear plugs (for the moments she just can't)
Candle (to help keep the romance alive)
Tootsie rolls (to remind her to roll with the punches)
Safety pin (to hold her wedding nerves together)
Chapstick (to keep her lips kissable!)
And a few sentimental or practical items, such as:
A journal
A disposable camera
Bobby pins or scrunchie
Emergency chocolate
Water bottle or tumbler
A mini bottle of champagne
What is the perfect gift without the perfect sentiment to accompany it? Need some ideas though? Try our 101 Best Wedding Wishes, Messages & Congratulations for some fresh ones.