Who doesn't love a wedding? The memories, the dress, the music, the romance, the CAKE!
When it comes to weddings, well, we all come to weddings. But the wedding wishes and card messages can be so trite, because everyone is saying the same thing. You want your wishes to stand out and convey something meaningful. So, take the time to think about and plan out what you want to say.
Here are over 100 ways to bless the new couple in ways that don't sound too canned or forced. We invite you to be inspired by these wedding wishes, messages, and congratulations!
What to Write in a Wedding Card
Short and sweet, but ever so heartfelt is the goal! Whether you've known the couple for years or only just met through your third cousin twice removed, tailor your handwritten message accordingly.
Here are some things to include:
Address the couple (not just the one you know)
Congratulate them
Add a personal note:

Best wishes
Advice or words of wisdom
Hopes for their future together
Blessings
Scripture verses or other quotations
Special memories or stories
A description of your "I'm happy for you" emotions

Sign your name
Best Wedding Wishes
Short Wedding Wishes
1. Marriage is the best! Cheers to yours!
2. Happiest of days to the sweetest of couples.
3. We love being married and know you will too!
4. We're raising a glass to you two!
5. Happy wedding bliss!
6. May your years be blessed and your days as well.
7. Happy nuptials!
8. Thank you for letting us be a part of your big day.
9. Hugs and kisses from us to you!
10. Life is better with someone by your side.
11. Cheers to the most joyful of couples!
12. Enjoy one another every day as much as you do today!
13. It is a privilege to witness your wedding ceremony – congratulations!
14. Congratulations to the new Mr. and Mrs!
15. First comes love, then comes marriage!
16. Happy day, my loves!
17. Congratulations on this next chapter of your love story.
18. You make love look easy!
19. Congrats, you two lovebirds!
20. What a day! Thanks for letting me share it.
Wedding Congratulations
21. Congratulations on a job well done!
22. A lovelier day could never be found – congrats to an even lovelier pair of lovebirds!
23. Congratulations … on making me tear up! "Hear hear" to the cutest couple in the world!
24. It's YOUR day – congratulations and many best wishes!
25. Best wishes on such a beautiful union.
26. It's the perfect day for the perfect couple! Congratulations!
27. You did it! Congratulations, compliments, felicitations, and many happy returns!
28. Congratulations to a most enchanting couple!
29. Months of planning resulting in a splendid day – xoxo!
30. Congratulations, to the new Mr. and Mrs!
31. You may kiss the bride! Congratulations and enjoy!
32. You two crazy cats did it! Congrats!
33. The love you two share is evident to all. And now? Time to celebrate!
34. What a memory you two have made today – congratulations!
35. The day is finally here! Congratulations!
36. Congratulations on this milestone in your adventure together!
37. You two are even cuter with one another by your side. Congrats!
38. You did it, you did it, you did it! I'm so happy for you both. You've each picked out a winner!
39. Congratulations on a job very well done!
40. I couldn't have done it better myself – way to go!
Wedding Wishes to a Friend
It's ok to include a line to your close friend, but remember that this is part of the overall wedding message to both spouses. Here are some ideas on what to say to your friend on their special day.
41. If I have to share you, I guess I'm glad it's with your new husband/wife!
42. Congratulations, from your third wheel.
43. I'm so proud of the man/woman you've become!
44. Whatever you do, don't ruin this. Kidding, kidding!
45. I've been waiting for this day for forever! I'm rejoicing for the two of you that this day has finally arrived. You both have all my love.
46. Can't wait to toast you every anniversary for so many years to come!
47. I couldn't be prouder if I married you myself.
48. Congratulations! I'm not crying, you're crying!
49. So happy to have been a part of this monumental day!
50. Best wishes for a lifetime of happiness to the bestest of friends.
Best Wishes for Wedding Couple
51. YOU DID IT!! I'm inspired to try this marriage thing myself.
52. Can't wait to see where life takes you together!
53. You two make the most pulchritudinous couple! (Look it up…)
54. You make this wedding idea very intriguing …
55. Congratulations to the most lovely couple, and best wishes for your years together.
56. I'm so excited to see where this adventure takes you!
57. Giddy with happiness for the both of you!
58. Congratulations and best wishes for a very inspiring and much loved couple!
59. I never thought soulmates were a thing until I saw you together.
60. You two go together like peanut butter and chocolate!
Here are 100+ more "go together like…" quotes to further inspire your wedding wishes.
Wedding Wishes for a Sister
61. If I have to share you with someone, I will grudgingly take him/her.
62. Congratulations! Sleep overs are gonna be awkward now though.
63. It's your day, sister! I'm so proud!
64. I'm not crying, you're crying.
65. We've been planning this day for decades – I'm so happy to see it come true!
66. You got yourself a good one, sis!
67. I'm not one to be all mushy romantic, but OMG LOVE IS THE BEST!
68. To the sister who has always wanted the best for me – YOU deserve it all!
69. Way proud of you, my bestest of sisters!
70. I've never been more proud (or cried harder)! Congratulations, sis!
Wedding Wishes for a Brother
71. Hey, who knew you cleaned up so well? Congratulations!
72. What a day! So proud to call you my brother.
73. Guess who that resplendent and stunningly good-looking man standing at the altar is? MY BROTHER, THAT'S WHO!
74. Congratulations to the handsome groom, from the far more handsome brother.
75. Way to go, bro!
76. You're so much less embarrassing to be seen with now that you have a gorgeous wife.
77. I'm proud of the man you've become, brother!
78. She got herself a good man. Congratulations!
79. Best wishes for many years of wedded bliss to come, bro!
80. I remember when we were small – now look at you! Standing at the altar and everything!
Wedding Wishes for a Colleague
81. Best wishes to a man/woman I admire so much!
82. It's been inspiring and wonderful to be a small part of your love story.
83. Congratulations – you will be at the office tomorrow, right?
84. Best wishes to a lovely couple! This is a day you'll always remember, so soak in every moment!
85. What a wonderful day! Couldn't have happened to a nicer couple.
86. Congratulations, you two sweet things!
87. What a perfect day – thank you for letting me be a part of it.
88. I am looking forward to witnessing your marriage and the joy that comes from it!
89. I love a good reason to have cake, so thanks for falling in love!
90. Best wishes to my favorite coworker ever.
Funny Wedding Wishes
91. Still can't believe she said yes …
92. You make love look … well, kinda gross actually. Y'all are are so cute and adorable it's a little nauseating. I'd better go drink some more of your wine to settle my stomach…
93. Ewwwww, romance. Well, if it works for you …
94. Marriage is basically just yelling "WHAT" from different rooms of the house until one of you dies. Have fun, you two!!
95. I'm so happy that you two found each other, instead of other things like meth or booze.
96. What an emotional day! Even the cake is in tiers.
97. Looks like the King of Hearts has married his Queen of Hearts. You're perfectly suited for each other!
98. "To keep your marriage brimming with love in the wedding cup, whenever you're wrong, admit it; whenever you're right, shut up." – Ogden Nash
99. I'm just here for the cake.
Wishes for Marriage Blessing
100. May all your hopes and dreams come true, and may the memory of this day become dearer with each passing year!
101. May the Lord bless you and keep you, make his face to shine upon you and be gracious to you, lift up his countenance] upon you and give you peace… as long as you both shall live!
Wedding Wishes Images & Captions to Share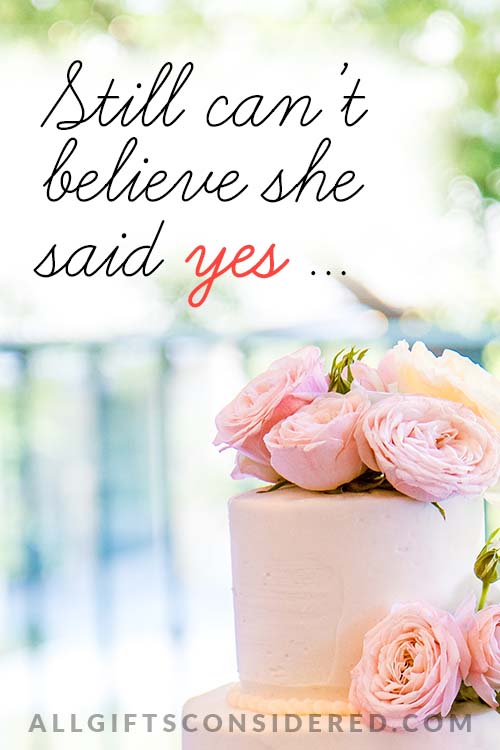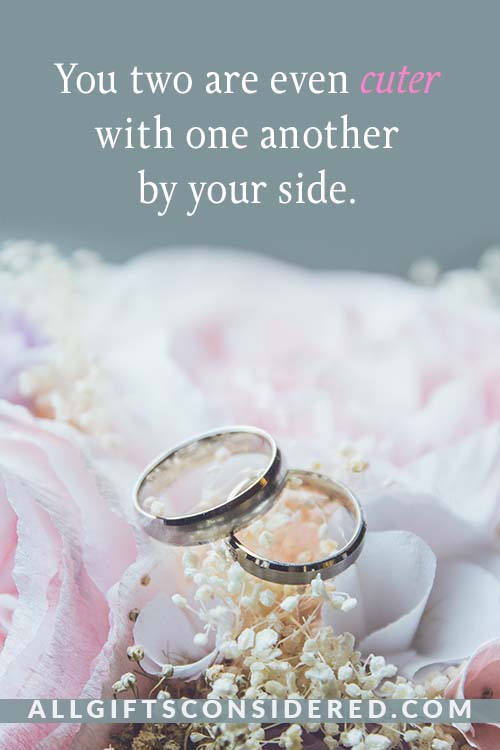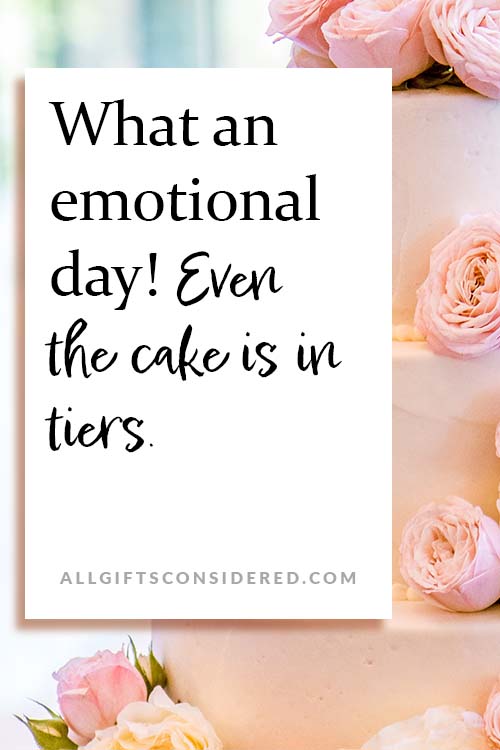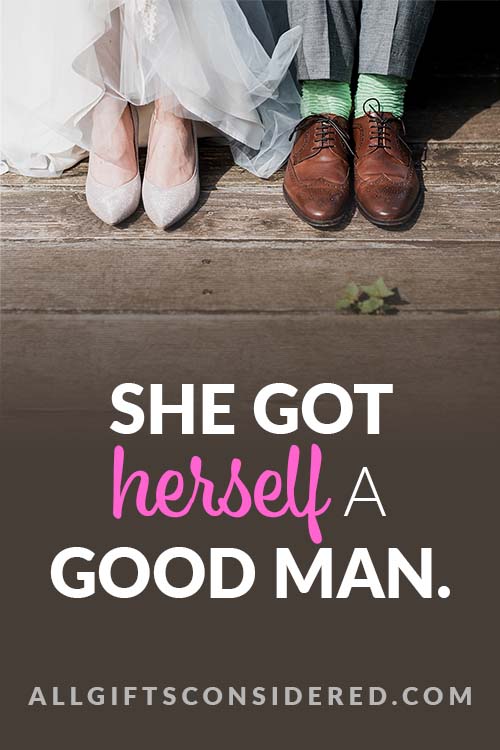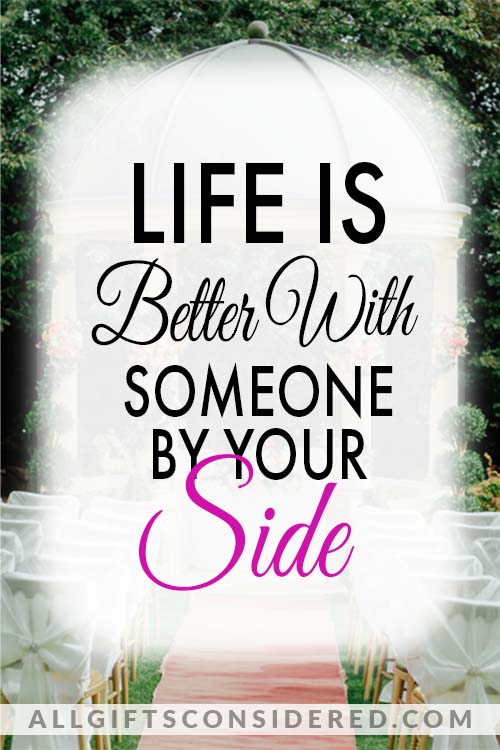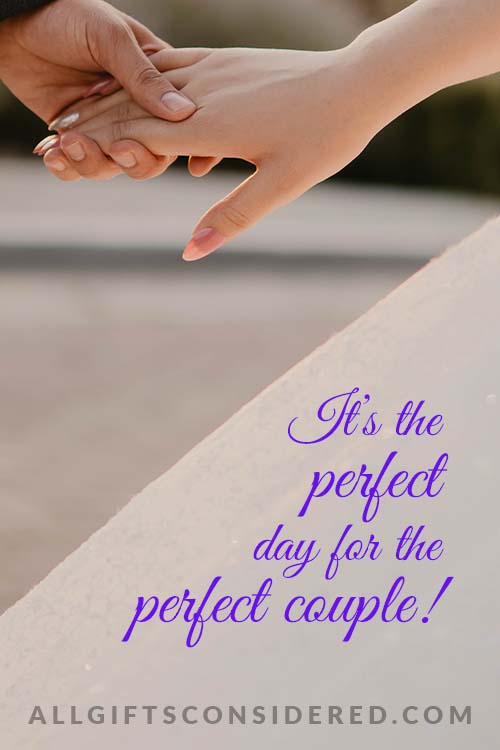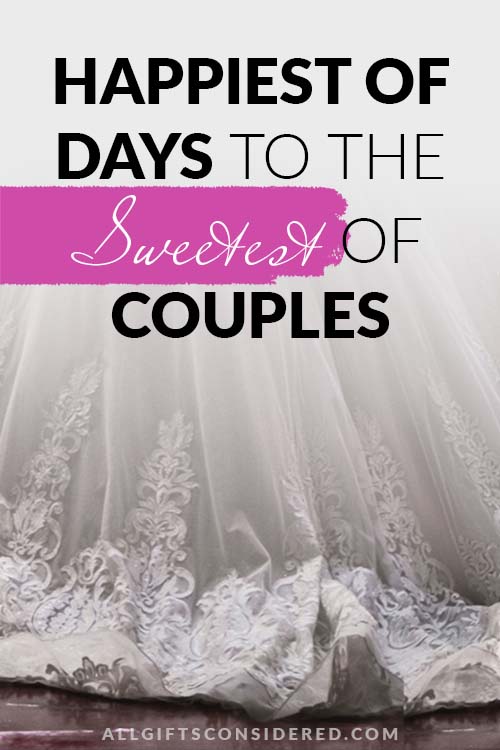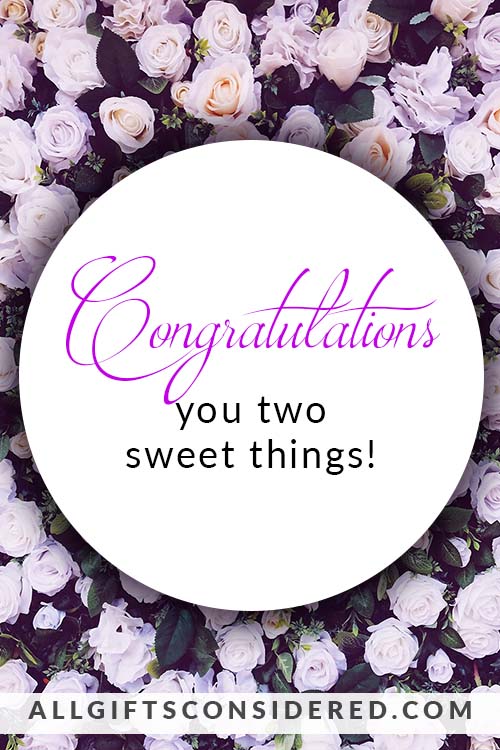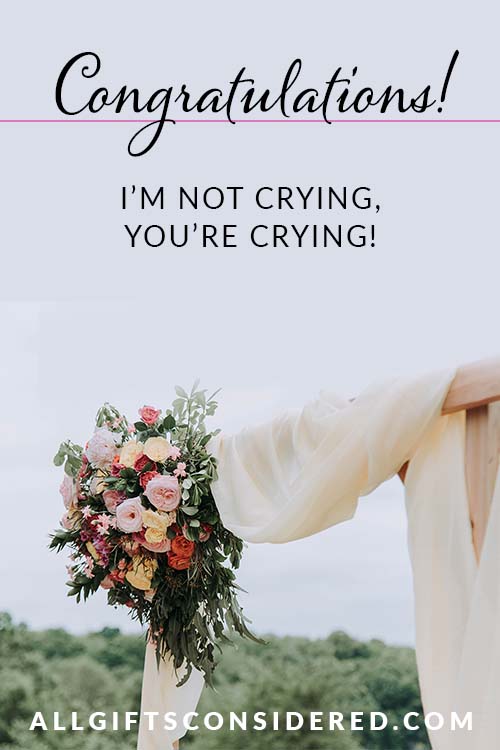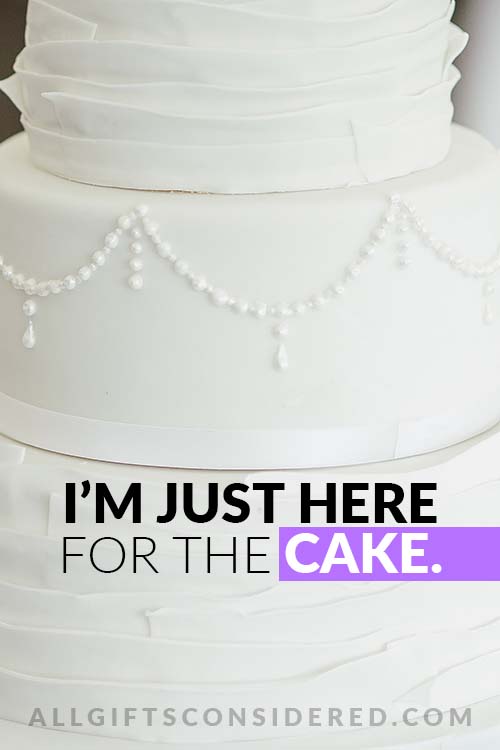 Wedding Card Etiquette
Bring the card to the wedding. It's a faux pas for sure to show up to a wedding without a gift. If your card is the gift, be sure to include a check (not cash, since a check can be traced but if cash gets stolen, that's it) and place it in the designated location for cards.
If you can't attend the wedding, mail a card. You can do this anytime after receiving the invitation up to a month after the big day. Don't focus on why you can't attend, just congratulate the happy couple and wish them well!
Address the wedding card to both people. Don't make the mistake of only addressing your card to the one person you know. Be sure to say "Jim and Pam" or "To the newlyweds."
Write a personal note. Don't just ink in your name after the pre-printed message! Add your own wedding wishes to make it meaningful. Keep it short, but from the heart. See above!
Use humor sparingly. Especially the jaded, caustic brand of "ball and chain" jesting. Avoid divorce jokes completely. This is a happy day to celebrate the beauty of the couple's relationship and great hopes for their future.
Express congratulations. That's the main point! You could also include any combination of words of wisdom, hopes for their future together, blessings, Scripture verses, romantic quotes, memories, descriptions of your joyful feelings, and more. But the main thing is to wish them well and congratulate them.
Sign your name. Make it legible enough to read!
Read Next: 50 Best Wedding Gift Ideas
Pin It