Not all heroes wear capes… some wear uniforms and helmets! For those unwavering patriots who protect us each and every day, we have some marvelous ideas for military gifts.
As a daughter-in-law to a Vietnam Navy vet, a granddaughter to an Army soldier who served in Korea, and a mother to a military man stationed currently in Georgia, these gifts really hit home!
No matter their branch, rank, or service status, there is something here for each and every one of them. Whether it's for Christmas, retirement, birthday, or just because; here are our 50 best military gifts for your extraordinary hero.
Best Military Gifts of All Time
Our website is supported by our users. We sometimes earn a commission when you click through the affiliate links on our website. See our privacy policy & disclosures for more information.
1. American Flag Concealed Gun Cabinet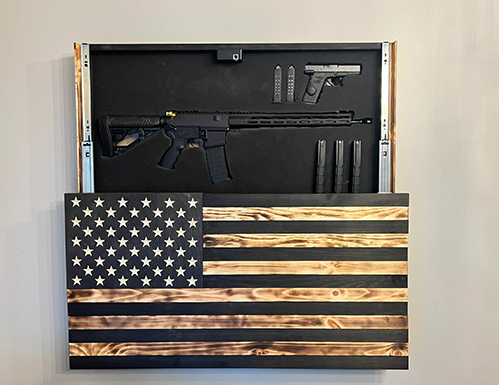 This gorgeous concealed gun cabinet is a striking work of art all on its own! Once you realize the shiny 100% wood is handcrafted in the USA AND it holds a full-size AR15 or Ak47? Well, this one is a no-brainer for sure!
You can customize the look of the flag, too (examples include Traditional, Rustic Betsy Ross, a thin blue line, etc), making it truly one-of-a-kind. As far as functional military gifts go, this one takes the cake.
2. Military-Style Thor Hammer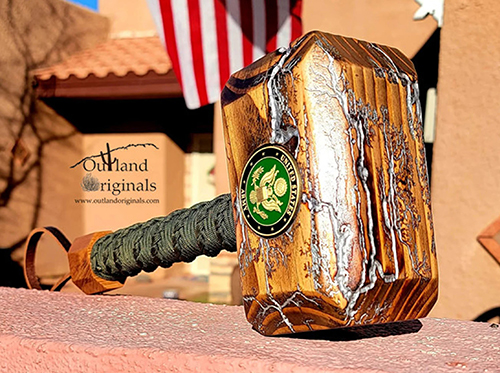 Made of solid wood (pine, redwood, or douglas fir), this military style Thor hammer is too good looking for words! Much like Chris Hemsworth… ahem. You can customize it until it is just right for your superhero. Your soldier would love one of these, especially if he/she is a Marvel universe fan.
3. American Eagle Signet Ring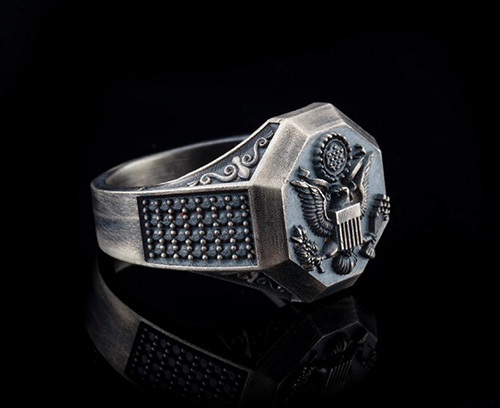 We are blown away by the beauty and craftsmanship of these incredible signet rings. The strong, bold silhouette paired with the symbolism of the eagle and the stars make this a perfect gift for your active service man, woman, or veteran.
Each of these rings is crafted to order and can be customized, as well, to make for a fitting, patriotic gift for your soldier.
4. Personalized Military Engraved Bottle Opener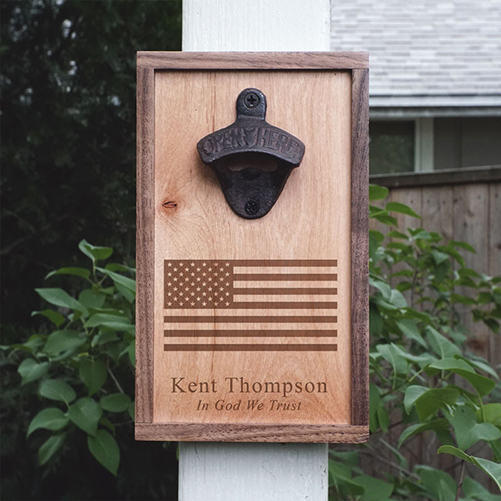 This bottle opener is fantastic for a variety of reasons: it won't get lost in the depths of the junk drawer, it will last a lifetime, it's completely customizable (making it one-of-a-kind), and it is a total eye-catcher!
Part work of art, part totally rad bottle opener, this is one gift that will keep on giving long after it's opened and mounted.
5. Garmin Rugged Outdoor Watch
This watch is everything your soldier needs to stay safe, on time, and totally not lost! The silicone strap fits everyone perfectly and it's rugged enough to withstand even the toughest environments (including underwater).
Monitor your heart rate and stress, use the app to navigate and plan your route before you leave, stay connected, and even get your SmartPhone notifications. This one's got it all!
6. Camo Pocket Hug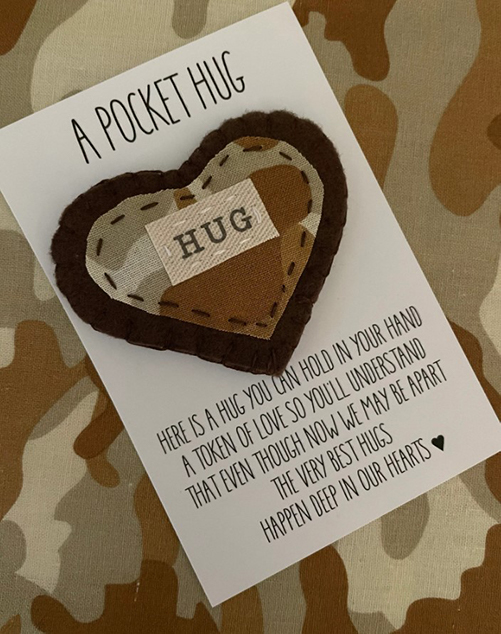 This camo pocket hug is perfect for slipping into a care package, a Christmas stocking, a letter, or a surprise gift box. It's a sweet and casual way to show your grown adult — but forever your little one — that you care and think of them often!
7. Veteran-Owned Freedom Fuel: Black Rifle Coffee
Give him or her what they really need: some much desired and appreciated caffeine. This delicious coffee makes the perfect brew and will keep your soldier awake and alert throughout their busy postings and daily life. It's veteran founded, too!
8. Custom Bobbleheads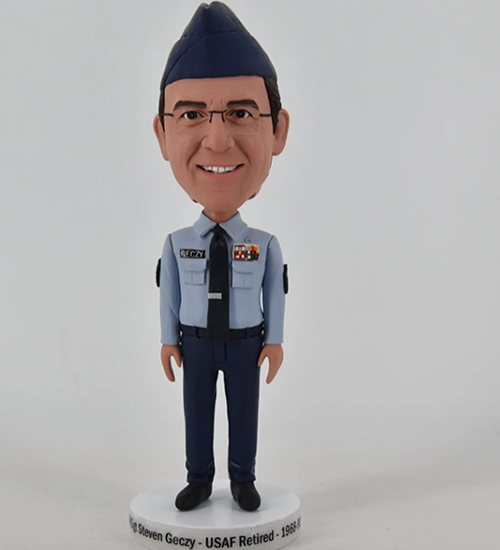 Give your soldier what they desperately need: a custom bobblehead! They'll laugh and proudly display it as one of their favorite items yet. This is truly one-of-a-kind and unique and will make them smile every time they see it. Especially great for soldiers with desk duty.
9. We the People Whiskey Glasses
These whiskey glasses are so patriotic! They're also unique and good looking, too. They'll make every beverage an absolute delight to sip, whether it's 30 yr Glenfiddich or just their morning OJ.
Set of two, 10-oz tumblers.
10. Military Books
Encourage less screen time and more book time during your soldier's downtime with a great set of books! We Were Soldiers Once… and Young tells the tale of the harrowing events which happened during one pivotal battle, the outcome of which changed the whole face of the war in Vietnam.
More books:
Personalized Military Gifts
11. Personalized Retirement Tumbler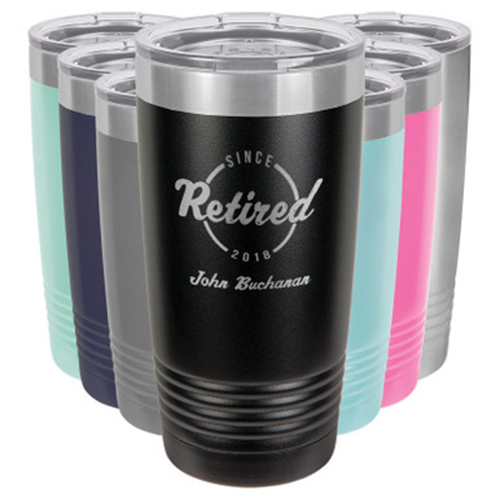 Keep him or her hydrated, especially during boot camp (yikes) with one of these neat, personalized tumblers. Their ice water will stay frosty cold in any environment or temperature, and during the cold, early mornings their coffee will stay piping hot. Personalize it however you like, including the color!
12. Personalized Walnut Keepsake Box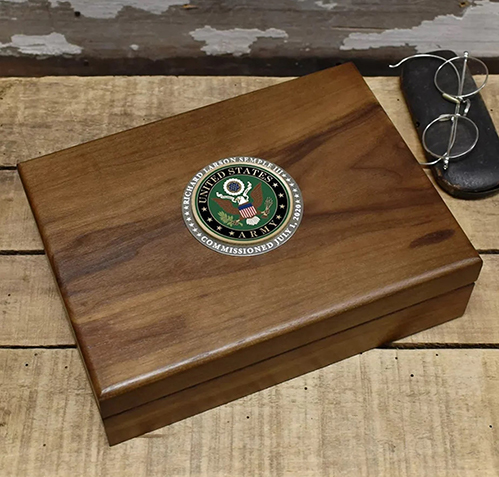 Personalize this beautiful walnut keepsake box and watch your soldier's eyes light up. It's made right here in the US (in Virginia, Wisconsin, and North Carolina) and is felt-lined so you know that their keepsakes will stay safe and secure. Great for holding everything from awards and commendations, to jewelry and medals.
13. Stay Safe Pendant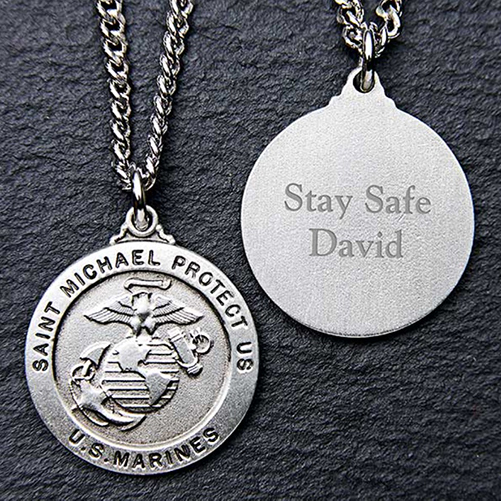 This pewter medallion pendant is a handsome way to decorate your soldier and remind him how much you care. You can customize the words on the back of the necklace, making it extra special and unique.
14. Challenge Coin Display Rack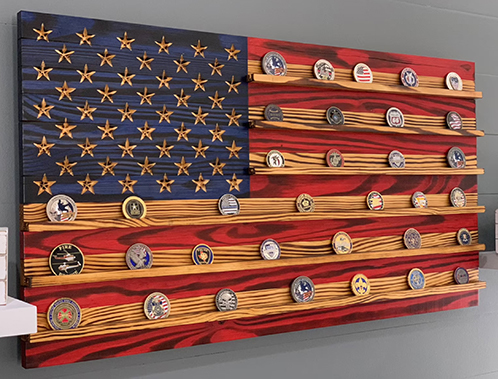 Display that collection of military challenge coins in style in this handsome and handmade display rack! You can even add in a thin line of your color choice. This is a perfect birthday or graduation gift for the military hero in your life, and is sure to be passed down for generations to come.
15. At Ease Sherpa Blanket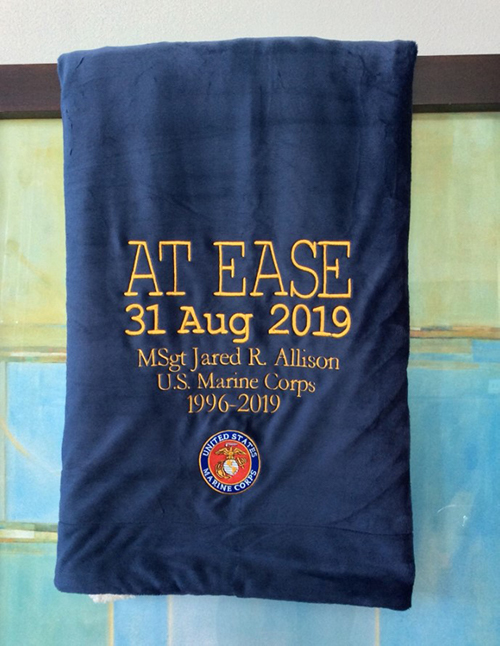 This At Ease sherpa blanket is so cozy! Perfect for that quick forty-winks your soldier needs, or for spreading on their bed to stay warm at night. Pick their branch and customize it with their very own name to make it extra special.
16. Name Tape Ornament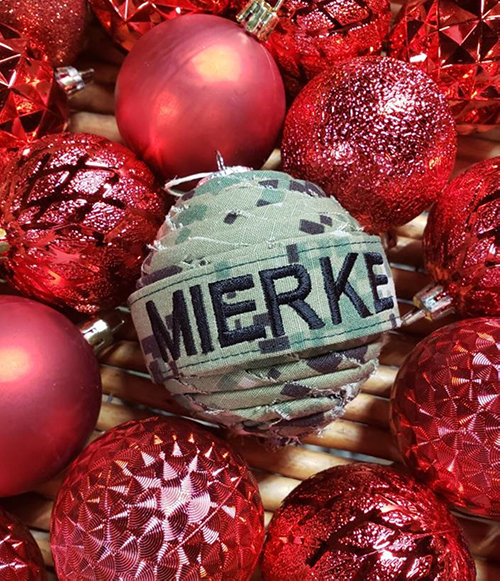 These ornaments are perfect for mailing to your military hero, or for keeping on your own tree to remember them each Christmas! Clever and unique, they bring a fun bit of whimsy to your holiday decorating.
17. Photo Wallet Insert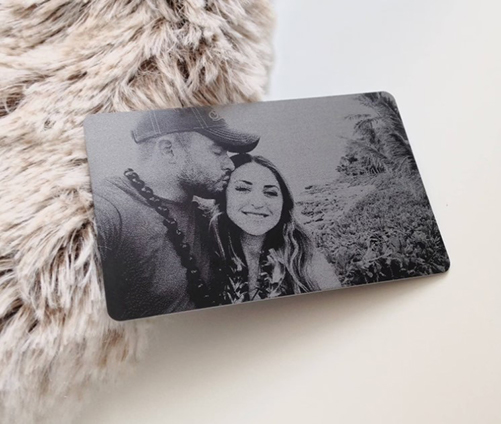 This laser engraved photo wallet insert is the way to his or her heart! Pick your favorite photograph of the two of you together and watch it become pure magic. It will last for years to come and will hold the place of honor in their wallet.
18. Engraved Whiskey Glass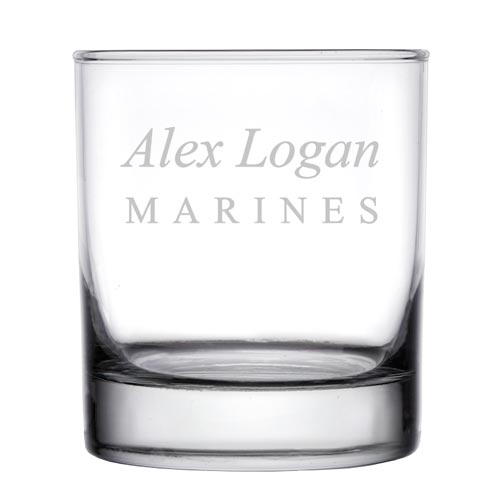 These whiskey glasses can be engraved however you like, making them the perfect gift! They'll be totally one-of-a-kind and unique by the time you're done customizing. A great gift for someone who is settling into their station and needs to set up house!
19. Our Hero Picture Frame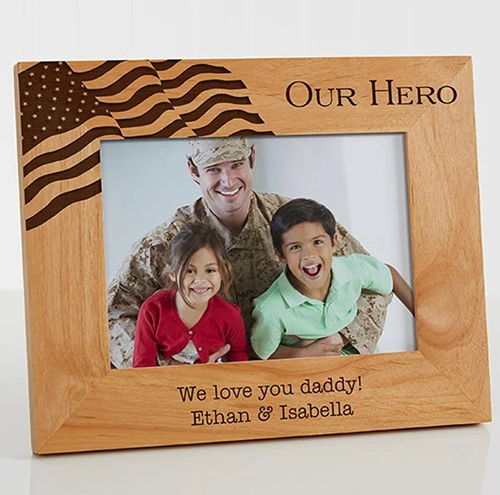 This all natural wood frame only needs your favorite photograph to be a complete gift! Pick out your wording carefully, as it is sure to be a much loved and much appreciated present.
It will look just perfect on a desk, or even a nightstand, and will be a daily reminder of how much they are missed at home.
20. Docking Station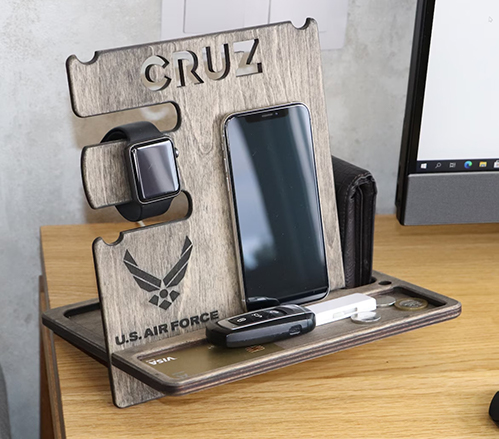 When you're in the military, the last thing you want is to be unorganized. Enter in this handsome and unique docking station for your soldier!
It will keep his or her glasses, phone, charger, keys, etc. all in one handy spot, ready to go at a moment's notice. Customized with their name and branch, too!
Military Retirement Gifts
21. Military Retirement Shadow Box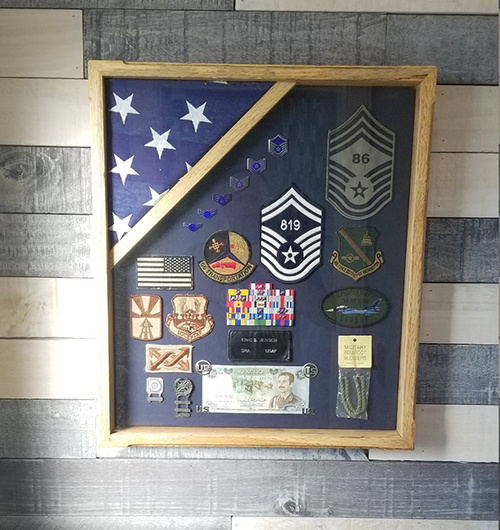 This beautiful shadow box is 18" x 22" of wonderful display space! When your military hero is ready to retire, he or she will need all that space to dedicate to their memorabilia and medals.
It will be the star of the show once mounted on the wall, and will have every guest who enters the home enthralled.
22. U.S. Army Retired Hat
Leave no doubt with this great hat! Show off all those years of dedicated service and look good, to boot! Embroidered in popping colors against a striking black cap, this will get lots of notice and attention. He/she deserves at least that.
23. Personalized Military Station Map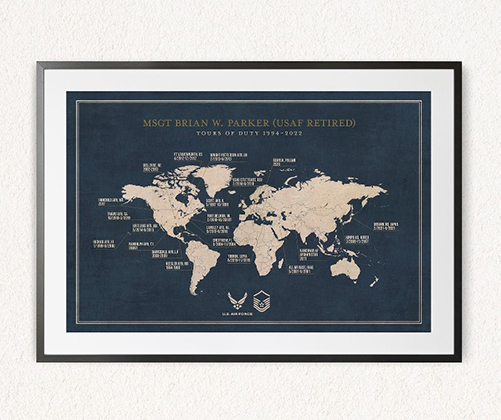 What a neat idea this personalized military station map is! And what a fantastic gift. Completely and utterly unique, it will show not only their name and rank(s), but their division, their stations, their period of duty, and more! A little bit of homework and voila — you have a most excellent gift.
24. A Vet Protects This Home Door Mat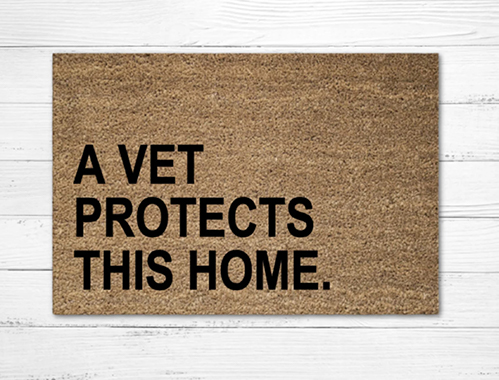 Who needs a guard dog when you've got this fantastic doormat? It's funny, but true. Or is it funny because it's true? Well, either way you've got to get your hands on one of these wonderful "A Vet Protects This Home" mat, and watch them smile.
25. Retired Since Cutting Board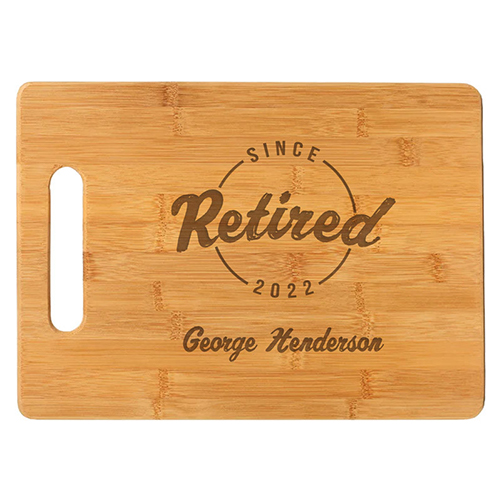 Now that they are retired from military life…well, they're likely still getting up early and doing all the things each and every day! But if they take up cooking in their spare time, they'll love getting this charming "Retired Since" cutting board. You can customize it to say whatever you like, and it will be used often for years and years to come.
26. Military Dog Tag Storage Box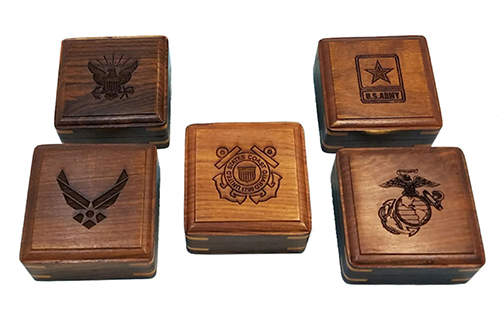 Pick out their military branch and watch the wizards at Etsy do the rest! These military dog tag storage boxes are so handsome and well-made. They'll become a much loved and much appreciated gift the moment they're opened. Such a nice way to keep military dog tags safe, secure and out of the elements.
27. Military Service Branch Wood Plaque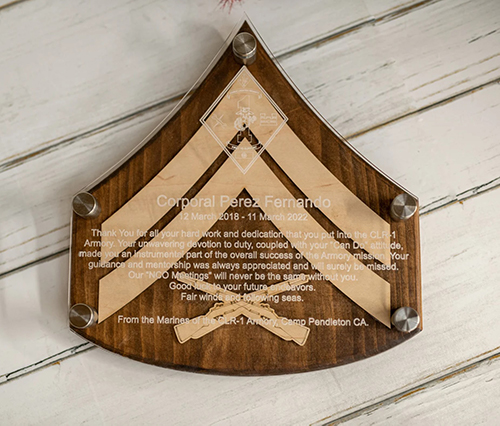 This plaque is outstanding. Such a lovely work of art to display, and since it's customized it's totally one-of-a-kind, too. It's handmade and will look so amazing proudly hung up on your soldier's wall. Or perhaps used as a centerpiece for their retirement party!
28. Beef Jerky Flower Bouquet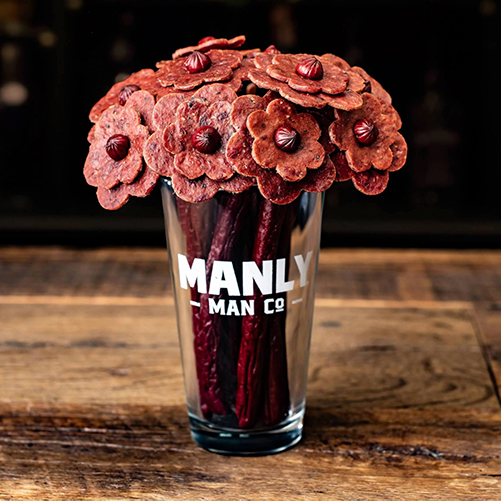 Sure, it might not last long, but give him/her what they really, really want — beef jerky! This flower bouquet will get hoots of laughter at first, but that won't last long (because their mouth will be too full).
29. Whatever I'm Retired
This funny clock will elicit laughs from everyone who sees it. Now that they're retired, who needs to know what time it is anyway — military or otherwise? Well, not them! This special clock can be personalized as well.
30. Full Body Massage Chair
To say they have a "few" aches and pains after all those years of dedicating themselves to their country would be an understatement! Give them this unique and totally useful, full-body massage chair, and watch them relax for the first time since…well, ever.
Military Deployment Gifts
31. Military Grade Phone Case
When it's time to be deployed, a lot can go through your soldier's mind. Keeping their phone safe and secure doesn't have to be one of them! With this military grade phone case, their "lifeline" will stay as protected as possible in all kinds of weather, environments, and conditions.
32. I Can't Wait Card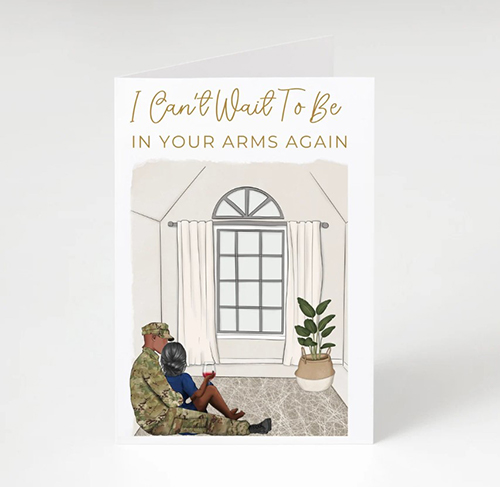 If it's your wife or husband being deployed, then this special card really is the whole present. The sweet illustration perfectly sums up married life in the military and will be treasured by the recipient for years and years to come.
33. Personalized Camo Fleece Blanket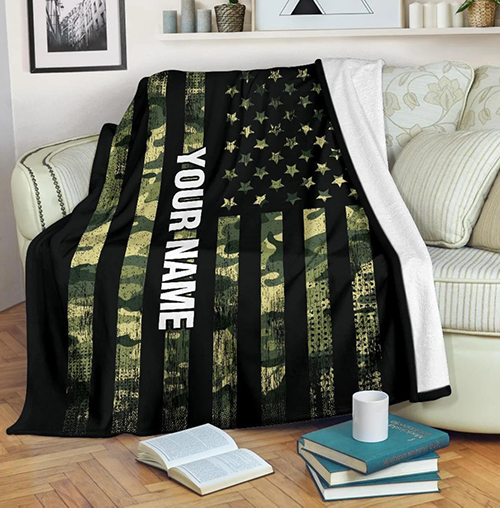 This fleece blanket is so striking! With its green, gold, and black instead of the typical red, white, and blue, it really stands out from the rest. Plus, the personalization takes it over the top. Super soft and cozy, it will be like a warm hug after a long day protecting America.
34. Here to Hug Bear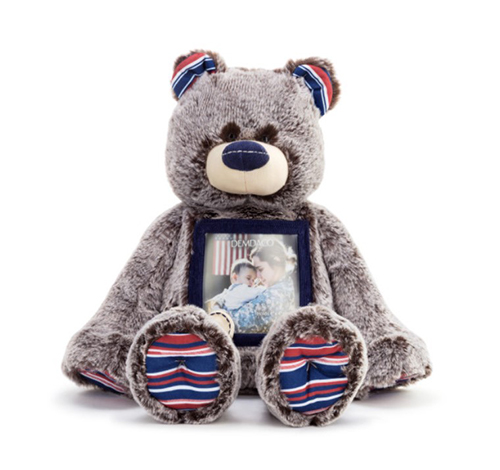 Cuddly, plush and oh-so soft, this "Here To Hug" bear is perfect for anybody! You're never too old for a teddy bear, and we love this little guy. The bear comes with a spot to insert your favorite photo.
This also makes a great gift for a child whose mother or father has just been deployed!
35. A Tree Planted in Their Name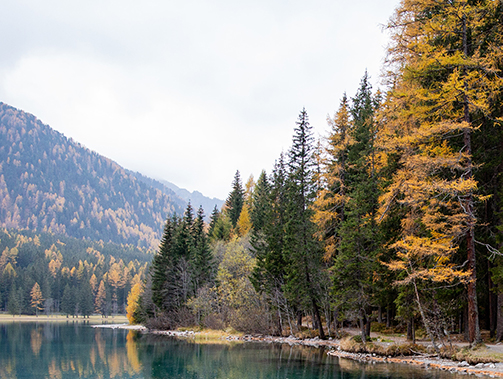 When you're being deployed — especially overseas — you don't get to take much at all. So get them something like this: a tree planted in their name! They'll love knowing that somewhere there is a gorgeous sapling growing up strong and healthy because of them.
Related: Military Deployment Gift Ideas
Unique Military Gifts
36. Military Veteran Beverage Insulator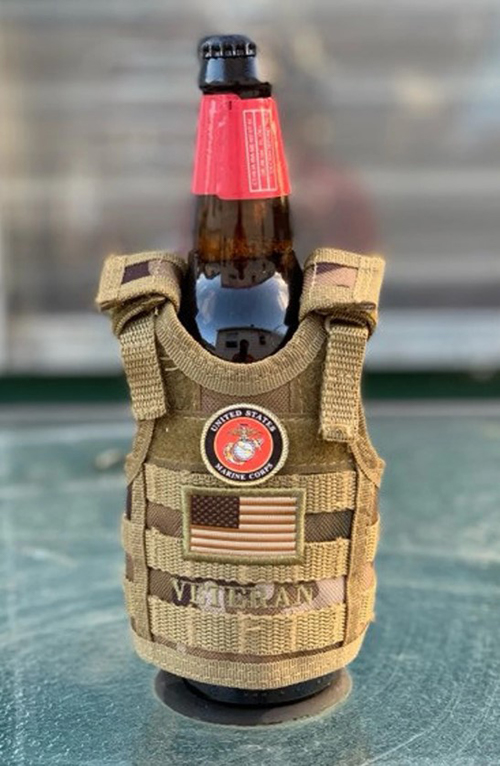 This beverage insulator isn't your typical koozie. No way! This one is wayyy cooler, and is bound to make all of your military hero's friends jealous. It's clever and funny, but also really functional and practical. If you're going for funny quirky military gifts, this is just the thing.
37. Premium Snacks Ammo Can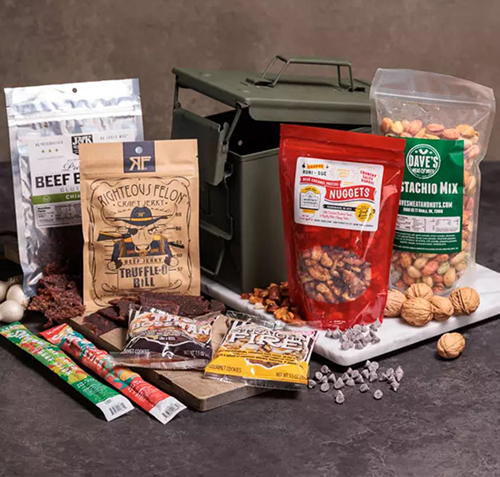 Snacks are where it is AT in the military! Who has time to sit down and eat three meals a day anyway? Certainly not your soldier. Keep the munchies and hunger at bay with this premium snack ammo can from Man Crates.
38. Chocolate Ammo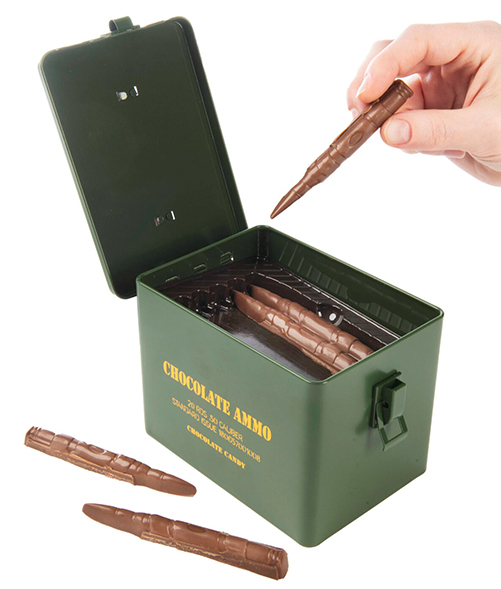 Chocolates in an ammo inspired tin? Well, why not? This cute gift will make your soldier smile and then give them a chocolate mustache. Perfect for the sweet tooth in your life!
39. Tactical Beer Cup
If he or she is a beer drinker, they will get a kick out of this cool tactical beer cup! All of their friends will want one, too. Definitely bound to be a favorite gift no matter what the occasion.
40. US Army Fire Extinguisher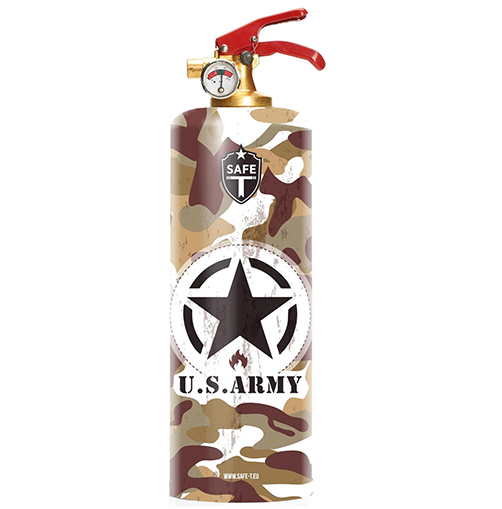 Get a fire extinguisher that not only gets the job done, but looks great doing it. This one will perfectly match all of their Army or other branch decor, and is way too handsome to shove in a cupboard. Keep it out as a work of art!
Military Gifts for Him
41. The Survivalist Watch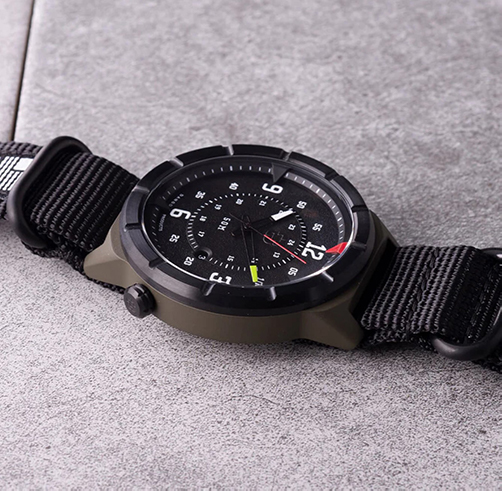 Brave the elements and whatever comes his way with this awesome Survivalist watch! He'll love strapping this bad boy on and being prepared for all sorts of adventures and travels. Pick from three colors.
Related: Best Military Boyfriend Gift Ideas
42. The Space Suit Can Cozy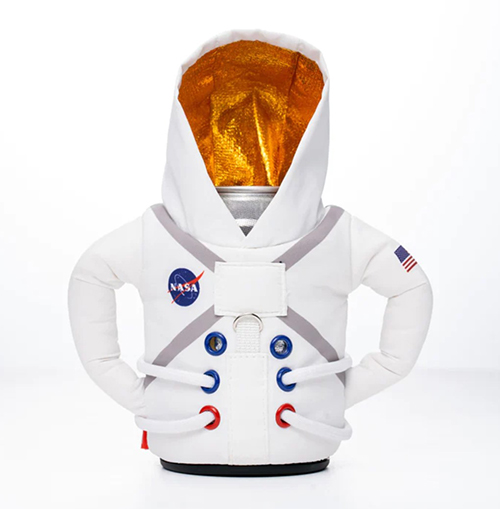 For your US Space Force hero, these cozies are the cutest! Keep his drink at the temperature he likes best with this funny, miniature space suit. It's sure to become a favorite at the parties, and he'll never mix his drink up with anyone else's! Great for tailgating and camping, too.
43. Cigar Club Subscription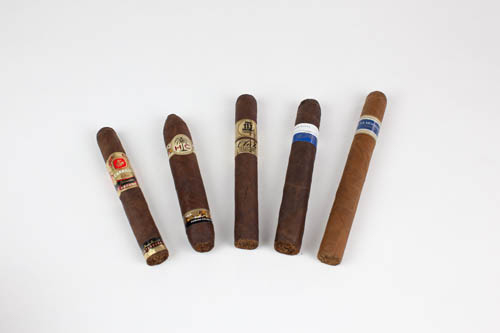 Get him something he can enjoy more than just once, like a cigar club subscription! Even if he's a novice with cigars, he'll learn quickly which ones are his favorites and how to enjoy them best. These aren't just any cigars either — no, they're totally unique and found all over the world just for him.
44. Classic Military Pet Portrait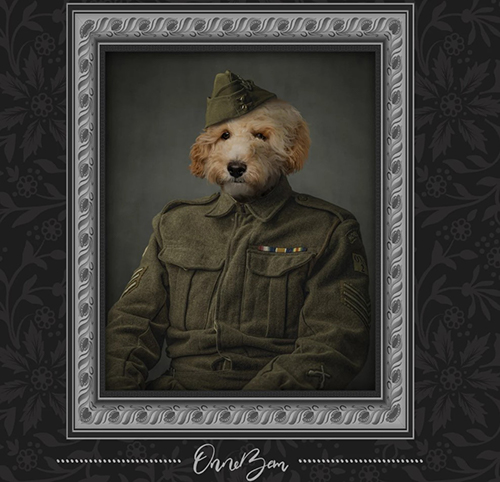 If his pet is his ride or die BFF, he'll crack up over their likeness being represented in a classic military pet portrait. They're sure to give this a place of honor right next to the family wall of photographs!
45. Green Army Man Bottle Opener
This Army Man in green is a bottle opener and a great ice breaker at the party, too! Funny but still totally practical, this gift aims to please. Pair with a six-pack of his favorite beer to make it even better.
Military Gifts for Her
46. Hero Willow Tree Sculpted Figurine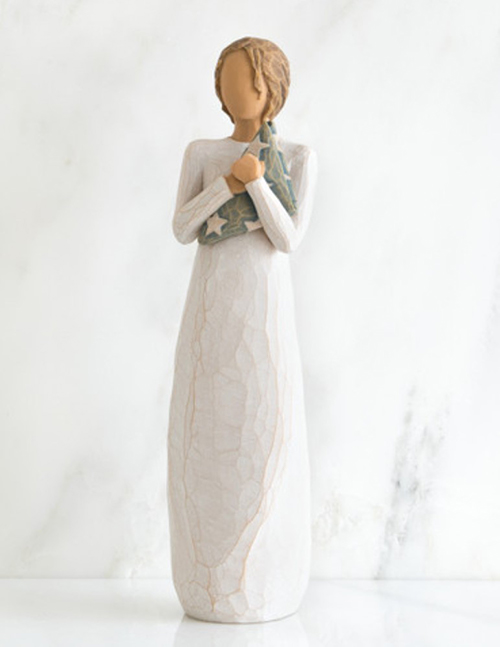 This hand-painted, resin figurine by Willow Tree is just the thing to place lovingly on her desk or nightstand. She'll love the soft cream colors and the gentle shape, plus what it represents: all of her hard work and dedication and honor.
47. Wine Club Subscription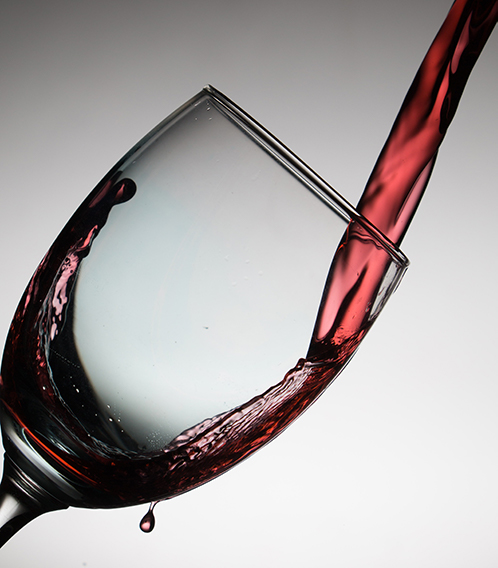 Get her a gift that keeps on coming each month! A wine club subscription means she can enjoy wines from all over the world without having to shop for them (hard to do on base). She'll love finding new favorites and discovering exciting new vinos, all thanks to you.
48. Exciting (or Relaxing) Experience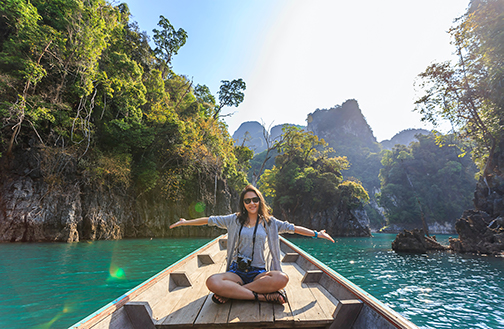 Whether you pick something exciting or something relaxing, she'll be amazed by this experience gift! Collecting items just isn't practical for a woman in the service, so she'll love having this as an alternative gift idea.
49. US Army Patriotic 23 Note Music Box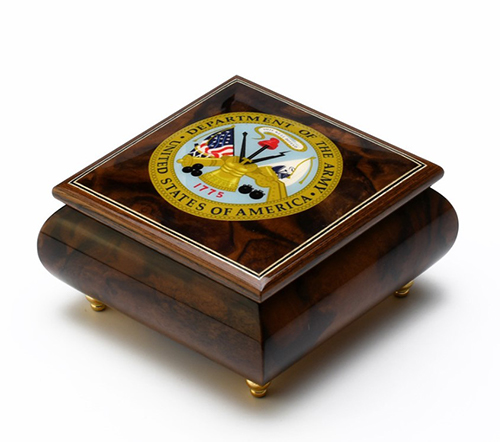 You can choose the song for this beautiful, US Army Patriotic 23 Note Music Box that's carefully made in Italy. For a special birthday or occasion, this is an amazing gift that she will keep for years and years, and pass down for generations. One of our top favorite military gifts.
50. Custom Uniform Keychain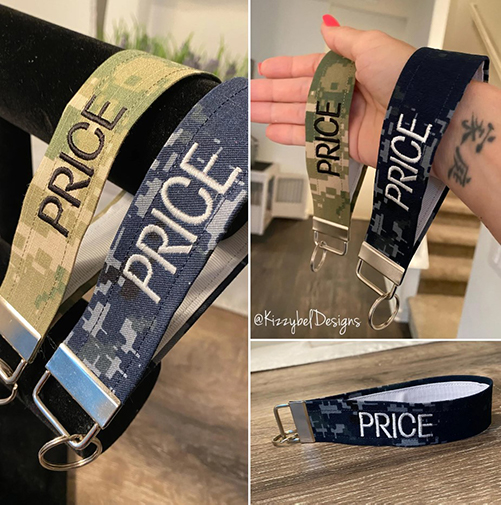 Great to add onto a care package or for stuffing a stocking with, this fun custom uniform keychain is a totally cute gift that will make her smile. You can choose from tons of colors for this wristlet keychain, making it really unique and special, just like she is.
Read Next: Proudly Patriotic Gift Ideas