Today we're going to look at the best Cinco de Mayo gifts. Come May 5th, it's time to celebrate the incredible heritage of Mexico and Mexican-American culture!
Cinco de Mayo pays tribute to the Mexican army's 1862 victory over France, but no, it's not Mexico's Independence Day (that's September 16th. Yay! Another celebration!).
In the beginning of Cinco de Mayo's history, the party goers would dress in Civil War uniforms and re-enact the Battle of Puebla. Later, in the 1970s, the holiday evolved into more of a civil unrest protest, police brutality against Hispanics, and had a more political lean.
Today, it's a simpler holiday that reminds us more of St. Patrick's Day, and the Fourth of July. It's a time to honor the wonderful Hispanic culture and cuisine.
So… think lots of food, music, friends, and family! We're here for it. And we're here for the gifts, too. Whatever your Cinco de Mayo gift needs may be, you'll find the perfect present on our list.
10 Best Cinco de Mayo Gifts
Our website is supported by our users. We sometimes earn a commission when you click through the affiliate links on our website. See our privacy policy & disclosures for more information.
1. Personalized "Casa de …." Taco Tray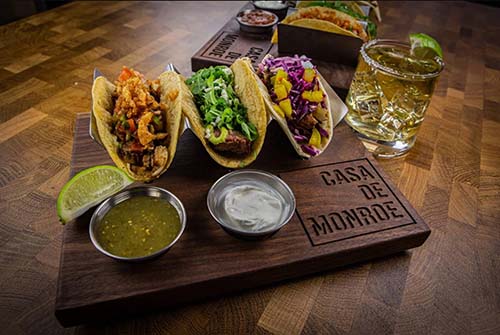 Is there anything more delectable and finger-licking good than tacos? If there is, we have yet to find it (though smashed potatoes have a dear place in our hearts as well).
These adorable and sturdy (so load em up) taco trays would be amazing all on their own, but once you add in the personalization, you have a crazy good gift for your Cinco de Mayo host!
2. Margarita Glasses
These margarita glasses are cute, generous in size, and need a home in your cupboard! If margaritas, pina coladas, and daiquiris are your vice of choice, you'll love these cacti-stemmed glasses and want a matching set, stat.
3. Nacho Average Matching Family Shirts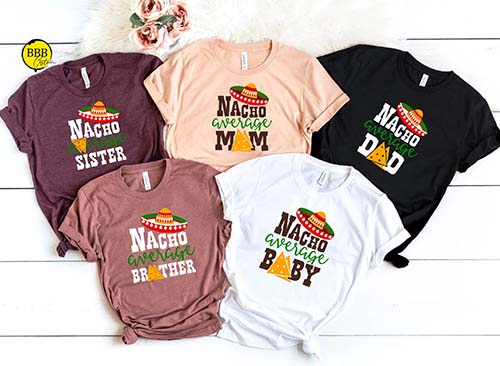 It's a Kodak moment when you hand these adorable t-shirts out to the whole family! With fun colors and a variety of monikers, these shirts are totally nacho average Cinco de Mayo gift for the whole fam. Everyone else at the block party is going to be so jealous.
4. Custom Engraved Favorite Dish Recipe Cutting Board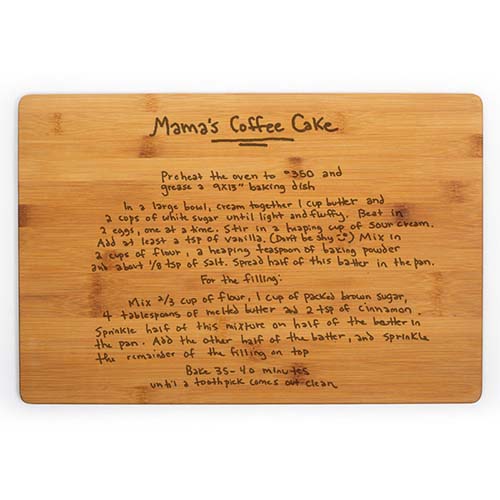 Made from bamboo and custom engraved right here in the US, this wooden cutting board is completely one-of-a-kind and unique with the addition of your family's favorite recipe! Perfect for every Cinco de Mayo (or any other holiday), it's a sweet family heirloom to be cherished for years.
5. Traditional Hand Painted Maracas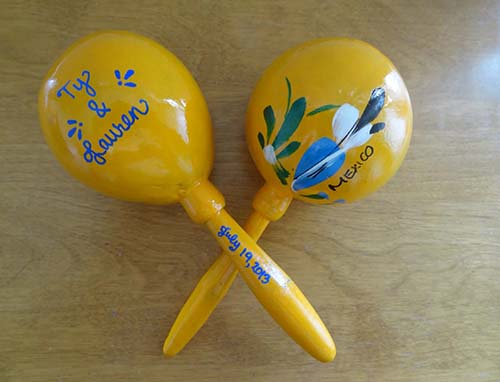 Hand painted and vibrant, these traditional maracas make a ho-hum party one to remember! Great for gifting to your Cinco host or hostess, or just bring along to your bash for some dancing and music-making fun.
6. Cinco De Mayo Handmade Bead Earrings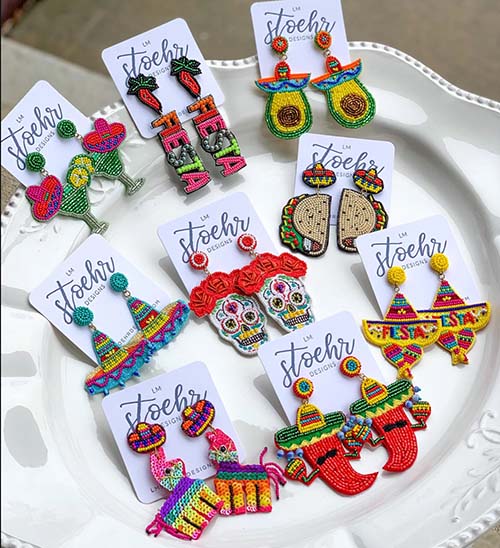 These cute and totally festive handmade earrings are made from the brightest of beads and will "make" your Cinco outfit! Simply choose from all the delightful designs, from tacos to sugar skulls to cacti, or snatch up them all for all the ladies in your life.
7. Customizable Festival Family Tumblers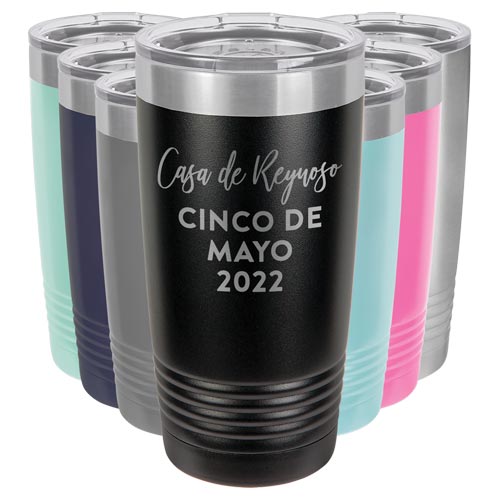 Customized however you like, these festive family tumblers will keep your margarita or sangria nice and cold while you party the day away! If cold isn't your thing, then fill them up with piping hot coffee or tea. They're available in a wide variety of colors, too.
8. Fiesta Lollipops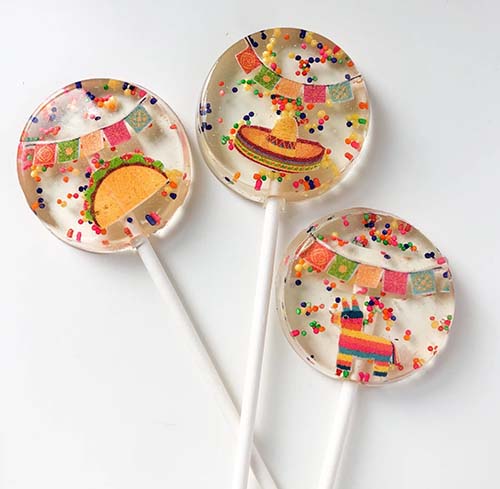 These cute party favors are so colorful and bright and cheery we hate to eat them! But needs must, right? They come in a group of six, so no need to choose which artistic design to pick. A winner for the kiddies of the group for sure!
9. Stamped Salsa & Guac Spoons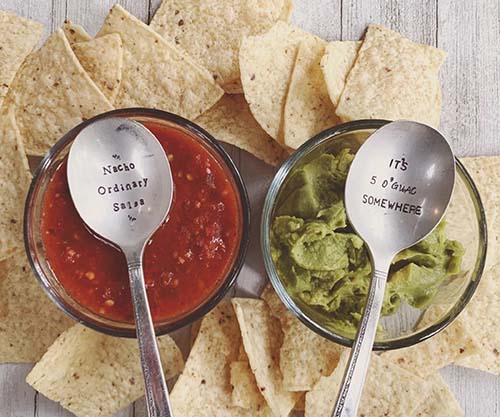 These spoons make us laugh! Clever little spoons. We see you. Perfect for setting out in your infamous hot sauce or salsa, and a bowl of guac. They'll be the hit of the dinner table!
10. Customizable Wooden Bottle Opener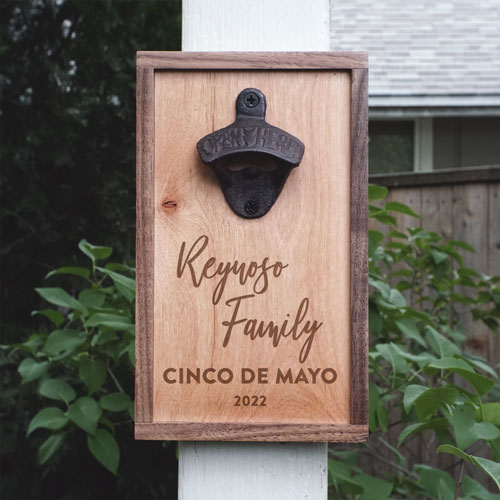 Bottle openers are a dime a dozen and can be purchased anywhere (and promptly misplaced). Not so this customizable wooden bottle opener! Perfect for mounting outside near the grill, in the den, kitchen, or near the liquor cabinet, you can personalize it with this year's Cinco de Mayo party, or simply your name.
Cinco De Mayo Gifts for Coworkers
Here are some great gifts suitable for your office party!
11. Cinco De Mayo Profession Sauce Splatter Shirt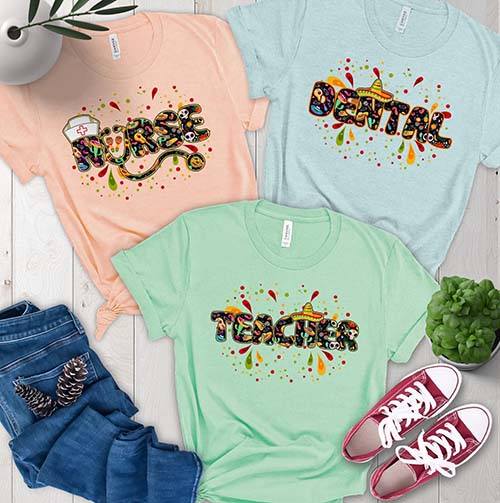 Pick your profession and we're off to the races in these colorful, personalized t-shirts! Cozy and comfy cotton wrap you up so you're content all day. You coworkers will love that you remembered them this Cinco!
Related: 21 Gifts for Teachers
12. Mini Sombrero Hats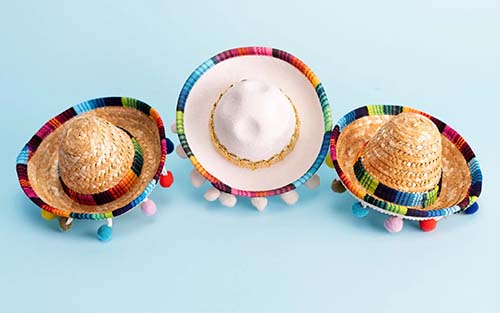 You need these mini sombreros in your life! Fun little party favors to make everyone smile, your itty-bitty hats will really jazz up your desk (or your bearded dragon, should you have one).
13. Nacho Average Coworker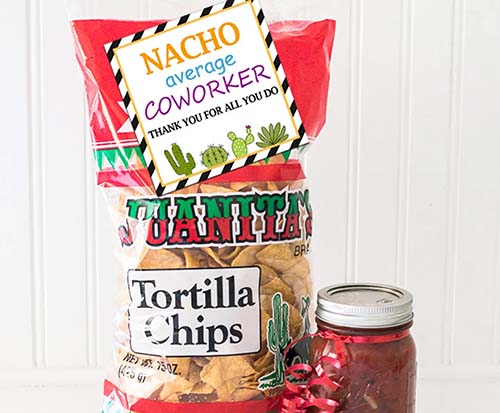 These cute little printables are adorable all on their own, or add them to a gift basket for your team! Your fun-loving coworkers will love the sweet thought.
14. Fiesta Mug!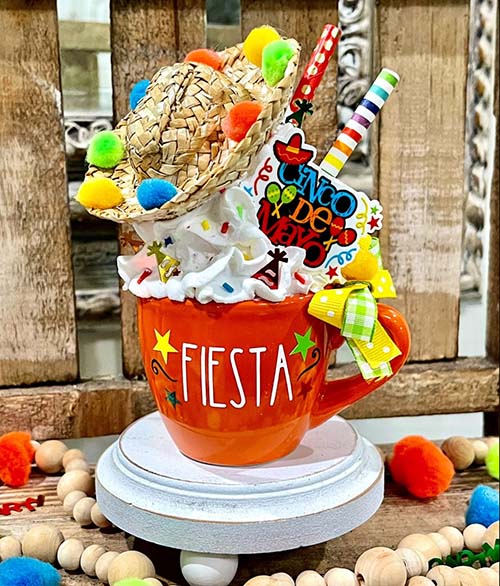 Are you ready to party? We mean, are you ready to have a fiesta? That's what we thought! Grab some of these bright and cheery mugs to get you in the mood to plan that bash. You can gift them all on their own, or add some Mexican candies to tuck inside.
15. Taco Holders
The gift they didn't know they needed until now, these colorful taco holders will make their taco life sooo much easier! Not only do they hold up those oh-so important dinner items, they look good while doing so.
16. Cactus Cinco De Mayo Fiesta Towels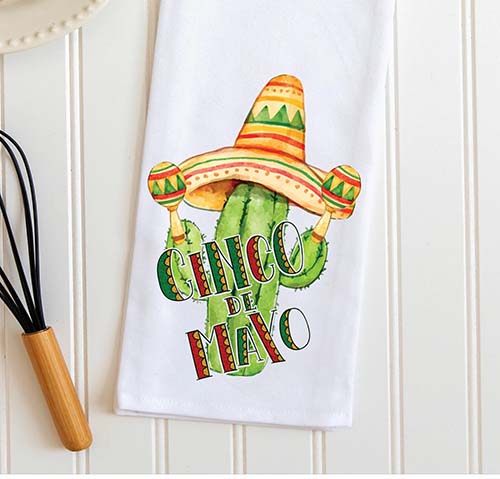 These party loving cactus towels are perfect for Cinco and for letting your coworkers know how much they make you smile! We doubt they'll be packed away until next Cinco do Mayo, and instead will become their year 'round favorite kitchen towel.
Cinco de Mayo Gift Baskets
When in doubt… create a party basket!
17. Margarita Recipe Basket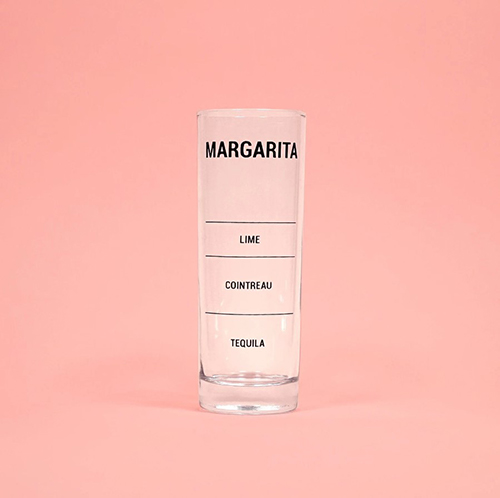 Margarita night just got a whooooole lot easier and more convenient with this basket idea! Fill up your basket with everything you need to make the perfect margarita, including these cute recipe glasses!
Here are some fun ideas to place in your basket:
18. Taco Gift Basket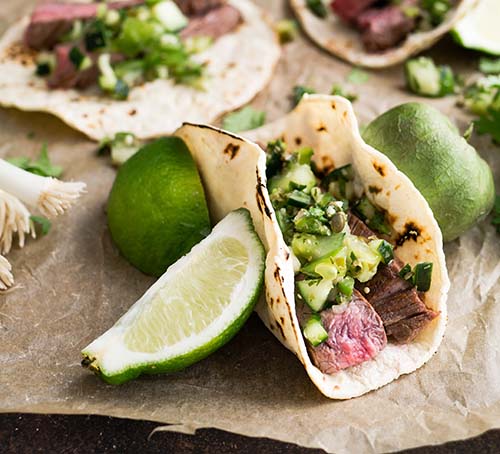 Fill a DIY gift basket with everything you need to make delicious tacos! A dinner in a basket is always a good way to go. Don't forget the basics, like taco shells, fresh cilantro, thinly sliced radishes, and hot sauces, and for even more fun, check out these additions:
19. Mexican Candy Basket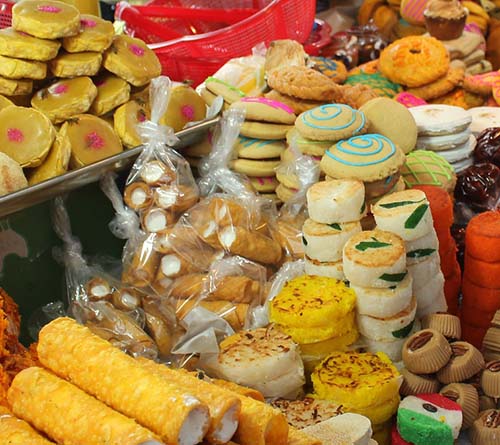 Fill up these tortilla baskets with delicious, sweet and spicy, Mexican candy! For extra charm – include the Mexican Coca-cola (it's made with real cane sugar). Visit your local Mexican market or find amazing inspiration online!
Here are some sweet ideas to put inside your basket:
Mexican Candy
Mexican Coca-cola
Mini pinatas
Pepper shaped necklaces
Sweet Conchas
20. Molcajete Gift Basket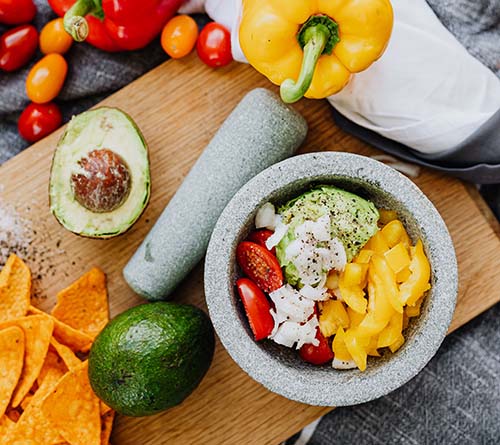 Fill a basket with everything you need to make the perfect salsa in your Molcajete! Of course, everyone has their own recipe, but scour your cookbook, blogs, Food Network, and of course, your abuela! She knows best (let's hope she'll share).
Here are some ideas for your Molcajete basket:
Fresh Ingredients – Onions, Cilantro, Tomatillos, Avocados, etc.
21. Margarita Treats Gift Basket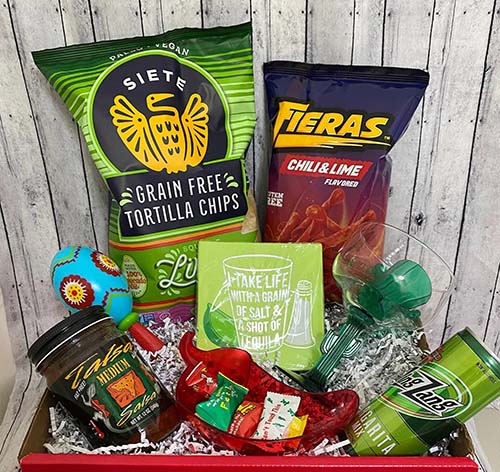 Not only does it have yummy margarita mix and chips to snack on while the blender is doing its job, it also has a fun cactus glass, bowl, cheddar dip, salsa, a shot glass, AND a macarena! With this fun gift basket, every day can be Cinco de Mayo!
Are you trying to plan the best Cinco de Mayo party? Then check out these 100+ Cinco de Mayo Party Ideas
Read Next: 43 Popular Gift-Giving Occasions