Last Updated on December 14, 2021
Nothing brings more joy and happiness than a sweet baby. The anticipation of getting those snuggles, kisses, nibbles, and getting to sniff that new baby scent, all that is almost as good as it gets!
If you're lucky enough to be invited to a baby shower, or you get the responsibility of planning said event, we've got some fabulous ideas for you.
Baby Shower Party Ideas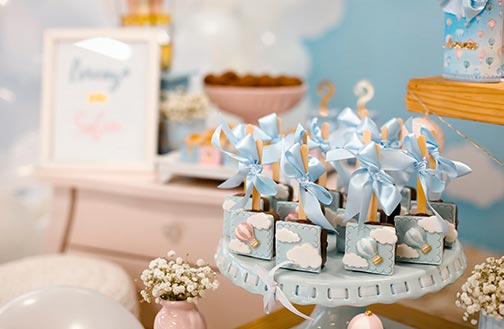 Little Honey Bee Shower – Decorate in sweet bee décor, have plenty of flowers, and bright pops of yellow everywhere. Cookies in the shape of bees and flowers wouldn't be amiss! This is a great one for when the sex of the baby is a surprise.
Twinkle Twinkle Little Star – Another good theme for an unknown gender! Stick with blues and silvers while decorating. Fairy lights twinkling add a magical atmosphere.
"Into the Woods" or Nature Theme – Adorable bear cubs and foxes, owls and bunnies, all frolic through your own backyard (stuffed animals we mean!). Fruit punch and picnic style food would be perfect for this theme.
Little Prince / Little Princess – Just don't forget to invite ALL the fairies… we've seen what happens when you forget one: a 16 year curse!
The Velveteen Rabbit – One of the sweetest and most poignant stories ever written for children, this would make an adorable party. A vintage look is what you're going for: teddy bears and rag dolls, rocking chairs and antique board games, and don't forget a copy of the book that guests can help inscribe for the baby.
Rubber Duck – Cherry and sunny yellow sets the scene. This one calls for a pool party we think, with of course, plenty of rubber duckies!
Peter Pan – "I won't grow up!" crows Pan. And we have to agree! Set the stage with props of mermaids and pirates, make-believe, and swashbuckling fun. Second star to the right, and straight on till morning!
Rainbow – All the colors of the rainbow for this pretty theme! A rainbow cake, streamers, sherbet ice cream, and a pot of gold to catch the well-wishes (or hold the presents).
All White… Or All Blue, Pink, Yellow, Green – Pick a color (we suggest asking which one they are using to decorate the baby's nursery), and you're good as gold! Or silver. Or navy. Or chartreuse.
Ready-to-Pop (Balloons) – Balloons are a fun, inexpensive, and cheerful way to decorate. You can fill some with candy or well-wishes for guests to pop as they go along, and keep others empty. Celebrate the mom who is ready to pop with lots of colorful at this fun party!
Noah's Ark – Animals galore in this baby shower! Whether you make sure there's two of every one is up to you, of course.
Winnie the Pooh – There's nothing sweeter or full of more wisdom than the Hundred Acre Woods! Bring to your home with stuffed animals of Pooh and his friends, the storybooks to read aloud, and your favorite Winnie quotes sprinkled around the room. Have a jar of honey to go with tea, or make a honeypot-shaped cake.
Teddy Bear – Perfect for boys and girls, teddy bears have been a favorite snuggle toy for generations. It will be fun to see which teddy the baby picks as his/her constant companion in years to come!
Butterfly Shower – Butterflies signify the beautiful process of the struggle to take flight and soar. A little like pregnancy, if you think about it! It's easy to decorate with butterflies: you might find everything you need at the dollar store.
Baby Shower Games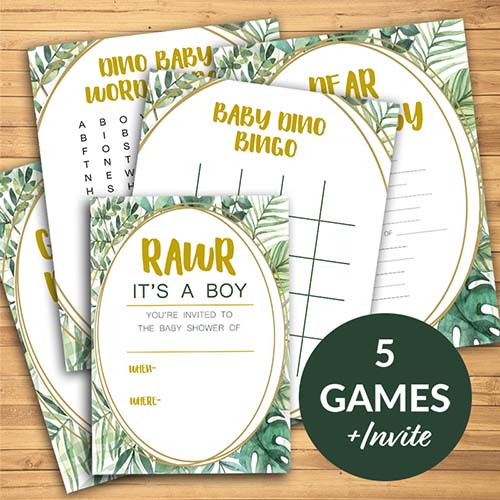 Baby Trivia – Loaded with fun questions (either picked by you, or downloaded from the internet), make sure to time everyone and have a prize for the winner!
Guess Who? – Mommy or Daddy? A fun way for guests to get to know the new parents.
Oh Boy! Baby Shower Print Bundle – Bundle of printable games (& invite!) such as Guess the Mess and Nursery Rhyme Game
Baby Sock Hunt – Hide several pairs of tiny baby socks around the party room, and whomever finds the most at the end of the party gets a prize!
How Big is Mom's Belly – Each party guests must write down their answers before the measurements begin!
"My Water Broke!" Melting Ice Cubes – If you don't mind tiny plastic babies in your freezer for a bit, you'll love this hilarious game!
Pink Bunny Baby Shower Print Bundle – Bundle of printable games (& invite!) such as a diaper raffle card and the game "What's the Name?"
Baby Predictions – This one is always fun: predicting things like the baby's weight, the day and time of birth, their gender, etc. You may have to mail the prize to the winner later!
Baby Shower Invites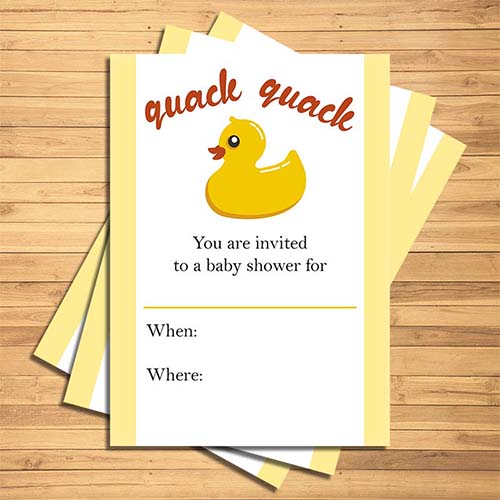 Oh Boy! Baby Shower Printable Invitation – Easy to print and send, this invitation comes in a royal blue & gold design that's perfect for any boy's shower!
A Little Buck is Almost Here Baby Shower Invitations – This "Oh Deer!" baby shower invite is a fun way to let your guests know about a party celebrating your little buck! Perfect for any rustic or hunting baby shower party.
It's a Girl! Baby Shower Printable Invitation – Easy to print and send, this invitation comes in a frame of pink florals that's perfect for any girl's baby shower!
Oh Baby! Kraft Greenery Invitations – Full of green leaves & brown hues, these sweet baby shower invitations are perfect for any nature or woodland baby shower.
What to Write in Your Baby Shower Card
1. Wishing you an easy delivery and a lifetime of happiness!
2. Thanks for inviting us to share in your baby shower celebrations. Warmest congratulations on your precious new baby!
3. Remember how we used to stay up all night partying? Consider that your training for a newborn!
4. We thank the Lord for this greatest of gifts. You are blessed!
5. "Children are a heritage from the Lord." – Psalm 127:3
6. A baby girl is on her way, and I can't wait to go shopping for her!
7. I'm praying for the health and happiness of your new baby.
8. A bouncing baby boy is cause for celebration. Congratulations!
9. "It is a smile of a baby that makes life worth living." – Debasish Mridha
10. A baby is a blessing, a gift from heaven above.
A precious little angel, to shower with love!
Top 10 Baby Shower Gifts
How about the gifts – they'll have a gift registry, but how about something they won't see on the shelf of every Target in the universe?
1. Crib Bumper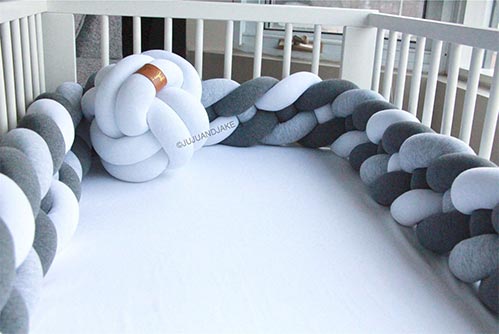 It's important for the health of the baby to have a good quality crib bumper, but why not have one that looks amazing too? This braided knot pillow crib bumper is so unusual and unique: we love the bumpy but soft feel, and the muted gray colors.
2. Squeakers Plush Toy Set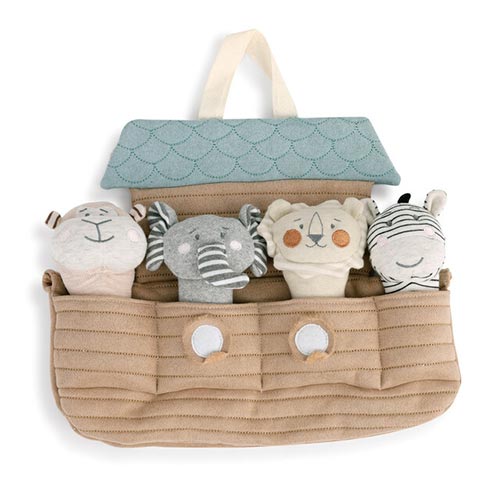 All these sweet animals tucked inside their own little ark carrying case? Soooo adorbs. Baby will love snuggling with these soft toys, and once they're a toddler, they'll love the little pockets in the ark.
3. Baby Swing
A good swing can be a life-saver for the tired stay-at-home parent, or the one who brings baby to the office!
This one from Nova will cradle baby and softly swing them to the land of nod. The adjustable hood is great for sunny days at the park, or just to cocoon that little sweetie in his/her own world.
4. Inkless Printing Kit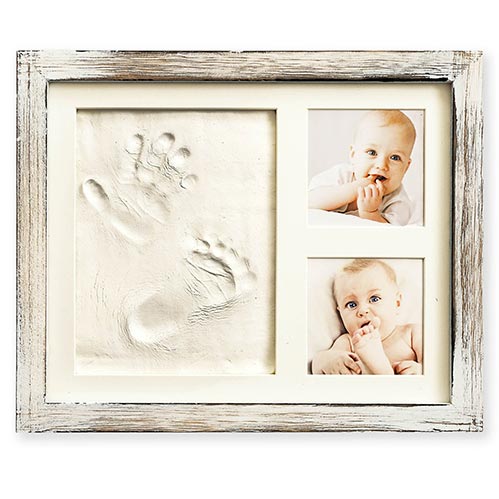 There's just nothing more adorable than a baby's hands and feet! So chubby and chunky and teeny-tiny, they make Mom and Dad wish they would stay that little forever!
So help them by freezing a moment in time with this hand and footprint inkless printing kit.
5. DIY-Diaper Cake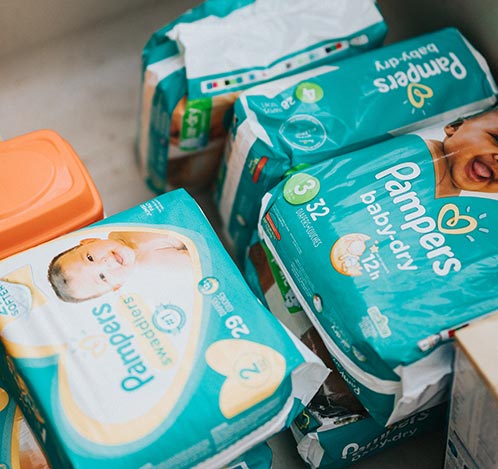 Especially wonderful for the second, third, fourth, etc., parents because they don't need yet another set of onesies, washcloths, or wipe warmers! What they need and really WANT, is enough diapers to get them through a few months!
Learn how to make your own diaper cake and they will be blessing you for all of eternity.
You might also consider: 10 Useful Gifts for Mom
6. Baby Books
Books are ALWAYS a good choice for gifts, and just because Baby can't read yet, doesn't mean it's too early to start their library!
Whether you go board books, classic fairy tales, pop-ups, or waterproof, you can't go wrong with books, and we love this set of infant bath books: it's waterproof for bath time (or drool time), non-toxic for that pesky teething phase, and educational too.
7. If You Can Read This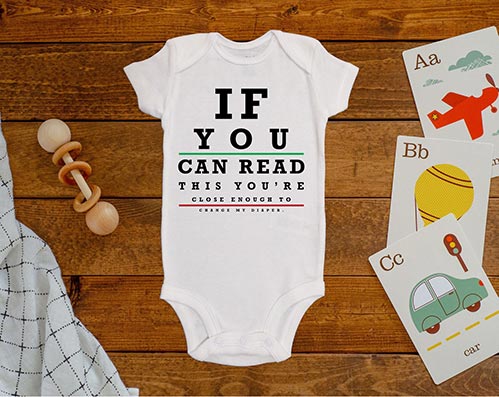 Spunky and silly (but also true) – this onesie is hilariously accurate. While Baby might not get the joke, everyone else will!
8. Blooming Bath Lotus
Bath time is the best time with this gorgeous and comfy lotus tub in a pretty and beachy hue of seafoam. We wish they made one for adults!
Soft and luxurious, Baby will feel like they're floating on a cloud. Plus it's much more secure and safe than letting them slip and slide in a tub that's too big for them, or a slippery kitchen sink!
9. My Big Brother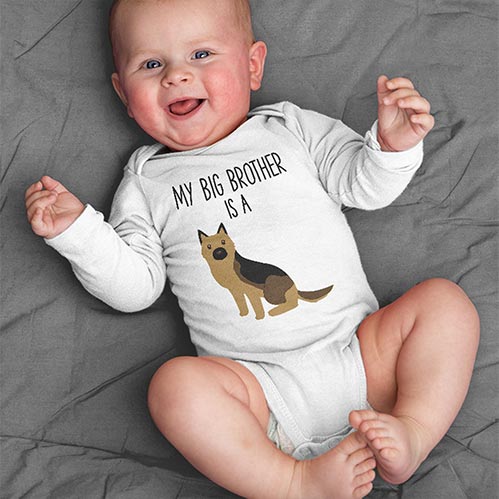 For doggy lovers, this onesie is a must-have! Don't forget the other babies of the family: the furry ones. They get the limelight too with this adorable outfit.
10. Portable Rocker
Baby will be rockin' and rollin' with this infant-to-toddler portable rocker. It will be their favorite spot to chill while Mom and Dad are eating at the dinner table or sitting on the porch in the evenings. And the little hanging toys give Baby something to bat at.
5 Best Baby Shower Gifts for Girls
When you know the baby is going to be a girl, you also know you'll have to level-up your baby shower gift game! Here are the best ideas.
1. Headband Organizer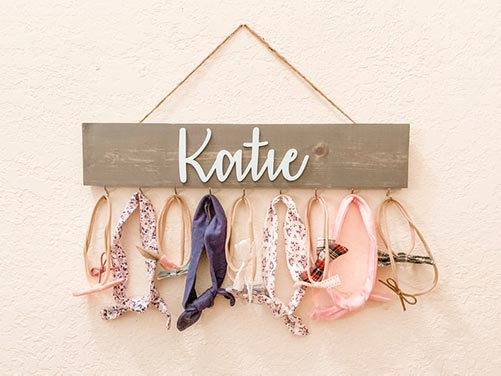 Personalized with Baby Girl's name, this headband organizer is everything the new parent didn't know they needed!
She'll have one for each outfit once there's a spot to hang them all. Also great for other things, like hats, pacifier holders, and toys.
2. Rose Blanket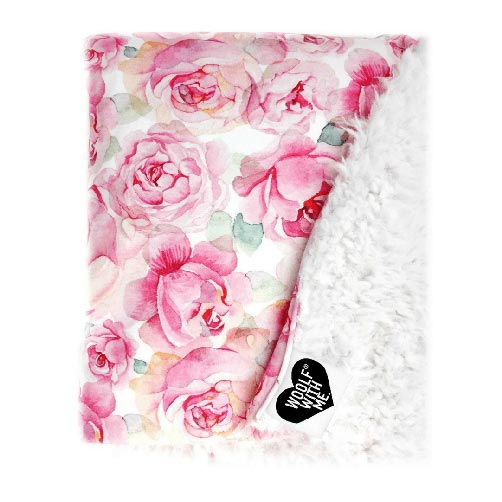 Every baby has their favorite blanky: it's inevitable! So make sure it's this one: a gorgeous rose blanket that's as fluffy as the day is long. It's so pretty, you won't mind that it goes everywhere with her!
3. Baby Car Seat Cover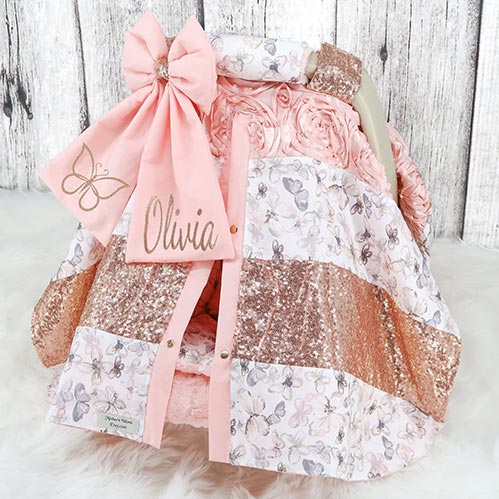 Sometimes you just want to block the outside world a little and take a nap! This stunning car seat cover in hues of peach, looks as good as it is practical. The personalized bow just takes it right over the top to fabulous.
4. Personalized Name Puzzle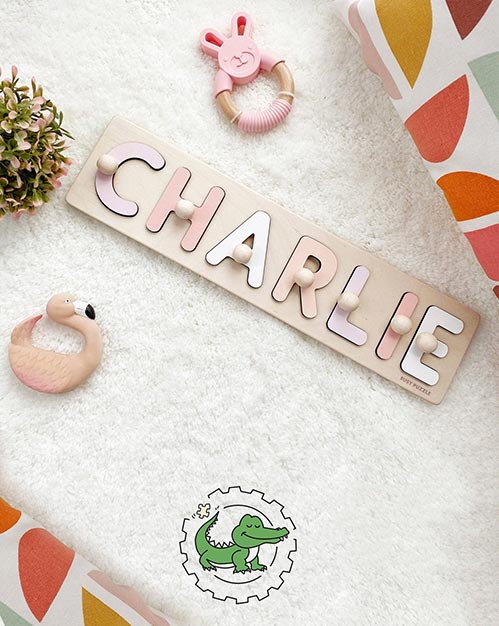 Sweet and sturdy, this personalized name puzzle is adorable all on its own, even if it doesn't get "played with" for a couple of years. The little letters have gripping handles that are perfect for chunky toddler hands.
5. Milestone Tracker
This milestone tracker set is great for the parents who love to update on social media their baby's progress! It's the perfect spot for a camera ready little superstar.
5 Best Baby Shower Gifts for Boys
Boys are simpler… so they say. The jury's still out on that one. But there are definitely plenty of excellent baby shower gift ideas for boys, so we'll help you make this part simple by sticking with the best.
1. DIY Baby Mittens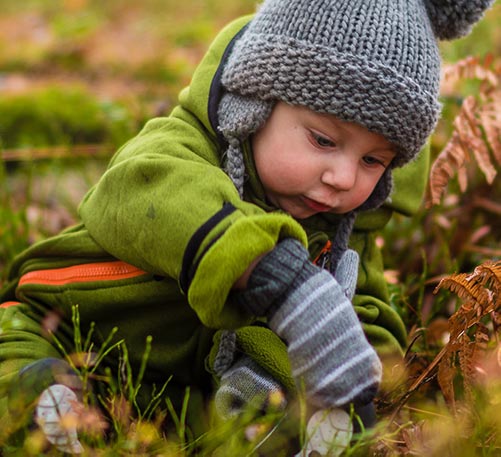 We're not sure there's anything cuter in the whole wide world than a baby in mittens! Unless it's a baby in a hat. Or socks.
Learn how to make a pair for the cute new bundle of joy with this easy how-to guide!
2. Baby Boy Hamper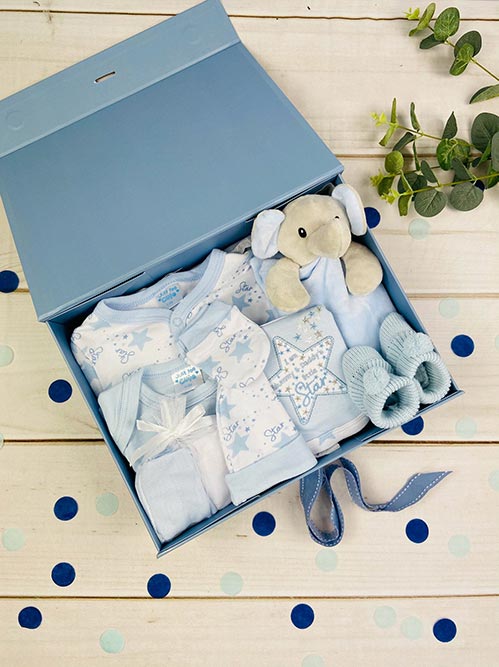 Filled to the brim with all sorts of sweet items like booties and hats, this totally useful hamper will get daily use! And the box can be great for anything from organizing bath toys to stacking diapers to sorting the next size of clothes.
This also makes the perfect gift to send when you can't make it to the shower yourself!
3. Dino Play Gym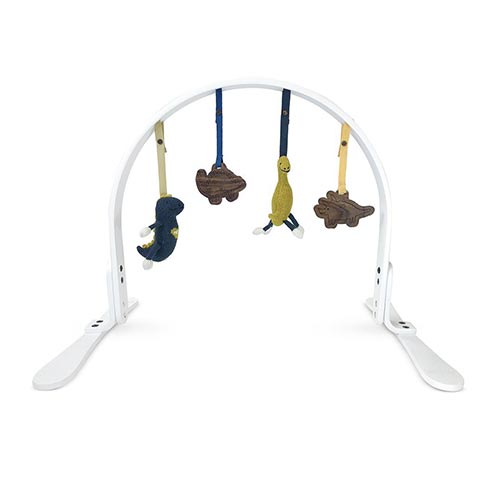 For babies who love being on their backs, kicking and cooing and batting at toys, this one is a must have! The dinosaur toys are simply so cute, and Baby will love reaching for them.
4. Bring My Mom Coffee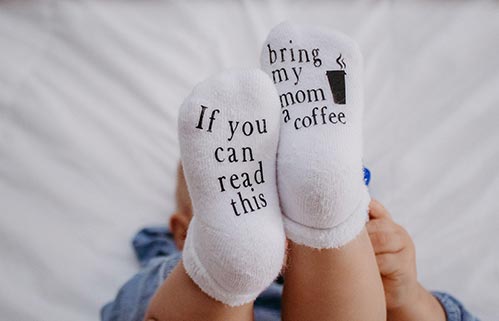 It's funny because it's true! Who knows how many much needed cups of coffee Mommy will get with these absolutely great socks?
5. Brave Little Lion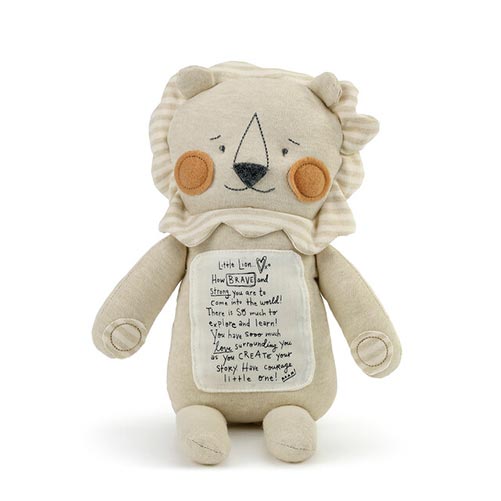 This brave little lion stuffy is so sweet and soft. Baby will love cuddling and squeezing their new BFF. And it has a sentimental message that will grow with them and remind them of how much they are loved.
5 Best Personalized Baby Shower Gifts
Take the extra step to personalize you baby shower gift, and it will be the one they remember and treasure most.
1. Growth Chart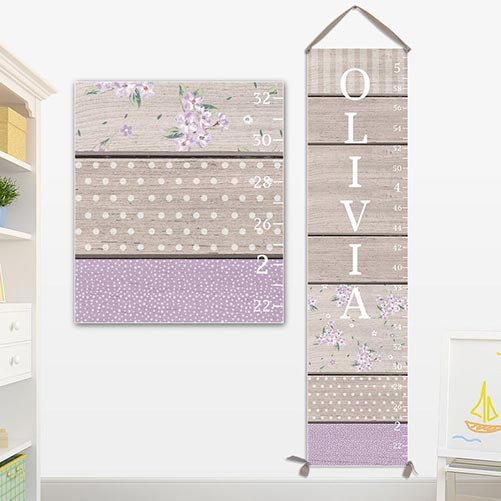 This personalized chart will look so amazing in the nursery, and Mom and Dad will love tracking their baby's growth! You know what they say: they grow up sooooo fast. So make sure to document it!
2. Embroidered Comforter Toy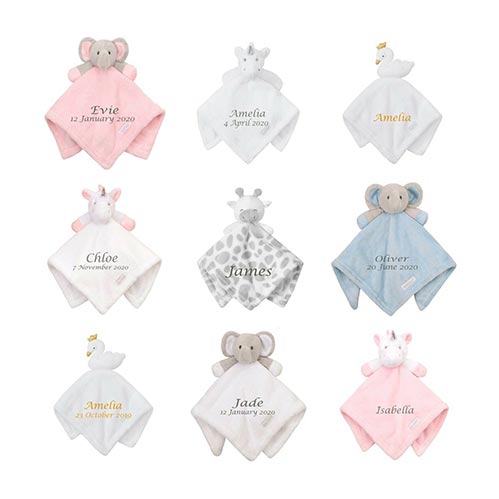 Sweet little stuffies that are also soft blankies are just the ticket for Baby! When you personalize them with their name and birthday, it's makes these cuddly comforter toys just the best on the market.
3. Nursery Name Sign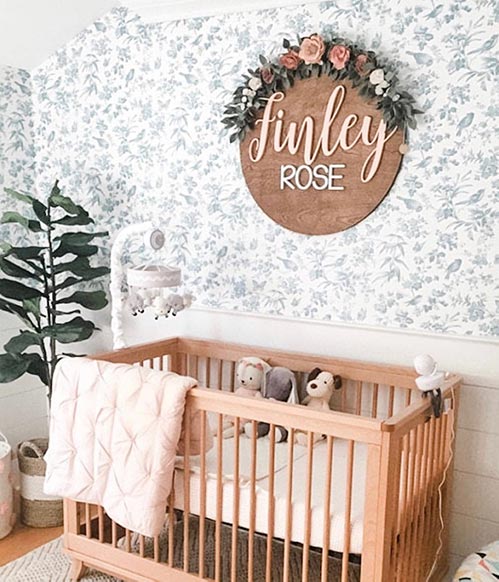 Whether hung over their crib or on their nursery door, this gorgeous sign with Baby's carefully chosen moniker is going to look just stunning! Who are you, the best gift giver ever, or what??
PS: Triple check the spelling. Is it Everleigh, Everly, or Everlee?
4. Baby Blanket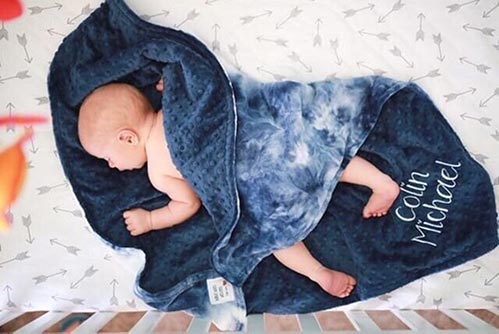 You can tell just how amazingly soft and plush this personalized tie-dyed baby blanket is just by looking, can't you? The perfect size to grow with them, this blanket is going to get a ton of use, and will only get softer with each wash.
5. Personalized Teether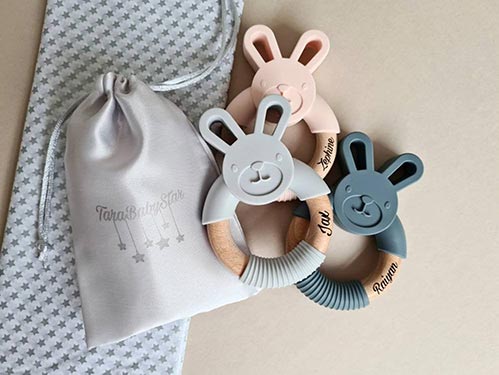 Teething can be a beast, but make it a little easier with these cute teethers! They're personalized and nubby, making them great for sore gums.
5 Best Baby Shower Gifts for Mom
The Baby Mama deserves some love! Be sure to bring a gift that she can enjoy too.
1. First Time Tags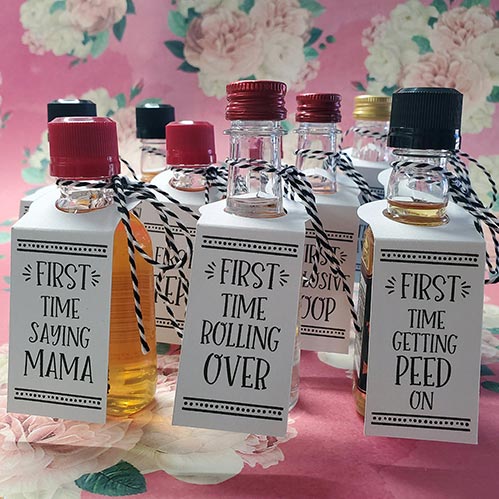 Make her laugh with these "first time" tags! She'll be cracking up at each clever one, and we wonder how long before she goes through them all?
You can attach them to mini bottles of alcohol, bags of coffee, or any other decadent and totally needed reward for those trying times!
Related: 12 Gift Ideas for New Moms
2. Diaper Changing Station Bag
There's nothing worse than a diaper blowout in a public place with no changing table! No worries when you have this epic foldable bassinet and changing station bag! It's practically George and Judy Jetson worthy in its modern functionality.
3. Baby Monitor
Baby monitors are so necessary for the first-time parent especially! They give Mom and Dad peace of mind and a chance to catch their breath.
Give the parents security with a gift they really want and need, instead of yet another pillow or set of pajamas.
4. Parent Decision Coin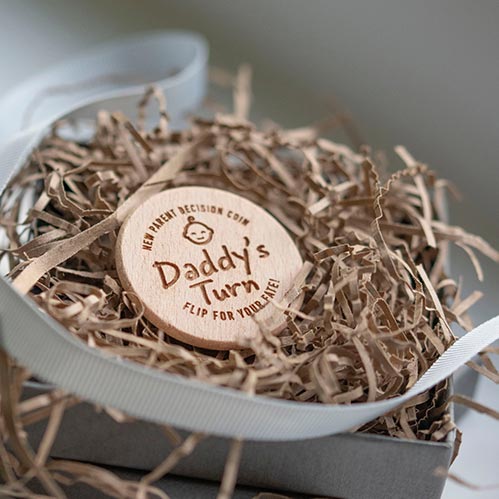 When it comes to whose turn it is to change the diaper or do the midnight feeding, don't leave it up to anything less than this fun decision coin! You can't argue with fate!
5. Monthly Supply of Beer… for Dad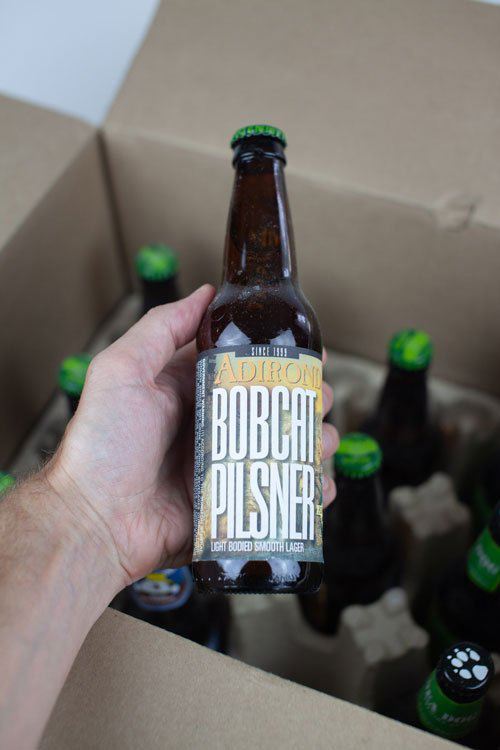 Long nights in the rocking chair soothing Baby, or playing on the floor, or pushing in the swing, whatever it is, Dad needs a good beer! He'll appreciate and love this monthly subscription – it's the perfect baby shower gift for him.
Check out our review and see what we think!
Read Next: How to Give Thoughtful Gifts (plus 10 of our favorites)
Pin It