The best aviation gift ideas for pilots will involve the perfect combination of high-flying thrills and creativity along with practical dependability and flawless precision.
You want to find a great gift that is both personal and surprising. What will be the perfect gift for a pilot?
We've combed the interwebs to find out what pilots like, need, appreciate, and enjoy. In the list of pilot gift ideas below, you will surely find something that fits the bill for the aviator in your life.
25 Aviation Gift Ideas for Pilots
Please note that this post includes affiliate links, which means that we may receive a commission if you buy something from our list.
We hope you do, because we work hard to come up with the best ideas for you! Read our full disclosure here for more information.
1. Best Pilot Ever Personalized Tumbler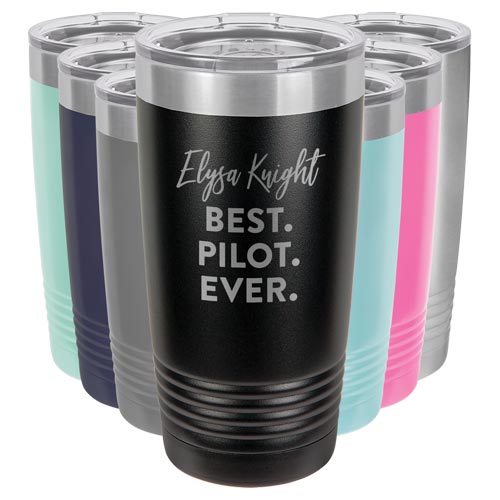 This custom pilot gift is a personalized tumbler mug, etched with the pilot's name and "BEST EVER" phrase. Customize it to say BEST. PILOT. EVER. Because you all know it's true.
2. Leather Bomber Jacket
The classic look brought home. 100% leather with snap storm flap over the front of the traditional YKK zipper plus a World War II U.S. flag imprinted onto the interior lining. All their pilot buddies will be jealous of this Flight Bomber Jacket!
3. Personalized Pilot's Lounge Wood Sign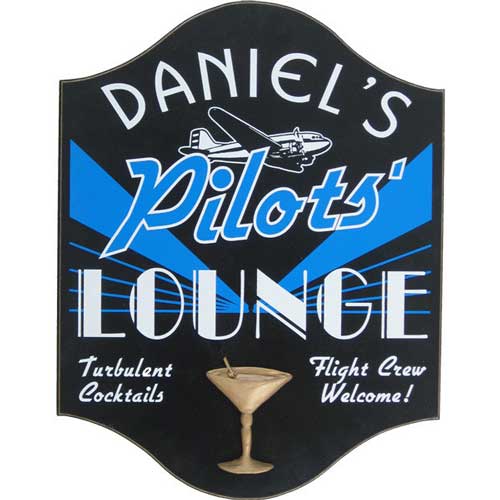 A personalized sign for the pilot's home bar and cocktail lounge. The fun vintage style decor piece includes their name customized across the top along with airplane art, retro lines, and a 3-dimensional hand-carved martini glass relief.
4. Bose Aviation Headset
Bose is the world's leading brand in quality audio, and their aviation headset is one premium gift idea for a pilot that they will unashamedly drool over. It will set you back by quite a bit, so if that is a little over your budget consider this headset from Kore Aviation.
5. Trust Me, I'm A Pilot T-Shirt
Doesn't this pilot t-shirt inspire confidence? Colorful, fun, and just a little cheeky. This is a great gift for a pilot.
Is the aviator in your life a guy? Check out our curated selection of 100+ Best Gift Ideas for Men.
6. Vintage Personalized Aviator Pilot Sign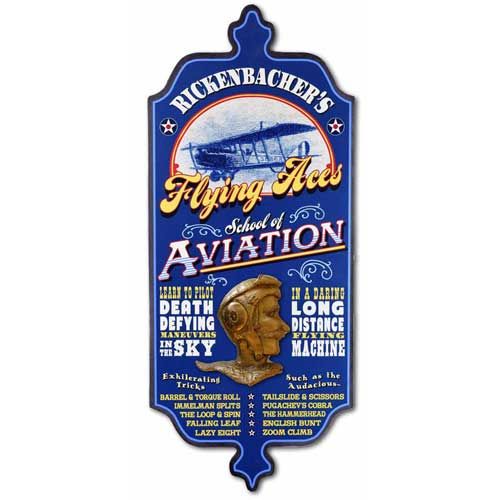 Vintage style and old-world class meet in a fun personalized pilot's wall décor sign. A perfectly unique gift for the aviator who has everything.
Quick challenge… do you know all the tricks listed here?
Barrel & Torque Roll
Tailslide & Scissors
Immelman Splits
Pugachev's Cobra
The Loop & Spin
The Hammerhead
Falling Leaf
English Bunt
Lazy Eight
Zoom Climb
7. Airplane Mount for GoPro
Every pilot wants great pictures and video. Now you can make it happen for them with this airplane GoPro mount.
Crafted from aircraft aluminum, the MyPilotPro can be attached to virtually any General Aviation or Light Sport aircraft that have tie downs, which means that it can be utilized by almost all private pilots and student pilots alike.
8. Live Free & Fly Airplane Necklace
An adorable airplane necklace that comes with a card that reads,
May your heart soar
And your dreams take flight
Reaching far beyond
The highest height
9. Personalized Pilot's Lounge Barrel Head Sign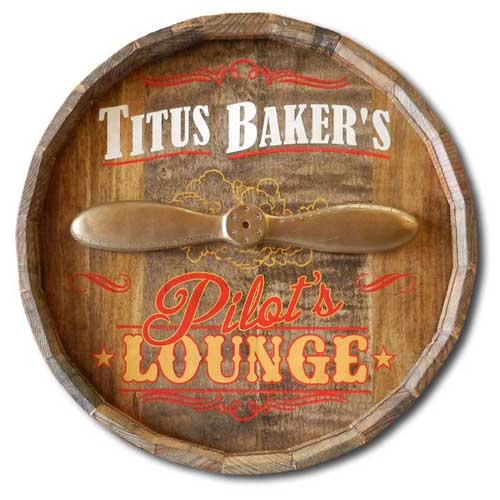 The top section of a barrel, which we affectionately call a "Quarter Barrel" sign, includes personalization of the name of your choice plus a hand-carved propeller applique.
If you want to branch out from stuff that just says "Pilot" and "Aviator" then we have plenty more Quarter Barrel Signs that you can customize, including themes for wine, home bar, whiskey, BBQ, ice cream shop, golf, garage, home theater, and more.
10. Airplane Bottle Opener
This is a cute gift idea with a celebratory vibe!
Whether you're celebrating a new relationship, a pilot's graduation or certification, a new job, a relocation, or you simply love to travel, this Airplane Bottle Opener is a beautiful gift.
It arrives in a lovely package that reads, "Our Adventure Begins!"
More: 40 Great Gifts for Travelers & Globetrotters
11. Travel Adapter
Most pilots will probably already have one, but if this is a gift for a recent graduate they will use it often.
Heck, even if your pilot already has one, they won't regret having a backup. An absolute must-have pilot's accessory in the modern age.
12. Custom Portrait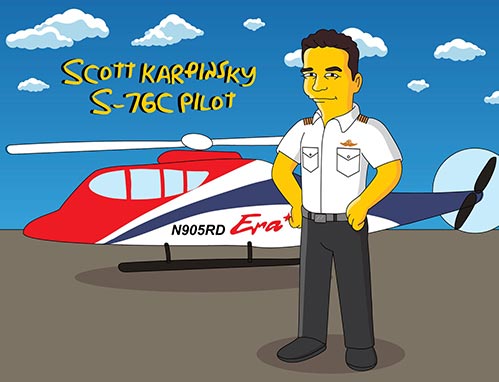 Nothing beats a great caricature, especially if your pilot is a fan of the Simpsons TV show. When you order this digital print, you send in a photo of your special someone and the artist will turn it into a hilariously accurate yellow cartoon character that is both silly and immediately recognizable. A truly fun gift idea for the aviator with a sense of humor!
13. The Wright Brothers by David McCullough
Renowned historian David McCullough brings to life the two bicycle mechanics from Dayton, Ohio who would change history. A national bestseller by a two-time Pulitzer Prize winner, this absorbing biography will renew any pilot's sense of wonder at the miracle of flight.
14. Vintage Airplane Pilot Plaque with Personalized Name Plank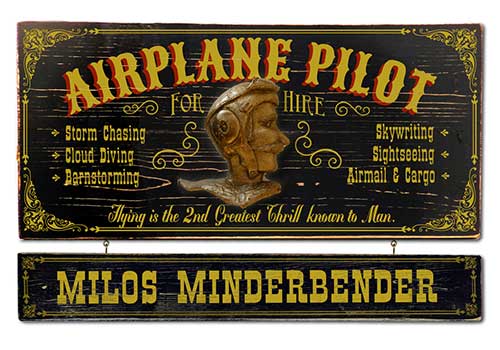 For the storm-chasing, cloud-diving, barnstorming, skywriting, sightseeing lifelong pilot, this vintage-style wooden plaque is just the thing.
Customized with a hanging name board in old-fashioned style and made completely in the USA, this is a total original and our favorite of these aviation gift ideas for pilots.
15. Getting High Is My Job Pilot Coffee Mug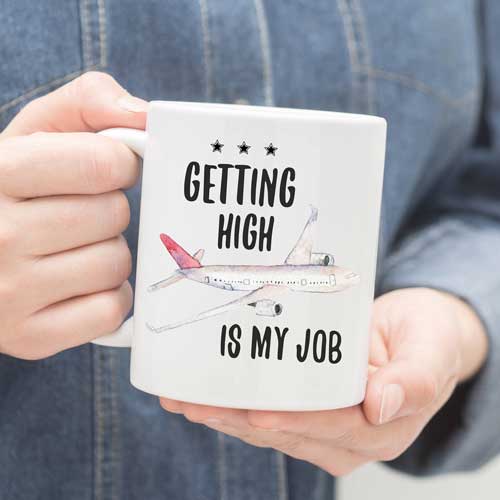 Pilots drink coffee and get high. It's all part of the job. Any professional aviator with a sense of humor will dig this fun pilot gift idea.
16. Warning Pilot T-Shirt
A funny pilot gift idea for the aviator with a cheeky-yet-honest sense of humor.
17. Aviator Whiskey Glasses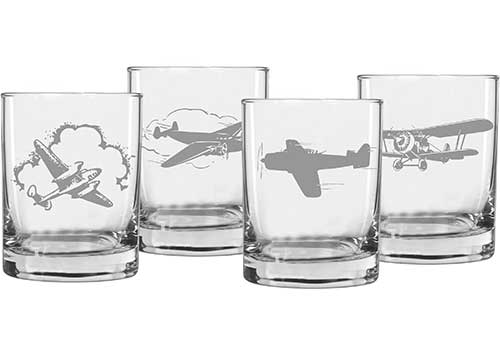 For the whiskey connoisseur. This set of four heavy sham whiskey glasses – each with a capacity of 13.5 ounces – boasts laser etched artwork of classic airplanes flying high.
While you're on the whiskey train, you may be interested in some personalized whiskey barrels and home bar decor.
18. TravelPro Maxlite Carry-On Suitcase for Pilots
The TravelPro Maxlite took first place on a LifeHacker reader's poll and has across-the-board great reviews. Perfectly sized for international travel, the Maxlite is the carry-on of choice for pilots and flight attendants.
19. World Travelers Vintage Map Sign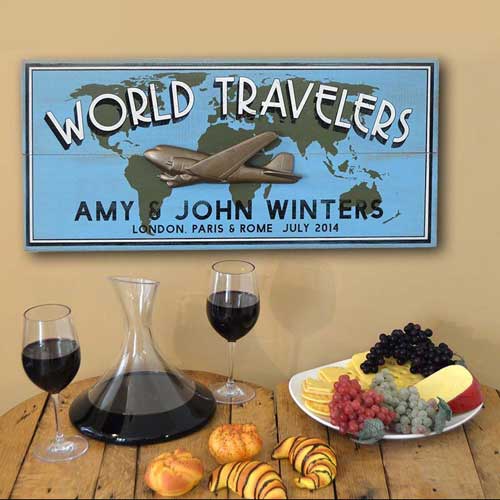 This personalized vintage wooden sign is a great anniversary gift for the world-traveling pilot and spouse. Commemorate a destination wedding or spectacular honeymoon, or simply celebrate your love of traveling together.
20. Remote Control Hobby Airplane
Most pilots simply love airplanes. It's part of the call of the wild blue yonder. Plus, sometimes it's nice to fly while standing firmly on the ground for a change.
In any event, your pilot will love a remote control hobby airplane.
21. Daddy's Co-Pilots Personalized Aviator Keychain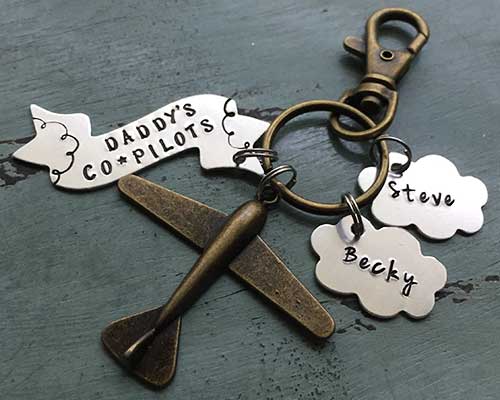 This cute keychain pilot gift idea includes a banner that says, "Daddy's Co-Pilots" along with an antique bronze airplane charm and clip plus as many customized name "clouds" as are in your family.
22. Fly Girl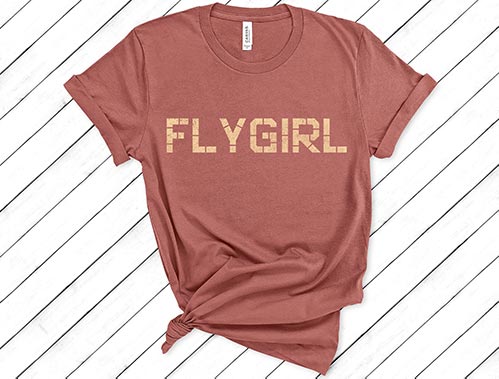 This adorable tee is perfect for the lady pilot in your life. Choose from five different colors, this shirt is cute and completely comfy.
23. Custom Metal Pilot Sign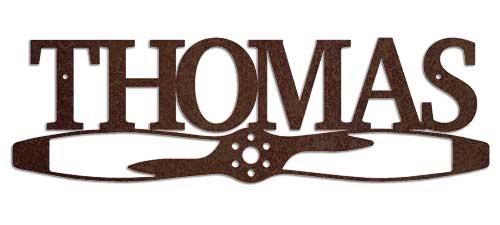 Handcrafted from 12 gauge steel in the shape of a propeller with a name above, this custom metal pilot sign is a great pilot gift idea for the shop or garage.
24. Personalized Old-Fashioned Pilot's Lounge Sign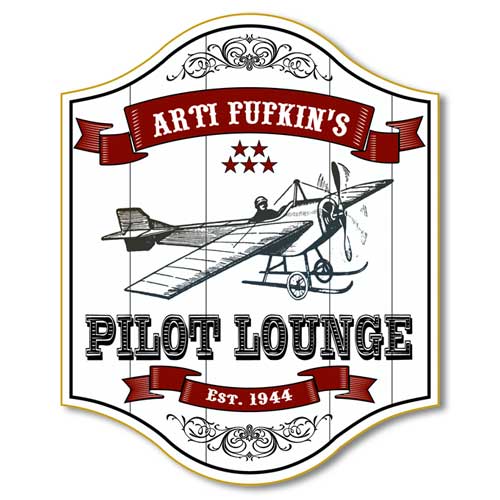 If the high life is the life for you, fly in style with this old-fashioned Personalized Pilot Lounge Sign. Crafted right here in the USA from furniture-grade wood, this pilot's lounge sign comes ready to hang on the walls of your home bar.
25. Aviator Glasses
You knew this one was coming, didn't you? Aviator glasses. Perhaps the zenith of great gift ideas for pilots.
Bonus Gifts:
Because 25 just wasn't enough!
26. Three-Dimensional Airplane Card for an Aviation Gift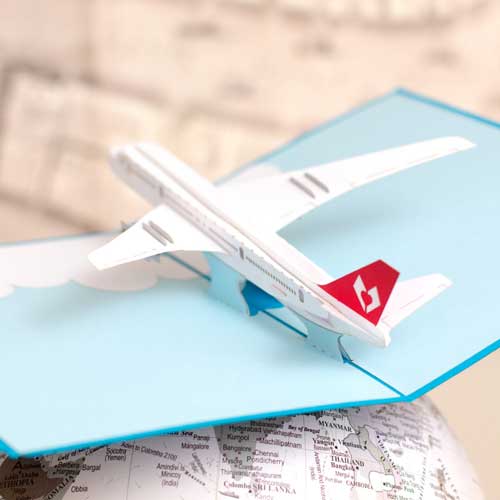 This is a gorgeous pop-up card to go along with any gift for a pilot.
The card's front features a whimsical illustration of an airplane in flight surrounded by fluffy clouds. When you open the card, you find a 3D airplane (a commercial jet) that "takes off" from the center of the card.
With plenty of spectacular details including windows, this is the perfect way to add an aviation theme to ANY gift for a pilot.
27. Engraved Flight Suit Hanger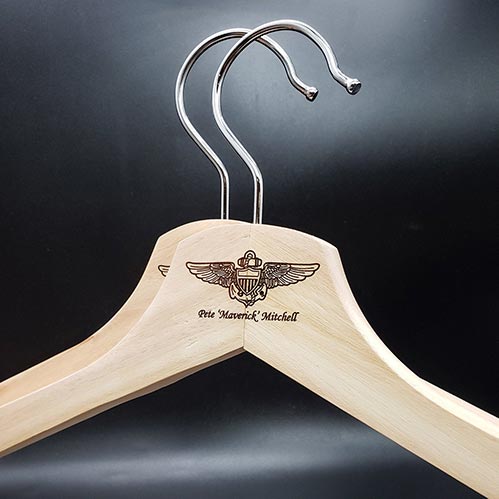 Flight suits should be treated with the best of care. That's why this Engraved Flight Suit Hanger is the ideal gift for the aviator in your life. It's unique, thoughtful, classy, and – of course – customized just for him or her. Whether storing or traveling with their uniform, they'll never be more proud to see it hanging with distinction in any and every situation. Choose from a variety of laser engraved wing styles and include their name for a personalized touch.
28. Portable Charger
When your phone reaches 15%, you feel a special type of fear. Don't let your pilot friends feel that fear when they're traveling hundreds of miles in the air! Make sure they always have a back up charge with this durable PowerCore portable charger!
This black, sleek design will fit anyone style and travel bag!
Related: How to Receive a Gift the Right Way
29. Fighter Pilot: Memoirs of Ace Robin Olds
Action and biographies… what more does someone need in a book! This thrilling memoir tells the life story of a U.S. Air Force fighter named Robin Olds and his achievements in the wars he fought. Written by our action-hero himself with the help of his daughter, Christina Olds, and retired USAF fight pilot, Ed Rasimus.
You won't want to put it down!
30. Dibs on the Pilot T-Shirt for Pilot's Wife/Girlfriend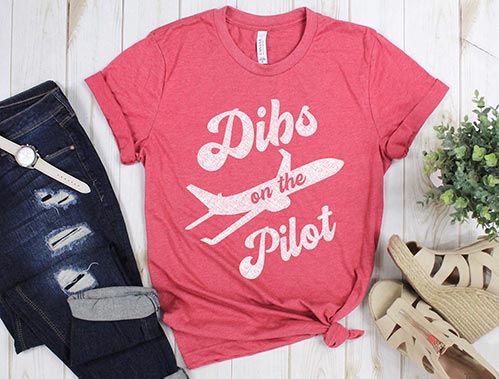 Now here's a little something for the pilot's wife: Dibs on the pilot! Show him how much he means to you – and how he still has that special "it" factor – by wearing this fun t-shirt.
More creative gifts…