These 21 genius gifts for architects will make the architect's stylobate proud.
The best architect gift ideas are dynamic, conceptual, modular, ergonomic. These are the types of gifts that provide a sustainable pastiche of genius loci, a sensibility imbued with post-industrial materiality with parametric fenestration.
Just kidding. I have no idea what most of that means.
But after extensive research into the depths of architect's chat rooms, weird stream-of-architect-consciousness blogs that no one should ever read, and all the best architectural listicles, I can say that I've discovered the best gifts for architects that they will love.
Plus, like every other self-respecting 90s kid, I wanted to be an architect when I grew up. I even had my own slanted drafting table and a stack of special graph paper.
So, even though I'm not an architect myself, I pretty much have the inside scoop on what architects like.
Want to see? Read on.
The Architect Gift Guide: 21 Gifts for Architects
This post contains affiliate links, which means that we may receive a commission should you purchase a product on our recommendation. See our full disclosure here.
1. CUSTOMIZED BEST ARCHITECT TUMBLER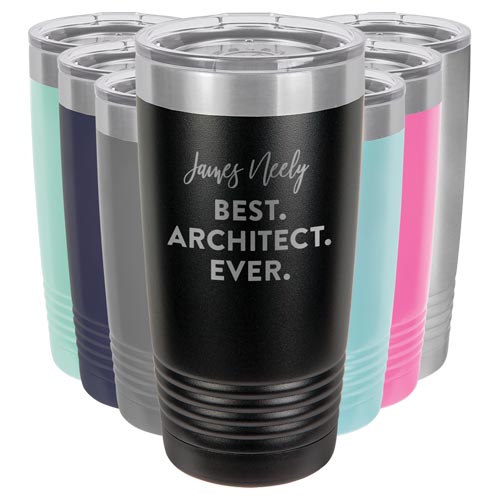 Engrave a stainless steel tumbler mug (or in your choice of color) with the architect's name and "BEST ARCHITECT EVER" or anything else you like: their city skyline, company logo, or another fun quote.
These double-walled tumblers can be custom laser engraved with any text or vector artwork, making it a completely customizable gift for the architect in your life.
2. LEGO ARCHITECTURE SETS
Lego takes on the most iconic buildings in the world. From The Louvre to the Leaning Tower of Pisa, from the Berlin sky line to New York City, Lego Architecture sets are fun gifts and great collectibles for any architect.
Lego has long been infamous for setting future architects on their road to professional success. What better gift, then, for an accomplished adult architect, than Lego Architecture models of the world's most famous buildings?
3. PERSONALIZED VINTAGE ARCHITECT SIGN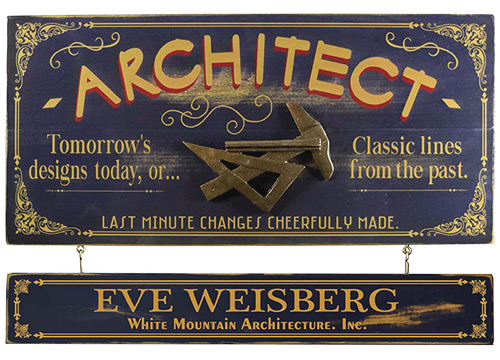 Wood plank sign made in the USA, screen printed and distressed by hand for a vintage effect. Hand painted accents and an individually crafted relief carving of traditional architect accessories complete the piece.
The personalized hanging name board includes the architect's name and any additional text you like, such as professional qualifications or business association. This architect gift combines old-fashioned charm with contemporary personalization.
4. HANDCRAFTED LEATHER ARCHITECT'S DOCUMENT TUBE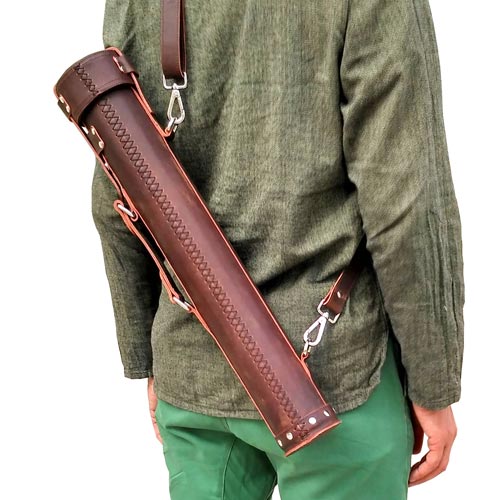 Here is one gift idea that any architect will love, and – bonus! – it will help impress clients as well.
This handcrafted premium leather document tube is the perfect way to store and transport important documents. Whether you are taking work home, meeting a client, or stopping by to confer with the contractor, your plans and drawings will be secure, protected, and impressive for any occasion.
5. CUSTOM ENGRAVED OAK BARREL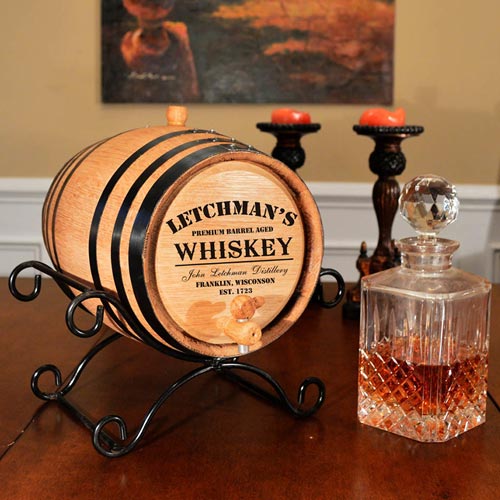 A little nip of something distilled and aged at home will help on those long, dreary nights of work before a big presentation or project due date.
This oak barrel is made from American White Oak wood staves, features a medium interior toast for the ultimate flavor, and includes customized laser etching on the barrel head. A great gift idea for any architect who can enjoy a side hobby of home distilling and aging.
6. WHISKEY DECANTER & GLASSES SET
Pairs perfectly with the whiskey barrel. A must-have accessory for those late night brainstorming sessions at the office. This architect gift idea is both classy and useful.
7. BLOCKITECTURE BUILDING BLOCKS PLAY SET
Architects are just kids at heart who love to build. Give the architect in your life a fun, creative, and beautifully designed gift with Blockitecture, attractive building block play sets that recreate the wonder and joy of childhood play.
8. EASY 3D PRINTER
With this amazing 3D printer from Comgrow, scale model construction will become faster, more precise, and more detailed.
This will allow your beloved architect more time to spend with loved ones or to land more clients. Or just have more free time to chillax.
9. DECORATIVE FIRE EXTINGUISHER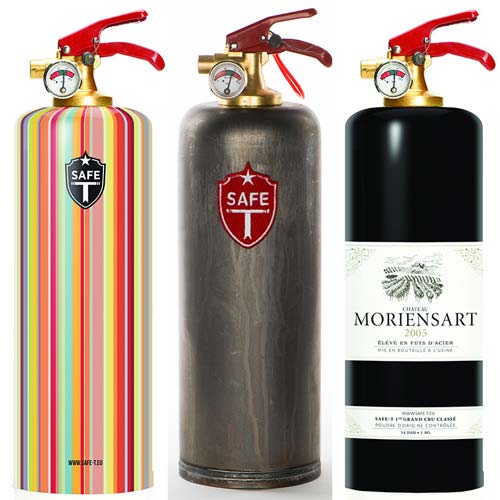 If you need a fire extinguisher – and every office does – it might as well look great.
These decorative fire extinguishers from Safe-T are available in many styles and themes, from gutsy raw metal to cheery bright rainbow colors and everything in between.
Themes include wine, whiskey, cars, city skylines, camouflage, and more.
Perhaps this is a gift with a wry twist of humor for an architect who is a stickler on building and fire safety codes. They know full well when and where a fire extinguisher is required; you are just going the extra mile by getting a fire extinguisher that looks awesome.
10. FLOOR PLAN TIE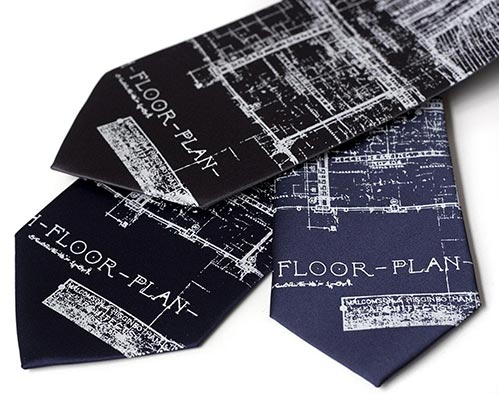 Every architect needs a tie for those special meetings, proposals, and presentations. But dressing up doesn't mean they have to sacrifice their sense of style and individuality.
From Cyberoptix in Detroit, Michigan, these microfiber ties are available in several colors and feature the original 1917 blueprints from their local Cass Tech High School in right there in Detroit.
You may also enjoy: 10 Practical Gifts (that people actually love)
11. FUTURE ARCHITECT'S HANDBOOK
The Future Architect's Handbook is a fun gift for the aspiring architect of any age. Using fun drawings and interesting descriptions, the book explores how architects really work, transforming an idea into a real, livable house as they plan each stage of the building.
12. SONY NOISE CANCELING HEADPHONES
Keep working without distraction with top-notch noise canceling headphones!
Combining premium performance with all the right features plus affordability, these wireless headphones will be well-used by any architect who loves to get lost in the music while they work.
13. MEMORY FOAM OFFICE CHAIR SUPPORT CUSHION
Another must-have accessory for those long work days. Your architect friend will spend hours at their desk.
Therefore, good quality support will go a long ways towards improving their comfort and mood.
14. PERSONALIZED VINTAGE CIVIL ENGINEER SIGN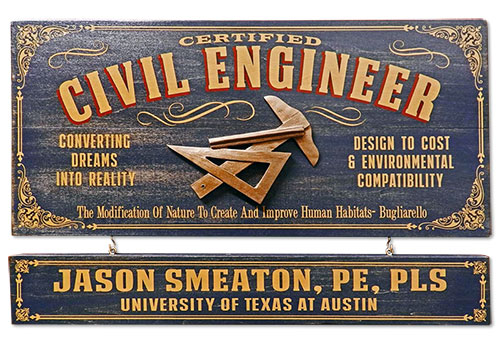 Civil engineering and architecture have many points of commonality. Both are involved in designing and building structures.
Maybe this Civil Engineer sign will be more apropos for the architect in your life.
15. HANGING DRIFTWOOD SUCCULENTS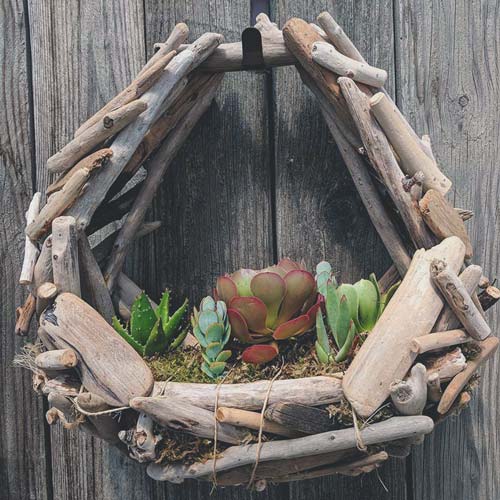 Succulents are living plants that are both easy to care for and lovely to look at. Any architect will appreciate the beauty afforded by a well-placed succulent décor accent piece.
The hanging planter pictured above is handcrafted in Oregon from real local driftwood, and includes a selection of gorgeous and certified organic succulent plants. Succulents are a truly lovely living gift idea.
You may also enjoy: 15 Best Cactus Gifts (to Prickle a Cactus Lover's Fancy)
16. CONTEMPORARY CONCRETE NECKLACE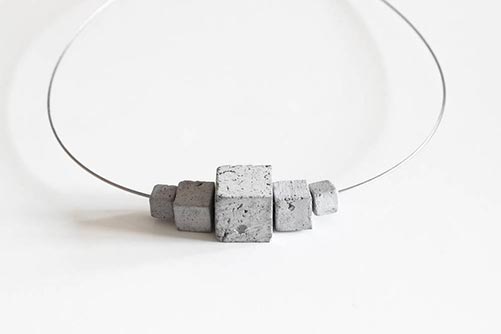 Handmade in Germany with 11 interchangeable modules in lightweight and reinforced concrete, this architect's necklace is the ideal combination of minimalism and creativity.
17. FUNNY ARCHITECT COFFEE MUG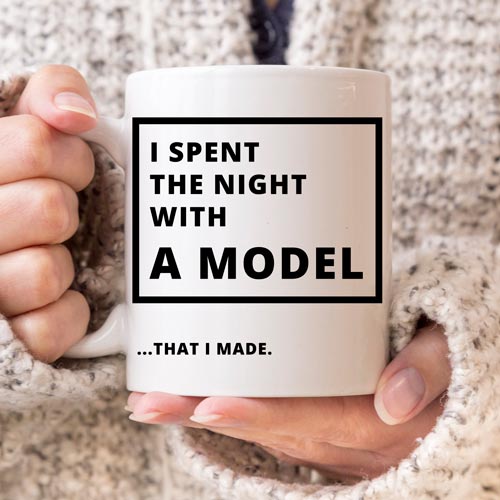 Every professional needs a groan-inducing coffee mug, so here is the funny coffee mug of choice for the architect in your life.
This one says, "I spent the night with a model… that I made." Humor in truth, eh?
18. CUSTOM ENGRAVED WOOD PLAQUE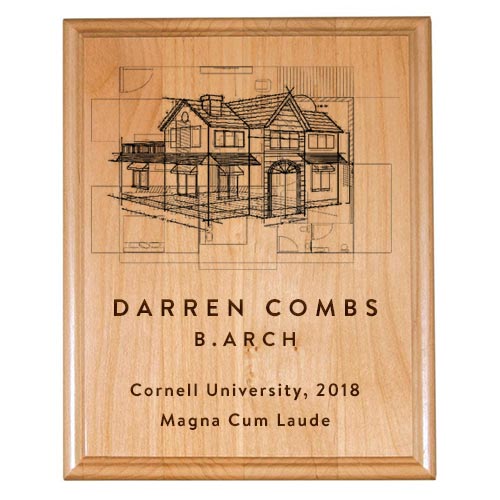 A custom laser engraved wooden plaque is the ideal commemorative gift for an architect's graduation, retirement, project completion, promotion to partnership, or any other accomplishment.
These signs can be laser etched with any text, logo, or design.
19. BALANCING BLOCKS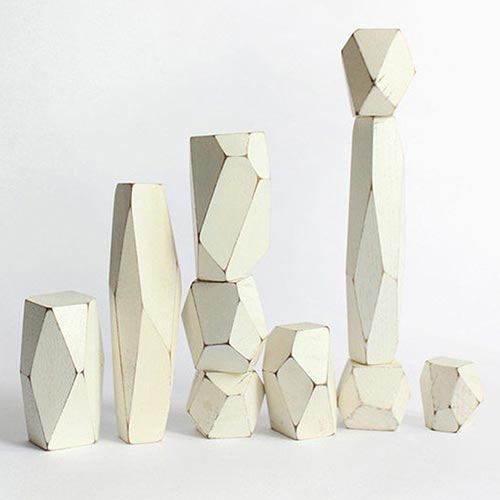 This is a building block set that is sort of like a fidget toy for adults.
Your architect friend will love having a tactile game to mess around with while dreaming up their next big project.
20. PERSONALIZED BAMBOO COASTER SET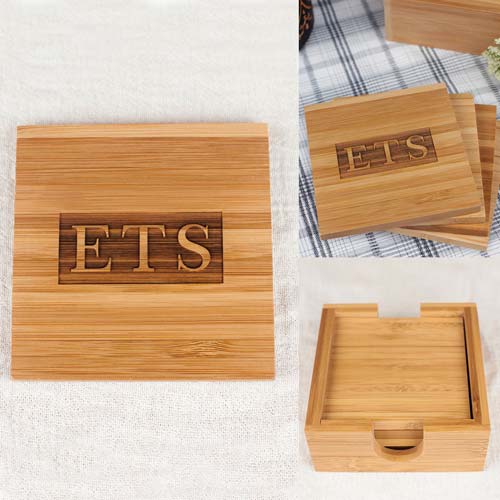 Architects tend to like things neat and tidy. Coasters help on both counts, protecting the furniture and adding a splash of earthy decor to the office.
This set is especially ideal, as they can be custom engraved with the architect's name or logo and include handy matching holder to keep everything in the right place when not in use.
21. LONDON SKYLINE CHESS SET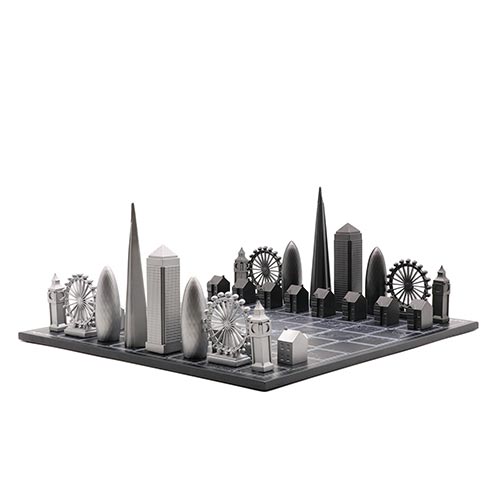 One of the very best premium architect gift ideas, this beautiful chess set makes the shape of the famous skyline of London, England come to life in a playful way.
Canary Warf is the chess set's King, with nothing less than the iconic Shard of Glass as its queen.
The Bishop is blithely personified by the 30 St Mary Axe. London Eye represents the Knight, and Big Ben portrays the Rook. Terraced houses convey the pawns.
Top notch!
BONUS: COFFEE MAKER
Long hours at the drafting table mean multiple cups of coffee. This popular Keurig K-Cup Coffee Maker pumps out single servings of java, tea, cider, and more with minimal effort.
Now that's an architect gift that will be treasured by virtue of maximum usage.
Read Next: Construction Worker Gift Guide