What are the best gifts for tattoo artists? Each and every person is unique, so their tastes and interest will vary. However, when someone is an artist, they will typically enjoy certain things. And when that artist does tattoos, they will often appreciate even more-narrowly-certain things.
At the same time, you don't want to get them just any old thing that has a tattoo theme or a skull or whatever. You want to give a gift that is truly special.
So we've scoured high and low on the internet for some of the most interesting and creative gifts for tattoo artists.
13 Gifts for Tattoo Artists
Please note that this post contains affiliate links. This means that we may get a commission (at no cost to you) should you purchase something on our recommendation. That's how we keep this site going! Read our full disclosure here.
1. Vintage Tattoo ARtist Plaque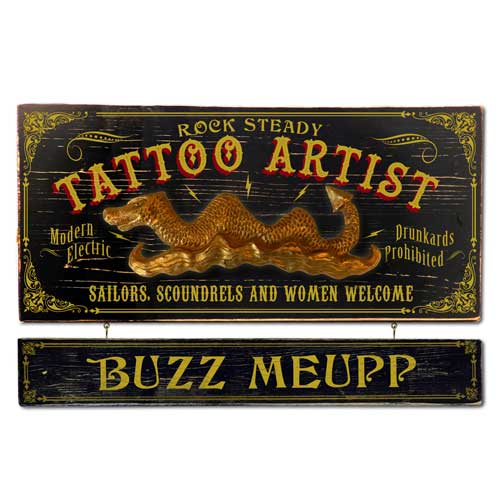 This Vintage Style Tattoo Artist Plaque would be a great addition to any tattoo parlor. You can customize the hanging name sign, making it a stylish gift for your tattoo artist friend.
2. Wireless Bluetooth Earbuds
Well, I'm no tattoo artist, but I do relate to the joy of being artistic while also listening to your jams. I have a pair of bluetooth headphones and they are amazing. You can wander about, exercise, draw, anything, and never have to worry about carrying annoying cords.
3. Custom Gifts for Tattoo Artists Tumbler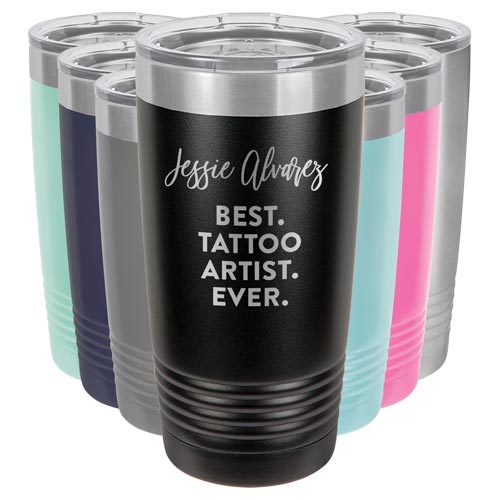 Anyone that does any kind of work needs caffeination, and tattoo artists are no exception. That's what makes this personalized tumbler the BEST. GIFT. EVER.
The bonus perk of insulated tumblers is that when you are artsy and get distracted your drink will still stay hot/cold for hours on end. A great way to celebrate the best-ever tattoo artist!!
4. Professional Art Set
I'm assuming most people love art sets, but especially tattoo artists. Sketching tattoo designs is made easy with this compact art kit that they can take anywhere, and whip out at a moments notice.
5. Tattoo Coloring Book
A stellar entry into the vast genre of adult coloring books, the Tattoo Coloring Book will give any tattoo artist hours of relaxing and creative fun. Coloring pages include skulls, angels, eagles, Day of the Dead, mandalas, roses, and much more.
6. Vintage Tattoo Posters
This set of vintage style prints would make a great gift for a tattoo artist. They feature old patent drawings of electric and stencil pens, and look really cool!
7. Tattoo Parlour Sign with Lights
This light-up tattoo parlor arrow sign is the perfect throwback decor piece for your friend's shop. Double-sided with marquee-style bulbs, here is yet another tattoo artist gift that they will be sure to remember and treasure always.
8. LED Light Pad For Tracing
Well, I am not a tattoo artist, but this light box for tracing is super cool, and would be fun for anyone artsy. For tattoo artists it would be a great tool to be able to work on tattoo sketch ideas, and it ultra thin and portable.
9. Tattoo Artist Gift T-shirt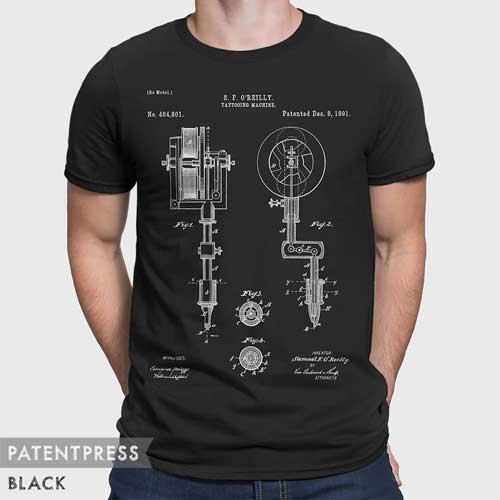 Who doesn't love an artsy t-shirt? Well, this tattoo art t-shirt would be the perfect way to celebrate the tattoo artist in your life.
10. Custom Carabiner Tattoo Artist Gift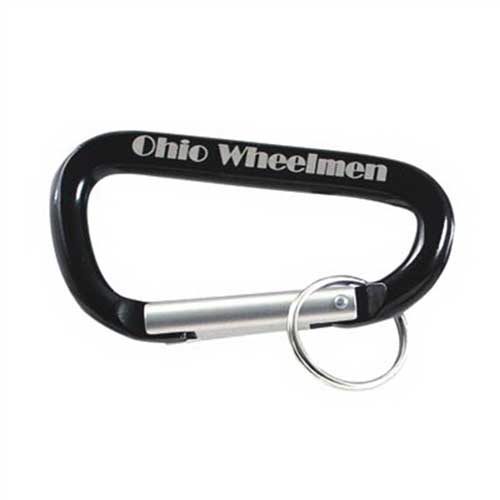 Carabiners, you know? Everyone needs a few, and all the better if they are personalized. These carabiners are laser engraved (not printed, so it will never wear off!) and can be customized however you like. A truly creative gift idea for the tattoo artist in your life.
11. Skull Pen Holder
This floral skull pen holder is pretty darn sweet, and would make a great gift for a tattoo artist. Let's be honest, though, almost anyone could use a pen holder. Pens have a habit of disappearing.
12. Tattoo Artist Phone Holder
Your skin is my canvas. And before you get all freaky with the Silence of the Lambs thoughts, we are talking about tattoos here, people! PopSockets phone holders are the latest craze, and this phone holder for tattoo artists is a great gift idea for the artist in your life.
13. Give Them Your Tattoo Biznass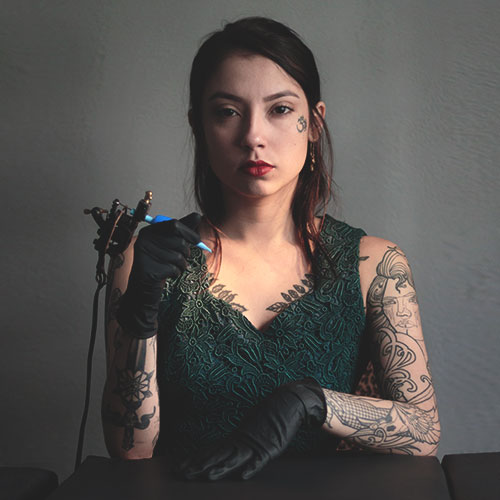 That's right, get yourself some ink done! It's kind of a gift for both of you. You pay for the work, get that tat you've always wanted, then make sure to leave a great review on their online business profiles (Google business profile, Facebook, their website, etc).
More than the business aspect, it shows that you value their work and artistry, and that you trust them to ink you up. Plus you'll get to spend some quality time together. Lots of fun to be had, and you'll have a permanent keepsake to take with you wherever you go!
I guess this is really just a gift for yourself… hmmm, does it count as a gift for the tattoo artist? Things to think about….
More Popular Tattoo Artist Gifts
---
Anybody feel like getting a tattoo now? Show of hands. You, you, you, you….
Even if you don't, to be reading this tattoo artist gifts post you must know someone who is an awesome tat artist, so I hope this list of gift ideas gives you some great inspiration for the next birthday, holiday, or other gift-giving occasion.
Pin It