Let's talk about the best and most thoughtful gifts for surgeons. Surgery is an incredibly important field of medicine, and those who practice deserve honor and recognition for their work and expertise.
Whether you need a gift for a friend or family member who's a surgeon, or you have a wonderful surgeon whom you'd like to show your appreciation to, we've got the perfect gift ideas right here.
In this article you'll find:
Gifts that pretty much all surgeons will love
Graduation gifts for brand new surgeons
Gifts for the retiring surgeon, and
Gifts for the surgeon's office
Look and see what we've picked!
Our website is supported by our users. We sometimes earn a commission when you click through the affiliate links on our website. See our privacy policy & disclosures for more information.
Gifts for Surgeons (That Pretty Much Any Surgeon Will Love)
Everyone likes getting a gift, surgeons included. Here are some general gifts for surgeons sure to put a smile on any of their faces.
1. Personalized Leather Bag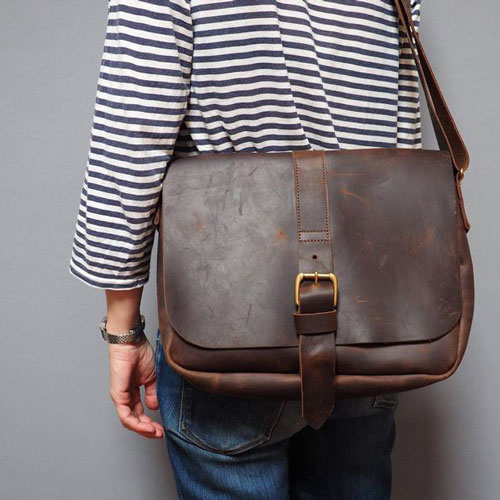 Everyone can use a great work bag, especially those who work in the medical field.
This leather bag is as good as it gets… and we're sure you can easily imagine your doctor bringing this one into work.
Made from high-quality leather, personalized on the flap and big enough to hold a 15″ laptop. It's timeless class and earthy style wrapped up into one perfect gift idea.
2. Custom Engraved Tumbler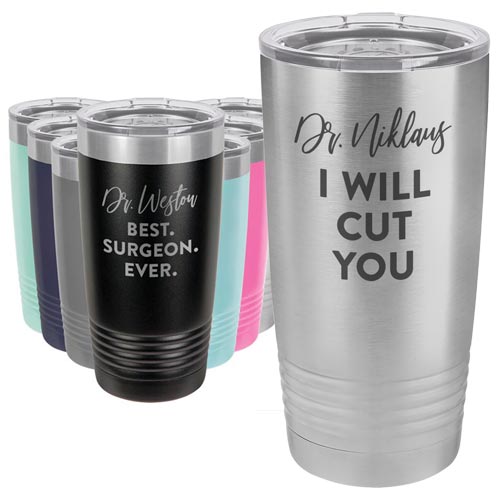 Everyone has a favorite morning drink, whether that be coffee, tea, juice, or a shake. No matter what the surgeon in your life likes to wake up to, they will enjoy sipping it from this cute tumbler from Northwest Gifts.
These personalized tumblers are perfect for either hot or cold drinks. They're available in several sizes and colors, and come engraved with your doc's name plus any additional text you want.
This is a good one to go for a funny quote ("I will cut you" is a popular one, as is "I like big cuts and I cannot lie"). Or you can stick with something more complimentary, like "BEST. SURGEON. EVER."
Oh, and if you order multiples (get one for each staff member), you also get bulk discounts – even with each one individually personalized!
So check out all the custom engraved tumblers we have available here.
3. Organic Mushroom Coffee Blends
Organic coffee blended with energy-filled super foods? Sounds like a drink no doctor could pass up!
This unique blend of coffee combines the healthy ingredients of chaga mushrooms and Cordyceps to help your doc kick-start their day in the best way possible.
It's Vegan, Keto, and Paleo-friendly. Your order will come with 10 packs of instant coffee.
Hint: Coffee, of course, makes a great accompanying gift to the custom engraved tumbler, above (#2).
4. Personalized Pacific Crest Wood Surgeon Sign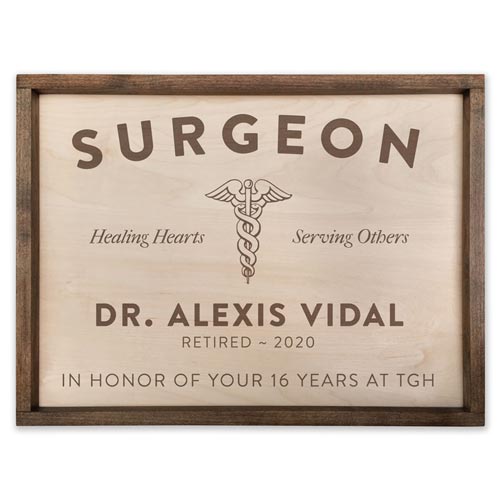 If you're looking for more sentimental gifts for surgeons, this wooden surgeon sign from our Pacific Crest series may catch your eye.
Made by Northwest Gifts right here in the USA, we can personalize this sign with your surgeon's name, a special date, a memorable quote and/or anything else you want it to say.
Handmade from stained alder wood and birch ply. Available in two different sizes and arrives ready to hang.
Surgeon Graduation Gifts
Your new favorite surgeon is graduating… that's a special occasion that calls for a special gift.
5. Home Gym in a Box
Your special graduate is about to change so many lives for the better; but he or she will need to remember to stay in their best shape so that they can properly care for others.
Give them a great way to do that with this neat Home Gym in a Box concept from TRX.
Perfect for all fitness levels, this set includes anchoring tools and workout anchors with lock adjusters, an exercise guide and access to online workouts.
6. Rocketbook Smart Notebook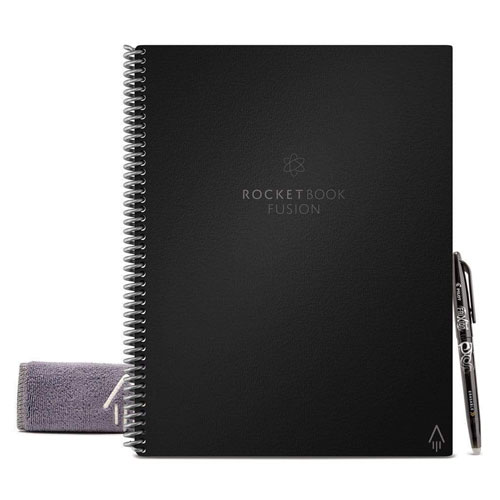 Now that they are a full-blown, all-grown-up graduated surgeon, your new professional could use an efficient way to make, save, and organize notes.
That's where this smart notebook from Rocketbook makes perfect sense. It's the perfect combination of old-school hand-written note taking with easy digitalization.
These things are really cool. It works like a real (traditional) notebook: Using a special pen that's included, you take down notes on the engineered pages. You know, like normal.
But it's much more than that. The ink can completely erase with a wet towel, so your surgeon can reuse infinitely (and not waste paper to boot). Snap a picture with a phone using the Rocketbook app, and the notes get uploaded and saved to the cloud in your app of choice. They even clean up the notes a bit.
Now here's where it gets interesting. Each page has one of several symbols on it, and you can program it so that each symbol gets saved in a different app (Evernote, Dropbox, Slack, etc) and even different folders (shared team folders, or set one for "appointments" and another for "bird sketches" or whatever).
Pretty useful! Get it here.
7. Personalized Bamboo Wood Cutting Board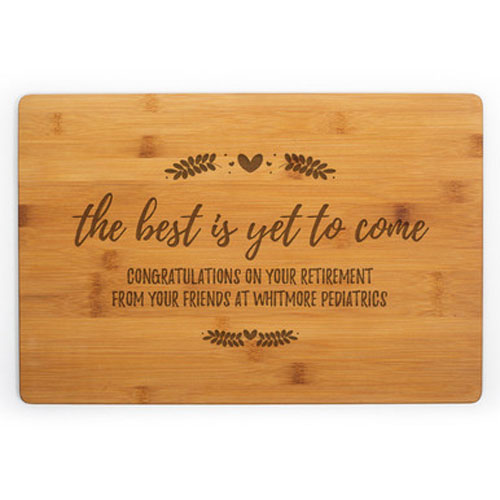 The perfect gift for the med school grad, especially now they might actually have a little time to cook healthy, delicious meals.
Well, here's hoping at least.
This large bamboo wood cutting board will come custom-engraved with anything you want. Keep "The Best Is Yet to Come" like what you see pictured above (which works for graduation AND retirement), or choose a Bible verse, a favorite quote, or anything else you'd like it to say.
The board measures an impressive 18″ x 12″ which is perfect for everyday kitchen usage.
8. Silicone Work Ring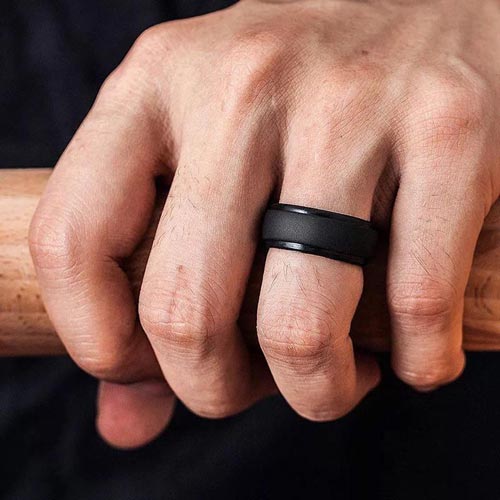 Maybe it's your significant other who's about to graduate from med school. They have a really nice wedding band that neither they (nor you!) will want getting ruined while at work.
Because let's face it – even in the day-to-day meeting with patients, there is lots of hand-washing, tons of gloves donned and removed, hands accidentally whacked against counter-tops… you name it. All of these things can cause great damage to expensive rings.
He won't have to worry about damaging his official ring if you surprise him with this silicone one, which is specially made to absorb all kinds of wear and tear. Available in several different colors.
Surgeon Retirement Gifts
No one deserves a little something special right now more than the surgeon who is getting ready to hang up his or her PPE.
9. Personalized Extra Large Keepsake Box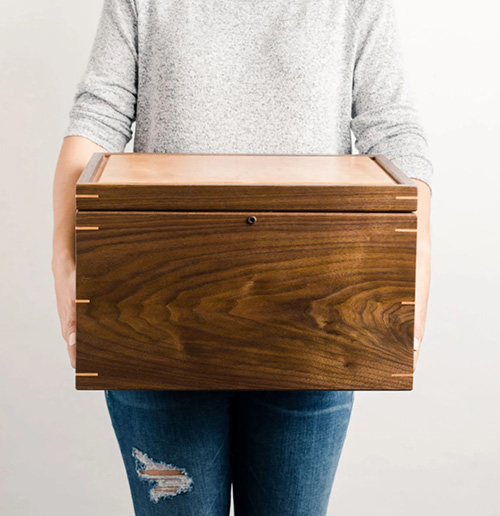 There's just something so special about keepsake chests, especially when they are beautifully crafted the way these are. Built of the finest walnut and cherry woods and tooled with expert craftsmanship, these chests will be perfect for storing their most precious memories and memorabilia.
Each piece is handmade to order, and can be customized with an engraving of your choice. They will cherish such a thoughtful gift for a lifetime.
10. Custom Engraved Bird Feeder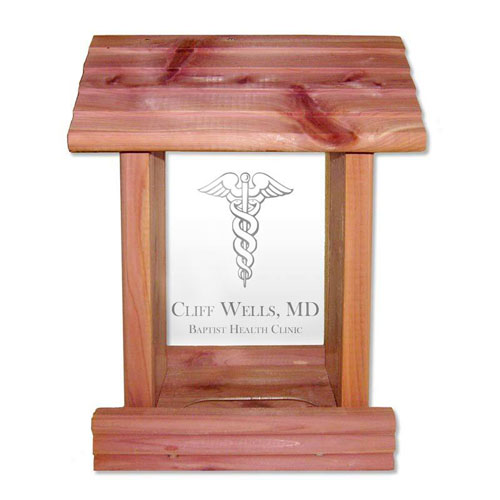 Your retiring doc is in for a lot of relaxing, making this bird feeder another great gift option for you to consider.
The custom engraved feeder from Northwest Gifts is constructed of sturdy cedar wood, a trusted choice for long-lasting outdoor use.
It too comes with the Staff of Hermes engraved on the front acrylic panel, as well as any other personalization you'd like it to say. Measures 10.5″ tall.
11. Personalized Travel Scrapbook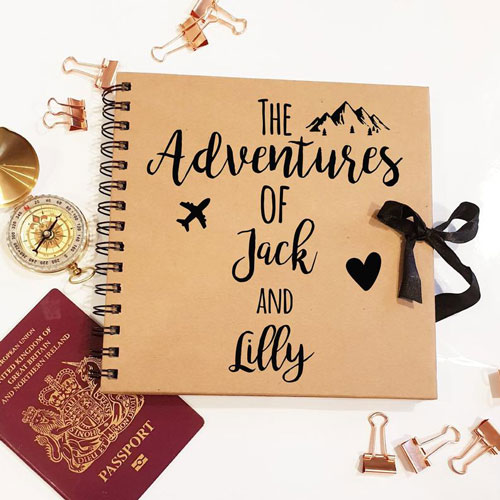 Many people, doctors included, have all kinds of adventures already planned for when they retire. Your surgeon may have been thinking for years now about how he or she will want to spend their time once their work is done.
If you already know travel is in their blood, gift them the gift that will keep on giving: this personalized travel scrapbook.
With it, they will be able to collect memories from this special time in their life, and look back on them with a smile years later.
It's cute, fun, adventurous, contains 40 pages, and is available in two sizes.
12. Glencairn with Engraved Initials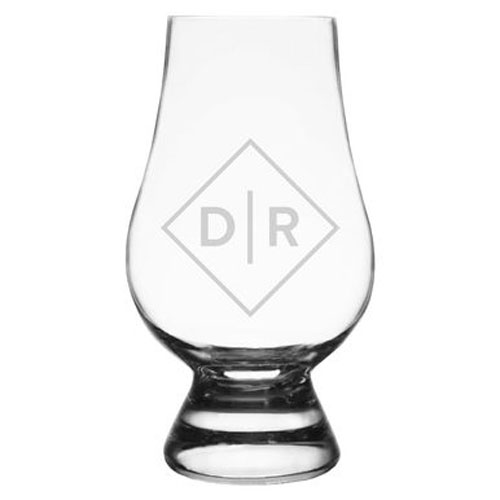 For a thoughtful retirement gift that is also timeless, you can't go wrong with a personalized Glencairn, the ultimate bourbon whiskey glass.
Throw in this attractive "Diamond Initials" engraved design, which includes their custom initials, and you've got a jaw-dropping gift your surgeon is sure to treasure, show off, and use a-plenty for years to come.
Related: 21 Amazing Gifts for Bourbon Lovers
13. Walnut and Maple Wood Bottle Opener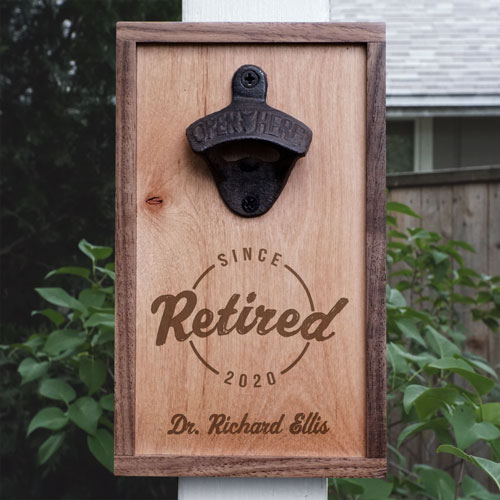 In a similar vein as the Glencairn above, consider this gorgeous walnut and maple wood bottle opener as a parting gift for your surgeon.
Designed especially for the retiree, this wall-mounted opener also comes personalized with his or her name and year of retirement. The opener itself is made of cast iron and reads, "Open Here."
Big enough to be mounted to a wall (screw included), yet compact enough to be used as a portable opener, this bottle opener is the real deal.
Measures 8.75″ tall and 5.25″ wide, made in the USA.
Gifts for the Surgeon's Office
A little office decor can go a long way. Your surgeon will be thanking you!
14. Wooden Nose Eyeglass Holder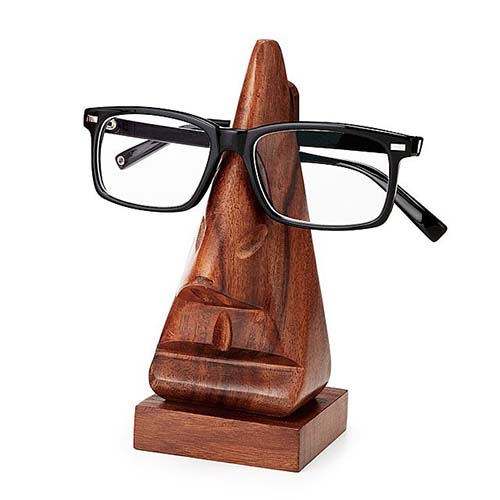 Nerdy meets practical with this fun eyeglass accessory! Great eyesight is especially important for surgeons, so they will certainly want to take great care of their glasses to ensure freedom from scratches or any other damage.
The Wooden Nose Eyeglass Holder is the perfect gift because it adds some flair to their desk or bedside table while providing that additional sense of security for their glasses.
15. Personalized Desk Docking Station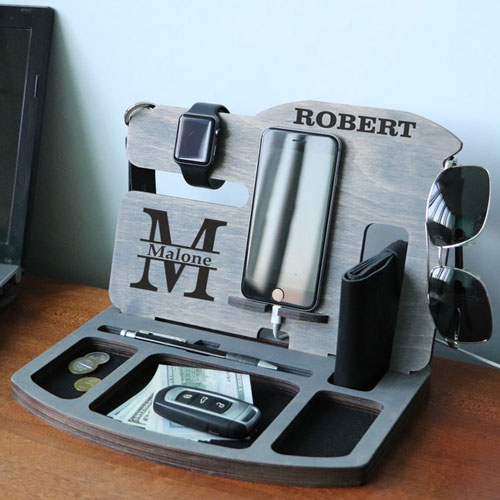 Doctors have a lot to keep track of, even outside of the office. Just like me and you, they've got their glasses to keep track of, watches, smart watches, cell phones, chargers, grocery lists, sunglasses, wallets, pens, keys, change… oh, how the list goes on.
In any case, having a place to keep all of that stuff organized can definitely come in handy.
Therefore, this personalized desk docking station is the perfect spot to keep all their important items in one place.
In the morning they'll know exactly where everything is before they head out, and at night they'll know just where to put everything for the next morning.
And did we mention it also comes personalized?
16. Doctor Bobble Head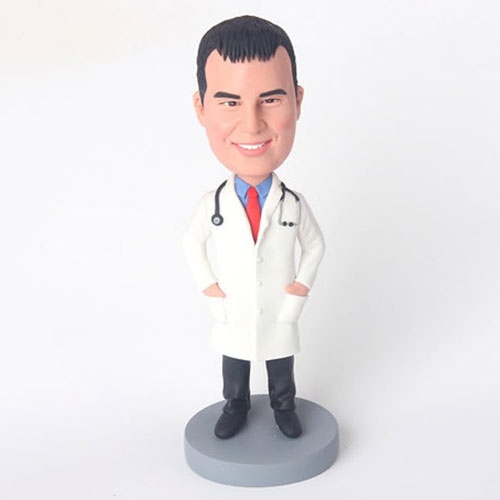 For a gift for your surgeon that's more on the fun side, choose this adorable doctor bobble head doll from Etsy.
The best part about this bobble head is that it's made in your doctor's likeness… meaning they'll be looking at a very familiar face staring back at them from their desk!
Carved by hand from polymer clay. Simply send the seller a photo of your doc and they'll take care of the rest.
17. Surgeon's Wood Sign with Hanging Name Board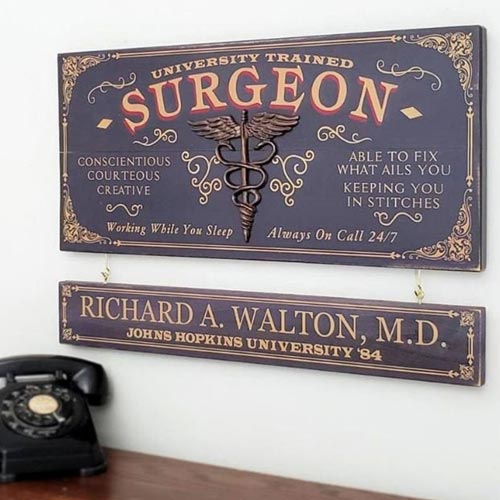 If your physician is one for vintage style, at least when it comes to their office decor, imagine the look on their face when they see that you've gotten them this beautiful wooden surgeon sign.
The stunning retro-style sign has been made with wood planks and distressed to old-fashioned perfection, complete with 3D relief of a caduceus, whimsical quotes and hanging name plate.
Includes personalization, arrives ready to hang, and measures 24″ across and 11″ high.
For more specialized surgeon's signs (orthopedic, thoracic, etc), see here.
Even More Gifts for Surgeons
You like what you've seen above, but maybe now you want to consider some gifts for surgeons that are a less ubiquitous and even more unique.
So check out this bonus list we've come up with just for you!
Here you'll find surgeon gifts that are DIY, budget friendly, or simply intangible. In other words, gifts that come straight from the heart.
Thank-You Letter
A good old fashioned thank you letter. Consider making it in greeting card form… here are some fun ideas.
Include a small token of appreciation with it; here are 100 thank-you gifts to consider.
DIY Scented Candle
Make them a relaxing scented candle without breaking the bank. Here's a tutorial.
Healthy Home-Baked Goods
Cook them a deliciously healthy dessert like this chocolate cake made with bananas.
Make a Donation in Their Name
Donate in their name to a reputable organization like Trees for a Change. Your thoughtful donation in your doc's name will see a tree planted in a fire-decimated forest, with the certificate sent to them.
If you know their favorite charity, or a charity related to their particular field, donate to that in their name.
Thoughtful Gift Basket
Create a gift basket full of goodies you know they would appreciate, like healthy homemade snacks.
If you do go with a DIY gift basket, consider one with a gardening theme. Many doctors are just like us in that they love to spend time outdoors whenever they can.
Throw in some gardening gloves, some tools, some mini clay pots, a bag of soil, and a garden-in-a-bag to make your basket complete. Or get a kit like this one that has everything you need in one go.
Sew a Tote Bag
Doctors have a lot to keep up with. If you can sew, make them a work/tote bag. Here are some gorgeous patterns.
Commission a Portrait
If you can paint, make them a custom portrait of either themselves or their place of business. Or have a pro like this one do it for you.
Spa Time
Get them a gift certificate to a local spa.
Journal & Writing
Surgeons work in high-stress atmospheres. Get them a personalized journal so that they can vent privately after a particularly trying day. Be sure to add some good writing utensils, too.
Experience Gifts
Consider giving the gift of an experience. Get them tickets to a stage play, opera, or other avant-garde entertainment venue. Arrange for a horse-drawn carriage ride, bungee jumping, or a visit to a local attraction. Take them on an exotic trip, or a picnic at the local park.
You get the idea!
Check out Tinggly, where you can send an "experience gift box," a pre-paid vacation getaway with over 400 experiences that the surgeon can choose, located in over 100 countries. It's a cool way to give a vacation, and the recipient gets to choose, plan, and schedule it.
---
Thanks for reading, but wait……! Your gift-giving options don't end just because this article does.
At Northwest Gifts, we have a broad selection of personalized medical gifts that will be perfect for your surgeon. Browse them here!
Read Next: How to give thoughtful gifts
Pin It