Looking for amazing gifts for bourbon lovers? Well you're in luck, because today we've got a detailed list of our 21 favorite gift picks for the bourbon lover in your life.
Whether they are a lifelong bourbon connoisseur who runs their own bar, or they've just discovered their passion for this timeless spirit, your loved one is sure to enjoy one (or more!) of the cool bourbon-themed gift ideas we have compiled here.
If I cannot drink bourbon and smoke cigars in heaven, then I shall not go."

Mark Twain
If that's your bourbon-loving friend's perspective, then you're in the right place.
All right, there are 21 ideas to browse through and choose from, so let's get to it!
Top 21 Gifts for Bourbon Lovers
Our website is supported by our users. We sometimes earn a commission when you click through the affiliate links on our website. See our privacy policy & disclosures for more information.
1. Bourbon Connoisseur Plaque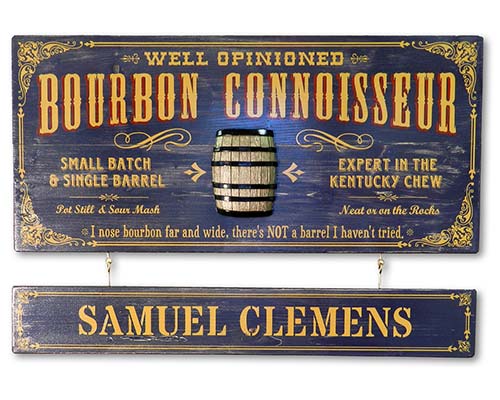 Your loved one knows bourbon. They've studied it for years, researched it passionately, and contemplated it to the point that they've got the aromatics down to a science.
They know bourbon so well, in fact, that they might as well have a degree in the thing. But since they can't be a master or doctor of bourbon (yet?), they can definitely be called a bourbon connoisseur.
Did we just describe your loved one? Then you might as well end your gift search right now, because this is just the thing for them.
This vintage-style hanging plaque measures just under 24″ in width and is 11″ tall. Impressive, right?
Best of all it comes with an optional hanging name plank for personalization – making it that much more special. This plaque is made from real wood planks and includes a relief carved barrel applique.
2. Bourbon Whiskey Oak Barrel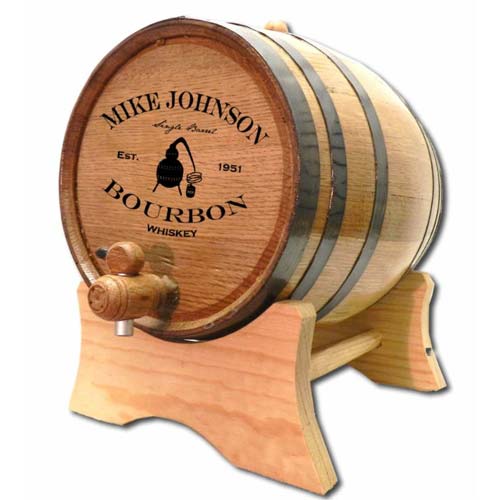 For a super-classy gift with an unmistakable air of the old days, choose this authentic bourbon whiskey barrel for your loved one.
This barrel, make from solid oak, is aesthetically pleasing but also functional, meaning they can actually use it to age their own whiskey.
This bourbon whiskey still oak barrel comes with spigot, stand, and bung, as well as directions for curing before use. It's available in six different sizes (1, 2, 3, 5, 10, or 20 liters) and also comes personalized.
3. Bourbon Whiskey Barrel Aged Coffee
Bourbon has such a versatile flavor and aroma, it can even be used in other drinks, foods and products. This just make gifts for bourbon lovers that much easier to find.
So, bourbon-flavored coffee? Yep! And why not?
This ground coffee blend from Cooper's Cask Coffee has been paired with Kentucky bourbon and barrel-aged for months, and afterwards roasted.
Each bag of coffee is examined carefully by a "Master Roaster," who initials the bag when it's good to go.
It's the perfect gift for someone who loves their coffee (almost) as much as their bourbon.
4. Personalized Glencairn Glass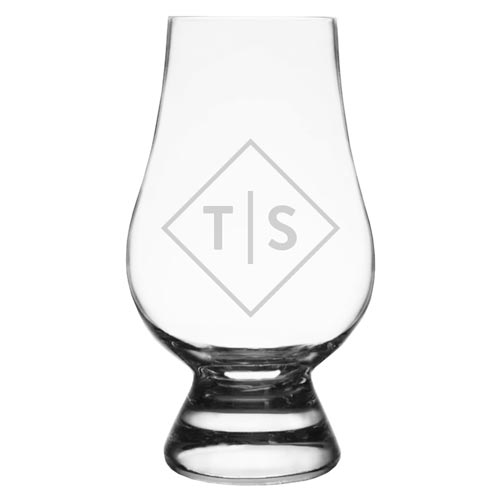 Many bourbon lovers have a vast collection of shot glasses, rocks glasses and Glencairn glasses for whenever the occasion calls for them.
What they may not own yet – and may not even realize that they want – is personalized glassware for their bourbon. But you, my friend, are about to change that.
Surprise your loved one with this elegant personalized bourbon glass from Northwest Gifts.
This design includes their initials (or "his & hers" initials) etched inside of a diamond. Other designs include name, monogram initials, bar name or logo, and/or any other text you'd like.
5. Personalized "This Might Be Bourbon" Tumbler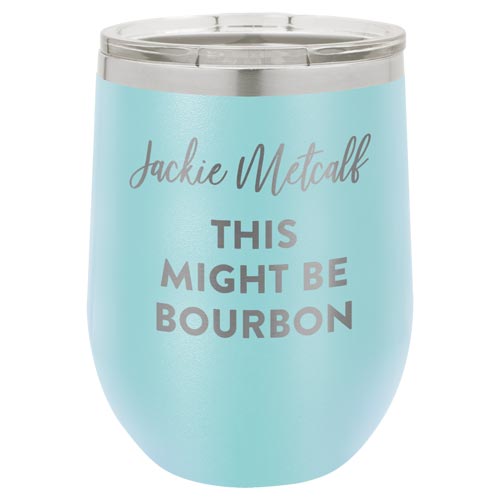 Ever have one of those mornings when you kinda sorta wish the coffee in your mug was something a little bit stronger?
We've all been there… and sometimes you gotta laugh to make it through! So offer your bourbon connoisseur the gift of humor by surprising them with a funny quote on a premium tumbler mug.
Our premium Polar Camel tumblers come double-walled and is also vacuum-sealed. This ensures that whatever's inside stays ice cold or piping hot for several hours.
Choose from several styles, like the "stemless wine glass" shape above or the traditional mug shape below.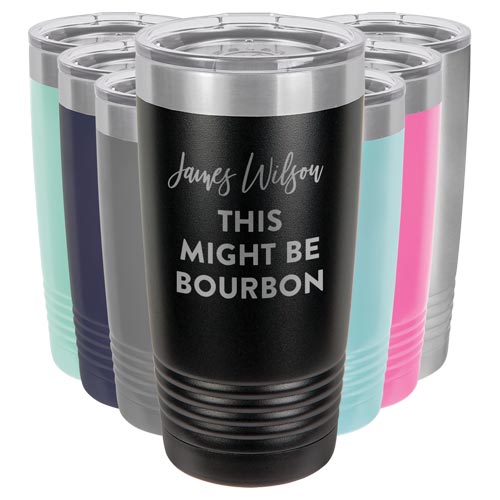 You also to choose the color (pick your loved one's favorite!) as well as the size. And – you guessed it – it comes with free personalization. Get yours here.
6. Bourbon-Themed Wall Art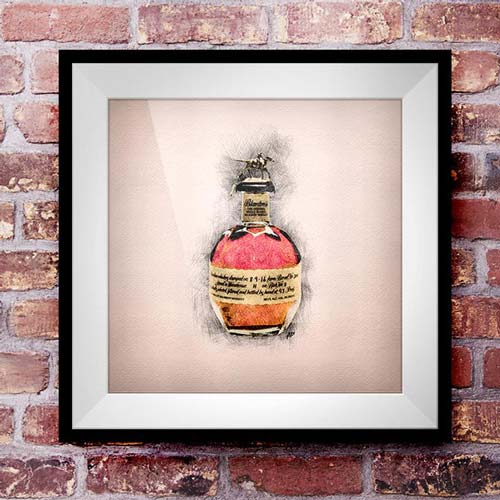 Do you have a good friend that loves their bourbon to the point that they'd seriously consider decorating their home with bourbon-themed art?
If you just yelled, "Do I ever!" well, here you go.
This gorgeous bourbon art piece, a printed original from Whiskey Hatch on Etsy, will put a smile on your friend's face and some color on their wall.
The piece is printed on high-quality matte archival paper, meaning it's going to last a long time. And you can choose the size that will best fit whatever room you know they're going to put it in; think man cave, she-shed, or home bar.
7. Bourbon Barrel Aged Maple Syrup
As you can see, gifts for bourbon lovers can come in all shapes and sizes. Case in point: this bourbon barrel-aged maple syrup.
Aged to perfection, this unique maple syrup is vegan, gluten-free, and non-GMO- providing your favorite bourbon enthusiast with a sweet, worry-free accompaniment to everything from coffee to fruit to ice cream.
And pancakes, waffles, Dutch babies, French toast…. the list could go on.
8. Bacon and Bourbon Scented Candle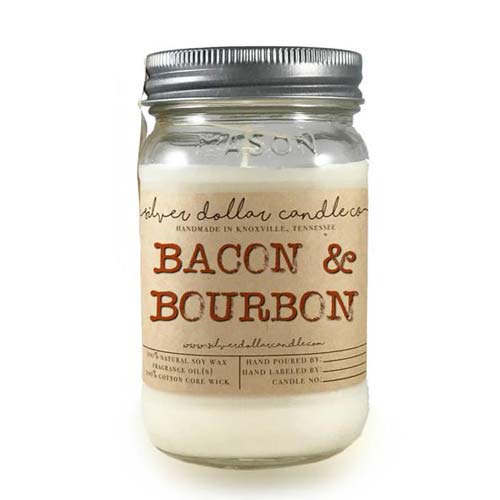 A bourbon-scented candle? Heck, yeah!
Throw in a little bacon aroma and you've got a gift that no one could resist, much less your bourbon-loving pal.
This candle from Silver Dollar Candle Company is conveniently available on Etsy.
Made from soy wax and carefully poured into a rustic Mason jar, this gift will provide your friend with 16 ounces of delectable candle bliss.
9. Laser-Engraved Whiskey Stones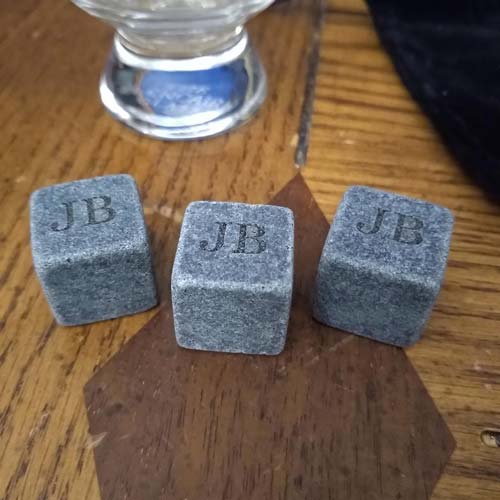 Every whiskey and bourbon lover needs some of these in their life.
These personalized whiskey stones will keep your loved one's favorite beverage chilled without watering it up.
Included in your order are three gray stones (laser-engraved with your bourbon lover's initials) and a decorative pouch for easy gifting.
10. Globe Decanter Set
Decanter sets have always been popular among whiskey and bourbon people.
That said, this isn't just any old decanter set.
This particular decanter is hand blown and designed to resemble a globe. The inner feature is a one-of-a-kind glass ship, and the whole piece sits at an angle on the included mahogany-stained tray.
Included in your order are two matching whiskey glasses… perfect for sharing!
11. Quarter Barrel Coffee Table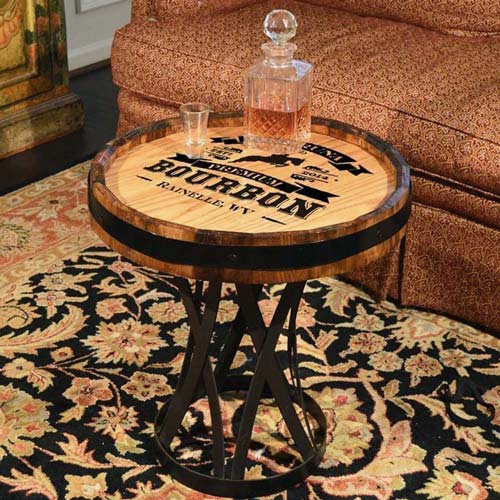 If an actual whiskey barrel is not desired (see gift #2, above), it's time to think outside the barrel. Er, box.
Creative thinking will enable you to come up with some pretty epic ideas for your dear bourbon lover.
Take this stunning quarter barrel coffee table. Constructed from the top section, or "quarter," of an actual bourbon barrel, this high-quality piece of furniture will make an impressive addition to your loved one's home bar.
Personalization is included, so be sure to be add their name or bar name, location, and year established.
12. Subscription for "The Bourbon Review"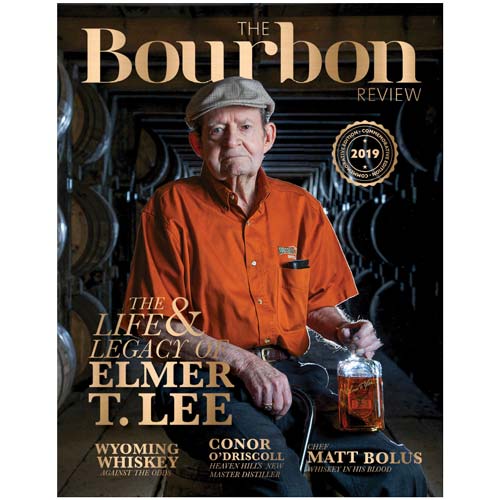 The Bourbon Review magazine has been offering insight into the world of bourbon-making and enjoyment for years.
Each new edition is released four times a year, and provides its readers with the latest information concerning the American bourbon and whiskey industry.
Your loved one will be able to enjoy their subscriptions in their choice of print and/or digital format.
13. Homemade Chocolate-Bourbon Pecan Pie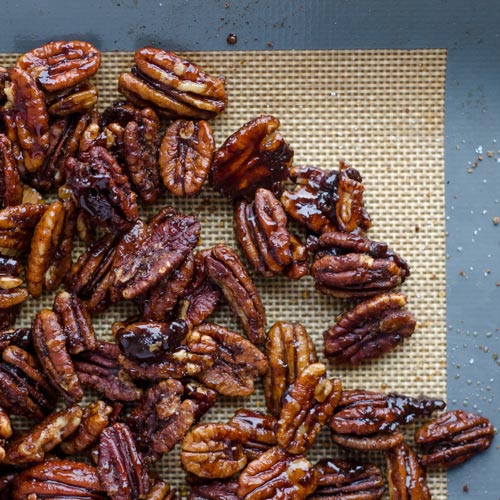 This one's for the bourbon lover who also has a sweet tooth.
Because chocolate + bourbon = yum!
This Southern Living recipe for chocolate bourbon pecan pie is both simple to follow and a really thoughtful gift idea at the same time… a sweet little gesture that your loved one is really going to appreciate.
14. Bourbon Bar Quarter Barrel Clock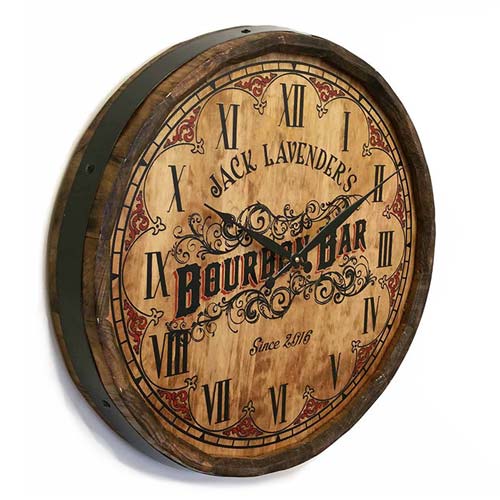 Once you discover Northwest Gifts, you'll learn that it's never been so easy to find amazing gifts for bourbon lovers.
With so many great gift ideas, most of which can be personalized, we strive to be a prime resource for all your gift-giving needs.
So for the bourbon lover in your life, we have another great idea for you to consider: this bourbon bar quarter barrel clock.
Just like the coffee table mentioned above, this quartz clock is handcrafted from sturdy oak wood to look just like the top "quarter" part of a bourbon barrel.
The antique-style barrel head clock decor piece measures 19″ in diameter. And of course, it comes personalized with the name and year of your choice.
Another perfect addition to your loved one's home bar, man cave, or even kitchen.
15. Personalized Ice Bucket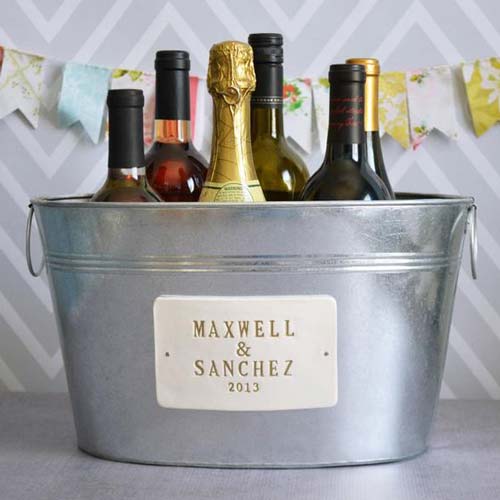 Does your bourbon-loving friend like to throw parties? To help them free up the fridge, they're going to need an ice bucket to chill all those spirits they have on hand.
Sure, some liquors are better at room temperature, but you gotta admit that others are somehow a tad more refreshing when they're ice cold.
This metal ice bucket, which comes personalized with your loved one's name or any other text they'd love, is perfect for keeping drinks and mixers on a hot summer day.
Yep, even bourbon!
16. Jim Beam Maple Bourbon Barbecue Sauce
Bourbon and barbecue pair very well together, so it only makes sense that Jim Beam would come up with something as delightful as this.
This maple bourbon barbecue sauce is sure to warm your loved one's heart (and fill their stomach).
Made with real maple, brown sugar and added spices (and yes, Jim Beam bourbon), it comes in a generous 18-ounce bottle.
17. Personalized Bourbon Bar Sign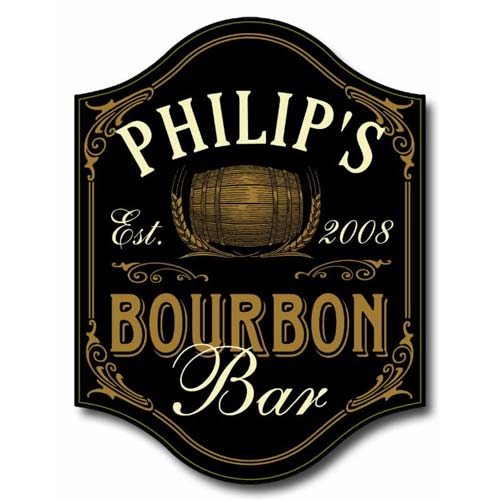 As you can probably tell by now, we've really done our research when it comes to finding gifts specifically for bourbon lovers and connoisseurs! The Personalized Bourbon Bar Sign is no exception.
Made in the USA, this classy bar sign measures 12″ x 16″ arrives ready to hang, and features that familiar classic shape still found in some old-school pubs.
Personalize it with your loved one's name or bar name and establishment year and watch their face light up when they open their gift.
18. The Kentucky Bourbon Experience
Here is a classy gift idea that would make an excellent addition to any bourbon lover's coffee table or book shelf.
The Kentucky Bourbon Experience highlights, through vivid photographs, the inner workings of some of the Bluegrass State's most well-loved distilleries.
19. Barrel Connoisseur Kit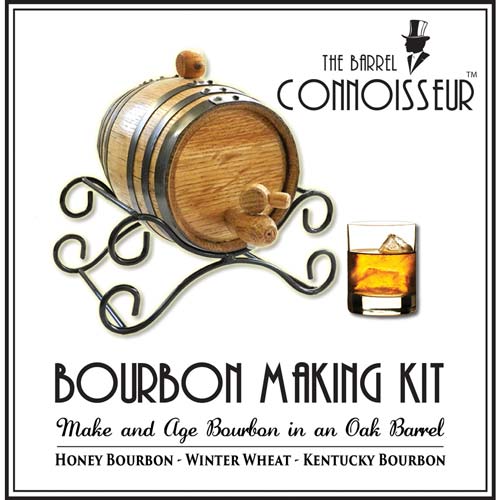 Imagine the look on your loved one's face when you surprise them with this super cool gift – a kit to make and barrel-age their own bourbon!
Especially for the newbie, this barrel connoisseur kit comes with all your loved one will need to get started making and aging their own spirits.
The set includes a wrought iron stand, spigot and bung, cleaning kit and of course, white oak aging barrel complete with inner charring for that distinct oak taste factor.
Also included in this kit are three unique flavors of bourbon starter… everything required to make three savory batches of homemade bourbon (well, except the alcohol – you'll have to provide that!).
20. Laser-Engraved Bamboo Coaster Set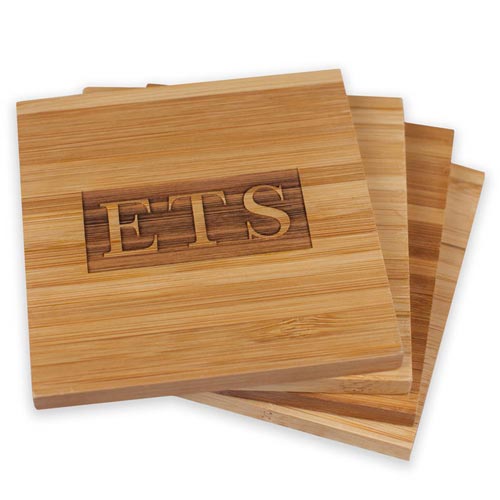 Maybe you're looking for gifts for bourbon lovers who seemingly already have everything bourbon-related.
In this case, it can be a little tricky to find something that a) you know they'll really enjoy, and that b) at the same time honors their passion for all things bourbon.
If this is you right now, think about this bamboo coaster set for a moment. This is not specifically bourbon-related or themed, per say, but your bourbon-loving pal could really use them nonetheless to place a glass of their favorite liquor on.
Each order comes four to a set and includes a matching wooden holder. You can also add that special touch by personalizing them with your loved one's initials.
21. Wood Chip Smoke Infuser
This smoke infuser is perfect for flavoring up not only bourbon or any other drink your loved one enjoys, but their favorite foods, too.
This one comes as a set complete with a two-speed smoking machine and lid, seven different wood chip flavors, cocktail ball, cleaning brush, and more.
It was never so easy to add that smoky, savory flavor to pretty much any drink or dish!
More Bourbon Lover Gifts
So, which gift idea did you end up going with? We'd love to know, so drop a comment below telling us why you picked it!
In case you're still looking for that perfect gift for the bourbon lover in your life, do yourself a big favor and check out Northwest Gifts.
Not only do we offer customizable glassware options, as well as whiskey and bourbon-themed gifts (several of which we listed above), we've got cigar humidors and similar "vintage" items that your loved one may also find enjoyable.
Here are a few extra bonus gift ideas for your bourbon connoisseur.
Personalized Vintage Bourbon Whiskey Wood Plank Sign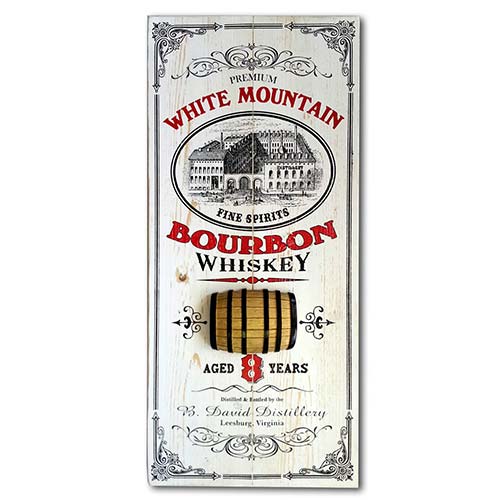 Wooden plank sign made in the USA and personalized to order. Hand-distressed for that special old-fashioned look. Get it here.
Barrel Aged Bourbon Vintage Plaque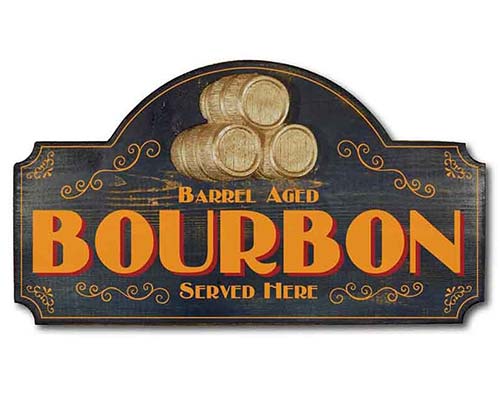 Another vintage-style plaque, this one is a little smaller and more affordable. Includes a 3-dimensional barrel relief carved centerpiece.
Oak Wood Bourbon Serving Tray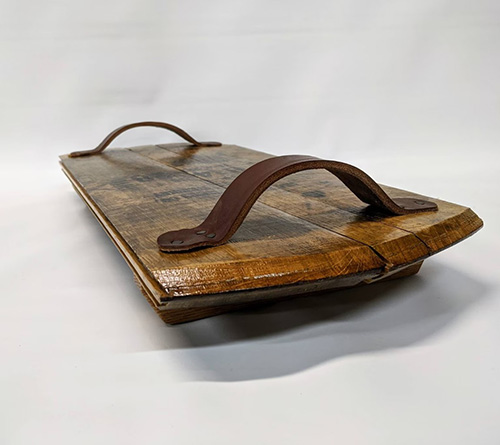 It doesn't get much cooler or more rustic than this! These slick trays are handcrafted from actual bourbon barrel tops, then finished to perfection. Each tray is topped with three coats of semi-gloss lacquer for a lasting finish, and the handles are fashioned from genuine leather straps. An excellent addition to anyone's collection.
Bourbon Derby Personalized Leather Flask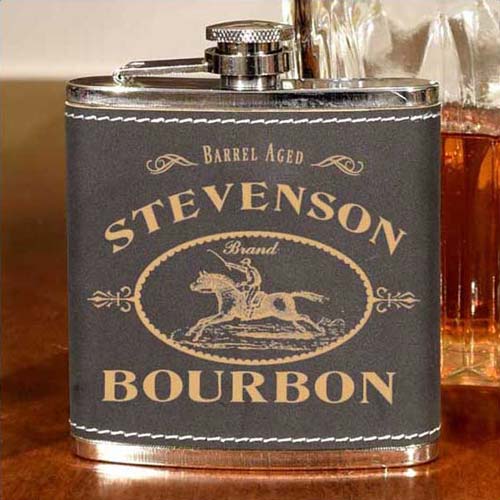 Custom engraved. Leather wrapped. Fill with bourbon and enjoy.
Personalized Bourbon Barrel Home Bar Sign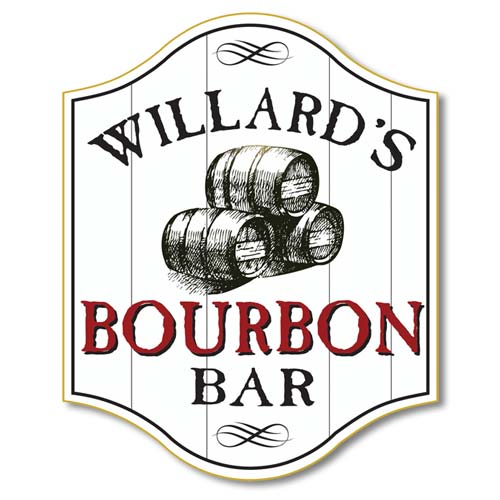 Classy old-fashioned bar sign which includes personalization of the recipient's name.
Kentucky Bourbon Quarter Barrel Clock Personalized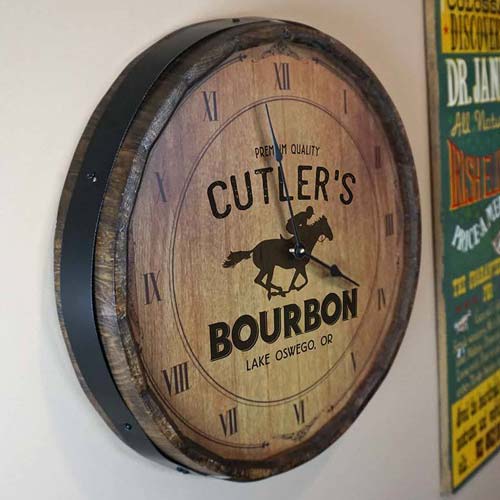 Working clock made from the top slice of a bourbon barrel. Includes personalization. Get yours here.
Bourbon Glass with Built-In Cigar Rest
What goes better together than bourbon and cigars? Now your bourbon lover can enjoy both at once with this old-fashioned glass with cigar holder.
Colorful Bourbon Bar Quarter Barrel Sign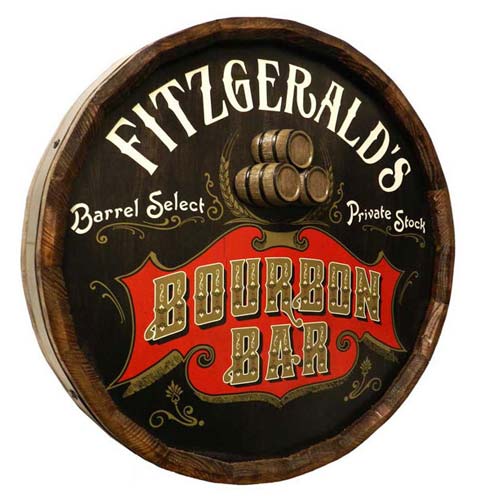 Another personalized quarter barrel sign, this one in full color. Includes 3d relief-carved barrel accent.
Pin It