Are you looking for the best psychiatrist gifts to give to your amazing doc?
Are you looking for retirement, birthday, or holiday gifts for a special therapist? Or maybe you know someone who is about to start a new career in psychiatry, or a particular related field of therapy.
In any case, you'd like to show them just how much you appreciate all they're doing for you and for the well-being of all who are in their care.
What better way to do that than to surprise them with a thoughtful gift?
In this list, we've categorized all of our psychiatrist gift ideas for you, so that you can easily find the perfect gift:
Gifts for psychiatrists
Psychiatrist graduation gifts
Psychiatrist retirement gifts
Gifts for the psychiatrist's office
Let's begin!
Our website is supported by our users. We sometimes earn a commission when you click through the affiliate links on our website. See our privacy policy & disclosures for more information.
Gifts for Psychiatrists
First up on our list are some clever gift ideas that almost all psychiatrists would appreciate receiving:
1. Pacific Crest Wooden Psychiatrist's Sign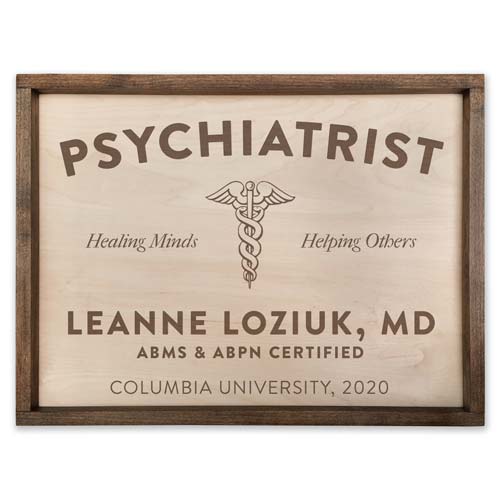 This beautiful Pacific Crest Psychiatrist Sign is a Northwest Gifts original.
Handcrafted in our Oregon shop from stained alder wood and birch ply, this sign comes engraved with your psychiatrist's name, practice group name, school and certifications, important date(s), slogans, and/or anything else you'd like it to say.
Available in two sizes, and fully customizable, you can have this say:
Behavioral Therapist
Marriage Counselor
Clinical Psychologist
…or any other profession
2. Porcelain Phrenology Bowl
Bring old-school phrenology back to life for your psychiatrist (even if only in art form).
This vintage-style porcelain bowl can be used to hold important items, like keys or change, or could be purely be used for ornamental purposes.
3. "Keep Talking, I'm Diagnosing You" Mug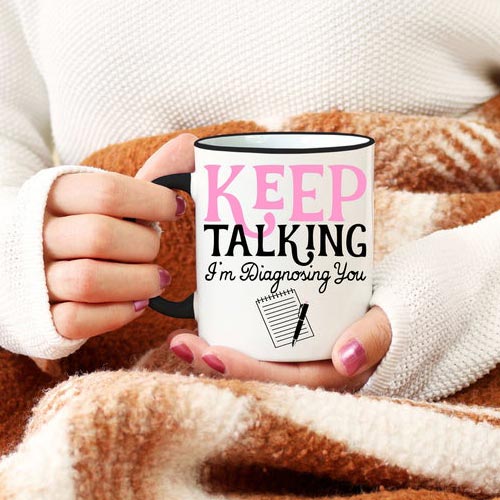 Psychiatrist gifts can definitely be humorous… because even the most serious of therapists (and patients, for that matter) can use a good laugh once in a while.
In a light-hearted way, this cute mug says it all. Your psychiatrist will enjoy sipping their morning cup of coffee or tea from this cup.
This funny psychiatrist coffee mug is both microwave and dishwasher safe, available in 11oz or 15oz sizes.
4. Best Therapist Ever Personalized Tumbler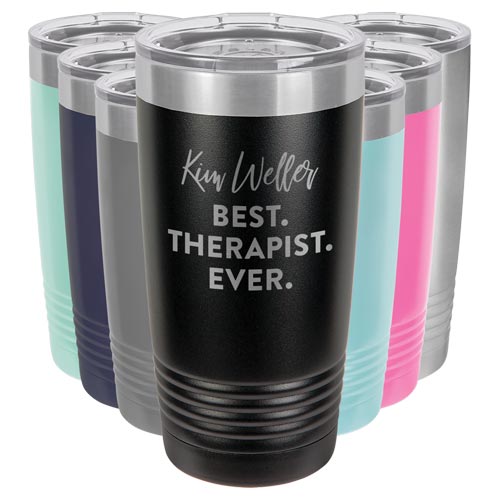 In a similar category, we present to you this delightful custom engraved tumbler from Northwest Gifts.
This tumbler is good for way more than coffee (although it will keep that morning cup o' joe piping hot for a good while). Because it comes double-walled and vacuum-sealed, your therapist can also enjoy tea (hot or iced!) or any other favorite beverage all day long.
They'll also like the cool design which acknowledges that they are the BEST. THERAPIST. EVER.
(Or Counselor, Psychiatrist, etc – anything you want.)
Choose from a variety of colors and sizes. Check out all our other tumblers designs here.
5. Happy Pills Name Badge Holder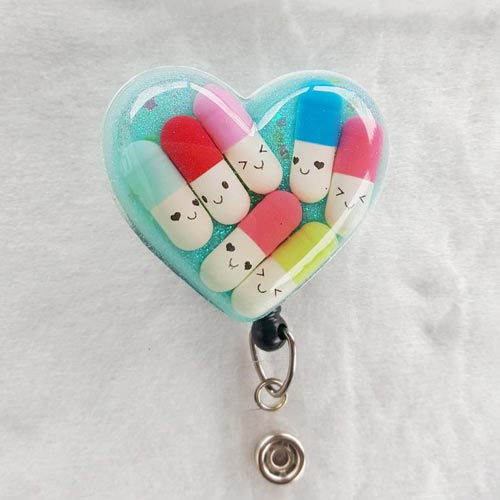 There are lots of psychiatrists out there who specialize in treating in-hospital patients.
While they may not have to wear a name badge while working in their own clinics with out patients, these doctors often wear a name badge while at the hospital to help their patients and other staff identify them.
Gift the psychiatrist in your life this cute "happy pills" badge holder, and they'll spice up their boring metal badge clip into something a bit more cheerful, both for themselves and those they care for. Includes a retractable nylon cord and a belt clip.
Psychiatrist Graduation Gifts
Psychiatrist gifts for the recent graduate? We've got 'em!
6. Semicolon Necklace
The best doctors have a lot of experience under their belt when it comes to treating their patients. But when it comes to understanding their patients, there's nothing like the experience of having been there yourself.
If you know a recent psychiatry grad who's overcome more than most to get to where she is today, show her just how proud of her you are with this elegant sterling silver semicolon necklace.
In this instance, the semicolon represents not a pause in between two sentences, but in life, indicating that there is much more still to come. Customization is available.
7. Mental Health Matters Sticker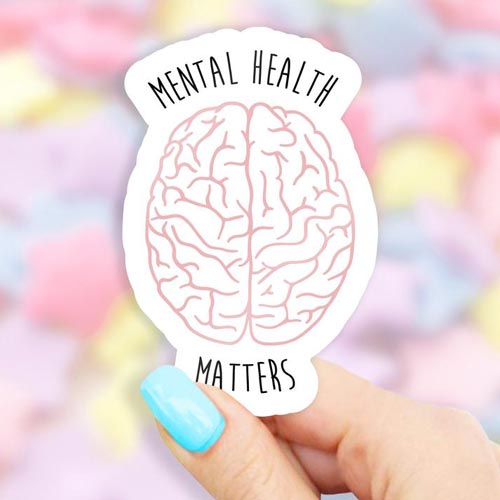 Mental health matters just as much as physical health.
Over the past decade, this truth has really been brought to the forefront, with help from campaigns like the Mental Health Matters movement.
With this cute but meaningful Mental Health Matters vinyl sticker, your recent psychiatry grad will be able to show off their passion for helping those struggling with their mental health. They can put it on their laptop, in a window, or display it anywhere else they want.
Check out this Mental Health Matters tote bag, too!
8. Personalized Psychiatrist Gift Business Card Holder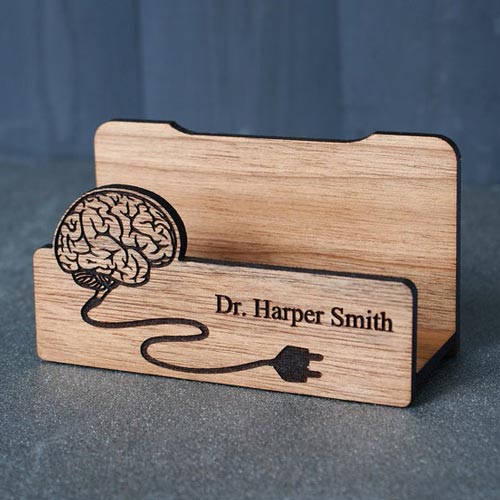 If the recent graduate in your life is super-excited about getting their very own business cards, this is the perfect psychiatrist graduation gift.
Crafted from real European walnut wood and finished naturally with beeswax and mineral oils, this Psychiatrist Gift Business Card Holder features a brain unplugged along with personalization of the good doctor's name.
9. Do More of What Makes You Happy T-Shirt
Someone who's just graduated from med school is undoubtedly happy about it!
They finally get to put to use all the knowledge they've accumulated over the years, and they're excited to use it for the greater good.
That thought is sure to make the graduated psychiatrist happy. And so will this colorful tee that reflects their feelings perfectly.
This cotton blend t-shirt is available in two different colors and several different sizes.
10. Rorschach Cufflinks and Tie Clip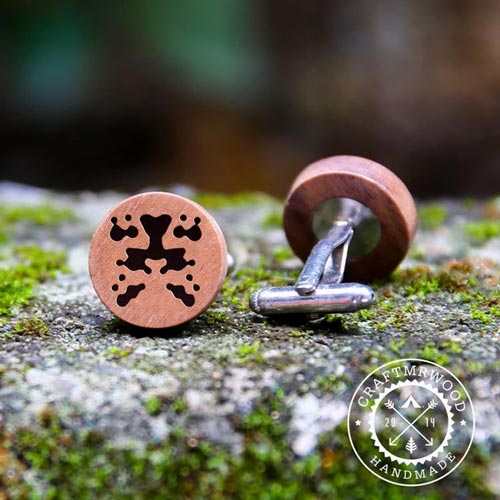 The newly minted therapist deserves a little something snazzy after all that hard work he's put in to accomplish his goals. Wouldn't you agree?
This set of wooden cufflinks and tie clip, designed to resemble a Rorschach ink blot, takes the cake.
Choose both the cufflinks (round or square) and tie clip (in several different wood finishes), or between them… whichever you know he'll love.
Psychiatrist Retirement Gifts
It's a special day when a therapist retires. They've done so much for the people and families in their community, and now it's time for them to hang up their psychiatry hat and relax for a bit. Here are just a few ideas to help them do that:
11. Personalized Walnut and Maple Wood Bottle Opener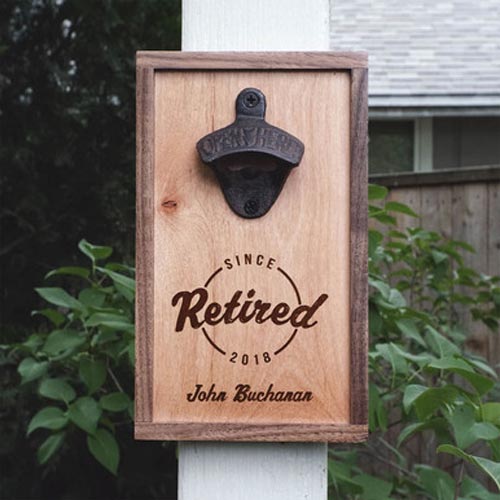 A recent retiree (especially one from the medical field) deserves a retirement gift that he or she can sit back and unwind with. This walnut and maple wood bottle opener will afford them that much-earned comfort.
Every time they see this opener, they'll be reminded of all the lives they helped changed for the better over the years.
This piece comes personalized with their name, and features "Retired" with the year they finally did. Great as a portable bottle opener, but also comes with a screw for easy wall mounting.
12. Large Walnut Woode Memory Box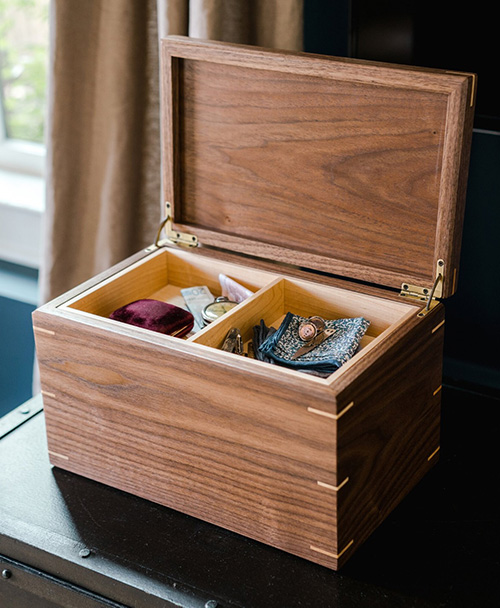 A commemorative gift for the psychiatrist who's set to retire. This stunning walnut wood keepsake box is the perfect gift for those signing off from a lifetime of service in mental health care.
Perfect for holding sentimental tokens such as notes, old business cards, jewelry, etc. can be kept safe.
13. Custom Portrait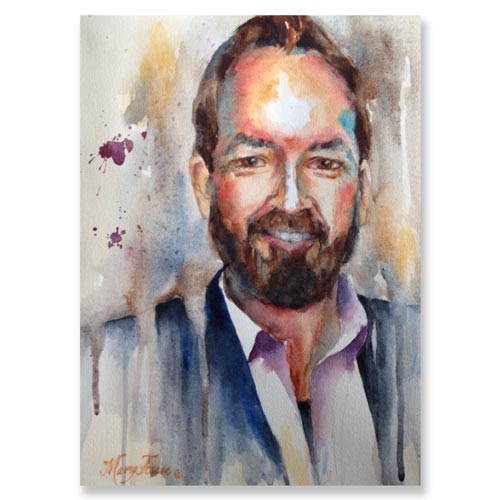 When it comes to retiring, it doesn't get much more official than a custom portrait.
Shine a light on your loved one who is a soon-to-be retired psychologist with a beautiful, custom watercolor portrait from artist Mary Ann Simmons.
All she needs is a photo of your loved one to create a keepsake work of art worthy of heirloom status. Contact her here today to get your order started.
More retirement gift ideas:
Gifts for the Psychiatrist's Office
Most psychiatrists, psychologists, and therapists of all kinds enjoy decorating their offices up. A cheerful office, full of things that bring them joy, helps to keep them (and their patients) in a positive state of mind:
14. Jar of Marbles
We just couldn't pass up this cute gift idea! What therapist wouldn't love something as cheerful as a jar of marbles to bring a bit of happy into their office space?
Gift these colorful marbles (a set of 50) along with these cute jars (which you can customize with their name!) and you're good to go.
This one would go great with a book like I Got My Marbles Back.
Written by a grief counselor who herself faced many life obstacles, only to rise above them on her own terms, this is a book that provides additional insight into both the darkness as well as the light.
15. Personalized Psychiatrist's Sign with Hanging Name Board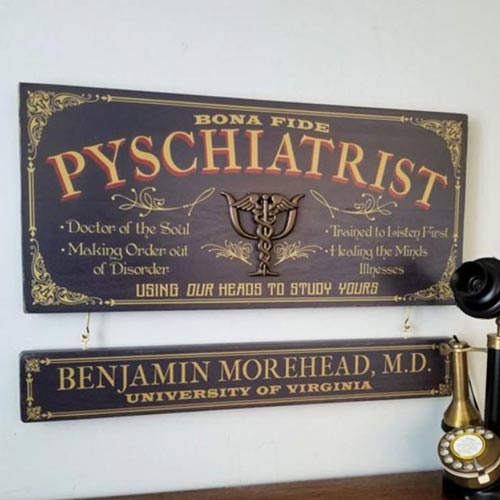 Here is a classy gift for a classy psychiatrist. This vintage-style psychiatrist's sign will serve as an eye-catching centerpiece to their office wall, and also make a great conversation starter.
Comes complete with personalization on the hanging name board and a 3D resin psychiatry symbol. Measures 24″ x 11″.
Click here for every holiday you can give perfect gifts like this.
16. Scream Pillow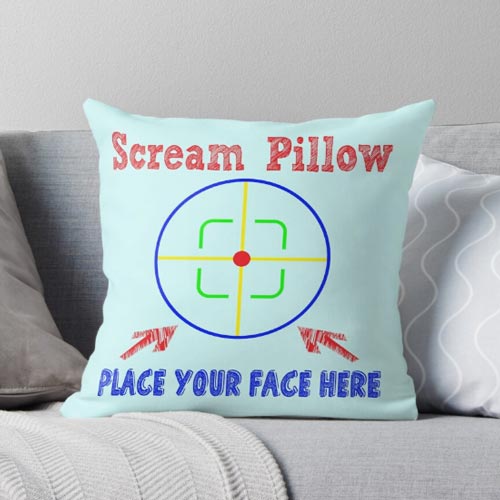 This psychiatrist gift is kinda just for fun, although it's soft enough (100% spun polyester) to serve its stated purpose if either therapist or patient ever needed it.
If you already have a pillow insert, choose the double-sided cover only. Otherwise be sure to go with the cover + insert option. Available in several different sizes.
17. Floral Brain Art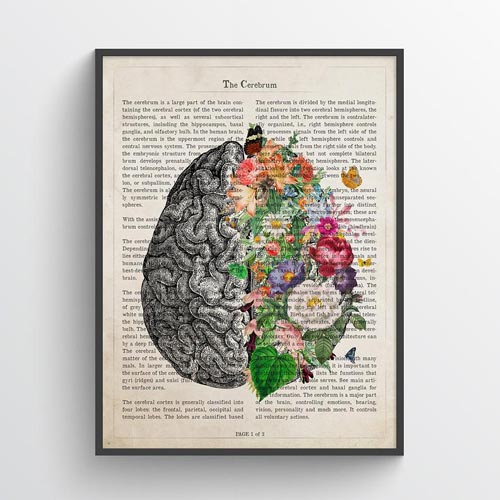 Covered with the fingerprints of God, the anatomical brain is already a masterpiece.
Throw in some floral design and vintage-style background text, and you've got a work of art befitting of any psychiatrist, psychologist's, or therapist's office.
This floral art piece is printed on your choice of canvas or heavyweight poster with professional-grade ink. Available in several different sizes.
Psychiatrist Gifts- Thinking Outside the Box
Whether you're sticking to a budget or simply enjoy crafting, you may be more interested in creating a DIY gift for your psychiatrist or therapist.
If DIY isn't your thing, but you still want to surprise them with an extra-ordinary gift- something more outside of the box than what we've mentioned above- we've got some extra special ideas here for you to consider:
DIY bead angel earrings. Sometimes it can seem like our therapists are really angels in disguise…so why not make yours some simple, yet super cute bead angel earrings?
Using natural gemstones, create a one-of-a-kind piece of art, jewelry, or home decor. Here are some ideas to get you started.
Create for them a gift basket filled with things to help brighten their day (think nutritional snacks, candles, essential oils, etc.) Take a look here for some good ideas.
Psychiatrists have pretty stressful jobs! Get them a little something to relax with after a long day, like these loose-leaf teas made especially for stress relief.
Send them some flowers. Or pick your own and create a unique arrangement that they can place in their office.
They've probably encouraged you to journal at one point or another…encourage them with their own journal. Be sure to throw in some pens, too!
Make them a pretty snow globe out of an old Mason jar.
Get them a custom notepad like this one.
Plant a tree in a national forest in their honor.
Commission a personalized comic book that tells their story.
Write them a thank you note from the bottom of your heart.
Include a simple thank you gift.
---
The gift-giving inspiration doesn't have to end here! For even more great psychiatrist or therapist gift ideas, check out a couple of our other popular lists:
Also be sure to visit our gift site, Northwest Gifts, which has many more custom-made and personalized gift options available.
Pin It