We've found some of the best gifts for artists who draw, and we want to share our findings with you!
You're here, after all, because you need to find a great gift for the talented artist in your life, whether they prefer traditional paper and pencil or are into digital media.
So below we've collected our top 10 picks for artists who draw. Read to the end and you'll also find some creative gift ideas for kids who draw.
Let's begin!
Top 10 Gifts for Artists Who Draw
Our website is supported by our users. We sometimes earn a commission when you click through the affiliate links on our website. See our privacy policy & disclosures for more information.
1. Custom Engraved Tumbler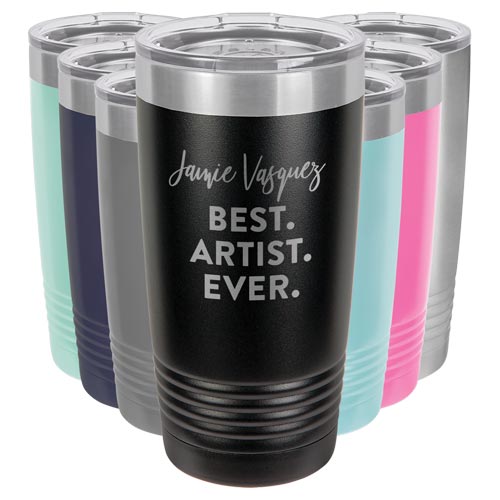 Like all creative endeavors, drawing can be energy-sapping work. Artists can get parched real fast, especially when they don't even realize how fast the time is ticking by while they're working.
So do them a favor and gift them a sweet little reminder to stay hydrated (or caffeinated!).
This custom engraved Best Artist Ever tumbler (which you can actually order to say anything you like) will get the job done in the style your artist friend will love.
It's high-quality (comparable to the much more expensive YETI brand) and comes double-walled as well as vacuum-sealed. That means cold drinks are going to stay cold and hot drinks hot! Available in several different colors and sizes.
2. Leather Pencil Roll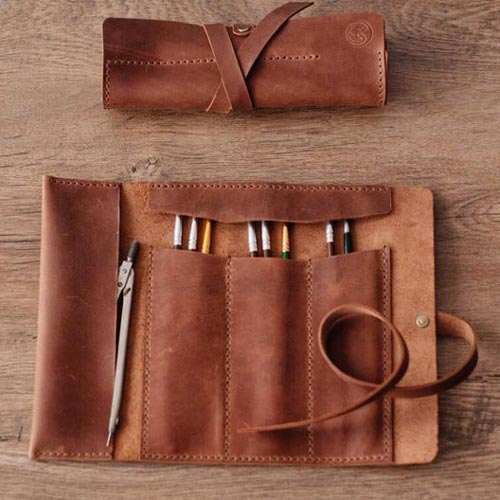 Creatives are sometimes (affectionately) known as sloppy when it comes to staying organized. They often have all of their art supplies stuffed into a drawer in their desk, or spread out all over their work space or even their home.
And this is how they like it.
Organized chaos, if you will.
But sometimes, a little help can go a long way when it comes to keeping track of favorite supplies.
So why not surprise your artistic loved one with this beautiful leather pencil roll, in which they can easily store and keep track of their favorite graphites?
This must-have art accessory is 100% handcrafted and includes four large pockets, a snap clasp and a trendy leather wrap to hold it all together.
3. Artsy Fartsy Game
If your artist friend is one for fun and games with the family or a crowd of friends, they're sure to love this goofy and award-winning drawing game.
Artsy Fartsy is all about creating silly drawings, including a robust selection of family-friendly potty humor. With plenty of twists (like drawing with your wrong hand and the ability to steal cards) your game nights will never be the same!
4. Kids Drawing Necklace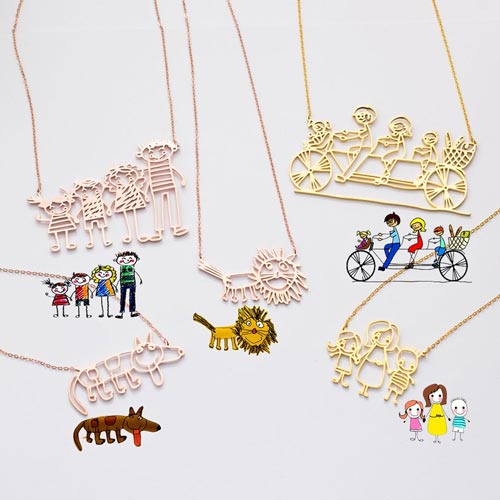 If your artist who likes to draw has a little one who takes after them, they're going to adore this gift.
With a custom-made necklace, they can proudly display (in your choice of lengths and metal finishes) their child's work of art for all to see.
A necklace like this would make a great gift for kids themselves, too! What a fun way to show off their drawings to all their friends.
5. Heavy Duty Sharpener for Artists
Looking for practical gifts for artists who draw? Look no further than this pencil sharpener.
And before you say, "Really? A pencil sharpener? Yawn," let me point out that this isn't your everyday Joe Schmo pencil sharpener.
No way.
This Zmol heavy duty electric sharpener was designed and built with professional artists in mind. It's able to sharpen bluntly or to fine point both graphite and charcoal pencils, can adjust for five different types of desired pencil nibs, prevents over-sharpening, and completes a fresh sharpening in under 5 seconds.
This machine is simply awesome. It's also conveniently rechargeable by USB port – meaning it's totally portable, so your artist can go out in nature and still keeps those pencils on point.
6. "500 Drawing Prompts" Sketchbook
Does your loved one sometimes complain of "artist's block" or otherwise occasionally need help getting their creative juices flowing?
Then this sketchbook will be perfect for them.
With literally hundreds of drawing prompts to get them going in the right direction, the 500 Drawing Prompts Sketch Book is a great drawing gift for the artist in your life. It's a uniquely creative book that will become their go-to resource for inspiration.
7. Color Coded Wood Pencil Holder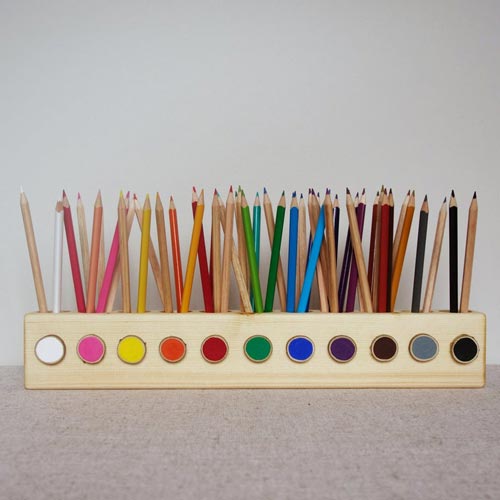 Mugs are cool for storing drawing utensils (and pretty much anything else). But it's time to step it up a notch.
Surprise your friend with this curiously delightful pencil holder, which will allow them to keep all their hued pencils (or pens, or markers) in color-coded harmony.
It would also surely make an excellent gift for kids who draw… and remember to keep reading for even more great drawing gifts for kids!
8. Personalized Portfolio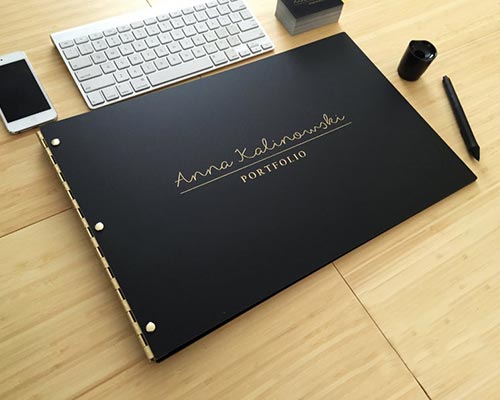 For a more elegant gift for artists who draw, and a gift that also serves a practical purpose, you can't go wrong with this classic matte black portfolio.
Measuring 11″ x 17″ (the perfect size to hold all their prized drawings), the screwpost portfolio also comes with personalization options, plus inclusions for adhesive inserts.
9. 3Doodler 3D Pen
Even the drawing enthusiast who has everything probably doesn't have one of these!
The 3D Doodler is considered one of the best 3D pens on the market. With it, your loved one will be able to create anything they can imagine… the possibilities are virtually limitless.
The neat thing about the 3D Doodler is that you can purchase pen styles based on age range of the recipient (here's one for younger kids, ages 6 and up).
Yet another great gift idea for artists of all ages!
10. Digital Artist's Gloves
Not all who draw prefer paper and pencil! Digital art is everywhere now, and so are digital artists.
If the artist in your life is a fan of this medium, they most likely own a touch-screen drawing tablet with which they create on.
What most people don't realize about tablet art is that it's super easy to smudge your work (yes, digital smudges are real).
And don't even get me started on palm drags.
With this digital artist's glove, however, those annoying smudges and palm drags quickly become a thing of the past. A soft and flexible option that is good for both righties and lefties.
Best Gifts for Kids Who Like to Draw
Need gift ideas specifically for kids who like to draw? Maybe thinking of DIY options, too?
Here you go:
Need more gift ideas? Check out 10 Gifts That Everyone Wants (Even If They Don't Know It Yet).
Pin It