Today we're going to be revealing some of the best gifts for knitters and crocheters that we could find. If you need a gift for the knitter or crocheter in your life, you've landed on the right page.
From practical knitting items like personalized knitting needles (#2, below) to heartfelt gifts that knitters and crocheters alike can enjoy (really, anyone would love #19), we've confident you'll find the best gift for your yarn lover right here.
Let's take a look.
Top 21 Gifts for Knitters & Crocheters
Our website is supported by our users. We sometimes earn a commission when you click through the affiliate links on our website. See our privacy policy & disclosures for more information.
1. Knitting Shoes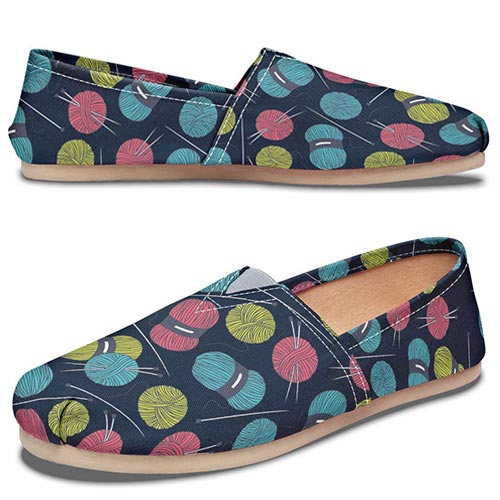 Now your favorite knitter can knit something fabulous while wearing these equally fab knitting shoes.
These high-quality and highly-comfy shoes are made of soft yet durable canvas, perfect for everyday wear around the house (or the crafting store).
The stretchy vamp makes for easy slip-on and take-off, and the EVA outer sole allows for lightweight use and traction.
And for crocheters, yes, they have shoes for you, too.
2. Personalized Knitting Needles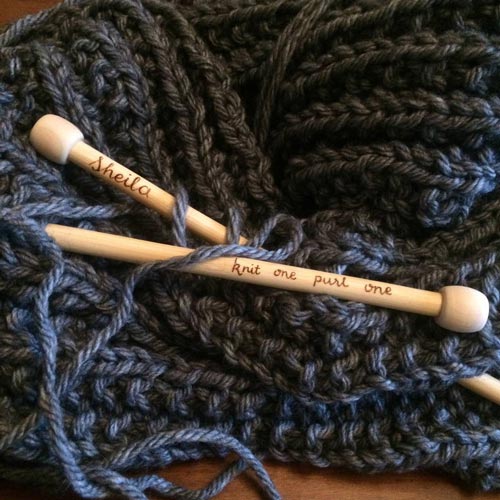 Every knitter needs a good pair of knitting needles… and seriously, how cute are these?
Surprise your loved one with this personalized wooden knitting needles set. It comes complete with their name (or anything else you like) pyrographed into the side, and is a truly affordable gift idea.
Watch your yarn lover's face light up with joy when they unwrap these special sticks!
3. Custom Engraved Tumblers for Knitters & Crocheters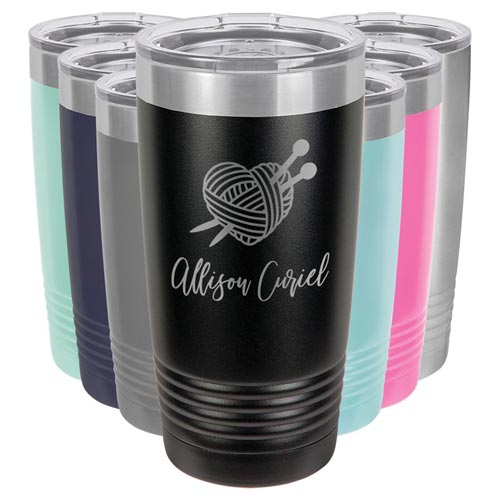 Tumblers are an all-around great gift to give to anyone.
These particular tumblers make the perfect gift for the knitter (or crocheter) in your life, and not just for their fun design.
From Northwest Gifts, these stainless steel travel mugs are doubled walled and vacuum sealed, designed to keep hot drinks hot and chilled drinks chilled.
Available with the knitting needle yarn heart, as shown above, or with a crochet hook: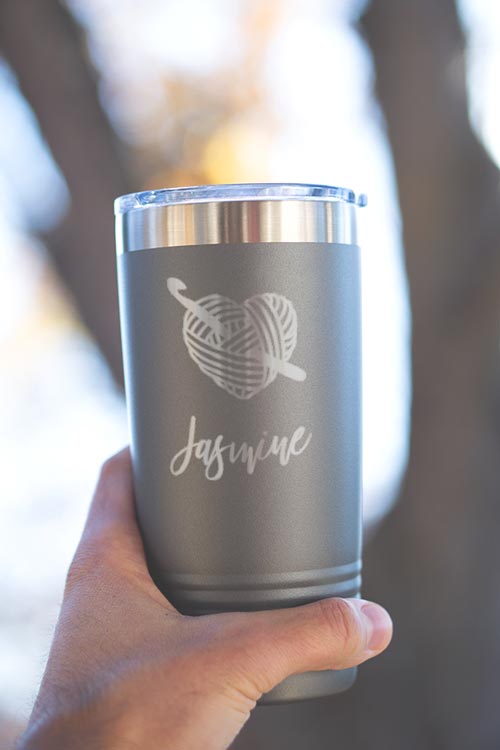 Not only are they available in a variety of sizes and colors, the mug comes etched with your yarn lover's name in a cute script.
It's a great gift that even stashbusters will appreciate.
4. Cute Cat Yarn Bowl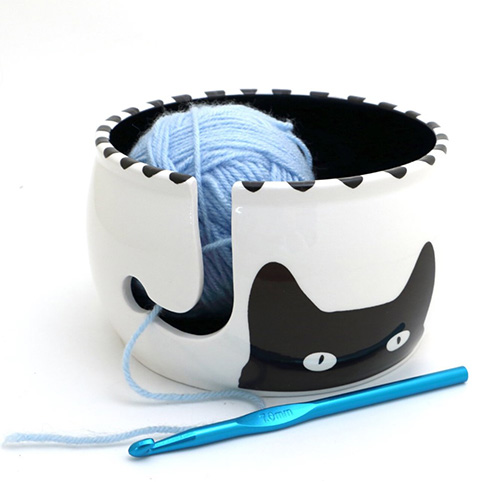 We can't get enough of these adorable kitty cat yarn holders, and we don't think your knittin' fool will be able to either! It's as useful as it is cute, too, because who can stand it when their yarn rolls off (or gets stolen by an actual kitty).
These pretty ceramic dishes are handmade and kiln fired, so each one is a little bit unique. You may just need to order one for yourself!
Read: How to give someone a gift without being awkward (you know who you are!)
5. Personalized Knitting/Crochet Labels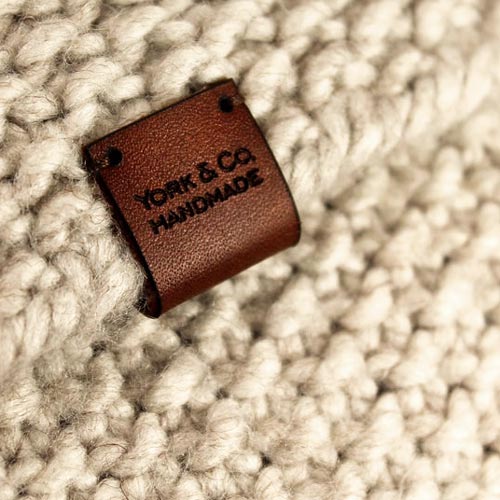 Your loved one loves to give their art, their craft, their heart to others… it's just the type of person they are.
That's part of why they weave the needles.
If your favorite knitter or crocheter been known to whip up something soft and warm for others in their life, consider gifting them something that they can in turn gift right back to their loved ones.
Something like a set of their very own beautiful knitting/crochet labels.
These personalized leather labels come customized with their name, logo, or anything else. They come ten in a set, so your gift will last for at least their next ten projects.
And when they gift a blanket or anything they make, their recipient will immediately know who it's from!
6. Yarn Swift
Every serious knitter needs a yarn winder. That's why it makes a great gift.
Used for winding and unwinding yarn, this handy tool is great for many different endeavors: wrapping up unused yarn for next time, or even unraveling old sweaters for repurposing.
The Yarn Swift version is light and compact, yet still sturdy. It can be set up vertically or horizontally and is great for all types of yarn.
7. Personalized Craft Scissors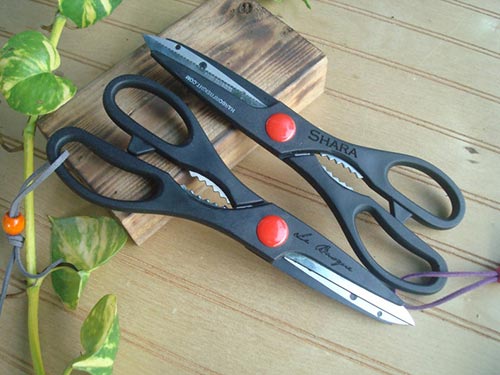 Want practical gifts for knitters? We got practical gifts for you all right. Nothing gets more practical than a good pair of shears.
Also great for the beginner knitter or crocheter who is building their tool pile, these personalized crafting scissors (which come engraved with your loved one's name) are multipurpose.
This means besides cutting yarn, they can be used to facilitate a variety of other crafts and projects. Comes two to an order – Double prizes!
8. Custom Engraved Bird Feeder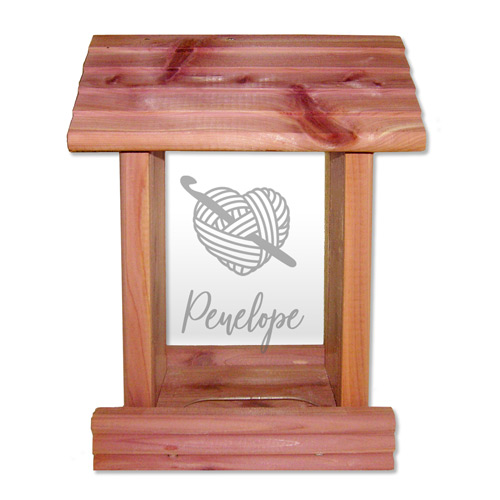 When you picture your loved one knitting or crocheting, you probably picture them sitting in a big chair, blanket over their lap, knitting basket next to them.
This is a picturesque image, but the reality is probably far from the truth!
Knitters gonna knit anywhere they can, including outside (if the weather agrees). When you gift them this gorgeous bird feeder, engraved with this fun saying as well as their name, they are going to want to knit outside – and watch the birds – as often as possible.
This custom engraved bird feeder is made of durable cedar wood and comes with front and back acrylic panels. It can be engraved to say anything you'd like, or to feature any logo or clip art you'd like.
Available with crochet hook (as shown above) or knitting needles.
9. "Knitters Gonna Knit" Coffee Mug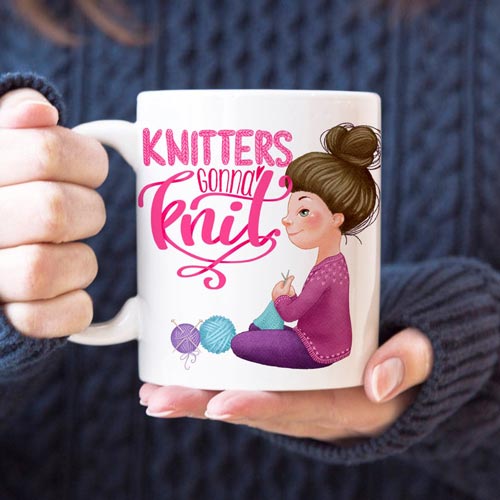 Speaking of "knitters gonna knit," check out this adorable custom coffee mug.
The knitter in your life will love seeing their likeness, in cartoon form, on their mug every morning as they juice up for (what else?) a day full of knitting.
You choose between an 11 and 15 oz. mug, as well as the hair color to match your loved one. Design features on both sides of mug. Microwave and dishwasher safe.
10. Personalized Yarn Tote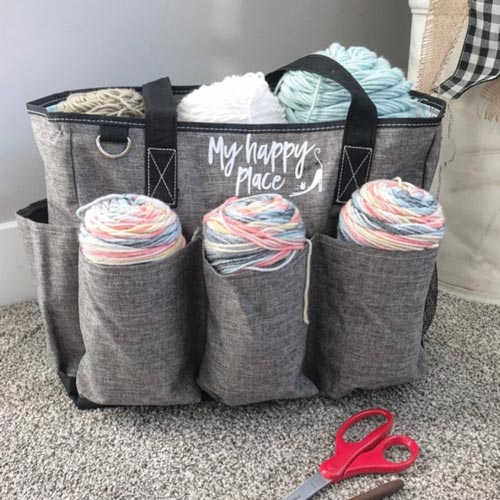 Want more practical gifts for crocheters and knitters alike? You can start with this cute tote bag.
Made to carry yarn and other notions, this gray canvas craft bag includes seven large pockets as well as the optional "My Happy Place" decal.
Includes a wood tag personalized with your loved one's name. 13″ tall, 16″ long, and 7″ deep.
It's (sorry in advance!) totes adorbs.
Related: 10 Practical Gifts (That People Actually Love)
11. Digital Stitch Counter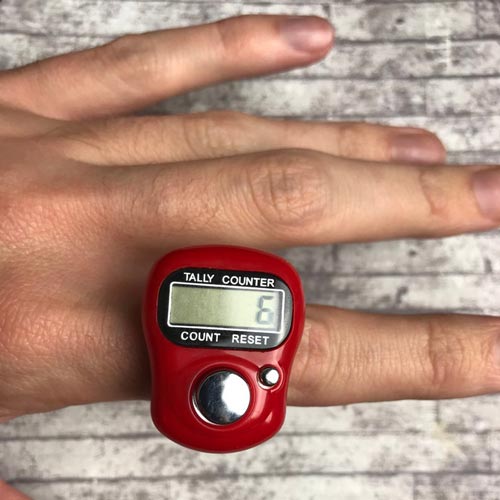 When knitting or crocheting, keeping track of stitch counts is everything. Help your loved one with this often tedious task by gifting them a super helpful stitch counter.
This digital stitch counter is conveniently worn on the finger, allowing your loved one to never miss another stitch in a row.
It's affordable and comes in several different colors, so have fun with this one!
12. Certified Organic Yarn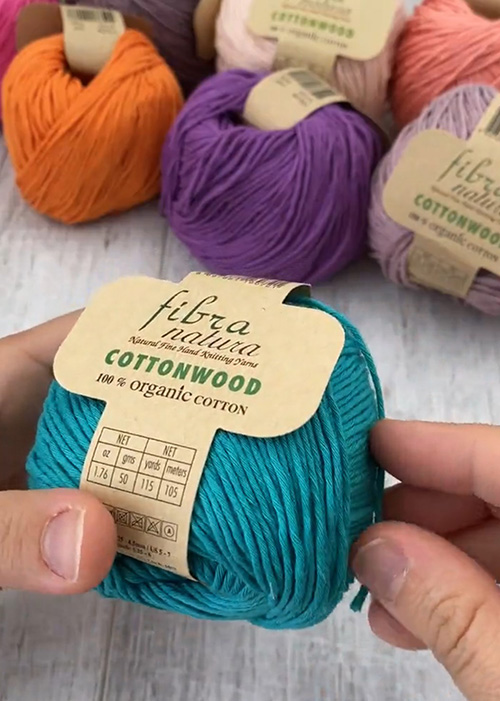 Fuel their creativity (and addiction) with a great selection of 100% organic cotton yarns! If you have knitting friends, or you yourself are a knitter or crocheter, you know there's no such thing as having too much yarn.
This quality yarn comes in so many wonderful colors, and it's set at a price point that is oh-so appealing. You could easily snatch up a large assortment for a great gift.
13. Wooden Socks Blockers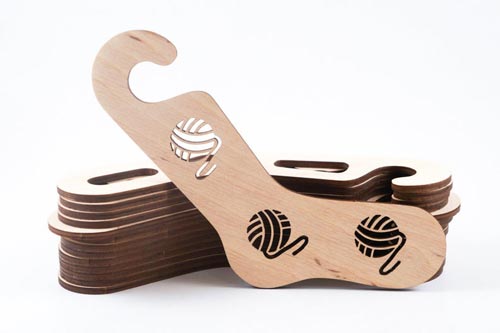 For those who are exceptionally skilled at knitting warm winter socks, we present to you these super useful wooden socks blockers.
It's a tool designed to help the knitter or crocheter create the perfect-sized sock. So if your loved one needs to knit a particular size, they can pick up this handy accessory and get straight to work without any worry or additional measuring.
14. Travel-Inspired Candle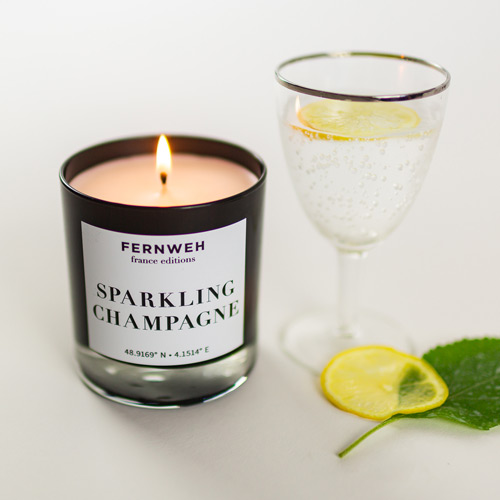 Fernweh Candles are meant to remind you of places far away that you both miss or haven't yet visited. This will make for an inspiring experience for your loved one as they settle in for a relaxing evening of knitting.
Crafted from the finest waxes and scents, and without dyes, these unique candles are hand-poured in the U.S.A in small batches only.
"Fernweh," by the way, translated literally from the German is "a longing for faraway places." Doesn't that sound like the yarn lover you know?
And besides the Sparkling Champagne scent (inspired by France's famed culinary arts), pictured above, there are several other collections to choose from.
15. Compression Gloves
Gifts for that both knitters or crocheters can benefit from are what we're about! These compression gloves take the cake when it comes to keeping those active hands and fingers in tip-top shape.
The high-quality spandex gloves provide ergonomic comfort all day to those who may suffer from arthritis or inflammation, but also for those who're just looking for a bit of preventative support in the face of several projects.
Be inspired: 10 Gifts That Everyone Wants (even if they don't know it yet)
16. "I Just Want to Crochet And Drink Beer" Wall Mounted Bottle Opener
We've already mentioned that knitters gonna knit, but everyone's gonna enjoy kicking back to a cold one or two after a long day with the yarn.
Your loved one will love unwinding (pun intended) with this personalized yarn-themed bottle opener, whether they choose to affix it to a wall or carry it around with them as a portable opener.
Crafted in Oregon from genuine wood and featuring a walnut frame (and cast iron opener), this unique gift also comes personalized with your loved one's name. Measures 8.75″ x 5.25″.
Read: How to Give Thoughtful Gifts (Plus 10 Thoughtful Gift Ideas)
17. "Knit Happens" Wine Glass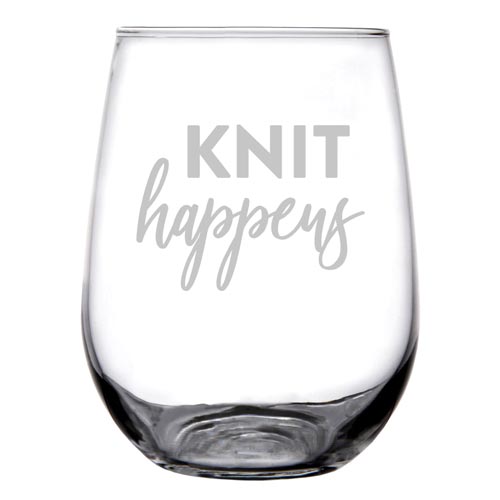 Similar to the bottle opener, this wine glass will serve as a tool for allowing your loved one to chill while also paying homage to their favorite thing to do: knit.
In addition to the "Knit Happens" design, you can also get these stemless wine glasses engraved with any other cute adage you can come up with.
Here are just a couple of our faves:
"Knitting juice"
"Knit, Sip, Repeat"
"If I'm sitting, I'm knitting"
"Yes, I crochet. No, I'm not old"
"She works willingly with her hands. Prov. 31:13"
"I knit so I don't unravel"
"Holy yarn balls, Batman"
"My job is starting to interfere with my crocheting"
"Just keep knitting…just keep knitting…"
"Eat. Sleep. Crochet. Repeat"
You get the idea. Get a set of four or six (or more) and get a bulk-rate discount!
18. Knitter's Necklace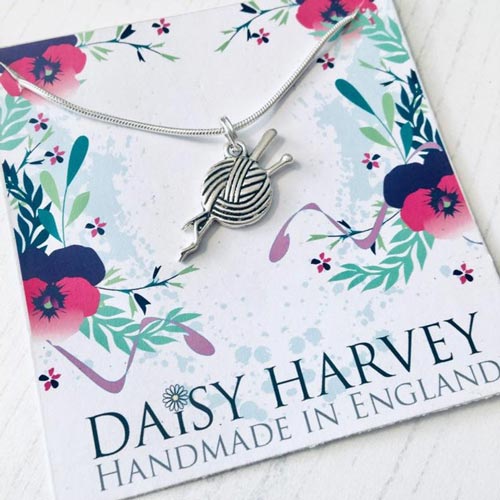 Gifts for knitters don't all have to be practical; they can be sentimental and heartwarming as well.
This knitter's necklace is a wonderful example of a beautifully sentimental knitter's gift.
With a 20″ long silver-plated chain, and yarn and needles charm, this necklace makes the perfect gift for someone who is truly passionate about their hobby.
19. Experience Gifts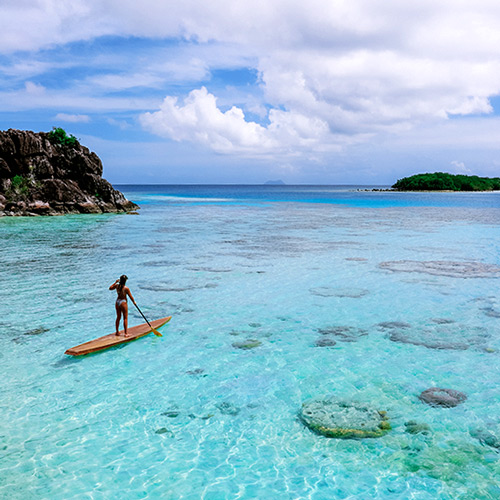 Anyone, yarn lovers included, can benefit from a little getaway every now and then. If you think the knitter in your life could use a vacation, you simply can't go wrong with choosing an experience gift for them.
A lot of people are thinking about experience gifts right now. That's because, instead of giving stuff, this type of gift focuses on what really matters in life: the memories, rather than the tangible or monetary value of a product.
Tinggly takes the experience gift – well… experience – up a notch. Several notches, really!
With Tinggly, the idea is that you surprise your loved one with several experience options to choose from (think bungee jumping, cruises, horse back riding, you name it) as well as locations in which to do it (think Hawaii, Bangkok, England, almost anywhere).
They choose, they go, they experience! And they get the memories to keep forever.
20. Stitch Markers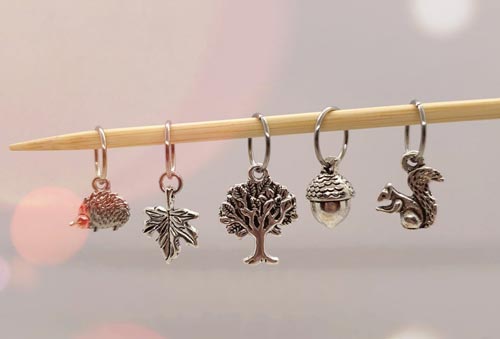 Just like stitch counters, stitch markers are helpful in keeping track of your place. Think of them as a sort of bookmark for knitting!
And, according to unspoken knitting rule #723, the cuter they are, the better.
It doesn't get much cuter than these "Woodlands" stitch markers. Your loved one will be able to track their progress on their latest project by simply looping one of these babies in their last stitch.
Pick the ringed charm if they're a knitter, or the lobster clasp option if they crochet. Choose between a set of five or singles.
21. Vogue Knitting
Last but not least on our list of gifts for knitters and crocheters is Vogue Knitting: The Ultimate Knitting Book.
This magazine is a must for any serious knitter; it reveals the latest trends in patterns, designs, and even individual stitching, and includes color photos for up-close looks at professional techniques.
This ain't your Grandma's old knitting book (buuuut could be her new one)!
More Gifts for Knitters and Crocheters: Gift Basket Edition
DIY Knitter's Gift Basket
When all else fails, turn your sights to gift baskets (my personal gift-giving motto!) There's just so much you can do with DIY gift baskets…the possibilities are virtually limitless.
If you decide to create a gift basket for the knitter or crocheter in your life, there are a few basics you'll want:
---
The creative gift-giving ideas don't end here! Think outside the crafty-gift-box with some alternative ideas:
Pin It