A hole in one gift is the perfect way to celebrate someone special who has accomplished one of the rarest and greatest feats in all of golf.
The hole in one is a triumph of skill and luck that deserves to be lionized. As rare as it is fantastic, the ace is truly a moment to remember. But how should it be remembered?
Take this list of 40 different hole in one gift ideas. Any one of them is sure to be an Eagle or better!
Best Hole in One Gifts
Below, we have an assortment of plaques, trophies, displays, and creative gift items for all purposes. Most golfers want to keep the ball and commemorate the details of the shot, so let's start off with plaques, then move on to other types of displays, and close out the list with fun gift ideas that golfers love.
Hole in One Plaques
Plaques are great for showing off an accomplishment in an eye-level setting. Hang them on the wall along with any certificates or photos. These are places for important moments to be commemorated, and a hole in one is one of those big achievements that golfers will want to talk about for years to come.
1. Personalized Hole in One Ball Display Plaque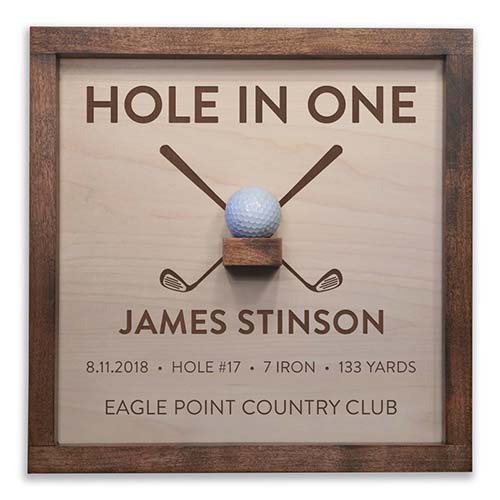 You can customize this gorgeous solid wood Hole in One Plaque with a name, date, hole number, club used, and the yards covered by the ace shot. It's handcrafted in the USA and features a stand in the center where the prized golf ball rests.
2. Engraved Cherry Plaque
Check out this cherry wood plaque that is customizable with name, course, date, hole and club type with a stylized number 1 and a spot in the center where the ball can be inserted to add depth.
3. Custom Photo Hole in One Acrylic Plaque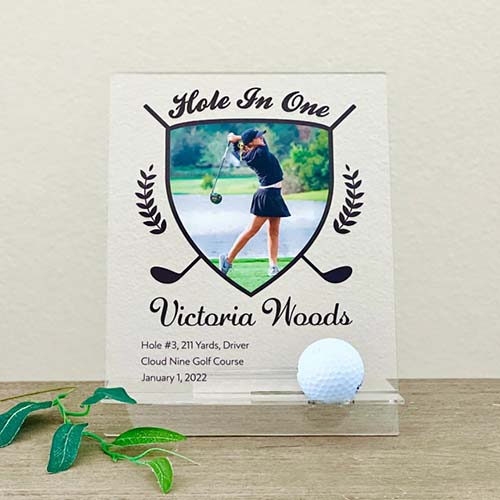 A classic acrylic plaque, mostly clear and very solid, with a spot for the ball on the bottom of the frame and space for a color picture of the golfer in either a full frame or a shield-symbol framed by golf clubs.
4. Grain Cedar Sandblasted Hole in One Plaque
Here we have a simple customized cedar wood plaque with sandblasted carvings for the name and details, hand-painted accents such as a green with a flag, and a hole for the ball to fit into.
5. Cherry Wood Photo & Ball Plaque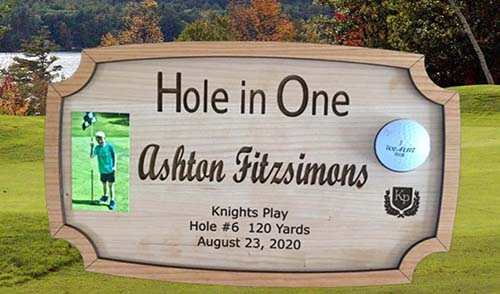 In addition to personalized engraving, the Cherry Wood Photo & Ball Plaque boasts space on the left for a printed photo of the golfer, ideally taken the moment they retrieve their ball, with a holding spot for the ball on the right.
6. Custom Hole in One Plaque w/ Photo or Scorecard
This plaque features space for either a wide frame picture of the golfer in their favored pose, or a place to pin the scorecard in from the game where the Hole was One. Includes custom laser etching of the shot's details, along with a stunning carved #1 where the ball is placed.
7. Large Golf Ball Hole in One Plaque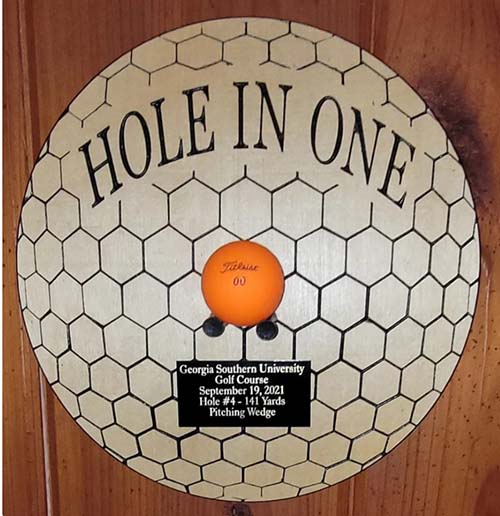 This unique hole in one gift is a round wooden plaque styled as a huge golf ball. Large print reads "HOLE IN ONE" over top and there are two tees built in to hold the ball in place in the middle, with details on a small plate below.
8. Laser Engraved Hole in One Plaque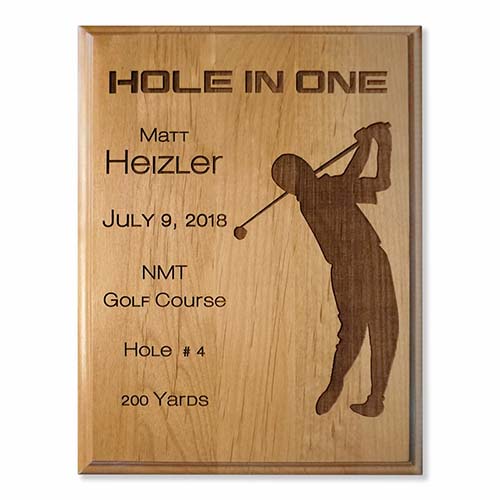 Laser engravings on alder wood, very simple in design with a silhouette of a golfer on the backswing. This one is best for when there is no ball to display.
9. Legendary Hole in One Plaque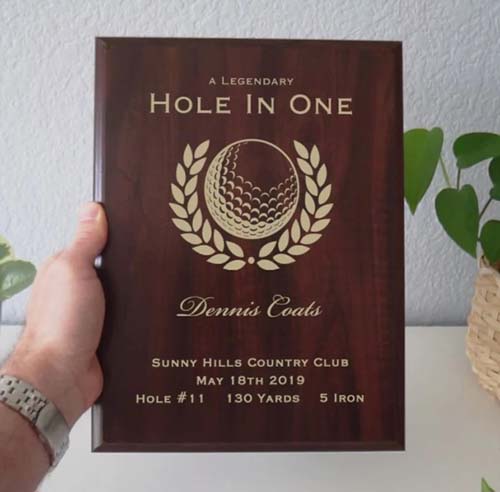 A very prestigious plaque, this elegant gift features an engraved graphic of a golf ball wreathed with laurels, dedicated to "A Legendary Hole In One." After all, your hole in one is truly legendary!
10. Hole in One Plaque with Custom Carved Golf Course Holes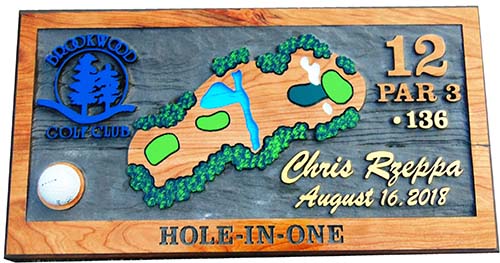 These plaques allow you to add custom carved-and-painted assets of the golf course logo and name, the stroke and hole, and a picture of the aerial view of the hold the shot was landed on! Right down to the tree lines, greens and hazards, every feature is relief carved to perfection.
Hole in One Trophies
Trophies belong to the winners. They are proof of a major accomplishment, of a win, giving the title of a champion to the owner. You might not win a tournament with an ace, but any hole in one is notable enough to deserve its own trophy. Set these on a desk or on a shelf to admire as markers of your big shot at the course.
11. Hole in One Desktop Trophy
A wooden pedestal mount which has the bottom part of an iron for style in front of a ball. Comes with the brass plate and engraving for free.
12. Crystal Bombay Hole in One Trophy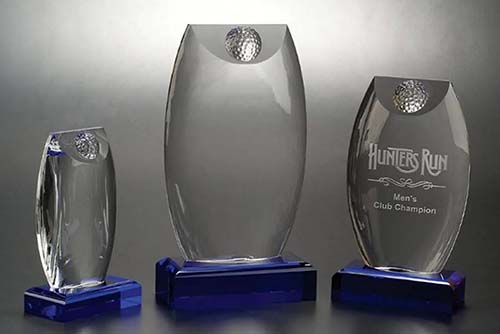 A tall, rounded clear trophy featuring the customized details or stylings on the face with an outward relief of a crystal golf ball on the top.
13. Silver Block Hole in One Award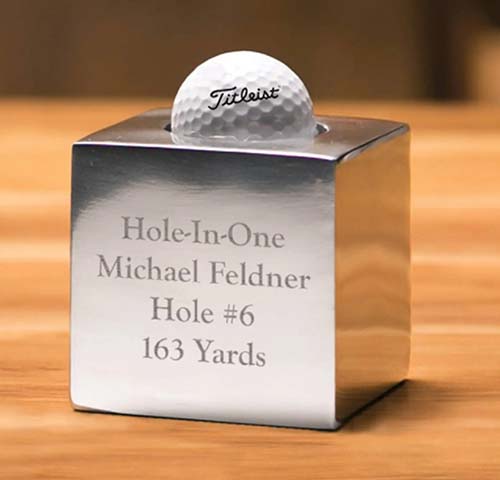 This is the perfect gift for those who love simplicity. The aluminum cube has just enough space for the details of the hole, the yards and the golfer, with a cupped indent on the top to fit the ball inside.
14. Custom Acrylic Trophy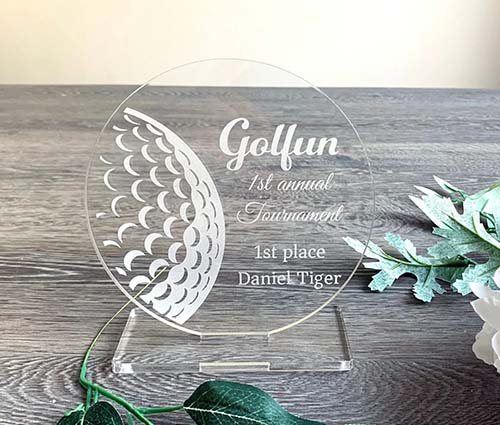 Here's a clear acrylic Hole in One Trophy that boasts a circle on a stand with details on one side and a print of a golf ball on the other, shaded so the dimples of the ball stand out nice and vivid.
15. Crystal Custom Engraved Trophy
A classic crystal stand with a triangular base, details on the front, and a large crystal ball on the top. Arrives in a special presentation box.
Hole in One Displays
An ace can't happen without a number of things lining up. You can hang up your favorite iron or your lucky tee, but the ball is what makes it a real hole in one. You want that ball to stick around, a trophy in its own right, in a display that shows it off to everyone who wants to see it. Let the ball tell its side of the story for you with one of these gorgeous displays.
16. Brushed Brass & Wood Display Case
This elegant display is a small box-shaped case which is angled about 45 degrees. Holds the ball and a plaque behind a glass-paned lid, which can be opened and closed.
17. Photo Shadow Box Display
A deep mountable plaque that comes in a variety of colors for the finish. Has a stand for the ball to sit on, a plaque overhead and space for either a picture or a scorecard to be posted.
18. Golf Ball Wall Mount Display Case
A simple wall mounted stand with layers of depth. The top has space for the scorecard and a plaque of details beneath. The bottom has a clear box that stands out from the case where the ball can be placed.
19. Vintage Style Hole in One Display Plaque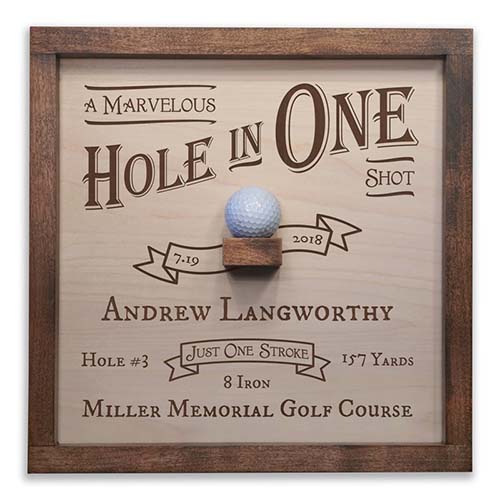 This all-wooden wall plaque has custom etchings in an old-timey font, harkening back to the early days of sport history, and a stand that the ball can rest on top of in the middle. Made in the USA from premium wood, this gift is a sure winner.
20. Custom Hole in One Display
A clear acrylic box goes over and protects the winning ball on a tee, which is part of the stand that displays the plaque below.
Related: What to Do with a Hole in One Golf Ball
Creative Hole in One Gift Ideas
All in all, golf's a great game, and games are meant to be fun. These are some more fun gift ideas, to keep the spirit of that great accomplishment alive but with a smile and maybe a laugh here or there. Don't be afraid to joke around with your victory. Show it off with these unique ideas to carry that spirit of victory with you anywhere!
21. Hole in One Photo Frame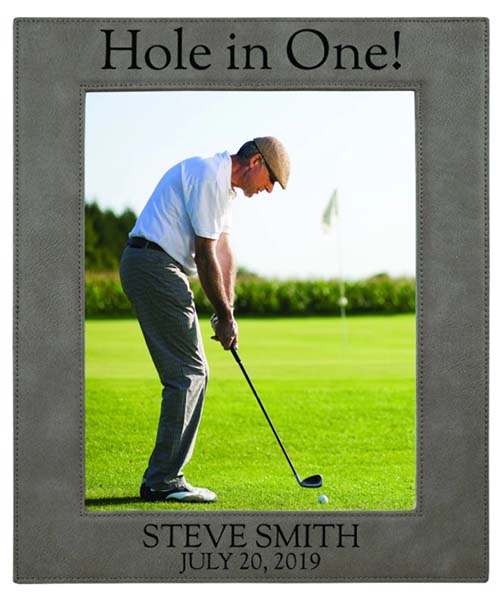 A personalized photo frame. "Hole in One!" is etched into the top. Perfect for framing a shot before, or after, the legendary sinker is made.
22. Personalized Golfing Bottle Opener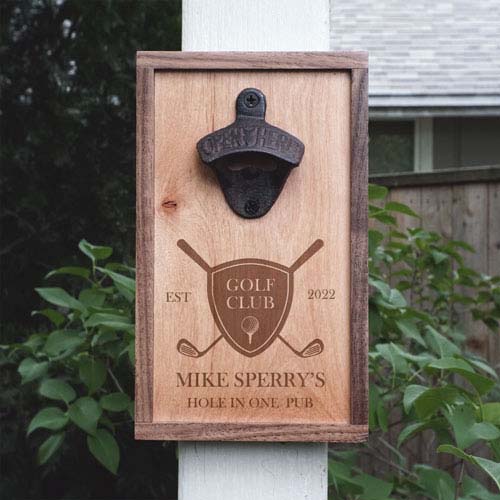 A wooden engraved frame with space for a club name and logo, a name, a date, hole number, and on top instead of a ball holder there is a metal bottle opener – for cooling down after a hot round!
23. Custom Golf Course Wall Art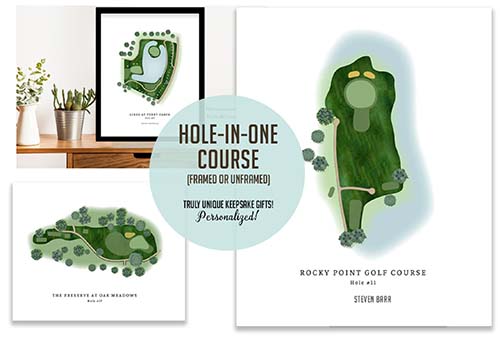 A custom painting with watercolors on textured paper of the course the hole in one happened on, detailed down to the placement of hazards, greens and even trees. Can be framed or hung up freely.
24. First Hole in One Desk Display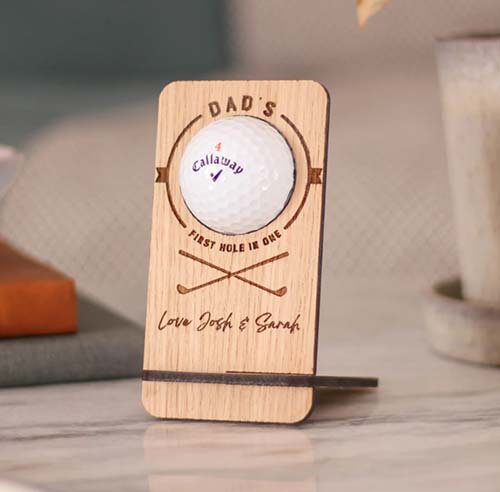 A very simple stand, about the size of a playing card, where the ball can be slotted in to give it weight and balance.
Related: 10 Golf Ball Displays
25. Hole in One Golf Ball Markers
This hole in one gift is perfect for the golfer who has everything. It's a metallic golf ball patterned clip that can fit on a silver-plated Hole In One enamel cover. The magnet clip can be fitted onto a hat, so you can take your accomplishment anywhere you go.
26. Golfer Bobblehead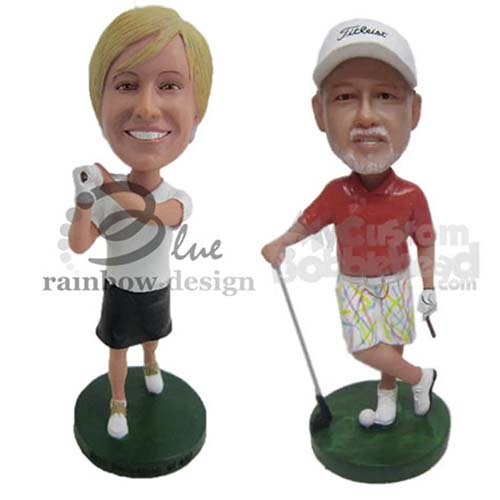 The quintessential golfer bobblehead, with the right shoes, pants and hat for either the golfing man or golfing lady. Ask it if you got a hole in one? They'll nod yes!
27. Custom Wine Label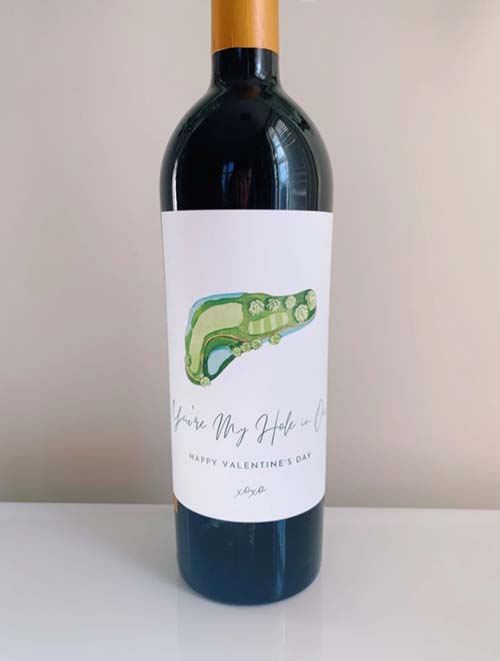 Decorate your favorite bottle with a memory of your favorite day of golf. Custom bottle labels come with pictures of the course where the hole was achieved and congratulatory text so you can drink to your skills!
28. Ask Me About My Hole in One
Some shirts deliver a message or prompt a conversation. This one says it all, inviting others to ask about your favorite moment of golf. Comes in bright colors, so you can wear it to the course to stand out.
29. Funny Accessories Bag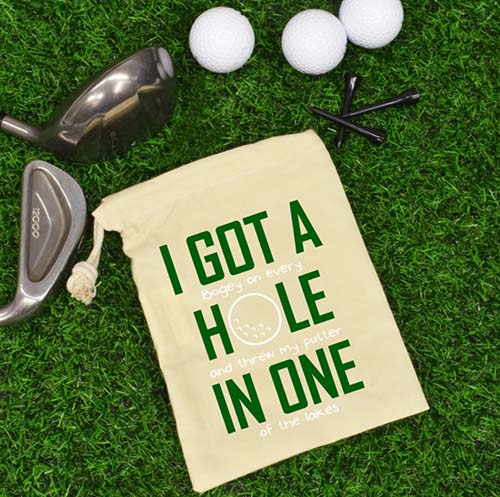 This bag is the perfect gift for your hole-in-one-shooting friend, carrying all the extra tees, balls, club heads and anything else they might need. Bold text brags about the accomplishment, while subdued text tells a slightly different story. Great for golfers of all kinds.
30. Hole in One Original Sports Candle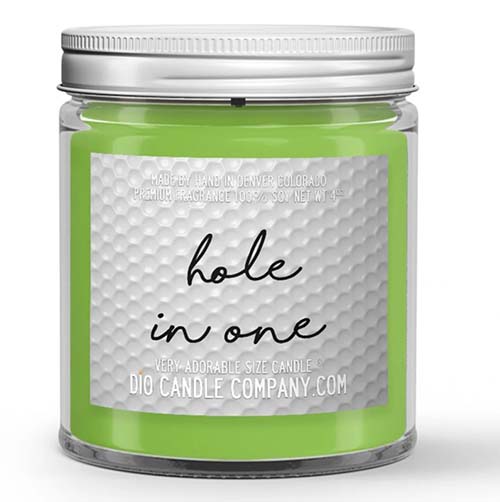 Remember a day on the green with this uniquely scented candle. Profiles of fresh air, green grass and wind, with hints of ozone, cedar, sandalwood and sea salt. Treat your senses to the memory any time. Pairs great with a recorded video of the perfect shot.
31. Golfer Portrait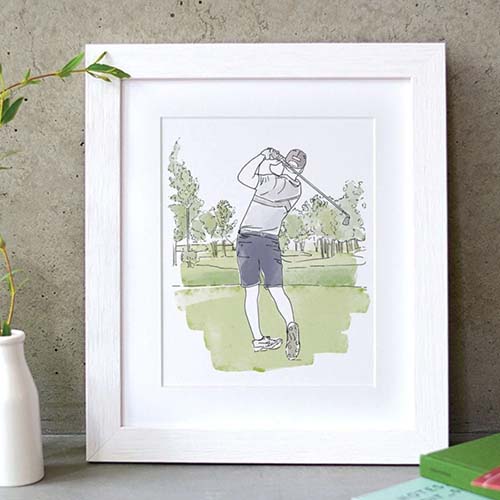 Add a bit of artistry to the memory with a custom painted watercolor portrait. Send in a photograph and professional artists will re-interpret it with your instructions to be a more pastel experience.
32. Golf Cart Pop Up Card
This is one pop-up card that is definitely worthy of your favorite golfer. They'll get so much joy from one of these laser cut beauties, they'll probably want to display it in their home or office.
The little golf cart is made perfectly to scale and even the smallest details have been accounted for. You can pair it with a separate gift if you'd like, but really this one is a gift in its own right.
33. My Spare Pair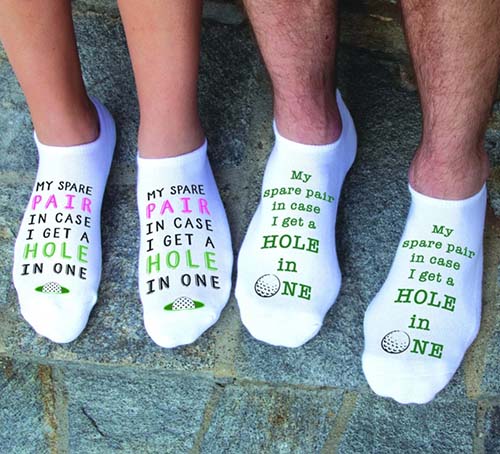 Smashing an ace is so exciting it might just knock your socks off. So, you need to bring some spares to the course. These socks let anyone know you're ready just in case that stroke of fate comes around.
34. Hole in One Necklace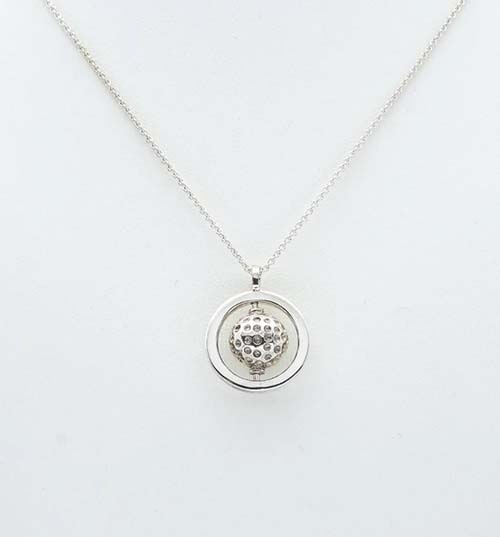 A small, subdued silver necklace with a golf ball in the middle of a ring, symbolizing the hole where it sinks in. A great gift for a female golfer, or for the wife of a golfer who wants to spread the joy around with his loved ones.
35. Golf Shoe Tags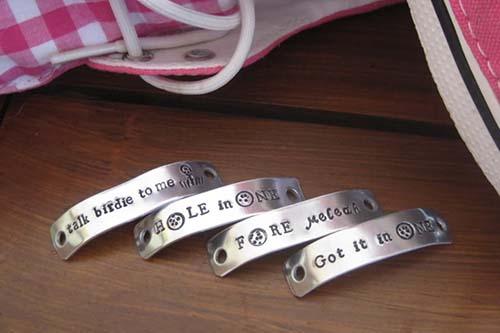 Nothing hurts a shot quite like snagging an untied shoelace. Get these tags to keep your laces in line while also bragging to anyone who checks them out that you got it in one. Put them on your favorite golf shoes so you take the reminder to the course every time.
36. Hole in One Golfers Box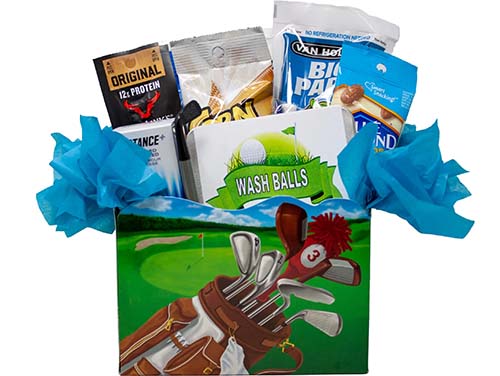 Everything a golfer needs to get through 18 holes in as few strokes as possible, ideally the fewest being one. A grab bag of stuff, some high protein snacks to stay alert and active, a compact putter pen to measure distance, a box of balls and tees and a reusable golf-themed box to carry it all in.
37. Personalized Golf Bag Tag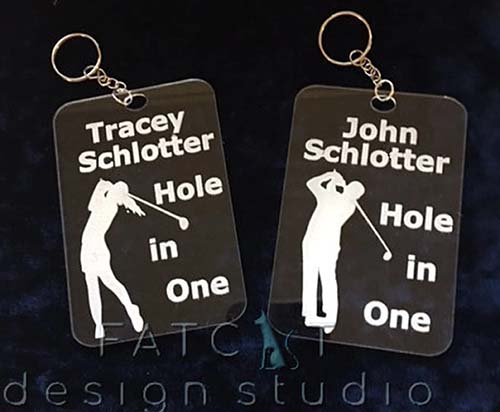 Put your name and your biggest success on a golf tag. You never want to lose your clubs or your bag on or off the course. Keeping a tag on gives your bag an identity, and your bag belongs to someone who got a hole in one.
38. Hole in One Club
Don't be fooled – this club isn't an iron. If there were a club that guaranteed a hole in one on every stroke the game would be a lot more boring. This is a shirt showing you belong to an exclusive rank of players, a club within a club for people who've mastered a hole in one shot. It's the ideal hole in one gift for someone who already has a ball and scorecard display.
39. Personalized Beer Mug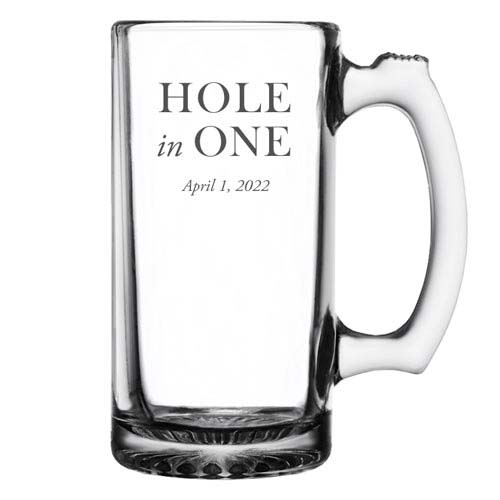 Put anything you want on this custom engraved glass mug. There's enough room for a logo, text and a name. So you can raise your own glass at the bar and never forget what you're drinking to: the hole in one that bought everyone else their rounds.
40. Minimal Hole in One Hat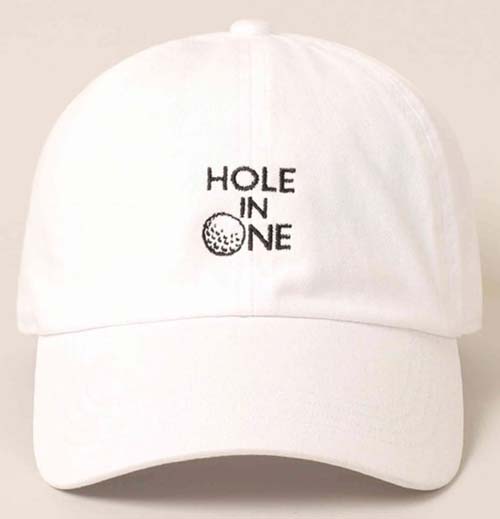 Here's something simple. You need a good hat for golf on sunny days. This one comes with a message, plain and easy to read, that you got a hole in one, and if you have anything to say about it you plan to get another.
Hole in One Traditions
The greatest accomplishment in a game of gold is the hole in one – sinking the ball on your first, and only, stroke off the tee. From between the boxes, over the fairway, bouncing onto the green and right into the hole, it's an incredibly difficult maneuver to master.
When there's a lucky downwind and a perfect spin and just enough torque to send the ball flying, it can – and sometimes, actually does – happen. So, what happens next? How does one celebrate this achievement, in and after the moment?
Buying Drinks After a Hole in One
The classic "gift" that comes with a hole in one is for the one who sinks it to buy a round of drinks at the bar for everyone afterwards. Why does the one who sinks it have to pay? It's more like they get to pay. They become a minor celebrity among their friends and fellow golfers. It's the capper to a day that will be filled with high praise and expectations.
And, it's insurance. Even if everyone saw it, being the best sport about such a historic moment means celebrating with people, not being celebrated. The biggest winner pays because it proves he's the biggest winner. Or maybe it's a tribute. Golf's not a new game, so it has its share of traditions, including rituals to help influence luck. If you want your luck to stay good, you'd better keep your friends – and the Game itself – nice and happy.
Hole in One Recognition
If you do get this incredible achievement on your scorecard, don't forget to mark it down and spread the word. You'll need two witnesses in order to make the hole in one "official." Have them sign the scorecard, and take some photos of the ball in the cup, you standing nearby, and you will your lucky ball.
You'll also want that moment commemorated with a plaque or display. Some golf clubs have a place for their own ace plaques, of past legendary games and feats on the green so you can be remembered by everyone and their caddies who walk through the halls.
You might even have a chance to officiate it in a book of scores, or buy your own scorecard after the game is over to frame as proof that the course itself has accepted your record in their canon of games.
Hole in One Certification
In the age of cellphones and smartphones, it's very easy to keep the credit for what you've done. If you feel that lucky stroke coming on and you just know it's going to happen soon, make sure someone is filming so you have a video to commemorate – and prove – your amazing feat to the world.
What if you're on the green, you've teed up by yourself, just to practice and get in a good game, and that legendary moment happens when no one is around? At a certain point, it comes down to trust. But you can always mark it down to prove it. Start the legend, and then prove it again with eyes on you.
Free Stuff for Getting a Hole in One
Once you've registered your official standing as a hole in one master, you might get to wondering, is it time to go pro? Real golf as a spectator sport doesn't rely on fancy shots like that, so you're not likely to sign anything with Nike or Bridgestone. But Bridgestone does, in fact, offer up some gifts for certified winners.
Companies close to golf, such as club manufacturers, ball manufacturers, even tee manufacturers will be glad to send you some gratuity for using their products to get your achievement. Without their goods you would have been swinging at air with empty hands – they owe you at least a letter! So reach out to the ball, club, and tee manufacturers and see what they offer.
Some will even go out of the way to send you custom clubs or bags, with your name on them and everything. Clubs have their own rules and their own prizes. The best thing you can get for free is recognition – which can be shared online through the National Hole In One Registry and officiated with a certificate of proof that you are, in fact, that good.
Getting a hole in one is just the first step. Your success can be immortalized with any number of products that made this list. It's like bottling lightning – a once-in-a-lifetime impossibility. Or, if you are lucky skilled enough to do it again, it's proof that there's some magic in those old golf socks you keep wearing!
Read Next: 21 Best Golf Gifts
Pin It