Last Updated on October 14, 2021
It doesn't matter how old you are. When you lose your dad, it is devastating.
While it won't take away the pain, sometimes a condolence gift or a memorial tribute can provide a little balm for the grieving soul.
Maybe you are looking for that perfect "in memory of Dad" gift for someone who has recently lost a father. Or perhaps you want to find a special remembrance or keepsake token for yourself to honor your own Dad.
We've put together a thoughtful list to help you keep Dad's memory alive. You can honor his memory in many ways. Take a look at our ideas, and find inspiration to celebrate a life well-lived.
21 Best In Memory of Dad Gifts
Our website is supported by our users. We sometimes earn a commission when you click through the affiliate links on our website. Learn more here.
1. A Letter From Heaven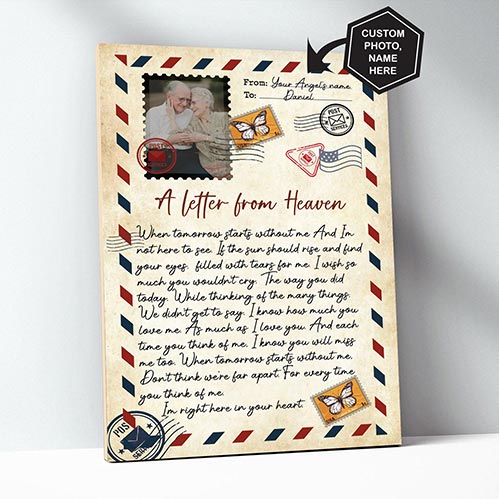 This letter is a beautiful memento from your angel in heaven. This letter from heaven lets Dad speak to you after he's left this earth.
You can frame and display this letter on a desk, a shelf, or by hanging it on the wall. Keep his memory alive, by presenting this remembrance in your office, living room, or den.
2. Skylight Frame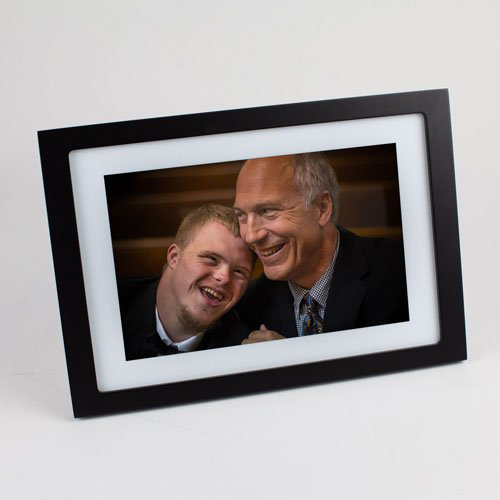 Skylight is a digital memorial photo frame you can email photos to, and they show up in seconds. This photo frame is as easy to use as 1,2,3!
Plugin and use the touch screen to connect to Wi-Fi, pick a Skylight email address for your frame, and then email photos to the frame's address, and they will appear right away!
It's a great way to share memories with family and loved ones across the miles.
3. "Raise a Glass in Memory" Bottle Opener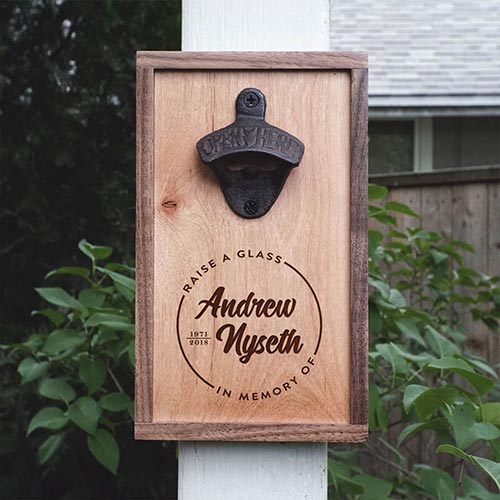 Our personalized walnut and maple bottle opener makes it easy to offer a salute to your loved one. Raise a bottle to Dad's memory each time you pop-a-top!
You can use it as a portable bottle opener or mount it on the wall. This is a great addition to a kitchen, garage, or even your patio.
4. Memorial Windchime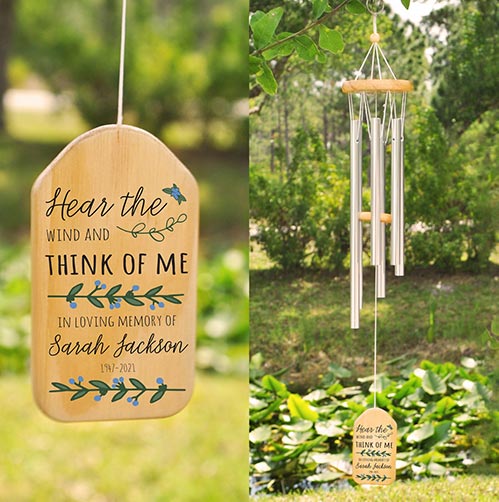 Listen to the wind blow and remember your father when the chimes sound. You can memorialize your dad on the engravable portion of this windchime by adding his name and dates.
You don't even have to see the wind chime to know he's with you -all you need to do is hear it. It's nice to spend some quiet time out in your yard, and now you can let these gentle chimes lull you into relaxation.
You may also enjoy: How to Give Thoughtful Gifts (Plus Ten Gift Ideas)
5. I Used to Be His Angel
Such a sweet sentiment from "Daddy's Girl." Hold your dad close to your heart with this charming memorial necklace.
This jewelry piece is made from durable stainless steel and will last forever. Give this precious piece to someone that can appreciate it – any daddy's girl!
6. In Loving Memory of Dad Bracelet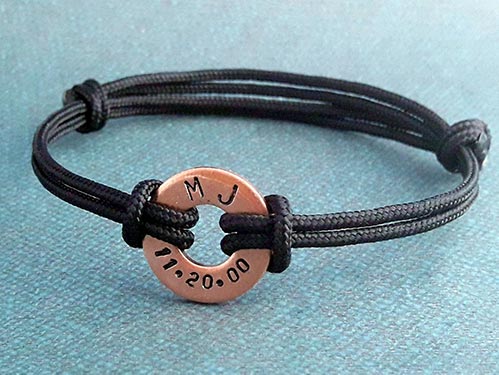 This hand-made copper and nylon bracelet is an excellent way to pay tribute to your father. The cord is a heavy-duty nylon paracord, while the disc is made of heavy copper. Each disc is hand stamped upon order.
Place his initials or the word "Dad," and the year he passed away on the copper washer. This memorial bracelet will be able to be worn for years to come.
7. Memories of My Dad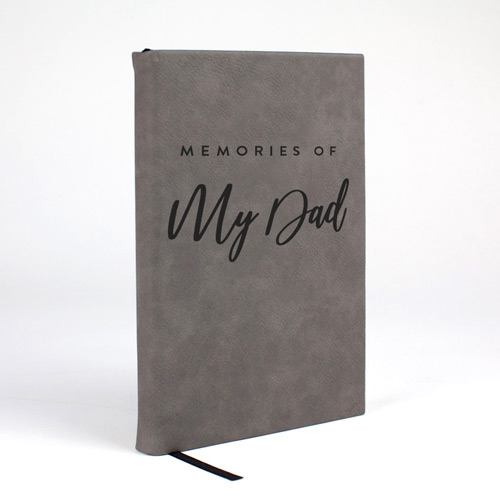 Our Personalized "Memories of You" journal can be memorialized with the name of their loved one. This gorgeous leatherette cover comes in your choice of gray, brown, or teal.
Journaling can be a constructive way to work through your emotions after the death of a loved one. This journal can be a gift for yourself or someone you know.
You may also enjoy: 21 Unique Sympathy Gifts to Show Love and Support
8. Custom Memorial Clock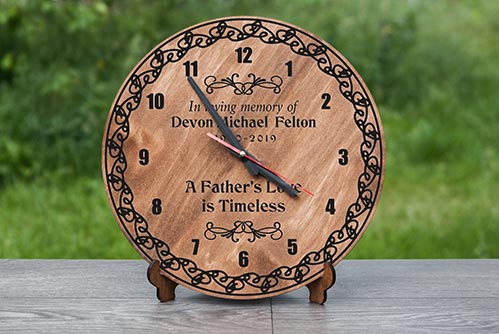 This hand-made wooden clock makes a wonderful memorial gift for someone that has lost their father. Every time they look at this clock, they will be reminded of their dad and your thoughtfulness!
You can choose from six designs and finishes. Your new clock can be hung up or displayed on a stand.
Your memorial clock will suit any decor and be appreciated for years.
9. Memorial Bird Feeder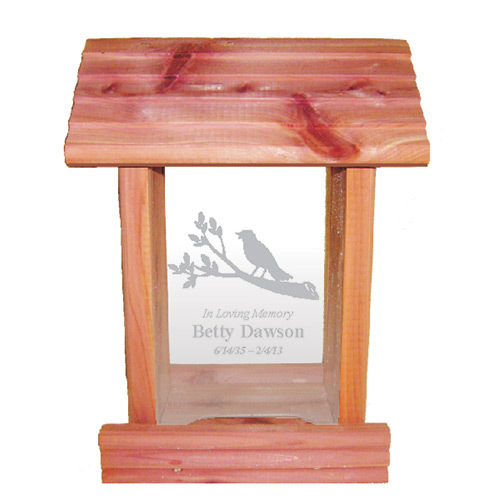 This is one of our favorite gifts; our memorial bird feeder is made of aromatic cedar and an engravable acrylic panel.
You can pick a design and an "In Loving Memory" inscription personalized with his name and dates. This is a very meaningful gift for someone who is always saying, "Angels appear when cardinals are near."
So, celebrate life by feeding the neighborhood birds and enjoying their soothing presence. You can watch out the window, in the garden, or off the porch.
You may also enjoy: 17 Best Cardinal Gifts for that Someone Special
10. Memory Pillow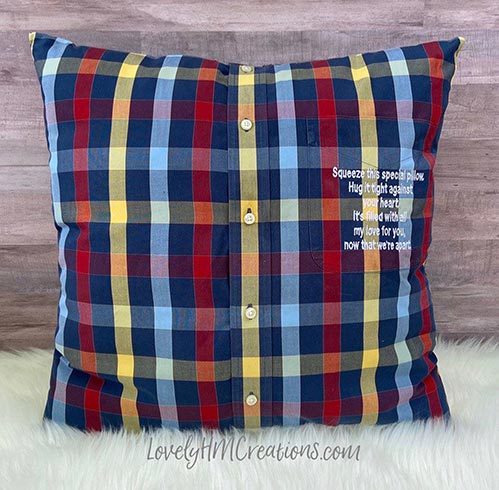 This hand-made "reminder" pillow is just right for hugging and snuggling up to.
This is a personalized pillow cover made out of your loved one's shirt. You can choose an embroidery message too. The seller will supply the 18″ x 18″ pillow.
Imagine the comfort you will feel when holding this pillow close to your heart.
11. Stacking Ring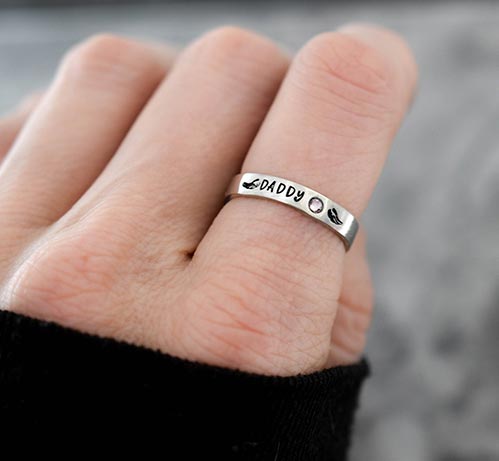 These hand-made rings are composed of silver pewter and are non-tarnishing and hypoallergenic. Each ring is hand stamped with your loved one's name, birthstone, and angel's wings.
You can stack these rings or wear them by themselves.
This is a splendid way to memorialize your loved one and keep their memory close to you.
12. Memorial Portrait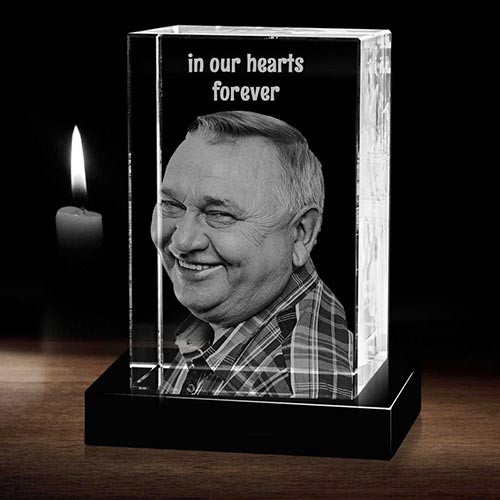 This 3D memorial crystal will be a treasured tribute to Dad. This laser engraved crystal will look beautiful anywhere in your home or office.
The three dimensional photo gift is made from state-of-the-art crystals by an experienced designer. This will be a beautiful memento to cherish and talk about for years to come.
Related: 10 Heart-Warming Sympathy Gifts for a Grieving Friend
13. Walk With Me Keychain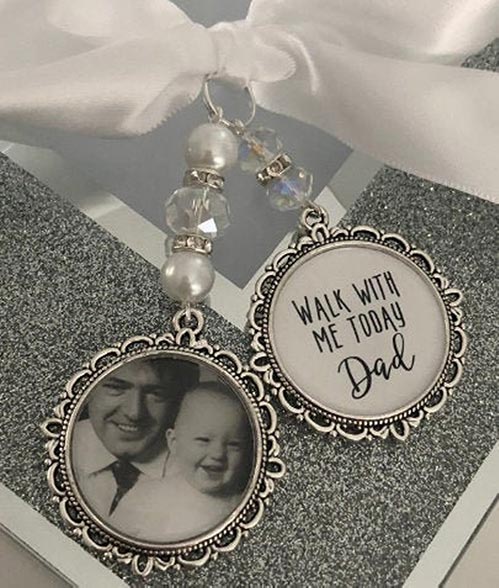 "Walk with me today, Dad." This is a genuinely personal remembrance for your wedding day. This piece consists of a photograph charm to tie around your wedding bouquet. This is a fantastic way to keep Dad close on your special day.
The ribbon on this hand-made charm comes in various colors. You will have no problem finding the one that best suits you and your color scheme. The Swarovski Crystals and pearl beaded silver charm add the finishing touches to this piece.
More like this: 50 Wedding Memorial Ideas for Your Special Day
14. Fishing Lure
This unique fishing lure is made of high-quality stainless steel, and it will not tarnish or rust. It will look the same for years to come, keeping its shiny luster as it tempts fish.
Engrave your loved one's name and dates. Dad will never miss another fishing trip!
15. Memorial Frame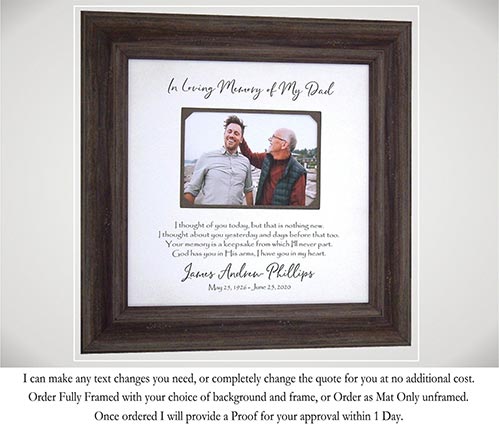 This hand-made commemorative frame is a thoughtful condolence gift to someone that has lost their father.
Imagine how this framed keepsake will bring a smile to your loved one's face. This remembrance will suit any decor; at work or home.
16. Pebble Keepsake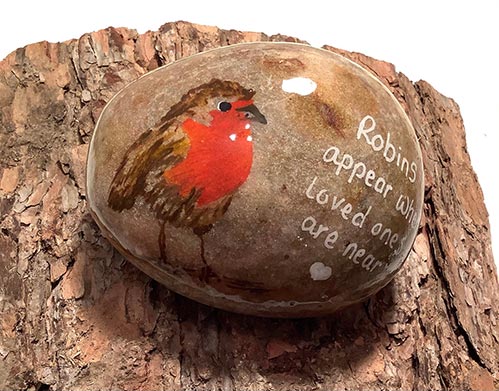 "Robins Appear When Loved Ones Are Near" is a charming thought. These hand-painted stones are varnished and will withstand the outdoors.
You can display your pebble on a coffee table, desk, or shelf. Leave it at home, outdoors, or take it to the office. No matter where it is, you will be reminded of your loved one.
The original version of this saying mentions cardinals; if that's the type of bird your dad loved, see more here.
17. You Are My Today & All of My Tomorrows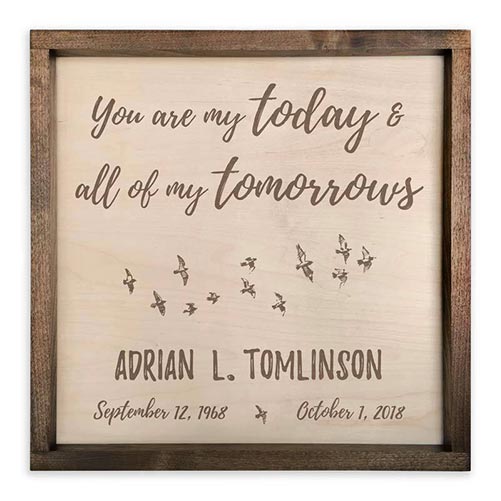 Our rustic, yet elegant, wooden keepsake plaque perfectly expresses the love and affection you shared! This meaningful piece pays homage to your beloved and will suit any décor.
Display your feelings for your loved one in your home or office.
18. Memorial Lantern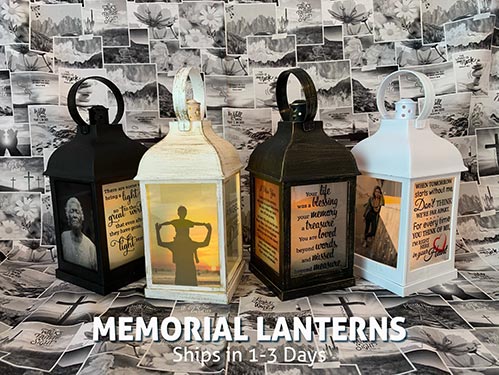 These hand-made memorial lanterns are a perfect tribute to your loved one.
Memories of your loved one are your most treasured things once they've passed. However, you can keep their memory burning brightly every time you switch it on.
The flickering flameless LED light gives the impression of a burning candle.
19. Hug In A Mug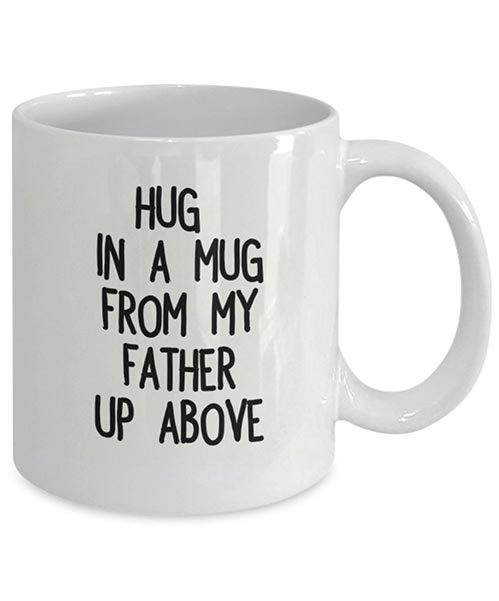 Be reminded of those precious memories every time you drink from this coffee mug. The durable ceramic mug reads, "Hug in a mug from my father up above."
It will surely bring a smile to your heart each time you use it. So share that cup of coffee with Dad!
20. Custom Painting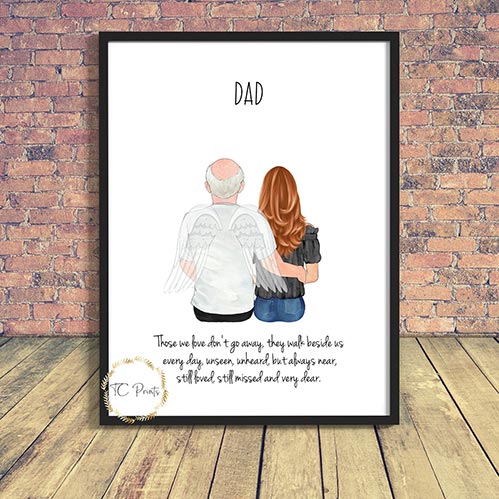 This hand-made custom portrait is a gift to be adored for a lifetime.
With all of the personalization options, you will have no problem getting everything perfect for your family portrait. This gift is truly a treasure that will fit into any home or office.
More: 29 Sympathy Gifts for Someone Who Is Grieving
21. Trees in Memory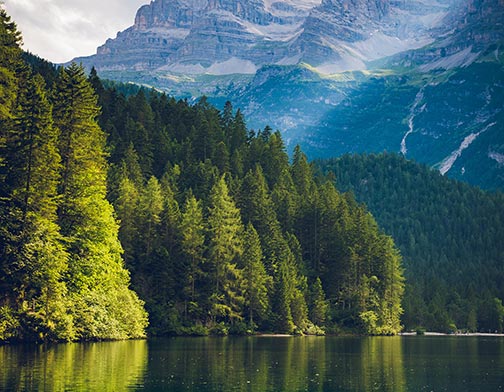 When you give a tree gift, you give something that could last for hundreds of years.
Our National Forests cover 8.5 percent of the United States. Sometimes wildfires devastate them, and replanting trees can help to regrow these areas.
Information about your tree and photos of it are posted online. The recipient of this gift can go online and learn about their tree and even plan an outing to see it.
A condolence gift can be hard to decide on. But, whether you pick a gift that helps them through the grieving process or one that honors the memory of their loved one, they are sure to appreciate it.
Read Next: Thoughtful "In Memory of Mom" Gift Ideas
Pin It