Last Updated on July 31, 2020
Decorating a home coffee bar requires a deft touch. You'll want to have unique and creative coffee bar decor ideas, but they'll also need to go with your existing decor and your personal sense of style.
But don't worry, we have you covered! Whether it's personalized, modern, vintage, or humorous, we've searched far and wide for the most creative accents to your coffee nook or shop.
Let's take a look at 16 of the most creative coffee bar decor ideas on the web.
16 Creative Coffee Bar Decor Ideas
Please note that this post includes affiliate links. Read our full disclosure here for more information.
1. Vintage Personalized Coffee House Barrel Head Sign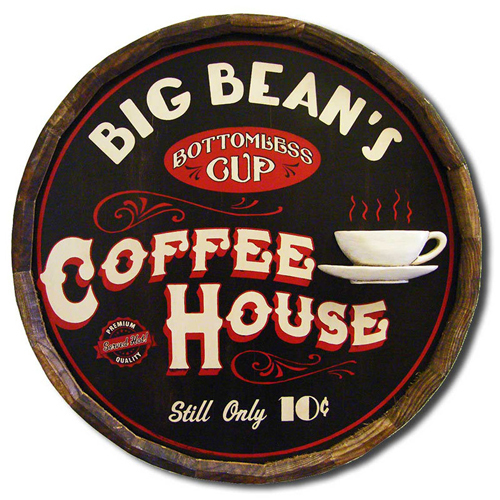 This one combines an old-fashioned coffee barrel head with retro style. Includes personalization of your choice and a 3-dimensional coffee mug applique carved by hand.
2. AM or PM Coffee Bar Decor
This is the best way to tell time in your coffee bar – is it AM or PM, coffee or wine time? Handmade with rustic style, this wall-mounted kitchen decor piece holds two coffee mugs and two wine glasses.
3. Old Fashioned Coffee House Wall Decor Plaque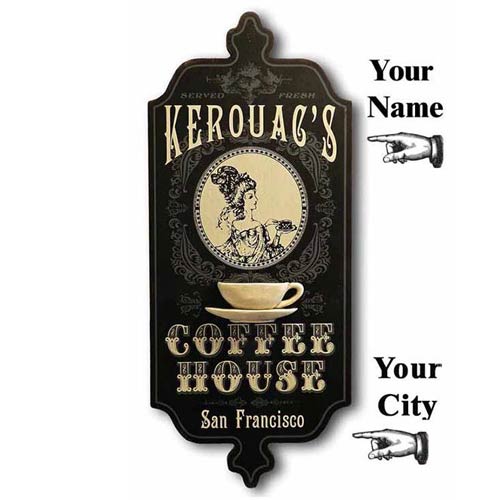 This is a classy wooden sign which checks off all the boxes. Old fashioned style and sensibilities? Check. Unique design with personalization of name and location? Check. Coffee bar theme? Check. Made in the USA, ready to hang? Check.
4. Coffee Pour Over Stand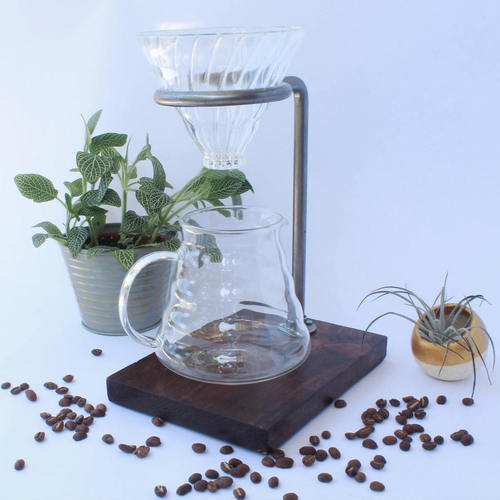 This lovely rustic coffee pour over gets it just right, every time. A beautiful coffee maker gift for the true connoisseur.
5. Quarter Barrel Coffee Tables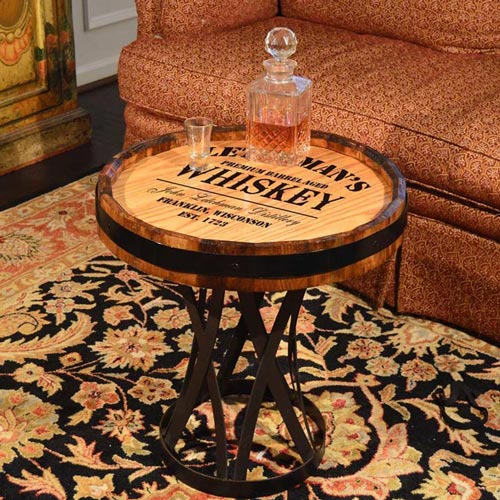 A coffee table made from the top section of an oak barrel? Yes please! With a variety of home bar logo designs that are customized with your name and more, these coffee tables can be used all day long. Rounds of coffee in morning, iced tea with lunch, and wine or whiskey in the evening – no matter what you're serving, the coffee table can take it.
6. Pot Head Coffee Bar Decor Sign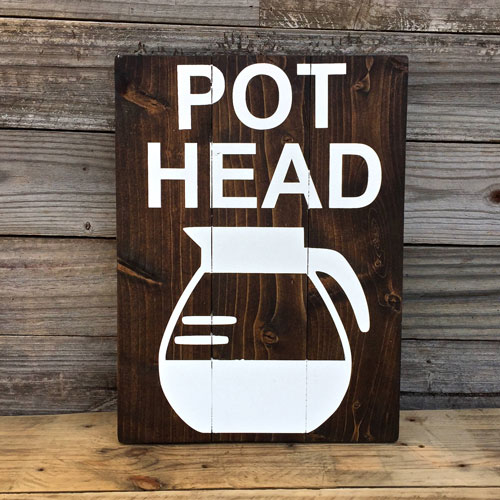 The perfect gift for genuine "pot" heads.
7. In Case of Emergency Break Glass Coffee Bean Shadow Box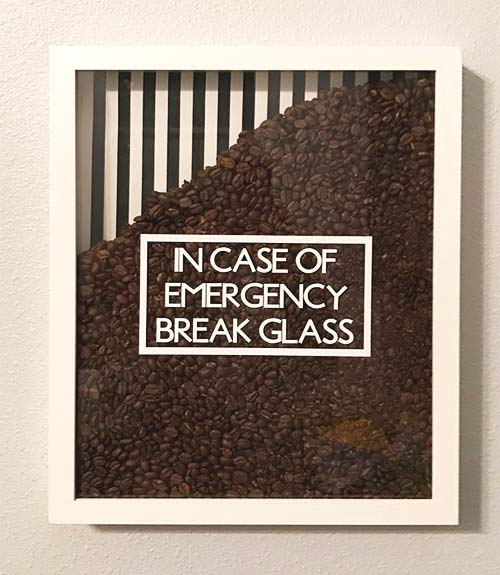 We've all been there… you wake up nice and early and practically sleepwalk to the kitchen to start up your coffee pot. But no!! You discover that there is no coffee to be had. Not to worry, because (safety first!) you prepared yourself for emergencies like this.
8. Wall Mounted Coffee Mug Rack & Caddy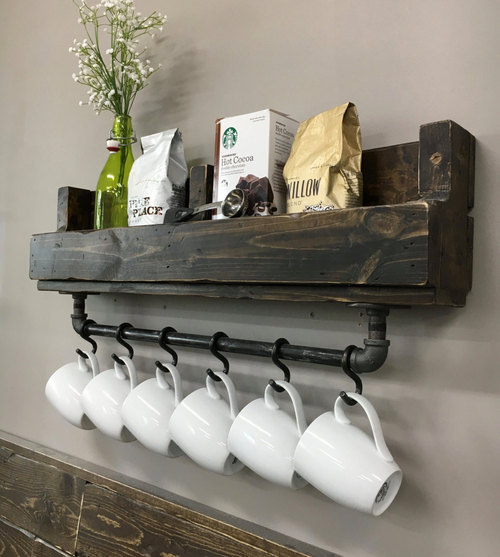 Combining lovely woodworking with an industrial flair, this wall mounted coffee mug rack is a wonderful decorative accent for your home coffee bar.
9. Large Vintage Coffee Shop Sign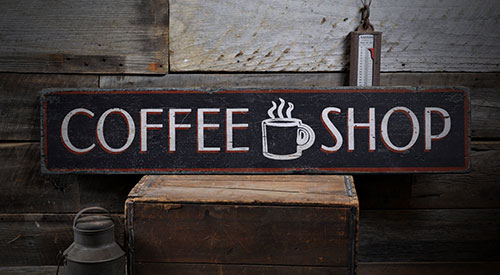 Handcrafted vintage style coffee shop sign, comes in a variety of sizes to suit your coffee bar's needs. Sizes range from 24 inches wide all the way up to 8 feet or more.
10. Rustic Barn Door Coffee Bar Serving Station
Every coffee bar needs a serving station. There are many from which to choose; the one pictured above has a lovely craftsman feel to it and is affordably priced.
11. Barn Wood Vertical Coffee Mug Holder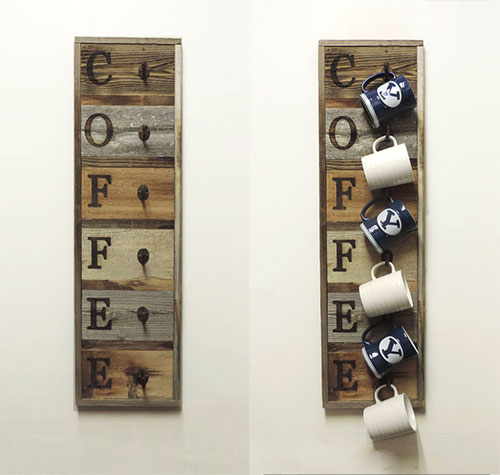 Here is a fun coffee bar plaque that stands out from the crowd. The vertical orientation, rustic farmhouse look, coffee mug hooks, and of course the most important word of all: COFFEE.
12. Coffee Bar Decor Metal Sign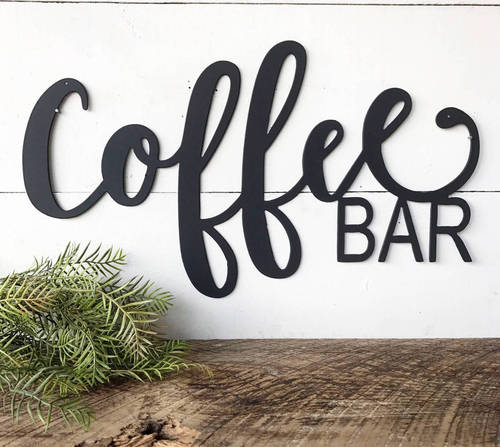 Handcrafted metalwork coffee bar decor sign made in the USA. Comes in your choice of two sizes (14″ or 18″ wide) and a variety of metallic finishes to match your coffee bar decor scheme.
13. Wooden Coffee Bar Sign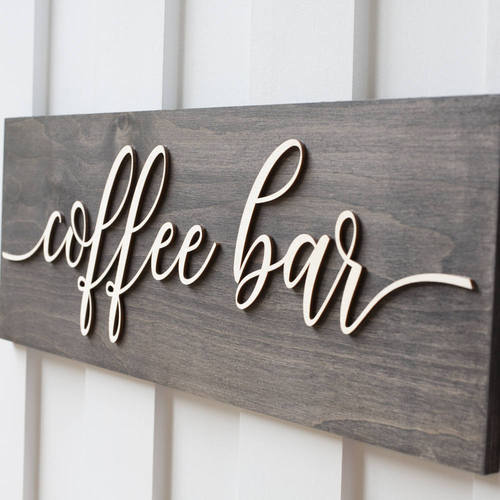 Here we have a lovely wooden coffee bar accent sign that says, simply, "Coffee bar" in a lovely script font. The lettering is not hand-painted but rather a 3-dimensional woodcarving that creates a very vivid and attractive effect.
14. Tea & Coffee Sign with LED Lights
A sign for coffee and tea drinkers. This one is set apart by the LED lights which adorn the "Coffee" script.
15. Know Your Coffee Metal Coffee Bar Menu Sign
How well do you know your coffee? This fun and affordable metal coffee bar decor sign will test your coffee knowledge in style.
16. I Love You A Latte Rustic Coffee Bar Decor Sign
If you love coffee and are an insufferable pair with your sweetums, this is the cutesy coffee art for you. "I love you a latte," in adorable art lettering on a rustic wood sign. You'll probably also want the companion piece, "Coffee is my love language."
Giving Coffee Bar Decor Gifts
Any of these 16 creative coffee bar decor ideas will make a great gift. When you're considering a gift idea, make sure you follow these 15 simple guidelines to make sure your gift stands out meaningfully to the recipient.