Last Updated on October 14, 2021
What do you get someone whose dog has just died?
If you've ever had to say goodbye to a beloved canine friend, you know just how difficult it can be to process.
Dog lovers everywhere (and all animal lovers, for that matter) consider their pets to be members of the family. So the death of a precious "fur baby" can be overwhelming to say the least. It's like losing a family member.
The sorrow is the same whether your loved one had raised their dog since it was a pup or had adopted a senior to allow them to live out the "golden years" surrounded by love.
Even in the case that they lost their pet to a tragic accident, sometimes the best way you can say "I'm here for you" is by giving them a comforting sympathy gift.
What to Get Someone Whose Dog Died
There are three things to consider when thinking about what to get someone whose dog died.
First, it really is true that it's the thought that counts. The simple gesture of giving a pet sympathy gift will mean a lot to your friend. Don't underestimate that.
Second, consider a custom or personalized gift. Personalization adds that special touch which makes the gift extra-meaningful. Many items can be engraved or printed with the pet's name and dates, and gifts with a photograph of the dog will always be treasured.
And third, write a note. It doesn't need to be long and it doesn't need to be perfect. Just tell your friend that you're sorry for their loss, you want to be there for them, and that you're grieving with them. If you're not sure what to say, here's a guide on what to say (and what not to say) in a sympathy card.
Ok, now it's time to get a little more detailed with some specific gift ideas.
Dog memorial gifts come in all shapes and sizes. Below we've compiled 10 of the best for you to consider. Let's take a look at what to get someone whose dog died.
10 Dog Memorial Gifts
Our website is supported by our users. We sometimes earn a commission when you click through the affiliate links on our website. Learn more here.
1. Personalized Pet Memorial Bird Feeder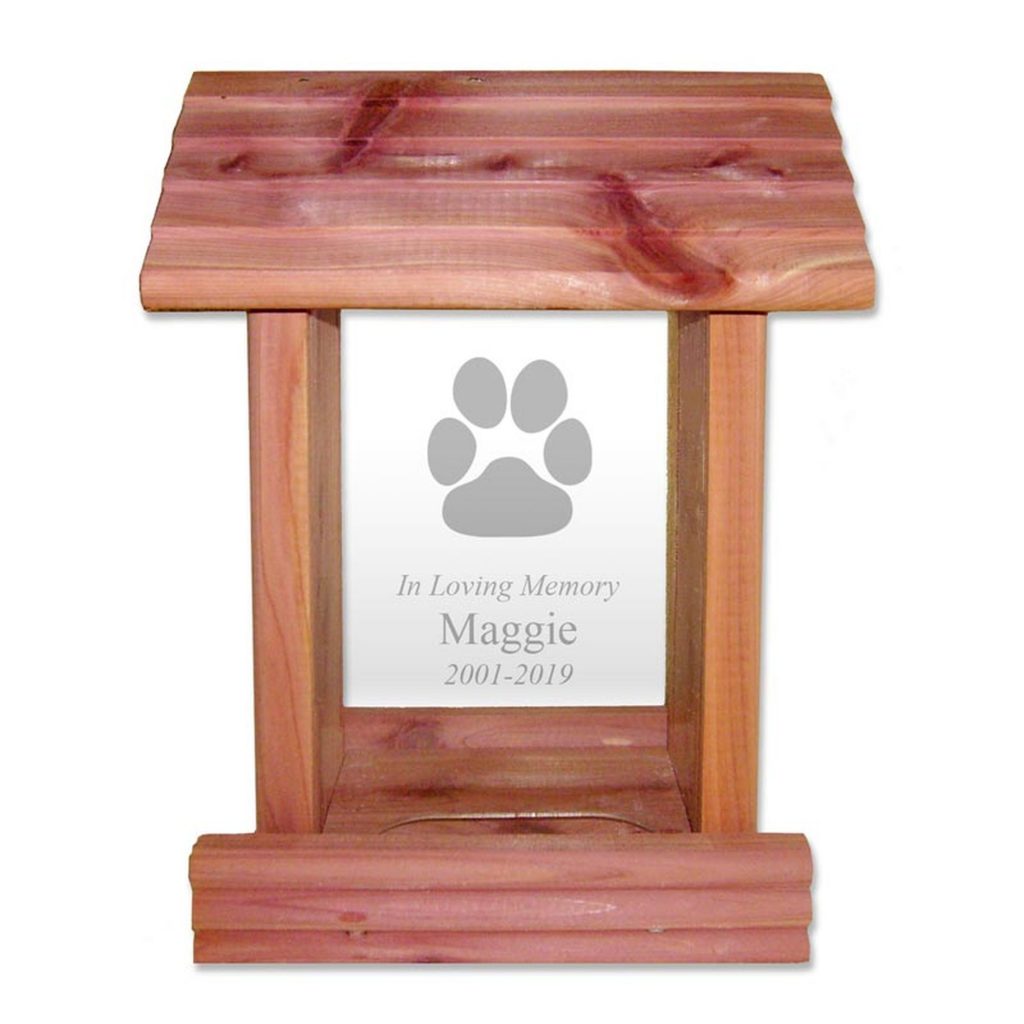 Provide your friend or family member a little bit of comfort in the midst of grief with this pet memorial bird feeder from Urns Northwest.
This bird feeder is made of sturdy cedar wood and comes personalized with the dog's name as well as a paw print. It comes with an optional gift note where you can write a special message to the recipient.
Every time your loved one sees the birds enjoying a snack on this feeder, they'll be gently reminded of their dog, and of the fact that life goes on.
2. Willow Tree Pet Keepsake Box
This pet keepsake box from Willow Tree portrays the undying love of man's (or woman's) best friend. It is a cast from the original sculpting created by world-renowned artist Susan Lordi.
Measuring 2″ high and 3″ across, this box is the perfect size for your friend to keep a photo of their dog, a collar or tag, tuft of fur, or even ashes.
3. Commissioned Pet Portrait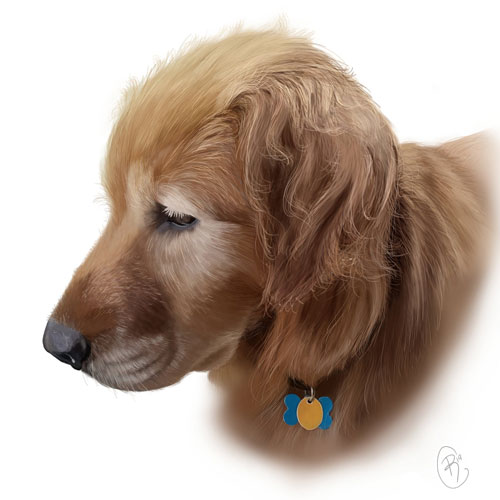 Imagine the smile (and maybe happy tears) that will cross the face of your loved one when they see their late dog's familiar face staring back at them once again.
Cassie Reynoso, a professional digital artist and the talent behind Reynoso's Pet Portraits, can make that image a reality. It's the perfect dog memorial gift!
You provide a photo of your friend's dog, and she'll use it to create a one-of-a-kind digital portrait in their memory.
4. Custom Engraved Pet Memorial Tumbler
A tumbler makes a great gift for almost any occasion, and especially so with the loss of a beloved dog.
This personalized pet memorial tumbler from Northwest Gifts comes double-walled and vacuum-sealed, to ensure that hot or cold beverages stay that way. Have it engraved with your friend's dog's name and important dates. Choose between seven different colors and four different sizes.
It's a great dog memorial gift that they'll be proud to use in honor of their pet's memory.
5. Dog Memorial Picture Frame
A photo gift is always a thoughtful gesture, especially when a frame is already included.
This pretty hinged pet picture frame holds a 5″ x 7″ photo and comes with a comforting "Pawprints" poem. You can get the decorative dog tag engraved locally with the pet's name, or your friend can replace it with the dog's actual collar.
6. Personalized Dog Memorial Bracelet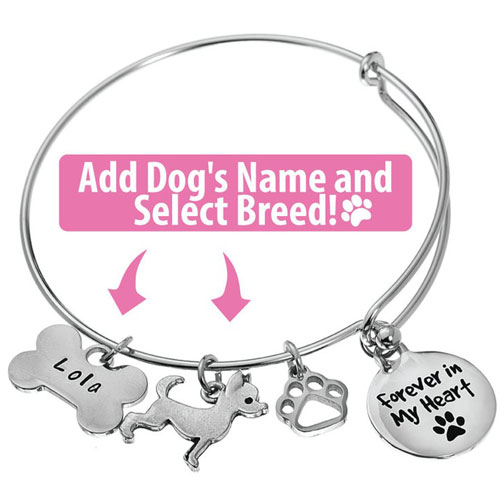 For an elegant memorial gift your friend can enjoy every day, choose this stainless steel charm bracelet. Customize it with their late dog's name as well as the breed.
Every time your friend puts this bracelet on, they'll be reminded that it's better to have loved and lost their dog, than to have never gotten to love them at all.
7. Dog Lover Sympathy Basket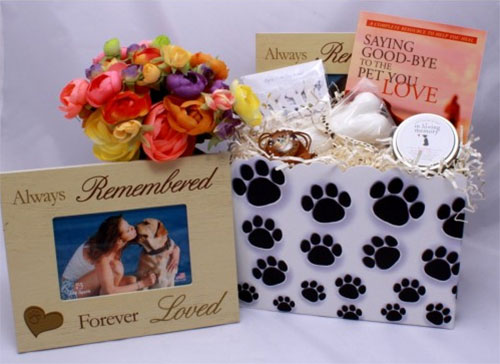 Gift baskets are another one of those ideas that make a thoughtful present no matter the occasion. But when filled with soothing items that sweetly remind them of the one they are now missing, gift baskets are especially welcome by someone who is grieving.
This gift basket for dog lovers is a prime example. It includes a candle, a memory stone, dog bone-shaped forget-me-not planters, a photo frame and more.
The great thing about gift baskets is that you can DIY them, too. You know your loved one and how they grieve better than anyone, so consider tailor-making a basket especially for them and their bereavement journey.
8. Personalized Christmas Ornament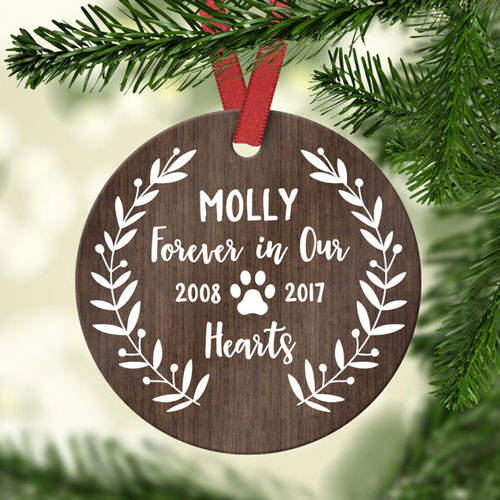 Just like when a human family member passes away, and that first Christmas without them comes around, it will be difficult for your loved one to get through their first holiday season without their dog by their side.
Ease a little bit of their holiday grief by surprising them with this personalized Christmas ornament. Measuring almost 3″ in diameter, it'll include their dog's name as well as dates of birth/adoption and death.
9. Dog Memorial Garden Stake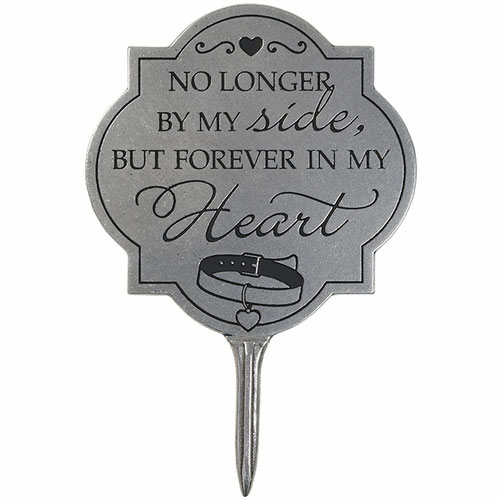 This dog memorial garden stake from Heart to Heart Sympathy Gifts would look good in a flower garden, or even as a grave marker.
Measuring a foot tall and made of rust-resistant aluminum alloy, it's designed to weather the outdoor elements for years to come.
10. Rainbow Bridge Wind Chime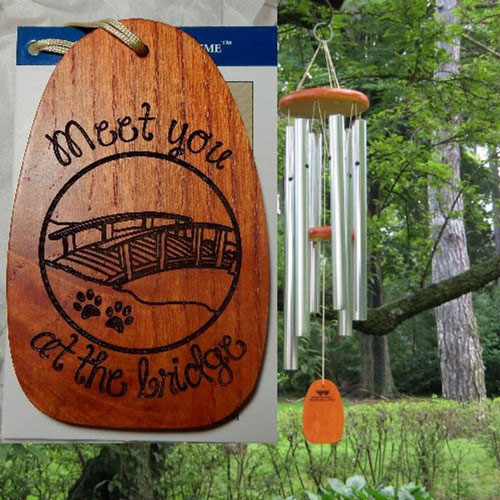 Without a little guidance, it can be hard to know what to get someone whose dog died. Sometimes it can help to think just a little bit outside the box. A gift like a wind chime, for instance, will remind your friend of their sweet dog whenever the wind blows.
This unique wind chime is constructed of wood and aluminum and mentions the Rainbow Bridge. As an added touch, the wood sail that hangs below the chimes can be personalized. From top to bottom, this wind chime measures 25″.
Dog Memorials & Helping Kids Cope
Often times the loss of a pet is the first real experience with death a child will face. Even when handled carefully, pet loss can be traumatic, confusing, and downright scary for little ones.
Thankfully, there is lots of great advice out there from both parents and parenting experts alike for helping kids cope with the loss of a pet.
If your child or a child you know is currently processing the death of their dog, here are some general tips for helping them deal with their feelings, no matter their age:
Get them a book that encourages them to focus on happy memories they had with their dog. "The Forever Dog" is a good example, as are many of these 101 Classic Books to Help Children Grieve.
Let them keep a token of their pet's life (such as a collar tag, lock of fur, or a cast paw print) as a memorial.
Be honest about the finality of death with them. It depends on the family, but for some young children the concept of the "Rainbow Bridge" can help to guide this discussion.
Give them time and space to deal with their loss. Children understand more than we often give them credit for, even when it comes to death.
Give them something to look forward to. Let them know that life goes on. Consider letting the kids take a main part in the family's next pet adoption journey.
---
Thank you for reading! Hopefully we were able to help you find the perfect dog memorial gift for your loved one, to bring them a little bit of comfort and peace as they say goodbye to their furry friend. If you still didn't find the right gift, here are some more heartwarming pet sympathy gift ideas.
Have you ever received a wonderful dog sympathy gift? If so, or if you have any other great gift ideas you'd like to share, feel free to let us and our readers know in a comment below.
Read Next: In Memory of Mom Gift Guide
Pin It