You've been on the lookout lately for some fun and unique gifts for real estate agents.
Maybe it's because you've just sold your house, or bought a new one (or both!). You really want to say "thank you" to your valued real estate agent by giving them something special.
Because, after all, you wouldn't have been able to do it without them!
Since congratulations are in order for you and your agent on your new home, we're here with a list of 21 gift ideas that they're sure to appreciate receiving…and you'll enjoy giving.
Or maybe you know someone who is a fantastic real estate agent, and you plan to give them a gift for a birthday, retirement, the holidays, or passing their exam. We've got you covered there too.
So without further ado, let's get started!
21 Gifts for Real Estate Agents
Our website is supported by our users. We sometimes earn a commission when you click through the affiliate links on our website. See our privacy policy & disclosures for more information.
1. Custom Engraved Tumbler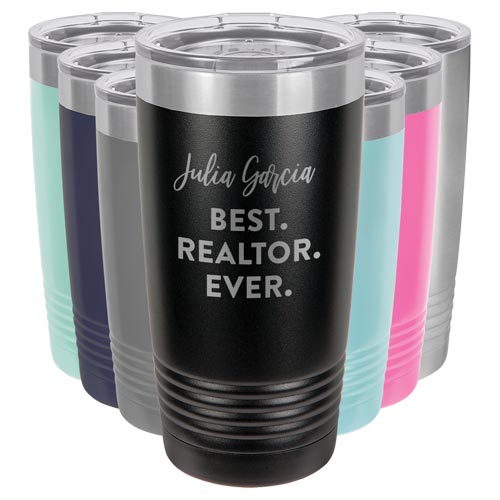 Kicking off our list of gifts for real estate agents is this custom engraved tumbler from Northwest Gifts.
When you're constantly on the go like these professionals are, it's very important to stay hydrated! Or caffeinated…
Whatever their preference, help your agent remember this by gifting them this cute personalized tumbler. It comes vacuum-sealed and double walled, perfect for either cold or hot beverages. Choose between several different colors, too.
Want your agent's tumbler to say something different? Feel free to customize it however you want, or browse through other options here.
2. Vintage Real Estate Agent Plaque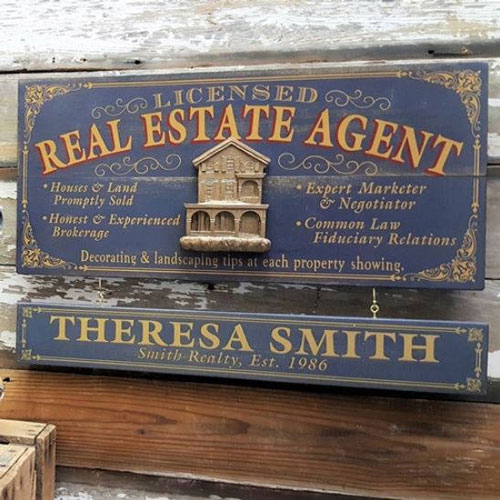 For a special keepsake gift your realtor or real estate agent is sure to cherish for years to come, choose this vintage-style real estate agent plaque. It is handcrafted in the USA and measures a impressive 23.75″ x 11″ x 1″, plus the 3.75″ tall hanging name board.
This unique sign is hand-distressed for that classic feel, and includes a gold-painted relief applique of a house. You have the option of personalizing this sign with a hanging board featuring your agent's name, making it that much more special.
3. Custom Portrait
Using her brush and her God-given talent, experienced watercolor painter Mary Ann creates stunning works of art for her clients.
Send her a photo of the real estate agent whose portrait you want made, and she will paint a one-of-a-kind piece with a certain artistry that cannot be matched by any other artist. Imagine the look on your agent's face when they see their custom portrait!
Her paintings have been featured in museums along with medical offices, banks, books, private art collections, and more. Commission a portrait today!
4. Real Estate Agent Locket
If you're looking for a thoughtful gift for a fashionable real estate agent, look no further than this delicate crystal real estate agent necklace from Lola Bella Gifts.
This rhodium-plated locket features a tiny "Sold" sign among other charms and transparent, colored stones. It comes with a 20″ long chain necklace.
5. Personalized Business Card Holder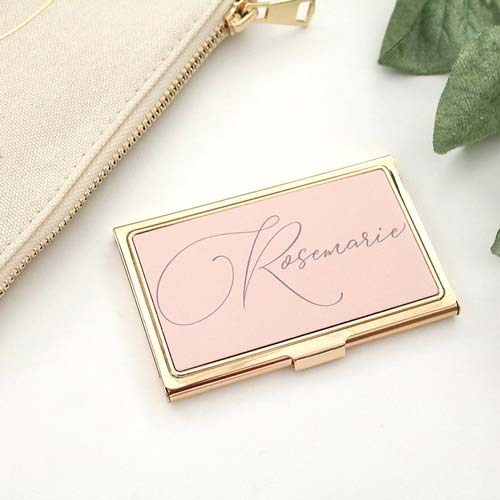 Finding great gifts for real estate agents does not have to be complicated. Even a simple office staple, such as a business card holder, can mean a lot when it comes from the heart.
Let your real estate agent know just how much you appreciate them then with this personalized business card holder from Three Two 1.
Each one comes gold or silver-plated and can hold up to 15 business cards. Choose between five different colors.
6. Aerial Drone with Camera
Real estate, and all the marketing that it encompasses, has come a long way over the years. Technology in particular has played a huge role in changing the game.
One such example of this is real drone camera footage, which is now regularly included in property listings. Do you know an agent who is just starting out, or who could really use this kind of technology to grow their business? Then consider surprising them with this high-quality camera drone.
This drone comes equipped with two HD WiFi cameras, trajectory flight technology, and "follow me" mode among other features.
7. Personalized Bamboo Cutting Board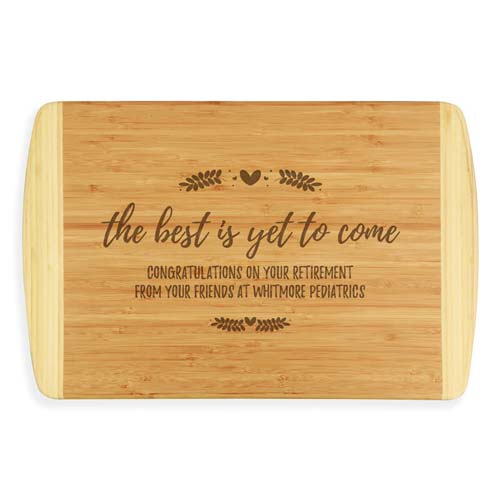 Is your favorite real estate agent about to retire after years of hard work and dedication to their field? Show them how much you'll miss them with this beautiful personalized bamboo cutting board from Northwest Gifts.
This board measures a spacious 18″ x 12″ and can be used not only for cooking, but as a decoration as well. It includes custom laser etching of any text you like in attractive fonts.
If your agent is not retiring but you still like this gift idea, check out even more of our personalized cutting boards here.
8. Personalized Portfolio Planner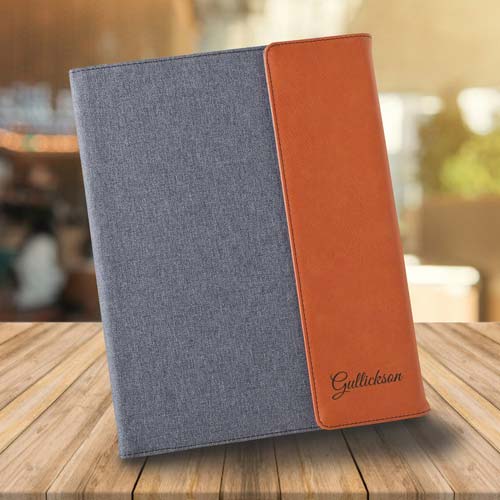 Real estate agents work around the clock to keep their clients satisfied. Trying to keep up with everything they have to do can be downright overwhelming if they aren't well-organized.
Help them keep their to-do lists all in one place with this elegant rawhide portfolio & planner from Etsy shop CreativeByClair. Personalize it with their name or initial for an extra-special touch.
9. Realtor's "Sold" Cuff links
Your favorite realtor will be able to express their unique style with this pair of "Sold" cuff links.
Subtle yet thoughtful, these real estate agent cuff links come already nestled in a gift box, ready to go, and also include a microfiber polishing cloth.
10. House Hustler T-Shirt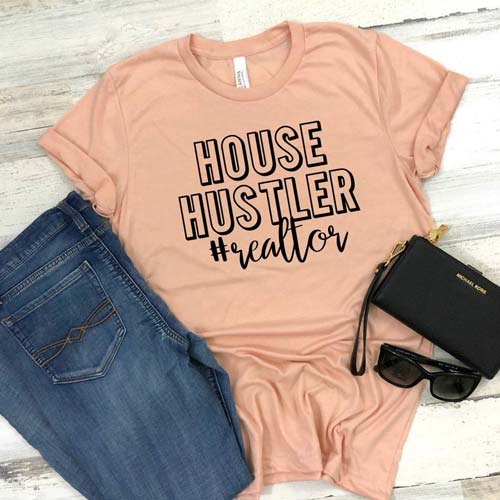 Real estate agents love a little bit of humor…it makes their job that much more fun! Put a smile on your agent's face with this "House Hustler" t-shirt from Honey Bird Design on Etsy.
The adorable cotton and polyester shirt comes in five unisex sizes and a wide array of colors.
11. Personalized Christmas Ornament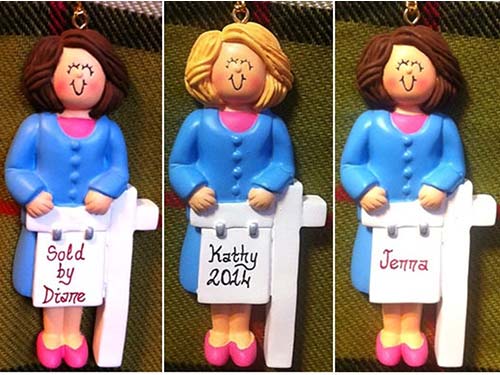 Christmas is the perfect time of year to show your real estate agent how much they mean to you and your family. Ornaments are a timeless holiday gift that your agent will continue to enjoy year after year.
Best of all is a personalized Christmas ornament. This Personalized Christmas Ornament Real Estate Agent Gift takes the cake. Customize yours to the liking of your agent, and watch their face light up when they finally open it.
Each one of these ornaments is handmade from resin and painted using acrylics. Don't forget to personalize it further with your real estate agent's name!
Click here to see every holiday where you can give gifts like this!
12. Desktop Zen Garden
Who says you have to be constantly stressed out while on the job? Especially if you work in a busy office (like your real estate agent undoubtedly does), relaxing is a must.
Help your agent cultivate a sense of calm in their work atmosphere with this miniature zen garden. Traditional Japanese meditation meets modern-day office setting with this desktop garden, which includes soft white sand, a rosewood frame, three raking tools, polished stones and two ceramic cranes.
Each zen garden measures 9″ x 9″ and comes with instructions for meditation.
13. "New Home Smell" Candle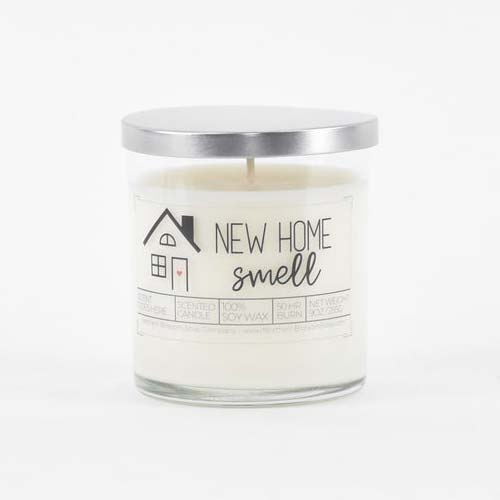 Candles are another great way to create a peaceful and calm atmosphere, whether at work or home. This fun New Home Smell Candle gets the job done with a bit of humor and a splash of style.
The candle is made from soy wax and includes the option of personalization on the label. Choose from several different scent variations, ranging from Hot Cocoa to Island Vacation, to create the perfect "New Home Smell" your real estate agent is sure to enjoy.
14. Real Estate Business Card Display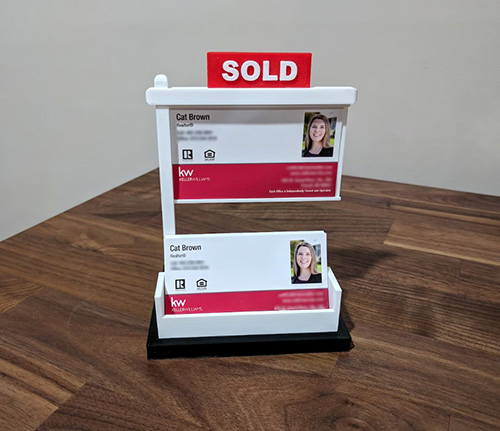 Give their clients a little glimpse into their future with this great business card display! Overconfident? Shotsy? Nah, definitely just the truth. If any one can get them to the closing table, it's your great pal the real estate genius.
Plus, this cute stand makes a fun conversation starter/ice breaker for new clientele.
15. Real Estate Agent's Adult Coloring Book
When it comes to picking out gifts for real estate agents, it helps to think outside of the box. In the case that your agent has a sense of humor, something like this cute adult coloring book may be the perfect choice.
Adult coloring books are a popular way to relax after a long day at work, and the wittiness expressed throughout this particular one makes it that much more entertaining.
This one will make a fun gag gift for a real estate office party, or for the newly licensed agent.
16. Gourmet Gift Basket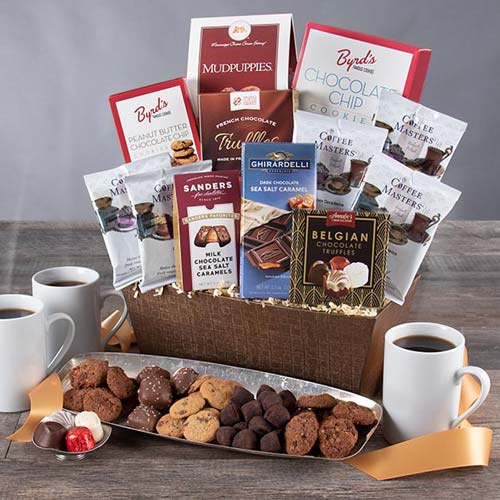 A gift basket is the gift that keeps on giving – when there's so much good stuff inside!
Show your appreciation for your real estate agent and all the hard work they do on your behalf by gifting them this gourmet Thank-You Gift Basket. It comes filled with several different kinds of coffees, chocolate truffles, caramels, and an assortment of cookies.
More: 100 Thank-You Gifts to Show Your Appreciation
17. Customized Pen Set
To show your gratefulness to your real estate agent, nothing says "thank you," "good job," or "congratulations" quite like a quality pen set.
This Custom Wood Desktop Pen Set from Etsy shop Expressions From Joy fits the bill. The box is handcrafted from your choice of either rosewood or maple and includes a matching wood ballpoint pen.
You have the option of customizing both the pen and the box or just the box. Personalization can include your agent's name and company name and even logos!
18. "Coffee Is for Closers" Mug
Another funny gift idea for the real estate agent in your life is this nerdy Coffee Is For Closers Real Estate Agent Coffee Mug.
Simple yet appealing, this mug can be used for everyday coffee-drinking, or as a pen-holder or other office decoration. It's machine-washable and microwavable too, and holds up to 11 ounces of hot liquid.
Throw in some coffee beans with this mug and you've got a great gift for your trusted Realtor or real estate agent.
Related: Best Real Estate Closing Gifts
19. Smart Pen
The professional world is getting more and more high-tech, and that includes the world of real estate. Help your real estate agent stay in the loop with this NEWYES smart pen.
Not just your everyday stylus, this pen comes equipped with many smart features. A camera for wireless transmission of notes, voice memo recordings, and one-click sharing options for social media, just to name a few.
20. Personalized "Sold" Sign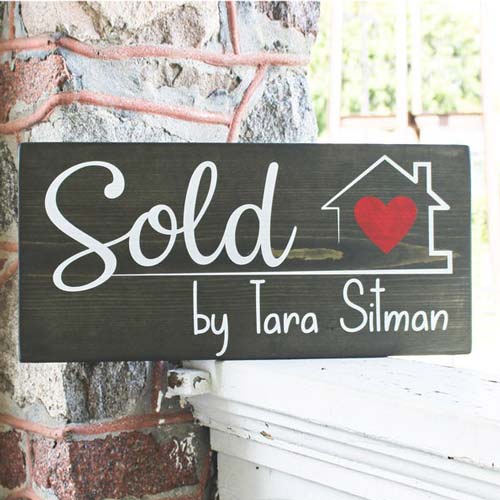 Real estate "Sold" signs do not have to all be boring and drab, as this charming sign proves! Celebrate the real estate agent in your life, and all their many accomplishments, with this personalized pine wood sign which is handcrafted in the USA.
The sign measures 12″ x 24″. Customize the name and text colors to best represent your agent.
21. Desk Clock
Successful real estate agents are usually very busy, and their schedules are often booked. Help them keep track of important meetings and appointments with this gorgeous Seiko desk clock, which also includes an alarm feature.
Crafted from alder wood and faced with classic Roman numerals, this time piece would make the perfect addition to your agent's office. The battery comes included.
---
That concludes our list featuring 21 gifts for real estate agents. We hope that you found the perfect gift for your agent in our list, or in the very least some inspiration as you continue your search.
If you enjoyed this list and want to browse even more great gift ideas, (most of which can be personalized!) take a look through Northwest Gifts' vast collection right here.
Pin It