Sometimes it feels like Thanksgiving doesn't get the love it deserves, being all (turkey) sandwiched in-between the oh-so popular Halloween and Christmas.
But Thanksgiving is a wonderful day in which we celebrate our loved ones — whether that's family, friends, or even strangers — and all that we are grateful for.
Waxing sentimental over a huge feast is a language we can all understand, isn't it? So, when you're invited to a Thanksgiving meal, don't arrive empty-handed. Show your host and hostess just how truly grateful you are for their invitation by bringing a lovely gift.
But what makes up a great Thanksgiving gift? We're about to tell you, so keep scrolling for 50+ great Thanksgiving gifts for your favorite people.
Do people give gifts on Thanksgiving?
Not normally, but since when are you normal? Only kidding. Thanksgiving is not typically a gift-giving holiday, but bringing a host or hostess gift is always appropriate.
What do you bring to someone's house for Thanksgiving?
Ask first! "What can I bring?" is a great way to get some helpful ideas. If they brush it off with a "Just yourselves!," feel free to ignore them. They're only being polite!
Whether it's a bouquet of lucious flowers, a hand-baked pie, or a Thanksgiving themed present, they'll be grateful to unwrap it in between slicing the turkey and topping the desserts with whipped cream.
For more info, here's our guide on how to celebrate Thanksgiving.
Ok, let's get down to the Thanksgiving gift ideas!
Best Thanksgiving Gifts
Our website is supported by our users. We sometimes earn a commission when you click through the affiliate links on our website. See our privacy policy & disclosures for more information.
1. Giving Thanks Engraved Bird Feeder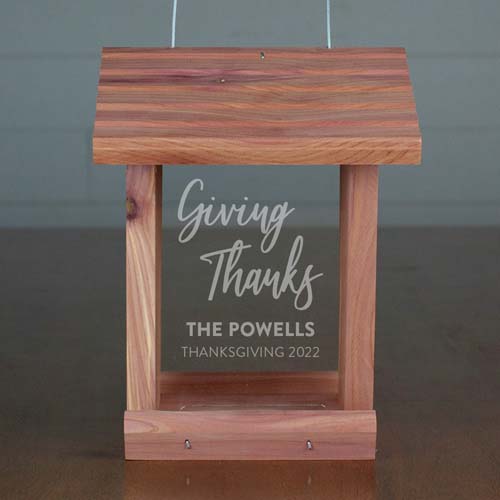 A gift like this one that is American made, sturdy, good-looking, and will last for years to come is a fun way to commemorate this year's Thanksgiving celebration. Bird lovers will adore this generously sized feeder almost as much as the birds themselves!
Have it engraved with this year's date and their name, or something sweet like "The Third Annual Brown Thanksgiving Celebration 2022."
2. Turkey Sucker Holder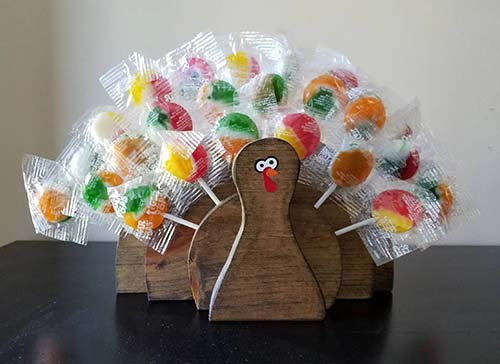 My in-laws had one of these turkeys and it always made an appearance at the Thanksgiving table! The kiddos (and the adults with sweet tooths… sweet teeth?) will love reaching for a palate cleanser — AKA a sucker — in between courses. And the high-quality make of this cute sucker holding turkey means it will last for many, many years to come.
3. Chocolate Cornucopia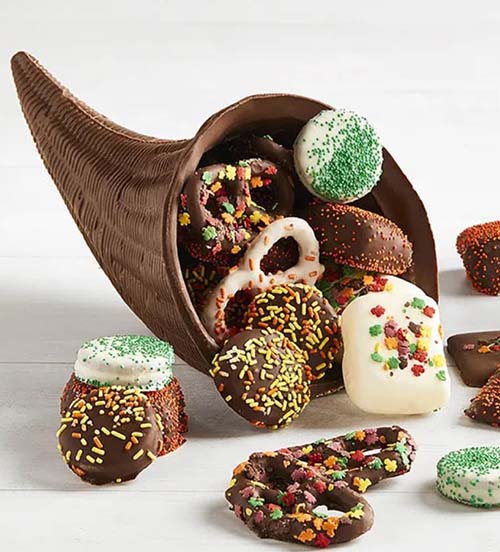 I volunteer as tribute! This adorable cornucopia is stuffed full of decadent chocolates, making your guest's or host's mouths water. It's the perfect end to a full Thanksgiving Day — pair these yummy treats with the last of the red wine, or a hot cup of coffee.
4. Thanksgiving Decor Pie Garland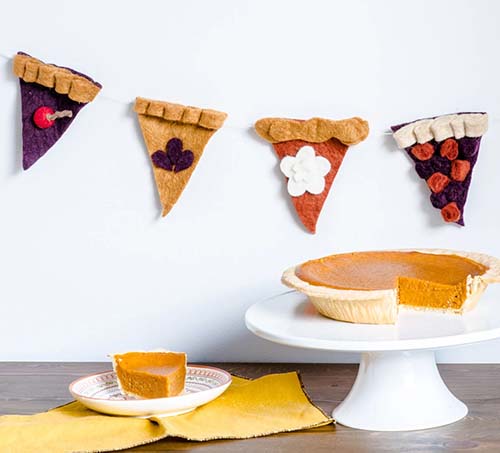 This darling Thanksgiving decor pie garland will bring a homemade (shh, don't tell it's pre-made) touch to the table. The felt slices of pie are so darling and adorable. This is the perfect choice for a laid-back, rustic, family-oriented Thanksgiving celebration. And the selfies and family photos in front of it will be *chef's kiss!
5. Solo Stove for Post-Thanksgiving Meal Fire Pit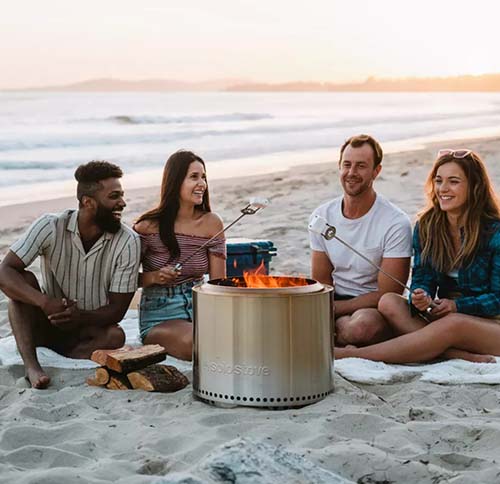 Sitting around a campfire with loved ones… is there anything better?! Well, maybe if you add in some S'mores or hot buttered rum. These amazing stove fire pits from Solo Stove are just the perfect ending to an already cozy day.
Keep the cool at bay with one of these plus your ugly Christmas sweater (hey, 'tis the season!), and you'll be feeling oh-so festive and content.
6. Personalized Thanksgiving Wine Labels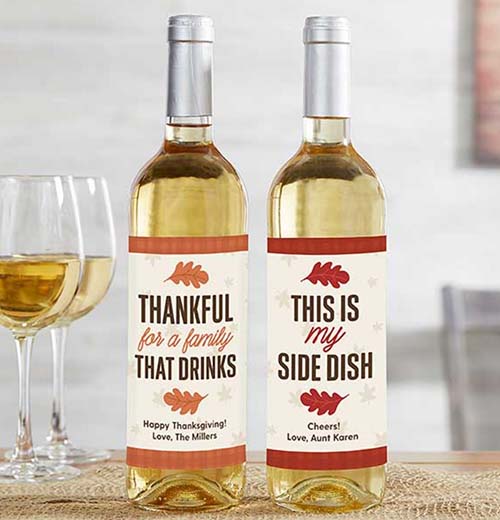 Bring the spirit of celebration (a bottle of wine or three) with these funny and cute wine labels. You'll be their favorite guest ever! They're easy to peel and stick and make any bottle of vino the star of the show. So clever. And waterproof too, so don't worry about dribbles or spills.
Related: Guide to Thanksgiving Traditions
7. Turkey Candles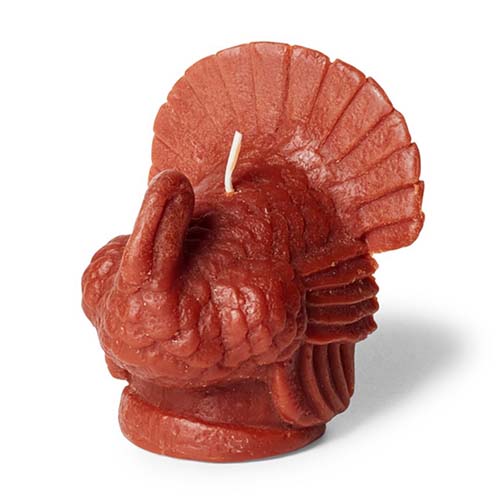 This cutie-pie of a candle is shaped like a turkey and is from Sur La Table, so you know it's quality! Perfect nestled in with some other fall candles or flowers, on the table centerpiece, or on the mantle, this little turkey brings some charm and whimsy to your holiday.
8. Family Photo Thanksgiving Card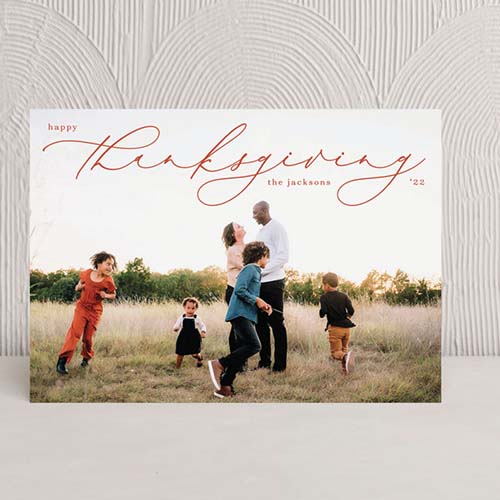 Everyone does family photo Christmas cards — so predictable and may we say, passé? These super high-quality and impressive family photo Thanksgiving cards will be a delight for all of your family and friends to discover in the mailbox before the hurried rush of Christmas! 
9. With Gratitude Willow Tree Figurine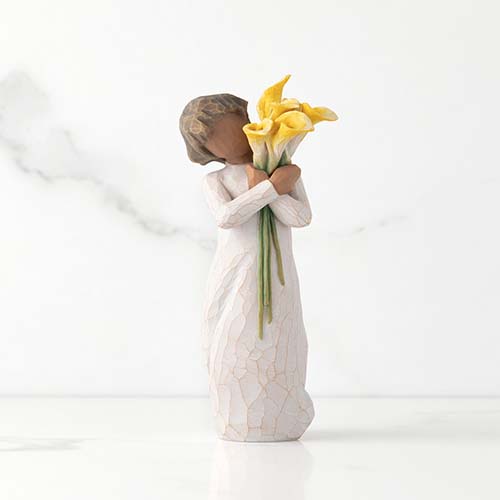 Willow Tree figurines just bring a sense of calm and elegant beauty to a room and a house. This sweet one called Gratitude is no exception! The lovely lines and timeless design will be the perfect hostess gift — one that she can keep all year 'round. A just-right present for Thanksgiving.
10. Thanksgiving Macarons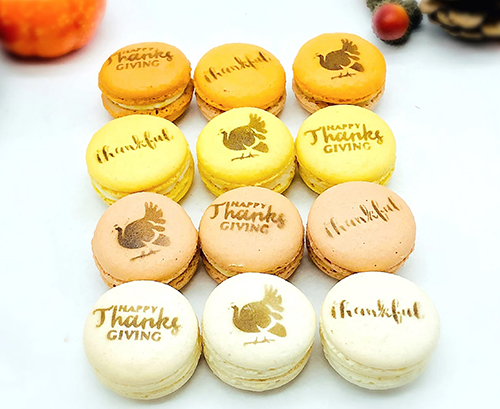 These adorable, Thanksgiving themed macarons are perfectly suited to the season in both looks and taste! With flavors like chai latte, salted caramel, vanilla, and almond their palates will be simply delighted.
Made with love from simple, pure ingredients, these cute little 'cookies' are sure to satisfy.
Thanksgiving Hostess Gifts
11. Personalized Wine Glass Thanksgiving Hostess Gift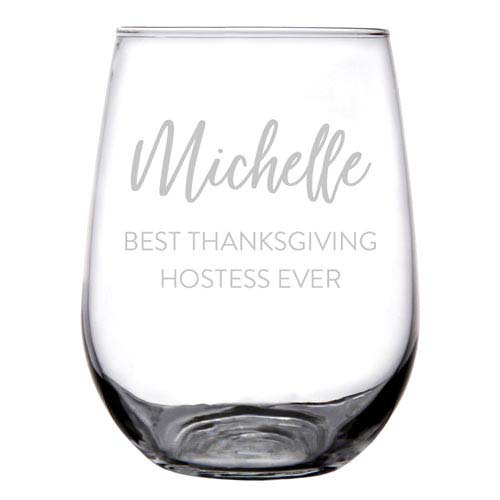 Personalize these pretty goblets however you like! Simply have their name(s) etched on, or include this year's Thanksgiving date. Or how about what you're grateful for? The possibilities are endless — we just know your host and hostess will love these special glasses all year around. Cheers!
12. Champagne & Truffles Thank You Basket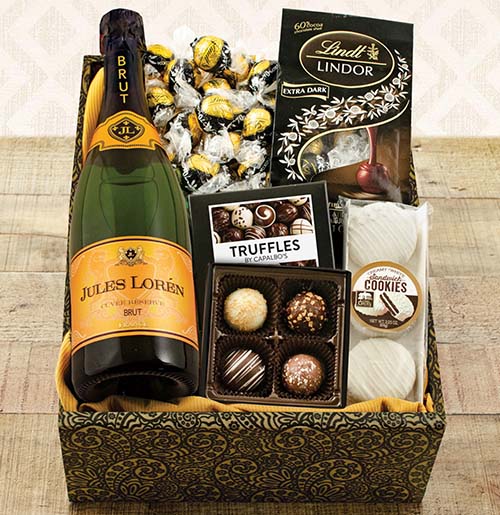 Bring some sophistication and poshness to the Thanksgiving table with this lovely collection of decadent truffles and a bottle of bubbly! Toasting to your loved ones and what you're thankful for is always a great idea, and now you can do it with the most delicious of champagnes, followed by a melt-in-your-mouth chocolate truffle.
13. Pumpkin Spice Latte Kit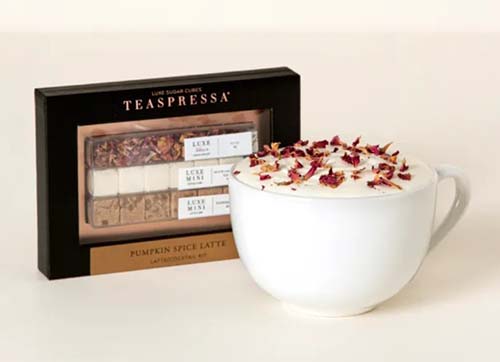 It's pumpkin spice season, ladies and gentlemen. Might as well embrace it. What better way to do that than with this adorable and totally tasty pumpkin spice latte kit. The sugar cubes are perfectly flavored with pumpkin spice and white chocolate. Drink them separately, or mix them together for a flavor bomb that will put Starbucks to shame!
14. Wine Chiller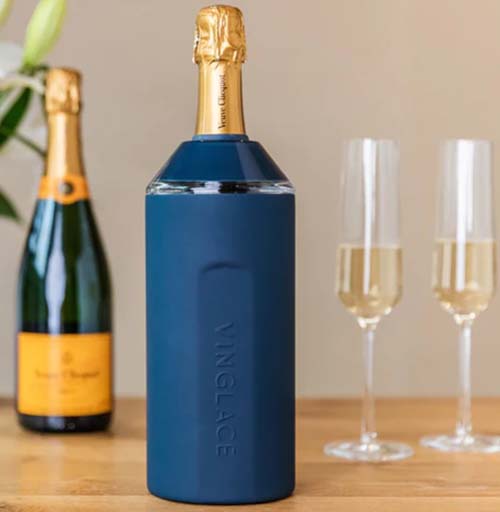 No condensation and no warm white wine? Why, yes please and thank you! This vacuum sealed wine chiller does the trick, all while looking handsome as ever on the Thanksgiving table. This is a great hostess gift that she'll use again and again.
15. Self-Care Gift Box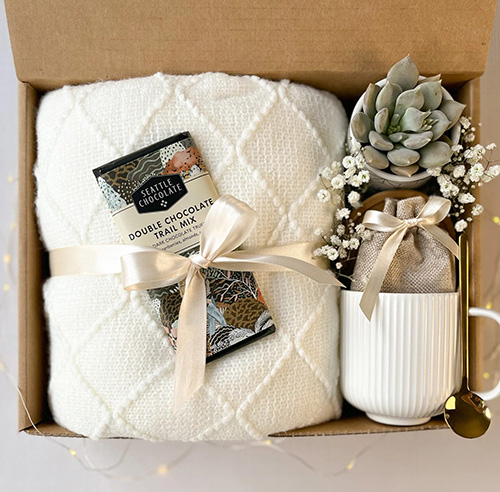 If I were to compile a list of most exhausting tasks, I think I'd put hosting a dinner party — particularly a holiday dinner party — pretty dang close to the tippy-top. Hours on your feet cooking, cleaning, decorating, cleaning up… I'm tired just thinking about it.
This basket would be such a welcome hostess gift that shows how much you actually care and are looking out for her. Filled with calming and relaxing gifts to help her unwind and recover, she'll be so grateful.
16. Personalized Plaid Pumpkin Kitchen Towels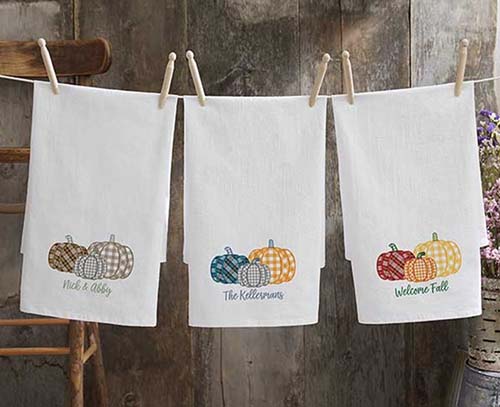 Kitchen towels are always a great and much appreciated hostess gift! Especially during a huge meal like the one-and-only-annual Thanksgiving dinner. You just know how much laundry and cleaning goes into that effortless looking feast. Keep it easier on your hosts by bringing these adorable and personalized plaid pumpkin kitchen towels.
17. Personalized Recipe Cutting Board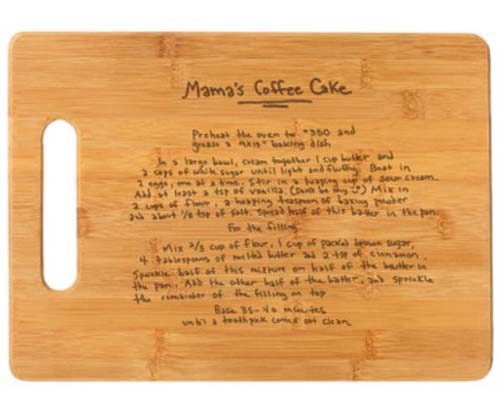 Place a recipe they love — or your famous pumpkin pie recipe — on this board as a thank you to the host! They'll love your thoughtfulness and will use this sweet cutting board for all sorts of reasons.
While you're at it, offer to chop some veggies or fixings to break it in and cut down on their meal preparations! Great for slicing, dicing, mincing and chopping — but also perfect for a cute little charcuterie board as well.
18. Thankful Banner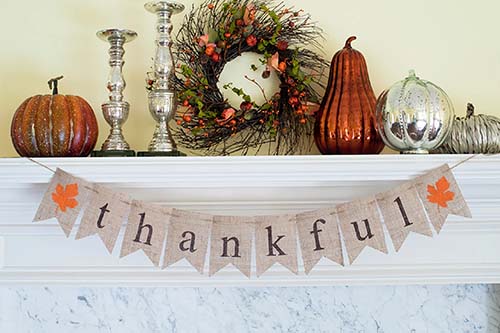 Rustic and sweet, this thankful banner will tie in all of your Thanksgiving decorations in one lovely sentiment: gratitude. Hung above the mantle or above the dinner table, this fun banner is simple, yet really packs a punch. The colors are just perfect for autumn and will go with any decor, so it really makes a lovely addition to your host's home.
19. Personalized Candle Thanksgiving Gift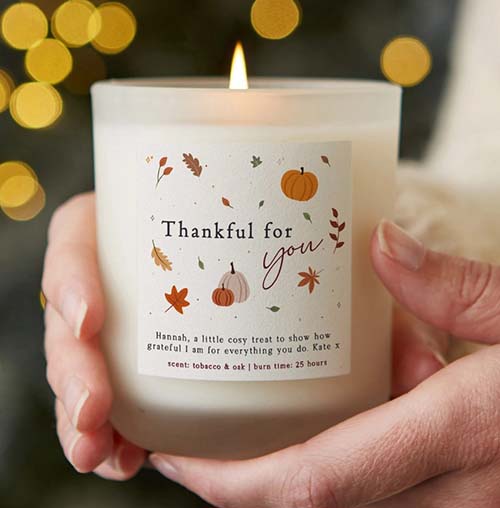 At first glance, it's just another fall-inspired candle. But when they look closer, what do they see? A one-of-a-kind, personalized message just for them! You can pen something witty and cute, or sentimental and sweet. There's no wrong message.
These candles are a great hostess gift and will be treasured until the last burn (and even then, we guarantee they'll keep the jar).
20. Turkey Salt & Pepper Shakers
Gobble gobble! These too-cute turkey salt and pepper shakers will be right at home in the middle of the Thanksgiving table. The guests will love passing them around. They have an old-fashioned look to them, meaning they'll fit in for many, many Thanksgivings to come. Bound to be one of the things the kids will love to inherit.
Related: Hostess Gift Ideas
Thanksgiving Gifts for Kids
21. Light Up Football
Work off all those Thanksgiving calories with a competitive game of family backyard football! But not just any football, the kind that lights up! This light up football will be a new favorite tradition that the kids and adults alike will love renewing each year.
22. Stomp Rocket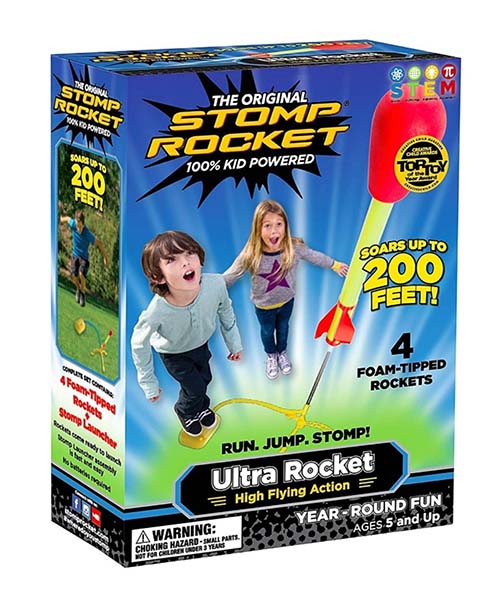 Get them off the screens on this special holiday and boot 'em outside to play this super fun stomp rocket! They'll love shooting this high-flying rocket into outer space and seeing who can get it higher. So entertaining.
23. Gratitude Tree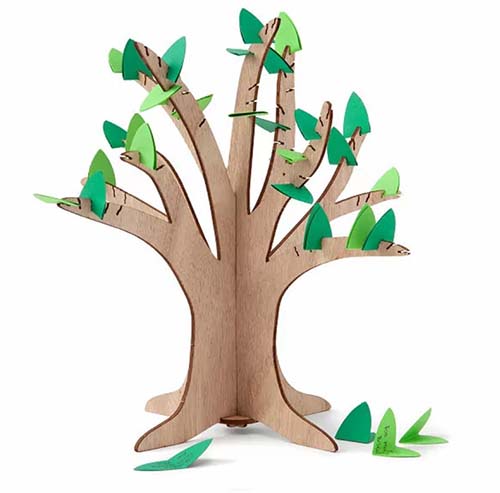 Remind them what Thanksgiving and family is all about with this great gratitude tree. The kids will love scribbling what they're thankful for and placing the sweet green leaves into the wooden tree. Adults will too! At the end of the night, don't toss the leaves — save them to read next year for an extra special treat and laugh.
24. Ribbon Ninja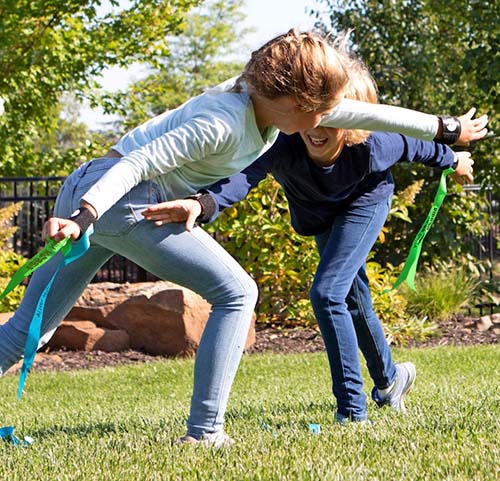 Last ninja standing wins in this fun ribbon ninja game! The rules are simple (or you can totally make up your own), and it's an involved and active game for all ages. Bob and weave, toss and turn, dip and lunge your way to first place.
25. Thanksgiving Charades Printable Game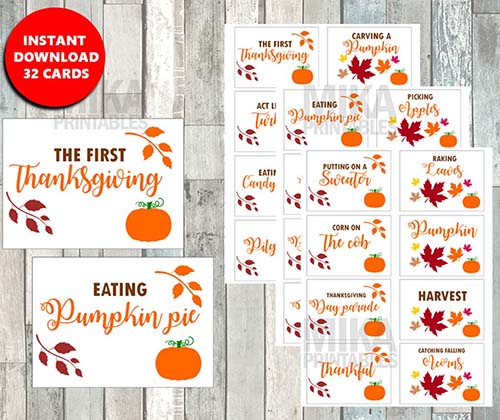 Don't turn on the TV after the Thanksgiving feast — instead, play a game of charades! This fun printable is all about Turkey Day and will have everyone in stitches as they try to guess what you're acting out.
26. Apples to Apples
With over 504 cards, you'll be playing Apples to Apples all through Christmas and maybe even Easter! This hilarious game is a total instant classic for a reason: it's great for all ages and anyone can win.
A totally perfect way to end a great Thanksgiving Day once the table is cleared and the leftovers parceled out.
27. Fall Farmer's Market Puzzle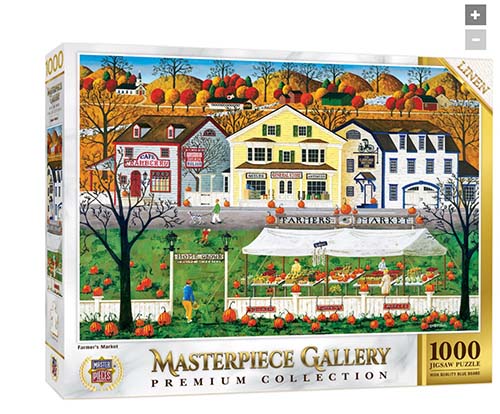 This great Fall Farmer's Market puzzle comes in at a perfect 1,000 pieces, and will be a great way to wind down after a long day! Kids will love helping the adults too, as they put together this sunny and charming landscape of an autumnal harvest market.
28. Do You Really Know Your Family?
Laughing and family? Sign us up! This great game will have everyone in stitches in no time! Find out if you really know your family — and if they really know you — with this family-friendly and totally addicting game.
29. Gigantic 6ft Soccer Ball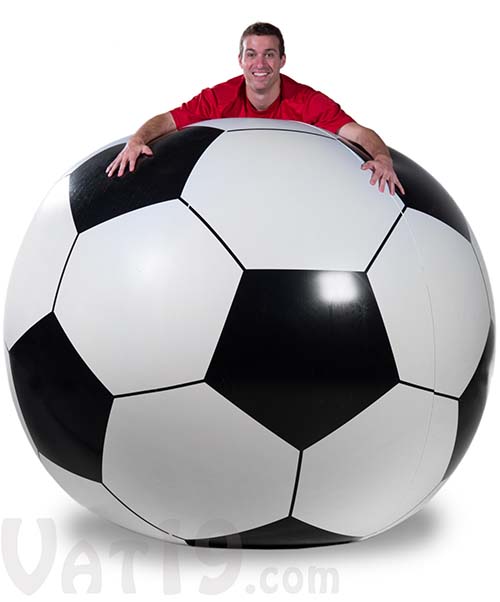 What to do with a gigantic, 6 foot soccer ball? Um, don't you mean, what CAN'T you do with it? Play and laugh your way to great family memories with this funny and goofy ball. Make up your own family sport, or just chase it all over the yard for some great laughs.
Related: 40+ Outdoor Toys for Kids
30. Thanksgiving Scratch Paper Crafts
These scratch paper craft ornaments are just the thing for winding the kids down after a long day, or for working on while dinner is still being prepared. And at the end of the day, they have the cutest collection of Thanksgiving themed "gifts" to give out to guests or decorate the house with.
Thanksgiving Gifts for Family & Friends
31. Thankful Heart Mug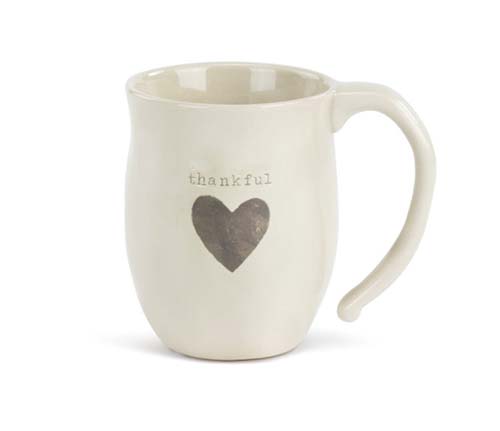 This pretty mug is so charming! Can't you picture wrapping your hands around its adorable shape, cradling something pumpkin spiced or chai-ed? Your friend or hostess will love this sweet mug and will treasure it all year around.
32. Friends Giving Group Shirts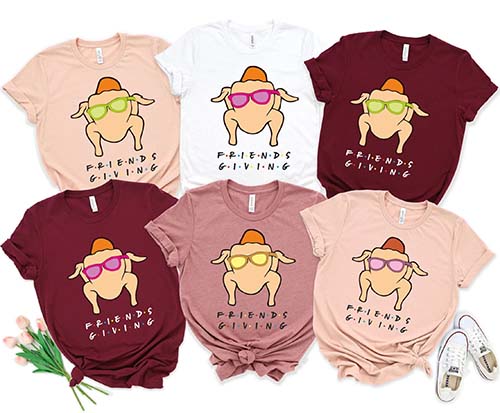 These Friendsgiving's shirts are perfect for your squad of turkeys! All of your besties can get their own (imagine the photo ops). Available in different sizes and colors, each buddy will get the shirt they never knew they needed.
33. Leftovers are for Quitters Popcorn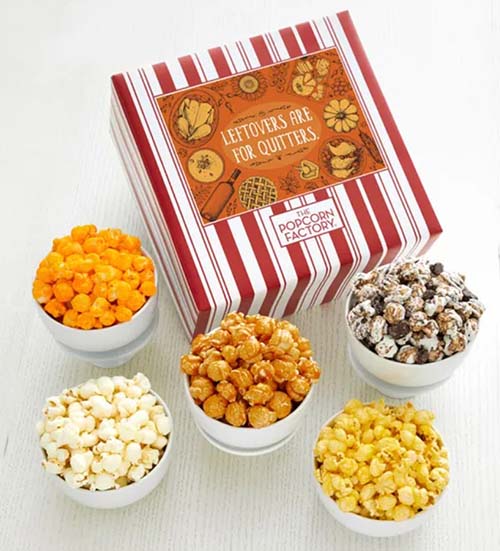 It's funny because it's true! Leftovers really ARE for quitters when you think about it. This yummy concoction of flavored popcorns will really hit the spot once a few hours have gone by since the Thanksgiving table was cleared. Also great for munching on during the football game.
34. Digital Picture Frame
Fill this picture frame with all of your favorite photos of the family or friend-group before giving it to them as a special Thanksgiving gift. Plus, you can change the photos whenever you like, from wherever you are, making this frame ultra special. They'll love it!
35. Apple Pie Blanket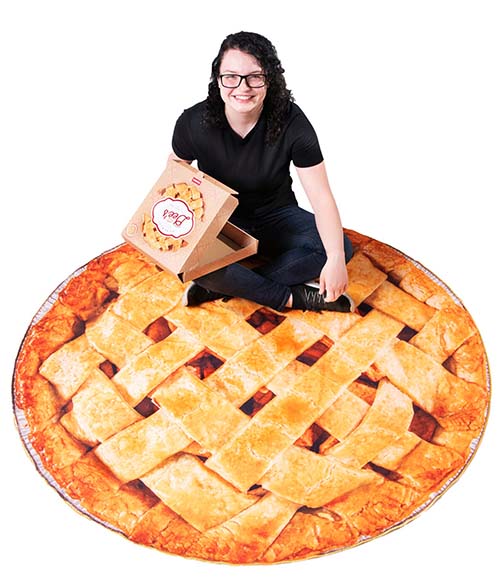 I mean, who hasn't dreamed of folding themselves into a giant apple pie? Just me? Seriously? Well, I can't be the only one! This hilarious apple pie blanket is the gift they never knew they needed or wanted until you — oh, wise gift giver — gave it to them.
Perfect for sharing and snuggling, movie watching and cuddling.
Related: Warm & Cozy Gift Ideas
36. Friends in Autumn Puzzle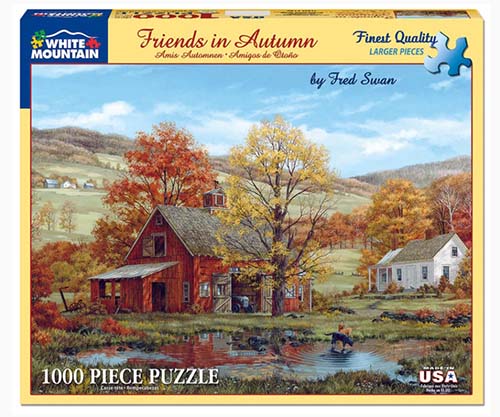 This puzzle is so pretty they'll want to frame it after putting the last piece in! Doing a puzzle together is so calming and soothing; the stress of the holidays will just melt away as you find piece after piece of golden leaves and other autumnal delights.
37. Gobble Gobble Plates & Treats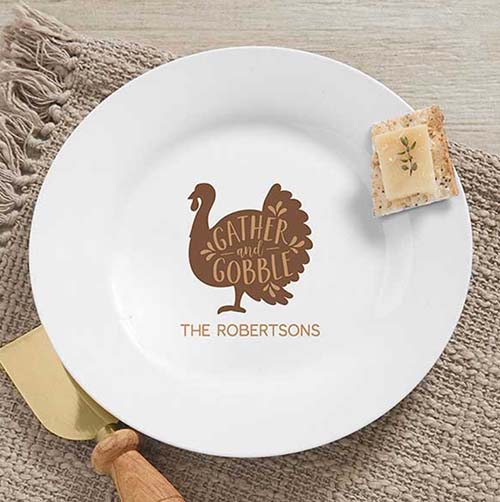 We've heard of "Gather," (didn't everyone have this sign a couple of years ago?) but "Gather and Gobble" is a new one! Personalize this plate and top it with a pie, brownies, or cookies for a great Thanksgiving hostess gift.
38. Classic Regal Painting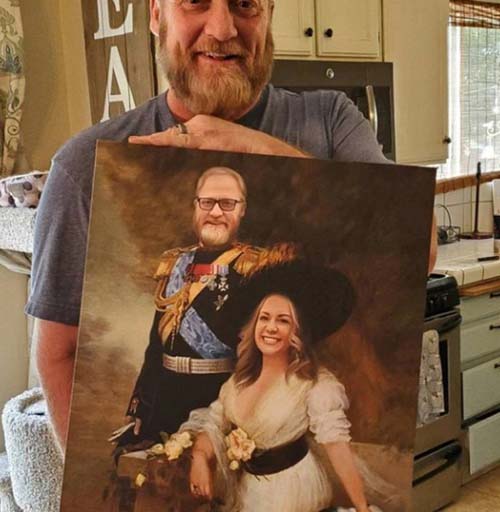 We can just imagine our family members all decked out in regal attire, with a Thanksgiving turkey added in. Can't you? This hilarious and always appropriate gift of a classic regal painting is never NOT a great idea. It will be proudly hung up and admired (and giggled over) for so many years.
39. Get-Away Thanksgiving Adventure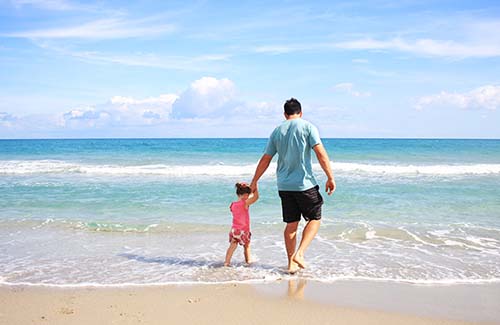 Sometimes LEAVING the stress of holidays behind is just the ticket! A ticket to paradise, that is. Give them a gift of a Thanksgiving adventure away somewhere exotic, beachy, mountainous, or tropical. They'll love you for it.
Hey, maybe they'll take you with…
40. Harvest Fruit & Sweets Box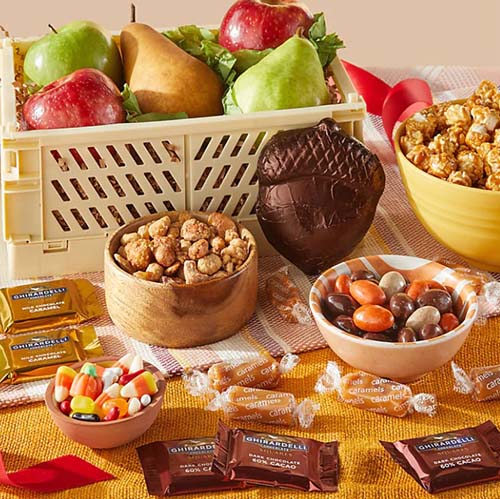 Yummy harvest fruits and sweets are so much nicer than your typical box of candy or pretzels! The treats are all harvest inspired, right down to their colors and textures. Anyone would be ecstatic to receive such a lovely and delightful box of fruits and sweets.
Thanksgiving Gifts for Employees & Coworkers
41. Personalized "Thankful For You" Fall Cards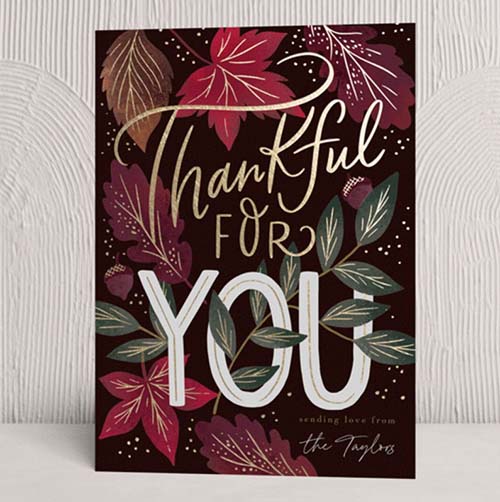 Don't forget your coworkers this Thanksgiving! Remind them (or tell them for the first time) what you adore about them with these thoughtful and sweet cards. It will only take a few minutes to write something meaningful inside, but the impact will last forever. 
42. Thanksgiving Candy Bar Wrappers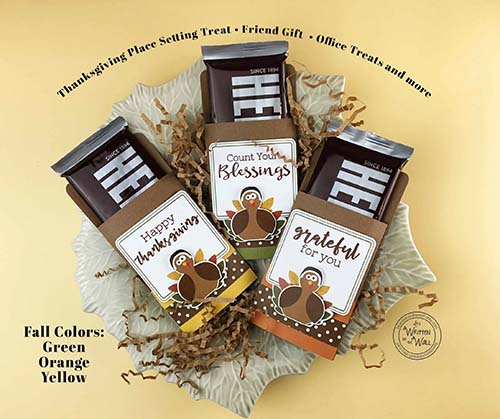 Make any candy a little more adorable with these cute Thanksgiving candy bar wrappers! It's an easy and fun little gift that you can slip inside someone's locker, onto their desk, or in their car. They'll love the thoughtfulness of this simple gift.
43. Thankful for You Candle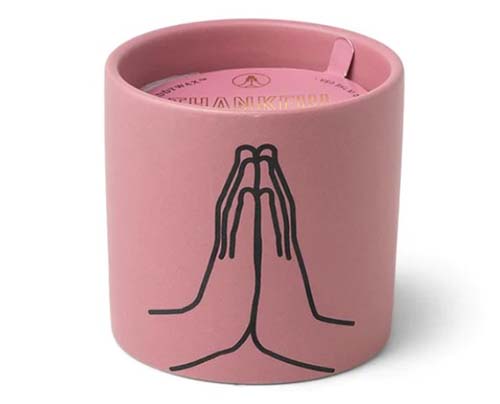 These ceramic, matte candles are unique and lovely! A great gift for a coworker, your boss or your employee, they smell delicious and will bring a sweet glow to their home AND their faces.
44. Grateful for You Gift Basket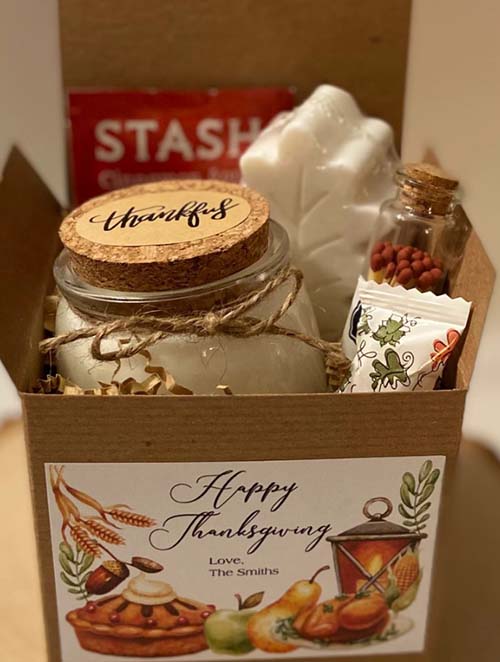 Just a little token of your appreciation, these beautiful Grateful for You gift baskets will make the recipient feel totally taken care of!
They're so charmingly put together, and the colors and themes are just perfect for autumn and Thanksgiving, don't you think? Plus, they've done all the hard work for you — all you have to do is give it away.
45. Self-Heating Ceramic Mug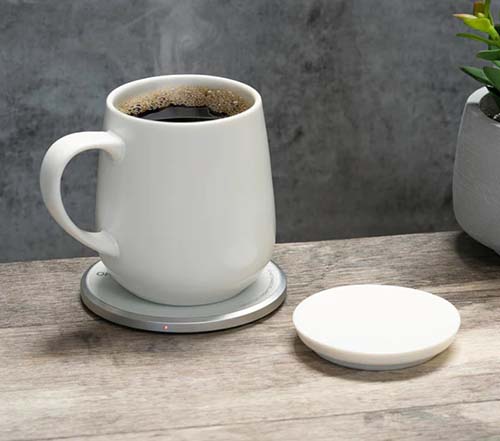 This self-heating ceramic mug is so pretty all on its own, and then they discover what it can do! Perfect for the office worker who is sipping on luke-warm coffee all day, this mug will keep it piping hot instead. AND they can also charge their phone! What the what? Are we living in the future? We're here for it if so.
Easy DIY Thanksgiving Gift Ideas
46. Thanksgiving Cards
Show your gratitude with a little crafty DIY-ing! Nothing says I love you and appreciate you like a handmade card, right? These cute tutorials are full of great ideas to end up with the perfect cards for all of your friends and family.
47. Pumpkin Pampering Mason Jar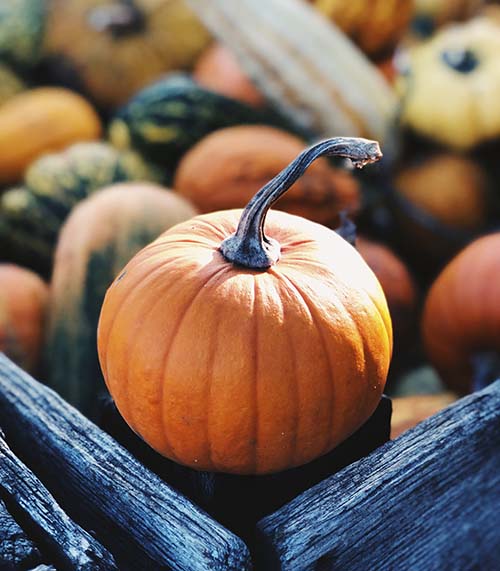 Pumpkin lovers, rejoice! The perfect gift is here. Putting together this great, pumpkin themed mason jar will be almost as much fun as watching your friend open it and use the contents. You'll be a rockstar for sure, giving away this fitting gift.
48. Best Apple Pie Recipe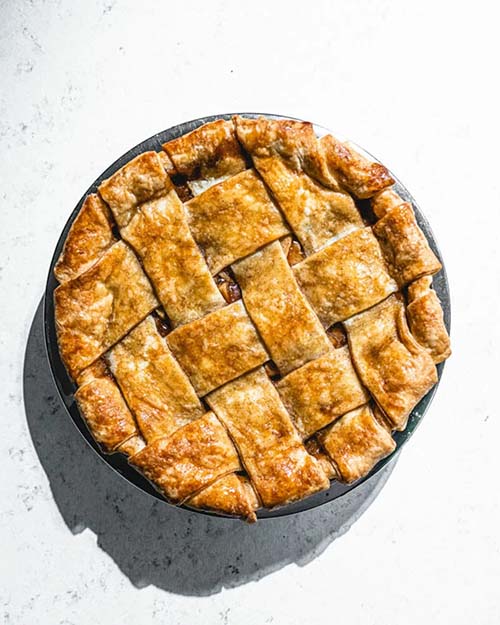 Nothing is more American and Thanksgiving-esque than a perfect apple pie! Well, now you can deliver just that with this yummy recipe. Knock their socks off with the perfect mix of cinnamon, apples, and flaky pastry.
49. Thanksgiving Potpourri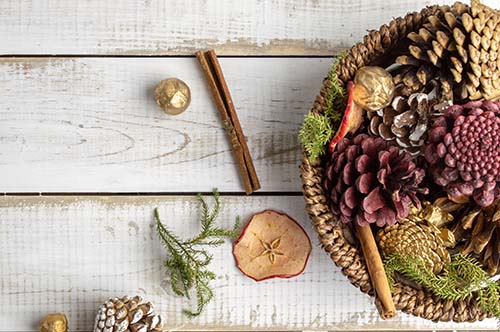 Make the whole house smell absolutely divine with a batch of this Thanksgiving potpourri! Aromatherapy never smelled so good. After a huge feast you need a little afternoon cat nap, and that's where this delicious smelling potpourri comes in.
50. Turkey Candy Bouquet
This candy bouquet has all the sweets your little gobblers can handle! This will be the best Thanksgiving gift to bring to your nieces and nephews, the neighbor's kiddos, or your own brood. A fun and sweet addition to the Turkey Day meal.
Read Next: 100 Best Thank You Gifts