It's time to blow your man away with the most stunning copper gift ideas for him!
Whether it's your seventh wedding anniversary, your tenth, or your twenty-second, a perfect copper gift is just the thing to show your hubby how much he's meant to you over your years of marriage.
Copper represents love, good fortune, and durability, so a gift made of copper or that has a copper color shows your lasting love for him.
So scroll on for 50 of the best copper gifts to make this special occasion the best one ever!
Our website is supported by our users. We sometimes earn a commission when you click through the affiliate links on our website. See our privacy policy & disclosures for more information.
Best Copper Gift Ideas for Him
These are our most favorite picks of copper gifts for him!
Whether it's his birthday, your anniversary, or just a regular old Tuesday and you feel like spoiling him, any one of these is sure to tickle his fancy.
1. Personalized Solid Copper Photo Print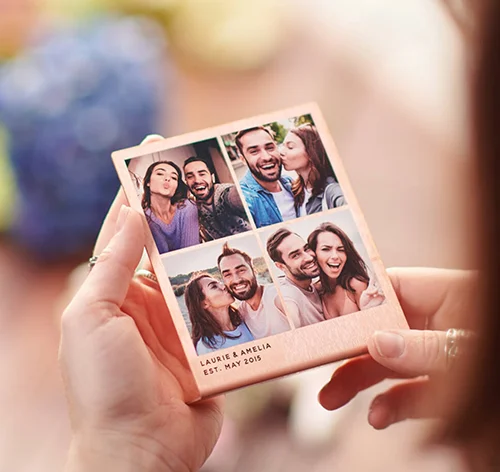 Do you have a special time(s) in your life that you want to memorialize?
This copper photo print contains four of your favorite photos, and is a wonderful way to display your memories as a happy couple over the years.
2. Copper Scorpion Bottle Opener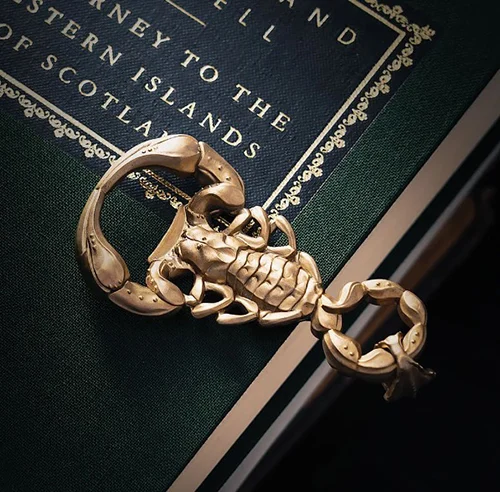 Step up his drink game with this nifty copper scorpion bottle opener. The scorpion symbolizes protection, and so represents the strength and security of your bond.
This beautiful piece also features a keyring so he can take it around on the go or use it as a decoration. It's not only a cool trinket, but it's a meaningful one too.
3. Boho Large Copper Wall Clock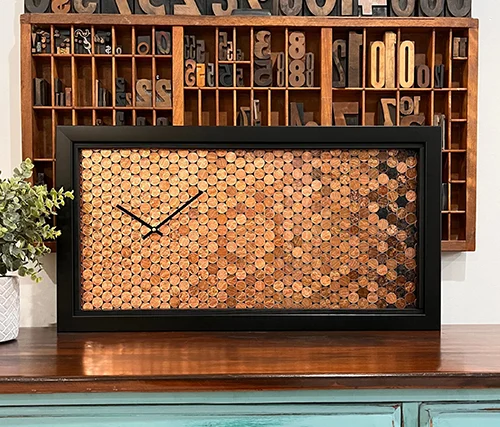 What could testify to the endurance of your marriage better than a giant copper wall clock like this one?
This modern piece consists of a large frame with clock hands and a lovely mosaic of pennies. 
If he's into interior design, this one will push all his buttons the right way. This is definitely the gift to get if you're looking to make a statement.
4. Handmade Copper Damascus Knife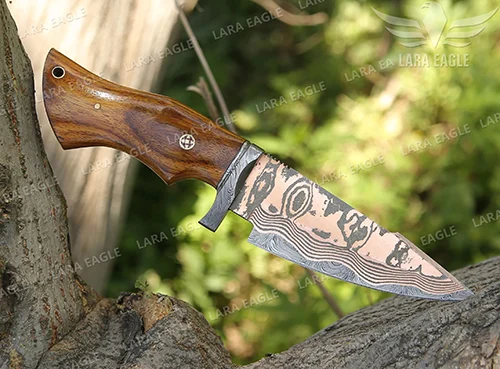 Is he a handyman? Or just loves to collect beautiful yet practical items? Then he'll love this beautiful copper hunting knife.
The hunting knife is made with stunning Damascus steel and comes with a rosewood handle and a copper blade.
It's both masculine and rugged – the perfect gentleman's knife and a perfect addition to his collection.
5. Moscow Mule Crate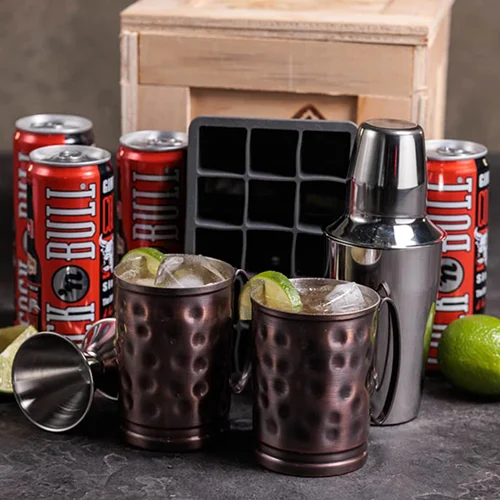 Celebrate your anniversary with a traditional drink, and serve up some Moscow mules! These cocktails are served in a copper mug, so they're a great anniversary drink.
This crate comes with 2 copper mugs, a 4-pack of ginger beer, and everything else you need to make your cocktails so you can enjoy them on your anniversary.
6. Hammered Copper Cookware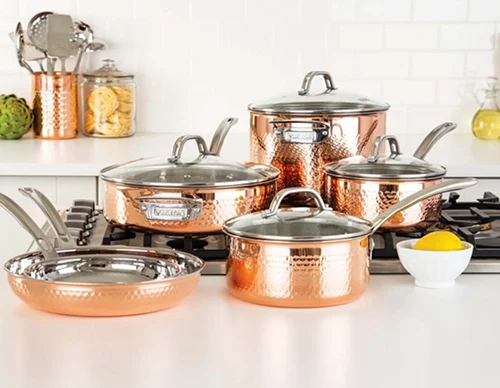 If he likes to get busy in the kitchen, there's no better occasion to get him some new tools and get rid of those old pots and pans!
This gorgeous set of copper and stainless steel cookware features 2 copper skillets, 2 saucepans, a sauté pan, and a stockpot.
It's a practical and sweet gesture (and a pretty perfect gift) to make sure he has the best for the next recipe he wants to try out.
7. Copper Bird Feeder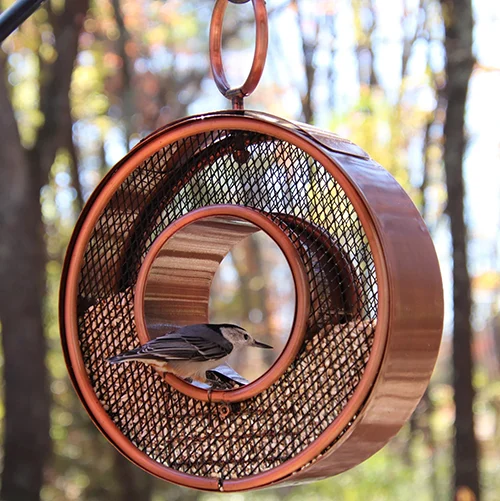 Do you enjoy bird watching together as a couple? Celebrate your anniversary with some birdwatching and buy him a copper feeder!
The feeder provides enough room for those sweet hummingbirds to perch and grab a bite to eat, all while you enjoy this sweet pick of couples gifts.
Bird feeders give you a great opportunity for you to sit down with some hot tea or the beverage of your choice and bond over while taking in the beauty of nature.
8. Pashan Copper Vases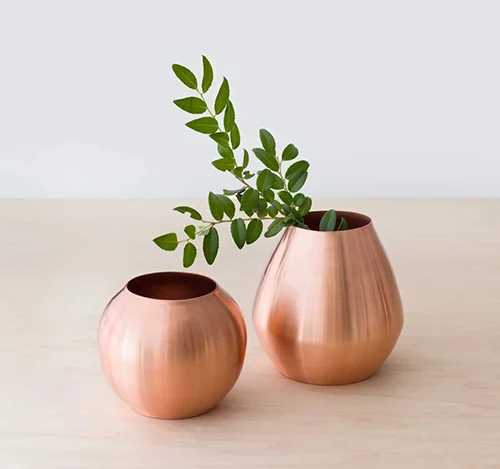 If you think he'll be more impressed with a decor item, these stunning handcrafted copper vases from Northern India would be a wonderful choice and a perfect anniversary gift.
The vases are made of bright lacquered real copper and are sure to be a striking addition to your home.
You can choose to buy a short vase, a tall vase, or a set of both – whatever suits your fancy!
9. Copper Cobra Phone Stand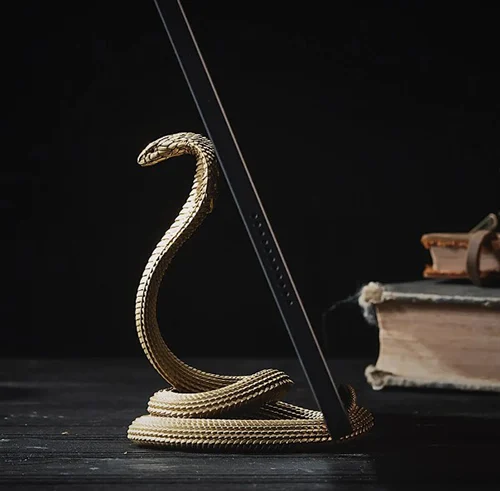 This stylish copper cobra phone stand makes a striking (get it? striking?) yet useful present. Its coiled tail makes it perfect for charging your phone at night or watching videos.
The cobra is made of quality brass and doubles as a neat decoration when not in use.
10. Bodum Chambord Copper French Press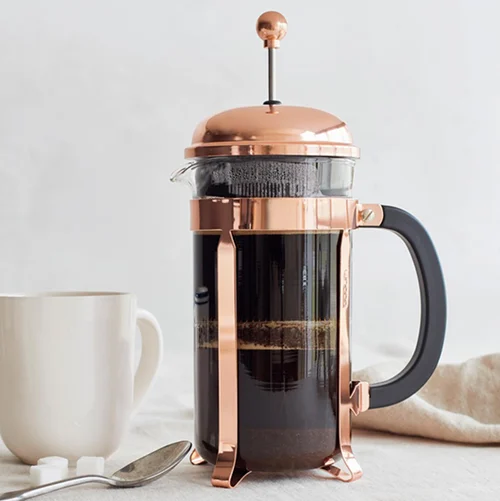 Is he a big time coffee lover or maybe even a coffee addict? If so, he'll feel fancy getting his morning cup with this copper French press.
The press's filter assembly means that it can be easily cleaned, and the glass brew chamber can hold eight cups of coffee.
Make his morning routine special with this great copper gift.
Copper Anniversary Gift Ideas for Him
Copper is the traditional gift for when you hit that seven-year mark, but that doesn't mean you can't give him some wonderful copper gifts even if that isn't the case!
This beautiful, precious metal represents good luck and resilience, so we think it's a fitting choice no matter the year!
11. Copper & Black Tungsten Ring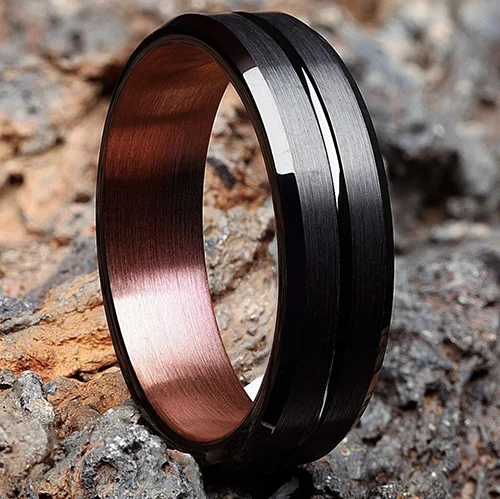 Why not celebrate this special occasion by giving him a brand new ring to show your continuing commitment?
We think it would make a stunning choice as a 7th wedding anniversary gift.
This black tungsten copper band features a sleek matte black finish and can feature a personal message on the inside of the ring. Show him how much he's meant to you all these years.
12. Copper Soundwave Art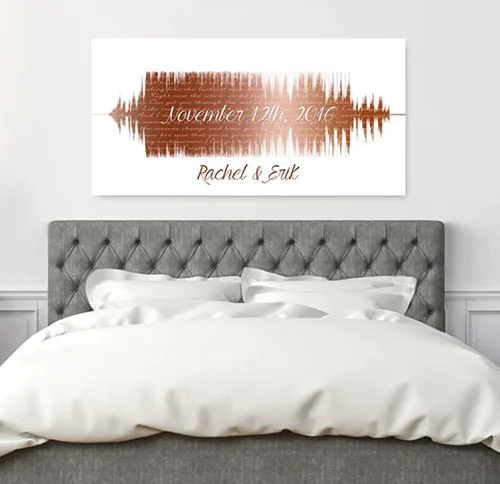 Remember that special song that you two share with this custom copper print sound wave art from CanvasVows.
Personalize your sound wave art by letting the seller know which song or sound you would like for the picture.
The art can also feature your names and the date of your marriage to top off the perfect seventh anniversary present.
13. DIY Heart Shaped Cookies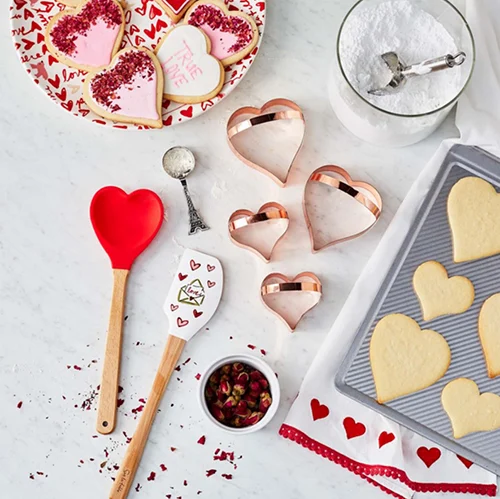 Does he like to bake? Buy him these stainless steel and copper cookie cutters so you can celebrate your anniversary together with sweet treats!
These make such cute copper wedding anniversary gifts, as they prompt some fun and intimate time together in the kitchen.
Related: Homemade Gift Ideas for Him
14. Copper Love Heart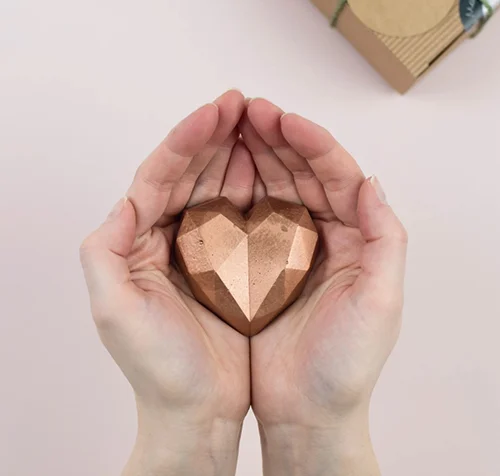 Share your heart with this lovely set of copper concrete hearts — it's a simple and sweet gesture.
You can also include a message on the tag if you want to send this little, unique gift in the optional gift box.
15. Tally Mark Anniversary Keychain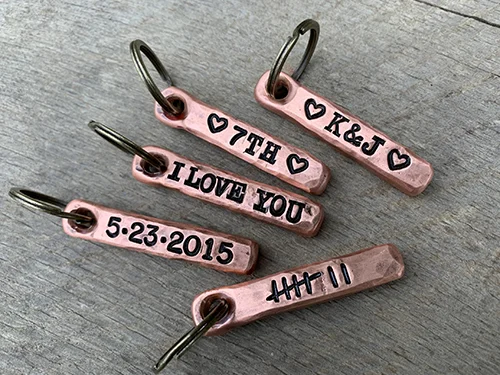 Maybe he isn't the type to want a big, expensive gift? Then this little beauty might be the ideal gift!
This tally mark keychain would be a great choice for him. The keychain features 7 tally marks for 7 years of marriage, and is made of pure copper.
The other side of the keychain without tally marks can also be customized with a special message as well.
16. Copper Photo Frames
Are there any pictures of you both that you want to frame? Then this copper-tone glass display frame can get the job done.
It's perfect for adding that special something to your anniversary festivities.
17. After 7 Years Copper Guitar Pick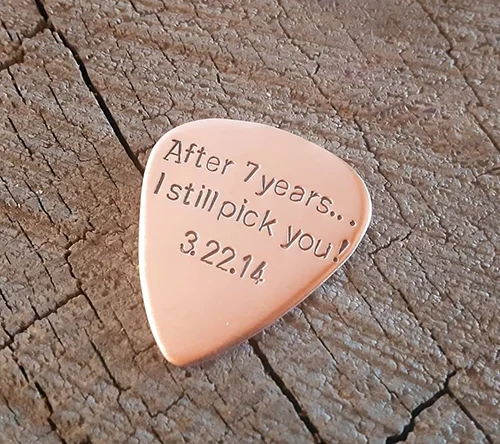 Send your favorite guitarist a sweet sentimental gift with this copper guitar pick.
The pick can be customized with your wedding date and a personal message. He'll be excited to bring out the guitar after unboxing this special gift.
18. Personalized Copper Element Symbol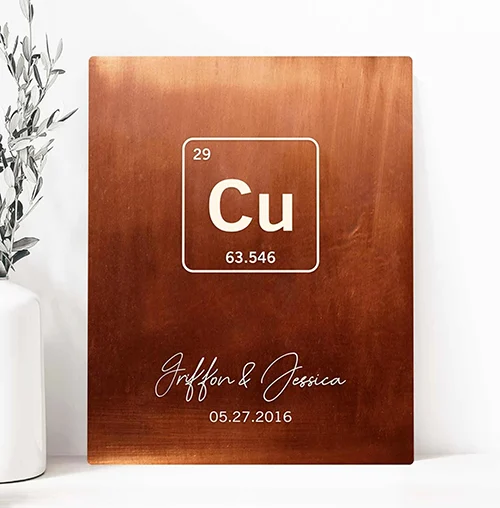 This copper element symbol frame would be a hilarious gift for a scientist or science teacher.
It illustrates the periodic table entry for the element, and can be personalized with your names and wedding date to symbolize the enduring nature of your marriage.
19. Stamped Copper Fishing Lure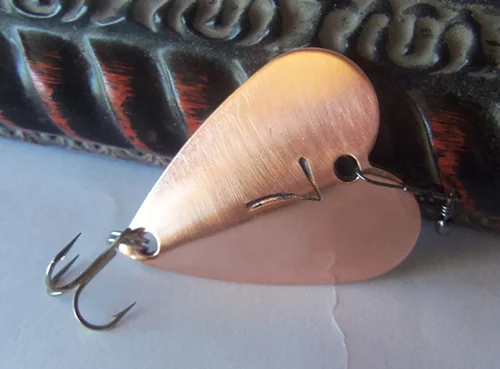 If he's a master angler, this copper heart fishing lure is a lovely way to support his hobbies on your anniversary.
The lure comes engraved with the number of years you've been married to commemorate the duration of your marriage.
20. Engraved Copper Wine Glass Set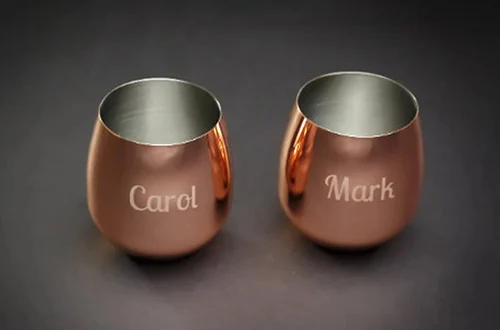 Have a toast to the special day with these stemless copper wine glasses! They come engraved with your names so you can have a set of special cups to celebrate any occasion as a couple.
Perfect as a 7th anniversary gift, or an any-year wedding anniversary gift that you can use time and time again.
Related: Romantic 7th Anniversary Gift Ideas
More Copper Gifts for Men
Still haven't found that great gift? Well, don't slow down, yet! We've still got more of the best copper presents down below!
21. Copper Liquor Pourer
You might want a copper liquor pourer to go with that wine glass set.!
This pourer is a convenient way to decant your wine and pour at the same time, making your wine experience that much better.
22. Engraved Copper Bookmark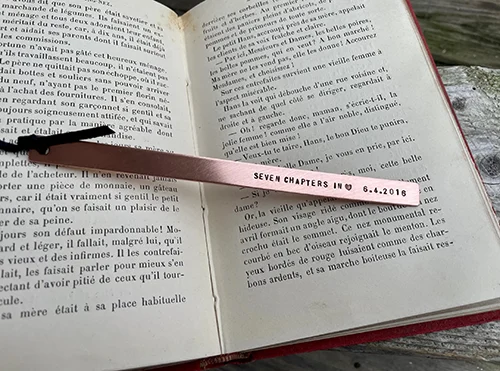 Send your bookworm a sweet nod to your anniversary with this copper anniversary bookmark. The text on the bookmark reads "7 Chapters In" and can include your wedding date.
The copper is oxidized and shines so beautifully. He'll have a reason to smile every time he picks up his latest read.
23. Vintage Copper Watch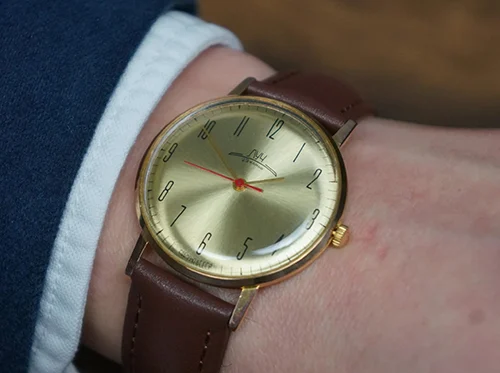 A good, vintage copper watch or pocket watch would be an excellent choice to help him step up his style. Plus, a watch always makes a classy anniversary present.
24. Copper Lid Candle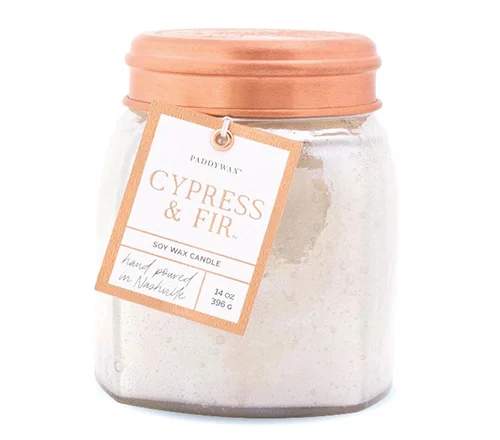 A candle is a classic gift option, and this copper lid candle from Paddywax will give your anniversary celebrations a special atmosphere.
The scent is that of cypress, pine, and eucalyptus to give your home a soothing forest scent.
25. Blue Patina Copper Coaster Set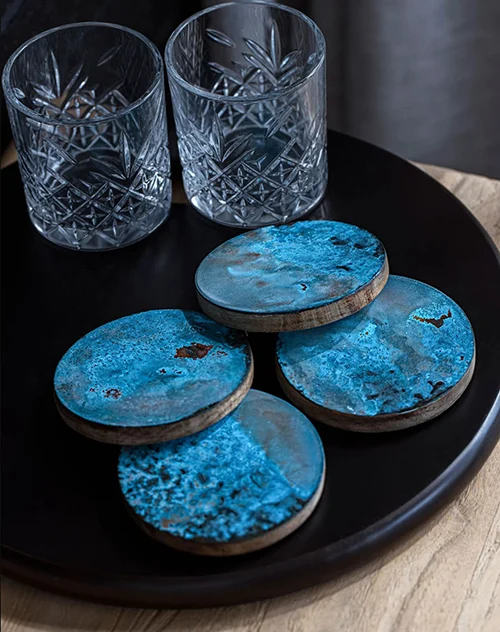 This beautiful set of blue patina copper coasters can come in a 4 or 6-piece set and is handmade in Perth, Australia.
You can also choose to engrave a message on the coasters. The bold, bright color reminds one of the seaside and makes a statement.
26. Copper Colored Workout Clothing
He could always use some new fitness gear, and he'll look great in this stylish copper workout t-shirt from Under Armour.
Knowing that you have and will continue to stand by him will motivate him to crush his morning run or daily fitness regimen.
27. Personalized Copper Compass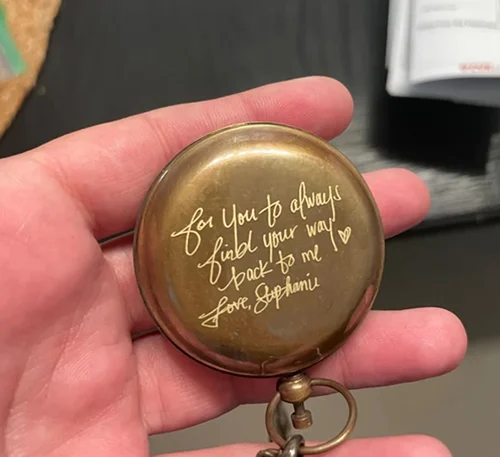 If he's a wanderer at heart, this copper compass is a great idea that will always show him the way back home.
This is a meaningful gift that can be personalized with the engraving design and text of your choice.
The compass can also come with an optional leather case.
28. Copper Planet Paperweight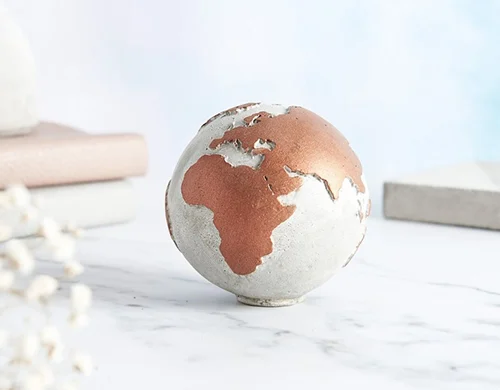 If he appreciates fun little trinkets, he's sure to get a kick out of this 3D globe concrete and copper paperweight.
This is a memorable item to mark your copper anniversary.
29. Copper Plate Docking Station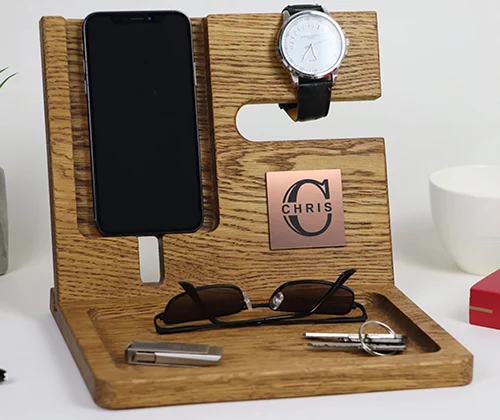 This copper and wood docking station is the perfect place for him to put his phone, glasses, watch, and other belongings at the end of the day.
This gift can be customized with a copper engraved plate with his first initial and name to add a touch of elegance.
With this present, he'll have something sweet to remember you by every time he starts and ends his day.
30. Custom Copper Money Clip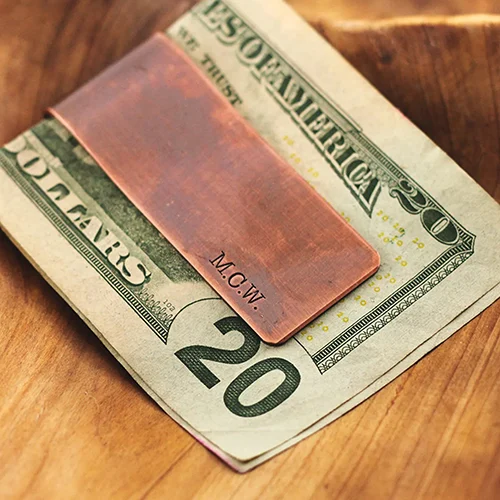 If he likes toting around hard cash, this minimalistic copper money clip can make for a simple way to keep those dollars safe in his pocket rather than floating around in his pocket.
It's practical, discreet, and keeps valuables in place. You can also customize this piece with a short, sweet inscription.
31. Copper Fire Extinguisher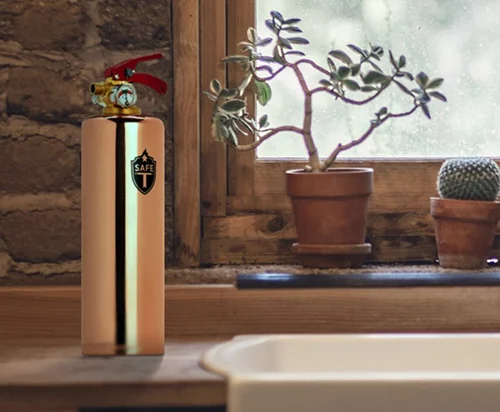 Who says fire extinguishers can't be a fun anniversary gift? This copper fire extinguisher will look amazing in your kitchen or wherever you store your fire extinguisher.
Add elegance and practicality to your home decor while celebrating your anniversary.
32. Custom Copper & Green Book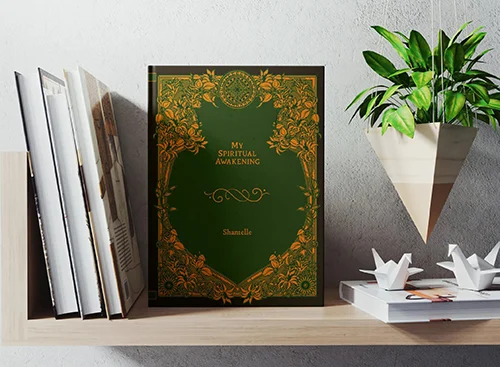 If he likes journaling or jotting his ideas down, he's sure to appreciate this elegant notebook with a vintage copper and green cover.
The cover can be personalized with a special title as well as his name and the font.
This sentimental notebook will give him the perfect opportunity to journal his thoughts about all the precious time you've spent together, make lists of his tasks for the day, or even sketch the afternoon away!
33. Forever Personalized Copper Cufflinks
You know he looks totally dreamy in a tux, and these copper cufflinks can add some flair and pizazz to his formalwear.
Everyone loves looking their best on special occasions and these cufflinks can top off his outfit while showing your devotion to each other.
34. Laptop Stand in Copper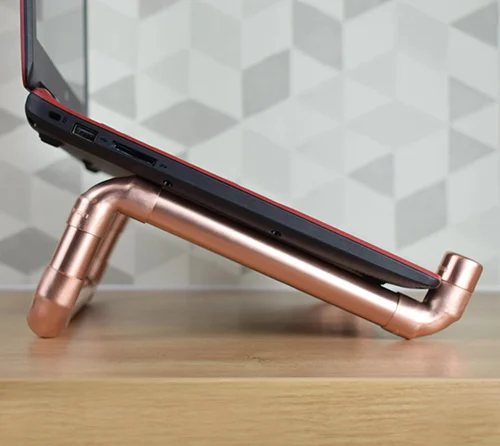 A laptop stand is always a useful gift, especially if he works from home often.
This sleek, practical stand corrects posture since it's designed to keep his laptop at eye level. Pair this with the notebook or phone stand above and you have the most amazing of desk sets.
35. Copper Card Sleeves
Does he collect cards or likes playing the popular game Magic: The Gathering?
These copper card sleeves will make his day, and they create the perfect opportunity to break out your favorite card games and spend some quality time together on your special day.
36. Antique Copper House Plaque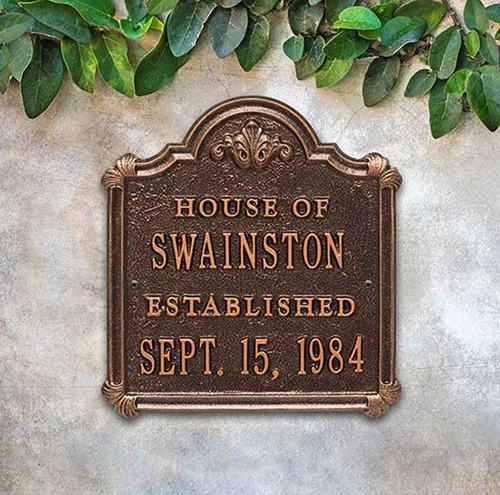 Go all-out with a gift that speaks to the strength and endurance of your relationship with this ornate wall plaque.
The plaque comes with two lines of text to include your family name and wedding year.
Its weather-tested paints and rust-free aluminum ensure that this can be mounted outside your home or your door for years to come.
37. Copper Coffee Pour Over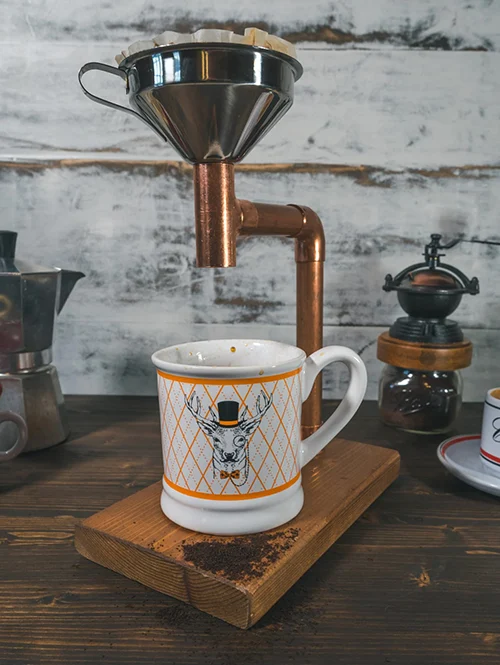 Has he ever tried coffee from a pour over coffee maker? Now's his chance!
With this ornate copper coffee pour over set, your favorite coffee addict can control the exact amount of coffee grounds and water in his cup so he can perfect his morning cup of joe.
He just might want to ditch the coffee machine for good!
38. Copper Necktie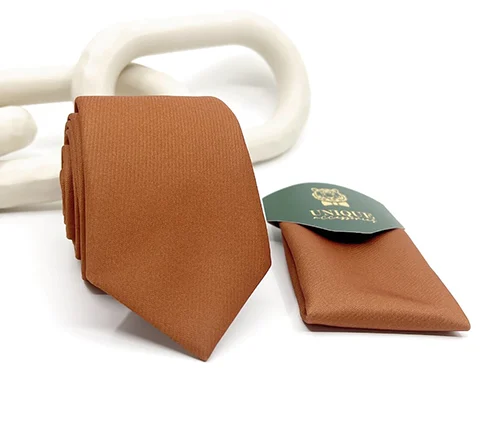 A tie is a classy, masculine present, so he'll love getting one on his anniversary! This hand-sewn copper orange necktie will make him excited to don a suit again.
It'd be an excellent option if you're planning a meal at a formal restaurant or some other extravagant excursion.
39. Copper Thinking Putty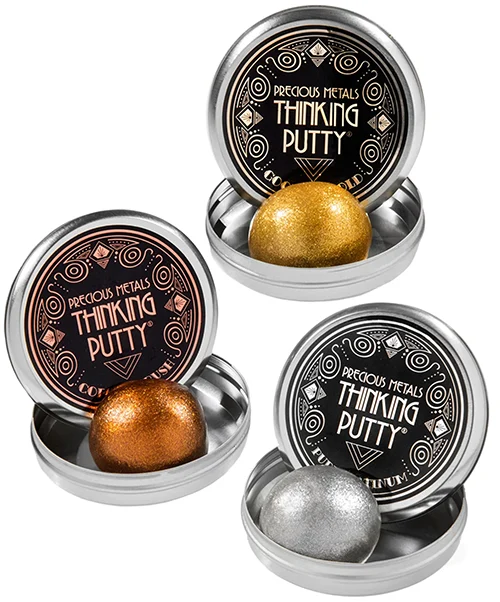 Everyone can enjoy putty, even adults!
It's great to have something to do with your hands while you think, and this putty is made to look like shiny, glittery metal that also comes in bronze, gold, and silver colors.
He may be able not to put this endlessly stretchable gift down!
40. Copper Golf Divot
He could use a good divot if he's an avid golfer, and this tool from Birdicon can serve as a ball marker, repair divots on a golf course, and open bottles.
Most importantly, it comes in copper so it can be a fitting 7th anniversary gift, especially if you're planning a golfing trip!
41. Copper Bird House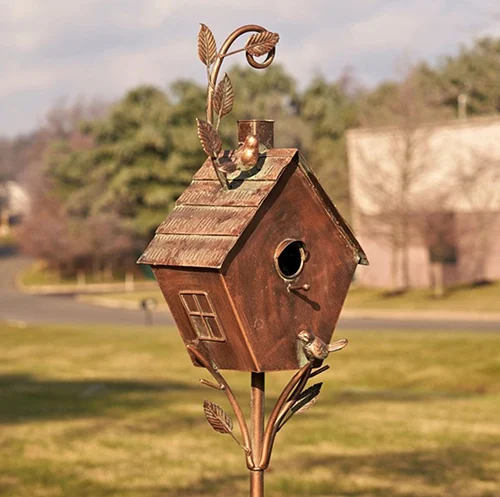 For the man who appreciates antiques – this vintage birdhouse comes with a bright copper finish.
He'll be delighted when he sees the little guys poking their heads out of this adorable birdhouse.
This is another great option if you both enjoy birdwatching.
42. Lotus V-Cut Copper Cigar Cutter
If he's fond of a good smoke, his cigar arsenal isn't complete without this copper cigar cutter.
The cutter's freestanding design makes for easy storage, and he's sure to appreciate the fact that you're supporting his manly pastime.
43. Stamped Copper Bowl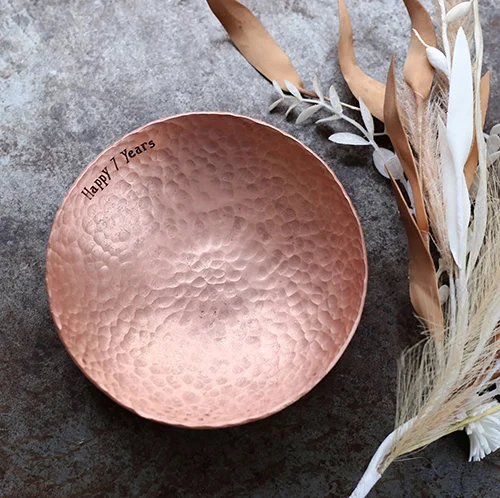 Decorative bowls are a practical option for a gift, and this copper bowl comes with a personalized message on the inside.
This bowl will become a well-loved fixture in your kitchen or on your coffee table.
44. Engraved Copper Belt Buckle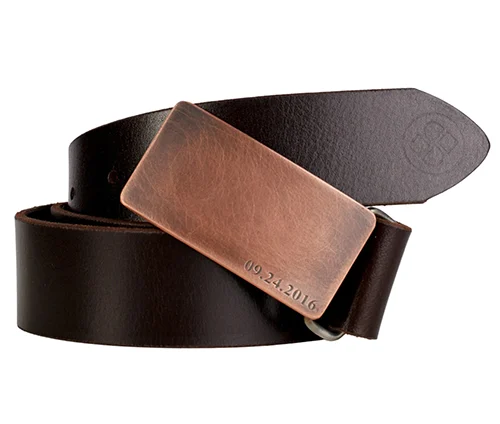 No formal outfit is complete without a nice belt. This one comes with a copper buckle that can be customized with a Roman numeral, tally marks, or a wedding date.
It's made of quality leather and snap closures make it easy to change the buckle, too – he'll be obsessed!
45. Copper & Glass Desk Sets
This copper and glass desk set is a no-brainer for your uber-organized guy who has a place for everything.
The brass blue glass detailing of the items in the set gives each piece a modern look that can add a pop of color to his office space.
46. Home Is Where You Are Copper Collar Stays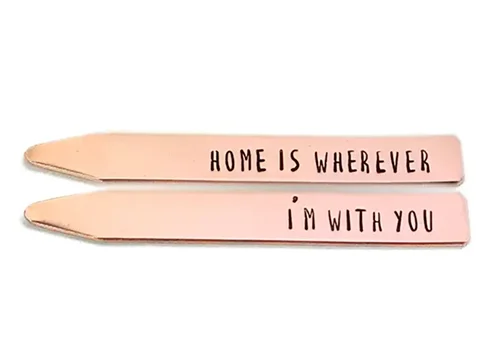 These copper collar stays are another good pick if you're looking for formal wear items. 
Customize them with a heartfelt message so he can get an extra boost of confidence the next time he wears a suit.
47. Handwritten Copper Card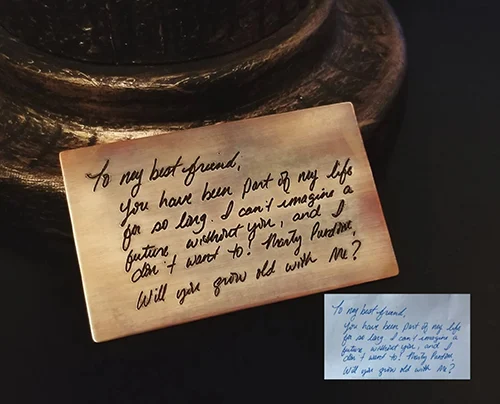 Maybe you prefer to express your love for him in words? This credit-card-sized copper card can easily fit in his wallet and remind him of your love whenever he looks at it.
The seller recreates your handwriting exactly for the personalized message on the card, so the card can fit your personality perfectly. Unlike greeting cards, this one is made to last.
48. Hammered Copper Tea Kettle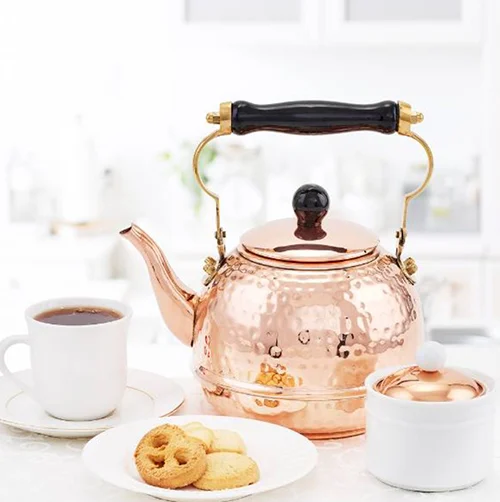 Does he like to relax with a hot cup of tea? Then he'll be delighted to receive this copper tea kettle.
The German-style hammered design of this piece will make tea time feel that much fancier, and the quality is top-notch so it will last a lifetime.
Related: Best Gifts for Tea Lovers
49. Reusable Copper Straws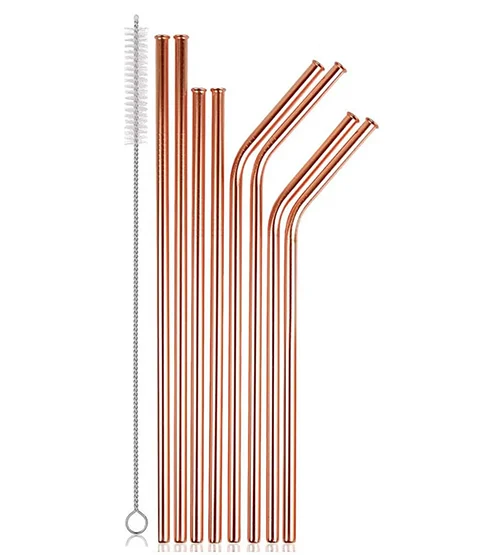 Ditch plastic straws for good with these cute reusable copper straws.
They'll be a great gift if you want to bring friends over to share some drinks on your anniversary.
50. Copper Popcorn Maker Date Night Set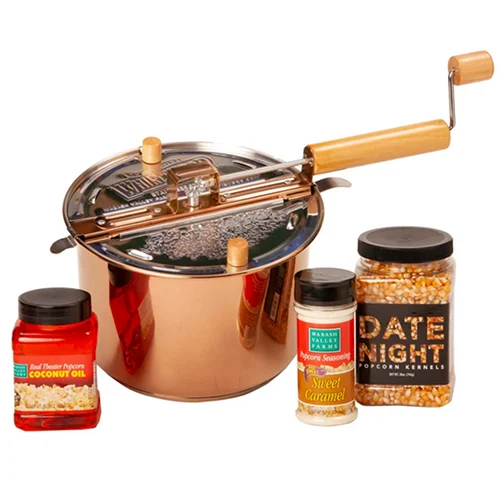 Have a movie night to remember with this copper popcorn maker set!
This set comes with a stainless steel pan with a crank, coconut oil, corn kernels, and caramel seasoning.
You'll have all the fixings you need for a perfect batch of popcorn made the old-fashioned way.
Read Next: Unique Gifts for Your Boyfriend