In this post we're going to look at 10 awesome insurance agent gifts that they will totally 'endorse' (or at least 'claim' to).
Don't hold the bad insurance jokes against us, though.
Here at All Gifts Considered, we do gift ideas for all types of occupations. We're really good at it. Our mission statement is to help you live life more generously, and that's what we do. We've come up with this list of the best gifts for insurance agents to maintain 'fidelity' to our mission statement.
(Sorry, we couldn't help it with that fidelity joke.)
But more than that, we want to help you discover some awesome insurance agent gift ideas that the insurance professional in your life will truly love.
(I'm tempted to say that they will love our ideas because we focus on 'premium' gifts, but I won't. Consider yourself spared.)
Insurance agents can be a 'hard market' to shop for, so we understand why you're scouring the internet for the right gift before the opportunity 'lapses.' You don't want to be held 'liable' for –
Ok, fine. I see that glare you're giving me right through your screen. Enough of the corny jokes and onward to some great gifts for the insurance agent in your life.
10 Best Insurance Agent Gifts
Our website is supported by our users. We sometimes earn a commission when you click through the affiliate links on our website. See our privacy policy & disclosures for more information.
1. Premium Decorative Fire Extinguishers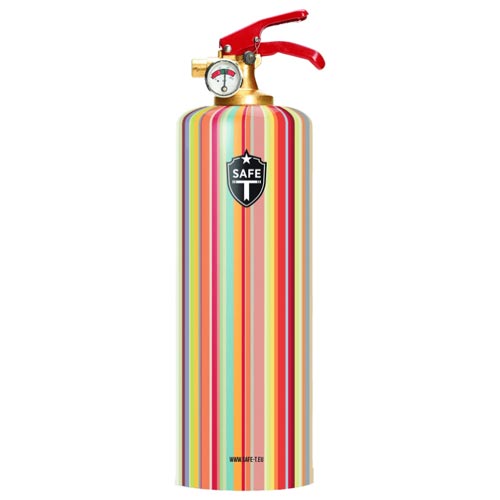 Insurance agents deal with risk. And thus can be especially safety-conscious (perhaps even annoyingly so… you know who you are!).
Enter the decorative fire extinguisher. This is the perfect gift idea for an insurance agent because they can proudly display it at home or in their office.
At the same time your gift will give them that extra peace of mind, knowing there is an extinguisher at the ready in case the unexpected happens.
Because an insurance agent, of all people, knows that the unexpected does happen.
2. Personalized Best Insurance Agent Ever Tumbler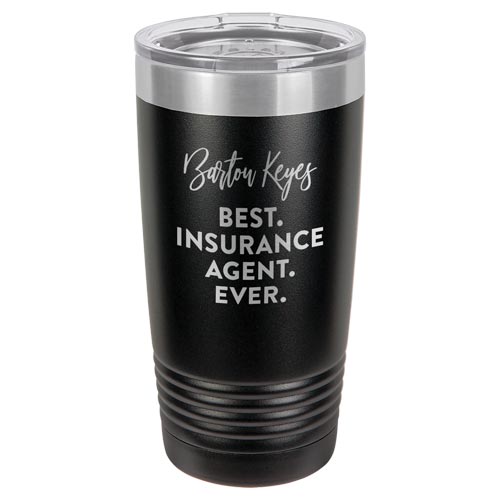 Are you looking for a trendy, personalized, useful, and affordable gift? You'll want this custom engraved tumbler.
Trendy and personalized? Check, and check. People love these things because they look cool, come in a variety of colors, keep your beverages blazing hot (or ice cold) for hours on end, and include custom laser etching.
Useful and affordable? Again, check and check. The insurance agent in your life will use this on the way to work every day. Plus it costs less than lunch at a decent restaurant, and if you get multiples for each agent in your team you will discover some great quantity price breaks.
(And yes, you even get bulk discounts when each item is individually personalized.) It's one of the best insurance agent gifts you can dream up, so get yours here.
3. Double Indemity (1944 Film)
The perfect film for people in insurance. This Billy Wilder-directed noir classic boasts great dialogue, a murderous insurance scam plot, and a stellar performance from the great Edward G. Robinson.
If the insurance agent in your life is one for the old hard-boiled classics, Double Indemnity is a gift idea they will treasure.
4. Vintage Insurance Professional Plaque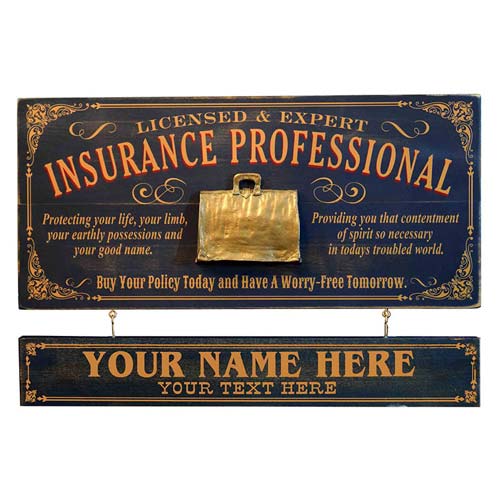 This classy insurance agent sign is made in the USA from furniture grade wood. It features a fun old-school design, complete with a hand-carved sales suitcase applique.
Plus, you can add a personalized hanging name board to make this a great custom gift.
Or more than one – you can add as many name boards as you like, so consider getting one for each agent in the office.
5. Because Clients Wine Glass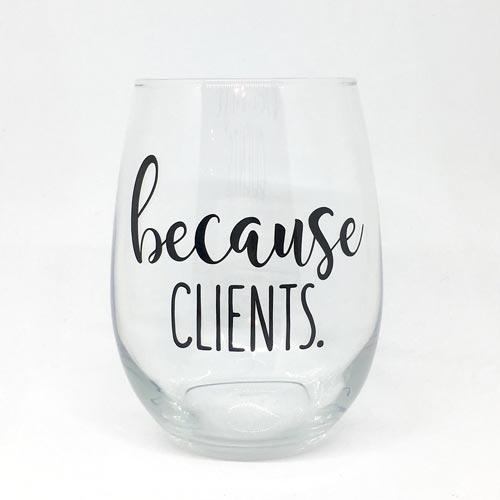 Don't kid yourself. You know your insurance agent goes home after a long day at the office, pulls out a bottle of wine, and gets to work on it.
Tell them no more Dixie cups, it's time for a real wine glass. This one says "Because… Clients." (Pictured, above) You can find glassware personalized with just about any name, phrase, or logo you like. So if you want something different, make it happen.
These ones are super-affordable, but tend to be customized with decals. Watch out for that, because glasses personalized with paint or decals can wear off over time.
If you want a classier personalized wine glass set, go with laser engraving. We can custom engrave sets of traditional or stemless wine glasses, whiskey glasses, pilsner or pint glasses, and much more. Check out our selection of custom engraved glassware here.
6. Custom Engraved Walnut Wood Keepsake Box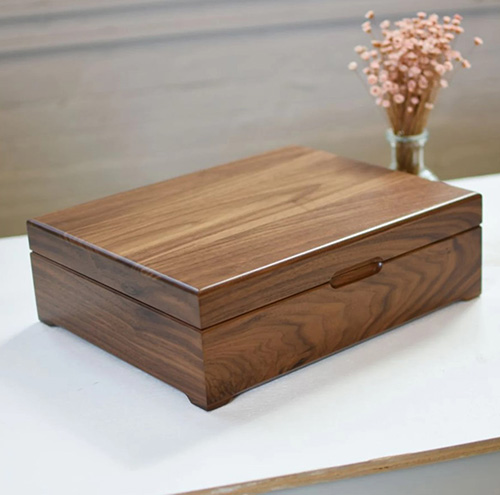 Timeless, beautiful, and sure to be cherished, this exceptional memory keepsake box is in a league above the rest. Peak craftsmanship and specially chosen Walnut wood varieties come together to create a lasting treasure. Have it engraved with their name, or leave the beautiful natural finish as is.
7. Personalized Bobble Head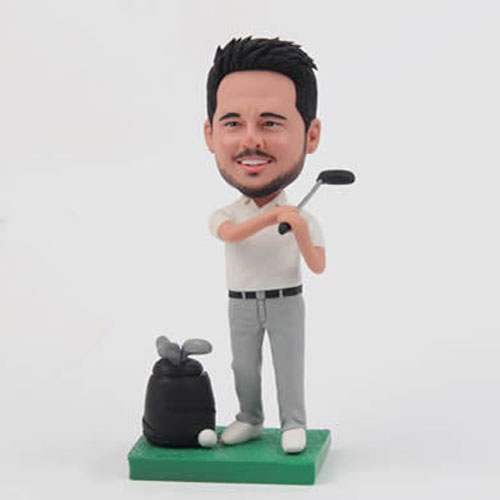 A fun and personalized gift. The artist who does this is rather brilliant. Browse through all the completed project photos to see how well they have captured each subject.
There's not much to say about this gift idea other than that you'll just *know* if the insurance agent in your life is the type who would like a personalized bobble head of their likeness. If that's the case, you're probably no longer reading this because you've already clicked the link to get your order started. If you haven't yet, get yours made here.
8. Custom Oak Aging Barrel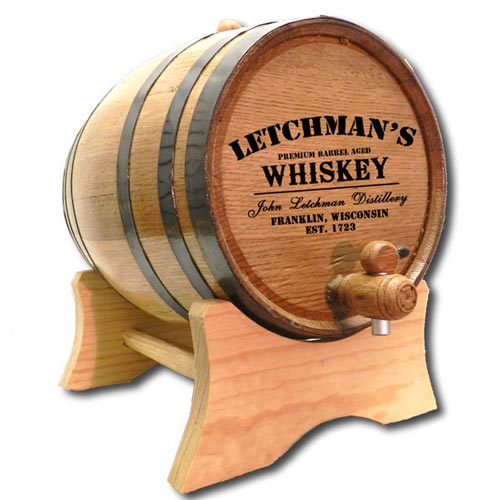 Maybe they won't be able to display this gift on their desktop like the walnut keepsake box or the custom bobble head, but golly they might appreciate it more.
(See the text on #5, above.)
What could be better than an oak whiskey aging barrel for the whiskey enthusiast insurance agent? I'll tell you what's better. A personalized oak whiskey aging barrel, that's what.
This barrel includes custom laser etching on the barrel head. It comes in a variety of sizes, and will actually age and enhance the flavor of the whiskey.
The only thing it's missing is the whiskey.
9. Personalized Bird Feeder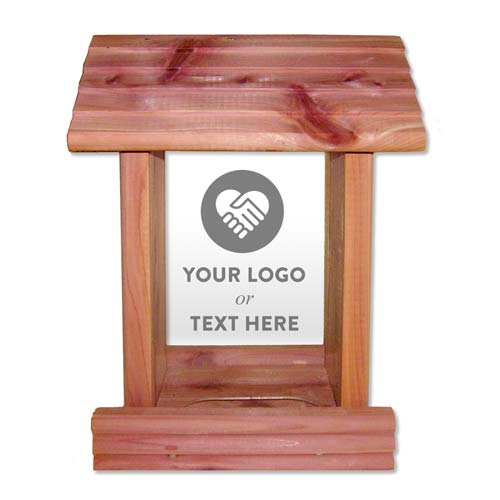 Here's a gift that won't go inside an already cluttered office. This one is perfect for hanging outside the office window, by the entry way so that clients can enjoy the birds on the way in, or at home in the backyard.
We can laser engrave any text or logo onto the front panel, included with your gift. This is great for promoting the insurance agency or celebrating a special milestone. We can also engrave the back panel, duplicating the front or something entirely different.
Each bird feeder is made in the USA from aromatic cedar wood. The clear front panel allows for easy viewing of the amount of remaining bird seed. The feeder arrives ready to hang.
This is a fantastic insurance gift for the agent who loves the birds and the great outdoors.
10. Commissioned Art Portrait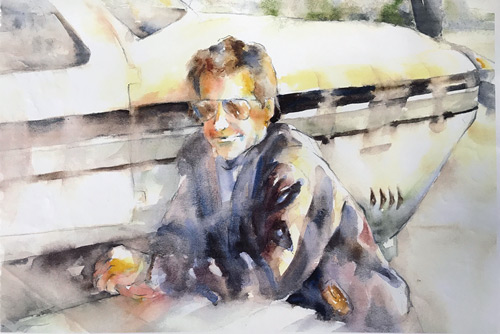 The ultimate gift for an insurance agent. Don't just get some inexpensive painter on Etsy; go with a trained and talented portrait artist who will do justice to the subject and create a work of art in the process.
(This isn't to knock the low-end artists on Etsy. Some of them are in fact very good, and if you are limited in your budget that's probably the way to go. But I think it's important to be clear on the true value of a fine art commission which will truly honor the recipient, as opposed to a cute gift idea.)
If you want a premium insurance agent gift, the fine art portrait is an excellent choice. This is the perfect way to honor a retiree or a special achievement. A gift that will last a lifetime, filled with meaning.
Bonus Insurance Agent Gift Ideas
Not enough stuff for ya? Here are some further adventures in great gift ideas for insurance professionals:
Choose a landmark LEGO Architecture Set
Personalize a wooden wine-bottle-shaped Pepper Mill
For something a little bit different but actually kinda awesome, try a Vacuum Sealer (check out the article at the link for about a million reasons why it makes a surprisingly great gift)
If they love coffee, go with the Chemex Coffee Pour Over system
This Samurai Sword might cause somebody's deductible to increase, but hey, it's an awesome gift
Lastly, our Wall Mounted Bottle Openers are hand made in-house at our Oregon shop, and include custom laser engraving of anything you like
Pin It