This pet portrait blanket is great.
Whoops… review spoiler alert! Dagnabbit. I was supposed to say that at the end so you would read the whole article.
Well, now that you know… Let's at least take a look at the journey of ordering, customizing, unboxing, and enjoying the Custom Pet Portrait Blanket from Fur Baby Prints.
Our website is supported by our users. We sometimes earn a commission when you click through the affiliate links on our website. See our privacy policy & disclosures for more information.
Fur Baby Prints Review: Custom Pet Portrait Blanket
So, I pin a lot of stuff on Pinterest. Since we're all about great gift ideas, we not only post our ideas and articles there, but we also scour it constantly to help our never-ending search to help YOU find the best gifts, ever.
This company, Fur Baby Prints, contacted me through Pinterest regarding their pet photo blankets. They ended up sending us a free sample for review, so that's how all this started.
We have a little Malti-Poo named Remi. I figured my wife would appreciate a cozy blanket with his picture on it. And heck yes she loved it!
Dagnabbit again. Spoilers. We haven't even talked about the darn thing yet. This is like the worst review post ever.
The kids did too. I had to get a pic from my wife of the dog to use for the custom art, so she knew about it ahead of time. But my kids didn't.
You've got to see their surprise and shock when they open this blanket up and see a picture of Remi on it. It's pure gold.
Fur Baby Prints Pet Portrait Blanket Unboxing
Here it is:
You can't really see their faces after they "unbox" the blanket, but they're pretty much just wide-eyed and about to cry because of how much they love the blanket and their pup. Ha.
Of course they fought over it for the next 2.3 hours until we booted them off to bed. Then the wife claimed it.
Fur Baby Prints Pet Portrait Blanket Review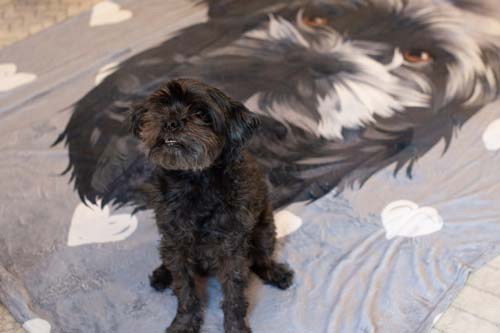 We got the Custom Pet Blanket in the large size. It's made from super-soft fleece, and it really is large – 60″ by 80″ is a great size for a blanket.
We'll start with the ordering process, then talk in a little more detail about the blanket itself.
Ordering
As with any modern website, ordering is simple. Choose your blanket size and the background pattern, add your pet's name if desired, and upload a photo.
You can even do multiple pets on one blanket! They charge a little extra, but that's fine. After all, they're doing extra pet portraits for you, so of course it will be more expensive.
BTW, I recommend going with the large (60″ x 80″) or medium (50″ x 60″) if the blanket is for a person. The medium is about as small as you want to get for one person, while the large is a great size for cuddling couples or to use as a "family blanket."
The small is 30″ x 40″ and might be ok for a small child, but IMHO the best use for that is as a gift for your pet. That's the size you want if this is a pet blanket for your pet.
Once you've picked the options, add to cart and pay for it. They'll confirm your order and send you a "proof" within a few days (ours took 3 days).
Our Pet Photo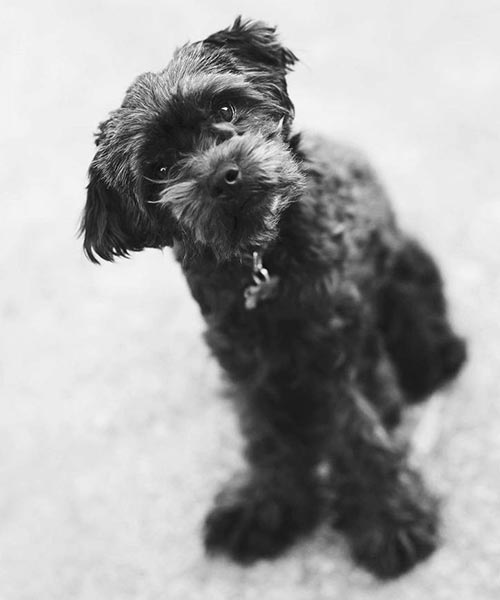 This is the pic we sent of our dog. Taken by my wife, of course, who is an excellent photographer.
Remi's black fur and constant hyperactive movement make it really, really tough to take a good photo of him. So this is what we gave them to work with. Good, but not the best.
Aaaaand…. this is what they sent back.
Fur Baby Prints' Custom Pet Illustration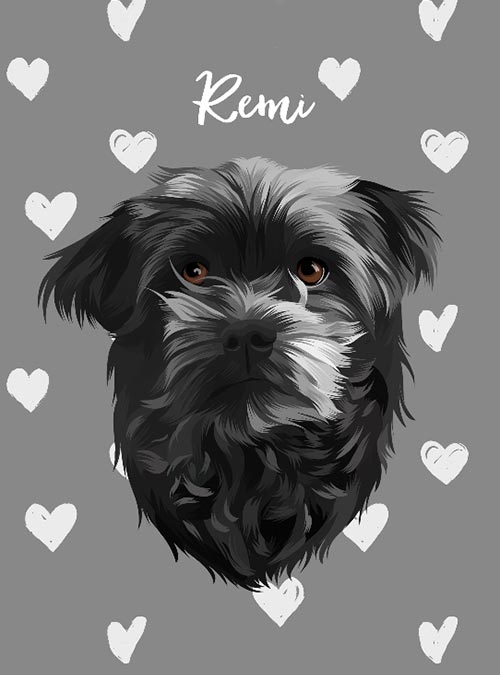 It's absolutely, completely, totally perfect.
They simply nailed it, first time. Note how they took the photo and got the hair colors right – a little more white on the right side (Remi's left), and that one whisp of gray sticking out on the other side.
Plus they somehow knew that his eyes were brown. And got his expression just right. And turned his cock-eyed head right-side up.
The only thing I had them change from the original design was that the hearts are pink; I asked them to make them white and they kindly and quickly obliged.
BTW that illustration right there is worth at least 1/3 the price of the blanket. For example, these.
Production & Delivery Time
After we approved it, it was printed and delivered to us within five days. Not too bad! A couple of days for printing and then a few more for delivery.
So, considering that this is a custom gift where they create a personalized pet portrait for you and then create a custom blanket, that's pretty good speed.
Anytime you're dealing with customization (like we do at Northwest Gifts), things just take time. Two weeks is a fairly typical production time, plus then factor in shipping time-in-transit. While I'd guess that this outfit isn't the quickest in the world, they're pretty doggone fast.
Pun intended.
The Blanket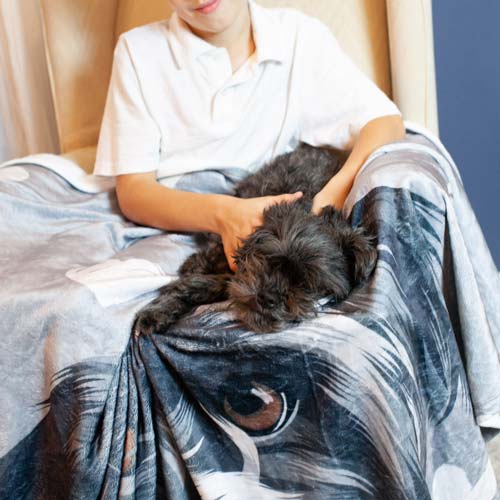 This picture was taken moments after getting it. You can see that it's a bit wrinkly from being folded up into the bag. Toss it in the dryer on low heat for a few minutes and those will come out.
The blanket itself is very warm and soft. The material is not thick and fluffy, but neither is it thin like those $5 soft blankets you see on Walmart endcaps.
It's medium-thin, with some weight to it. The fibers of the fleece are short, meaning that the blanket has some heft without being feathery. In other words, it's soft but dense.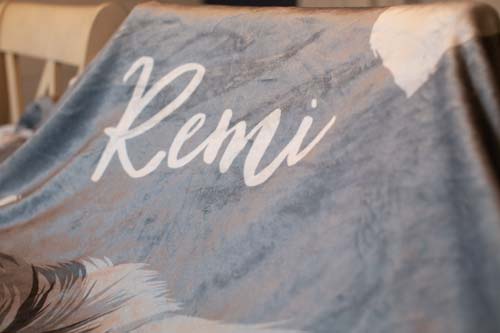 I hope you can tell that it's light-but-hefty by the way it drapes over the chair, above, and by the way the kids hold it in the unboxing video.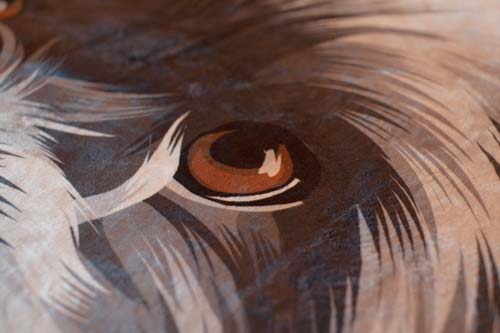 The printed portrait is well done, perfect detail.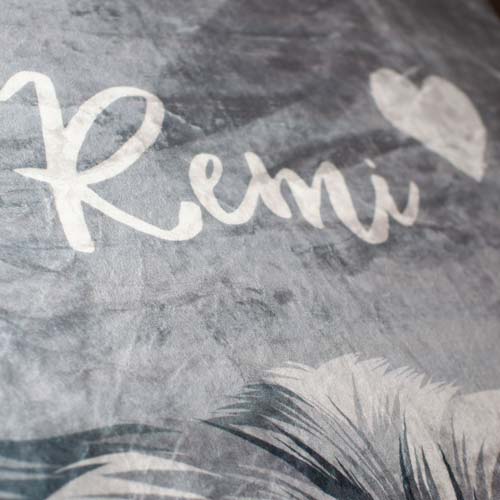 Here's his name, plus the hearts scattered all over the rest of the blanket.
Notice how the fibers of the fleece are short and closely put together. It's really soft, and really, really warm.
Fleece Blanket Snags
One thing to note is that we let our pup snuggle with us, and he has long claws in great need of a trim. We also just got a new puppy the very next day, a tiny Shih-tzu and Poodle mix whose little claws stick to ev-ree-thing.
So, after a few days of heavy use (you saw the kids' reactions, right?!) there are a few snags in the blanket where little (or big?) claws have pulled up a tiny whisp of fabric.
Since you're obviously going to be using this with your dogg0, be forewarned. This will probably happen to your blanket.
My family is pretty much addicted to blankets, and we have a huge array of everything from those five-buck fuzzies to nice ones that we gift to each other for Christmas. I think that, snag/fuzzes notwithstanding, this is a fine blanket (definitely top 2/3 of the market in terms of quality) and my guess is that this sort of thing will happen with every blanket like this.
Since I hadn't looked closely at our blankets before, or thought about claw snags, I inspected our other blankets and found that the short-fibered ones had some snags, while the long-fibered ones had less. You can't really print pet portraits on a long-fibered "fluffy/feathery" blanket, so my uneducated guess says that most of the pet portrait blankets like this will have the same thing going on.
Comparison with Similar Products
Here's how my order compares with the exact same thing if I had purchased through these other popular sellers. I looked around and found several I would trust based on the photos and reviews.
I think that ultimately the choices will be pretty similar. As long as you avoid the cheap ones (I found several at Amazon for much less, but the reviews spoke of quality and personalization issues that I don't think you'll get from any of these companies).
But I can speak from experience with Fur Baby Prints – they're responsive with customer service and personalization, their art is spot-on, the blanket is gorgeous, cozy, and good quality.
Wrapping Up (Get It?)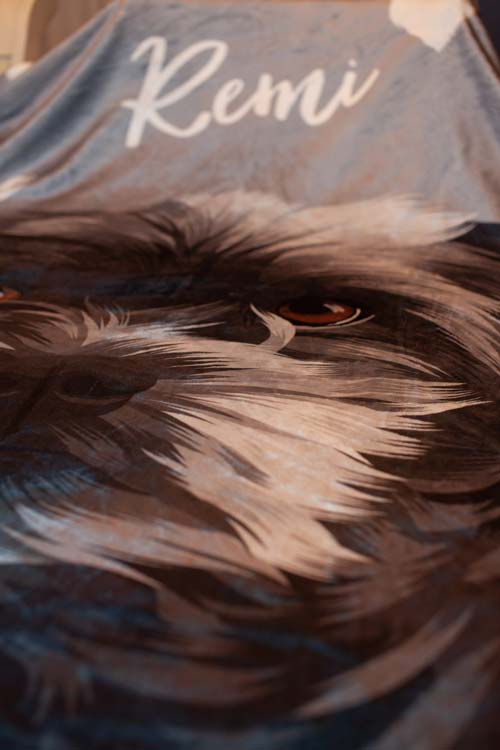 I already let the cat out of the bag at the beginning – I like this blanket. It's great. Cozy, soft, fun, personalized. The whole family loved it.
So let's wrap it up and compare the pros and cons.
Pros
Easy to order, relatively quick production/delivery
Great with personalization and a custom pet portrait
Their artists can take a bad photo and make a great sketch
Many options for color and background
Super soft and cozy
Nice stitching along all sides
IT HAS YOUR PET'S PORTRAIT ON IT
Cons
Blanket can snag
Arrives in a vacuum-sealed bag and thus wrinkly
Personalized items take longer than other types of gifts/products
Great for:
Pet lover gift
Holidays and birthdays
New pet celebration gift
Pet memorial sympathy gift
Something special for yourself
Ultimately, this is a creative, beautiful, custom gift perfect for the pet lover in your life. You really can't go wrong with this – it's cozy, easy to personalize, comes quickly, and will be something special that the recipient (maybe yourself?!) uses every day.
Get yours here.
You May Also Like:
Pin It