Let's talk about the very best Halloween date ideas!
If you and your significant other are less like Ken and Barbie and more like Morticia and Gomez, then you already know that Halloween dates are the best dates.
Spooky costumes, pumpkin carving, trick-or-treating with Wednesday and Pugsly, horror movies, and waking the dead are naturally on the table, but here are some more great at-home and on the town fun Halloween date ideas for you and your sweetie.
Let's make this October a Halloween season for the record books! 
Best Halloween Date Ideas
These are our very top picks for creepy yet romantic Halloween activities for couples.
A perfect opportunity to spend some quality time with your hunny, these Halloween date night ideas are delightfully spook-filled.
Our website is supported by our users. We sometimes earn a commission when you click through the affiliate links on our website. See our privacy policy & disclosures for more information.
1. Halloween Party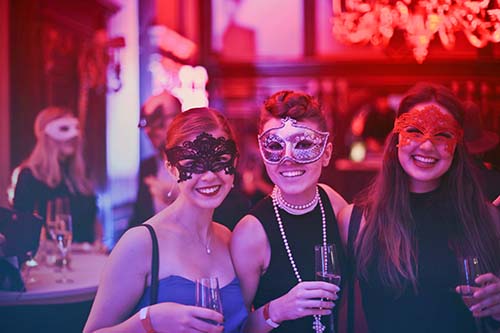 If no one is hosting one, then you guys are up!
Don't hold back: from the invites and couples costumes (because costumes are a given) to the music and theme. Oh, and of course, friends.
Throw a party that will be remembered for years to come. We have some great costume ideas below, so keep scrolling, little ghouls.
Use these printable Halloween party invites to invite your favorite witches and warlocks!
2. Spend the Night in a Haunted Hotel
Take the thrill to another level by spending a sleepless night in a haunted hotel.
Do a quick google search for local haunts to find one in your area (you might be surprised) or check out this list.
Be sure to capture what you see on camera so you can send it over to your local ghostbusters!
3. Fall Festivals
It's sweater weather, goblins! Find your nearest harvest festival and really get your October on.
The bonus? You'll find instant friends who love autumn as much as you do. Talk about being in your element.
4. Go Trick or Treating
Are you really too old for trick-or-treating? I mean, really? Of course not!
Besides, you don't want that epic Michael Jackson Thriller costume to go to waste.
If you feel really silly, head to the homes in your local college town ー they're used to the "older crowd" and won't even bat an eye.
5. Rent a Cabin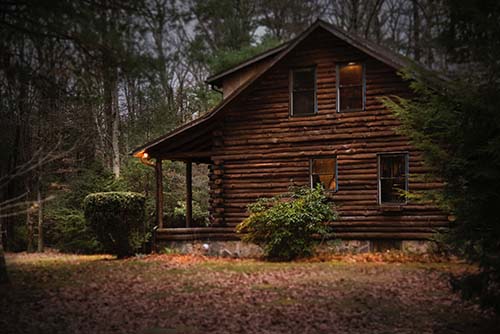 Maybe don't follow the classic horror flick approach… but a cozy cabin where you can cuddle up with your boo while you watch the leaves fall?
What better way to spend a perfect Halloween date night?
Don't forget to pack your favorite scary stories to read aloud, and a nice selection of creepy films and Halloween treats.
6. Go on a Zombie Walk
Find your local zombie walk and get ready to lace up those sneakers ー you've got monsters to chase! Until now, you thought marathons weren't for you… pfft. Think again.
If walking/running really isn't your style, you can always sign up to paint faces.
7. Local Drive-In Theater
Most towns show some sort of scary movie marathon at their local theater or drive-in theater. Check out what's playing near you and get ready for a great time.
For you movie lovers, this is going to be one of your favorite spooky date ideas!
Pack some blankets, bug spray, snacky-snacks, and don't forget to bring your favorite ghouls. Bonus points if you manage not to scream…
8. Visit a Haunted Amusement Park
Did you know theme parks host Fright Fests or similar Halloween themed nights?
Look into your local parks and see what kind of haunted attraction you can find.
If there aren't any close by, why not consider a road trip? Make it an epic adventure that you'll remember forever!
9. Take The Adventure Challenge
Choose a date night activity from The Adventure Challenge, and put a spooky spin on it while you enjoy a fun and romantic night in your Halloween costumes.
Go see a Halloween movie marathon in-costume, eat at a fancy restaurant in a vampire cape, go see a local play in your Winnie-the-Pooh onesie… you get the idea!
10. Have a Romantic, Sunset Cemetery Picnic
Of course, don't disrespect your surroundings and clean up after yourself, but finding a beautiful spot that overlooks a cemetery can add a spooky touch to an already romantic date.
This actually used to be a "thing" back before modern convention ruined a perfectly romantic Halloween date idea.  
11. Go on a Haunted Ghost Tour
Whether it's a haunted house, pumpkin patch, forest, hotel, or theater, going on a ghost tour is another level of spooky and the perfect way to spend your Halloween date.
Do a quick google search to find something in your area, and sign up early if you want to go on Halloween night.
Don't forget your flashlight!
12. Couple's Night Halloween Movie Marathon
Whether it's just the two of you or you're with all your favorite couples, spend the night being scared movie after movie.
No matter if you're into ghouls and ghosts or horror and suspense, you can snuggle in and marathon all of your favorites.
Keep things exciting by switching it up and taking turns picking the flick. Don't forget to pop the corn, pass around the drinks, and decorate the house!
Click here to see a list of our favorite classic Halloween movies!
13. Adrenaline Experiences
Not all scary experiences have to be about ghosts. Raise your adrenaline another way on Halloween with these exciting experiences! Do something that really scares you and scratch it right off your bucket list.
Now, time to put those nerves to the test.
14. Spooky Photoshoot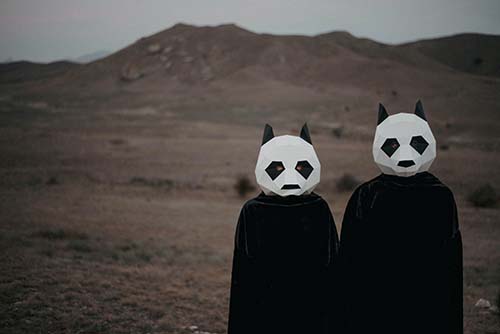 Get dressed up in your favorite fall outfit or costumes and have a cute couple photoshoot.
Go all out with matching themes like Frankenstein and his bride, your favorite swashbuckling duo, Bonnie and Clyde, Al Capone and his cash… the possibilities are endless!
15. Go on a Couple's Hayride
You know you want to. Find a local farm that offers hayrides and giddy-up!
Sure, you might be surrounded by children but who cares? They know fun when they see it, so why shouldn't you?
16. Enjoy the Neighborhood Decorations
One of of our simplest Halloween couple activities, opt for a walk around your neighborhood to enjoy everyone's decorations!
Get ideas for next year's garden and lawn decor, and maybe bring along the dog and a thermos of hot, buttered rum.
17. Go to a Haunted House
Better yet, go to all the haunted houses and find your favorite! If these really float your creepy boat, consider signing up to be an actor.
All of my family members have done this, and it's always a favorite part of their year.
18. Dia de Los Muertos (AKA: Day of the Dead)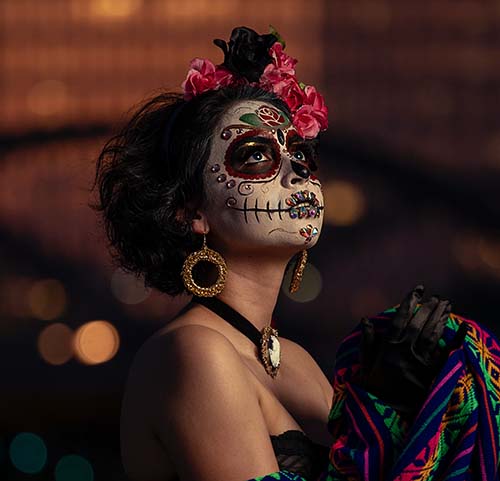 This holiday is normally celebrated on November 1st, but there is nothing wrong with starting the celebration the night before!
You can play with face painting, decorating sugar skull candies, making paper flags and more. Invite the neighbors and try making it an annual tradition.
You can go family friendly for the littles on this one, or make it extra ghoulish with just your adult friends.
Related: Spooky History of Halloween (& How to Celebrate it)
Halloween Date Night at Home
If the two of you are homebodies looking for Halloween date night ideas at home, you're in the right place. We've got a fantastic selection of activities that capture the Halloween spirit while still being fun and romantic!
Listed below are plenty of opportunities for you and your favorite ghoul to spend time alone or entertain your fellow fiends during this ghastly season.
19. Decorate Pumpkins
Pumpkin carving is a beloved tradition for a reason. And why not make it competitive?
Take photos of your creations and post them online with a "Vote For Your Favorite" button. Winner gets bragging rights and a prize!
20. Solve a Murder with Hunt a Killer
Channel your inner Sherlock or Miss Marple by solving a murder. Hunt A Killer is thrilling and has just the right amount of creepiness. Try not to get hooked!
21. Listen to Your Favorite Horror Story Podcasts
Like the grown-up version of spooky stories 'round the campfire, horror podcasts are the way to go. Go on, now. Build that blanket fort and get listening.
Some Popular Creepy Podcasts to consider:
Related: Free Date Night Ideas
22. Death By Trivia
Know-it-alls, rejoice! Now you can put your morbid knowledge to the test with this super fun game. Invite all your horror podcast listeners, scary film aficionados, and thriller readers to the party to see who is crowned winner.
23. Spookless Drink and Cigars
Feel like doing, well, nothing on Halloween night? Chill outside with your favorite cigar and drink (for fall weather, I recommend a warm latte with a chocolate or coffee flavored cigar).
Kick back and enjoy all the little trick-or-treaters, cool weather, and good-ole community for this stress-free pick of Halloween date night ideas.
24. Murder Mystery Dinner
What's better than dinner? One where someone gets murdered, of course! Host a murder mystery party and watch your friends and family try to out-do each other by solving the case.
25. Thrill Each Other with Halloween Pranks
Up the ante with some entertaining Halloween pranks. This is bound to become a new annual tradition.
Forget bobbing for apples or going on a hayride ー this is one activity that will outshine them all. Check out this article for 10 fun ideas!
26. Scary Story Competition
Give it your best shot and see who can tell the scariest story… It's like being at camp, but without the uncomfortable beds, weird counselors, and you have better food.
Give your guests plenty of time to come up with their story so everyone is at their scariest. Don't forget prizes!
27. Read Halloween Books Together
Go old-school and read aloud some truly scary books. Cuddle up, buttercup ー things are about to get spooky.
Here are some frighteningly good options:
28. Bonfire, Stars, and S'mores
Enjoy the night with a warm fire and delicious s'mores!
Romantic tip: Want to lay under the stars but don't have a hammock or a nearby trampoline? Try this couple's lounge chair instead.
Romantic, eh?
29. Dance Together to a Halloween Playlist
Bring the party with your sick dance moves!
Polish off the dust from your Roger Rabbit, Sprinkler, Mashed Potato, and of course, your signature freestyle.
30. Have Fun Making Halloween Crafts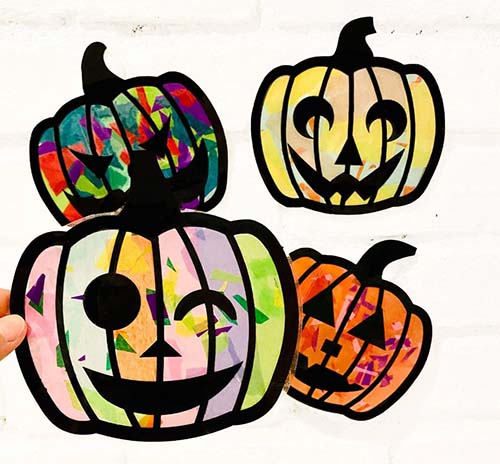 Get down with your crafty self. Invite all your favorite ghouls and hobgoblins over and make a night of crafty fun.
By the end, you'll have enough of everything to transform your house into a work of art!
31. Solve Mystery Puzzles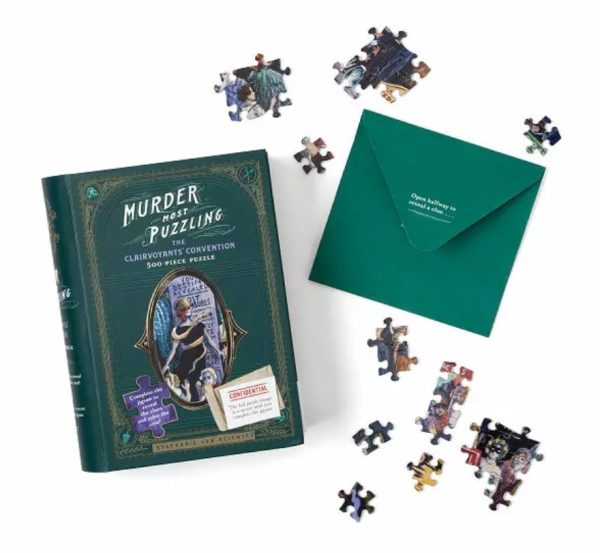 What's more fun than puzzles with friends? Ones that ask you to solve a mystery after putting them together, of course!
32. Cozy Up with Pumpkin Lattes and Spooky Movies
The caffeine will keep you awake for a whole marathon of spooktacular films!
Pass around snacks and some blankets too to ward off chills and satisfy munchies.
33. Decorate Haunted Cookie Houses
Have a little competition then eat the winnings of this fresh Halloween activity!
You've heard of Christmas gingerbread houses (bleh, so passé), but make way for the haunted house cookies.
34. Halloween Paint & Sip
Look into your local Paint and Sip classes and sign-up for a spooky one. Get your friends together and enjoy some painting (and some sipping), then take home your new work of art. You might be better at sipping than painting, but who knows?
35. Celebrate Reformation Day
You've heard of Martin Luther ー not that Martin Luther (King, Jr.), but the one he was named after.
The 'OG' Martin Luther was a monk who sparked the Protestant Reformation by nailing 95 Theses (theological points for debate) to a church door in Wittenberg, Germany.
He did this on All Hallow's Eve, October 31st in the year 1517. Ever since, Protestant and Reformed Christians have celebrated October 31st as Reformation Day.
Here are a few ideas for a Reformation Day date night:
36. Create a Fall Bucket List
Sit down together and fill out everything you want to do before fall/winter is over!
It can be as simple as carving pumpkins together, visiting a corn maze, or something more grand like taking a haunted road trip, or you know… waking the dead.
37. Hand Out Candy
Seems easy enough, huh? Add some laughs for both of you by putting on a show for the kids!
Spend time decorating the outside with spider webs, spooky noise machines, and fog machines; then get into character with some awesome costumes before handing out the best-of-the-best candy.
You're going to be the best house in the 'hood.
More Great Halloween Date Night Ideas
We haven't run out of fantastic Halloween activities for couples just yet! From movie suggestions, to costumes and more, sit tight for some more great ideas.
Halloween Movies for Couples
You can't go wrong with a spooky movie fest with your favorite ghoul-loving girl or boy. Plus, the creepy scenes are MADE for cuddling.
Romantic Halloween Movies
Funny Halloween Movies
Classic Halloween Movies
More: 21 Classic, Creepy Movies That Are (Mostly) Family-Friendly
Couples Halloween Costumes
Peanut Butter & Jelly
They've been together forever for a reason! Stick together all night with this cute costume.
Wine and Cheese
Will you be angry if we say you'll be the "toast" of the party in these? Or would that be too cheesy?
Matching Glow Stick Costume
How cute would you two look in a pair of these? Your party guests will love you in your matching glow stick costumes almost as much as you two do.
Soap & Loofah
I mean, you just can't do justice to one without the other, right? Just like you two cuties.
Witches & Wizards
Keep the spook alive with this classic witch and wizard costume. It's old-school fun done right.
Tacky Tourist Couple
Make 'em laugh with these tacky tourist costumes. This may be you guys in a few years, after all.
Barbie & Ken
This funny costume will make you both the bells of the ball!
Make Homemade Candy
Monster Cookies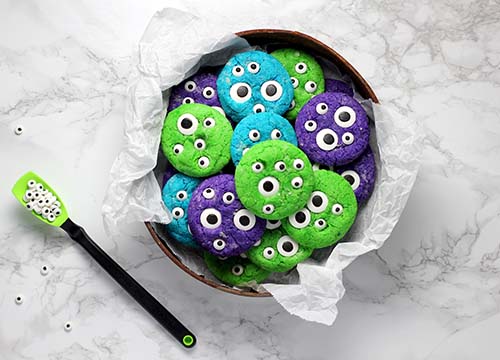 Save time this spooky season with these easy and oh-so delicious monster cookies! Also yummy for handing out to trick-or-treaters. All eyes will be on you!
DIY Rock Candy
Who knew you could make your own rock candy?! How fun!
Caramel Apple Slices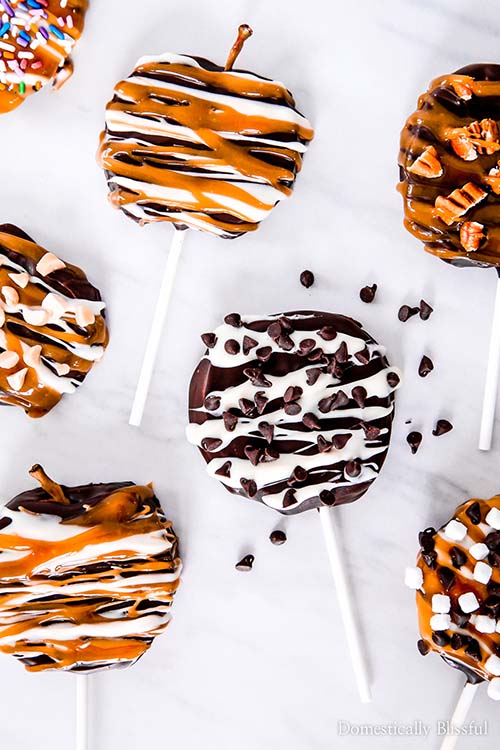 Sticky, sweet, and the definition of autumn, these caramel apple slices are a little bit easier and less messy than their traditional counterparts.
Twix Bars at Home
Yummers! Once you have tried the homemade version of these favorite candy bars, you might not ever go back to store bought.
Strawberry Ghosts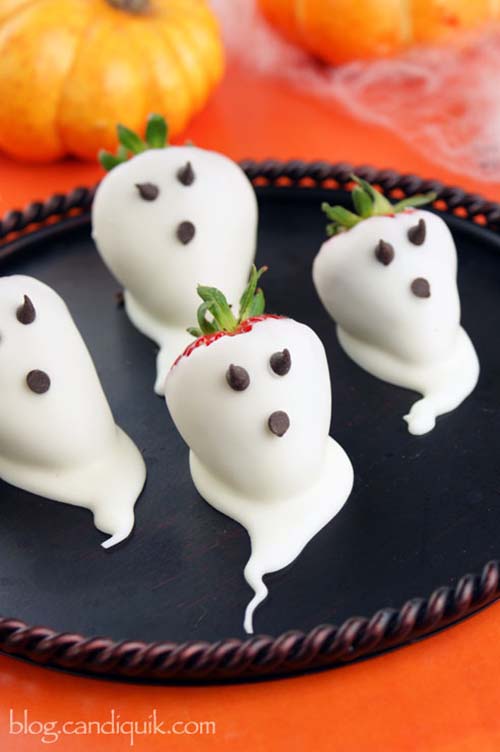 These cute strawberry ghosts will be a hit at the Halloween party or while watching one of the romantically spooky movies above.
Cook a Ghoulish Halloween Dinner
Mummy Dogs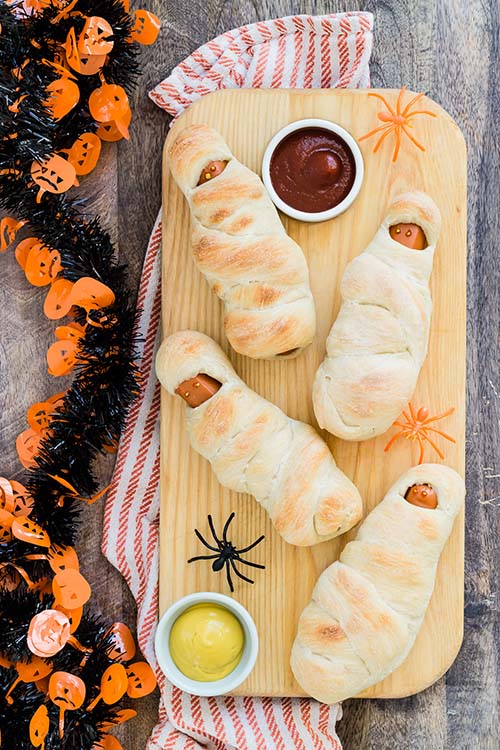 Watch your favorite hobgoblins, witches, and wizards gobble these up right before your eyes! Get some protein in 'em before you head out to a haunted house.
Find Catherine McCord's delicious Mummy Dogs recipe right here at Weelicious!
Ghostly Shepherd's Pie
This ghostly shepherd's pie will be the king of the table. It's delightfully ghoulish, but also aromatic and delicious.
Simple Pumpkin Soup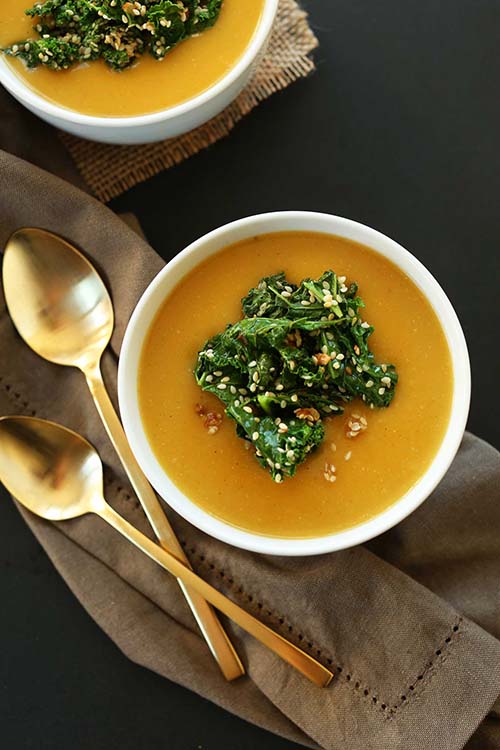 This is so tasty ladelled into mugs and spooned into your hungry boy's and ghoul's mouths!
A Witch's Feast
Have a veritable and certifiable feast with this game plan! All the witches and spooktacular friends in your life will have happy tummies and RSVP for next year's dinner.
Read Next: Halloween Party Ideas