Halloween is right around the corner. It doesn't matter how old or young you are, Halloween is just plain FUN!
We've put a great list of merrymaking ideas together for you to enjoy some spooky, scary, yummy, crazy entertainment for the whole family.
Whether you call the festivities Halloween, Harvest Festival, or All Hallows Eve, parties and enjoyment are always part of it.
Our website is supported by our users. We sometimes earn a commission when you click through the affiliate links on our website. See our privacy policy & disclosures for more information.
If you need some great Halloween ideas, you have come to the right place. Keep reading and enjoy what we have put together for you.
Halloween Party Planning 101
How to Plan a Halloween Party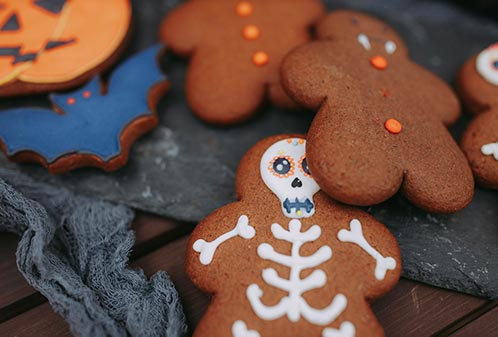 Planning the perfect Halloween party is all about 1) the purpose for throwing a party, 2) having a main idea or theme, 3) getting organized, then 4) putting everything together to make the night a success!
We have TONS of ideas below for the theme, but first you want to consider: Why do you want to throw a party? Do you want to gather with a small group of close friends, or have silly fun scaring people out of their minds? Do you want to throw an all-night rager that will be talked about for years, or create a home base for your friends to take their kids out Trick-or-Treating and return for a fun party?
Once you have the purpose of your party, it will be easy to select a theme. (Jump to Halloween Party Themes, or just keep on readin'!) It's always great to have unified décor, whether you're going with Harry Potter, cats and spiders, mummies, zombies, or anything else.
Next, get organized. Set a realistic budget, and choose the place, date, and time. Your party could be scheduled for the day before Halloween, or the prior Saturday, or Halloween night, early (for those with kids) or late (for a more grownup vibe). For the location, most people do their own place, but you might also consider a friend's house, a family member's, or a rental venue.
Think about the purpose of the party
Choose a theme
Pick a venue
Decide your budget
Plan the menu
Plan your games and activities
Set the date and time
Make your guest list
Send invitations
Once all that is done, the last part will be getting the supplies you need. Visit the local department, dollar, craft, or Halloween store for decorations, or order online ahead of time. Get your food and other sundries the day before, leaving plenty of time to decorate, bake, or organize as needed.
Here's a basic party supply list to get you started:
Decorations (see Halloween Party Themes for ideas)
Food, snacks, & beverages

Ingredients for your main dish or appetizer trays
Plates, cups, napkins, cutlery
A spooky dessert
Ice and coolers filled with age-appropriate beverages

Party game supplies (choose one of these activities)
Create a music playlist
Now that you have a good idea of what you need to do, let's take a look at Halloween party themes!
Halloween Party Themes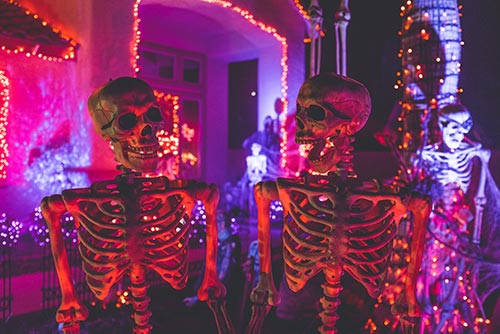 1. Monster Mash
Dress up as your favorite monsters, put on some music, and dance the evening away at your monster mash.
Serve some witch's brew and ghost-shaped sugar cookies. Put a good playlist together, don't forget to add the following:
Thriller by Michael Jackson
Highway to Hell by AC DC
This is Halloween from Nightmare before Christmas
Ghostbusters by Ray Parker, Jr.
2. On a Sweet Halloween Night
Gather up all that delicious Halloween candy. Find (or steal from your kids) all the miniatures and fun-sizes you could possibly need, and have a "candy" themed party.
Don't forget to grab the fun-size bags and bars of:
Butterfinger
M&Ms
Twix
Starbursts
Snickers
Whoppers
There are so many delicious candies out there… who can pick a favorite anyway??
3. Villain/Hero Costume Party
Everyone needs to bring a friend or spouse and come dressed up in paired costumes as classic heroes vs villains. This could be:
Negan and Rick Grimes
Voldemort and Harry Potter
Joker and Batman
Gaston and Beast
Aaron Burr and Alexander Hamilton
Agent Smith and Neo
The Wicked Witch and Dorothy
Do a little looking around and you will find all kinds of good, bad, and ugly people to be.
4. Haunted House
Create a haunted house! Here are some creepy themes to scare them with:
Witch's den – Make sure to have a bubbling caudren full of a nasty witch's brew.
Clowns – Not the silly kind.
Graveyard – Complete with scary (styrofoam) tombstones and creepy noises.
Slashers – Freddie, Michael Myers, "Scream", Jason Voorhees, and Norman Bates popping out to surprise, delight, and maybe hack off a limb.
Zombies – Can you say "The Walking Dead"?
Ghosts – Use chicken wire and make the ghosts appear more lifelike in form.
Make sure to play scary music and sounds in the background. After all, you are going to want something to drown out the screams of your victims… I mean guests.
5. Candy Corn Galore
Candy corn is the perfect harvest-style treat. So throw a party with everything candy corn! After all, they come in so many different shapes. Not just corn, but also pumpkins, corn, ghosts, skulls, leaves, and so much more.
According to the National Confectioners Association, candy makers will manufacture close to 35 million pounds of candy corn this year. It's so popular that it has its own day: October 30 is National Candy Corn Day. Who knew?
6. Hocus Pocus Night
Dress up like Winnie, Sarah, and Mary Sanderson of Hocus Pocus fame. The original release date was 1993, but these characters are timeless and enjoyable for all.
Did you know that these ladies were based on real-life people? Take a look at the back story!
7. Witches & Wizards Party
Say hello to Harry Potter and his friends with a witches and wizards party. A cape, a wand, and a hat, along with a few good spells will bring this party to life.
It wouldn't be complete without Platform 9 and 3/4, Professor Dumbledor, Professor Snape, and the four houses. Have everyone dress up as a favorite character, and bring a wand with a great back-story!
There are so many characters to choose from: Sybill Trelawney, Dudley, Alastor Moody, Sirius Black, Harry, Hermione, Ron, Hagrid, and so many more. Play the soundtrack in the background, have a trivia contest, and give out books, DVDs, or other related items as prizes.
8. Gothic Night
Lots of black costumes with a pop of red or orange for the perfect splash of color.
Decorate with black candles, use Halloween haunted gothic portraits, spider webs, ravens, and lots of lace.
Dress as Dracula, Barnabas Collins, Dr. Jekyll, Van Helsing, Morticia Addams, Lily Munster, or Elvira Mistress of the Dark.
9. Horror Movie Marathon
Impersonate your favorite horror movie character and stay up all night watching horror movies.
Some movies to add to your "must-see" list:
A Nightmare on Elm Street
Halloween
Friday the 13th
Scream
The Babadook
The Cabin in the Woods
Paranormal Activity
The Blair Witch Project
The Witch
10. Skeletons in the Closet
Break out your best skeleton costumes and decorations. Deck out your party with creepy glow-in-the-dark skeletons, rats, and bats.
Have lots of party favors like:
A sweet time for everyone.
11. BeetleJuice Night
According to legend, if you say the name Beetlejuice three times fast, the magical trickster himself will appear before you. Why not dress up like Beetlejuice characters and enjoy a Beetlejuice-themed night?
You can be:
Beetlejuice
Llydia Deetz
Miss Argentina
Adam and Barbara Maitland
Any way you view these characters, you are bound to have lots of laughs and a few spooky feelings too.
12. Glow in the Dark Party with Black Lights
You'll need lots of black lights to give everything a spooky glow – but what fun!
Oh, and did you know that you can make things glow in the dark by painting them with original liquid Tide? Paint some scary messages on doors or the walls, and when you're done, wipe off and everything will be extra clean.
Accessories to include (and paint to glow):
Glow in-the-dark balloons
Neon Colors
Plastic Skulls
Rats
Skeletons
Wear white or fluorescent clothing for your best look under black lights.
13. Halloween Potluck
Potlucks are fun, and you'll never know what people might bring!
There are so many cute Halloween treats to make. From A Cheese Mummy to Witches' Finger Cookies. Let your scary and artistic side come out and show off your culinary skills.
14. Spiders and Webs
When you think of spiders, webs automatically come to mind. Here's a list of some goodies and decorating ideas.
Decorate with:
Serve your guests:
15. Here for the Boos
Make your home a haunted house with these great ideas.
Cover furniture with white sheets
Skeletons
Demons
A display case full of shattered dishes
A cupboard that shakes when touched
Scary dolls
Bones
Click here for some extra-creepy haunted house ideas.
Halloween Party Games & Activities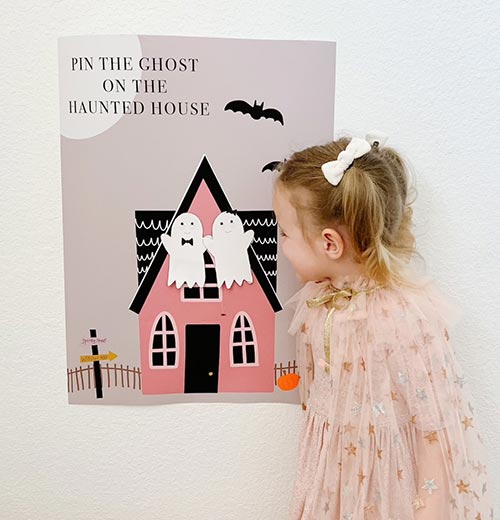 16. Halloween Costume Contest
Costume parties are always the greatest. It doesn't matter if the costumes are scary or funny; a contest is a must for any great Halloween party.
You can separate them into grown-up costumes, kid's costumes, scary costumes, and funny costumes. Give out more than one prize, especially to the kids.
17. Halloween Bingo
Bingo is a blast for kids and adults. These adorable Bingo cards are digital files and can be personalized for your event. Print them at home or take the file to your favorite print shop.
You can use candy corn, dry beans, or coins to mark the card spaces as someone calls out the objects.
Make sure to have prizes for your winners!
18. Pin the Ghost on the Haunted House
A Halloween version of Pin the Tail on the Donkey. This is a digital download that you can take to your favorite print shop. Make as many as you want – some for decoration, and some for playing with.
This is a cute game for the little ghosts and goblins.
19. Pumpkin Carving Contest
No Halloween party is complete without carved pumpkins. Have each guest bring their own pumpkin and you can supply the carving tools.
Ready, Set, Go! Let the fun begin. Have some great gruesome prizes ready for the winners.
20. Monster Mash Freeze Dance
A great way to entertain the monsters is to have a Monster Mash Freeze Dance. When the music stops, everyone freezes – anyone still moving is out. Keep it up until only one person is left.
21. Halloween Photo Booth
Silly photo props for your party. These great props can be used as decorations until you are ready to start taking photos.
Take hilarious and shareable party photos of your friends as they are making memories. This is a party they will never forget.
22. Spooky Scavenger Hunt
Make it a night of adventure for your guests.
Map out your scavenger hunt.
Will it be indoors or outdoors?
Dream up some creepy clues.
Make your list of items to be collected.
Keep it simple and playful so everyone is able to find the items on the list.
Prizes.

First team to get back.
Team that found the most items
Booby prize for team that found the least amount of items.
23. Sugar Skull Decorating
This is both a fun way to celebrate and a "sweet" activity. You supply the cookies and icing. Then just let the artistic side of your guests come out.
Sugar skulls are open to interpretation. Some may choose to go traditional; others, more abstract. The idea is to have a good time and be creative. This is an activity that kids and adults will enjoy taking part in.
24. Bobbing for Apples
This is a traditional Halloween game. This game is always full of laughs for anyone that plays along.
The game is played by filling a tub or a large basin with water and putting apples in the water. Because apples are less dense than water, they will float. Players try to catch one with their teeth.
25. Wrap the Mummy Contest
This is a simple game with super easy prep. All you need are rolls of toilet paper and a few teams of kids or adults – two people on each team.
One person on a team is the mummy, the other will be the mummy wrapper. Stand back and see who can wrap the fastest or best mummy. Then see who can unwrap the fastest.
May the best mummy win!
Halloween Party Game Prizes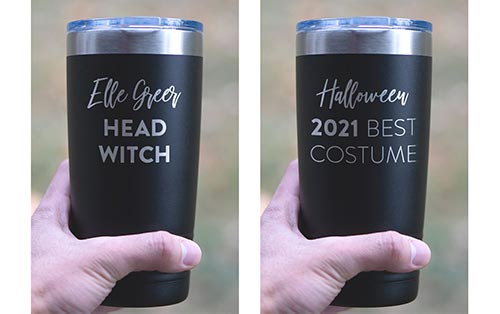 You can't have games without the prizes! Here are thirteen favorites:
Trophy: Best Costume Skeleton Award
Shirt: Pumpkin Queen
Fun stuff: Spooky Gift Box
Ribbons & medals: Halloween Contest Prize Kit
Tumblers: Head Witch & Best Costume Personalized Mugs (pictured above)
Gross: Bug Filled Slime
Over 21: Bottles with Halloween Labels
DIY: Fill Halloween themed gift baggies with candy and treats
Baking DIY: Spooky Cookies or Cake Pops
Light up: LED Halloween Rings
Traditional: Decorated Caramel Apples
Quirky: Halloween Rubber Ducks
Related: Halloween Date Night Ideas
Halloween Party Invitations
Here are some spooky and fun Halloween party invitation templates that you can download and print to get everyone excited about your big event.
26. Black Cat Halloween Invitation Card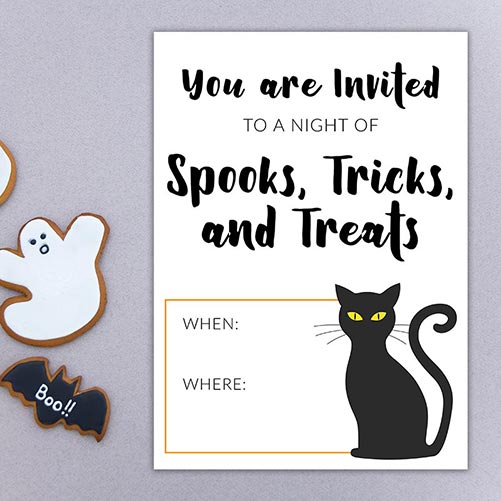 A cute way to let all of your friends know about your party.
Print these invites at home or take the file to your favorite print shop. Print out as many as you need and get them out to all of your friends.
27. Costumes & Cocktails invites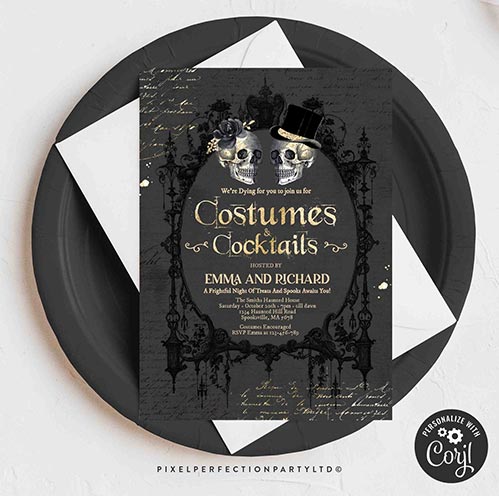 Do it yourself "editable" costumes and cocktails party invite. Vintage-looking invitations can be printed at home or taken to your favorite printing shop.
Make sure all of your friends receive this invite to your party. Make it a costume contest… drinks included.
28. Halloween Bash Pumpkin Invitation Card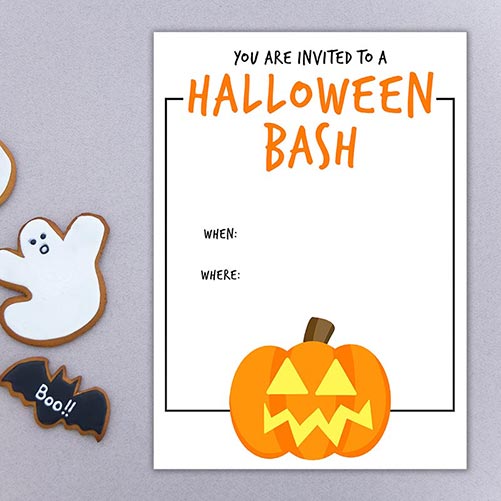 These ghostly and cute Halloween invitations are perfect for any Halloween party. Simple to print at home or at your favorite printing shop. You will receive a digital file.
Send them out and let your friends know you are going to have a bash.
29. Wicked Fun Invites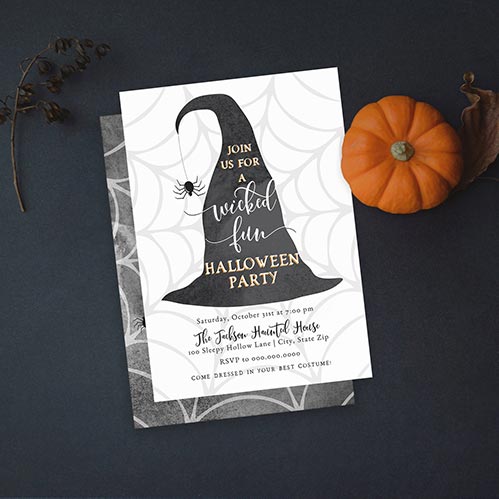 You can edit 100% of the text on this Witch Hat Halloween invitation. Upon payment, you will receive instructions on how to download your PDF file. Take the file to your favorite print shop or print at home.
Invite everyone to your Wickedly Fun Halloween Party.
30. Magical Time Halloween Invitation Card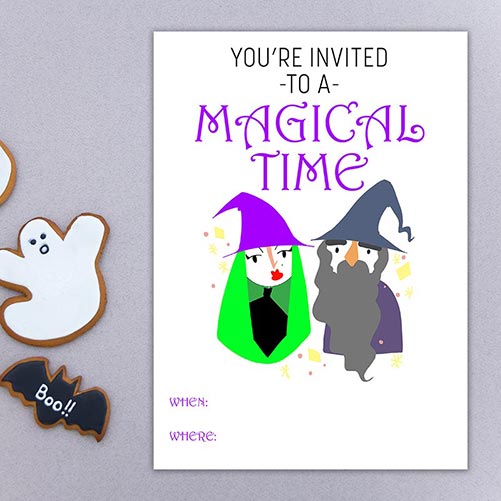 Make it a magically enjoyable party. Download and print at home or your favorite print shop.
This adorable party invitation is just right for that special party – make sure to include all of your witch and wizard friends to have the best time ever.
Our Favorite Halloween Costumes
Ultimately, costumes are what Halloween parties are all about! Show off you creepy, crazy, or creative side with one of these costumes, whether it's for yourself or for your kids.
After all, if you're going to host, your costume should be the most…. well…. whatever it is, be the most of it!
31. Halloween Cat
Nothing is cuter than a kitten – unless it's your little girl dressed up like a kitten!
A cute little costume that is sure to bring smiles to everyone she "Trick or Treats."
32. Witches
The officially licensed Wizard of Oz Wicked Witch costume dress and hat. The details of this costume are wonderful with its green collar, cape, and flying monkeys at the hemline.
You're going to be the life of the party! Unless you melt, of course. That would be a bummer.
33. Charlie Brown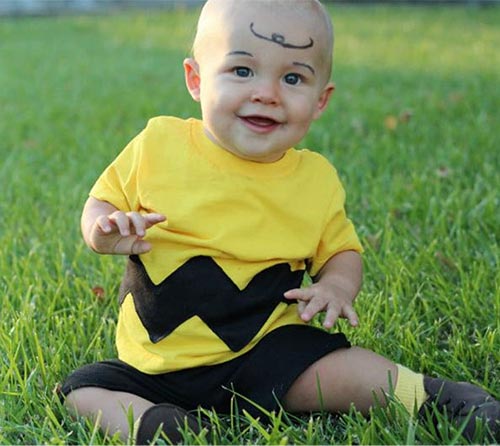 Lookout Great Pumpkin, here comes Charlie Brown. In this adorable cotton t-shirt, your little one will feel cool and comfy on his big night of trick-or-treating. Pair his shirt with some black shorts and he's ready for the party.
34. Ghostbusters
Who ya gonna call? That's right, Ghostbusters!
You can save the world by capturing all of the ghosts and ghouls in this classic Ghostbusters costume. Great for a themed party or taking the kids out house to house.
With the four included nametags, you can choose which ghostbuster you want to portray; Winston Zeddemore, Peter Venkman, Ray Stantz, or Egon Spengler.
35. Glow in the Dark Skeleton
A glow-in-the-dark skeleton costume is perfect for any Halloween get-together or to take the kids out trick-or-treating. This one-piece outfit is comfortable and form-fitting
The skeleton is white during the day and ghostly green in the dark.
36. Frankenstein and Bride
Frankenstein and his bride – the cutest couple at the party. The monster headpiece comes with neck bolts to add more realism to your costume. Made of soft latex for a comfortable fit.
The bride's dress is white and made from comfortable polyester.
Wear it for a party or to answer your door and scare those trick-or-treaters right off of your front porch.
37. DIY Farmer Costume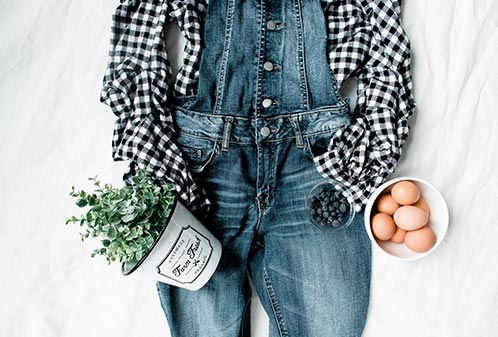 A fun and easy costume – all you need are overalls and a plaid shirt. Don't forget a silly prop like a farm stuffed animal, a John Deer hat, a handkerchief out of the back pocket, or a straw in your mouth.
38. Daphne – Scooby Doo
When you dress up in this Daphne costume, you'll look just like the member of Mystery Inc. The costume perfectly captures the style of the animated character's getup, complete with a purple pullover dress with lilac accents, a headband, and a neck scarf.
Bonus: The jersey-knit costume is actually really comfy to wear.
39. Condiment Pets Costume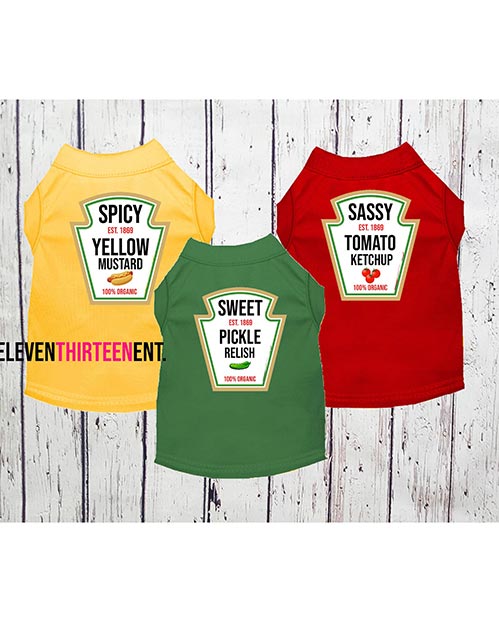 A super sweet idea for your fur babies. Everyone loves condiments so why not show them how cute your babies are? Take all three matching outfits: ketchup, relish, and mustard. Perfect for cats or dogs.
40. Mario Brother
The Mario Brothers are an all-time favorite Nintendo video game. This costume includes a jumpsuit with a padded belly, hat, pair of gloves, and faux mustache. Great for kids and adults that will be at the Halloween parties.
41. Baby Pumpkin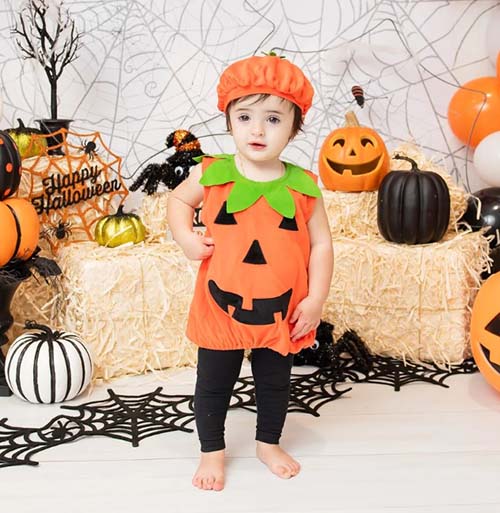 Our hearts just melt for this one, and so will all your friends and family. After all, what could be more fitting for your little pumpkin than, well, a little pumpkin!
Handmade from quality cottons, this one-piece costume is easy-on, easy-off for a no hassle Halloween.
42. Mummies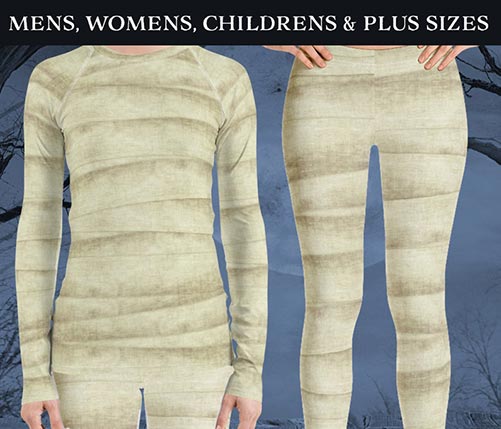 Choose from two colors – ancient linen or gray linen – and numerous sizes to create a family of mummies. An amusing way to attend a neighborhood party, or hand out candy to the goblins and ghouls that come to your home.
43. Super Hero
You can be Mrs. Incredible (AKA Elastigirl) and fight evil by being a superhero. And you know, there will be lots of evil out and about on Halloween.
No one will ever guess that your costume wasn't designed by Edna herself.
Elastigirl is a strong woman because being a mom is superhero enough!
44. Clown
A silly clown costume is always a hit. This clown jumpsuit features mixed multi-colored prints of stripes and spots. Also a ruffled collar and ruffled sleeves with pom-pom buttons.
This is a wonderful costume for Halloween parties or kids' birthday parties. You'll be sure to bring a smile to everyone's face.
45. DIY: Decade Costume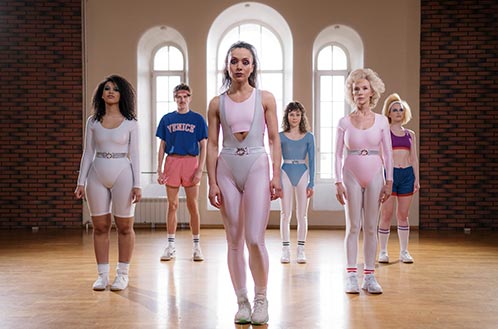 All you need are a few popular items from your favorite decade. From big bell-bottom jeans and peace signs to bright neon and workout leg warmers
If you like the 50's, 60's, 70's, and beyond, just look up some pictures, and make it happen. Find the right shoes, jewelry, hair fobs, and more. Do a google search and a bit of shopping and you will find the perfect "era" costume.
Related: Cosplayer Gift Guide
All Hallows Eve Quotes
46. October was always the least dependable of months … full of ghosts and shadows. -Joy Fielding
47. It's as much fun to scare as to be scared. -Vincent Price
48. Darkness falls across the land, The midnight hour is close at hand. -Rodney Lynn Temperton
49. Trick or Treat! -Every kid everywhere.
50. If human beings had genuine courage, they'd wear their costumes every day of the year, not just on Halloween. -Douglas Coupland
With Halloween right around the corner, we are sure you were able to find something on our list to help you out. Have a great time celebrating with your friends and family. Happy Halloween!
Read Next: Spooky History of Halloween (& How to Celebrate it)