When it comes time to pick a gift concept for your favorite Dungeon Master's birthday (or anniversary, or house warming, etc.), well, that part is easy enough. Something to do with Dungeons & Dragons, naturally!
But where can you find the best loot? We've done the hard work for you, so all you have to do is scroll along and find the oh-so perfectly perfect gifts for dungeon masters.
Or maybe you are the Dungeon Master and you want to treat yourself to a little something-something? Ain't nothing wrong with that! Here are thirty epic gifts to inspire some fabulous adventures for you and your favorite dnd player.
Best Gifts for Dungeon Masters
These are our favorite picks of gifts for dungeon masters for your daring D&D masters (or mistresses)!
From beautiful books to completely customized dice trays, we've got a bit of everything below.
Our website is supported by our users. We sometimes earn a commission when you click through the affiliate links on our website. See our privacy policy & disclosures for more information.
1. Guess I'll Die Shirt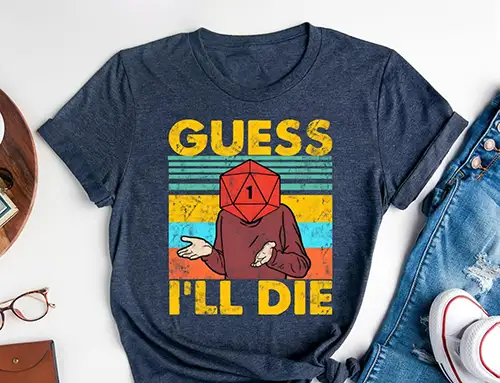 We've all said it — might as well get the t-shirt! This hilarious shirt will get you plenty of knowing nods and chuckles when you wear it out.
What are we saying? Next time you wear it in at your next D&D game. Your friends will be so jealous.
2. DnD Art & Arcana: Visual History
Talk about the best coffee table book ever! This gorgeous book is a compilation of knowledge and beauty that no D&D fan will be able to look away from.
A great gift idea for a dungeon master, or a great raffle prize for the next big game winner.
3. Wooden Dice Holder Coasters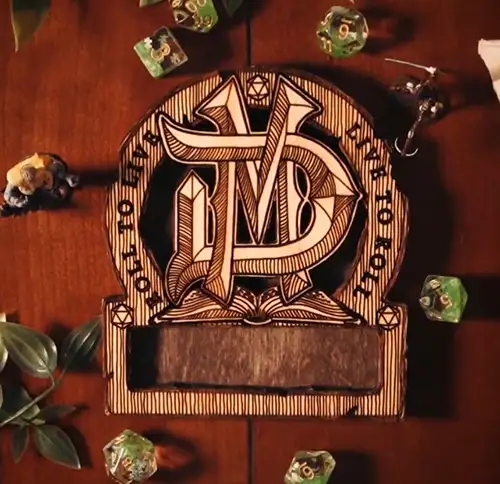 Meticulously crafted by hand, these stunning wooden dice holders double as a coaster! Stay hydrated and sit pretty while you and your dragons players play late into the night with a set of these.
So beautifully made, they add art and practicality to your gaming table.
4. Dungeon Master Planning Journal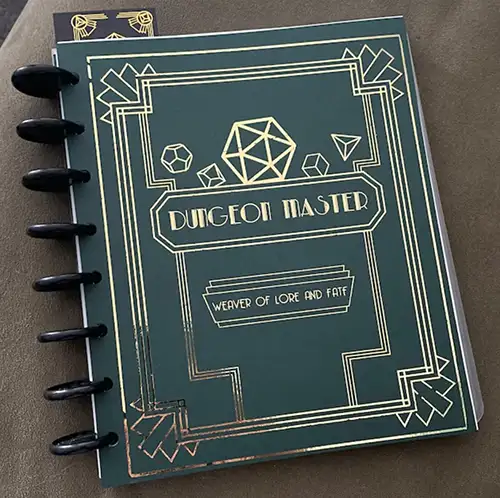 The best Dungeon Masters aren't born, they're made! Get all of your strategies and planning organized with this great journal.
All of your ideas — plans, maps, past, present, and future— all in one beautifully put together journal. It's a great way to stay on top of the game, and we love it!
5. D&D Inspired Candles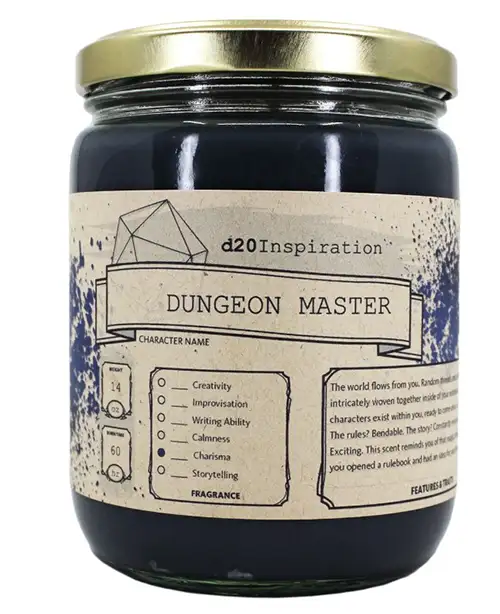 Now here's one you won't find in your local game store! Lighting this up during your next game of dungeons & dragons is the way to go.
This candle looks amazing and smells great, and its long burn time means you'll still have wistful candlelight in those wee small hours of the morning (because we all know you'll still be playing).
6. Dungeons & Dragons Dungeon Mayhem
Prepare for mayhem with this great new boxed set of Dungeons and Dragons monsters! Get ready to have a blast pitting these classic monsters against one another, and level up to a higher realm of fun.
Comes with six decks and a new set of multi-player rules so everyone can be included. A great addition to anyone's collection.
7. Props for Their Characters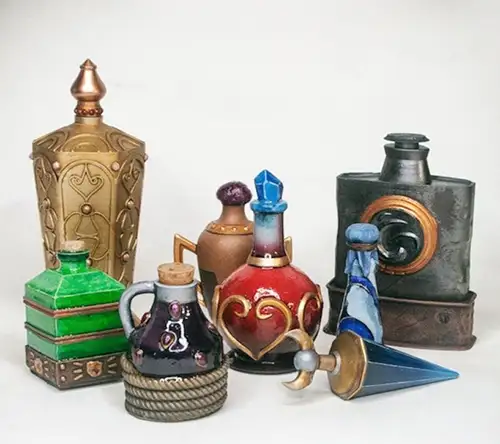 What's more fun than playing Dungeons and Dragons? Playing Dungeons and Dragons dressed as your favorite character, that's what!
These props are a perfect fit for your player's character and will bring an extra layer of authenticity and in-character fun to your game.
Want more ideas? Check out this Etsy Shop for even more fun props.
8. Other Games to Play
Most people play D&D for a few (or many) hours at a time, and love playing other games in between, right? Enter in these great other games to get addicted to!
Super fun and fresh, these board games are clever and time-consuming, but in the very best way. They'll breathe new life into your D&D game nights for sure!
9. D&D Class Tea Samplers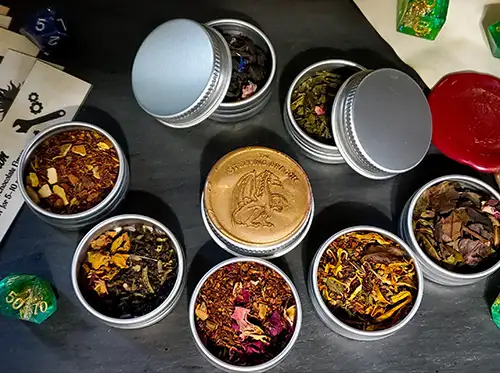 These great D&D class tea samplers make the best dungeon master gifts! They are so yummy and fragrant, but the best part is the tins they come in.
You can even personalize them, making an already amazing gift absolutely perfect. Great for chilly winter nights playing by the fire when you run out of ale.
Related: Best Gifts for Tea Lovers
10. Engraved Board of Cutting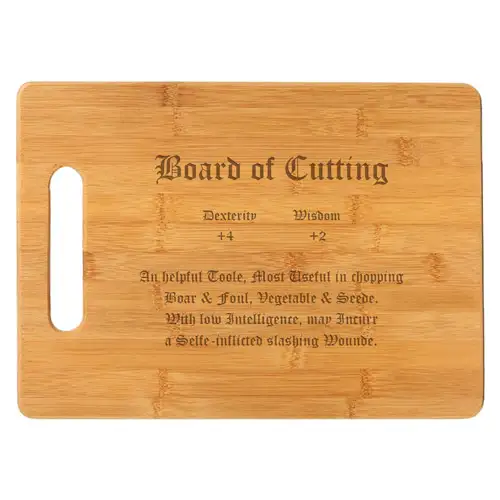 How's this for an engraving on a personalized cutting board: "Board of Cutting. Dexterity +4 Wisdom +2." We love it, and we think they will, too!
This bamboo cutting board is definitely going to come in handy on game night. It's a great idea for bringing snacks to the table, or using it as a coaster for all of your drinks.
Dungeon Masters' Dice Accessories & Sundries
When it come to gifts for dungeon masters, there's no such thing as "too much, "too eccentric," or "too over the top."
We really love these gifts that are just the right amount of extra, and think they will, too!
11. Custom DnD Dice Tray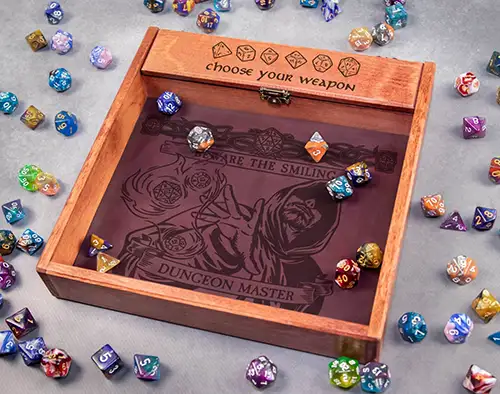 Need a good dice tray? How about this one?
This custom Dungeons and Dragons dice tray comes with tons of options for personalization (neat colors and unique designs) so you can fiddle and overthink all you want until you have the flawless dice tray of your dreams!
12. The Dice Giveth & The Dice Taketh Away Tumbler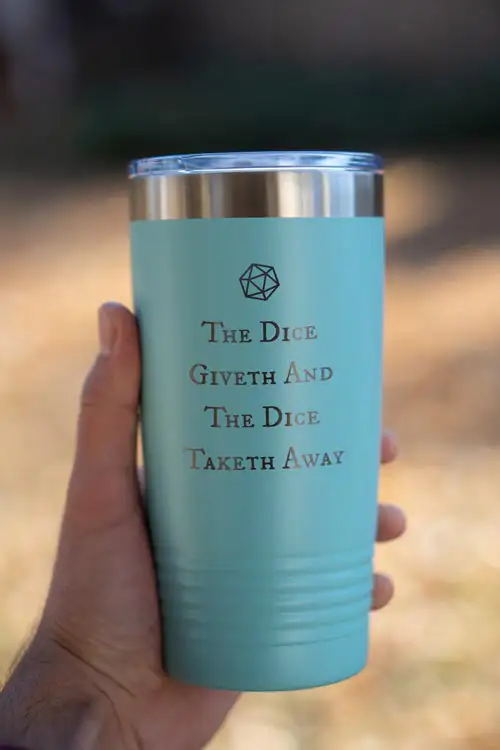 Ah, so true, isn't it? This awesome tumbler will make everyone nod in solidarity, chuckle, and keep them hydrated all at the same time!
The vacuum seal means it will keep your beverage at the perfect temperature, no matter how long the game takes to end (and you know it will be a while). Pick your own color, too! A great practical gift for your favorite DM.
13. Metal DnD Dice Set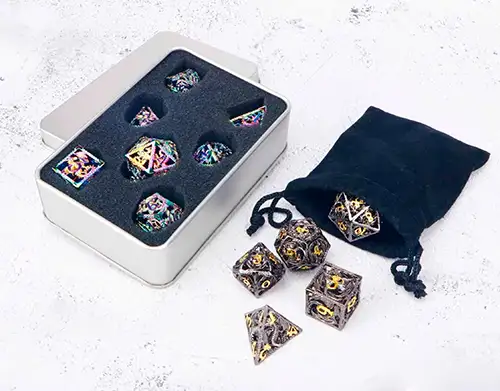 So stunning to look at — and even better to roll and play with — these will quickly become one of their top sets of dice.
These metal dice look positively made for the game, and that's because they are. Handsome and well-crafted to withstand years and years of firelight fables, the only difficult part is deciding how many sets to purchase!
14. LED Dice Tower
Who in the world wants to just roll the dice when you can toss them into this amazing LED dice tower and watch them tumble out of the dragon's mouth?
Add some ominous mood lighting with the LED option (comes with remote), and you have yourself the most epic game of adventuring yet! They really have come up with some pretty amazing things, haven't they?
15. Dice Sword Wall Decor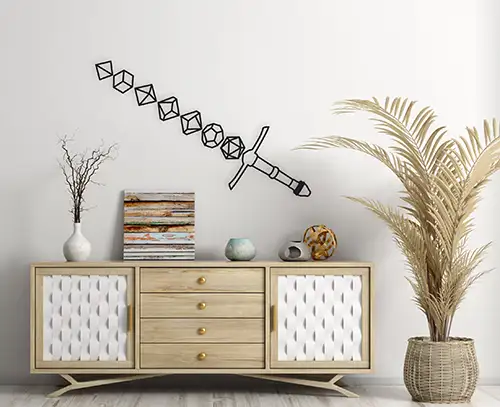 A totally rad gift for your gaming friends (especially if it's a house-warming party), this dice sword wall decor is an instant upgrade for their living room.
It draws the eye with its cheeky nod to D&D, and will stand out amongst all of their other collections as an absolute favorite.
Related: Housewarming Gift Guide
16. Extra Large Dice Bag
Just how many dice can this very large bag hold? Over 250, that's how many! This bag will be a total life-saver when it comes to keeping organized, and you never have to ask yourself "Do I have room for more dice?" ever again!
A great gift for the Dungeon Master — it will make them grin ear to ear.
17. Glowing Dice with Charging Box
Take game night to a whole new level with this awesome glowing dice set! They are easy to recharge and make even the dimmest living room brighten up with fun and color.
Nice and easy to read, too! This set is a must-have for any Dungeon Master, no matter the age.
18. Liquid Core Dice Set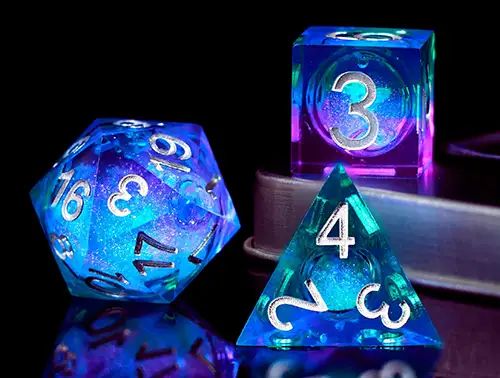 Most players have their own dice but it's always fun to get really unique sets, like this liquid core set! It's a full dice set of polyhedral dice that will blow others out of the water.
You can pick whichever rad color you like best, plus you get to decide between a bag or a tray. After all, you can never have enough dice.
19. Custom DnD Dice Candle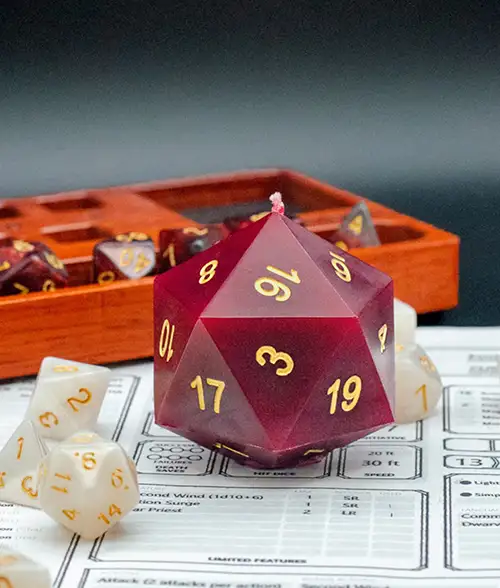 Talk about adding some ambiance to the next game night! This awesome custom D&D dice candle will bring some atmospheric fun to your table.
You pick the color, scent, number paint, and even add a D20 die inside. A super great personalized gift for any DnD fan.
20. Dice Set Locket
Choose from a locket or a keychain and keep your lucky set of dice with you at all times. You know, in case of a Dungeons and Dragons game emergency — you know anything is possible!
These fun mini dice sets are a must-have for all the players in your life.
Essential Gifts for Dungeon Masters
Because there's just some things they've gotta have, ya know? The essentials. That's exactly what the below gifts for dungeon masters are.
21. Dungeons & Dragons Core Rulebook Set
It's practically not even an option to add one of these great rulebooks to your cart, especially since they're a pretty essential tool! Having them on hand is totally a game-changer, too.
Buy them all if you're a Dungeon Master or have a DM friend:
22. DnD Character Sheets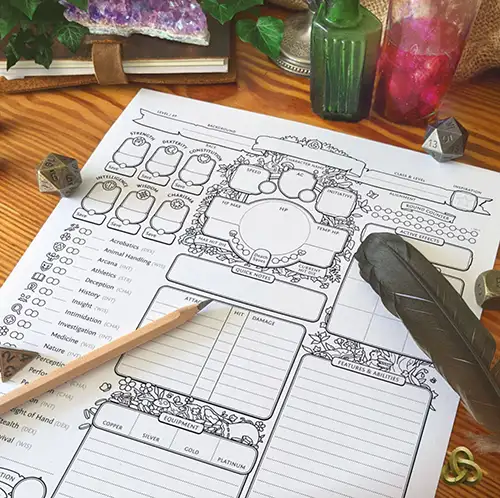 This download is so clear and precise and simple, every player will want one! The original art is just a dream, and you're going to want a whole stack for all of your favorite characters.
And the great thing is you can color them to your heart's content to make them pop even more.
23. Fun Candy Subscription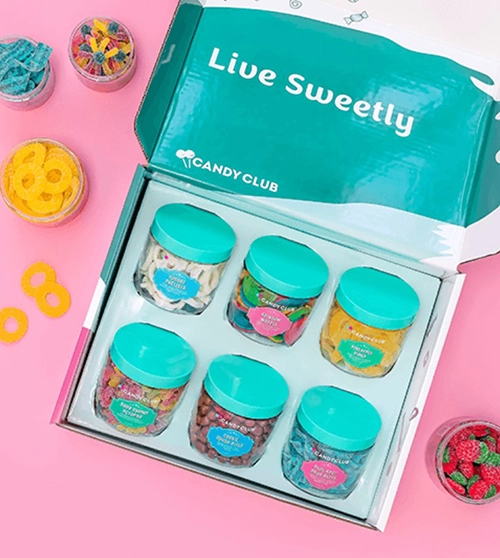 Gamers get hungry, you know! This fun monthly snack subscription will be a hit when it's your turn to host game night.
Everyone can find their fave munchables and you don't even need to stop the game — just pass the box around.
24. Cute Sweatshirt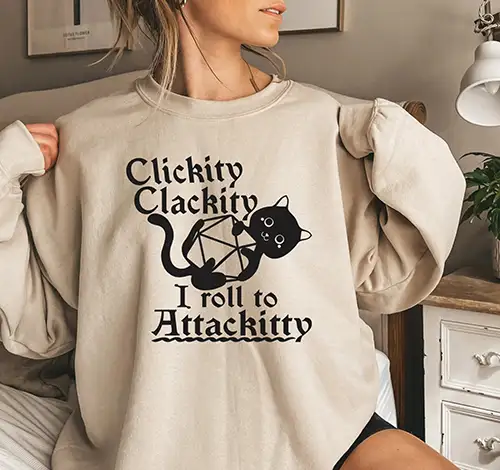 With a retro feel and vibe, plus a bunch of different colors to choose from, this sweatshirt is the cat's meow (or like, the dragon's roar)!
Gamers of all shapes and sizes will love to live in this cozy top, and wearing it out is fun, too — you'll be able to tell who loves D&D as much as you do!
25. Character Miniatures
Just like the tabletop terrain screen, these will help bring the game to life and keep track of your characters and monsters!
A fusion of super cool and adorable, these miniatures add an extra element of immersion to your game night with your fellow players. Want more monster varieties? Try Monster miniatures.
26. Sword Initiative Tracker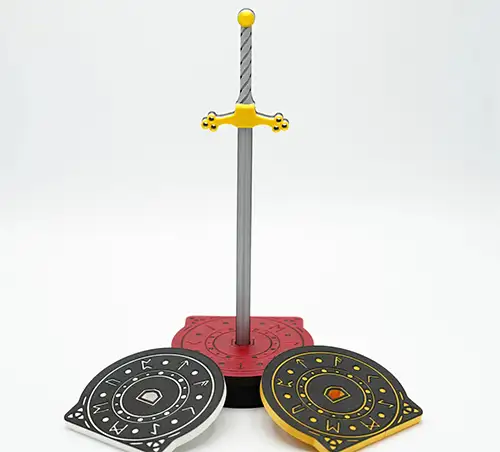 Put names or pictures in these sword initiative trackers to keep track at game night! So cute and clever, they add some more color and fun to your table, not to mention the practicality and functionality.
27. Personalized DM Screen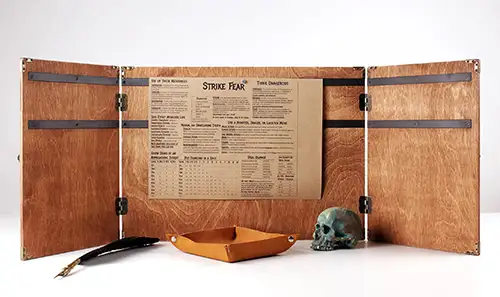 Choose from Dark Walnut, Walnut, White Birch, Kona, or Black, when you're customizing this great personalized dungeon master's screen!
You can even add gift wrapping. We call that an easy pick for a Dungeon Master's birthday gift!
28. Dungeon Masters Cheat Sheet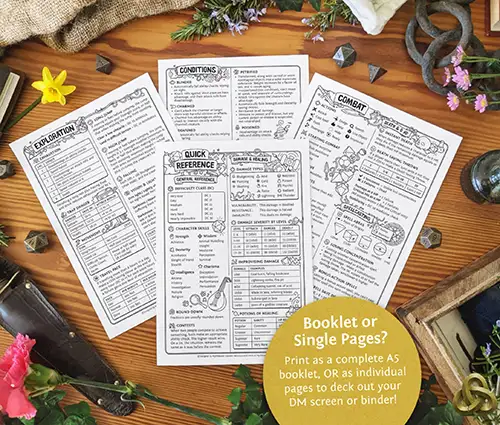 Stay organized with this PDF dungeon master's cheat sheet. Create and play a game with ease like never before when you have this essential reference at your fingertips.
All your gaming friends will want to know where you found it, so be sure to bookmark this site and share it on your online platform!
29. DnD Campaign Journals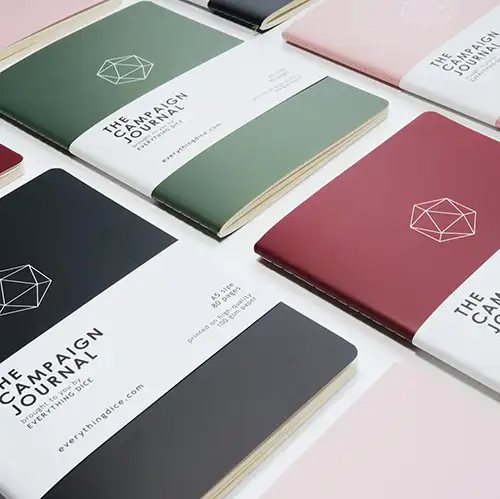 This stylish notebook has 80 pages of recycled paper, and you get to pick from a wide variety of colors!
So helpful when planning your epic campaign, you're going to want to purchase more than one of this extra sleek, beautiful book!
30. Tabletop D&D Terrain Screen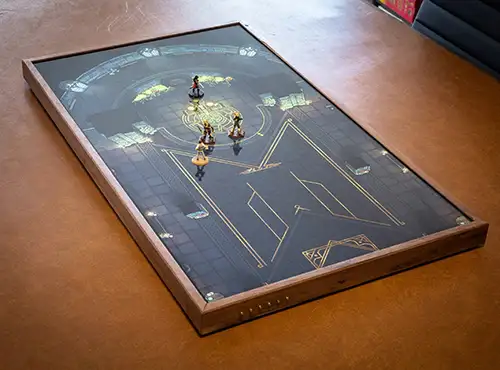 Having terrain tiles, battle maps, drawings, reference material, etc. of the world you've built just really helps to bring the game alive. They keep your players interested, involved, and help everyone remember where they left off.
Well, this is a digital version of that epic idea! It's good news for them and you, and makes the experience that much more immersive.
Want a more DIY version to really customize and strategize? How about if you build your own?
Read Next: The Best Gifts for Video Gamers