We've had an epiphany — not enough people know how to celebrate Epiphany! Or even know what it is in some cases…
While the day of Epiphany, or Three Kings Day, is very well known and celebrated in many corners of the world, here in the West it is often overlooked. Or, by the time we finish up New Year's festivities we're too pooped to host another celebration.
Epiphany is a wonderful holiday, though, full of deep meaning and steeped in centuries of Christian tradition. It doesn't have to be a grandiose party so much as a time for family, faith and reflection on the beauty of the day's significance.
Much like Christmas, Epiphany is often celebrated with the exchange of gifts or small tokens to mirror the gifts presented to the infant Christ by the three kings. Themed gifts and traditions abound, but in case you need some insight or would like some fresh ideas on how to best share Epiphany with your family, we've gathered 21+ best Epiphany gifts and ideas for you here. Let's jump into it!
What Is Epiphany?
Epiphany, also known to some as "Theophany" or "Three Kings Day," is the third oldest Christian holiday celebrating the appearance of Christ to the gentiles, or non-Jews. The gentiles in this instance were represented by the Magi, the three kings of the Orient, who came to worship the Christ child after seeing his star appear in the night sky.
Its significance rests in the assurance that the Messiah came for — and deserves to be worshiped by — all people regardless of race, national origin, or language.
When is Epiphany?
While there are some slight differences between the Eastern and Western Church, Epiphany is celebrated on either January 6th or 19th, and has been since around the 4th century A.D.
Epiphany and the 12 days of Christmas
The span of time between December 25th and January 6th is called the "12 Days of Christmas" and the evening before is referred to as the "Twelfth Night." These twelve days are said to represent the journey of the Magi to see the newborn Christ as — contrary to the modern nativity scene — the three kings were not actually present at the stable in Bethlehem.
Is Epiphany the same as Three Kings Day?
The only marked difference between Three Kings Day and Epiphany is that Three Kings Day is generally only celebrated for a single day (the final day of their "12 day" journey), whereas Epiphany encompasses the entire journey and can be celebrated for days and even weeks in some cultures. Now with that in mind, let's jump into our best epiphany gifts and ideas!
Best Epiphany Gifts and Ideas
Our website is supported by our users. We sometimes earn a commission when you click through the affiliate links on our website. See our privacy policy & disclosures for more information.
A Liturgy of Seasons: Epiphany Family Devotions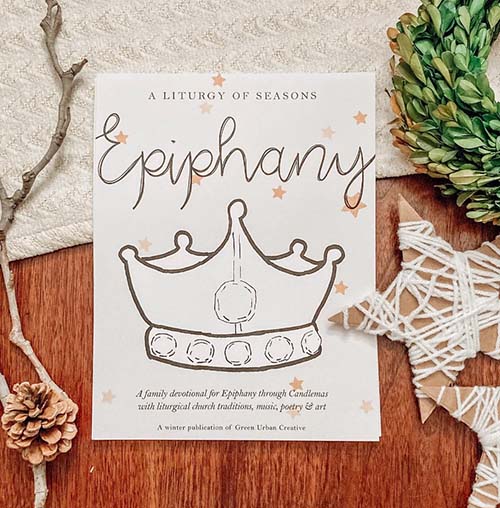 This beautiful devotional/activity book is perfect for the whole family for the days leading up to Epiphany. Full of meaningful passages, poetry, art and more surrounding Epiphany as both a religious and historical event. This 68-page devotional covers up to four weeks of family gatherings!
Available as a digital download for ease and convenience.
Journey of the Magi Epiphany Pendant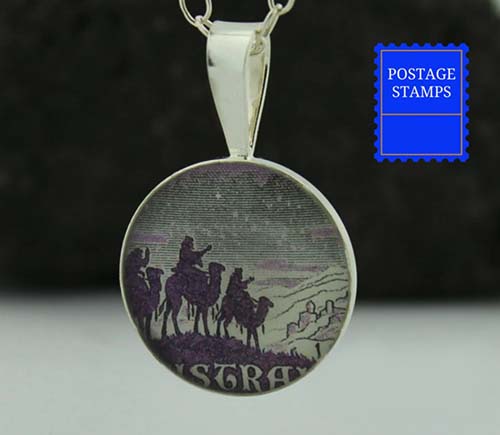 This beautiful Epiphany pendant is just so stunning. Made of silver and a genuine, vintage Australian stamp, the wise men are front and center on this handmade piece. Wear it during Epiphany season, or all throughout the holidays! This is sure to become a treasured piece for years to come.
Traditional Galette Des Rois French King Cake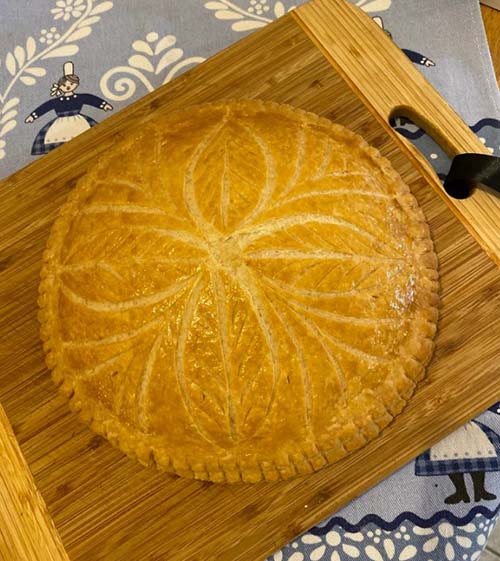 The "Galette Des Rois" or "King's Cake" in French, dates alllllll the way back to the thirteenth century, believe it or not! Now that's some old cake.
This delectable example is handmade with love and care to replicate the artisanal cakes of the past that the French have become so very famous for.
Making Window Stars
Waldorf window stars are a fun, easy project for you and your little ones (or big kids) to make together! These festive displays can be made of a variety of easily available craft papers and supplies, and in abundance, too, to decorate as many windows as you like.
We just love how colorful and eye-catching they are.
Frankincense and Myrrh Scented Candle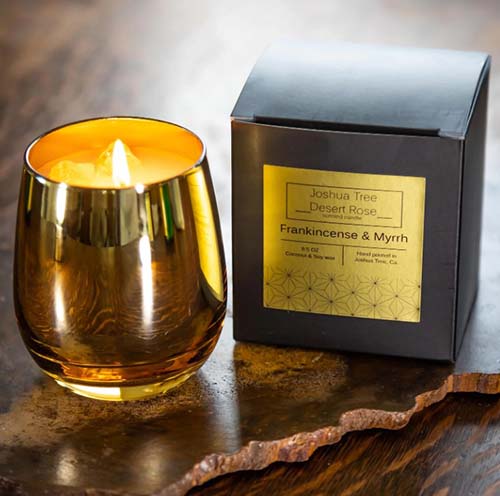 Make your home smell oh-so inviting for everyone this Epiphany season— even the wise men! This beautiful candle from Joshua Tree Desert Rose will fill the air with an almost divine aroma of Frankincense and Myrrh, two of the precious gifts originally presented to Christ by the Magi. 
The candle vessel is equally as magical and will perfectly accent your holiday decor.
Willow Tree Three Wise Men
These Three Wise Men from Willow Tree are so pretty you may want to leave them up all year! No judgment whatsoever if you decide to do so. I would, too.
Beautifully crafted as always, these Willow Tree figures have that special something about them that just speaks of peace, beauty, and grace — all very befitting of kings of the Orient. A perfect addition to any collection of meaningful, seasonal decor.
Make an Epiphany Music Playlist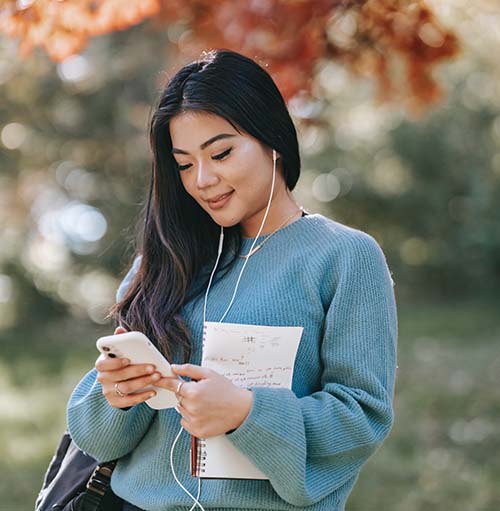 Music has a way of preparing our minds and hearts for a celebration unlike anything else. You can build your own playlist of Epiphany relevant songs, or find one online that is already set for you! Here's some suggestions to get you started:
Kings of the Orient Historic Art Print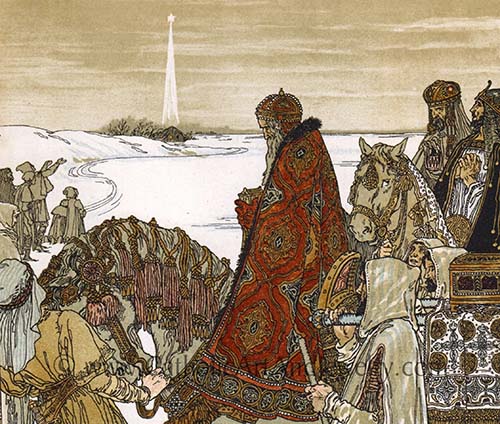 This historic art print, originally by famed Austrian artist Heinrich Lefler, beautifully portrays the wise men in the midst of their journey. Illustrated in a graphic, art nouveau style, this gorgeous piece will make a wonderful focal point for your home during Epiphany season.
Frankincense Natural Soaps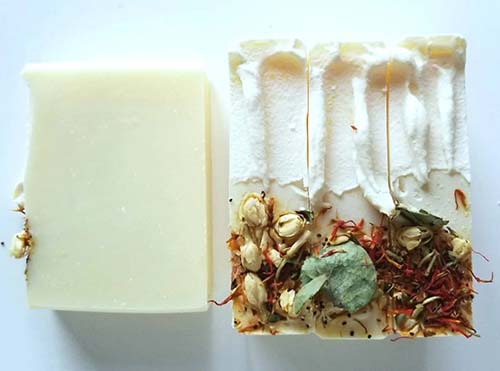 These fantastic, natural soaps would make great "shoe stuffers" for the eve of the Twelfth Night! Lovingly crafted by hand, they are composed of 100% natural ingredients and scented with pure Frankincense essential oils.
Each bar is beautifully decorated, too, so they look as nice as they smell!
Original Gifts Set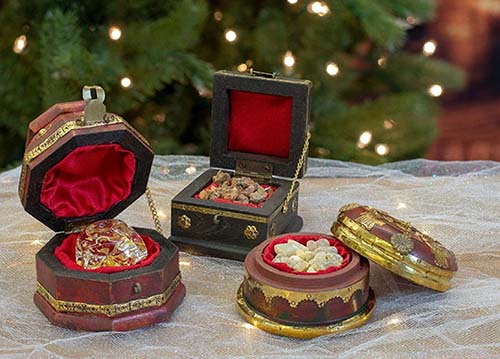 How better to celebrate the original bearers of the gold, frankincense and myrrh than with… gold, frankincense and myrrh? This original gift set is just so cool! Genuine samples of each of the precious gifts given by the Magi are presented in handcrafted boxes that stay true to the spirit of their ancient predecessors.
The Myrrh and Frankincense even originate from the regions where the kings are said to have come from! This definitely scores a top spot on our list for best Epiphany gifts and ideas.
Best Three Kings Day Gifts & Ideas
Three Wise Kings Wooden Display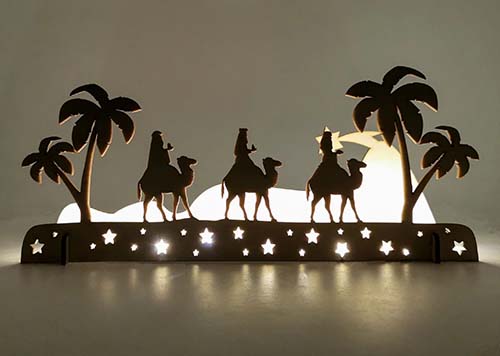 How neat is this carved, wooden display? Add a touch of rustic charm to your home with this delightful sign. The three journeying kings will look just lovely with tea lights or twinkle lights to make them shine in the darkness, or maybe with a little spotlight of their very own! They definitely deserve one.
Wise Men Silver Ornament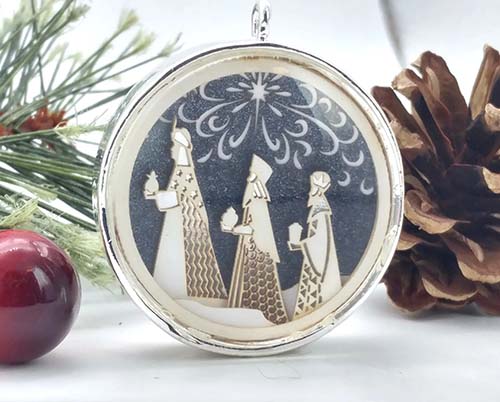 This little ornament may be small, but what it lacks in size it makes up for in beauty and charm. Intricately crafted with layers of laser cut paper, glass, and silver, the figures create a three-dimensional scene in miniature form. Each piece is truly a piece of art, and quite possibly my favorite on our list of best epiphany gifts and ideas.
Host A Twelfth Night Dinner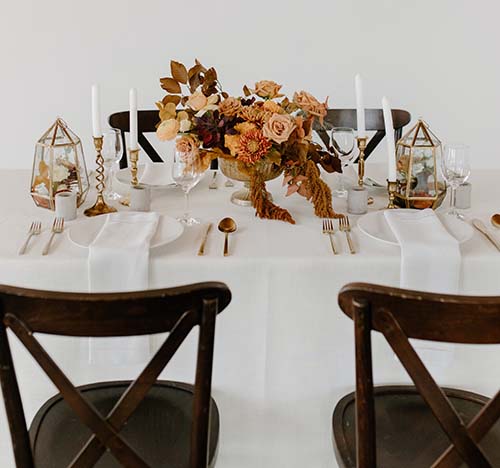 Nothing says family and faith quite like feasting! You can keep this occasion private and intimate with just your immediate family, or you could invite all the grandparents, aunties, uncles, cousins, Buddy and Sally from across the street… you get the idea. But it's totally up to you. Fire up that stove one last time this holiday season, and host a meal fit for a king… or three!
King's Day Feast Table Runner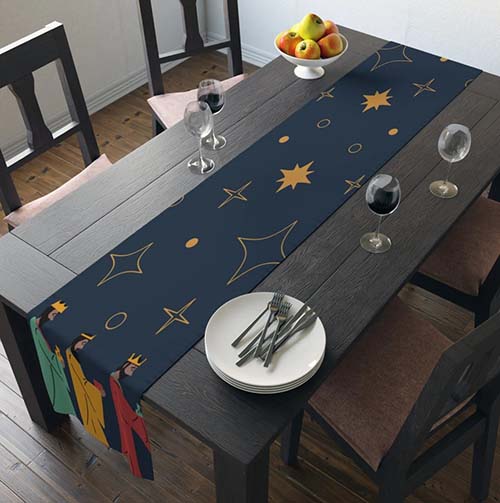 Set the scene for your Twelfth Night feast with this fun and festive table runner. Nothing can add that special touch to a family celebration quite like beautiful table decor, and this lovely runner makes a perfect base for all of your prettiest table dressings.
Kings Day Coffee Mug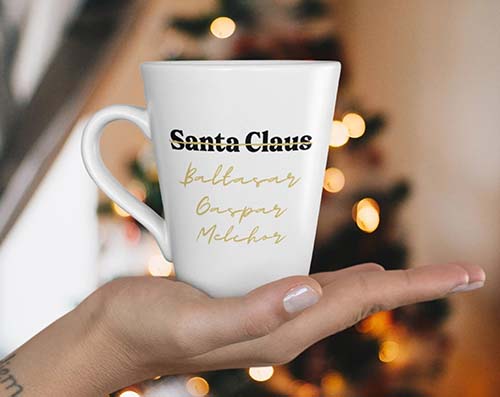 Forget Santa Claus, we know who the real gift bearers are every Christmas season! No, silly mom and dad, it's not you — it's definitely Caspar, Melchor, and Balthazar, the three kings! This fun and comical cup will show off your affinity for the magi with each and every mug of tea, cocoa or coffee.
Epiphany Wise Men T-Shirt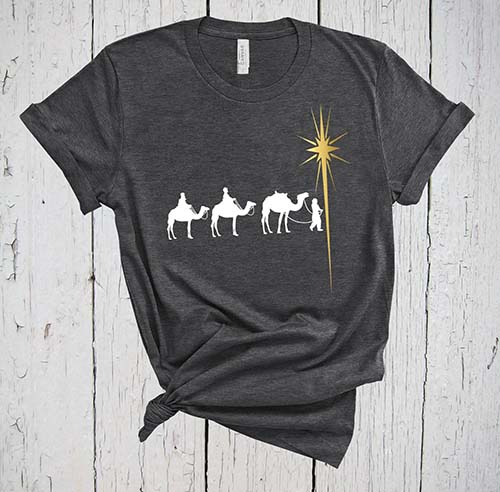 A fantastic addition to your holiday-themed wardrobe! Save if for the eve of the Twelfth Night, or don it all season long!
This cute, cozy shirt is sure to serve you well with its tasteful design and versatile colors. Available in tons of styles and sizes to accommodate the entire family!
Make TP Kings Crowns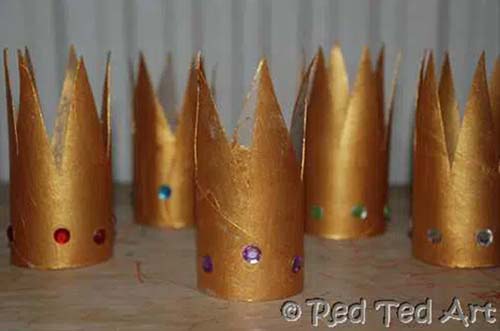 These adorable, paper roll crowns are so fun and super easy to make! Decorate these delightful diadems any way you like, and watch little faces light up as these ordinary TP holders transform into glittering decorations.
Related: Christ-Centered Christmas Traditions for Children
Bake Your Own Kings Cake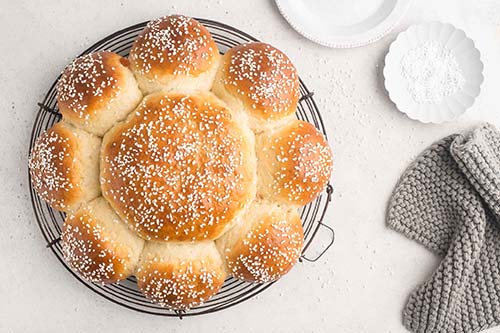 Fire up that oven and bake a delicious King's cake of your very own! There are so many variations of this traditional treat — like more than you can shake a stick at — but this one from Eat, Little Bird is just so cute and looks simply scrumptious.
The Chalk Tradition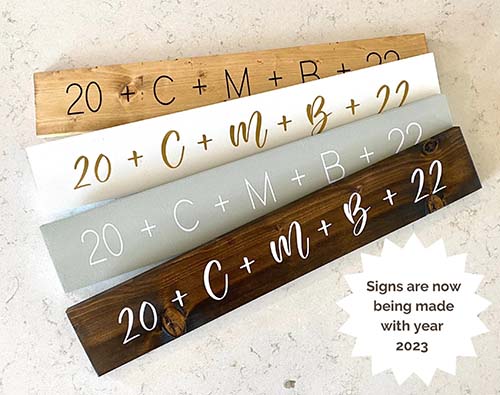 On the eve of the twelfth night, throughout the world, family doorposts and lintels will be marked in chalk with something that looks kind of like this — 20 + C + M + B + 22. Any guesses? No? Totally okay, I didn't know either.
So this is actually a blessing upon the household! It's comprised of the year (in our case 2022) sandwiched around the letters C, M, and B, representing the names of the wisemen — Caspar, Melchoir, and Belthazar — as well as the Latin phrase "Christus Mansionem Benedicat" or "Christ bless this dwelling." Pretty neat, huh?
Want your home blessing to last all year and not wash off in the elements? Try this more permanent option!
Three Kings Handmade Ornaments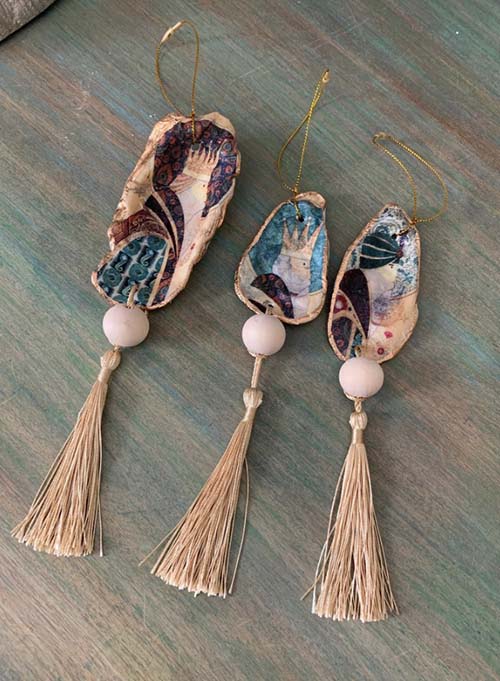 These gorgeous Three Kings Ornaments are little works of art! Crafted from humble oyster shells, they are individually painted, gilt, and varnished to create timeless and beautiful decor for your Christmas or Epiphany tree. They can just as easily be hung from a mantle or in a window, as well!
Other Ways to Celebrate Epiphany or Three Kings Day
Jump In the Frigid Water Like the Russians! … If You're Brave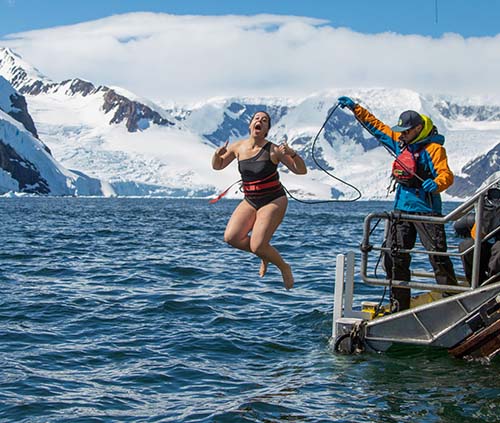 You can find folks celebrating Epiphany in many, many fun and exciting ways around the world, but this one is not for the faint of heart!
In Russia, Epiphany touches on three separate points of Christ's revelation to mankind, including His baptism. Because of this, church leaders "bless the waters" of a nearby river or stream, and whoever is able to withstand the frigid H2O will be blessed for the coming year.
Light Candles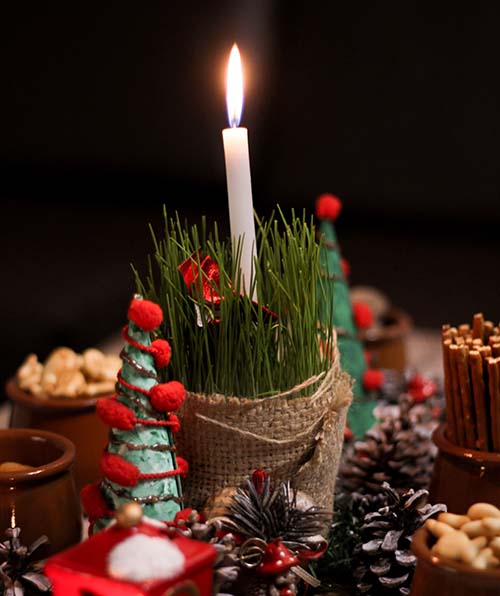 Lighting candles in the church sanctuary or even in the privacy of your own home is a longstanding King's Day tradition. The candles represent the guiding light of the star that the Magi followed on their long and perilous journey.
Leave Your Shoes Out! And Don't Forget to Polish Them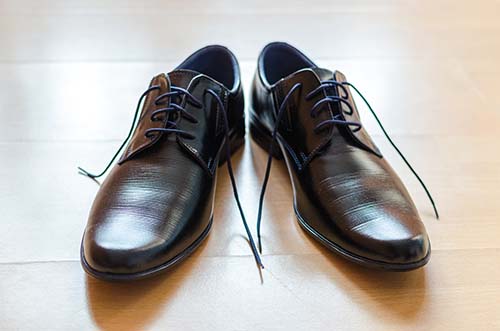 In many European countries, children leave their polished shoes out on the eve of the Twelfth Night, hoping that the wise men will leave small tokens or gifts for them too. The brighter the polish, the better your chances!
Celebrate "Women's Christmas"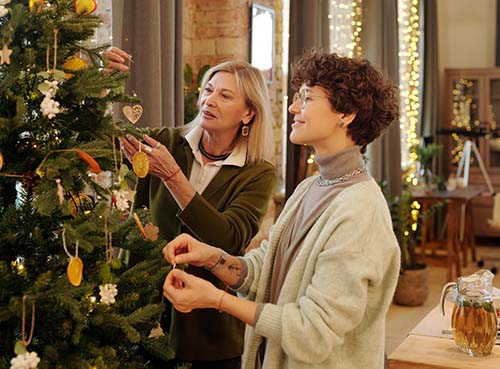 Celebrating "Little Christmas" or "Women's Christmas" on Epiphany each year is the custom in Ireland! Marking this fun celebration most often are events like women having the day off from work, and the menfolk doing the cooking and cleaning while the ladies enjoy a party of their own.
Read Shakespeare's The Twelfth Night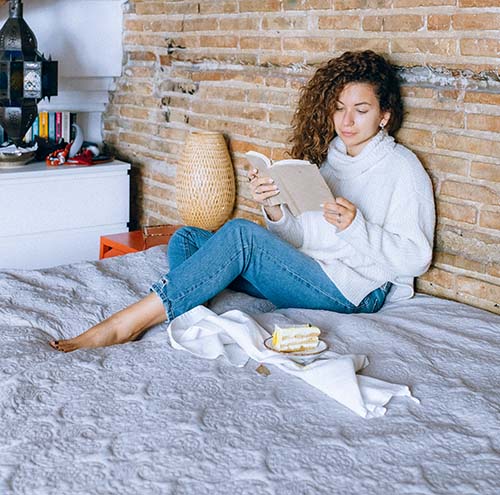 Okay, so while the events of the play don't exactly correlate to the holiday itself, there is little debate to the fact that Shakespeare did name one of his most famous works after the King's Day celebration.
In Renaissance England, the Twelfth Night celebrations were known to be, well, a little chaotic; where normal social conventions were turned on their heads for the sake of innocent foolery and general merriment. Servants and masters celebrated side by side without much order to be had, an occurrence mirrored throughout this comedic romp the world has come to know and love — The Twelfth Night.
Read Next: Meaningful Christmas Traditions