Here's our unboxing and review of the Flower of the Month Club from Amazing Clubs.
First, you should know that I received a flower delivery from Amazing Clubs as a free sample, and I may receive a commission (at no cost to you) if you decide to purchase after reading my review. See our full disclosure page here.
What is the Flower of the Month Club?
Here's an idea: Instead of birthday flowers, give a gift that keeps on giving.
Instead of Mother's Day flowers that are gone by the end of May, send an automatic refresher each month.
Sympathy flowers are gone soon after the funeral, but the grief is still there. Wouldn't they appreciate a flower delivery six months – or a year – from now?
That's what the Flower of the Month Club does. Instead of one bouquet, it's a new, fresh, different arrangement each month. It's a great way to celebrate someone special, all year long.
But is this flower delivery subscription box any good? Let's check it out.
First we'll show you the unboxing process, then provide our review below.
Flower of the Month Club Unboxing
This is the box I received.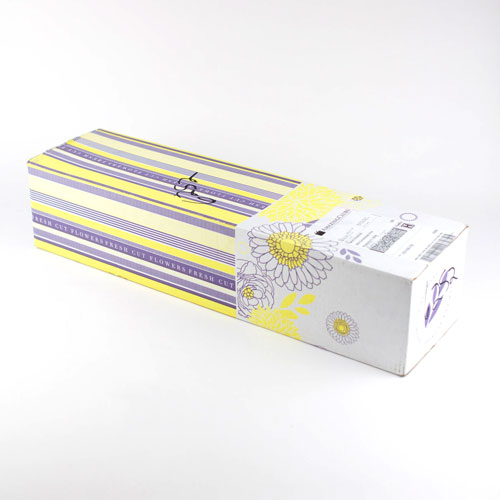 It's pretty cute, and you can tell what is inside. I wanted to open it right away, so I pulled out my photography stuff and started snapping pictures.
Then, I opened the box:
Inside you can see the cellophane-wrapped flowers plus some marketing paraphernalia.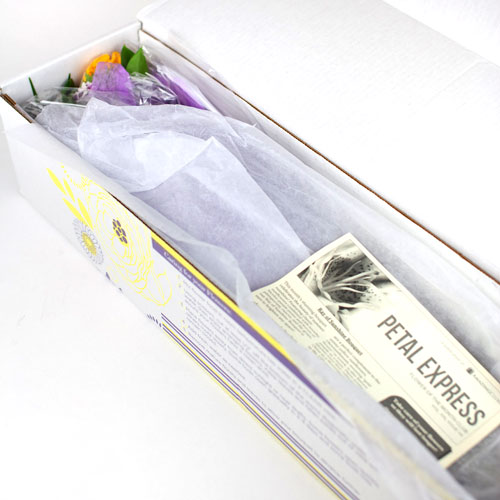 Oh, and they include the care instructions on the outside of the box. That's actually a nice idea, because A) you can't miss it, and B) you won't accidentally throw it out.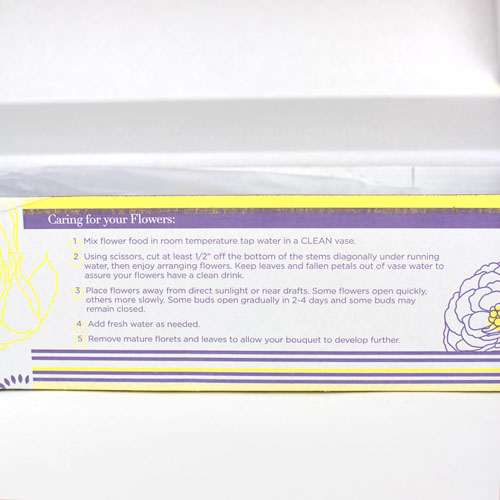 If that's hard to see, you can read the care instructions below (jump to it). Thankfully, it's really simple.
Here's that "newsletter," which is called the Petal Express. In it, they write about that month's flower selection, some flower-specific care instructions that go beyond the stuff on the box, plus customer service and membership info on the back side.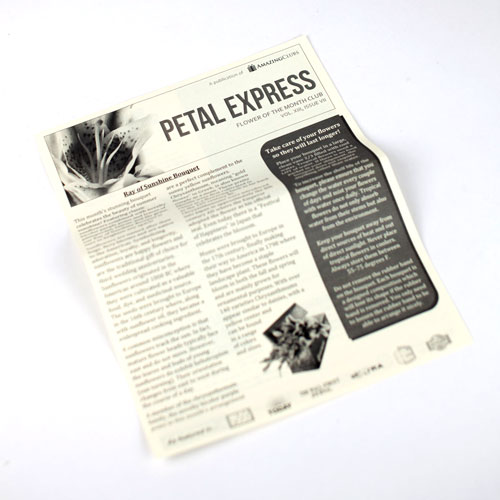 So beneath the marketing papers and newsletter, you can see that the flowers are very securely attached to the box: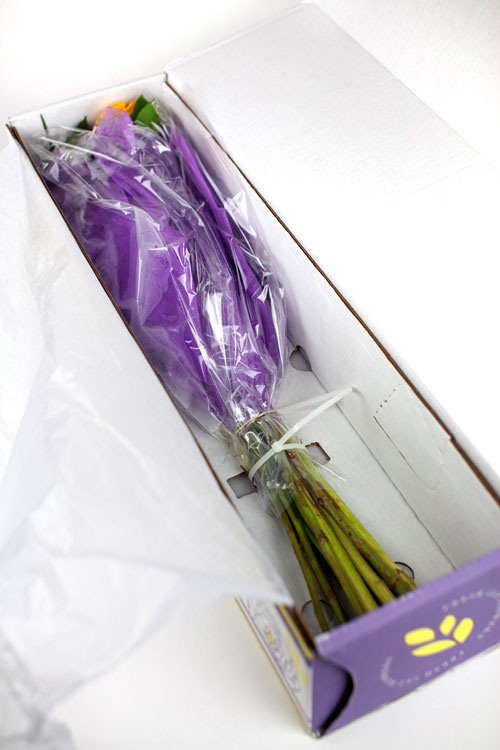 This is great packaging, because the bouquet arrived undamaged and with very few droppings.
I've received a few flower deliveries, and there will always be some petals and leaves that get loose in the box. This one was fairly minimal – almost none.
I cut the zip tie (you'll need scissors, clippers, or a knife) and pulled out the wrapped bouquet.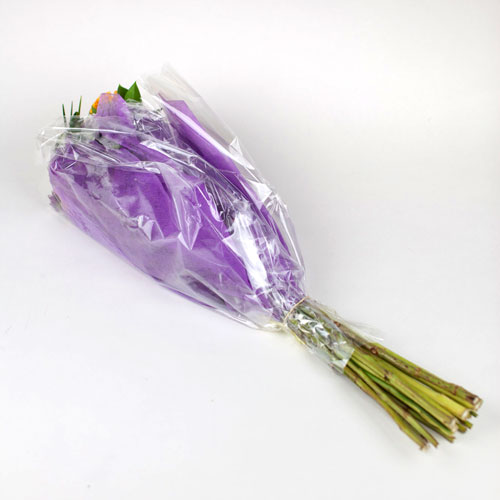 More gift ideas: 10 Gifts That Everyone Wants (Even If They Don't Know It Yet)
Inside the cellophane wrapping, each sunflower is individually wrapped with netting.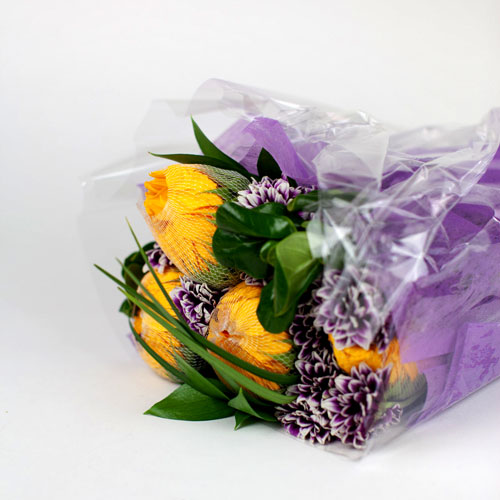 The blooms will be closed, which is typical. Here is the pile of flowers with the cellophane removed: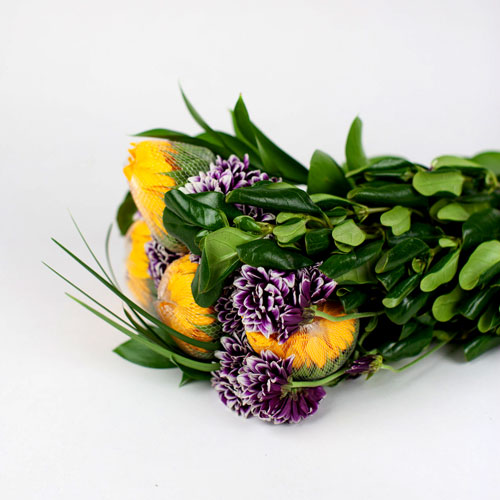 Inside the wrapped bouquet, they attached a packet of plant food.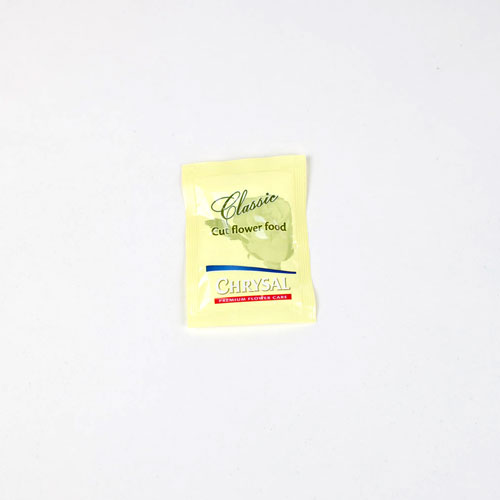 I pulled off the netting around the sunflowers, filled a vase with water, mixed in the flower food packet, trimmed the stems to length, and placed them in a vase.
It's a little unkempt, but it will do for now as we wait for the blooms to open up. Again, note that these next photos were taken before allowing the flowers to open. (Better images later.)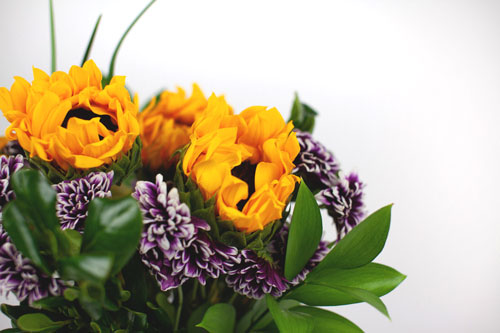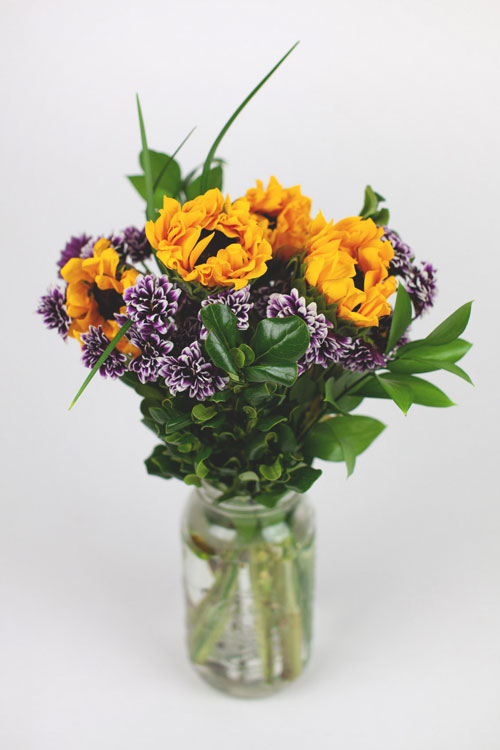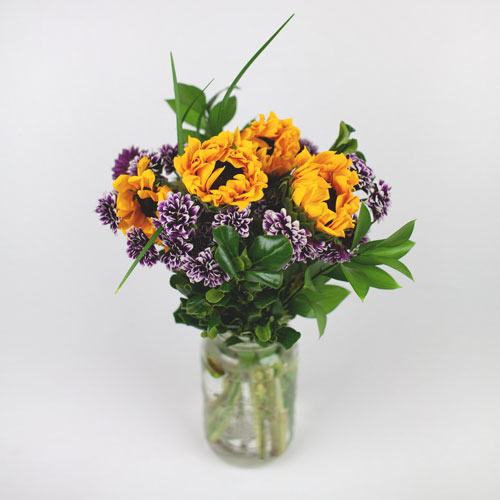 After this, we left the vase on the table (away from direct sun, as recommended!) where they perfectly accented our living room. They opened a day or two later and looked amazing.
Unfortunately we got busy for a few days and spaced out about following up with more photos, so we didn't catch the bouquet at its prime, during the first week.
These next pics are from about a week later – and I think it still looks pretty good!
(Care instructions, then our review to follow. Keep reading!)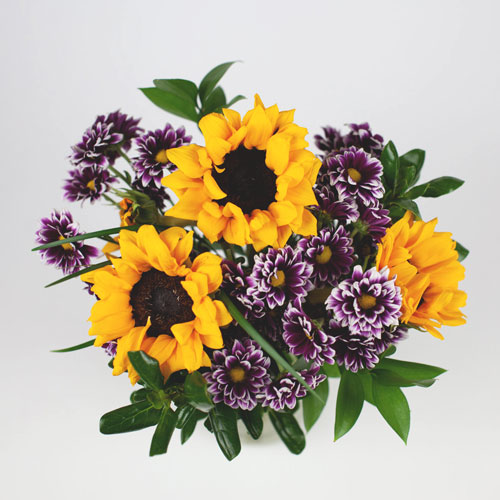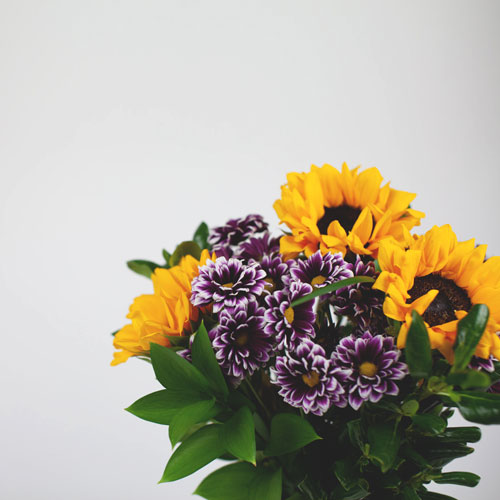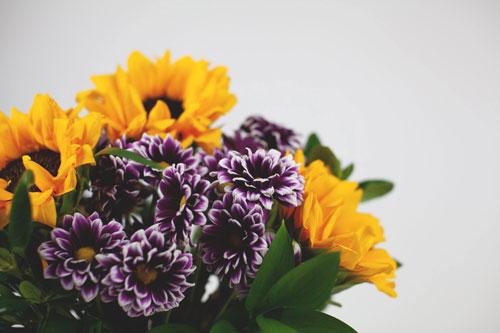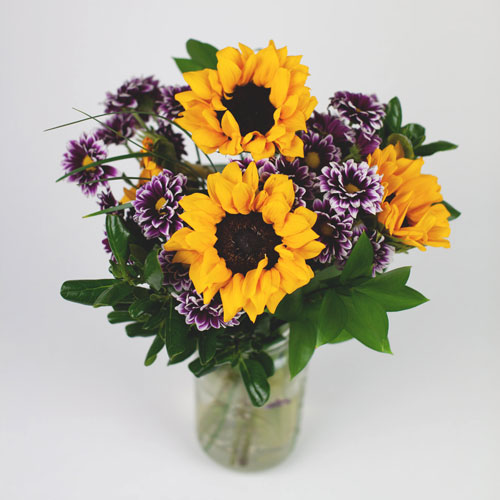 Caring for Your Flower Delivery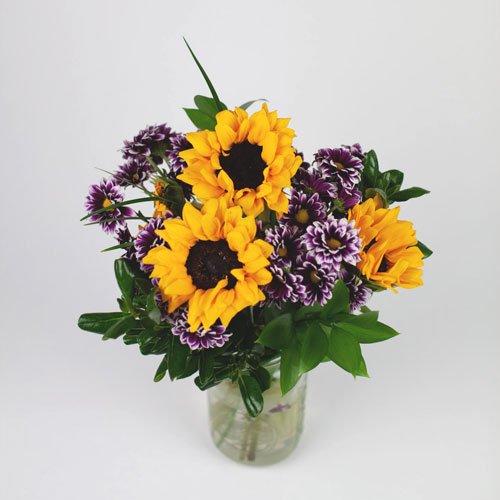 Here's the gist of the care instructions, paraphrased from the box:
Mix flower food in room temperature tap water in a clean vase
Using scissors, cut at least 1/2″ off the stems under running water, then arrange your flowers
Place flowers away from direct sunlight (some flowers may open more quickly than others; allow several days)
Add fresh water as needed
Remove mature florets and leaves to allow the bouquet to continue developing
Flower of the Month Club Review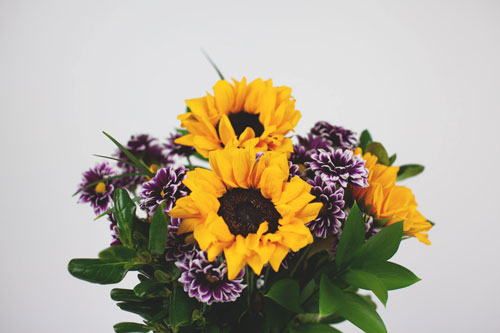 This is a fun gift to receive at your door. The flowers look lovely, and they lasted a good while (easily 3 weeks; we tossed ours at about the 4 week mark and they were starting to look wilted). That's just in time to look forward to the next month's delivery.
Since it's in a box, the recipient will have to open it, trim the stems, and put the bouquet in water. That's no different from any other flower delivery. It was very easy to do.
The box showed up, I took some pics, cut the stems, put them in water (with the plant food) and boom, done. Took me less than ten minutes, including the photos.
As you can see from the photos, the flowers are beautiful. Not an overwhelmingly large bouquet, but not sparse either. There's plenty of material available so you can trim it down to the size and look that you want. It's a full, traditionally-sized bouquet that will look good on any table.
Subscription Options
Subscriptions do not include a vase, or the option to add a vase. Many flower companies have this option, so that might be something they should consider adding. But most people have a vase, so IMO it's not really necessary.
The subscription is affordable (cheaper than almost any local flower delivery service), and is a creative way to express your love to someone special.
You can choose monthly, bimonthly, or quarterly (every 3 months) shipments, with options for 3, 4, 6, or 12 deliveries.
Checkout & Gifting Options
The checkout at Amazing Clubs is simple and easy, and you have multiple gift note options to boot.
You can print or email a gift note, or have them ship you a card to give to the recipient. Lots of ways to do this. You could even order on your way to a birthday party and have the gift notice emailed instantly, so this is perfect as a last-minute gift that ends up lasting for months.
Mix & Match Gift Deliveries
Amazing Clubs has created and curated the internet's biggest array of subscription boxes and clubs. So they have everything you might want – not just flowers, but beer, wine, cigars, hot sauce, jerky, pasta, neckties, pickles… seriously everything.
They do a "Variety Club" that allows you to select as many different "clubs" as you like. So you could start off with birthday flowers, then next month do wine, then cheese, then chocolate, then… whatever you want. Check it out!
Read Next: Best Flower Gift Ideas