Ahhh, the seventies! What a groovy time of shag carpet, free love, bell bottoms and…wait. That's the 1970s.
Well, your friend or loved one who is about to celebrate their 70th birthday was at least around during that time, right? Even if he or she can't quite recall the details because things were, you know, hazey.
Regardless, turning 70 is a big deal! Young enough to still paint the town, but old enough to know they'd better not, that sweet spot right around retirement age is the place we all want to be. When it's your special person's 70th birthday, a great wish for their golden years is a wonderful way to get the party started.
But if you find yourself poised with a pen over that birthday card, suffering from writer's block, we have the 100 best 70th birthday wishes to inspire your message.
What to Write in a 70th Birthday Card
Looking to fill up just a bit more space in that card? You can go sentimental and sweet by sharing a favorite memory, or you can be silly and witty and make them laugh. We like it when a card says it all!
Maybe start off with a joke, and end with an endearing sentiment? It's 100% up to you!
If you're still struggling for ideas, here's some of our most reliable, go-to options:
A favorite quote
An inside joke between you
Your funniest story about them ("You remember that one time when…")
A poem or limerick
On this day in history… (these are especially fun for history buffs)
A meaningful scripture passage
10 Best Ways to Say Happy Birthday (that aren't "Happy Birthday")
1. I see you have a lot of experience with days like this…
2. It's your day! All the best wishes for today and all through the year.
3. Hoping you get everything you wished for today!
4. It's time again to raise a glass to you. Cheers!
5. We've/I've been waiting all year to celebrate with you again! Now where's the cake…
6. I've heard 70 is the new 59!
7. Let's party like the disco stars we are!
8. Hoping your day is as special and as fantastic as you are!
9. You brighten my day 365 days a year — now it's your day to feel adored.
10. Age is just a number, but yours is getting up there!
Related: 200 Simple Birthday Wishes for Every Age
70th Birthday Wishes
70th Birthday Wishes for Grandpa
11. The happiest of birthdays to the best of grandpas!
12. My buddy, my support system, my mentor, my grandpa.
13. You are making 70 look good, Grandpa!
14. You've always made my birthdays so special. Now it's time to turn the tables!
15. Happy birthday to the best man in my life.
16. 70?! You don't look a day over Handsome!
17. For your birthday, put up your feet, and don't do a thing!
18. Not everyone makes being a grandpa look so good. Now I'm looking forward to it!
19. To the best grandpa in the world — HAPPY BIRTHDAY!
20. I'm so glad you were born to be my grandpa! Wait, that's backwards… That I was born as your grandchild!
70th Birthday Wishes for Grandma
21. When it comes to grandmas, you take the cake! But today, I'll bake it.
22. To the best person I know — happy birthday, Gran!
23. You are the light in a sometimes dark world, Gramma. Thanks for being you!
24. I love you more than I love peanut butter!* (*cars, shopping, tacos, whatever is your second favorite thing)
25. If you lined up all the grandmas in the world according to greatness, you'd be at the front!
26. If I had a quarter for every time I thought about how great my gran-gran is, I'd be rich!
27. Here's to you, Grandma! Now relax and eat some cake, or else!
28. My favorite memories all involve you. Happy birthday, sweet lady!
29. Happy birthday to the mommy of my mommy!
30. When I count my blessings, I count you twice. Sometimes three times.
70th Birthday Wishes for Father
31. Happy birthday, Dad! Sorry about all those gray hairs I caused you.
32. I know you know that I know that you know HOW MUCH I LOVE YOU!
33. You've been working hard the other 364 days of the year — now it's our turn to spoil you.
34. I can't believe you're 70 because that means I'm definitely not 29 anymore…
35. Fishing? Football? TV? Movies? A good book? Anything you're up for, I'm ready, too!
36. Happy birthday! Thanks for, like, teaching me to walk and stuff.
37. It's your day and I am here to make it happen!
38. Nobody knows you like your dad. I'm so glad you're mine!
39. Sorry about all those times I snuck out and drove you crazy. Thankful that you stuck around, Dad!
40. Happy birthday to the best guy I know. You're stellar!
70th Birthday Wishes for Mother
41. Happy birthday to the mother everyone else wishes was theirs.
42. It's your day, Mom, and I am here to make it happen!
43. Wishing I could be there with you today, Mom. Happy birthday and know I am thinking of you all day long!
44. You gave me life. I give you a cake. We're even, right?
45. For your present I am doing anything you want all day long!
46. Out of all the mothers in the world, how did I get so lucky to have you?
47. You have always been my biggest fan, but sometimes I forget to tell you how much it means to me! Happy birthday, Mom!
48. Absolutely no chores today, Mom! I'm watching you!
49. Happy birthday to the mother like no other!
50. I can't wait to spoil you all day — let's get started!
70th Birthday Wishes for a Friend
51. Life is so much better with you in it! Happy birthday!
52. It's your birthday? Let's get these shenanigans started!
53. I've been waiting 12 whole months to celebrate you again!
54. I know you don't always love your birthday, but I sure do!
55. We'll start with cake, we'll end with cake. The in between is all up to you!
56. So lucky to have a friend like you! Happy birthday to my partner in crime!
57. You're one of the best things in my life (and I have a pretty good life, so that's saying something)!
58. Here's to you on your big day! Cheers! Now, let's do some partying.
59. Let's show those whippersnappers how to REALLY party!
60. We've come a long way, and I'm so glad you've been by my side each step of the way!
70th Birthday Wishes for Husband
61. Dang, you make 70 look GOOD.
62. Didn't think I could love you more, but then you gave me a reason to bake a cake.
63. Happy birthday to the best husband a girl could ever ask for.
64. Happy birthday, my stud muffin. Love, your trophy wife.
65. We're just getting started, Baby.
66. Remember when you weren't 70? Haha. Good times.
67. You're the best thing I've got, Hubby! How did I get so blessed?
68. Happy birthday. I still kinda like you.
69. Much like the finest of wines, you only get better with age, my dear.
70. To the man who has it all (including a smoking hot wife). Happy birthday!
70th Birthday Wishes for Wife
71. You're the best thing to ever happen to me, so I'm taking you out to celebrate!
72. Happy birthday to the prettiest girl I know.
73. You're looking every bit as gorgeous as the day I met you.
74. It's your birthday and we're doing anything you want all day! That includes matching pedicures.
75. Time to celebrate the miracle that is you!
76. Happy birthday to the love of my life.
77. I'm so glad you've let me stick around. Happy birthday, honey!
78. I know I got my last birthday wish (cuz you're still at my side).
79. You make me look so sharp! Happy birthday, darling!
80. What a whirlwind life we've had! I wouldn't have it any other way.
Funny 70th Birthday Quotes
81. Turning 70 means two things: you've survived the sixties AND your sixties!
82. New and improved 70 year old model! Please note, the 69 year old model has been discontinued.
83. If you haven't grown up by age 70, you definitely don't have to!
84. 70 isn't old — it's retro!
85. Look at it this way: it's scientifically proven that people who have more birthdays, live longer.
86. Plenty of people are turning 70 this year! And they'll all complain and gripe about it. Because that's what old people do.
87. Looks 45. Feels 18. Acts 7. That adds up to 70!
88. It took you 70 years to get this perfect!
89. 70?! I demand a recount!
90. You're not 70! You're 18 with 52 years of experience is all.
Our website is supported by our users. We sometimes earn a commission when you click through the affiliate links on our website. Learn more here.
Best 70th Birthday Cards
More: Printable Birthday Cards
70th Birthday Captions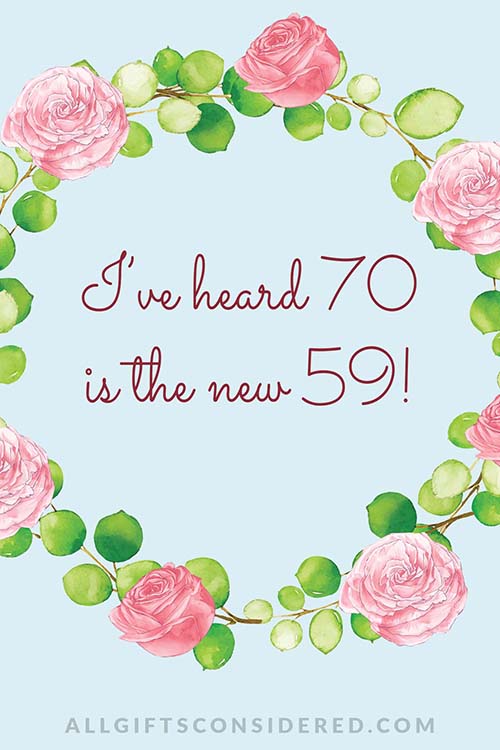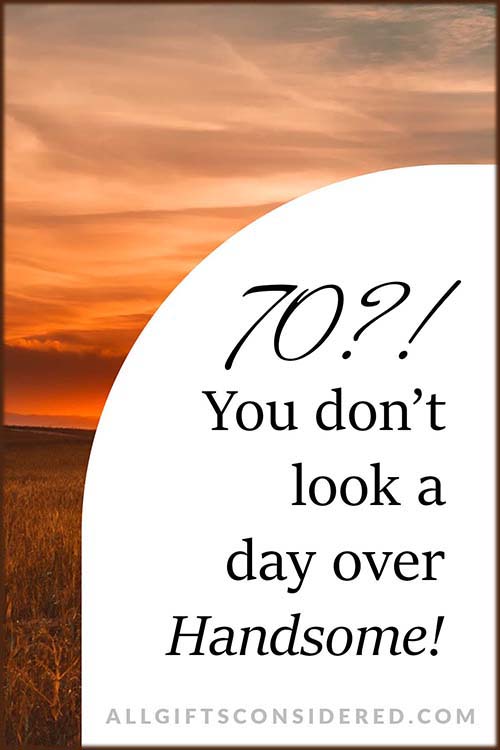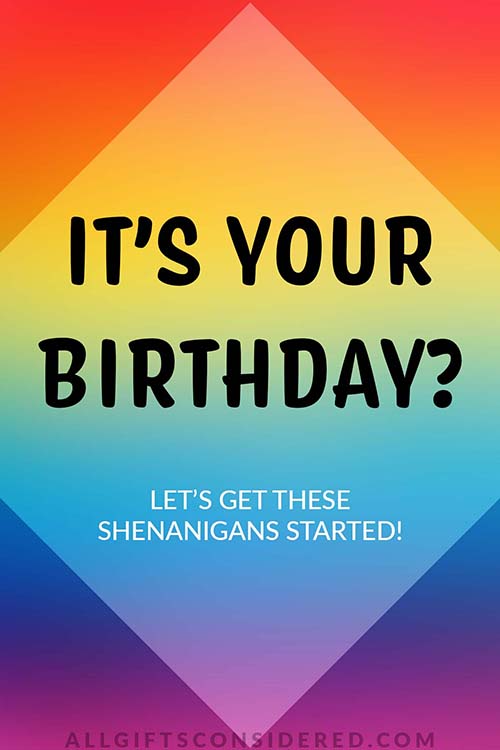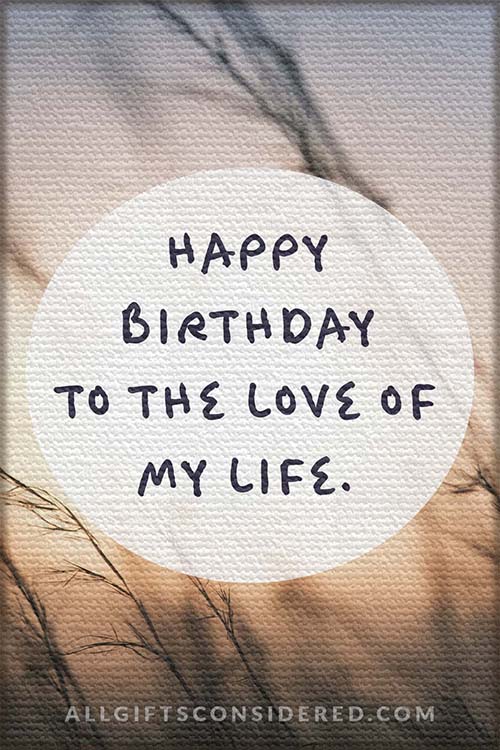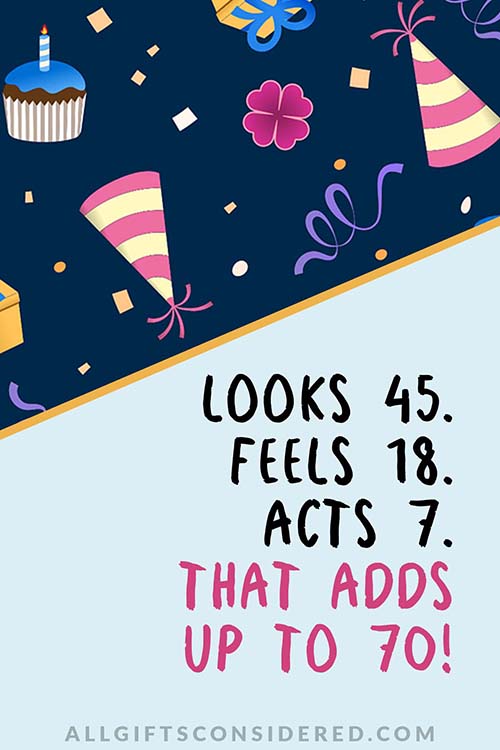 Read Next: 80th Birthday Wishes