A christening is a beautiful and special time in a little one's life — even if they won't actually remember it later on! And christening gifts are the perfect way to celebrate both them and their family.
Yes, although the babe in arms won't recall anything, their parents, grandparents, and godparents will certainly remember the day with a lot of fond memories. And the christening gifts the infant receives will become treasured heirlooms.
To help you celebrate this memorable day, we've put together a list of the best modern and traditional christening gifts for your little one.
What is Christening?
A christening is when an infant receives their Christian name. This ritual is typically performed at an infant's baptism, which is why christening is sometimes confused with baptism.
Christenings (and the sprinkling baptism that typically accompanies it) is a special time to celebrate the newborn child and their family. It's also a wonderful way to bring family and friends together within the beauty and sanctity of the church, most often Catholic or Anglican.
What Do You Give for Christening?
It's customary to give a gift if you've been invited to a christening. Some common and great ideas would include a thoughtful gift that is personalized and perhaps, though not necessarily, religious in nature.
Examples might be the child's first Bible, an engraved silver spoon, a framed Bible verse, or a print with their name and the meaning behind it. We'll explore many more ideas below!
Best Christening Gifts
Our website is supported by our users. We sometimes earn a commission when you click through the affiliate links on our website. See our privacy policy & disclosures for more information.
1. Porcelain Cross Ornament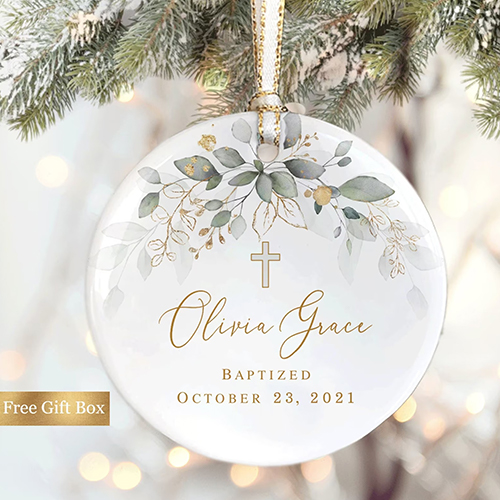 This pretty porcelain cross ornament hits all the right notes. It's small, so as not to overwhelm the decor in the nursery, but it says it all… Literally! All of the important things about Baby, their birth, and christening can be engraved on this ornament.
You can — of course — save it for the Christmas tree, but it would also look wonderful dangling from the mobile above his crib, or nestled in a shadowbox.
2. Personalized Silver Bank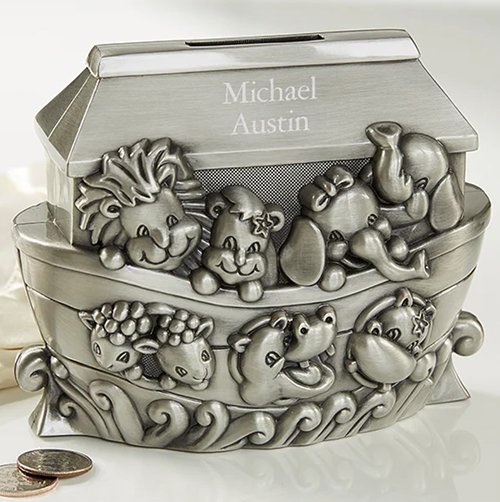 This adorable piggy bank will fit right into Baby's nursery decór. With its timeless depiction of Noah's ark, it will last them well into toddlerhood and into elementary school! It's never too early to start saving for college, after all.
3. Personalized Christening Nursery Rhyme Book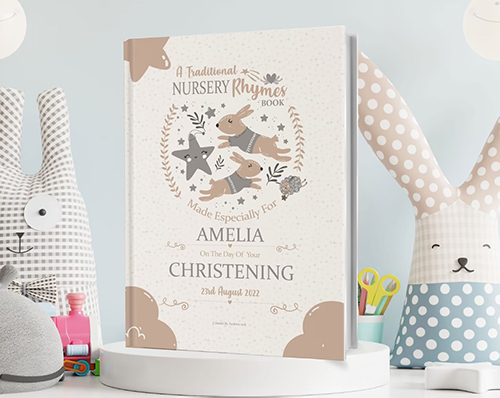 Who doesn't want to be the star of their very own storybook? This sweet, personalized christening book makes Baby the hero. This is one book that will get read again and again and again!
It's hand-illustrated in such a charming way, too. Even the adults will want to pass this around and read it for themselves — it's that cute!
4. Baptism Name Blocks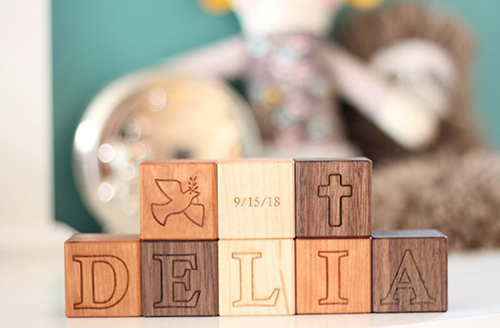 These baptism name blocks have a vintage appeal and a boho vibe! They'll add some sweet, personalized decor to the baby's bedroom, and they won't outgrow them in a couple of years.
Stacked on the bookshelf or the windowsill, they're a darling reminder of that special day of christening.
5. Crystal Baby Boot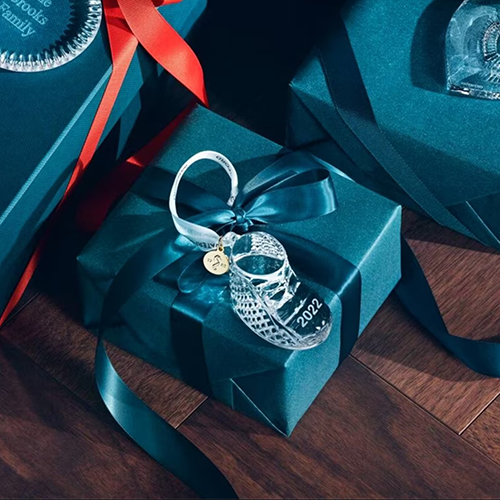 This little crystal baby boot is so cute, we don't know where to start with how much we love it!
Made by Waterford (so you know the quality is top-notch), this little ornament will brighten up any room with adorable baby joy. Or you can use it for the Christmas tree and usher in the holiday spirit. It will be a favorite to unpack each and every year.
6. Personalized Wooden Keepsake Toy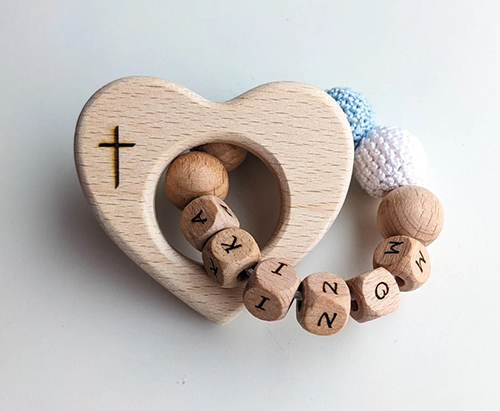 This darling wooden keepsake toy is just right for a christening present! It's personalized however you like best, making it truly unique and one-of-a-kind.
The little cross etching gives it a spiritual and religious touch, too. It's made of beech wood, the rattle is eco-friendly, and you can choose from the colors pink, blue, or white. Perfection.
7. Silver Wall Cross
This sweetly old-fashioned wall cross will look so nice on their beloved baby's bedroom wall!
Offer some protection in the form of prayer, supplication, and a reminder of God's love with this stunning gift. The edges are smooth, so no worries if Baby decides to play with it.
8. Embroidered Christening Quilt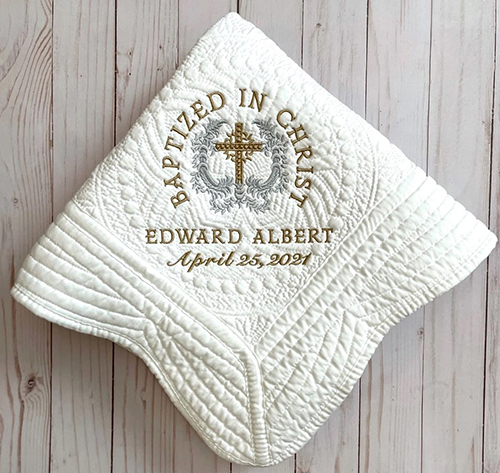 A personalized quilt is a fabulous way to commemorate their big christening day.
Embroidered with lovely colors and incredible skill, the blanket will be completely personalized for the little one — meaning no two will be alike.
This soft throw in muted shades will fit in with any style nursery, and will be a treasured keepsake for many years of rocking, snuggling, and cuddling together.
9. Engraved 'Christened with Faith' Frame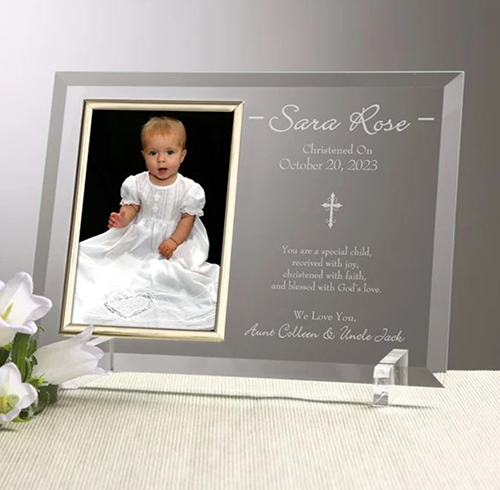 All they need now is a photograph of the christening day! This great engraved frame will be their new favorite gift for sure.
Having all the details of their big day in one beautiful glass frame is such an asset. Whether hung on the wall or propped on a shelf, this is one gift that will get everyone's attention.
10. Jesus Loves Me Musical Globe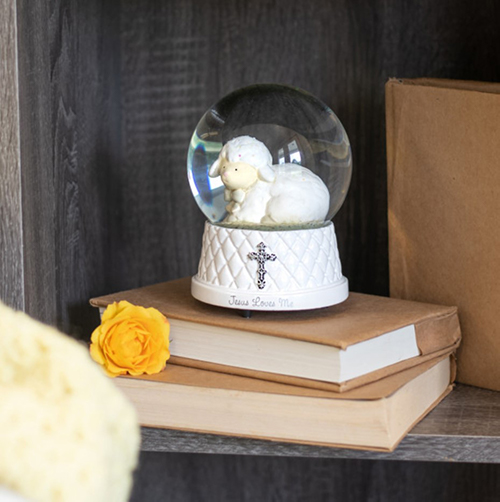 Part snowglobe, part music box, this Jesus Loves Me globe makes a great christening gift. The baby will love being soothed by the gentle music, and you can teach them the words to the classic Christian hymn.
This will be so useful to help teach the love of God — not to mention distract the little one while you're in the middle of a diaper change!
11. Personalized Sterling Silver Baby Bracelet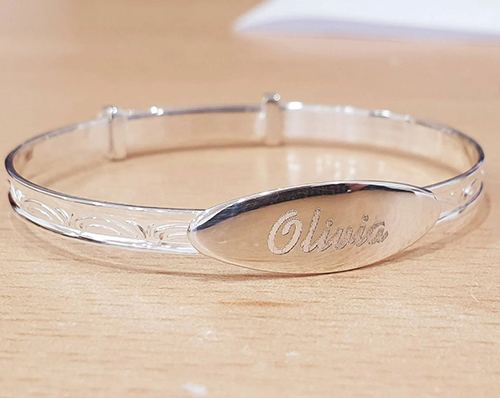 Crafted from sterling silver (so there's no need to worry about the finish wearing off), this beautiful engraved baby bracelet is such a treasure! We think their parents will think so, too.
Unusual in all the right ways, this gorgeous little bracelet will make all of those baby pictures even more adorable. You can personalize it with their name to create the perfect heirloom gift.
Related: Timeless Jewelry for Kids
12. Engraved Pewter Baby Cup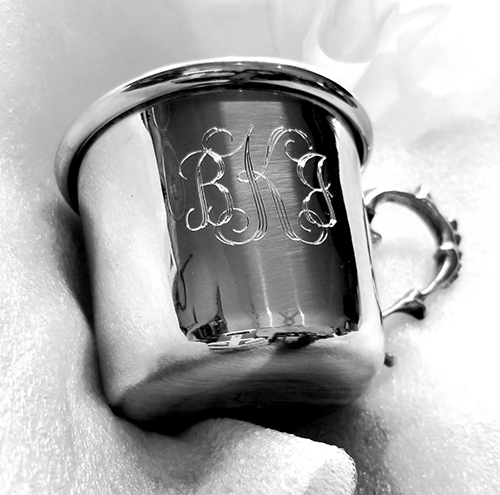 This sweet engraved pewter baby cup is just right for chubby little hands! It's part practical and functional, but also part work of art and family heirloom, as well. We think that makes it perfect for a christening gift.
Plastic is always such a bummer when you think of all the problems it causes, both environmentally and to our own personal health.
And glass — while nice — isn't super well suited to little ones who like to drop things. We love this beautiful pewter option because it's a classy heirloom gift that could be safely used and played with by your little one.
13. Christening Dinnerware Set
This whimsical and charming christening dinnerware set will become an instant heirloom. A perfect blend of elegance and timeless charm.
With its adorable depiction of your little bunnykin's christening, it will be used and adored right from the start. Made by Royal Doulton, so you know the quality cannot be beat!
14. Precious Moments Bible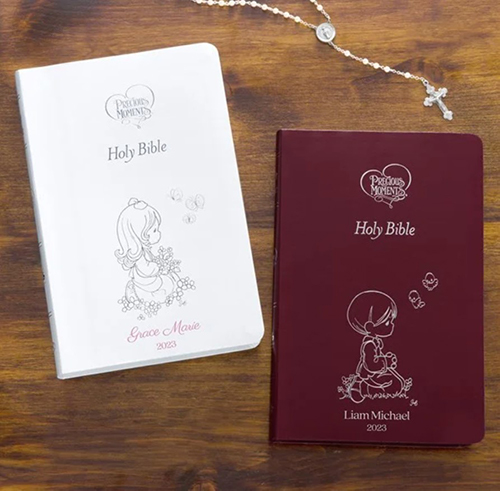 Their own Bible is always a much appreciated and desired christening gift! It may be a little while before Baby is old enough to read it, but that doesn't mean it won't add to the appeal of the nursery decor in the meantime.
Besides, you know what they say about children and how quickly they grow. It won't be long before they're reading their own Bible right beside you in church!
15. Embroidered Bib and Handkerchief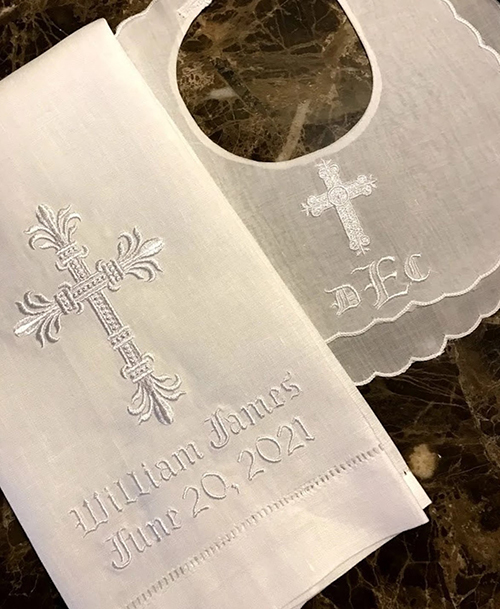 This embroidered bib and handkerchief set is sweetly old-fashioned and vintage looking, isn't it?
It's the perfect gift for a christening, from its gentle white color to its intricate embroidery. You can choose the thread color if you prefer a little pop of a different hue, as well!
Parents and grandparents alike will absolutely love this gift set. So thoughtful!
16. Baptism Lamb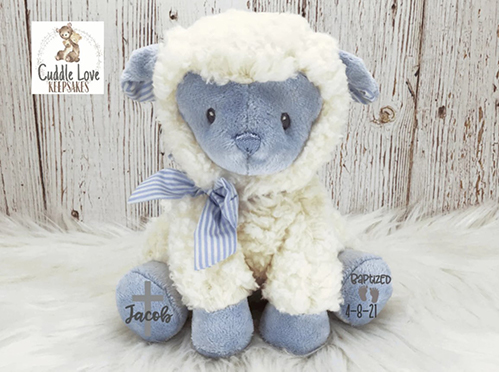 "It's so fluffy I'm gonna die!" — Agnes, from Despicable Me.
This baptism lamb is just about the cutest thing we've ever seen. You can tell simply by looking at it how utterly soft and buttery it is!
Made for snuggling, cuddling, and soothing, this lamb will be Baby's new bestie posthaste. The sweet little "hooves" are personalized with their name and christening date, so this isn't just any old stuffie.
17. Personalized Silver Brush and Comb Set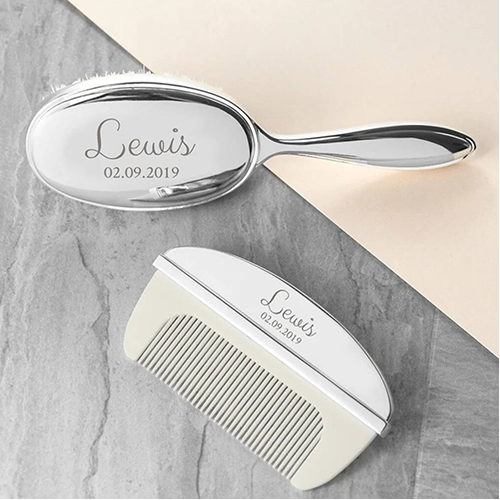 Just right for a christening gift, this personalized silver brush and comb set is made for Baby!
An instant family heirloom, these will be kept until Baby is grown up and ready to pass them down to his or her newest bundle of joy. Classic, beautiful, and thoughtful.
18. Peter Rabbit Christening Day Pillow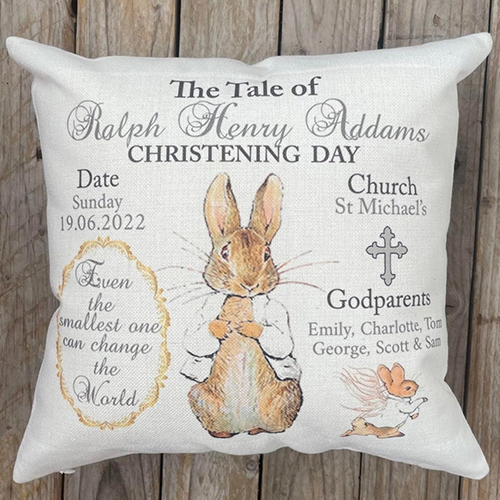 Everyone loves Peter Rabbit… From the squishable pillow, to the whimsical illustration and personalization of all those important names and dates, this gift is such a charmer!
It will be perfect in Baby's crib, on the rocking chair to give some support to Mama's back, or tossed on the window seat. Great for boys and girls alike!
19. Framed Personalized Christening Art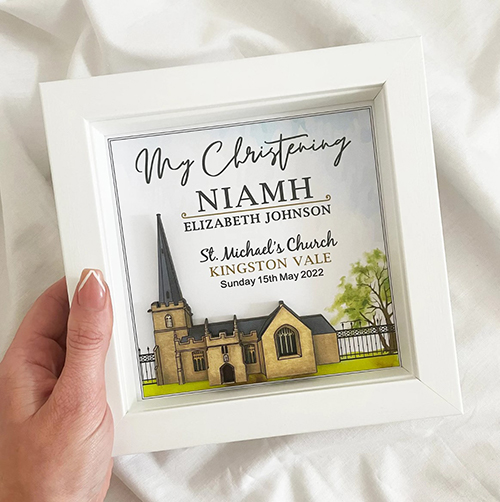 This framed, personalized christening art has a neat 3D effect, doesn't it? We love it — right from the name and date down to its personalized venue!
This is a thoughtful gift that really commemorates such a special day. It will look lovely hanging on the wall at home. Maybe alongside some framed photographs of the christening day?
20. Precious Moments Porcelain Cross
Everyone loves Precious Moments! They're always so sweet and gentle, aren't they? It's like they were designed for a baby's christening day.
This porcelain cross is no exception. We love the soft pastel colors as well as the gentle reminder of God's love for Baby and for all of His children. It will look perfect in the nursery, don't you think?
21. Tiny Silver Cross for Babies
Made of sterling silver, this tiny silver cross isn't just for the christening day, but can be worn for all sorts of special occasions later on! From Daddy/Daughter dates, to first communion, to her own wedding day…
We think that makes this gift an instant classic. It will last for many, many years to come, and will be passed down to the next generation as a beloved family heirloom.
What is an appropriate gift for a christening?
When you go to a christening or baby's baptism, it is customary to bring a gift. Traditional gifts often feature religious themes, silver, and personalization.
Religious themes emphasize the priority placed upon the family's faith. The christening rite includes admonitions to raise up a child in the ways of the Lord, so it is entirely appropriate to show your support for the family to instill their values and traditions in the child's life.
Silver conveys value. This is a significant moment in the life of someone who is already very important to you.
Personalization tailors the gift to the individual and, as the term implies, makes it personal. Whether the little one is your grandchild, niece, nephew, cousin, or family friend, giving a personalized christening gift shows that you've put time and thought towards this special day.
Do people give money at a christening?
Yes. Financial gifts are entirely appropriate at a christening. Grandparents and others often give money or financial assets such as bonds, which the child can redeem when they are older.
If you plan on giving a card with cash inside, plan on giving somewhere in the range of $50-200. Of course you can always give more.
The expectation for monetary gifts is that the parents will either spend the money on the child's needs, or place it into savings on their behalf.
Gift cards are also acceptable, and will be used to ensure the child's care and comfort.
How much should I spend on a christening gift?
Quality gifts such as the ones we've featured above can be found in the range of $25-100. That's a good amount to expect to spend. The main things to keep in mind are:
Give as you are able. The family will understand!
Choose a thoughtful gift – the thoughtfulness of the gift counts much more than the cost.
And of course, this is a once-in-a-lifetime event. So if there is ever a time to spend a little extra for someone you love, this is it!
Read Next: Best Gifts for a Baptism