Last Updated on July 31, 2020
Today we are sharing with you 20 heartfelt sympathy gifts for parents who have lost a child.
There is no greater pain in this world than losing a child, no matter how young or old they were. And during such a difficult time, there are often no words comforting enough to help ease the parents' pain.
Instead, to let the grieving parents know you're thinking of them, you may want to offer a compassionate sympathy gift.
Below, we've categorized the gift ideas by age (infant, young child, teen, adult). You can easily browse age-appropriate options.
In addition to things that you can buy, we're also including some thoughtful, intangible sympathy gift ideas that show love and support in meaningful ways.
Let's take a look.
20 Sympathy Gifts for Loss of Child
Our website is supported by our users. We sometimes earn a commission when you click through the affiliate links on our website. Learn more here.
The gift ideas are organized below in ascending order of age:
Infant
Young Child
Teen
Adult Child
Of course, many of these ideas can be used no matter the child's age or stage in life. But we hope this is helpful.
Loss of Infant Sympathy Gifts
Even the tiniest of footprints leave a mark on this world. Here is a selection of sympathy gifts appropriate for infant loss and miscarriage.
1. Jesus Holding Baby Watercolor Print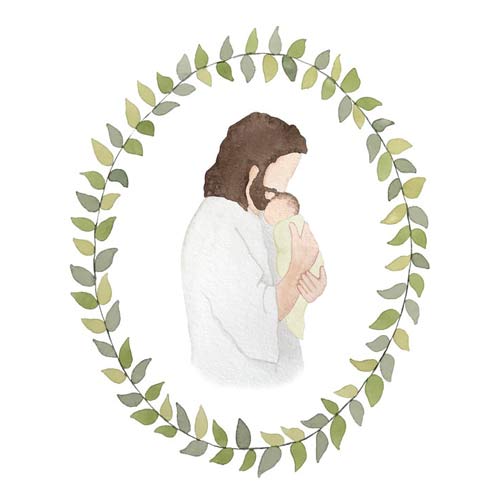 For the believing mother and father, at this time of terrible loss and sadness, the only hope they may be clinging to is the fact that their little one is resting safely in the arms of Jesus.
This inspirational watercolor portrait print will provide them with a wonderful reminder of this truth. It's available in two sizes (5″ x 7″ or 8″ x 10″), and comes with the option of personalization.
2. Ultrasound Keepsake Pendant Necklace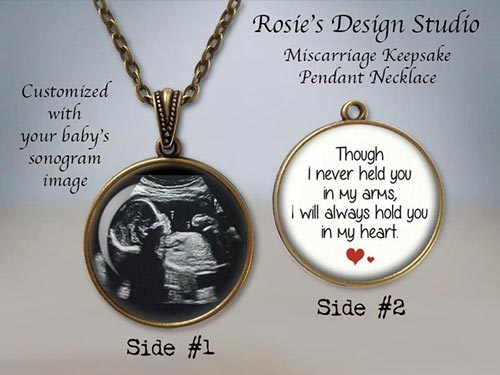 Miscarriage is devastating. In the case that a sonogram has taken place and an image is available, there is a way that you can help turn that sorrow into an everlasting memorial.
This keepsake pendant (also available as a key chain) is made to order to feature their child's sonogram. It can serve as that special, lasting memorial for your loved ones.
Simply send in the image after placing your order, and the artist will take care of the rest. Choose between bronze or silver finishing.
3. Personalized Angel's Embrace Willow Tree
Similar to the portrait print above (gift #1), this beautiful Willow Tree figure will serve to remind your loved ones that their precious baby is forever safe and cared for in Heaven.
This particular Willow Tree is unique in that it stands on a base, which can be personalized with the child's name and dates. It stands 5″ tall and is a cast of the original carving by renowned artist Susan Lordi.
4. Framed Butterfly Tree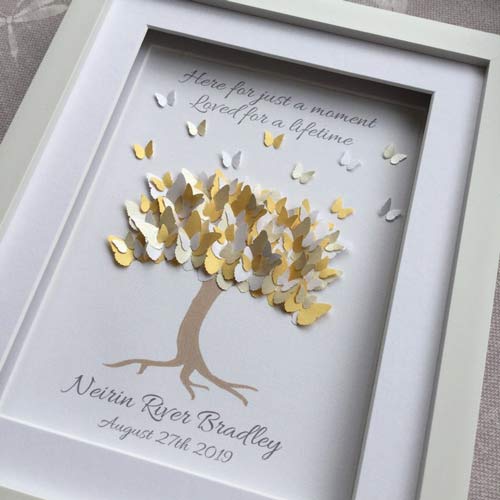 A one-of-a-kind gift perfect for a nursery memorial. This pretty handmade butterfly tree features 3D pearlescent paper butterflies nestled in a sturdy white frame along with your precious one's name.
It's available in two different sizes with several different primary colors. There are wording options to choose from as well, and personalization is included in your order.
5. A Shoulder to Cry On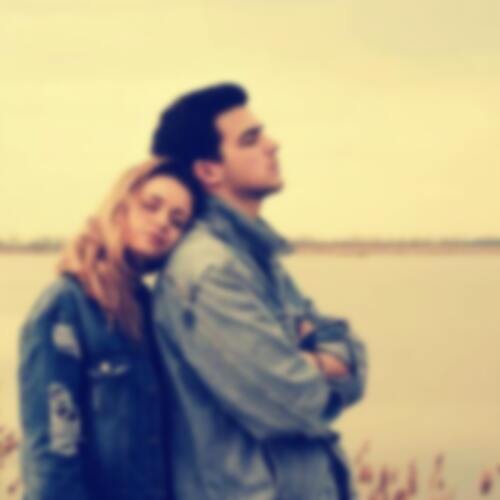 There is nothing more painful than the loss of a child. When that child is an infant, or was lost at birth or by miscarriage, the pain can be even more unbearable. It means that a precious life was taken before it could even begin.
Perhaps the best gift you can offer your loved one at this time is simply your presence.
Because sometimes, the best gifts for parents who have lost a child are not necessarily the ones that are purchased.
Be their shoulder to cry on, offer to watch the other children for a day or two, do their grocery shopping, help take care of the house. Keep a caring eye on them for as long as need be.
For more tips on caring for someone who is grieving, see here.
Loss of Young Child Sympathy Gifts
Here are some sympathy gift ideas for parents specifically grieving the loss of a young child.
6. Custom Child's Silhouette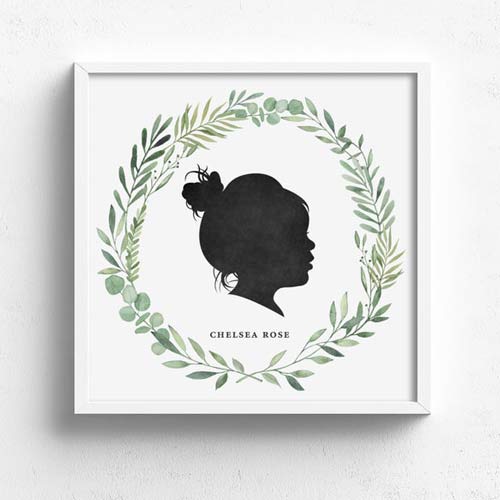 If you are looking for a sympathy gift for loss of a young child, and you prefer one that's both unexpected and customized, then consider this custom silhouette from Etsy shop Devon Design Co.
With just a whisper of whimsical, this memorial portrait will be a touching reminder to your loved ones of happier times with their beloved child.
Simply send the seller a profile photo and they will take care of the rest. Available in two different sizes.
7. Custom Photo Blanket
For some parents, seeing a photo of their child soon after they have died will be too difficult. But for others, it's therapeutic to remember these happier times.
If the parents you know who are grieving the loss of their child fall into the latter scope, they may very much appreciate a gift like this photo throw blanket.
This personalized fleece blanket is available in four different sizes and is machine-washable. To customize, all you have to do is upload a high-resolution photo of the child you wish to memorialize.
8. Child Loss Memorial Lantern
A flickering light is the perfect representation of the spirit of an eternal flame that can never be extinguished.
This lovely lantern, complete with flickering LED light, will gently remind your loved ones of this as they begin their grief journey following the loss of their young one.
This white metal lantern measures 10″ x 4.75″ x 4.75″ and includes a sweet saying on the front glass panel.
9. Mommy of an Angel Necklace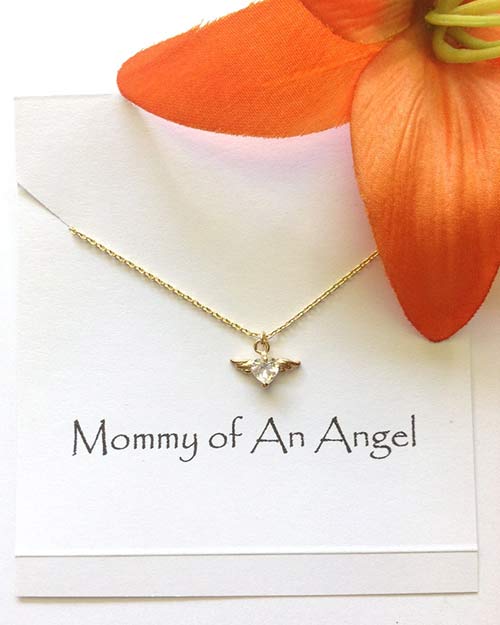 Angel wings surround a heart-shaped stone, serving as a delicate reminder of her everlasting love for her child.
This memorial necklace is a reminder that she can keep close to her heart and take with her wherever she goes.
Choose between five different pendant lengths as well as finish.
10. Donate to a Children's Charity in Their Child's Name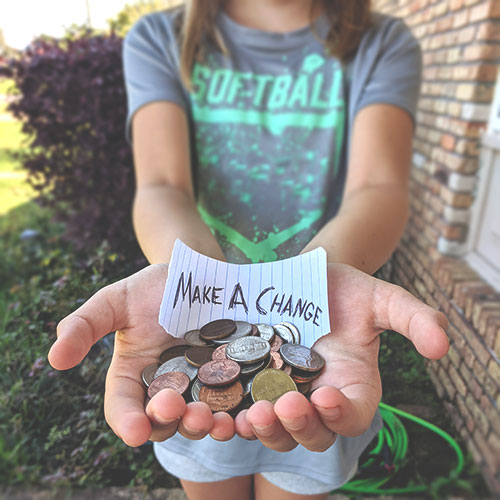 What better way to honor a child's life than to help another child in need? You can do so by opting to donate to a children's charity.
If you need help picking one out, click here for a list of ten popular children's charities. Also see here for information of evaluating charities so that you're sure you pick the best one.
Loss of Older Child or Teen Sympathy Gifts
The following gift ideas are for parents grieving the loss of an older child or teen.
11. If Love Could Have Saved You Memorial Plaque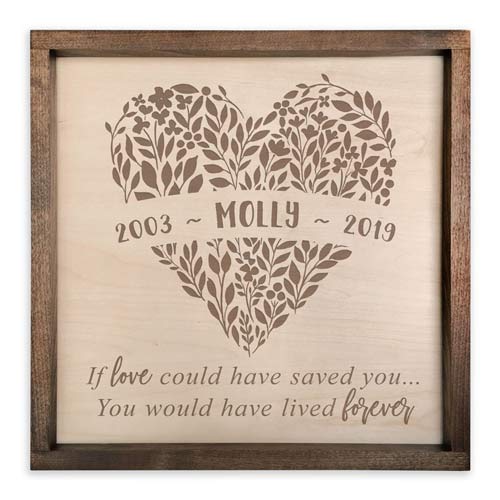 When searching online for sympathy gifts for teenagers, the results you find can, over time, become quite repetitive.
So for a unique gift for the loss of the a teen that also comes personalized, check out this floral heart memorial plaque from Northwest Gifts.
The plaque is made in the USA from birch ply and carefully stained alder wood. Includes a sweet quote and floral design surrounding their late teen's name and dates.
It comes in two different sizes and arrives ready to hang on the wall.
12. The Book of Comforts
Anchored in Biblical truth, The Book of Comforts provides parents of older children – or anyone in the middle of a grief journey – real hope in the midst of their seemingly never-ending sorrow.
Devotional pieces, Scripture references and calming photos come together to help ease the pain and instill a sense of peace.
13. Personalized Memory Journal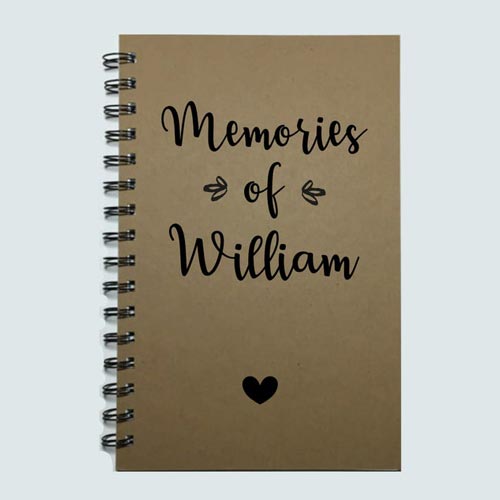 When dealing with any loss, it can help to write out thoughts and feelings in a journal.
This keeps the grieving person from being bottled up inside, causing stress and even physical illness. Especially if a child has died, taking that heavy weight off the mind and putting it on paper can be therapeutic.
Help your loved one begin to process the loss of their teen by gifting them this personalized memory journal. Each journal contains 50 sheets of lined or unlined paper (your choice) and measures 5.5″ x 8.5″.
If you go with this gift, be sure to add some high-quality writing pens like these.
14. Morse Code "Until We Meet Again" Bracelet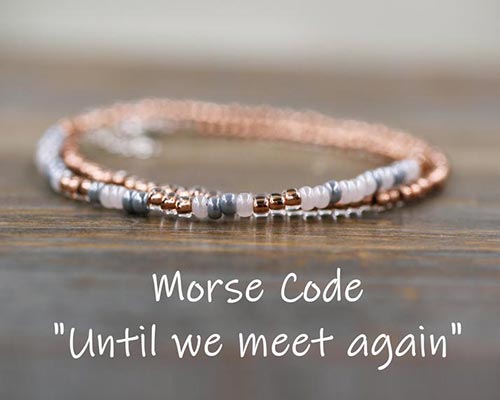 The experiences a mom or dad go through in the days, weeks and years following the death of their teenager may best be described as an emotional roller coaster.
During this time, there are no words strong enough to adequately describe what they are going through… and no words quite comforting enough to help balm their despair over the loss of a life taken much too soon.
This bracelet does the talking for you (and for them) without saying too much. Seed beads spell out "Until We Meet Again" in Morse code, which says everything that needs to be said, but in a most inconspicuous way.
Mom and Dad can wear it every day as a subtle reminder of their precious child and the mark they left on this world. Choose between main bead colors of rose gold, black, purple and turquoise.
15. Offer to Help With Funeral Planning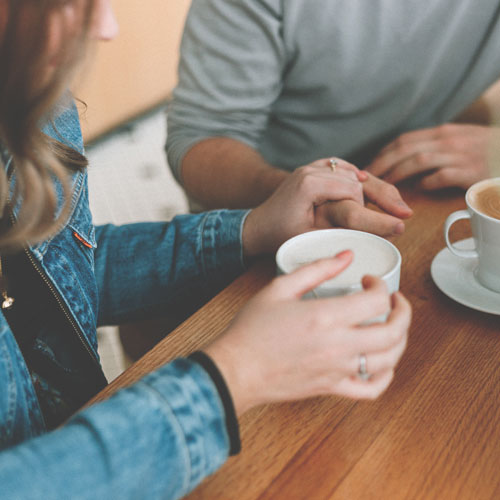 Offering to help plan their child's funeral can help to take a huge load off your loved one's shoulders.
Whether it's joining them at the initial arrangement conference, helping them pick out funeral songs, or calling the funeral director on their behalf with any questions they may have, every little bit helps.
Funerals for teens are often large gatherings, attended by many grieving friends, fellow students, teachers, and coaches. Offering a calm, steady presence during this very busy (and maybe even chaotic) time would be a wonderful gift – and always remembered.
Loss of Adult Child Sympathy Gifts
Grief doesn't lessen just because the child who's passed was an adult. Here are some sympathy gift ideas for the bereaved parent of an adult child.
16. Personalized Walnut Wood Keepsake Box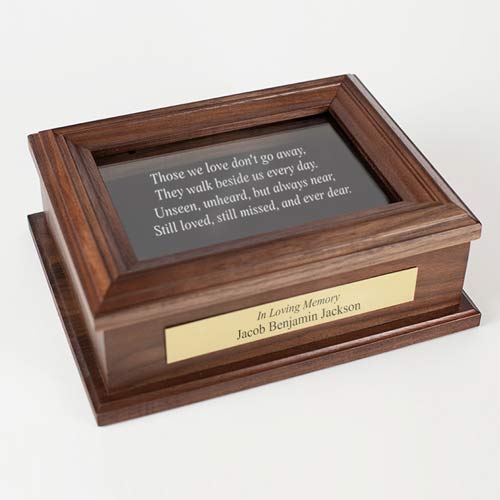 When you're searching for gifts for parents who have lost an adult child, you may think that your options are limited. With Northwest Gifts as your go-to gift-giving resource, that is just not the case.
Consider this stunning walnut wood memorial keepsake box. It's made in the USA and includes a customizable front name plate and glass top.
The box makes a wonderful sympathy gift that also serves as a memorial to your loved one's child. Within the felt-lined interior, they can keep photos, notes, cards, jewelry or other mementos safe and secure. Measures 9.5″ x 7.5″ x 3.25″.
17. Here for You Care Package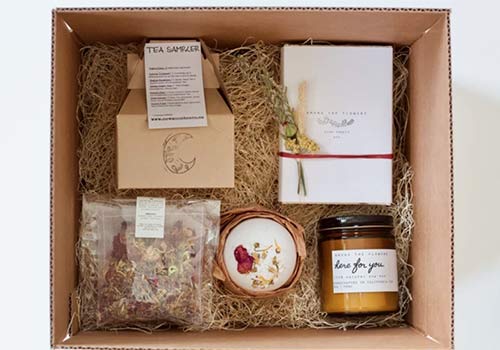 Wonderful sympathy gifts don't necessarily have to be memorial gifts.
What I mean is, you don't have to give your loved one a gifts that reminds them of their late child every time they see it (even if sweetly). Instead, you can opt to get them something they themselves can enjoy, or can use as self-care.
Like these care packages from Here for You. The one shown above is The Zinnia, a customizable bath package that you can "build" yourself. Fill it with your choice of bath bombs, body oil, bath soak, a pillow mist, a candle, nutritious snacks and more.
Here for You specializes in sympathy care packages filled with practical items. Ideal for when someone is just too overwhelmed to even consider a trip to the grocery store, you can instead send them things like paper plates and other household necessities.
It's a thoughtful thing to send to a grieving parent, letting them know you care for them even though you may be far away.
18. Memorial Wind Chime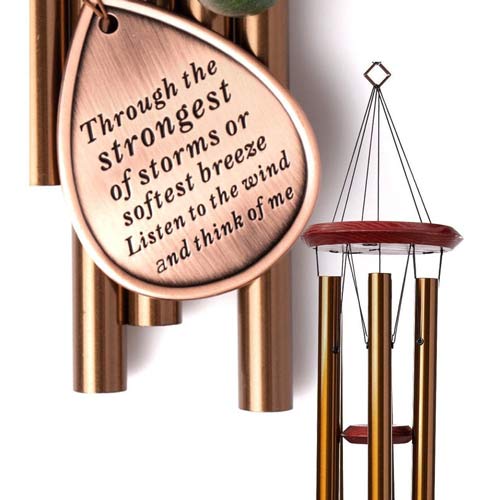 In the midst of grief, going outside for a breath of fresh air can make all the difference in how one feels.
If you know someone who is bereaved over the loss of their adult child, encourage them to get out and feel the breeze by gifting them this beautiful memorial wind chime.
Even if it's just to sit on the porch for a few minutes, time spent out in the sunshine can do wonders for the soul.
This particular wind chime measures 28″ long from top to bottom. Crafted from bubinga wood and copper chimes, it features the encouraging quote you see above, with optional personalization.
19. Personalized Memorial Bird Feeder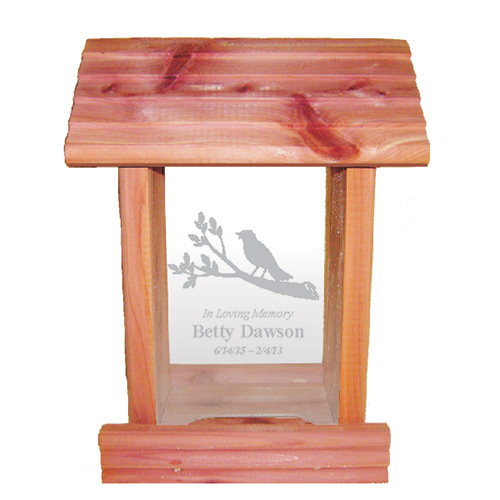 This personalized memorial bird feeder is another great gift idea for encouraging your loved one to venture outside… or just to get their mind off things for a little while.
What makes this bird feeder unique over others is the fact that it comes personalized with the name and dates of their son or daughter.
Besides the engraved bird image you see above, several other themed images are available (over 25, including fishing, butterflies, horses, and more).
The feeder is constructed of sturdy cedar wood, acrylic front and back panels, and measures 7″ x 4.75″ x 10.5″. It's our most popular memorial, a truly thoughtful sympathy gift for grieving parents.
20. Make a Home-Cooked Meal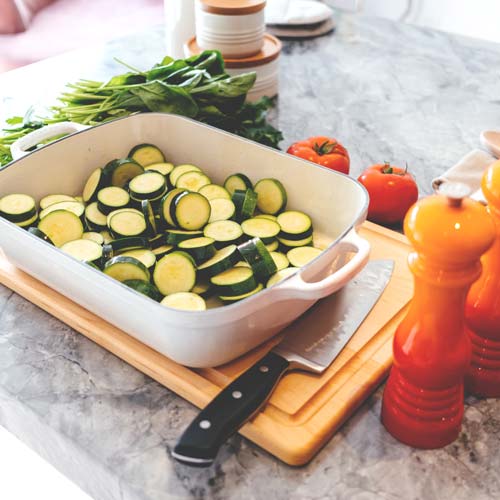 Anyone who's ever dealt with the loss of a loved one knows that eating can be a difficult thing to accomplish, and even easier to forget to do.
For your loved one who's grieving the loss of their child, making them a nutritious, home-cooked meal may be better for them than anything you could buy.
After all, gifts for parents who have lost a child can come in many forms. Whatever you come up with, they will appreciate your gesture of friendship, love, and support.
What Should I Say to Someone Who Has Just Lost Their Child?
Now that we've taken a look at some thoughtful gifts for parents who have lost a child child, let's consider what you can actually say to someone who's currently going through this unimaginable grief.
It's impossible to know what this person is experiencing right now, even if you've gone through that kind of loss yourself. For this reason, you are probably wondering what you could say to offer to condolences.
Here are some helpful tips.
First, assess the situation.
If they are overcome with sadness right now, it could be that speaking is not occurring to any extent. In this case, you can simply offer your presence.
Give them a tight hug. Be a calm space for them to just let it all out. If you feel like it, it's even okay to cry with them.
"I'm so very sorry for your loss."
It may be a common saying, but when said sincerely, "I'm sorry for your loss" says it all.
"What can I do to help you right now?"
Let them know you are available whenever/if ever they need anything in the days to come.
"I just wanted to check in on you, see how you're doing."
This is appropriate in the days and weeks following their child's funeral. Time is going to be a blur for them and they may need/want someone to call or visit every now and then.
What Not to Say
We've offered some tips on what to say to a parent who is grieving; now let's go over what you really shouldn't be saying:
"He/she is in a better place."
While it may come from a sincere heart, in the minds of the mother and father, there is no better place for their child than back in their arms.
"It was their time to go."
Saying this doesn't do a service to anyone, especially if the child was lost to an accident.
"I don't know how you're staying so strong."
They don't know either. Staying busy/going through the motions right now may be the only thing keeping them from losing it.
"At least you have the others," or "You can always have another one."
As in, another child? This one should go without saying. Just no.
"I know exactly how you feel."
While you may have been through a similar loss (and may even be experiencing painful flashbacks during this time), be respectful of the fact that the loss of this child is a new, and unique, experience.
At a Loss for Words?
Like we mentioned above, if you know someone who's just lost their child, you may be feeling at a loss for words.
And that's okay.
Your impulse to give a sympathy gift is on the right track. Sometimes, a gesture is just as meaningful as any words could be.
A shoulder to cry on, a sympathy card sent in the mail, or a thoughtful gift offered at just the right time can go a long way in showing the grieving parent that you're there for them.
More Gifts for Parents Who Have Lost a Child
Pin It